Dragon's Dogma: Dark Arisen Gaming Graphics Performance Tweak Guide
We show you the many graphics options in Dragon's Dogma: Dark Arisen and how they affect gaming image quality and performance.
Published
6 minute read time
Introduction, Testing Setup, & System Requirements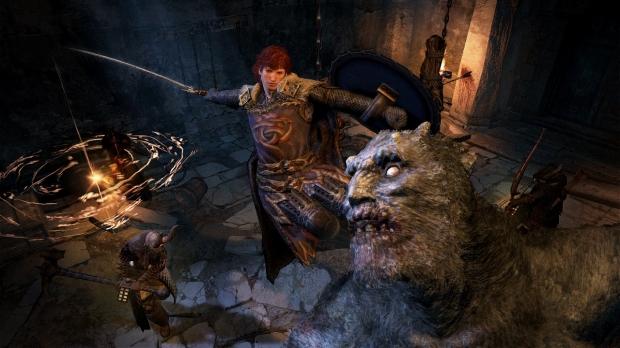 New IP is rare in the gaming industry, but Capcom pulled it off again in 2012 with Dragon's Dogma in 2012, a now beloved fantasy action RPG. They followed it up in 2013 with an even better version in Dragon's Dogma: Dark Arisen containing more content and gameplay tweaks.
Dark Arisen is the version that has at last been brought to PC to the appreciation of the always enthusiastic CRPG crowd, but with some PC-specific enhancements and accommodations: better visuals, up to 150 FPS, 4K support, a mostly proper keyboard and mouse control scheme, and more.
The game includes a reasonably long list of graphics options for PC players. In this guide, I'll go through them all to show you what altering each of them does exactly, both in terms of visuals and performance.
Test Setup and System Requirements
Maximum settings were used as the baseline while testing with this guide, including +15 FOV. Although it is enhanced visually, this is still a six-year-old game, so it's not especially demanding. As such, to acquire useful benchmarks, we forwent the usual 1920x1080 resolution and instead enabled Virtual Super Resolution through Radeon Settings and used 3800x1200 resolution instead.
Our Test System
OS: Windows 10 64-bit

Processor: Intel Core i5 3570K 3.4GHz (Stock)

Memory: Corsair XMS3 8GB DDR3-1600 (Stock)

Storage: Western Digital Caviar Black 640GB 3.5" 7200RPM

Video Card: Sapphire Tri-X R9 290X 4GB (Stock)

Driver: Catalyst 15.2

Resolution: 3200x1800

Input: Logitech G400 mouse, G.SKILL Ripjaws KM780 Mechanical Keyboard
System Requirements
Minimum:
OS: Windows Vista or newer (32 or 64 bit)

Processor: Intel Core i5 660 CPU or equivalent

Memory: 4 GB RAM

Graphics: Radeon HD 5870 or equivalent

DirectX: Version 9.0c

Network: Broadband Internet connection

Hard Drive: 20 GB available space
Recommended:
OS: Windows 7/8/10

Processor: Intel Core i7-4770K or equivalent

Memory: 8 GB RAM

Graphics: NVIDIA GeForce GTX 760 or equivalent

DirectX: Version 9.0c

Network: Broadband Internet connection

Hard Drive: 40 GB available space
Screen Resolution, Anti-Aliasing, HDR, Shadow Quality
Screen Resolution
The quality at which the scene is rendered, corresponding to the number of pixels; higher resolutions mean more pixels, which means higher quality. Keep in mind that when playing with a resolution lower than your monitor's native resolution (e.g. 1366x768 on a 1920x1080 monitor), the image will be scaled up and look significantly poorer for it than what you see in these screenshots (zoom in on the lower resolution ones to get an idea).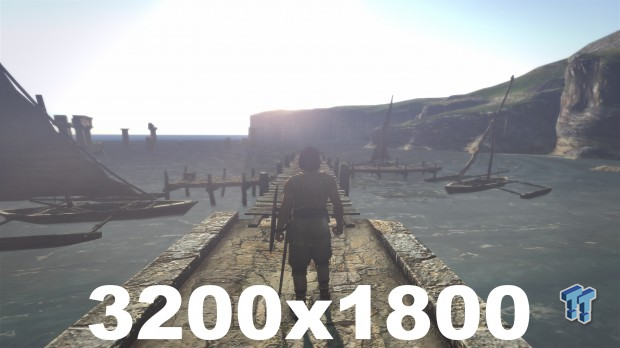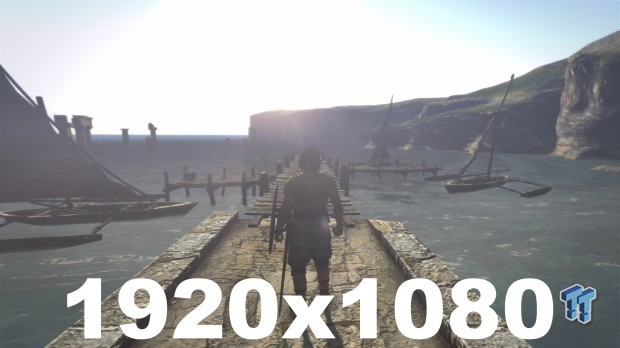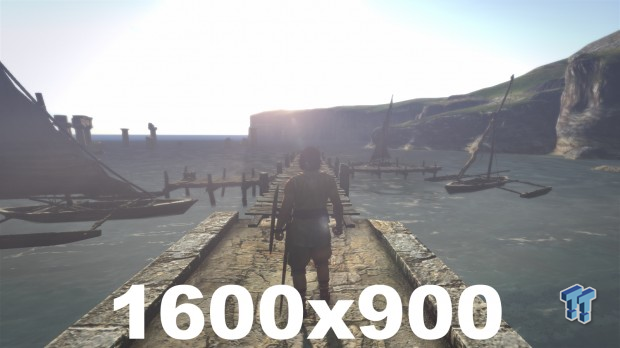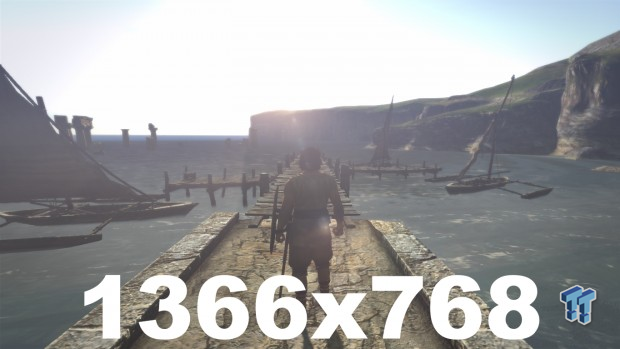 The benchmark shows Resolution has no definitive impact to framerate, except of course when employing 4K, at which point it drops by a full 50-70 FPS across the board. If you have all kinds of headroom, it's worth it to turn on VSR and 4K for the moderate improvement in sharpness, but otherwise, stick to your native resolution.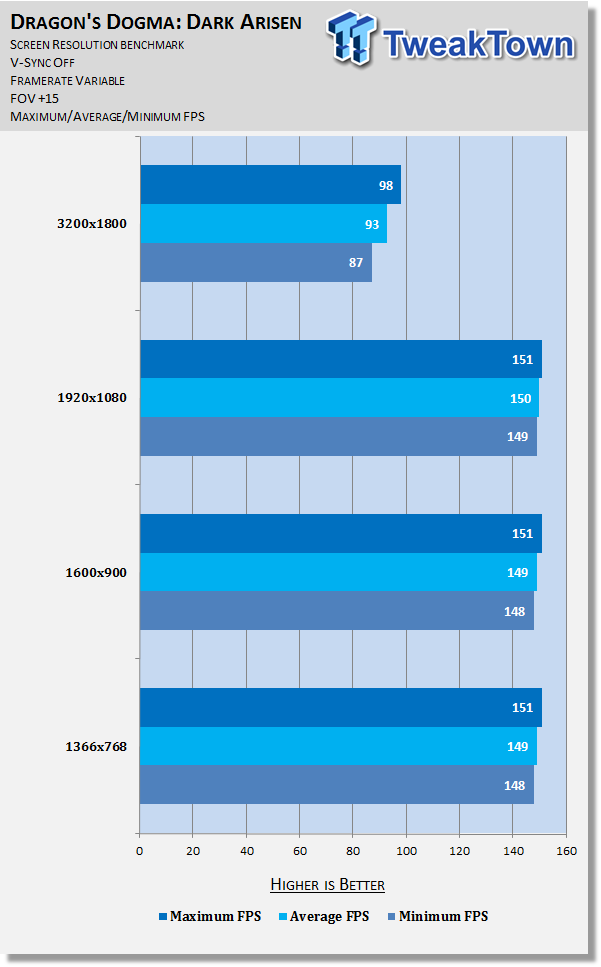 Anti-Aliasing
This ever important option controls the appearance of jagged edges (jaggies) seen on various surfaces throughout the game. In the case of Dragon's Dogma, FXAA is the only type of AA offered, although there are different levels of it. All do well to reduce jagged edges; it's more a question of how much blur you have to deal with at each level. As you can see from the screens, it steadily decreases as you go up.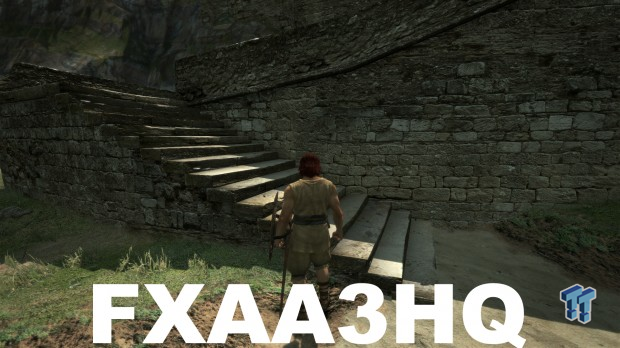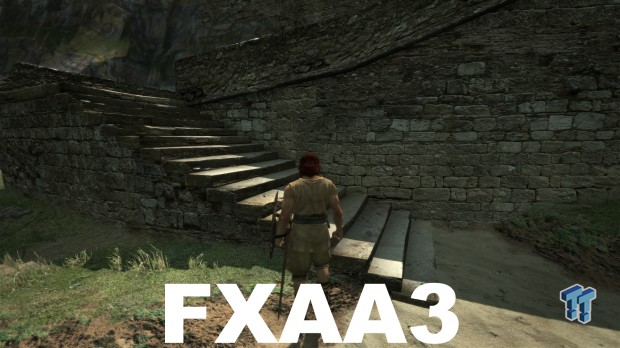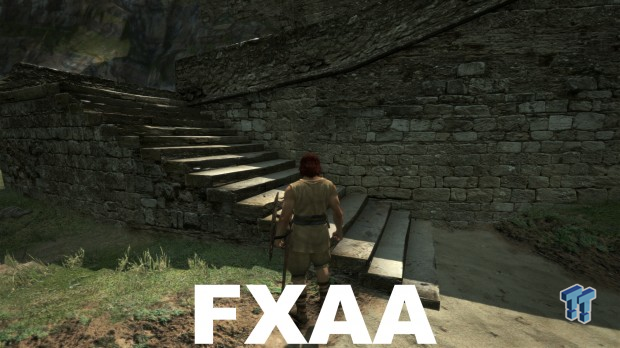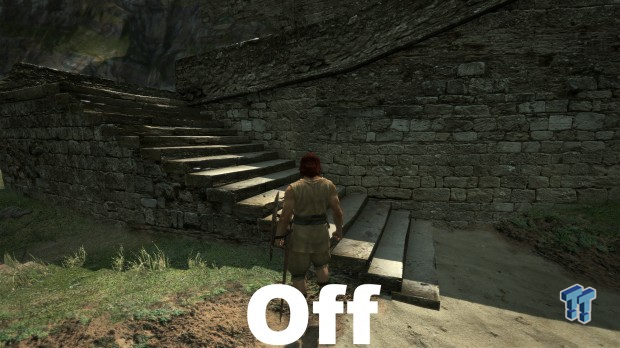 The benchmark shows Anti-aliasing has no definitive impact to framerate. As such, most if not everyone should be good to keep this at the highest setting for maximum clarity and quality.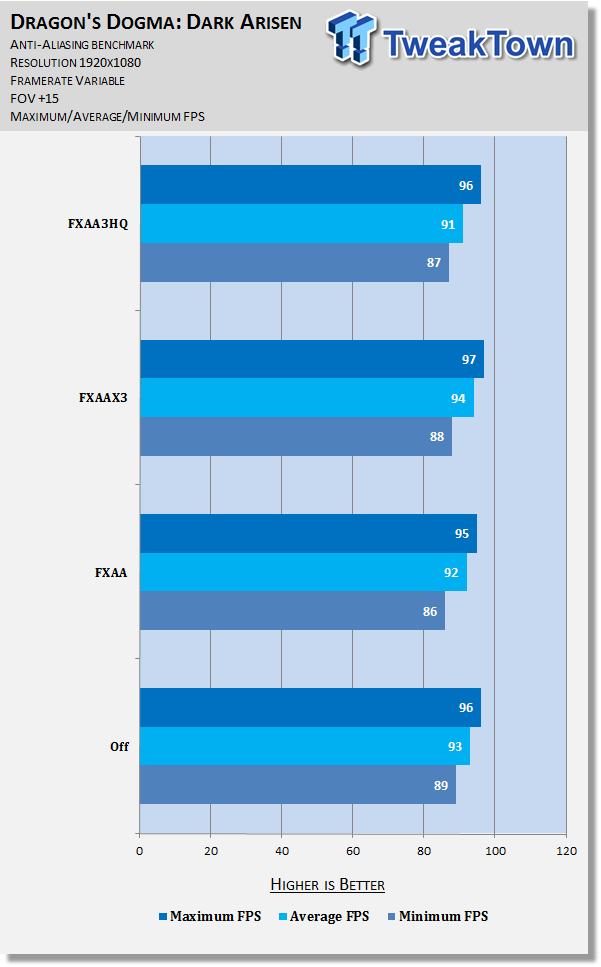 HDR
High Definition Rendering (HDR) is known to affect virtually every aspect of a given scene, making it richer with more realistic lighting and added detail. This is absolutely true in Dragon's Dogma; as you can see in the screens, it changes a very unrealistically bright yet flat scene on the beach into one with a much warmer, more believable feel.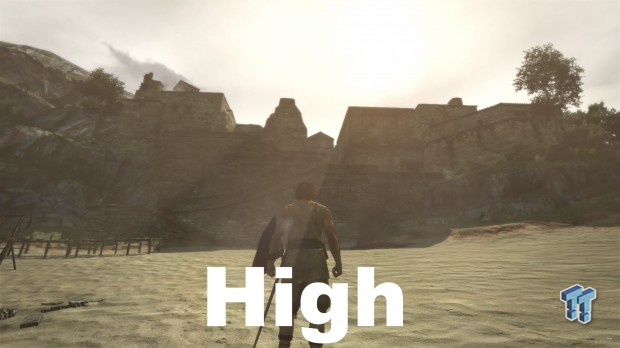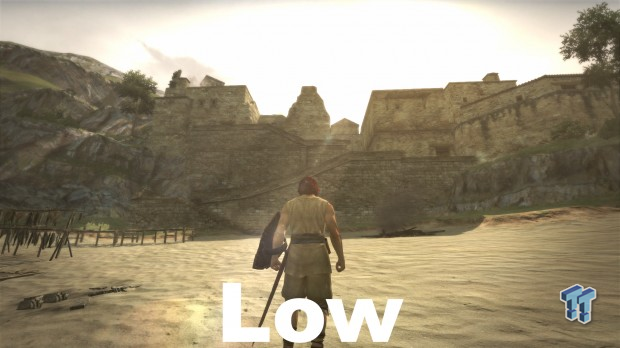 Unfortunately, that realism comes at a steep cost: about 15 frames across the board. Turning this setting down will certainly give you a large FPS boost, but it will also hurt visuals in outdoor areas tremendously.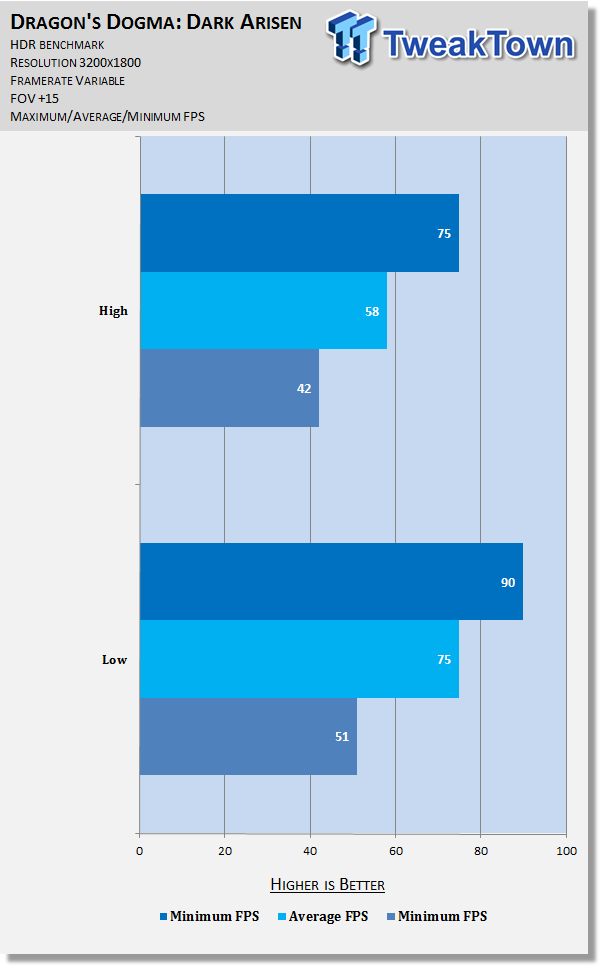 Shadow Quality
This setting alters the depth and resolution of shadows, most noticeably on those cast by trees. At the Low setting, shadows are very primitive; Medium introduces much more sharpness and richness, and High takes it to a very realistic level.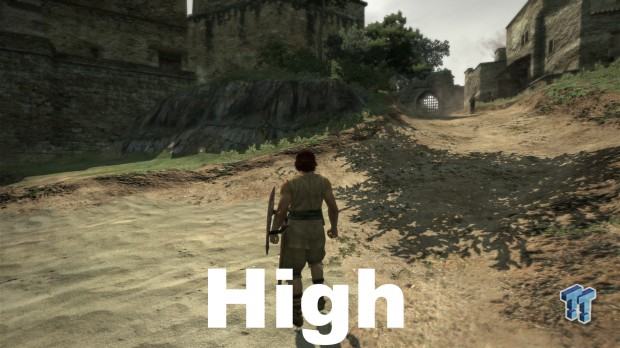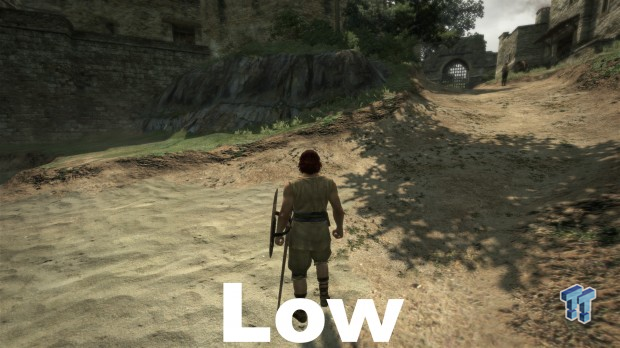 The benchmark shows the quality of High will cost you 5-10 FPS, but there's only a very small change from Low to Medium. As such, those looking to save on performance should look to Medium, only going to Low as a last resort, given that and the harsh impact of visuals.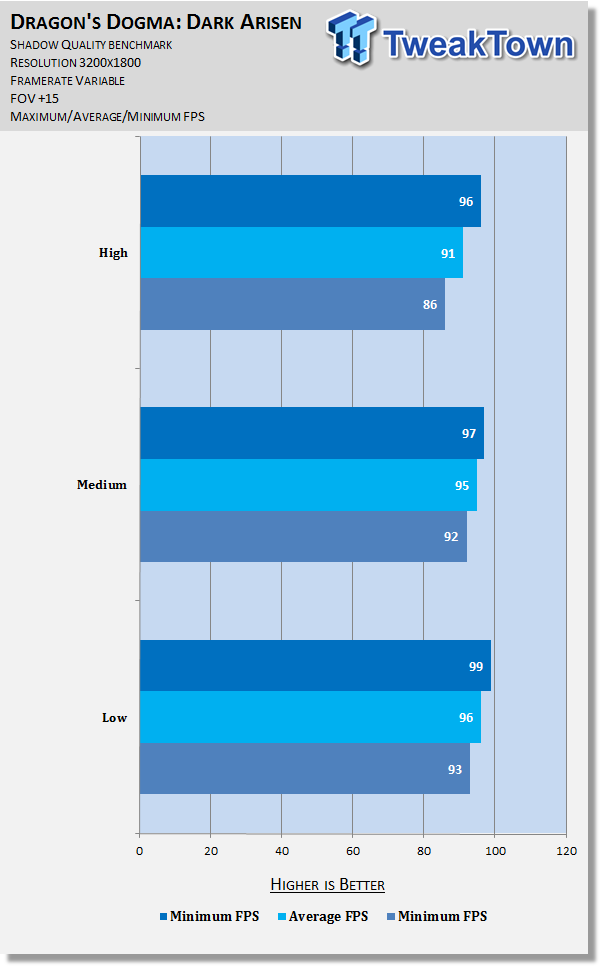 Texture Detail, Texture Filtering, Grass Quality, Effect Volume
Texture Detail
Affects the quality and sharpness of textures. As is usually the case, this setting makes a big difference in graphics quality. At Low, most of the scene, particularly the door and floor textures, are extremely muddy and distracting to look at. This improves greatly when shifting to Medium, and then another, less glaring improvement is seen at High.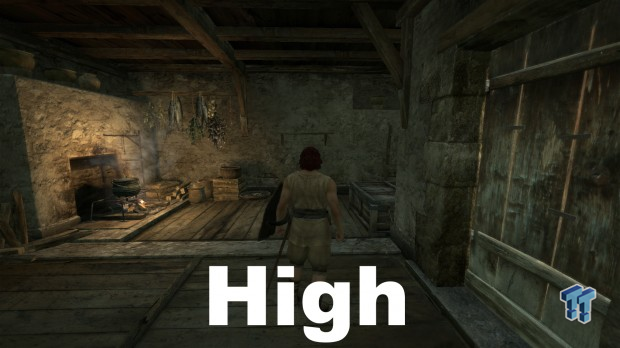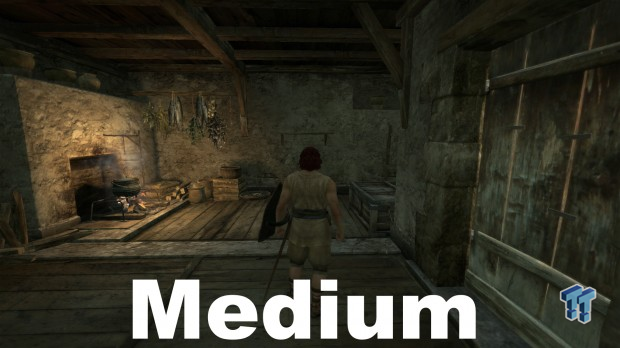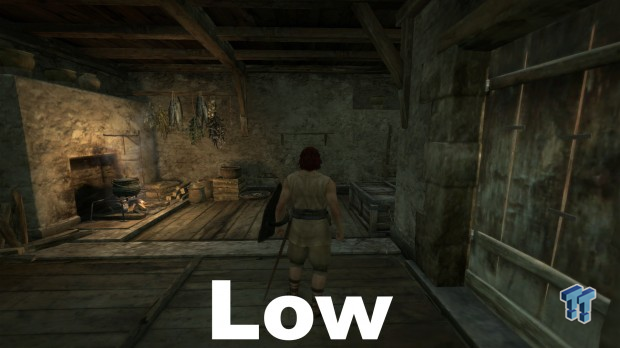 Testing reveals no difference between the Low and Medium settings performance-wise, but a big one between Medium and High. If you don't mind some blur, reducing this setting to Medium can save you big.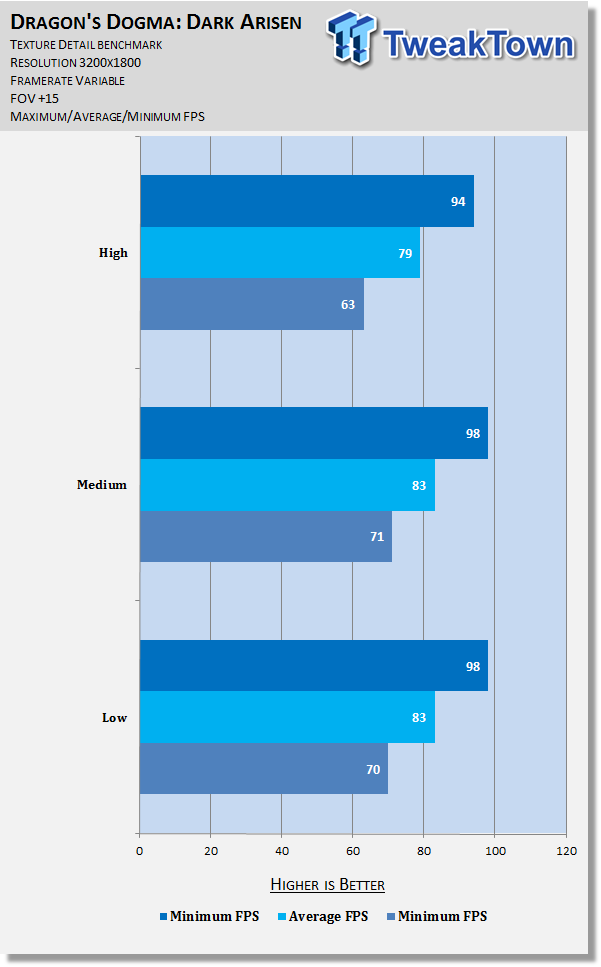 Texture Filtering
This setting alters the sharpness of textures, namely when they are viewed from a distance or an angle.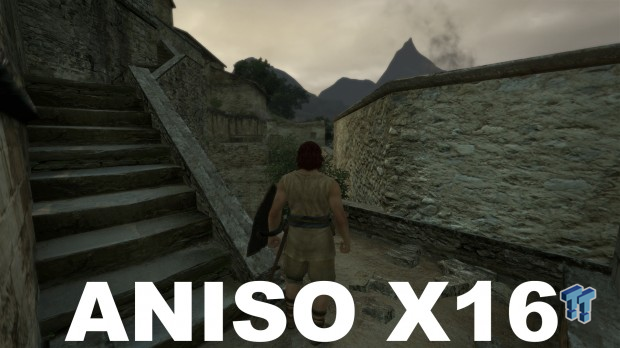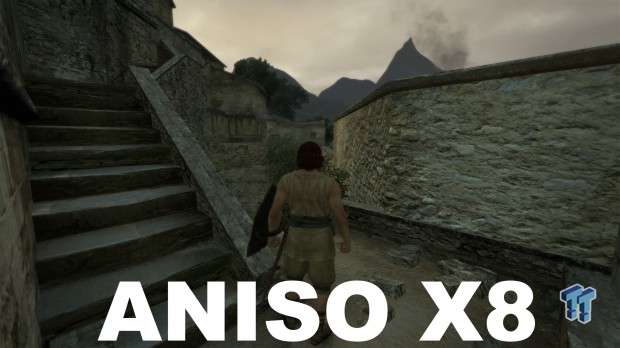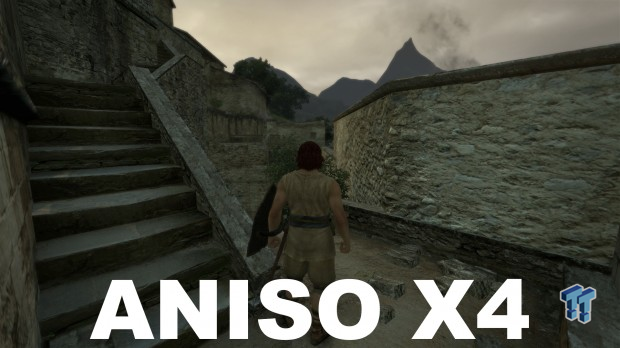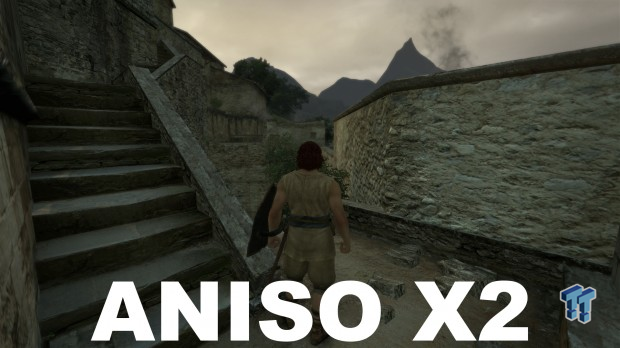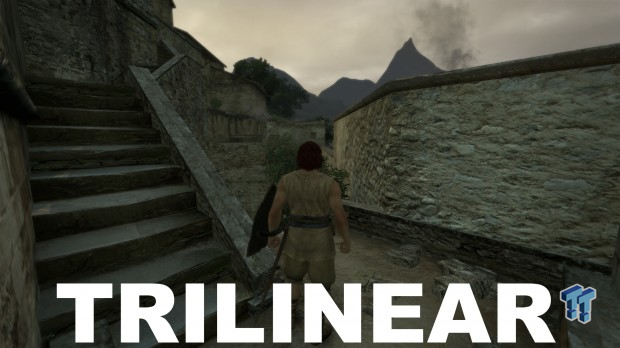 Extremely minor visual differences can be observed between the top three settings. The bottom two, on the other hand, are a very different story. Trilinear offers significant blur, particularly on the wall texture on the right in the distance and the edge of the stairs, while ANISO X2 sees the same but only further along the same wall, and on the shadow cast by the tree.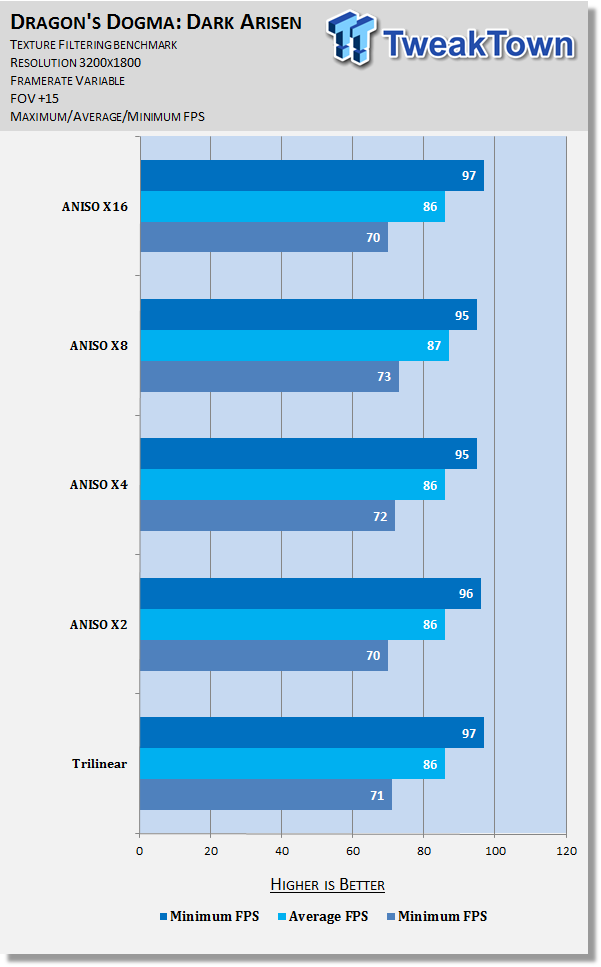 Testing tells us Texture Filtering has no definitive impact on framerate. Keep this setting at the maximum, unless you're severely lacking in VRAM, in which case lower may be advisable (start at ANISO X4 if so).
Grass Quality
It's named Grass Quality, but this setting really seems to actually affect only grass quantity. Simply put: turn it up and you get more of it.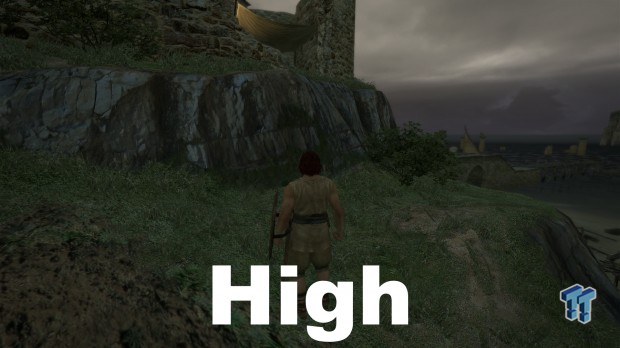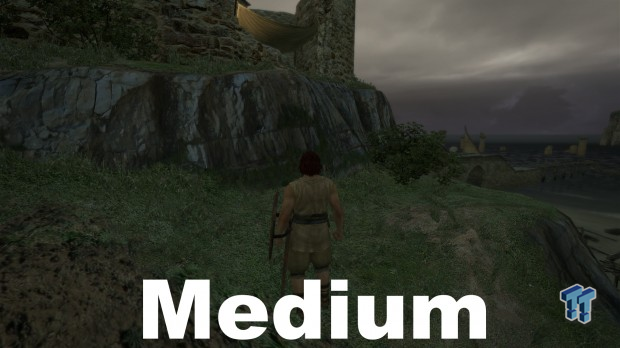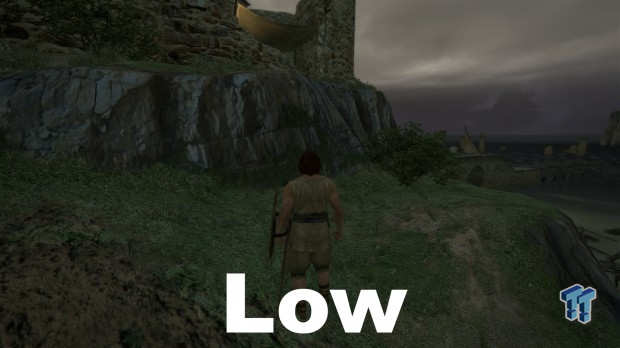 As you might expect, the benchmark reveals this setting brings no discernible hit to framerate. Most if not all should be good to keep it at High.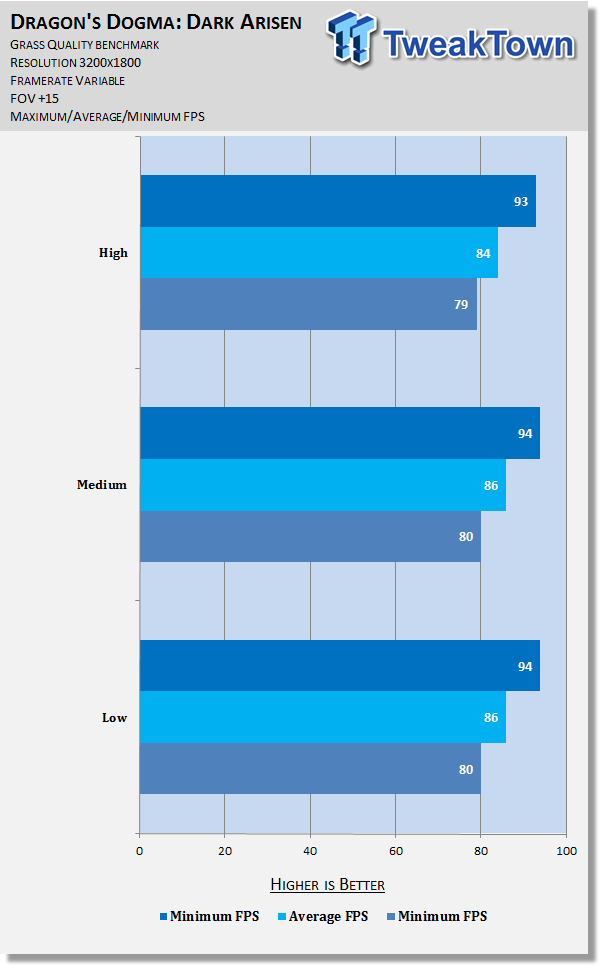 Effect Volume
As if often the case with effects settings, this one proved difficult to capture in-game, so we've left it out of our testing. If you want to err on the side of caution, the Medium setting should be a good choice.
Distance Scaling, Depth of Field, Camera FOV, & Final Thoughts
Distance Scaling
This setting alters how many objects are shown and the depth of shadows at distances near and far.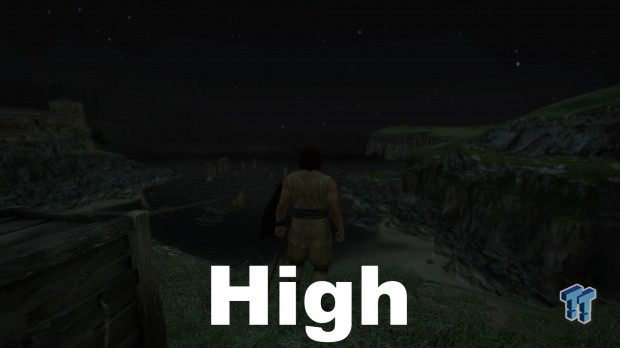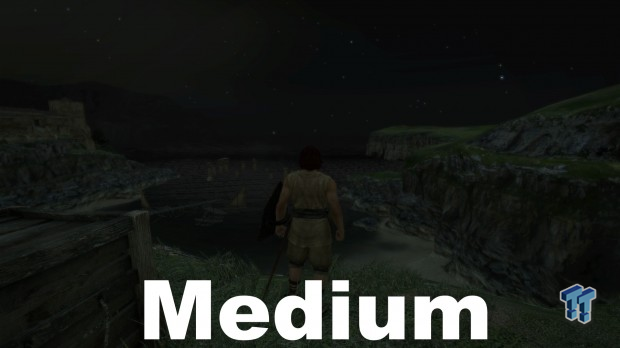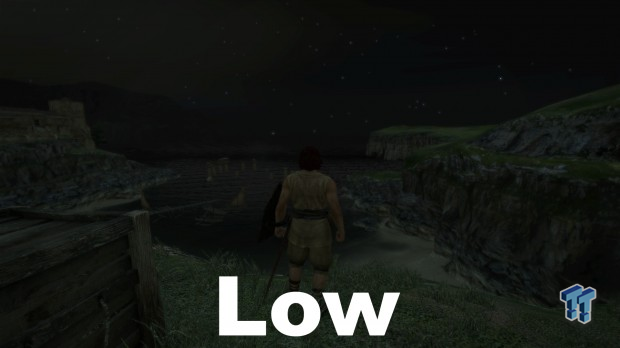 When moving from Low to Medium, the key change is added shrubbery on the far left side on the scene in the distance. When moving from Medium to High, more grass near the player is seen, as is much more in-depth shadowing throughout the entire scene, mostly precisely on the building in the distance.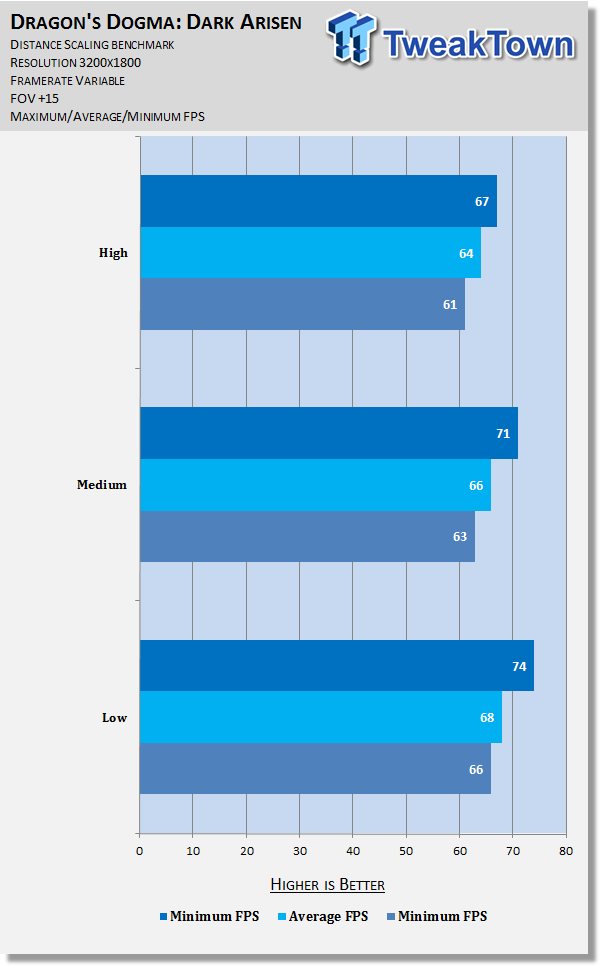 In line with the visual scaling, testing shows this setting has a steady, moderate impact on performance when moving from each setting to the next. The visual impact is far from severe, so this is a good candidate for tweaking. Keep it at High if you can afford it, but if you need the frames, feel free to drop this all the way to Low (Medium isn't worth it).
Depth of Field
This setting is typically intended to blur distant objects and terrain to put nearer objects and terrain in greater focus.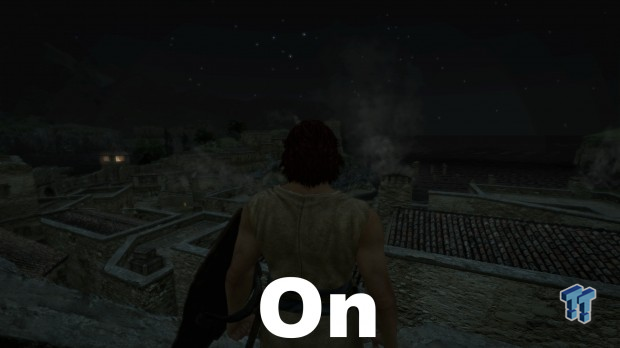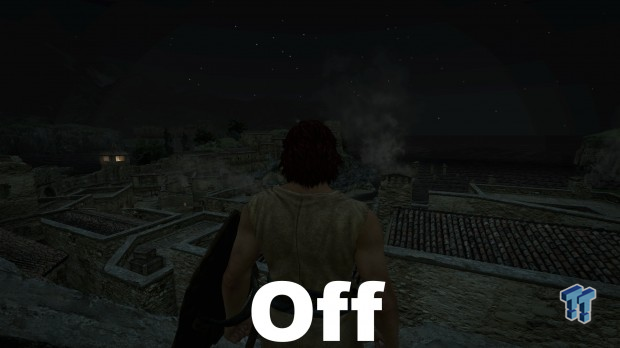 Dragon's Dogma is no typical game, though, and implements DOF very aggressively, affecting the entire scene. Normally I would say turn it off for this reason, but as it's based on a 2012 console game, the underlying textures aren't always pretty to look at, so you may want all that blur.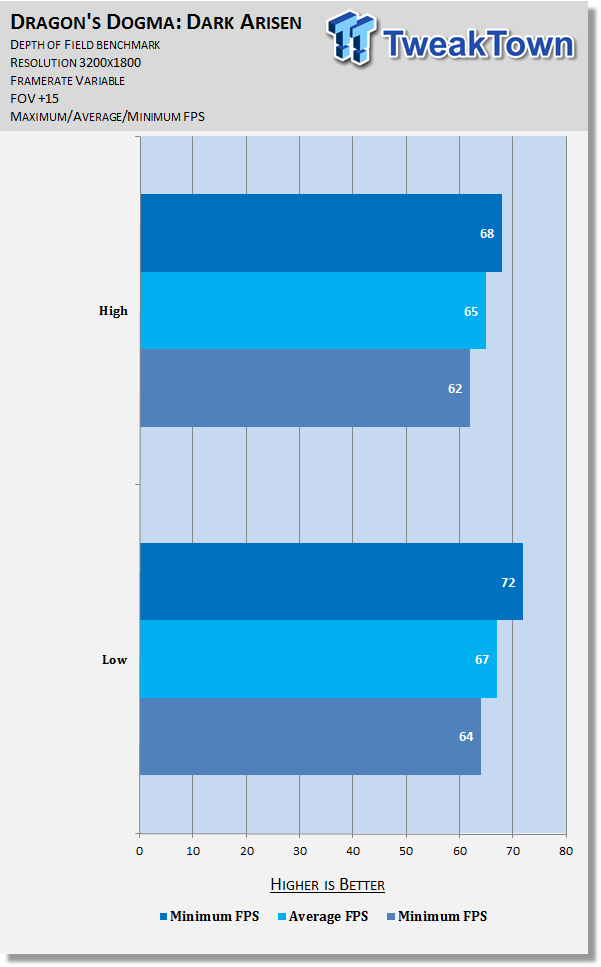 Benchmarking makes the decision a bit tricky because disabling this setting grants you an extra 2-4 FPS. This is down to preference and how desperate you are.
Camera FOV
One of the more popular but sadly often left out settings, Field of View (FOV) lets you adjust how 'wide' your perspective is. At the high-end, you see more, but depending on your setup, you may get 'fisheye.'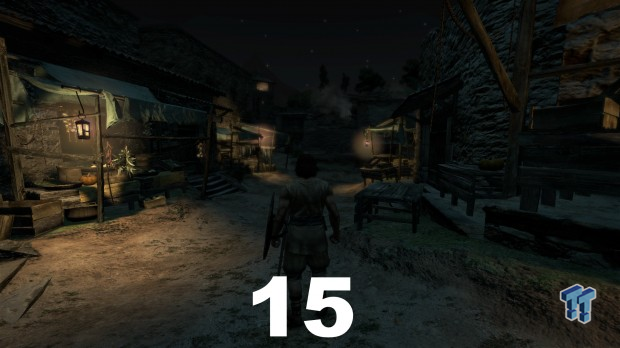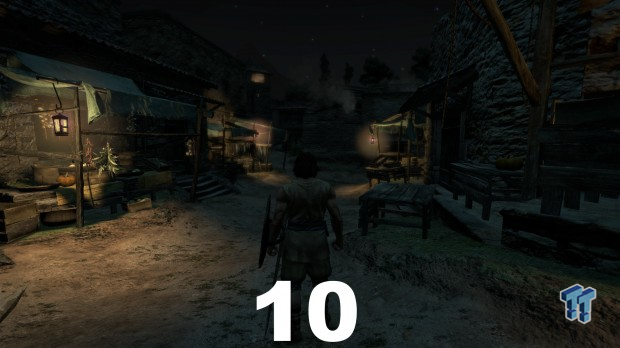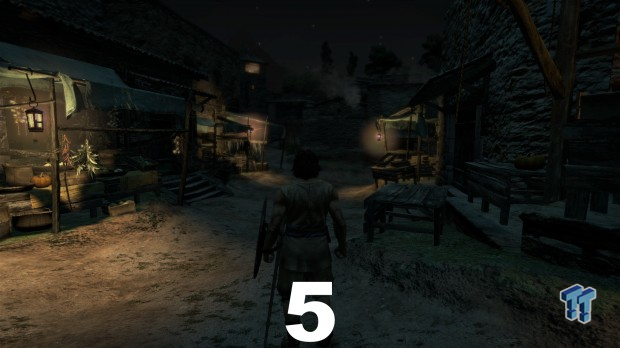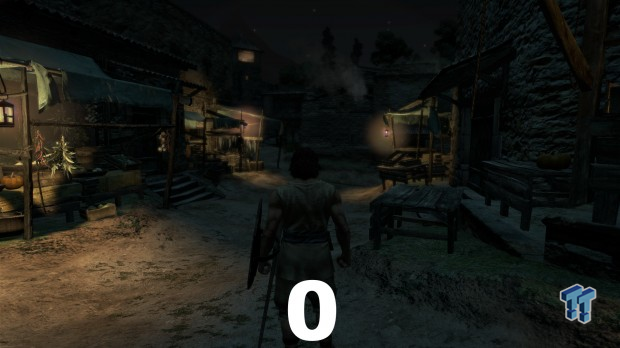 Dragon's Dogma doesn't offer extremely high FOV unfortunately, but it does give you an extra 15, which should prove plenty for most gamers. Certainly, it's much better than the cramped default setting.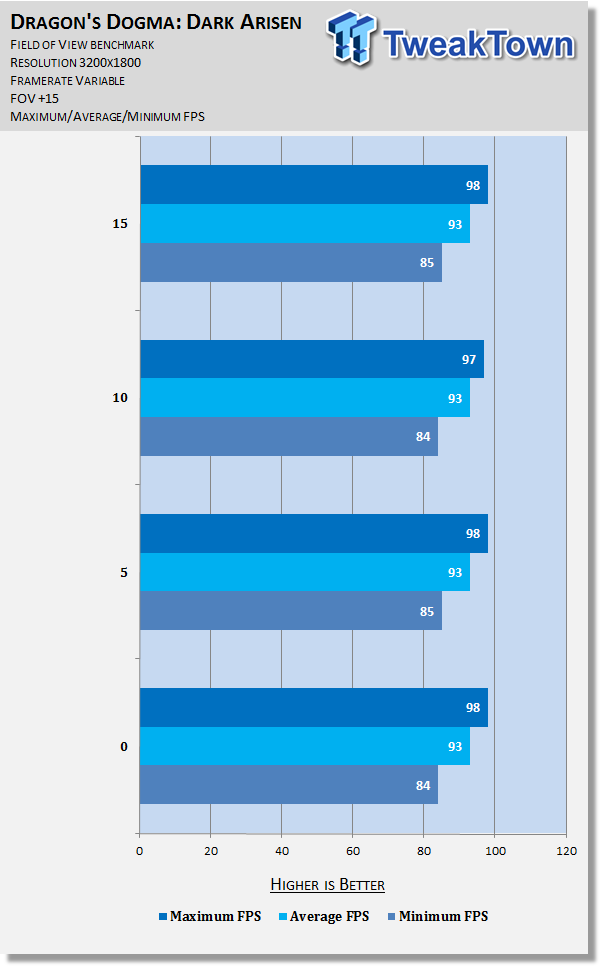 Happily, increasing FOV has no definitive impact on performance, so be sure to crank this one up, at least if you're on 1920x1080 resolution or higher.
Final Thoughts
The big ticket items for tweaking in Dragon's Dogma are HDR, Texture Detail, and Shadow Quality. To a lesser extent, Distance Scaling should also be considered. If you are on a high-end system, I strongly recommend enabling VSR/DSR and cranking up your resolution to 3200x1800 for an appreciable added level of detail you can afford for once.
Happy tweaking!
PRICING: You can find products similar to this one for sale below.

United States: Find other tech and computer products like this over at Amazon.com

United Kingdom: Find other tech and computer products like this over at Amazon.co.uk

Australia: Find other tech and computer products like this over at Amazon.com.au

Canada: Find other tech and computer products like this over at Amazon.ca

Deutschland: Finde andere Technik- und Computerprodukte wie dieses auf Amazon.de