Introduction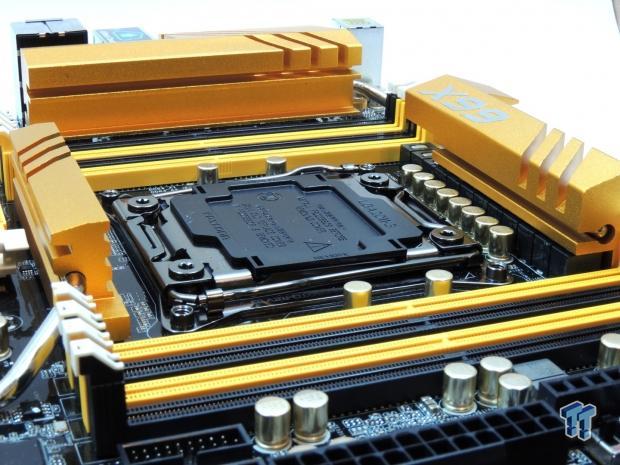 A few years ago, ASRock decided to up their overclocking game. To help achieve higher results, the company hired Nick Shih, a famous overclocker, to help with the endeavor. Needless to say, their project went very well, and the X99 OC Formula is their latest iteration of their OC Formula lineup. The OC Formula lineup has a slew of high-end features like an Ultra M.2 slot, four-way multi GPU capability, eight DDR4 DIMMs, dual Intel/Atheros NICs, and upgraded audio with dual amplifiers.
ASRock has also provided an extremely powerful VRM, which we will look at soon, as well as features like real-time overclocking with on-board buttons. There are many ways to allocate IO resources on the X99 platform, and ASRock has focused on providing a good balance of features and performance. So, without further interruption, let's jump into the world of the X99 OC Formula.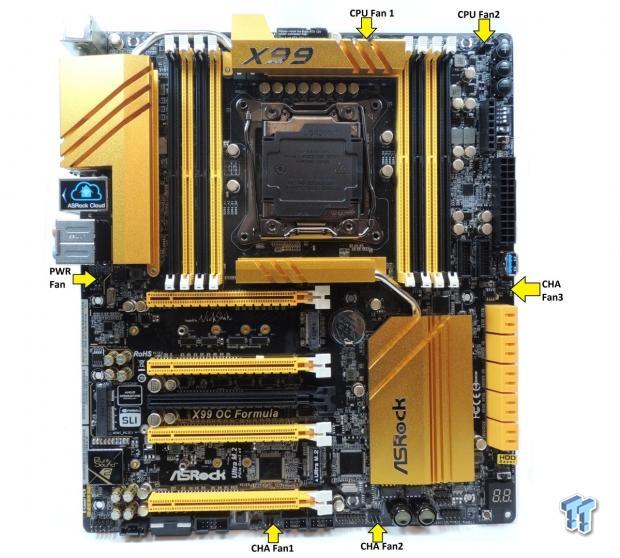 The X99 OC Formula features six fan headers. The CPU Fan One header supports four-pin PWM fans, and the voltage controlled three-pin fans. All of the other headers support both PWM and voltage controlled fans (three-pin), but only provide voltage control mechanisms. ASRock provides extensive fan control through the UEFI and in Windows.
I remember that with the original Z87 OC Formula, the heat sink and slots clashed a bit with their different gold/yellow tones; however, with the X99 OC Formula ASRock has matched the colors very well. The whole board is covered in a silicon based waterproof coating; it should work very well for keeping out moisture in LN2 conditions.
For the photographs of the chips in this review, I have selectively removed the silicon coating on many of the chips (with acetone) to identify them.
PRICING: You can find the ASRock X99 OC Formula for sale below. The prices listed are valid at the time of writing, but can change at any time. Click the link to see the very latest pricing for the best deal.
United States: The ASRock X99 OC Formula retails for $370.58 at Amazon.
Voltage Regulator Circuit Analysis
CPU Regulator Analysis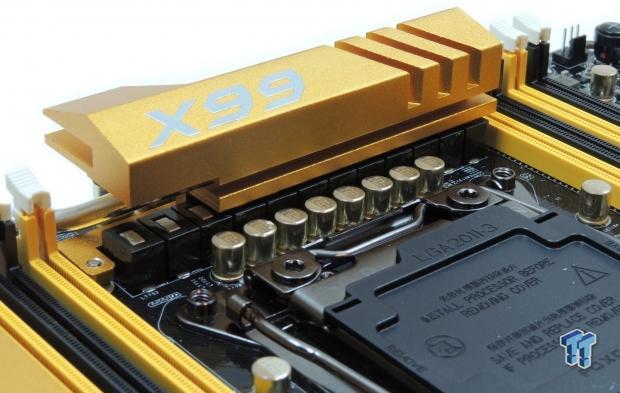 With more and more things being integrated into the CPU and PCH, there isn't much that sets motherboards apart, but the voltage regulator is still one part of the motherboard that differs greatly between motherboards. With the X99 platform, the VRM area has been effectively reduced by half, while the current demand has been almost doubled due to the high TDP of the new CPUs. The X99 VRM is possibly one of the most important parts of any X99 motherboard, especially when it comes to overclocking.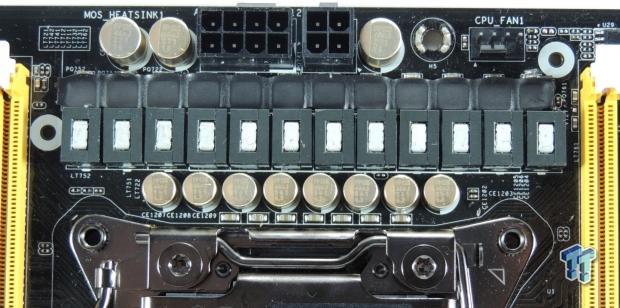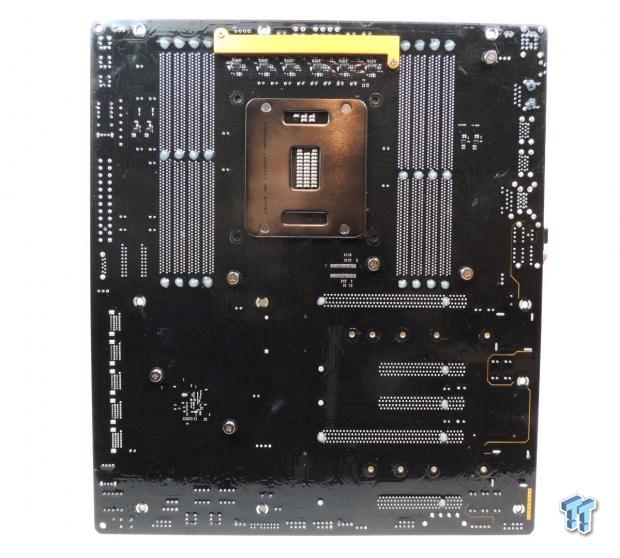 The CPU VRM features a total of 12 phases. Each phase is made up of two dual MOSFETs, and each two phases are powered by a doubler/dual driver. Half the VRM's powerhouse is on the back of the motherboard, and it is cooled by a small heat sink. ASRock is using 0.22uH 60A inductors; these are high-end ferrite inductors. Since fitting 12 phases on an X99 motherboard is very difficult due to reduced VRM real-estate, the inductors have to be small and capable, and these are both.
The inductors are actually where ASRock gets the 1300W number. We can do some quick math (power = current x voltage) to confirm. Total current will be 60A x 12 phases, which is 720A. The voltage in this case is the CPU input voltage of 1.8v. So, power = 1.8v x 720A = 1300W. This is one of the highest output VRMs for X99. There are also eight 560uF Nichicon high grade polymer can-type capacitors rated at 12K hours at 105C. That makes a total of 4480uF. So far, 12K is the highest I have seen on a motherboard for can-type capacitors.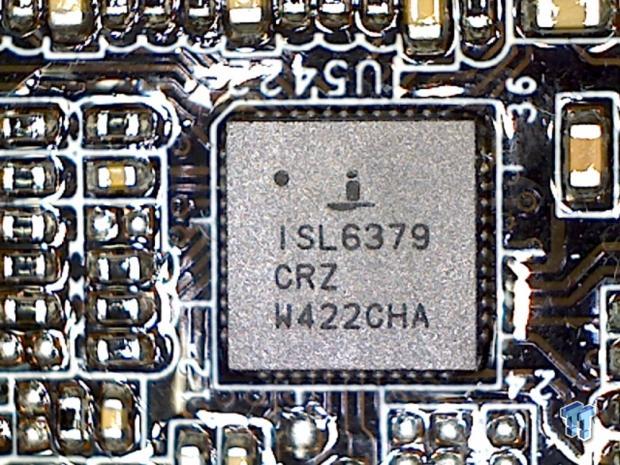 ASRock is using an ISL6379 PWM for the CPU power, and two other ISL6379s for each memory VRM. Although this PWM has been out for a year, there is no datasheet on this PWM. According to Intersil, their other ISL637X series chips are hybrid digital PWMs: ISL6374, ISL6375, and ISL6376 are four, five, and six phase PWMs, respectively. The fact that ASRock uses two more ISL6379s for each set of memory DIMMs indicates that the ISL6379 is a dual output PWM. It should feature at least 6+2 phases, but more likely, its 7+2 or 6+3 phases, since the nine at the end of "ISL6379" would indicate the sum of all PWM outputs. This is a solid PWM with a good lineup of features. There is even one feature to allow the PWM to pulse all phases at once if needed, and you can control that through the BIOS.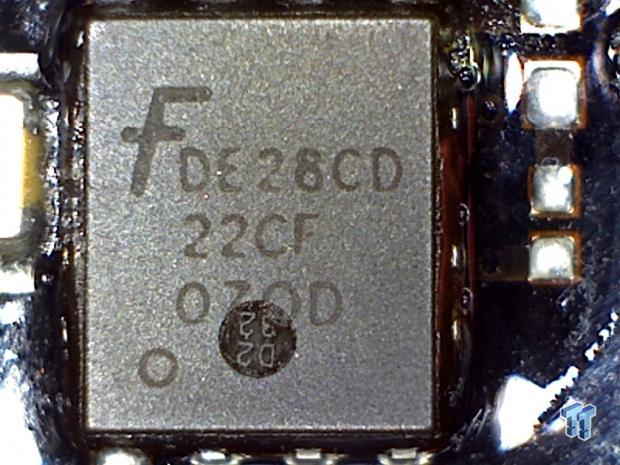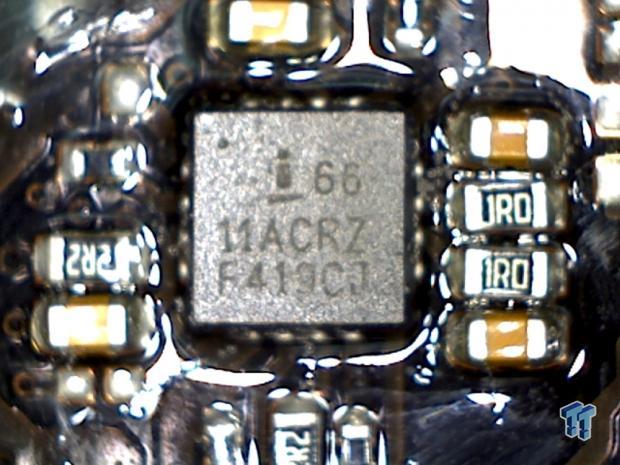 ASRock is using 24 Fairchild Semiconductor FDMS3668S dual N-Channel MOSFETs. They integrate both the high-side and low-side MOSFETs into one package. These seem to be a substitute for the Texas Instruments NexFETs I usually find on ASRock's boards; however, they seem to have a slightly higher current rating. The continuous package limited current output is 30A for the high-side, and since each phase has two, you would take that 30A and double it to get 60A as max current output per phase for the MOSFETs. ASRock is using six ISL6611A phase doublers/dual drivers to double six phases from the PWM to 12 for the VRM. Intersil has worked hard on making their systems power efficient, and these doublers/dual drivers support phase shedding, and other high-efficiency technologies.
Memory Regulator Analysis
There are two sets of everything for the DDR4 power on X99; this is because there are two sets of DIMMs on every X99 motherboard. There are four DDR4 VRMs because each set of DIMMs requires a DRAM voltage of 1.2v, and a DRAM VPP voltage of 2.5v. The 1.2v rail is the most important.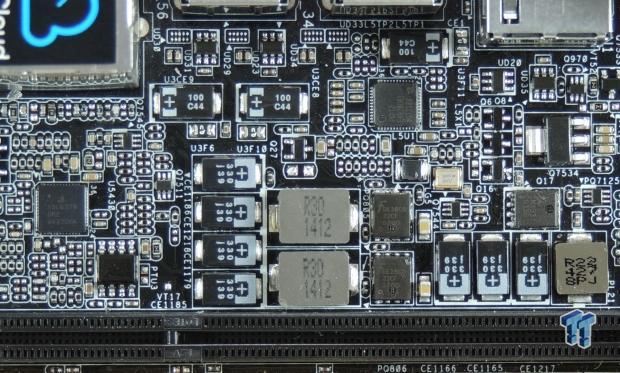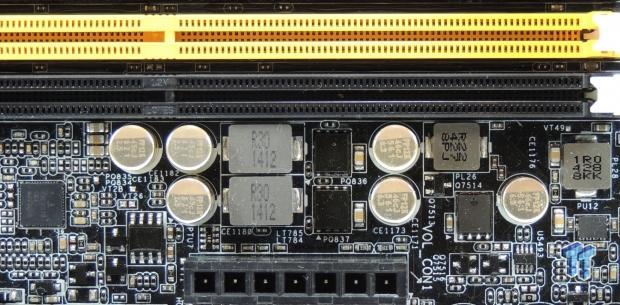 Each set of DIMMs get its own ISL6379, like the CPU VRM. The DRAM voltage of 1.2v is generated by two phases of the Fairchild Semiconductor FDMS3668S, and each phase gets one of the 30A dual MOSFETs.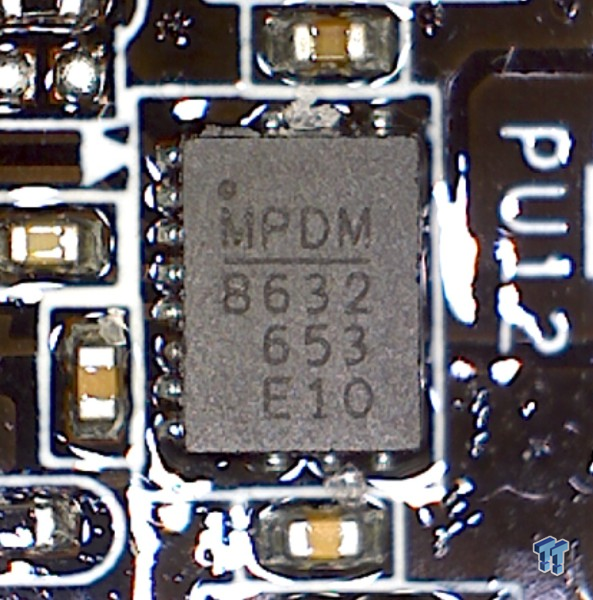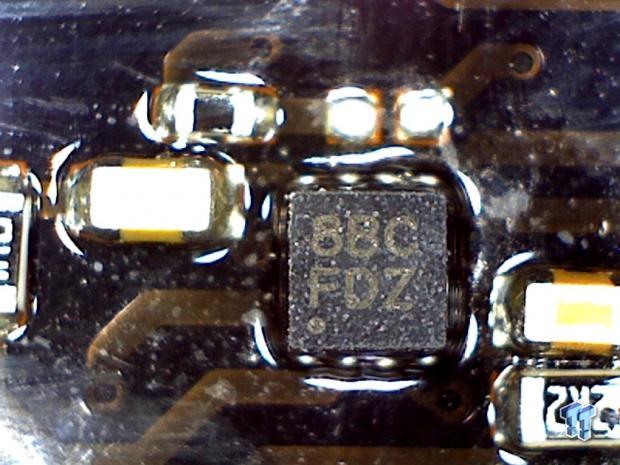 I couldn't find the MPDM 8632 datasheet, but there are two of them set up like integrated power stages would be. I have a feeling it might be related to the Maxim MAX8632 which is an integrated DDR controller with its own PWM which supplies both DDR and VTT voltage. Since the pins aren't sufficient to indicate that this chip is the MAX8632, we could rationalize that this is an integrated power stage with a driver for the VPP supply, which might get its PWM input from the ISL6379. The image to the right is one of four ISL6208 high efficiency Intersil drivers. Two of these drivers drive each set of the DDR voltage power phases.
DDR VPP is the voltage for the electrical high for DRAM row access. For DDR4, JEDEC decided to introduce a secondary external VRM that provides a 2.5v electrical high voltage for the word line (row access). Since the word line voltage is no longer pumped up from the DDR voltage (like it was for DDR3), the inefficiencies of pumping up the DDR voltage are gone, and instead you get power savings.
Motherboard Circuit Analysis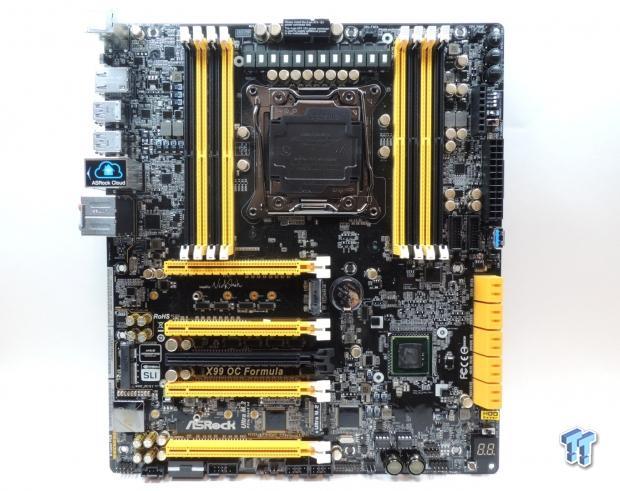 Removing the heat sinks reveals a plethora of little ICs that run all the advanced circuits of the X99 OC Formula. It is interesting to see how ASRock manages the X99 PCH's bandwidth to provide ten SATA 6GB/s ports, as well as three M.2 ports. One of the M.2 slots gets its bandwidth from the CPU (4x PCI-E 3.0), so that leaves another M.2 slot that is 4x PCI-E 2.0 from the PCH, as well as a 1x M.2 that is for mini PCIe devices like WIFI/BT controllers.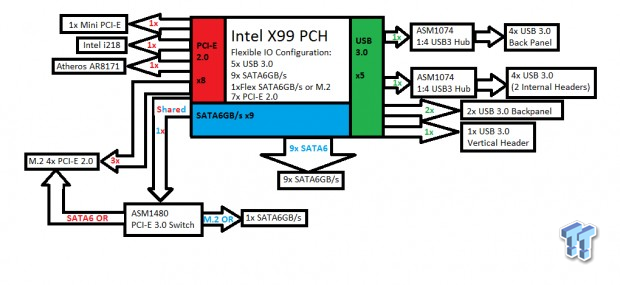 I could not find a routing diagram for the X99 OC Formula, so I made one myself. ASRock is utilizing FlexIO to switch a single SATA 6GB/s port to the 4x M.2 when it is in use. Otherwise, they are utilizing seven PCI-E lanes for devices, and five USB 3.0 ports. This would be noted as Flexible IO configuration of 5-7-10 (USB3-PCIe2-SATA6). You will also notice ASRock is using all Intel controllers except for the second NIC.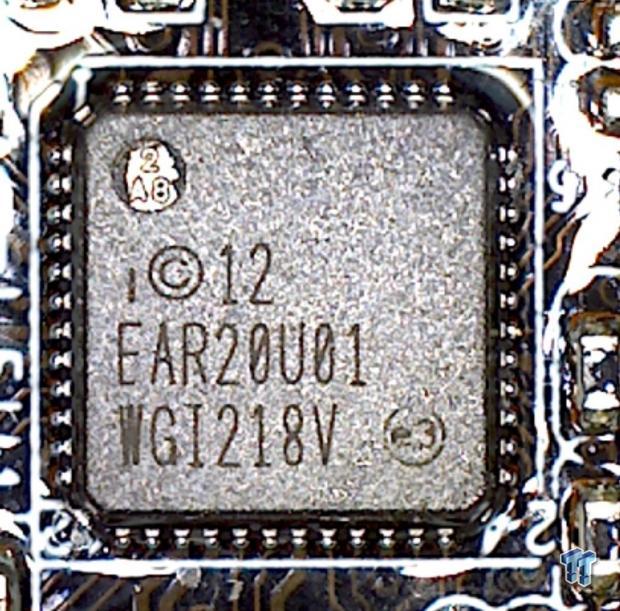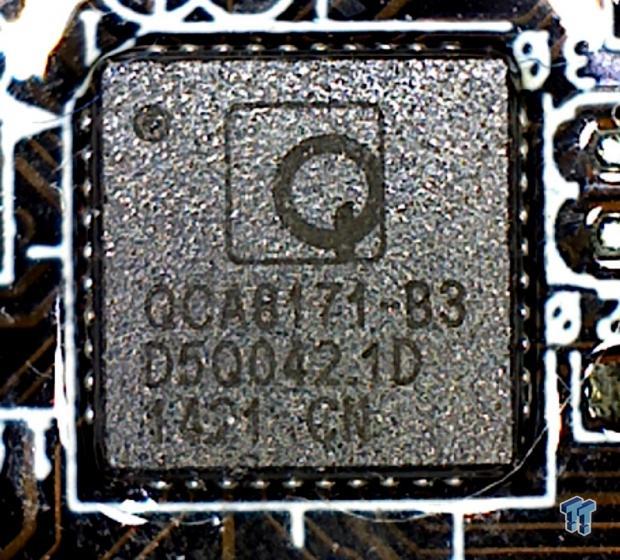 This is the Intel i218v, Intel's PHY for the integrated MAC in the PCH; this is the preferred NIC arrangement, as most prefer the Intel NIC for its performance. However, there is a second NIC in case you need dual NICs, it is an Atheros AR8171, which is like a basic Killer NIC, minus the software that killer is known for.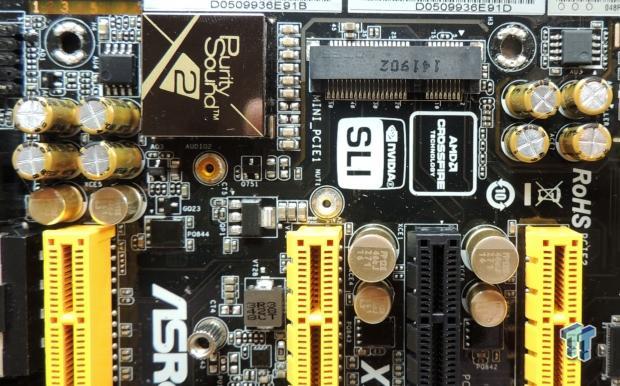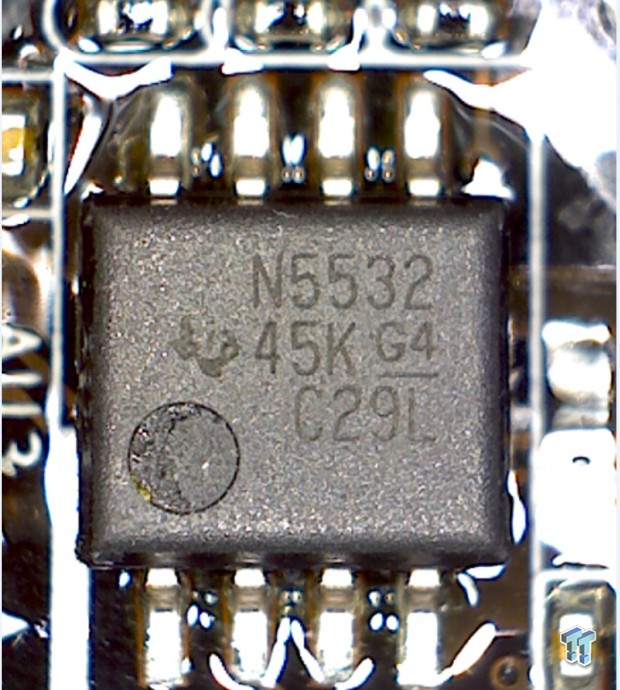 ASRock has updated the normal ALC1150 codec with their Purity Sound 2 setup. Under that gold-plated EMI shield is a Realtek ALC1150, and its back panel and front panel outputs are both amplified by their own Texas Instruments NE5532 amplifiers. The PCB is also isolated from the signals on the digital side of the motherboard.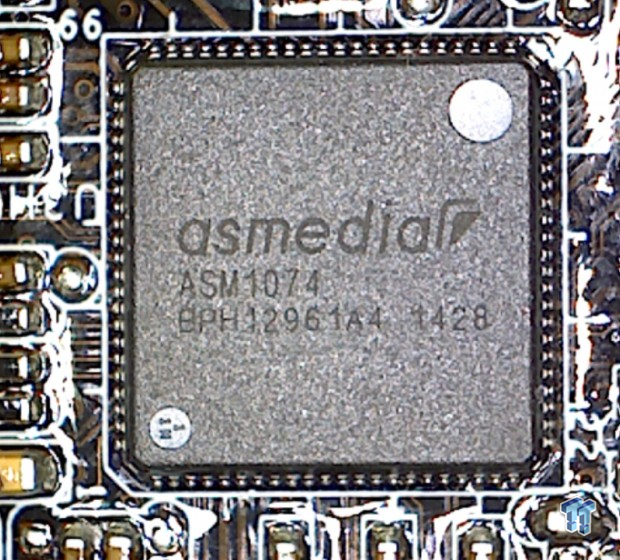 There are two of these ASM1074 USB 3.0 hubs. Each one takes a single USB 3.0 port, and increases it to four USB 3.0 ports. Hubs have become very popular to utilize on the X99 motherboard to provide a lot of USB 3.0. On the X99 OC Formula, four back panel ports go through one hub, and the two internal USB 3.0 headers go through another hub. Two ports on the back panel and one internal vertical port go directly to the PCH.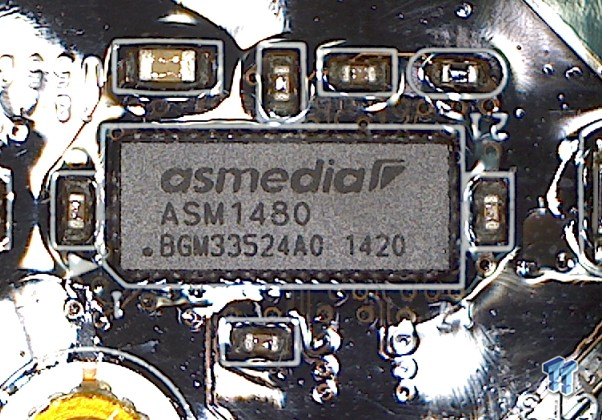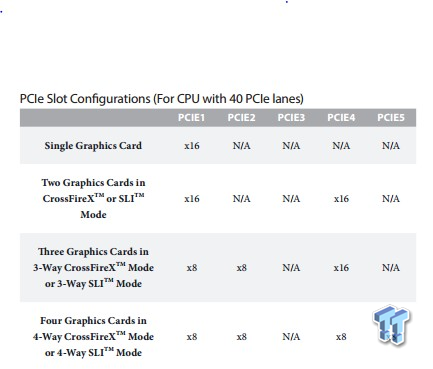 Above is an ASM1480, which is a two lane PCI-E 3.0 quick switch. There are a total of eleven of these on the motherboard. Four of these switch eight lanes from the 1st yellow PCI-E slot to the 2nd, as shown in the chart from the manual. Another four switch eight lanes from the 3rd yellow PCI-E slot to the 4th yellow PCI-E slot. Two of them switch four lanes of PCI-E 3.0 from the middle black PCI-E slot to the Ultra M.2 port. The last one switches one PCI-E/SATA port between the SATA port and the second M.2 slot.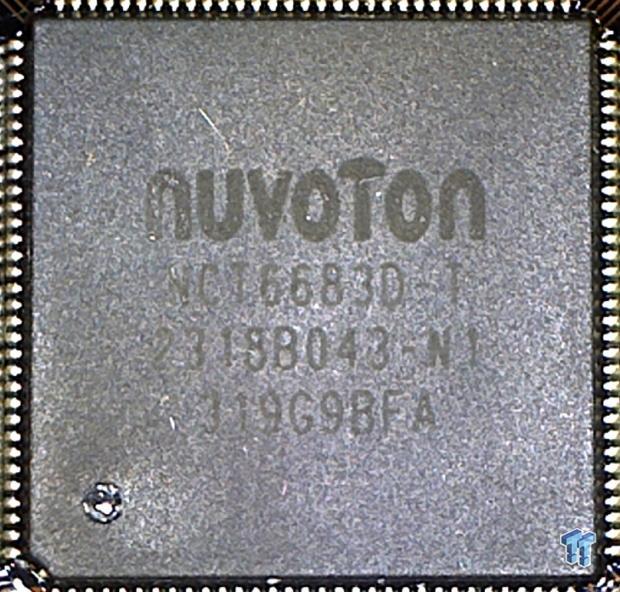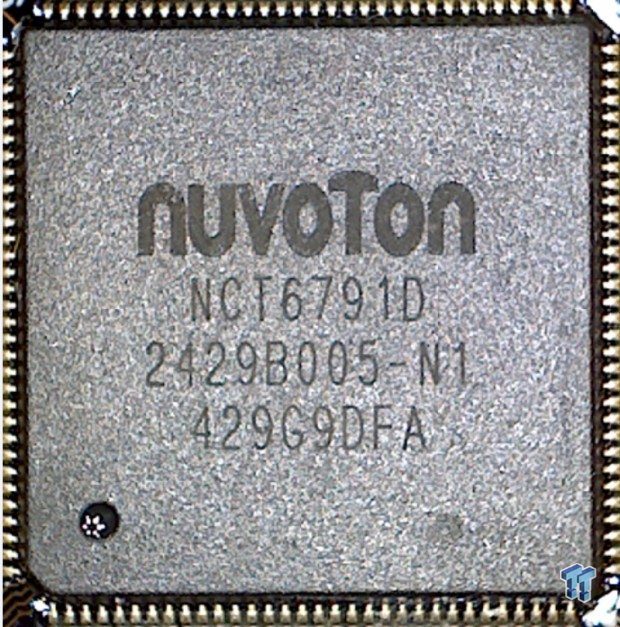 ASRock has a SuperIO and an EC on this board; both are from Nuvoton. There is an NCT6791D, and a NCT6683D. They handle all of the fan control, temperature, and voltage monitoring, as well as OC features on the motherboard.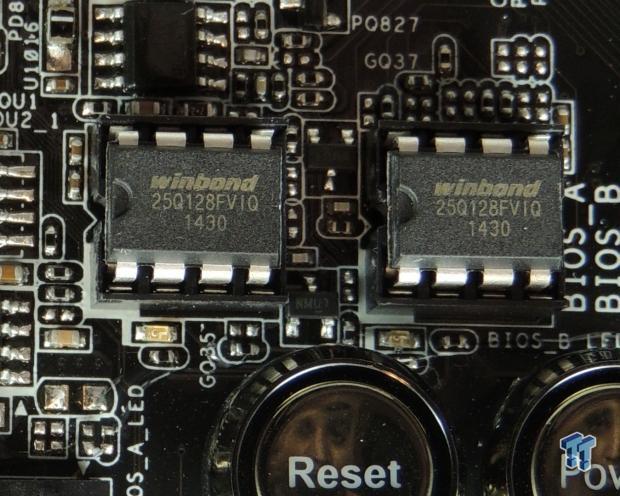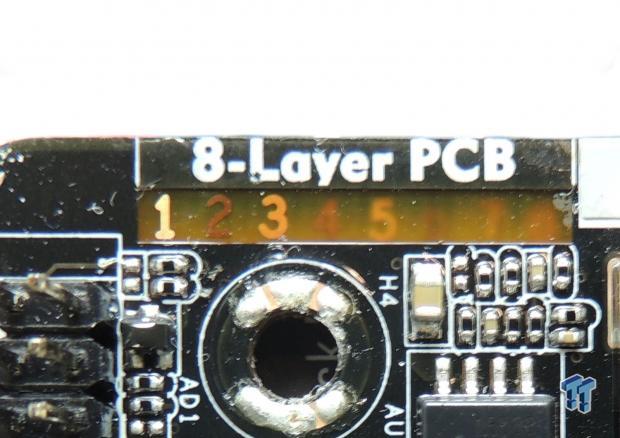 Dual 128Mbit BIOS ROMs are used on this motherboard, and this is a first for ASRock; previously, they used 64Mbit BIOS ROMs. ASRock is using a high-end eight layer 2oz copper PCB.
Overclocking and BIOS Setup
Overclocking Features
I will now cover all of the overclocking specific hardware features this motherboard offers.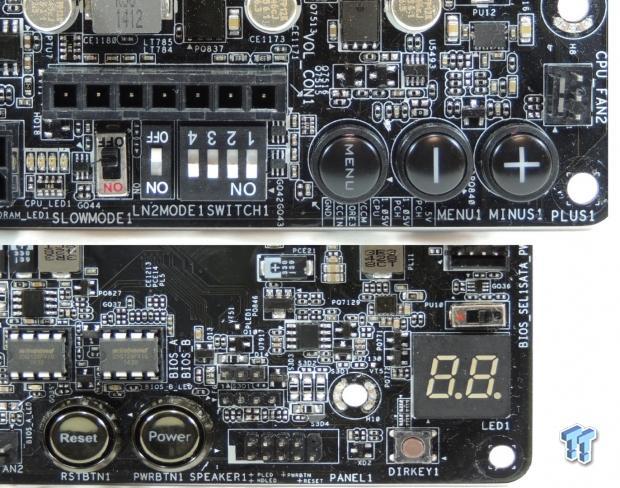 ASRock provides their more advanced OC features in the upper right hand corner of the board. This includes their OC buttons, which have many functions that can be switched with the menu buttons. They can control BCLK, Multiplier, and voltages like the CPU VCore. The only stipulation is that you must launch ASRock's software for the buttons to make them functional.
ASRock also provides switches for each yellow PCI-E slot, as well as an LN2 mode switch that will make the board friendlier to LN2 overclocking. A slow-mode switch is provided, which will drop the CPU and Cache ratios down to 12x if needed on-the-fly. Voltage read points provide voltage readings for the CPU VIN, VCore, VCCIO, DRAM, PCH, and PCH PLL.
Further down the board, you have the POST Code display, and a switch for switching between the main and backup BIOS. A direct to BIOS button is also provided to the right of the power and reset switches.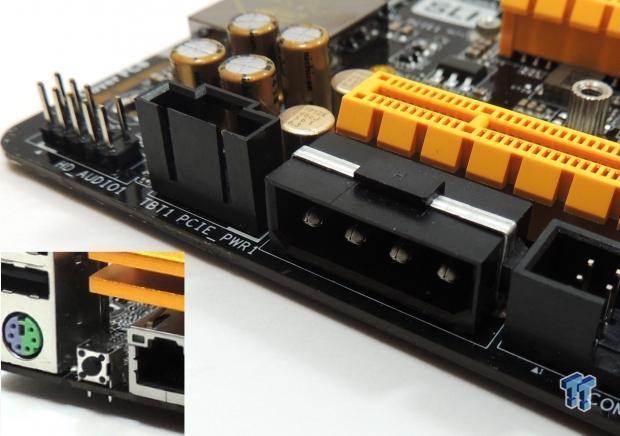 ASRock provides a Molex port for extra PCI-E power, and a clear CMOS button on the back panel.
CPU and BCLK Overclocking
Max CPU Overclock is found by setting the VCore to 1.5v, Input voltage to 2.1v, cache voltage to 1.2v, CPU multiplier to 45x, memory and cache multipliers to 12x, and disabling any features that would result in CPU frequency fluctuation.
5.0GHz is the maximum of our CPU on many boards, including the X99 OC Formula.
Max Stable Overclock (BIOS settings are located further down):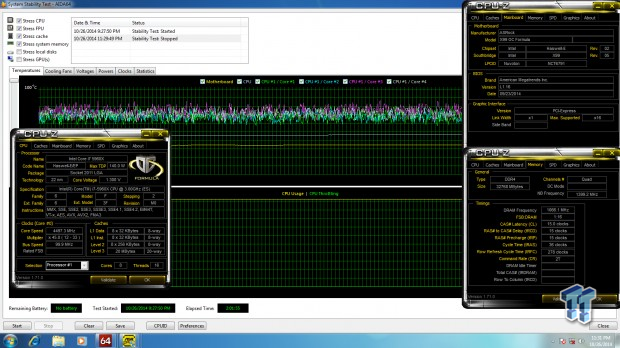 I was easily able to pull off 4.5GHz on the CPU with 3.0GHz cache, and a 2133MHz memory overclock (32GB) on my memory, by manually tuning the UEFI. I will cover auto OC features later on.
Max BCLK is found at the 1.67x (if it's operational), with fixed PCH Core voltage of 1.25v, and System Agent Voltage of +0.3v. All other ratios are tuned back to 12x (memory at 8x), to ensure they don't bottleneck the BCLK overclock.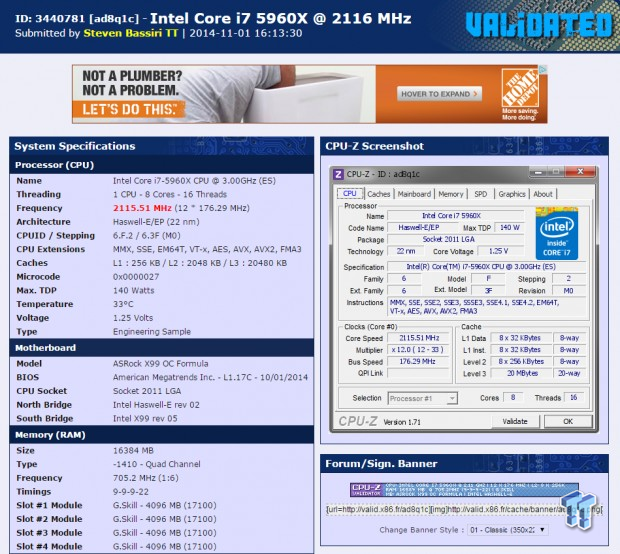 176.29MHz was the maximum BCLK OC I could achieve with optimal settings. I learned that on this ASRock board, you type in "170," instead of typing in "102," and selecting the 1.67x divider to get 170MHz. I was a bit puzzled before I discovered that, so hopefully it will save you some time.
Memory overclocking with G.Skill 3200MHz 16GB Kit (Single sided Hynix modules)
Maximum clock on this memory is usually achieved by using the 1.00x BCLK ratio, and the 32x memory multiplier. If these don't work, then I use 1.25x BCLK and 24x, and higher multipliers instead. DRAM voltage is set to 1.5v, and system agent to +0.5v; timings were set at 16-16-16-36 2T, and the rest are on auto. These high voltages are for testing purposes. For the efficiency test, the 1.25x divider is used with 21.33x memory multiplier. The 24x multiplier is used for CPU and Uncore. HyperPI 32M is used for the efficiency test.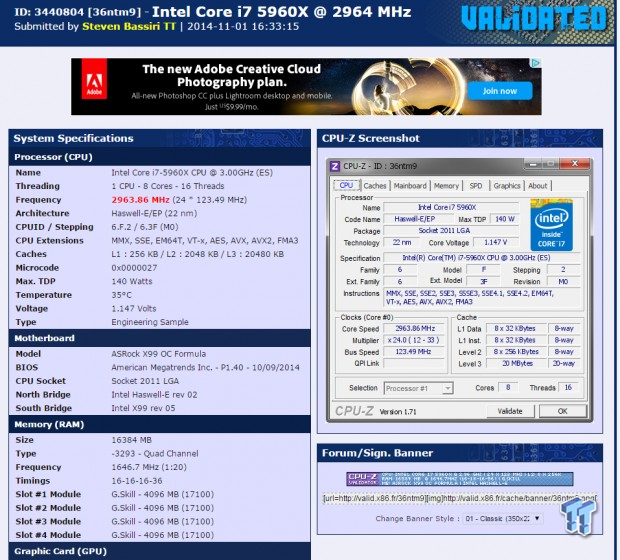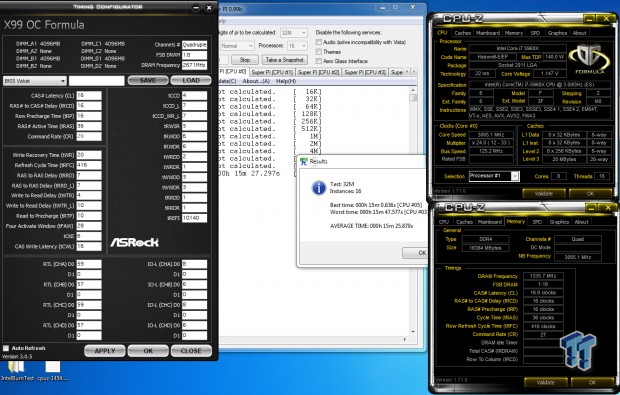 Max OC: 3293MHz
Efficiency time: 15min 25.879s
At this time, the X99 OC Formula supports dividers up to 26.66x. The higher multipliers from 28x to 40x aren't present, as Intel doesn't officially support them in the UEFI code. While I have used higher memory multipliers (such as 32x) on other boards, ASRock is sticking with the 1.25x BCLK divider as its way to get over 2666MHz. If you have a kit with an XMP higher than that, then you can select one of the profiles Nick Shih has provided, as they do work pretty well. I just manually typed in what I wanted, and I was able to OC the memory just as high as other boards that have the 32x multiplier working.
BIOS Settings for 4.5GHz Overclock with 32GB of 2133MHz Memory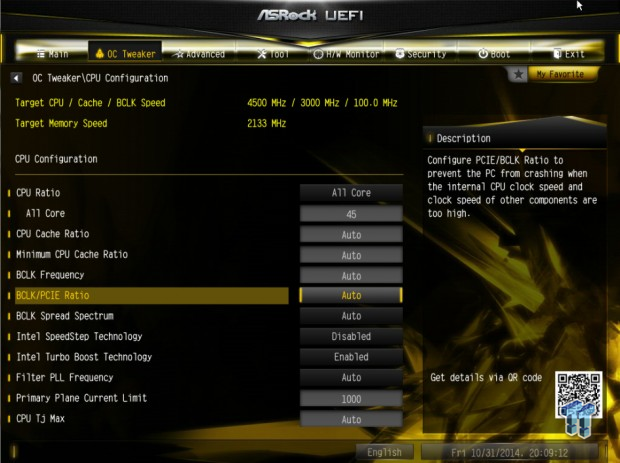 I set the CPU frequency to 45x, and I did disable EIST, but you should leave it on make sure to max out the power limits for the short and long duration power bursts.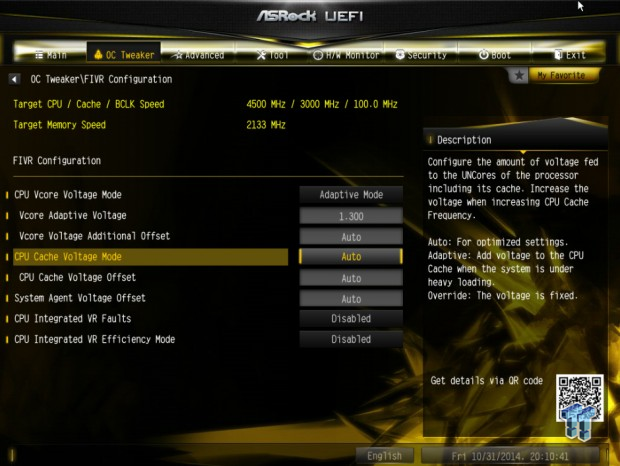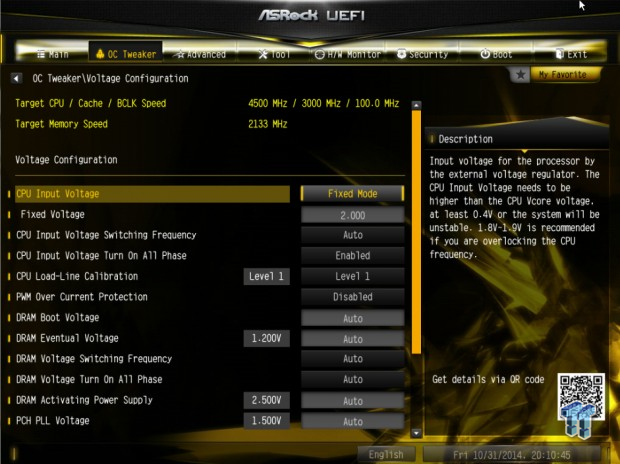 The CPU voltages are divided between the FIVR voltages, and the PWM settings page. I set the VCore to 1.3v, and the VIN to 2.0 volts, and maxed out the PWM settings above.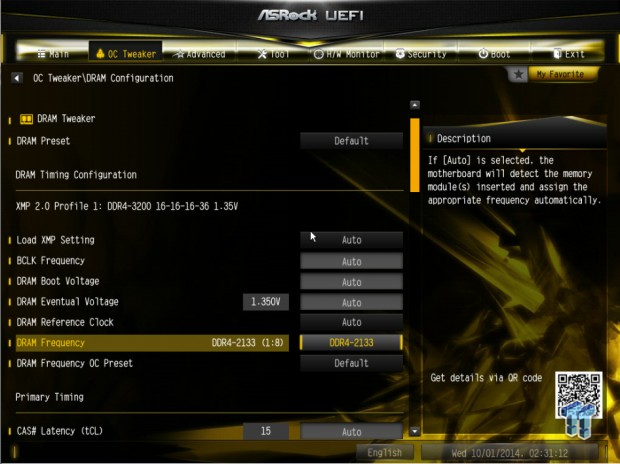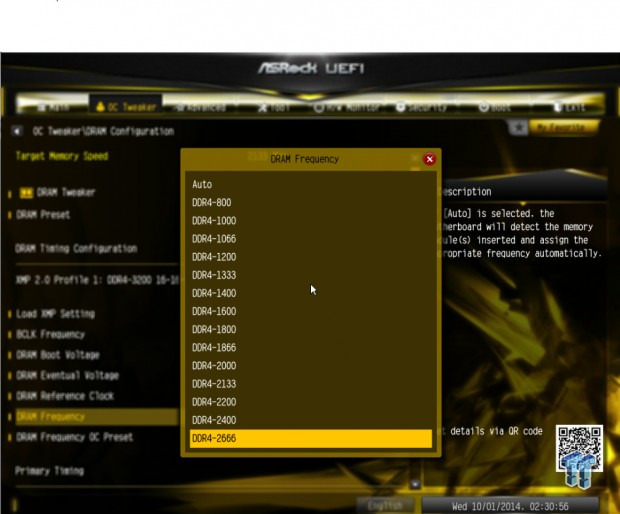 I selected the 21.33MHz DRAM multiplier. The image on the right shows all the available DRAM multipliers; to go higher, you should use the 1.25x BCLK divider.
OC Recovery Experience:
OC recovery was present, and seemed to work well. I had to use clear CMOS a few times, but in general, recovery from bad CPU or memory settings is easy enough. BCLK might require a clear CMOS.
Test System Setup and Feature Testing
Test System Setup
In this section, I will test ASRock's features; this includes Formula Drive Auto OC, BIOS CPU OC Profiles, power consumption, and audio performance.
A 128GB Samsung XP941 M.2 drive that can utilize 4x PCI-E is a new addition to my test bed.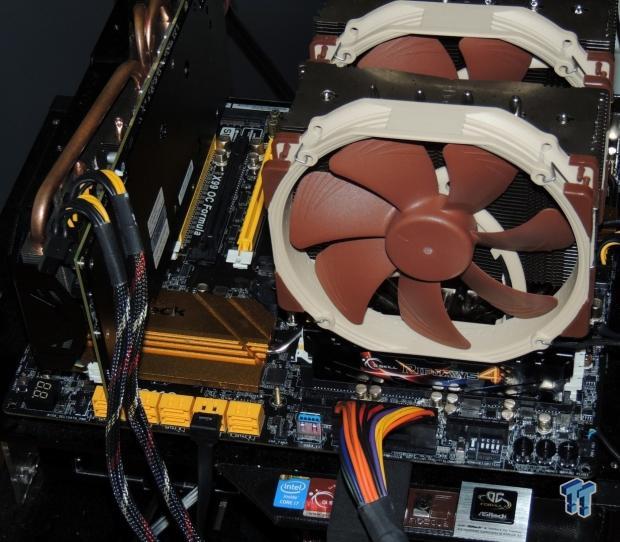 If you noticed that in my X99 articles the GPU is in the 3rd slot down, it is because the Noctua NH-D15 makes it impossible to install a GPU with a back panel on basically all of my X99 motherboards.
ASRock's Formula Drive Overclocking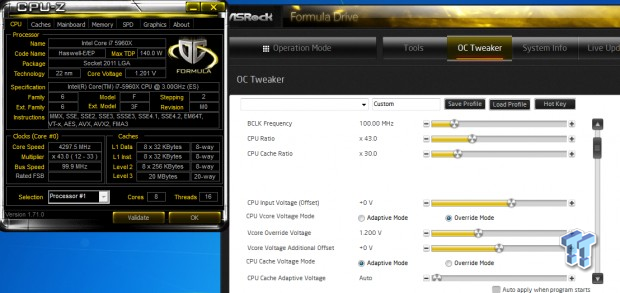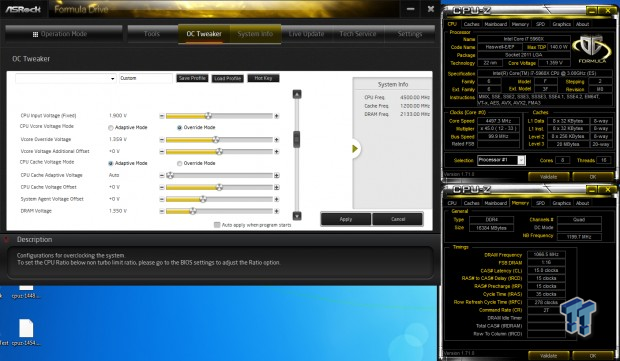 ASRock offers the same profiles in the UEFi as they do in Windows for CPU overclocking. They offer profiles from 4.1 to 4.5GHz. They also offer an auto OC tool that will test the system in real-time to find an optimal overclock. The Auto overclocking tool landed me a 4.3GHz overclock with a 1.2v VCore. The 4.5GHz profile I loaded gave the VCore 1.356v. The 4.5GHz profile's VCore is a bit higher than what I need for 24.7 stability; this is probably because it needs to stabilize CPUs worse than mine. The auto overclocking tool provided a much more reasonable overclock and VCore.
OC Software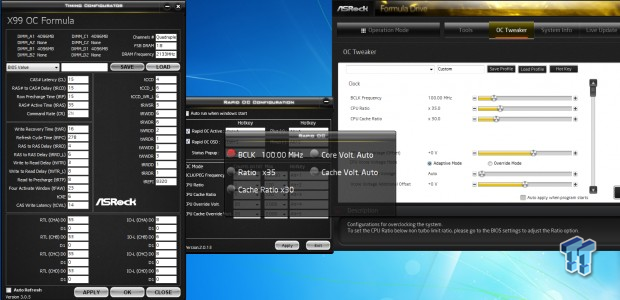 ASRock provides many different overclocking programs. The main one is the Formula Drive that provides basically all you need in a colorful GUI. However, if you are going for a more hardcore overclock, certain large programs like Formula Drive might cause stability issues, so ASRock provides Rapid OC. Rapid OC allows you to change settings on-the-fly with hotkey configurations, or the buttons on the motherboard. Rapid OC software must be launched (and can be minimized) for the OC buttons on the board to work. The last tool is ASRock's Timing Configurator, which provides all of the DRAM timings you need in a compact view.
Power Testing
I tested the power at the wall socket, and at the eight-pin CPU power connector on the motherboard, which supplies the CPU power. Measurements were taken at 0% load for Idle, and 100% load (at max spikes) using IntelBurnTest.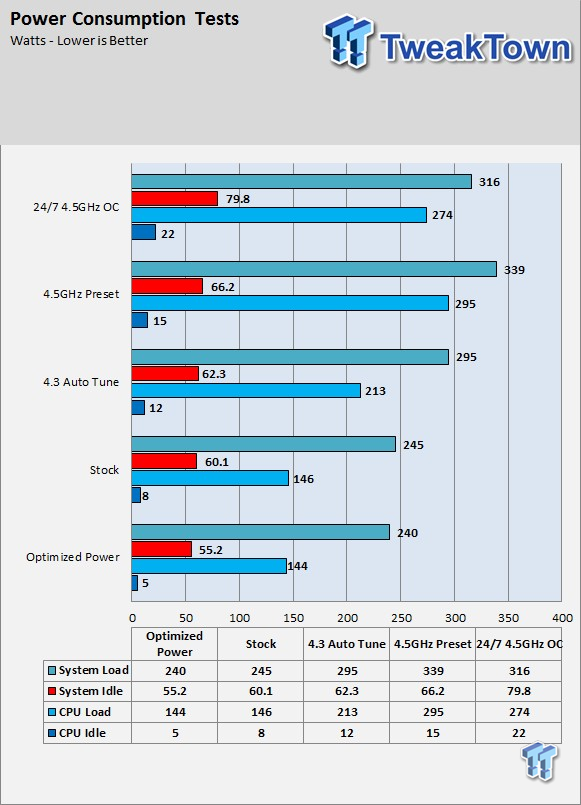 Windows power settings:
Power Saver: Optimized Power
Balanced: Stock, Auto OC (4.3GHz), 4.5GHz Preset
High Performance: 4.5GHz Manual
Audio Testing
This is the testing done in RMAA5.5 with the audio; the results speak for themselves. I test with RMAA a bit differently than others. I make sure to disable all audio enhancements in packaged software, and in the control panel, then I match bit rate and frequency, and finally run the test. These results are in line with other ALC1150 with NE5532 configurations.
Final Thoughts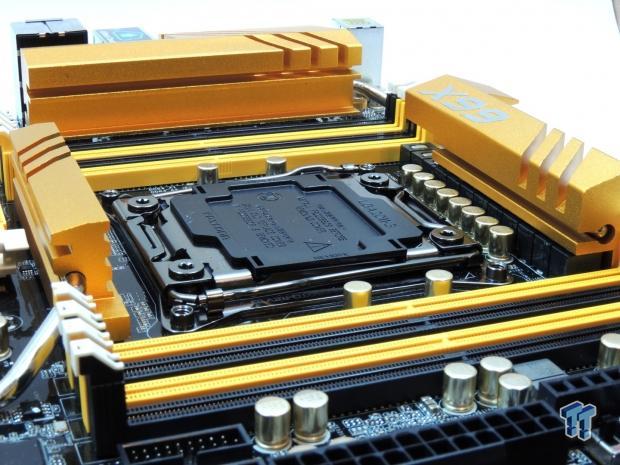 The last time I had the chance to mess around with an ASRock OC Formula series motherboard was with the Z87 OC Formula, however, ASRock has since taken an even larger step towards producing a well done overclocking motherboard. ASRock had never struck me as an overclocking brand, as they had always fallen into the shadow of their old parent company, however, the OC Formula series redefines ASRock as a motherboard brand that can give other brands something to worry about.
Since ASRock split away from its old parent company, they have come a long way into the enthusiast market, and the X99 OC Formula is an example at how one brand can make it big with the right features and solid execution. The X99 OC Formula packs in most of the latest Intel X99 technologies, the only one missing is SATA Express; however, we have yet to see any SATA Express drives on the market. In lieu of SATA Express, ASRock opted to give users Ultra M.2 with 4x PCI-E 3.0 lanes, and that has a small impact on total PCI-E bandwidth for 4-way SLI/CrossFireX since those PCI-E 3.0 lanes come from the CPU. The X99 platform is a tough one to conquer, however, ASRock is keeping up with periodical BIOS updates and some pretty good BIOS profiles for memory overclocking.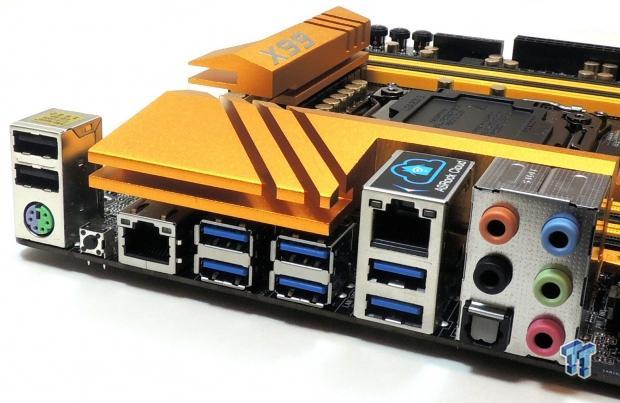 When I do my memory overclocking for max speed, I only set the main timings because I want to see how the motherboard manufacturer has configured the rest. In this case, ASRock traded a little bit of efficiency for higher frequency, the overclock on my G.Skill 3200MHz kit was the highest I have seen so far. I was very impressed by how easily the board went above the XMP rating for this kit, even though the board doesn't have the 32x multiplier, it has no issues running the kit at 3200MHz with the 1.25x BCLK divider.
The profiles for overclocking in the UEFI are great, especially the memory ones. The way ASRock has allocated bandwidth is sound, and the M.2 expansion is very ridiculous (in a good way) - for the first time, I saw speeds over 900 MB/s sequential read on a single SSD! ASRock did a great job with their X99 OC Formula, and at $329.99 it is a great buy for anyone who wants a solid X99 overclocking motherboard with some great features.
PRICING: You can find the ASRock X99 OC Formula for sale below. The prices listed are valid at the time of writing, but can change at any time. Click the link to see the very latest pricing for the best deal.
United States: The ASRock X99 OC Formula retails for $370.58 at Amazon.