Introduction & Retail Madness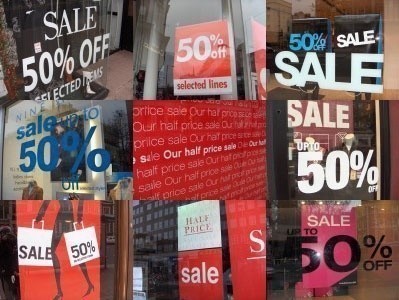 Introduction
Somewhere along the line wires were crossed in my head and shopping became a sport. Like all sports, there are personal rewards and the thrill of the game causes a bit of euphoria when you win. This game doesn't require a ball and you don't play against other players. You are the judge of your own performance and define the rules.
The tools you will learn today will make you an elite shopper, but this power comes with a warning. Only you will be able to choose if this power corrupts your morals and turns you into a consumer that feeds on the hunt, or if you can walk away knowing that you won the game.
Black Friday is a Scam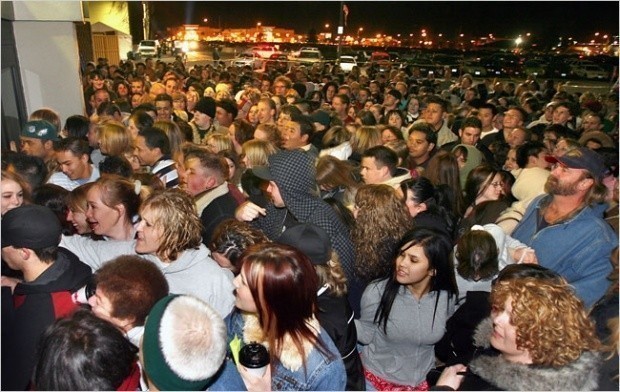 Before you get to the good stuff, let's take a look at what shopping retail really costs you. Every year I see people standing around in the cold hoping to save a couple of hundred dollars at best. Retailers and the Lame Stream Media are not your friends and their news is tainted. NBC, MSNBC, Fox News and CNBC are all out for your loot!
Most media outlets are owned by giant companies that own other companies like General Electric, Microsoft, Fox Entertainment and the list goes on and on. They hype Black Friday so their parent corporations make more profit. Knowing that wealth is not created, it is simply transferred; the more a parent company makes, the higher the bonus' are for their employees. If I was paid a bonus for you to transfer your wealth then I would tell you to go out and consume, too. I don't blame them; I just realize that the game is more difficult than it appears.
Ask yourself how much your time is worth. If you make 20 Dollars an hour at work then for 8 hours a day your time is worth 20 Dollars an hour. If you work overtime then for an additional 4 hours a day your time is worth 30 Dollars an hour. Now ask yourself, how much are you making driving to a store in traffic and standing in line for four hours? You are not making any money, you are actually spending money. If the store you are going to is an hour away then you are already down on time and spending money on your gas. This adds to the total price of the product you are purchasing, a hidden cost often overlooked. Now, ask yourself how much stress is worth to you? Standing in line in the cold with 600 other people is stress and it has an effect on you. If you monetize that stress level then you can tack that onto the cost of the item.
In short, retail sucks! Even if you save a few dollars here and there, you pay in the long run. Now, let's take a look at how to beat the retail game.
How it Works and Finding Your Target
How it Works

Even before the advent of the internet, warehouse clubs, drop shipping operations and other discount sellers were around. Most of these sellers rely on volume and cost saving strategies. Advertising adds to costs, so during the '80s they relied on word of mouth and if you were an insider 'in the know' then you could get the good deals.
The internet started low cost advertising and the ability to list products for the world to easily find. During the internet age volume has gone up, but so has the level of customer support issues. Paying a large staff of people to take calls on how to plug in an HDMI cable raises costs; the technically challenged are actually raising the prices at all levels, but the discount companies we find the best deals from often would rather have a product returned than deal with explaining to you how to plug in a HDMI cable.
Finding Your Target
Before you start shopping you need to know exactly what it is you want to buy. Sites like TweakTown are the perfect place to start. If you are looking for a solid state drive then you will not find a better place to research than TweakTown. The guy that writes about that stuff is awesome and has no problems telling you what to buy and what to pass on ?
Now that you know exactly what you are shopping for, we can get started with the shopping process. For today I am going to use an example and walk you through the process from start to finish. I am currently obsessing over a 3D TV to play Gran Turismo on. Please look past my personal insanity.
To find my target I started out with a trip to Fry's and HH Gregg, two local retail shops that I go to from time to time to research physical products and talk to other consumers to put myself in check. Being a computer hardware reviewer sometimes gets out of hand and to keep myself in check I need to see retail prices and see people actually spending money on them.
So, my target is a 3D TV to be used mainly on a video game. My current 55 inch plasma TV is three years old and I spent 2500 USD on it, but the MSRP was around 3500 USD. To stay in good graces with my wife and purchase a premium TV then this purchase has to be a family item; something that will go in the main TV room and be used by the entire family. To keep the family happy I will need to either keep the current size TV, or go larger.
So, a 55 inch 3D TV that delivers the best picture for console gaming, family movies and it has to be something that I will personally be satisfied with for at least another three years. After researching I concluded that I wanted a Samsung 8000 Series LED or plasma display, or a Panasonic plasma.
Let's start hunting.
Let the Hunt Begin

With your model numbers selected you can now start your targeted search. There are several online shopping websites and most of them are very good. There really isn't a perfect shopping network, so I suggest you use several. Three of my favorites are Pricegrabber.com, Google Shopping and believe it or not, EBay. Sometimes when shopping you need to find a product that is no longer being reproduced. A good example of this comes from my kids. Every year they get a new light saber from Star Wars, but the models they want is no longer being made and their retail availability is nonexistent. Many collectors have kept these little treasures unopened and in their retail packages. EBay is like a specialty shop that specializes in everything.
For my example today I have three model numbers and any of the three products will satisfy my needs. The Samsung
UN55C8000FX
is a LED backlit display and its plasma brother is a 58" display with a model number of
PN58C8000YF
. Panasonic has several model numbers that fit the bill, so I am only casually looking at their products, but each step along the way I am looking at Panasonic pricing. At the same time in the back of my mind I am thinking about the larger 60 and 65 inch models, but their prices are quite a bit more than what I really want to spend. We all have to have a dream, right?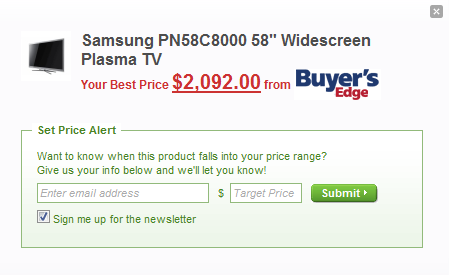 The MSRP of the Samsung plasma display is 2999.99. You never want to spend anywhere near this price, but you need to know it before getting started. The Samsung LED display has an MSRP of 3499.99. Your local retail price for these two at most big box retailers is around
2800 USD for the LED
and around
2500 Dollars for the plasma
. The point of this article is to teach you how not to ever pay those prices, too.
For this example I am looking for a big ticket item and the higher the price means the more variation I will find in prices. I plan to spend around 2000 Dollars, so I will be saving 500 Dollars or more.
To start my search I am breaking out the weapons. First up is Pricegrabber.com. The lowest price for the LED Samsung was 2,069 USD. That's a really good start. The plasma display was 2,092 USD, another good price, but the LED cost savings is better over the retail and MSRP.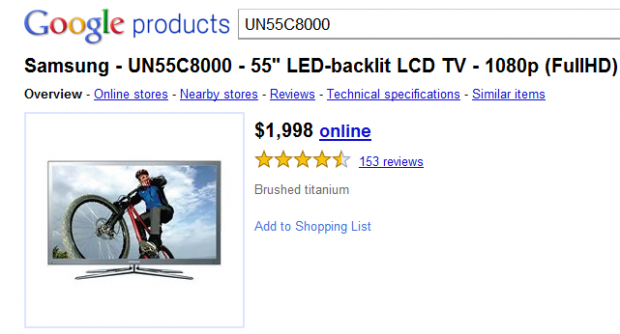 Next up was Google and their shopping network. To get to Google's Shopping Network you just go to Google.com and at the top you will find a link that says 'shopping'.
Google lists both used and new products, but I am only interested in a new unit that also carries the full manufacturers warranty.

To get the very best price click on the Base Price link and the results will be organized by price, lowest to highest. The above image shows the results listed by price. The first result is for a used TV, so it is removed in my mind. The next lowest price is just under 2,000 USD, but the seller only has ten reviews on Google's built in rating system. The next best new price is 2,075 Dollars and is actually a seller that I have used before when I purchased a Pioneer Elite receiver. That purchase went smoothly and I spent around 1,500 Dollars. At this point I am satisfied with my hunt and know that the seller is credible. We will get into how to verify a seller on the next page.
So, on this hunt I was able to find the product I was looking for and save around 1000 Dollars on my purchase. In the state where I live sales tax is 7%, so the final out the door price at a big box retailer would have been around 2,996 USD plus the gas to get to the store and the aggravation of dealing with know it all salesmen and massive holiday crowds. I would call that a victory in my game!
Since you are new to this game, you will want to continue your research and verify the seller with the product you want.
A Pro Shopper is a Safe Shopper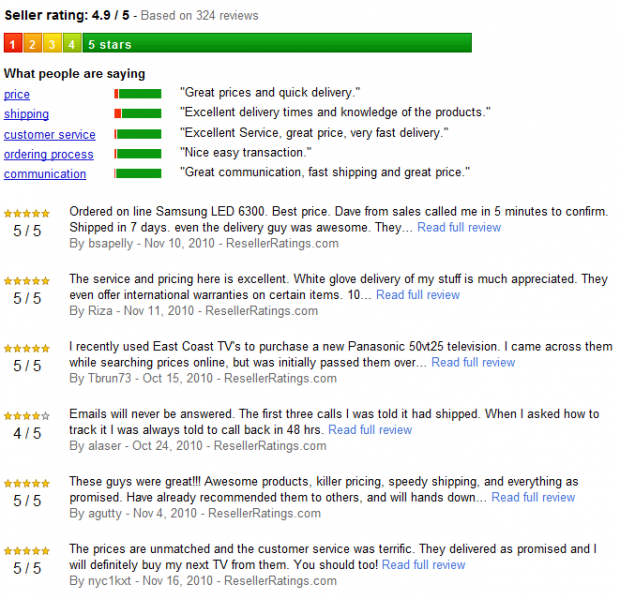 Cybercrime is a big deal and you need to take it seriously. A secondary benefit of using a large shopping network is the network's user base rating system. In the above image we see an example of comments left for my new shiny 3D TV seller. At the time of writing my seller had over 300 comments left for the store, a number high enough to get a good feel of both the seller, their honesty and what support areas they might not do a very good job covering.

For the truly sceptical, another website dedicated to rating online sellers is also available. This site is called Resellerratings.com. Reseller Ratings has been around for several years and allows users to leave feedback on all sellers. Reseller Ratings rarely, if ever removes even the most disgruntled reviews, so you can be confident of your seller. I would urge everyone to search resellerratings.com
BEFORE
submitting their credit card number.
Final Thoughts
Today we walked you through product research, selection, product search and finally a purchase. If you are looking for a 3D TV and follow my example, you just purchased a premium 3D TV and saved around 1/3 of what you would by shopping retail. Depending on what you are shopping for, saving between ½ and 1/3 is common using these tips and it can be done on nearly everything you shop for. Obviously there are some things that you really shouldn't purchase over the internet. Groceries are a good example and since there is a lead time from the shipping, I wouldn't go shopping for a bottle of Gray Goose since it is an item that I would consume right away. The good thing is that by saving 1,000 Dollars on my TV I have a lot more money to spend on Gray Goose.
Although we had a major victory in our shopping game, we managed to hurt our local retailers who rely on our spending to stay in business and employ those around us. This is a moral story that I will leave up to you, but you should keep these things in mind when shopping. One way to relieve your moral strain is to call or go to your local retailers and let them know about the price you found your product for and give them the chance to match that price. Most big box retails will simply offer you a small percentage off of their everyday price and pretend that the price you are getting it for is less than their cost. At that point you gave them a chance to be a player in your game.
The final warning I have for you is just how addictive it can be to shop like this. You always have to remember that spending 2000 Dollars on something that would normally cost 3000 Dollars still means you are spending 2000 Dollars. Last year I researched and bought my Mercedes for around 8,000 less than I should have, my Ducati for 10,000 less and countless hundreds on other items. Clearly this whole shopping as a sport thing has corrupted me and I am now spending at levels I really shouldn't be. Keep it fun, keep it safe, but always remember that you are still spending no matter how much you might be saving.
Now get out there and start hunting for the best deals and report back below your score!