Five must-have FREE apps for Windows PC maintenance
Cameron checks in with five must-have FREE applications for Windows PC maintenance, which are designed to help keep your system running silky smooth.

Published Fri, Jan 30 2009 11:00 PM CST
|
Updated Tue, Nov 3 2020 7:04 PM CST
Five must-have FREE apps for Windows PC maintenance
1

When friends and family have computer issues, I am often the first person asked how to fix things. And while it is difficult to fix a fried motherboard or CPU, most of the time the issues stemmed from lack of maintenance and protection in the operating system.
If you routinely run several programs on your Windows based PC, there is no reason why your system cannot run smoothly for a year or more. Many enthusiasts recommend formatting your PC every six months or so and I don't argue with that, but they probably don't look after their system as well as they could. Formatting is not always an option either, due to the busy requirements put upon us these days.
In this guide today, we are going to tell you about five must-have FREE applications for Windows PC maintenance. I use each and every one of them religiously and my system always runs smooth as silk. Let's begin and we will list them from one to five, but in no particular order. All of these applications will work in Windows XP and Vista (32-bit and 64-bit) and some were even tested to work in the Windows 7 BETA.
Number One - CCleaner (file and registry clean up)
Possibly one of the best free Windows applications of all time is CCleaner by Piriform Ltd. I utterly swear by this application and after setting up a new system, installing drivers and stability testing, it is always the first program I install.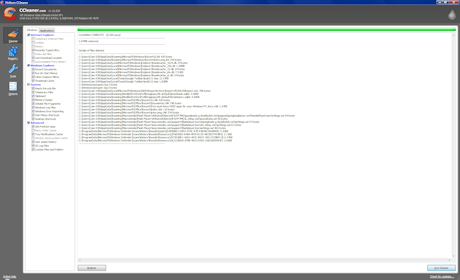 CCleaner is a hugely popular free application which safely removes left over files, old registry entries and it even comes with a start-up manager to stop programs loading on Windows start-up as well as a basic uninstall manager. Not only does CCleaner remove left over files, but it also helps delete files Windows creates that are not needed and can free up a LOT of disk space - such as Memory Dumps, Windows Error Reporting and Windows log files.
We recommend you run this program at least once a day and not only do the file cleaner, but also the registry cleaner at the same time. It will go a long way to help keeping your Windows PC running smoothly and also freeing up important disk space on your system.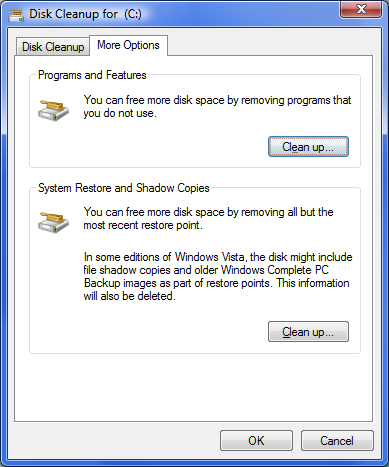 ANOTHER TIP:
Windows also has a very basic built-in file cleaner called "Disk Cleanup", but that is pretty useless once you have CCleaner installed. However, a slightly hidden option is under "More Options" (as you can see above) and what we want to do is free up disk space by removing old System Restore files.
Go to My Computer, right click on your master Local Disk drive and click "Properties" and then "Disk Cleanup". Now click the "More Options" tab and then the bottom "Clean up..." and then "Delete" and it will remove all but the last system restore file. During our test, we managed to free up almost 30GB of space and this was on a PC with a Windows install only a month or so old. You can expect better results with an older Windows install.
DOWNLOAD:
http://www.ccleaner.com
Number Two - AVG Free (virus scanner)
While some savvy Windows users may not require it as it does chew up system resources, an anti-virus scanner is one of the key elements to keeping your system up and running and as smoothly as possible.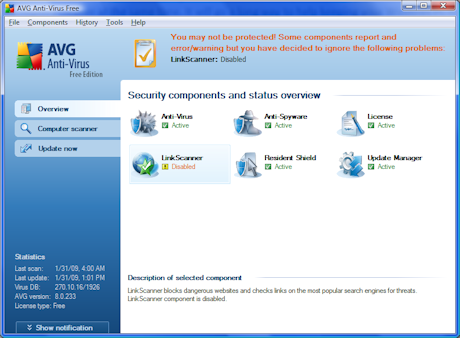 There are many paid virus scanner solutions out there, but to be honest, most of them suck. The majority are bloated with useless crap and chew up a horrendous amount of system resources and should be avoided at all costs.
On that note, enter AVG Anti-Virus Free - as far as I am concerned, the best virus scanner one can have. And of course, as you can see by the name, it's entirely free. Not only does it consistently monitor your system for viruses, but it is also able to detect spyware and block bad websites as well as warning you about them in search engine results.
I disable the LinkScanner feature as it does slow down your browser a little and I am able to usually tell which is a good website and which should be avoided. If you are a new computer user, you will probably want to keep it enabled and have AVG provide recommendations to you.
You should always run AVG (can disable the Resident Shield while playing games or giving a presentation for a performance boost) all the time and you should manually check for updates every few days to ensure you have the latest protection. Do note that it will automatically check for updates itself every day, too.
DOWNLOAD:
http://free.avg.com
Five must-have FREE apps for Windows PC maintenance - Continued
Number Three - Spybot - Search & Destroy (spyware scanner)
Next on the list is another massively popular free PC application called Spybot - Search & Destroy. It is an application that is designed to protect your system from spyware, malware and other crap that can bring your system to a halt if not handled properly.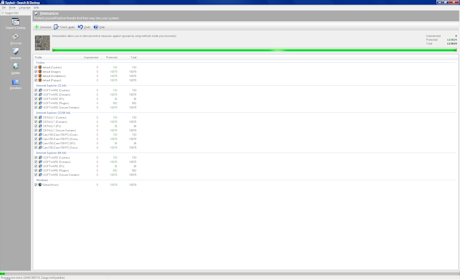 Possibly one of the best aspects of this program is its "Immunize" feature. After you update the software and download the latest database detections, you should always run the "Immunize" feature, which effectively stops possible spyware infections before they happen by blocking you from viewing dangerous websites and servers and accepting bad cookies.
It also has a built-in bot-check that scans your system for spyware and other bad code and removes it from your system. It not only checks files, but also your web history, cookies and cache.
You should run this program at least once a week, if not more if you can. Always do a manual check for the latest updates before scanning and you can select the option to download BETA updates, which you will provide you with the most up-to-date database protection from Safer Networking Ltd.
DOWNLOAD:
http://www.safer-networking.org/en/download/index.html
Number Four - Defraggler (defragment your files)
Windows has a built-in defragmentation application for your files, but it is slow and gives you little control over what is happening.
There are many applications out there to do the job, including Diskeeper 2009 which we love, but you need to pay for it. As far as free apps go, Defraggler made by the same folks as CCleaner, is a good choice.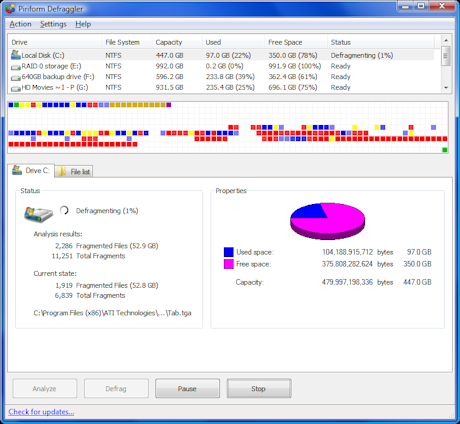 We could dedicate a guide alone for this, but in one sentence a defrag tool is designed to organize files more efficiently on your hard drive for quicker access and also faster writes by better sorting free space.
One program I have recently started using is called Defraggler and it is fairly unique in that it is able to build a list of fragmented files and gives you the ability to defrag each individually. Of course you can defrag your whole drive (recommended), but this can take a long time.
We recommend you defrag all of your hard disk drives once a week and this will go a very long way to help keep your system snappy and very responsive.
DOWNLOAD:
http://www.defraggler.com
Number Five - Revo Uninstaller (advanced uninstalling tool)
The final must-have free app on the list today is a program called Revo Uninstaller.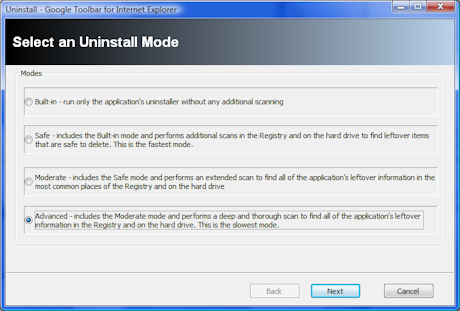 You could think of Revo as an advanced "Add or Remove Programs" that is built into Windows. It not only removes programs, but also removes all files, folders, registry entries and traces left overs by the installed program. As you can see in the screenshot above, there are four options you can choose.
Coming into a little of CCleaner territory, Revo also has some extra tools built into it that allow you to remove files no longer required. It has a browser cleaner to remove history, cookies and so on. It has a Microsoft Office cleaner to remove recent document listings. It has a Windows cleaner to remove all sorts of stuff such as recent document history, empty the clipboard, crash memory dump files and check disk recovered file fragments. CCleaner handles most of this, but there is some that it doesn't.
Whenever you want to properly uninstall a program, Revo is the one to use.
DOWNLOAD:
http://www.revouninstaller.com
We hope you enjoyed this guide into the five must-have FREE apps for Windows PC maintenance. Feel free to comment
in our forums
!
PRICING: You can find products similar to this one for sale below.

United States: Find other tech and computer products like this over at Amazon.com

United Kingdom: Find other tech and computer products like this over at Amazon.co.uk

Australia: Find other tech and computer products like this over at Amazon.com.au

Canada: Find other tech and computer products like this over at Amazon.ca

Deutschland: Finde andere Technik- und Computerprodukte wie dieses auf Amazon.de
We openly invite the companies who provide us with review samples / who are mentioned or discussed to express their opinion. If any company representative wishes to respond, we will publish the response here. Please contact us if you wish to respond.
Related Tags