Dead Space 3 Xbox 360 Review
Isaac Clarke going is going to have another bad day.
Published Feb 10, 2013 9:08 AM CST
|
Updated Tue, Nov 3 2020 7:01 PM CST
Developer / Publisher: EA
4 minute read time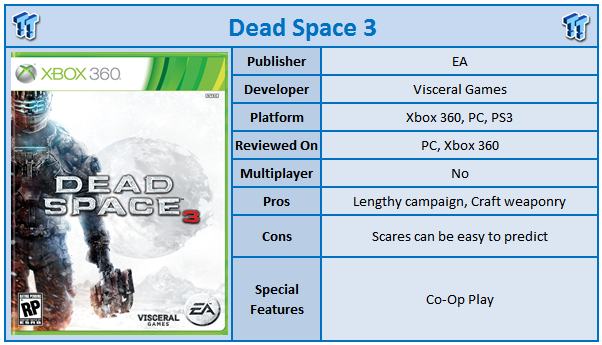 In terms of successful new IP that has managed to establish itself this generation of consoles, Dead Space has to be right up there. The franchise is so well known and respected that it is hard to believe that the entire series has come during this generation. It has helped that this the longest generation on record, but there is no doubting the quality of the first two games. Dead Space 3 continues what has made the franchise so formidable and introduces some new interesting takes and challenges, plus one big change - cooperative play.
Dead Space 3 begins two hundred years before the present day (in the Dead Space universe). After the opening events of the game you are fast forwarded to present day Isaac Clarke, who is relaxing at home when he receives an urgent call that his (latest) girlfriend is in trouble. Isaac, always the hero, picks up his engineering tools and heads off to help out. As per usual, however, not is all as it seems, and as Isaac reaches the medical bay, he realises he is going to have yet another bad day. The necromorphs have returned.
You still control Isaac from a third person perspective, but there are a few new tricks this time around. Perhaps the biggest change is the ability for Isaac to craft his own weapons. As you scavenge goods from around the environments, you gain resources, which can be used to craft new weapons. This isn't a situation where you pick up blueprints and build those, but more you choose the individual parts and craft incredibly unique weapons.
One of the disappointing aspects is that you really don't have to do this to perform well in the game. They do of course provide advantages, however you can get by very well with what you find about the place should you find crafting not up your alley.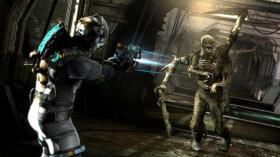 Aside from this, the gameplay is very much what we've come to expect. Walk into a dark room, get stuck and get rushed by enemies. That's the more frustrating element of the gameplay in Dead Space 3. The frustrations are primarily caused by the game throwing multitudes of enemies towards you rather than having smart AI in small numbers. There are of course sections where the game relies on brains instead of brawn, and unsurprisingly these are the most enjoyable sections of the game.
One of the other problems is that it's becoming all too easy to predict the scares. Aside from a few moments in the first part of the game, you really can easily predict where the enemies will appear and prepare accordingly. Thankfully there are a few scares that come out of nowhere, but the game does have a reliance on having enemies appear behind you out of nowhere, which can seem a bit cheap.
Midway through the game this is completely turned on its head and the problem is fixed exponentially. You arrive on an ice covered planet to try and finish the threat off once and for all. A new element is introduced to the game at this point and that is a lack of visibility.
In many areas of the planet Isaac can't see more than five metres ahead, and so the scares of necromorphs appearing out of vents and doors, is instead replaced with them literally appearing out of the ground and nowhere. It's an incredibly effective use of the ice environment and really turns many elements of the game on its head.
The game often struggles to decide if it wants to be a survival horror game or action game with many sequences especially towards the end feeling more like Call of Duty than a Dead Space game. These do break up a somewhat monotony of sneaking about, but it does remove the tension that the game tries to build up over such a long time. One particular chapter is amazing at the sound and environmental design to the level where the tension goes through the roof. We won't spoil it.
Aside from shooting things, you will again find yourself solving some rather simple puzzles (though some are overused), that include moving the two analogue sticks to line up some circuitry right through to building block style puzzles where you have to find and replace missing components. These puzzles are neither frequent nor frustrating. One thing that is clear is that many of the puzzles have been adapted to be performed by two players in the co-op mode.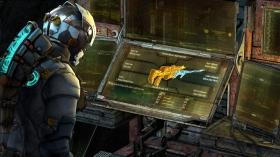 At any point in the game a second player can drop in and out of the game which does mix the game up and also gives the game a different feel. The second player takes charge of John Carver; a man wanting revenge after he lost is family to the enemy. Some of the missions in the game are exclusively co-op (as they contain sections which require a second player), but the majority of the game can be played in both modes just fine. One thing though, it does change the feel of the game and it does make it harder for the game to scare you if you are just having a chat over Xbox Live at the time.
From a visual and environmental standpoint the game is incredibly impressive. At every step of the way it oozes AAA polish and until the credits roll, you are generally in for a visual treat. The game sometimes takes control away from the player for a quick cut scene, but mostly from start to finish its all you.
It's easy to get through a few missions without even realising as no load screens appear allowing the missions to transition into each other well and keep up the already built tension. Isaac is incredibly well animated, as is his suit and the necromorphs are generally quite scary to look at. The overall presentation and voice acting of the characters impresses as well and in general the game is one tight aural and visual package.
Dead Space 3 was one of those games where we had to wonder if the franchise was being milked just a bit too much. Thankfully we were wrong. Visceral Games are clearly not going to let this game falter and this has now become one of the premiere survival horror game franchises. The crafting whilst interesting isn't necessarily required, but perhaps the masterstroke of design was the move to the ice planet. Completely changes up the way the game presents it scares and just when you are getting comfortable, the game turns itself a bit upside down. It's likely this will be the last time we see Dead Space on this generation of consoles, but with Visceral Games working on it, we can't wait to see what a next generation Dead Space may look like. Buy this game.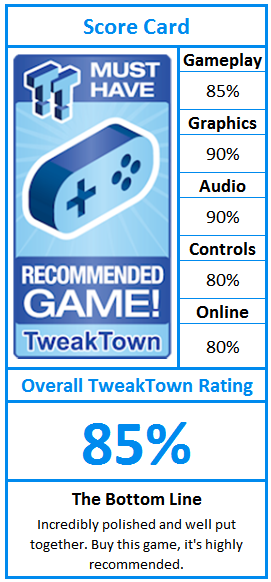 PRICING: You can find products similar to this one for sale below.

United States: Find other tech and computer products like this over at Amazon.com

United Kingdom: Find other tech and computer products like this over at Amazon.co.uk

Australia: Find other tech and computer products like this over at Amazon.com.au

Canada: Find other tech and computer products like this over at Amazon.ca

Deutschland: Finde andere Technik- und Computerprodukte wie dieses auf Amazon.de