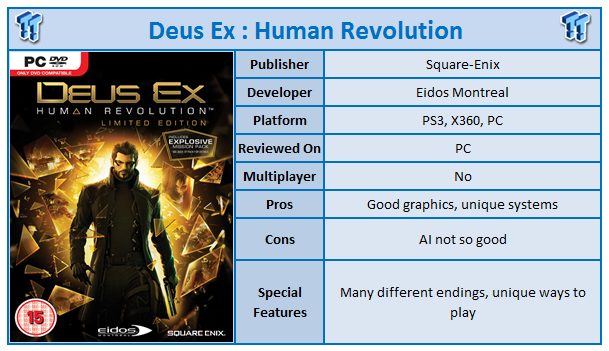 When it comes to games that PC gamers look on fondly, Deus Ex is right up there. Released by Warren Spectors ION Storm back in the day, Deus Ex was a revolutionary RPG that showed RPG games do not necessarily have to be in a fantasy world to succeed. The unique aspects of melding your character via different technical options and having many different ways to achieve objectives were revolutionary at the time.
The sequel, Infinite War was overhyped and unfortunately left a poor taste in the mouth. Eidos Montreal has been tasked with reinvigorating the franchise for the third outing, and you know what? They just might have succeeded.
Deus Ex Human Revolution is a prequel to the original game which has allowed Eidos Montreal a lot of room to design a story that they own rather than being stuck to the events of the previous games, especially the second one. You play as Adam Jenson, security advisor to Sarif Industries who have developed augmentations to improve humans in many different ways.
Human Revolution as the name implies is set during the period where augmentations are new and there is opposition to it going mainstream and this makes it a very interesting world to play in. Do you continue to toe the line for Sarif, or branch out on your own making your own decisions? The storyline can be driven by you as the player and this has carried through well from the original game.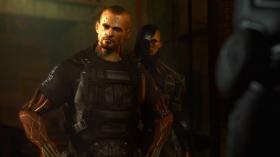 As expected, Deus Ex: Human Revolution is played from the first person, but to call it a first person shooter is to undersell the unique nature of the game. Whilst it is possible to entirely blast your way through the game, this is not encouraged in many ways. First of all, the ammunition stocks within the game are quite minimal and it is infrequent that you will stumble upon a cache of weapons. When you do this, you know a boss fight is around the corner and in some ways this is disappointing as it forces you to take the bosses in particular ways.
However, the main strength of Deus Ex: Human Revolution comes when you play it how we believe the developers intended you to and that is with a mix of stealth and skill. As you progress in the game you will gain Praxis points which can be used to augment Adam and where the game starts to diverge for every player. Will you put points into improving Adams armor and combat skills, or will you take the other route and focus on hacking.
What you choose with this can significantly change the game. For example, each panel that you can hack requires a level of hacking skill. If you don't have that skill (you used points for other options for example) you need to find another way around by either finding the pin code on an enemy, or finding a different way around.
The other reason why stealth could be the way to go is that the game is quite difficult. Once you get a few characters shooting at you, it's time to give up, because once outnumbered Adam is in real trouble even with the highest level of upgrades for combat.
Another area that you can improve and has a significant effect on the story (and some of the most enjoyable sections) comes from the speech element. Every so often in the game you will run into a character who wants to 'challenge' you in an argument. Win the argument and that person will do what you want (such as letting you into a police station), lose and you have to find another way around. And you only get one shot at it. If you anger the character enough for them not to talk to you any more, there is no way to get their attention back (without loading a save of course).
Deus Ex: Human Revolution could be best described as a melding of Splinter Cell style stealth and Mass Effect style speech elements which lead to one very good game indeed.
[img]2[/img]
The world itself is a living breathing organism and there is always something to do. Whilst it is possible to blow through the game in around twelve hours, you won't want to do this. Every terminal in the game offers new information and exploring the world will find you characters who can give you side quests (that do give background information on the main story) or offer options such as weapons trading. Deus Ex: Human Revolution is a game that gives you back what you put in. If you don't spend time exploring the world you will think it's quite generic and nothing new. But look beyond the cream at the top and you will find an incredibly interesting world to explore for hours.
Visually, the game is a triumph. There is no doubt that Deus Ex: Human Revolution is one of the best looking games of the year so far. Eidos Montreal has put together an incredibly unique and interesting world to look at and the game definitely has a unique style. But it retains many of the elements that made Deus Ex the game it was back in the day. You will look out the windows of buildings and marvel at the architecture, especially in the various cities that you visit throughout the game, and it is when you realise that they are all rendered and not just skybox graphics that you realise the meticulous details the developers have put into the game.
[img]3[/img]
The voice acting and sound effects are also impressive. A strong, cinematic soundtrack goes well with the storyline playing out on screen and Adams raspy voice fits the character well. There are some areas of the script which could use some improving, but overall the game just like its visual effects, is a masterpiece.
Deus Ex: Human Revolution is a game that does not come along very often. A game that has both an amazingly interesting storyline with gameplay to backup is a very rare thing indeed in this day and age. Eidos Montreal took a huge risk bringing back a game that so many people loved on the PC, but they have succeeded. Not only is Deus Ex: Human Revolution a game that fans of the series must play, any serious gamer who loves a good story owes it to themselves to play this game.