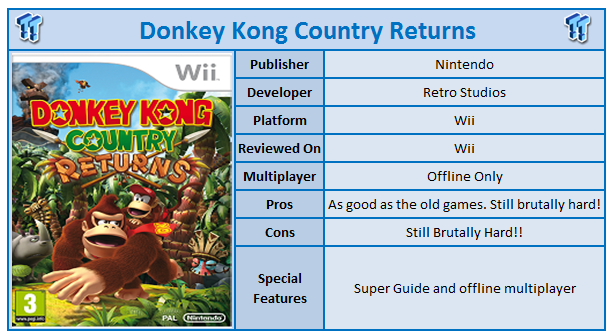 As far as franchises go, Donkey Kong is one of the world's most known and revered. Ever since that big ol' ape stood atop a bunch of girders throwing barrels towards the world's best known plumber, Donkey Kong has been one of the world's most recognizable video game characters.
During the SNES phase, Nintendo tried something new and released what became one of the premier platform games around. Donkey Kong Country skipped the N64 and GameCube generations and instead has landed on the Wii via Retro Studios. Does the introduction of waggle break the system or is Donkey Kong Country Returns as good as the old titles? You bet it is!
Our game begins with Donkey Kong happily eating bananas at home when a mysterious force invades the land that he lives in. They take over various happy creatures and turn them into enemies for our Kong force, but worse than that, steal all his bananas. Yes, this premise was done before, but honestly, who can see a Kong game without bananas being the key aspect to Kong's anger? - So Kong sets off to get his bananas back and rid the island of this scourge.
As expected, Donkey Kong Country Returns retains the side scrolling style of the popular SNES games, but with a few twists. The first thing to note is that this game is brutally hard. The original games were difficult so this will come as no surprise to veterans, but Retro has done a number of things which has allowed it to keep this difficulty whilst still catering to the casual Wii fan.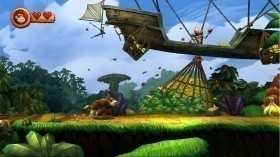 The first change is that Kong has 'lives' for each life. Generally Kong can take two hits before you will have to pick up a checkpoint and at any time when you add Diddy Kong to your crew (via a barrel smash) another two lives are added for him. So you generally get four hits before a restart is required, except in cases where you encounter an environmental problem such as jumping into a blank area.
As well as this, Retro has included the Super Guide, first seen in Super Mario Brothers Wii. If you get stuck on one area eight or more times, you will have the option to have the older Donkey Kong show you how it's done. It is also possible to finish levels this way and for parents with kids playing this game this will be a big help no doubt. You can choose to ignore it and turn it off if you want to play the game in the traditional sense.
In many ways this is where the differences end. Donkey Kong Country Returns is homage to what makes the series great. Tough environmental puzzles, difficult jumps and controller smashing difficulty. Without those three elements it's not Donkey Kong Country. However, Retro has also used the power of the Wii to its best ability. Levels have a level of depth to them and Kong will seemingly be far away on screen whilst at other times up close. The fact that they have managed to pack this level of visual eye tricking depth into a non-3D game is proof of their love for this series.
As well as this, the traditional puzzles of the previous titles return. Choose when to blast out of a barrel for maximum effect or to get to the next area, and as expected, sometimes you have to make these decisions quick.
Often the best way to get through Donkey Kong levels is to just run as fast as you can and jump in hope. This rings true of Returns and we found ourselves finding the game a lot more difficult to time when we tried to take things slowly. Some areas of the game force this upon you, but they are few and far between.
[img]2[/img]
The level of variety in the environments is high. Each world has a different theme, be it jungle, beach, forest and caves just to name a few. Each environment brings with it its own challenges and no world is anything like the other. At the end of each world a boss character exists and the traditional jump on the head may not be the only way to defeat these, offering a level of variety. Sometimes it's not explained very well how to beat these, which is disappointing.
Visually the game is stunning, for a Wii game. We really do have to add that disclaimer because compared to the other big two systems it doesn't compare and really it doesn't have to. Donkey Kong and his favourite friends are back in high accuracy, including Kranky Kong, and the environments are in a word stunning. The soundtrack is based on the old games as well, and just try and ignore the nostalgia factor with the first song that blasts out of the speakers in world one. We won't spoil what it is.
[img]3[/img]
Donkey Kong Country Returns has not had that much hype before release, but it probably should have. Nintendo and Retro Studios have done it again. Retro is responsible for bringing other franchises such as Metroid back to life and into the 21st century and again they have produced. If Nintendo and Retro maintain such a strong relationship, we can not only see Donkey Kong Country having a successful future, but also a few more Nintendo titles getting a reboot. Have a Wii? - Buy this game!