XFX GeForce 8800 Graphics Cards - GTS & GTX Compared
More G80 content is here as we look at GeForce 8800 cards from XFX and compare the differences between GTX and GTS.
Published Fri, Nov 10 2006 11:00 PM CST
|
Updated Tue, Nov 3 2020 7:04 PM CST
Introduction
To say we loved the new GeForce GTS might be a little bit of an understatement.
Like we mentioned though, as good as the GTS is, it will be the top dog GTX that will set the whole
Hot or Not
for the next 6 months, as we prepare for the release of the R600 from ATI.
With the NDA lifting for a little now the general perspective is that the GeForce 8800 GPU series is a real winner. Performance is excellent but not only that, the amount of technology that is packed into the cards is also amazing.
Today we will be having a look at another GeForce GTS graphics card though this time from XFX but also the GTX from XFX as well. GeForce GTX while having all intentions of being available on launch day, due to a slight problem with one of the resistors, meant that a world wide recall delayed the card a little longer then people had hoped.
No doubt the cards are trickling back into the US now but for people in other countries, we have to wait a little longer as those couriers take their sweet time to return them back to us. So, we've already established that the GTS kicks ass but let's now compare both the latest GPU's from nVidia and see where we stand.
The Differences
8800GTX vs. 8800GTS - The Differences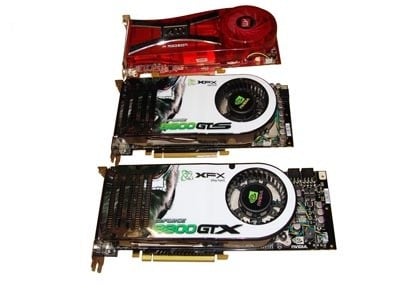 GeForce GTS and GTX both have some major differences and they all range around the performance side of things. Apart from the normal bump in core and memory, there are a few other key changes that differentiate the cards from each other.
Steam Processors on the 8800GTS come in at 96 while the more expensive 8800GTX gets quite a bump up to 128. The core clock on the GTX is bumped by 75MHz giving it a total of 575MHz compared to 500MHz found on the GTS. Other MHz bumps include the memory going from 1200MHz DDR on the GTS to 1350MHz DDR on the GTX along with the shader clock also getting a nice increase from 800MHz to 900MHz.
The GTX comes with a 384-bit memory bus compared to the 320-bit memory bus found on the GTS. In turn this gives us some weird memory numbers and with the higher bus found on the GTX we get 768MB of memory compared to 640MB.
From a pure numbers gain the overall bandwidth is increased in speeds and interface - the GTX gives us a memory bandwidth of 86.4GB/s and a texture fill rate of 36.8billion/s compared to the GTS which comes in at 64GB/s and 24billlion/s.
A few more other key aspects that are to be noted is that the overall length of the 8800GTX is greater when compared to the GTS and two PCI E connectors are used on the new top dog. We also have two SLI connectors on top of the 8800GTX - the general word that is getting around is that this will be used for "tri" SLI so you can have some absolute monster power.
From a supported perspective both cards have the support for HDCP, DX10, Quantum effects, Lumenex engine and other G80 dependent technologies which we looked at in our review of the MSI GeForce 8800GTS.
XFX Packaging
Expecting some big X boxes to come in the post we instead got some more regular looking boxes like we saw with the 7950GX2 box from XFX. While the front of the boxes are actually quite plain they overall look very cool with the XFX mascot showing only half his face in quite a dark looking way.
We can see clearly what model the card is across the bottom, the core clock, how much memory along with a couple of nVidia logos. The only differences between the boxes are the model, core speed and amount of memory included. Apart from that they are practically identical.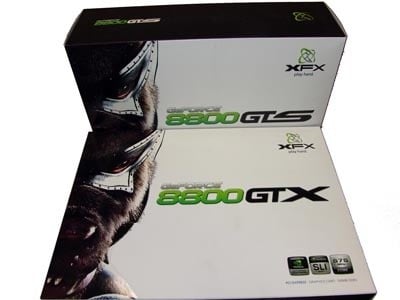 Turning them over we have a picture of the card which takes up majority of the box, quite a useless graph that doesn't really give you any idea of what performance you're going to get and of course some extended specifications including a little about some of the features that are on offer from the 8800 series.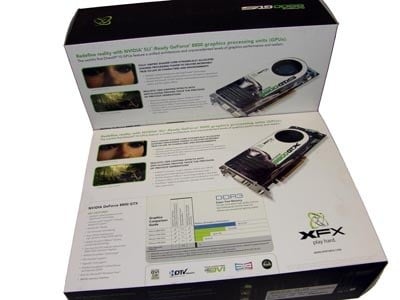 Moving to inside the package there isn't a whole lot to talk about. There is a lot of papers but it isn't anything we haven't really seen before with an explanation on the cards plugs, quick install guide, tips and techniques, X Gear mini catalogue and a driver CD. Unfortunately not even a copy of a game in included.
The cable side of things paints a similar picture with two DVI to VGA connectors, TV Out Connector and a S-Video connector. What was ultimately the most disappointing part of the overall package was the lack of PCI Express power connectors that we normally see. So if you don't have a PSU with two PCI Express connectors on the card, you're going to go home, pull your brand new graphics card out of the box and once you get into Windows, do a whole lot of nothing with it since that additional power
IS
required.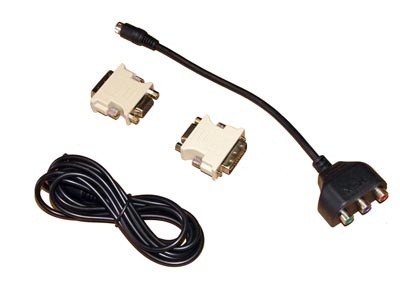 Inside contents are the same between both cards and it safe to say that it is a bit lacking. Hopefully XFX choose to revisit their choice not to include power connectors in the box, sooner than later.
XFX Cards
With the box out the way we will move onto the cards - with the cards being very similar, we will have a quick look at them together as there are only a few key differences.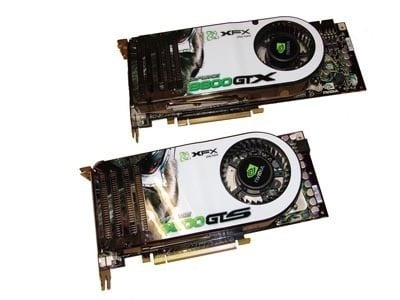 Most these differences can be seen on the front of the card. With the coolers being slightly larger in size on the GTX, the only other difference between them is that the model number differs. Clearly we can also see that when it comes to size, the GTX is much longer than the GTS - it comes in at 10.5 inches long. nVidia say that they did their research and enthusiast uses most of the time have the case to carry a card so long but if you're looking at the GTX, we urge you to make sure you can before buying as it is really long. There are also some differences when it comes to the PCB layout of the part of the card that we can see.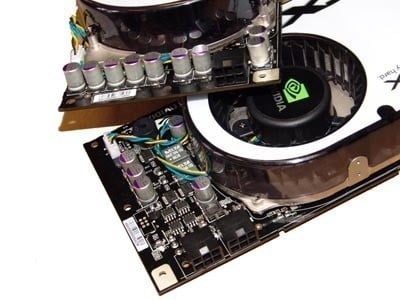 Moving around to the top of the card we can also see that the GTX has two PCI Express power connectors as opposed to one on the GTS. nVidia have changed the way that the connectors sit on the longer GTX due to the plugs getting in the way. Instead you plug them in from a different angle which in no way should affect the installation inside your case.
Talking about actual power requirements, the PCI Express slot is able to deliver 75 watts of power without any external connector. The GeForce 8800GTX comes with two connectors, so it
could
draw up to 225 watts of power. nVidia are recommending a 450 watt or greater power supply (with 12V current rating of 30A) for 8800GTX and if you want to run these cards in SLI, you can double that figure which means you're going to be forking out big bucks for a high quality PSU. On the other hand, the power requirements of the GTS are a little more mild
only
requiring a 400 watt power supply (with 12V current rating of 26A).
Turning the card over we again have some differences along the card with the most stand out one being the extra screws used to hold the heatsink in place on the GTX thanks to it being slightly bigger. The other thing you might notice is the difference in SLI connectors.
The GTX has a couple SLI connectors while the GTS has only a single one. We did give a brief run down on this previously but if you did skip pass it, the general word around town is that the GTX is going to have the ability to run what is being called "TRI" SLI on the nForce 680i and 680a boards - both have three PCI Express slots for graphics cards. It looks like with a grand total of three graphics cards you will be able to have anything from six monitor support, separate physics or ridiculously fast frame rates.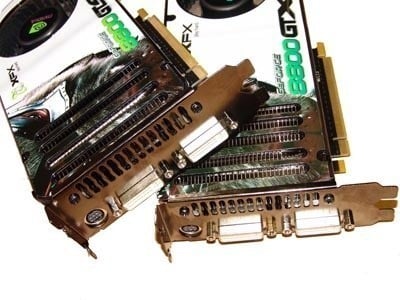 Both cards offer Dual Link DVI connectors along with HDTV out which we have seen on most cards for a while now.
Benchmarks - Test System Setup and 3DMark05
Test System SetupProcessor(s):
Intel Core 2 Duo E6600 @ 3150MHz (350MHz FSB with 1:1 memory)
Motherboard(s):
ASUS P5B Deluxe (Supplied by
ASUS
)
Memory:
2 X 1GB G.Skill HZ PC8000 @ 350MHz 4-4-4-12 (Supplied by
Bronet
)
Hard Disk(s):
Hitachi 80GB 7200RPM SATA 2
Operating System:
Windows XP Professional SP2
Drivers:
nVidia ForceWare 96.97 (Testing Driver) and ATI Catalyst 6.10
Continuing with out new ASUS P5B Deluxe motherboard installed we will have a look at how both the GTX and GTS compare to each other along with how the compare to the current ATI top dog, the Radeon X1950XTX and the previous generation top dog from nVidia, the dual GPU wielding GeForce 7950GX2.
So how much performance differences will there be between the new GTS and GTX? The price difference is quite significant with the GTX costing around $150 USD (roughly $200 AUD) more than the GTS, so we imagine (or hope) there will be equally significant performance increases on the top dog.
Let's get started and find out. We've also added the Company of Heroes demo to expand our coverage of benchmarking tests.
3DMark05Version and / or Patch Used:
Build 120
Developer Homepage:
http://www.futuremark.com
Product Homepage:
http://www.futuremark.com/products/3dmark05/
Buy It Here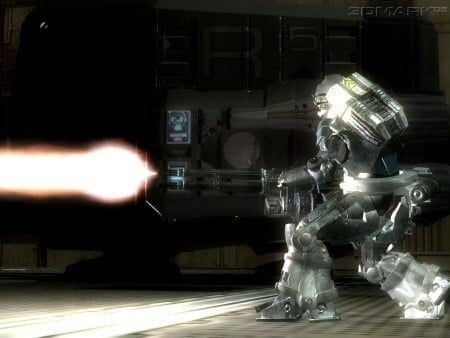 3DMark05 is now the second latest version in the popular 3DMark "Gamers Benchmark" series. It includes a complete set of DX9 benchmarks which tests Shader Model 2.0 and above.
For more information on the 3DMark05 benchmark, we recommend you read our preview
here
.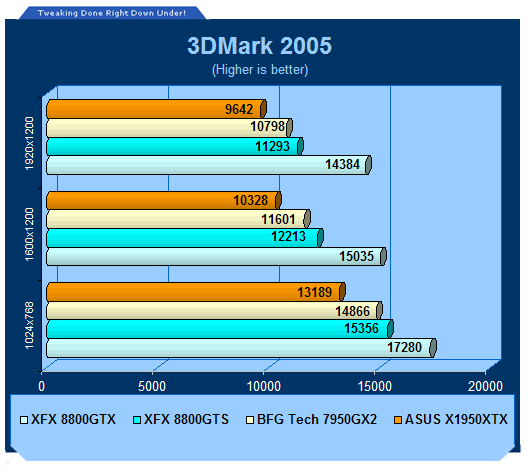 With our first benchmark we can see that the GTX offers a very large performance increase over the GTS in our first synthetic test.
Benchmarks - 3DMark06
3DMark06Version and / or Patch Used:
Build 102
Developer Homepage:
http://www.futuremark.com
Product Homepage:
http://www.futuremark.com/products/3dmark06/
Buy It Here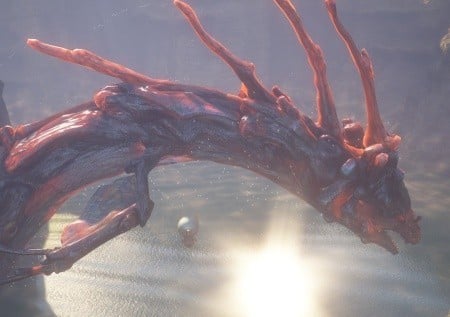 3DMark06 is the very latest version of the "Gamers Benchmark" from FutureMark. The newest version of 3DMark expands on the tests in 3DMark05 by adding graphical effects using Shader Model 3.0 and HDR (High Dynamic Range lighting) which will push even the best DX9 graphics cards to the extremes.
3DMark06 also focuses on not just the GPU but the CPU using the AGEIA PhysX software physics library to effectively test single and Dual Core processors.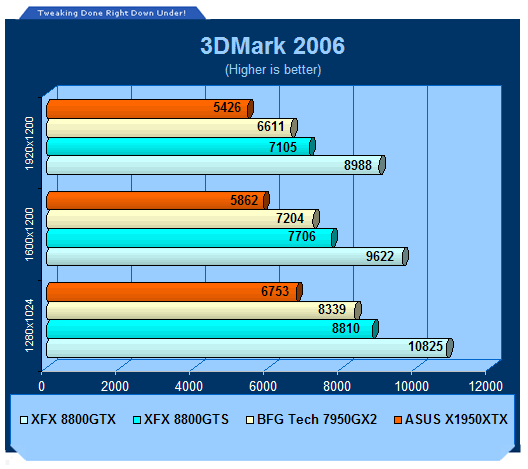 The more intensive 3DMark06 also sees a very nice performance jump here.
Benchmarks - Half Life 2 (Lost Coast)
Half Life 2 (Lost Coast)Version and / or Patch Used:
Unpatched
Timedemo or Level Used:
Custom Timedemo
Developer Homepage:
http://www.valvesoftware.com
Product Homepage:
http://www.half-life2.com
Buy It Here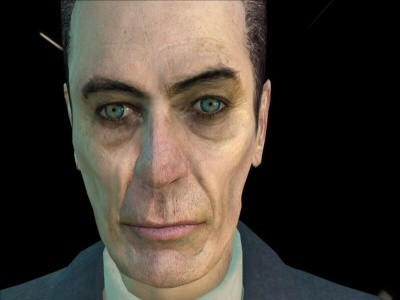 By taking the suspense, challenge and visceral charge of the original, and adding startling new realism, responsiveness and new HDR technology, Half-Life 2 Lost Coast opens the door to a world where the player's presence affects everything around him, from the physical environment to the behaviors even the emotions of both friends and enemies.
We benchmark Half Life 2 Lost Coast with our own custom timedemos as to avoid possible driver optimizations using the "record demo_name" command and loading the timedemo with the "timedemo demo_name" command - For a full list of the commands,
click here
.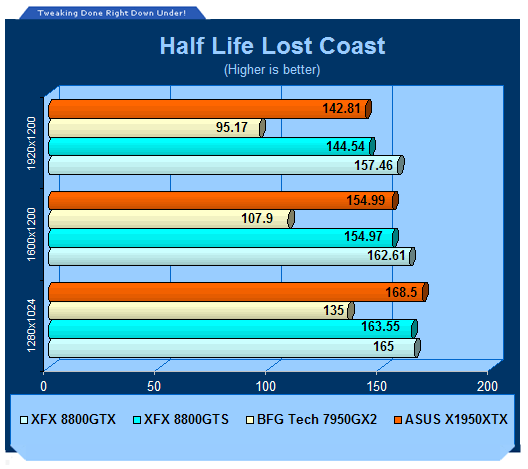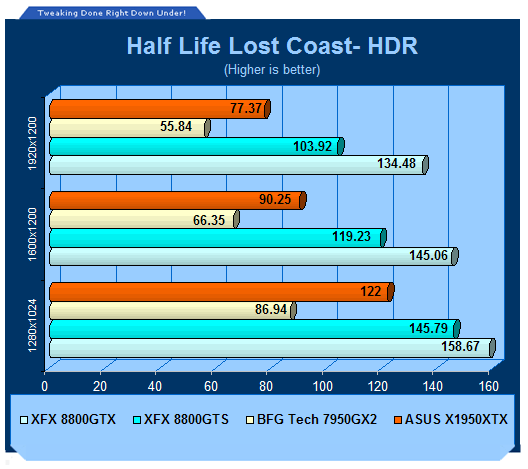 It would seem across the board in our non HDR tests that we are hitting a CPU brick wall.
It isn't until we turn HDR on that we see the new GeForce 8800 cards separate themselves and its clear that the GTX again brings us a very large performance increase when compared to the GTS and the rest of the cards.
Benchmarks - PREY
PREYVersion and / or Patch Used:
Unpatched
Timedemo or Level Used:
HardwareOC Custom Benchmark
Developer Homepage:
http://www.humanhead.com
Product Homepage:
http://www.prey.com
Buy It Here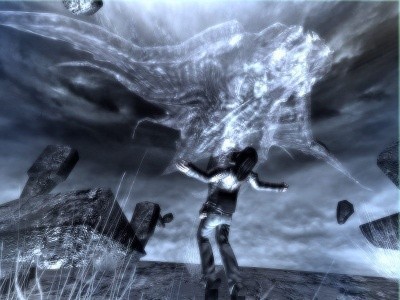 PREY is one of the newest games to be added to our benchmark line-up. It is based off the Doom 3 engine and offers stunning graphics passing what we've seen in Quake 4 and does put quite a lot of strain on our test systems.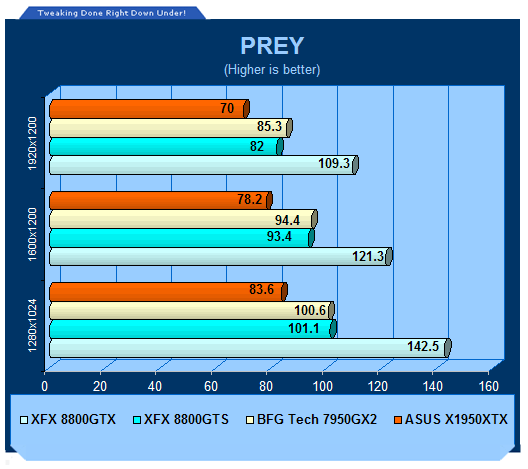 PREY being an OpenGL game has always favored nVidia but we could see that the X1950XTX was always capable of holding its own ground. We can see across the board though the huge performance increases that the GTX is capable of providing.
Benchmarks - F.E.A.R.
F.E.A.R.Version and / or Patch Used:
Unpatched
Timedemo or Level Used:
Built-in Test
Developer Homepage:
http://www.vugames.com
Product Homepage:
http://www.whatisfear.com/us/
Buy It Here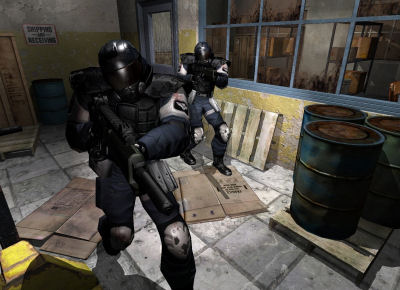 F.E.A.R. (First Encounter Assault Recon) is an intense combat experience with rich atmosphere and a deeply intense paranormal storyline presented entirely in first person. Be the hero in your own spine-tingling epic of action, tension, and terror...and discover the true meaning of F.E.A.R.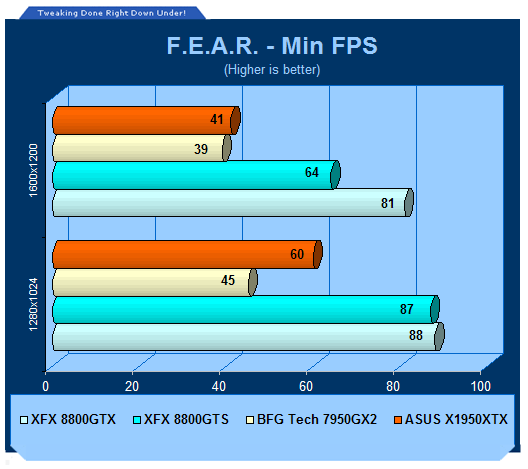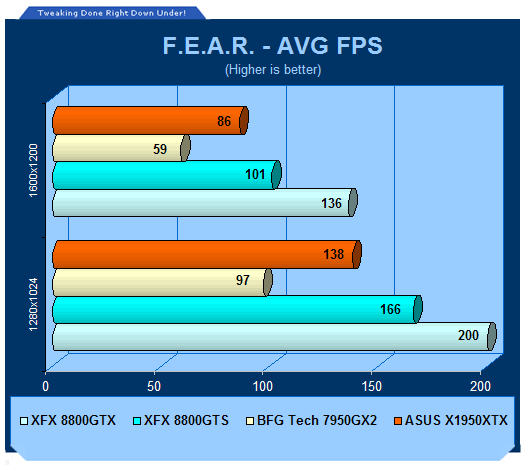 Without paying much attention to the averages and concentrating more on the minimums, we can see that the GTX at 1600 x 1200 has got almost a 100% increase in speed when it's compared to the X1950XTX.
Here we have a game that has seen nVidia based cards always really struggle and it just sets a whole new benchmark for what FAST is when the new G80 cards come into the equation.
Benchmarks - Quake 4
Quake 4Version and / or Patch Used:
1.2
Timedemo or Level Used:
HardwareOC Custom Benchmark
Developer Homepage:
http://www.idsoftware.com
Product Homepage:
http://www.quake4game.com
Buy It Here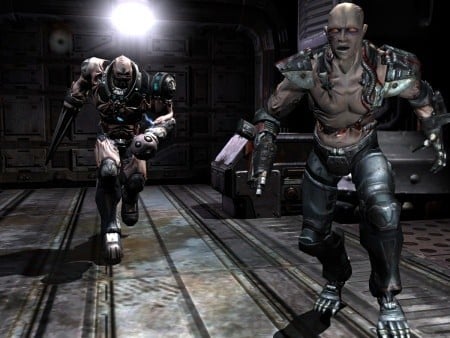 Quake 4 is one of the latest new games to be added to our benchmark suite. It is based off the popular Doom 3 engine and as a result uses many of the features seen in Doom. However, Quake 4 graphics are more intensive than Doom 3 and should put more strain on different parts of the system.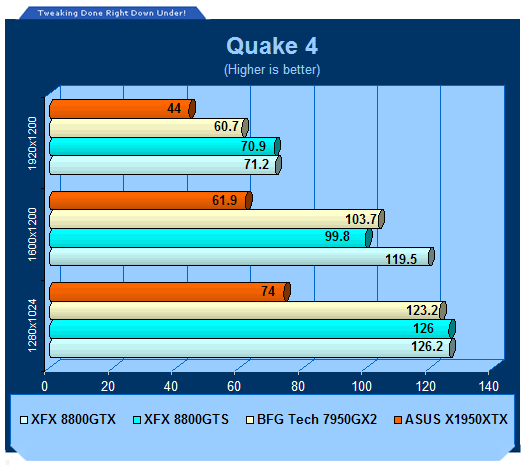 Quake 4 like PREY is another OpenGL game and we can see that while we hit a CPU limitation at 1280 x 1024 when we start moving higher and higher with the new cards we have huge performance increases.
Benchmarks - Company of Heroes
Company of HeroesVersion and / or Patch Used:
Demo
Timedemo or Level Used:
Built-in Test
Developer Homepage:
http://www.relic.com
Product Homepage:
http://www.companyofheroesgame.com
Buy It Here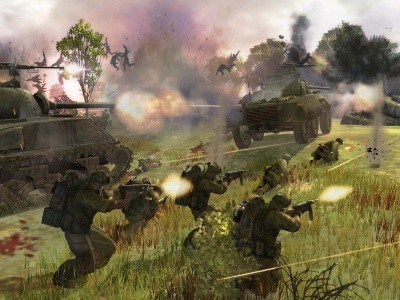 Company of Heroes, or COH as we're calling it, is one of the latest World War II games to be released and also one of the newest in our lineup of benchmarks. It is a super realistic real-time strategy (RTS) with plenty of cinematic detail and great effects. Because of its detail, it will help stress out even the most impressive computer systems with the best graphics cards - especially when you turn up all the detail. We use the built-in test to measure the frame rates.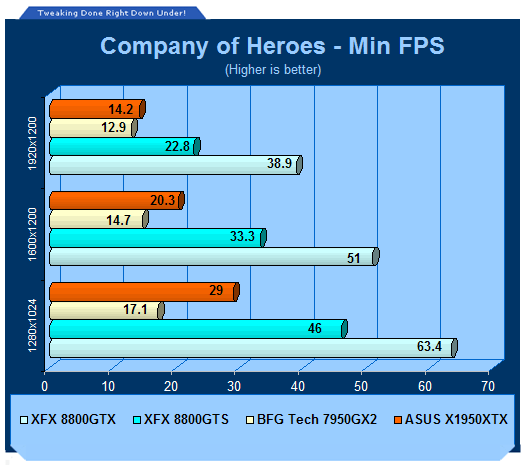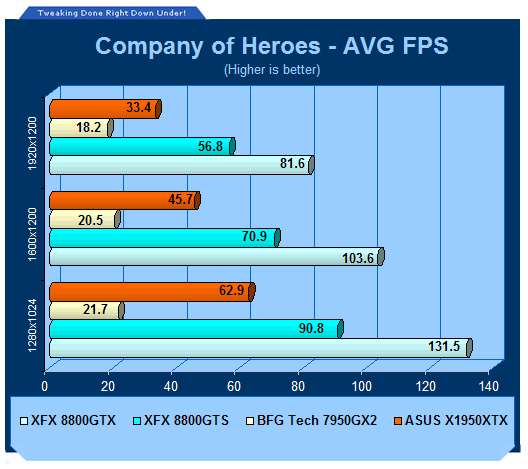 In our latest benchmark to be added, we can clearly see that the power on offer from the GeForce 7950GX2 just isn't available for this game as it looks like the demo is not optimized for SLI.
The Radeon X1950XTX is able to see a good jump on the GX2 but what the new GeForce 8800 series can do to the Radeon is devastating with the GTX being the only card that can offer this game playable at 1920 x 1200 with all the settings maxed out.
Benchmarks - High Quality AA and AF
High Quality AA and AF
Our high quality tests let us separate the men from the boys and the ladies from the girls. If the cards weren't struggling before they will start to now.
ATI and the new GeForce 8800 series are able to offer HDR and AA at the same time; we have run our HQ Lost Coast test with HDR turned on.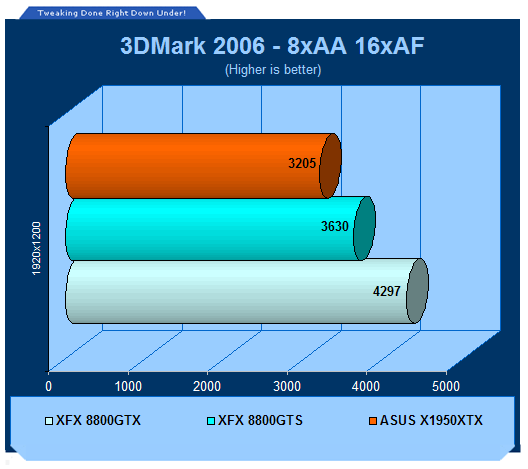 We can clearly see the performance increase that the GTX offers over the GTS in the first of our high quality tests.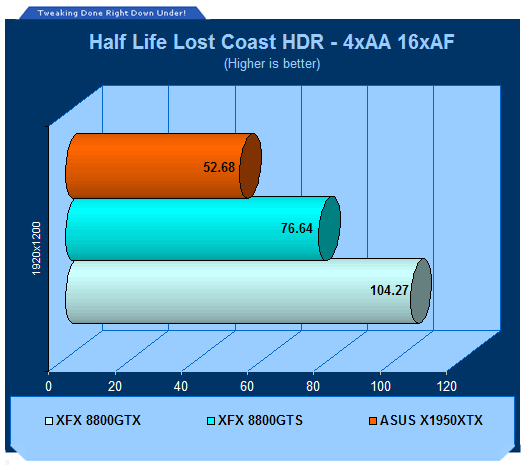 We can continue to see the dominating force that is the 8800 when we turn on the AA, AF and enable HDR for some high resolution, high quality gaming.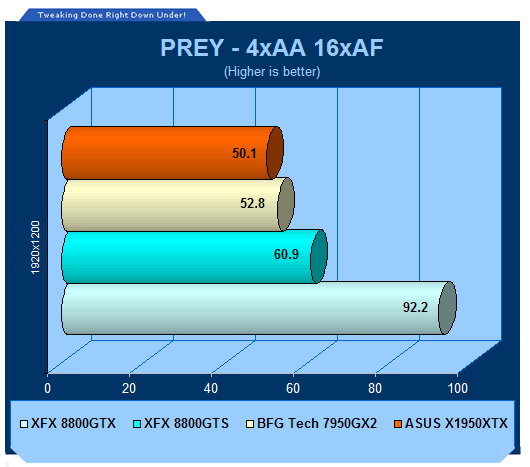 The GTX continues to show the kind of power that is available from it in our final benchmark and clearly shows us how it is different to the GTS.
Final Thoughts
nVidia's pimpin' new GeForce 8800GTX GPU does only offer a speed upgrade thanks to a larger memory bus, increased steam processors and of course the bump in memory and core speed but overall these refined improvements offer a very large gain in many areas.
Is it enough to warrant the extra money required for the GTX? Absolutely if you're going to be gaming at resolutions at 1600 x 1200 and above. If you're simply buying an 8800GTS for your 17" or 19" LCD, which pumps out 1280 x 1024, so you can play DX10 games as they get released, then it's probably not worth it.
We feel disappointed with the XFX bundle or lack there of. When you are outlaying so much money on a graphics card, you think you could at least get some PCI Express power connectors. We double checked with local companies and they confirmed that none are included - please fix this issue quickly, XFX.
What is surprising though is just how much extra performance is on offer from the GTX when compared to the GTS. More often then not we see companies like ATI release a product like the Radeon XT and the XTX - the performance difference between them is so small and the price difference isn't all that big either. While the price difference is definitely there for the GTS and GTX, the performance gains are fantastic and there is a real difference between owning a GTS and a GTX.
The GTX isn't for anyone who isn't going to be venturing past 1600 x 1200 otherwise it simply would be extreme overkill for your needs. The GTS is going to let 1280 x 1024 LCD users get ready for DX10 but also have a huge amount of video bandwidth available to play all those intensive games like Oblivion with settings turned all the way up, without completely breaking the bank. GTX on the other hand is for gamers who play their games at around 1920x1200 and want to turn on all the cool 3D effects such as HDR, AA and AF. SLI a couple of 8800GTX cards and say hello to ultra high resolution gaming with all the settings turned up.
Hopefully nVidia eventually ease up on the overclocking side of things and we see ourselves with a pair of XXX Edition GTX cards from XFX but until then there is no reason at all to be disappointed with the kind of numbers these stock clocked cards are pulling.
PRICING: You can find products similar to this one for sale below.

United States: Find other tech and computer products like this over at Amazon.com

United Kingdom: Find other tech and computer products like this over at Amazon.co.uk

Australia: Find other tech and computer products like this over at Amazon.com.au

Canada: Find other tech and computer products like this over at Amazon.ca

Deutschland: Finde andere Technik- und Computerprodukte wie dieses auf Amazon.de