AMD Radeon RX 5700 XT benchmarked at 3440x1440
AMD's new Navi 10 GPU gets put through its paces in UltraWide gaming at 3440x1440 on the new Radeon RX 5700 XT.

Published
3 minutes & 53 seconds read time
Introduction
AMD launched its new Radeon RX 5700 XT and Radeon RX 5700 graphics cards less than two weeks ago (my review here) and at the time I re-tested all of my cards at all resolutions, taking up multiple 100-hour weeks to get it all done. It was worth it, by a long shot -- but hell, it was time consuming. I wanted to include 3440x1440 results but in order to give you 100% results at the three major resolutions: 1080p, 1440p, and 4K -- I needed to cut 3440x1440 out at the time.
In the last week I have re-run all of graphics cards starting from the GeForce GTX 1060 through to the new RTX SUPER and RTX 2080 Ti, and from the Radeon RX 570 through to Vega and right into the new Radeon RX 5700 XT and RX 5700... oh and Radeon VII too.
I promised 3440x1440 results and have since run everything I can in my suite with the 21:9 aspect ratio, and here we are. I have as many games in my benchmark suite that support 3440x1440, and will incluide more games in the future in separate articles. I'm going to do more Radeon RX 5700 XT + RX 5700 vs GeForce RTX 2060/2060 SUPER graphics cards in 3440x1440 in other games, and will add them to the links to this page as they're added.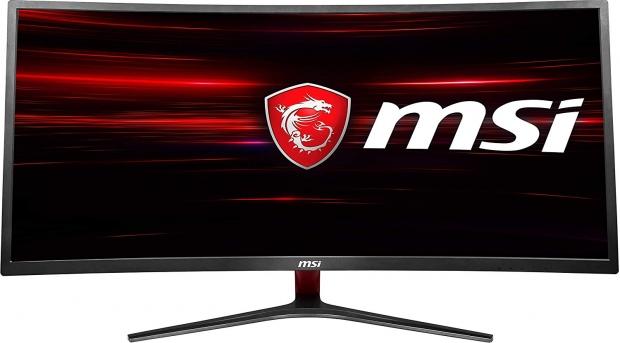 Monitor/Additional Pixels
Samsung CF791 - 3440x1440 @ 100Hz
For the 3440x1440 testing we're using the Samsung CF791 -- a 34-inch 21:9 aspect ratio UltraWide gaming monitor with a native 3440x1440 resolution and 100Hz refresh rate. Gaming on a 34-inch monitor at 3440x1440 and 100Hz is pretty damn good, and while it's not as good as the new 3440x1440 @ 200Hz G-Sync monitors, the Radeon RX 5700/5700 XT is perfect for 3440x1440 @ 100FPS.
Test System Specs
Our New GPU Test Rig
Welcome to the latest revision of our GPU test bed, with our system being upgraded from the Intel Core i7-7700K to the Core i7-8700K. The CPU is cooled by the Corsair H115i PRO cooler, with the 8700K overclocked to 5GHz. We've stayed with GIGABYTE for our motherboard with their awesome Z370 AORUS Gaming 7.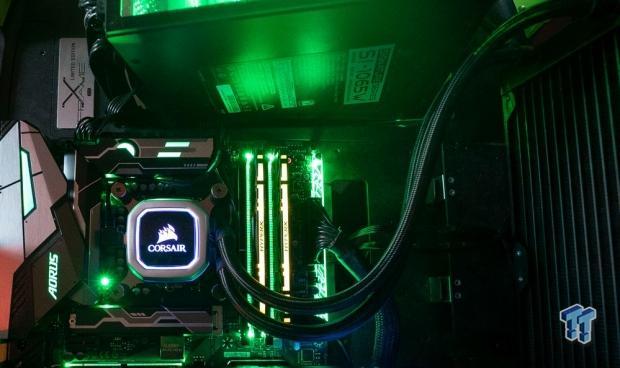 We approached our friends at HyperX for a kit of their kick ass HyperX Predator DDR4-2933MHz RAM (HX429C15PB3AK4/32), with 2 x 8GB sticks for a total of 16GB DDR4-2933. The RAM stands out through every minute of our testing as it has beautiful RGB lights giving the system a slick look while benchmarking our lives away, while the Z370 AORUS Gaming 7 motherboard joins in with its own array of RGB lighting.

Detailed Tech Specs
CPU: Intel Core i7-8700K @ 5GHz
Cooler: Corsair Hydro Series H115i PRO
MB: Z370 AORUS Gaming 7
RAM: 16GB (2x8GB) HyperX Predator DDR4-2933
SSD: 1TB OCZ RD400 NVMe M.2
SSD: 512GB OCZ RD400 NVMe M.2
PSU: InWin 1065W PSU
Chassis: In Win X-Frame
OS: Windows 10 Pro x64
Additional Images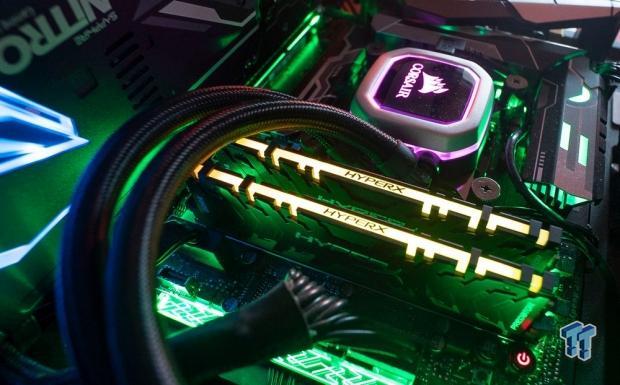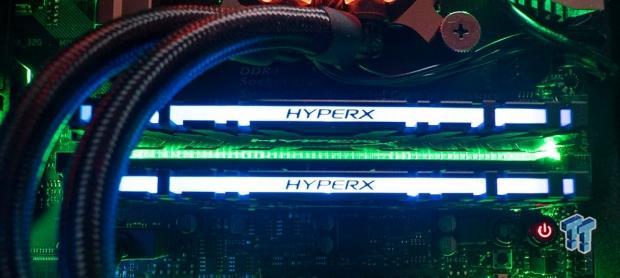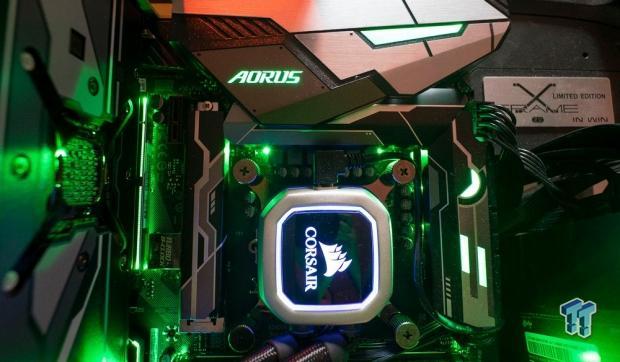 Benchmarks - Synthetic
Heaven - 3440x1440
Heaven is an intensive GPU benchmark that really pushes your silicon to its limits. It's another favorite of ours as it has some great scaling for multi-GPU testing, and it's great for getting your GPU to 100% for power and noise testing.
Benchmarks - 3440x1440
RX 5700 XT @ 3440x1440
Middle-earth: Shadow of War is a sequel to the popular Shadow of Mordor, which was powered by the Lithtech engine. When cranked up to maximum detail, it will chew through your GPU and its VRAM like it's nothing.
You can buy Middle-earth: Shadow of War at Amazon.
Rainbow Six: Siege has been a strong entry into the franchise, popular for its realistic feel and great graphics. Stable as a rock for benchmarking, right up to 3440x1440 and 4K.
Metro Exodus is one of the hardest tests that our graphics cards have to go through, with 4A Games' latest creation being one of the best looking games on the market. It is a serious test that pushes GPUs to their limits, and also features RTX technologies like DLSS.
Far Cry New Dawn was developed by Ubisoft, and is powered the Dunia Engine, an engine that has been modified over the years for Far Cry and last used in Far Cry 5. Dunia Engine itself was a modified version of CRYENGINE, scaling incredibly well on all sorts of hardware.
Shadow of the Tomb Raider is one of the latest games to join our graphics card benchmark lineup, with the game built using the Foundation engine as a base, the same engine in Rise of the Tomb Raider. Eidos Montreal R&D department made lots of changes to the engine during the development of Shadow of the Tomb Raider to make it one of the best-looking games out right now.
Final Thoughts
3440x1440 gaming on the Radeon RX 5700 XT is a great combination as AMD's new Navi-based Radeon RX 5700 XT beats NVIDIA's new GeForce RTX 2060, the new RTX 2060 SUPER and comes close to the higher-end RTX 2070 in the 21:9 aspect ratio. At least in everything but Shadow of War, which the RX 5700 XT loses to the RTX 2060 SUPER, but still beats the RTX 2060.
Not bad for a card that costs $399, and with more and more affordable UltraWide monitors at 3440x1440 @ 100Hz being available, it makes for a potent combo in RX 5700 XT + 3440x1440 @ 100Hz gaming monitor.
MSI's own Optix MAG341CQ gaming monitor offers 3440x1440 @ 100Hz FreeSync for just $429, so mixed with the $399 for the RX 5700 XT we're looking at $828 for a damn good gaming experience. If you're more into the single player gaming side of things then a 21:9 aspect ratio monitor is a huge new window into your games if they support the 3440x1440 native resolution, mixed in with a Radeon RX 5700 XT and even a new Ryzen 7 3700X and you've got a very, very potent UltraWide gaming experience.
We openly invite the companies who provide us with review samples / who are mentioned or discussed to express their opinion. If any company representative wishes to respond, we will publish the response here. Please contact us if you wish to respond.