Introduction, Specifications, and Pricing
The Phison PS5016-E16 will be the first commercially available SSD to utilize the PCI Express 4.0 specification. The new bus will double lane throughput and usher in new devices with increased performance capabilities or have the ability to operate on fewer lanes while utilizing less power.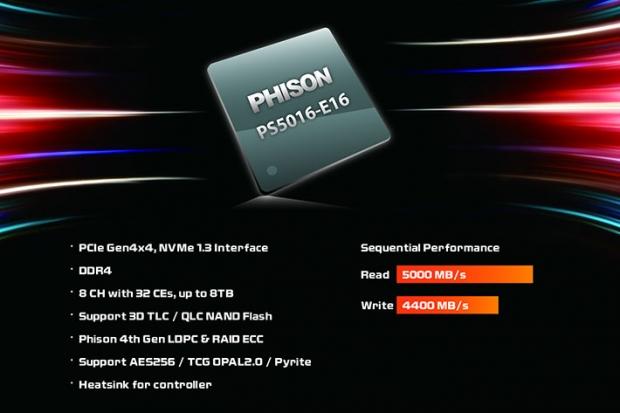 Like the transition from SATA 3Gbps to 6Gbps and PCIe 2.0 to 3.0, some areas of performance will instantly increase while others will take time to mature. This isn't limited to just storage devices but all new components
For storage devices, the bus interface isn't the bottleneck for small block size random performance. Core architecture improvements required to maximize large block size throughput will have a moderate impact on random workloads. To see large gains in random latency, we will have to wait for the next-generation flash to lower transaction times between the controller and the memory, the link on the other side of the controller.
Today we will look at the new Phison PS5016-E16 controller and a 2TB reference design that should be very close to the early models coming to market from companies that have already announced E16 products. To date, Corsair, GIGABYTE, Galax, and PNY displayed E16 products at Computex. Other companies with strong ties to Phison have yet to make announcements, mainly MyDigitalSSD and Kingston/HyperX.
AMD has yet to release the highly anticipated X570 chipset and accompanying processor that ushers in the PCI Express 4.0 era. Without hardware in hand, or even an NDA date to break (just kidding), we will use our existing PCIe 3.0 platform to test the drive. Our current platform is closer to what most shoppers still use. We can say that no one has PCI Express 4.0 today other than a handful of servers running IBM architecture without Windows support.
Specifications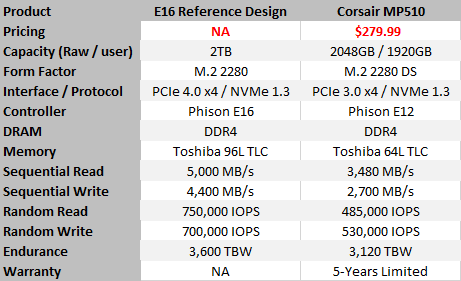 The Phison E16 controller uses dual ARM Cortex5 processors with a CoXprocessor built on TSMC's 28nm process. This is the similar layout as Phison's PS5012-E12 controller with an 8-channel design with 32 chip enables. The modular design allowed the company to change the front end PHY to support the PCI Express 4.0 standard while still utilizing the same NVMe 1.3 protocol of the previous generation.
Phison's generic specifications claim sequential read performance of 5,000 MB's. Sequential write performance reaches up to 4,400 MB/s. Random performance peaks at 750,000 IOPS read and up to 700,000 IOPS write.
To reach these speeds the E16 controller requires massive parallelization from the flash memory. With current die sizes, the smallest capacity E16 SSD comes from a 512GB base memory product. Some companies may choose to use overprovisioning to increase performance but drop the user capacity to 480GB or 500GB. This is a radical shift from all previous generation products with 256GB and even 128GB models.
The larger capacities and first of its kind design means the retail E16 SSDs will likely carry premium pricing. Phison originally listed availability at Q4 2019 but invested an additional 12 million dollars to reel in the date to coincide with AMD's Ryzen 3000 Series launch.
A Closer Look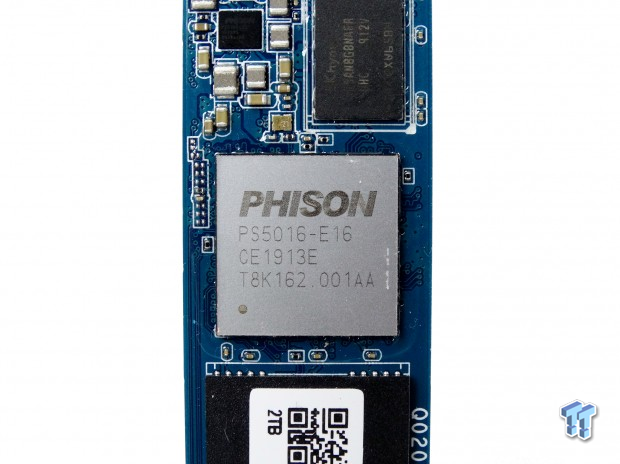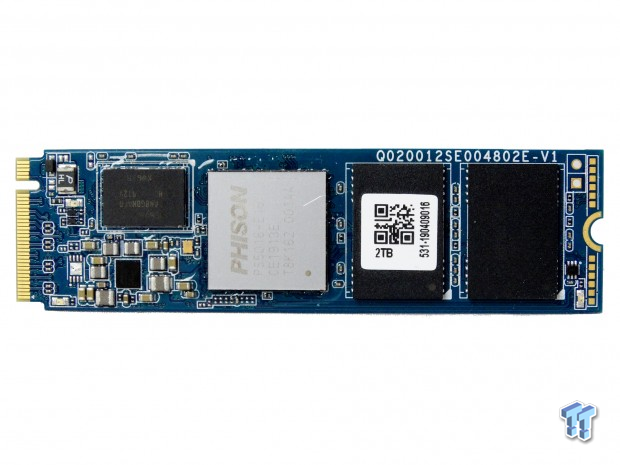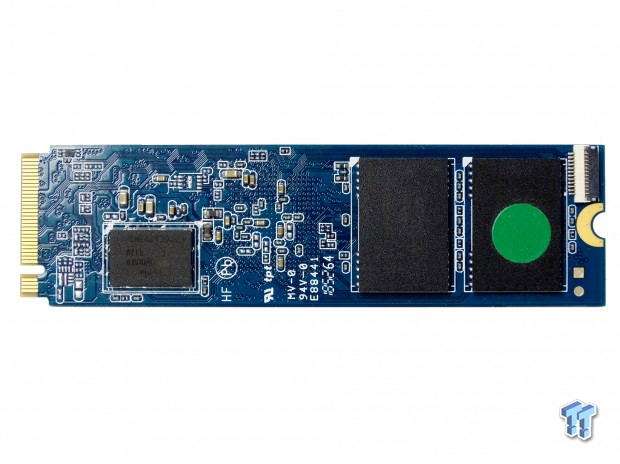 Most of the E16 models on display at Computex were fitted with heat sinks. There were only a few images of naked drives, like our reference design sample.
We expect this layout to be the same as early retail products. We expect the companies that already announced E16-based SSDs to ship when AMD's Ryzen 3000 comes to market. Some companies may get a jump and release drives earlier.
The layout is nearly identical to the previous generation E12 drives we've tested. For the most part, the E16 looks like a drop-in replacement for the reference design board. The sole difference on the outside is the new nickel plate that acts as a heat sink for the controller.
2TB Class Performance Testing
Testing Notes
Today we're testing the PS5016-E16 reference design in our standard consumer test system outfitted with Intel's Core i7-7700K processor and ASRock's Z270 Taichi motherboard. The system uses 16GB of Crucial memory.
The BAPCo SYSmark and MobileMark tests run on Lenovo Ideapad Y700-17 gaming notebooks with support for both SATA and NVMe SSDs (using PCIe 3.0 x4). PCIe 4.0 desktop testing will begin when our sample systems arrives, hopefully soon.
Sequential Read Performance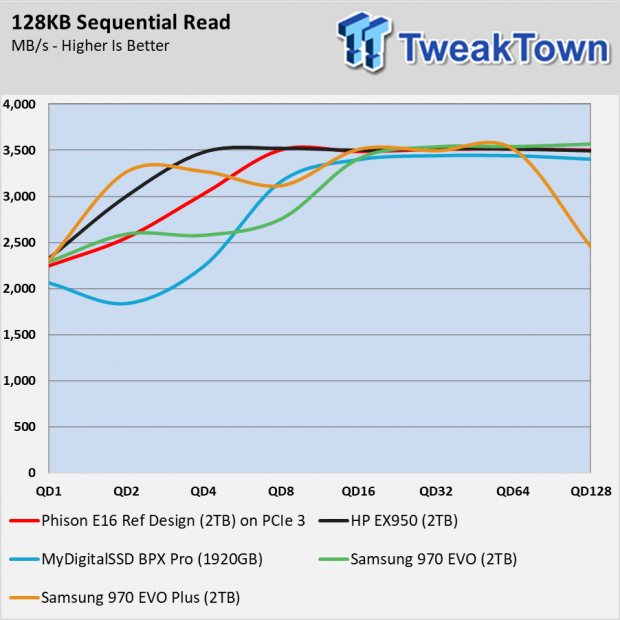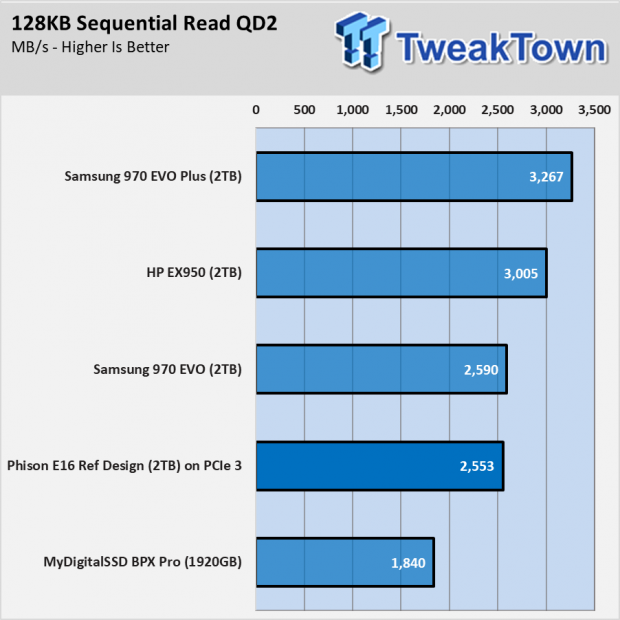 The Phison E16 reference design SSD is limited by the PCIe 3.0 x4 interface but we knew that would be an issue. Most of the drives in the chart reach the upper 3.0 x4 limits, but that performance comes at higher queue depths than most of us achieve with consumer software.
Sequential Write Performance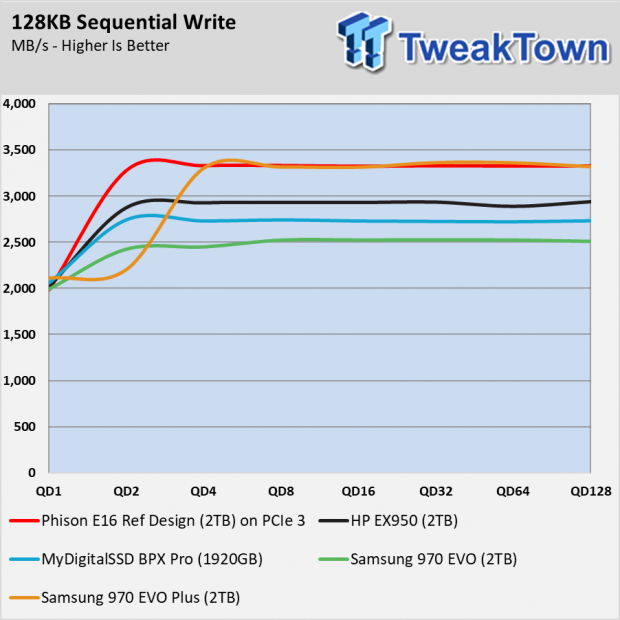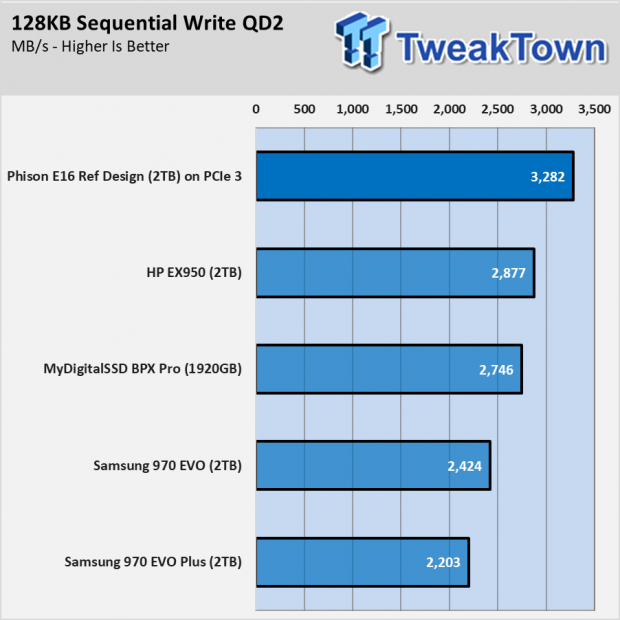 The E16 shows the strongest sequential write performance we've seen on a flash-based SSD. We found the drive limited by the bus at just queue depth (QD) 2.
Sustained Sequential Write Performance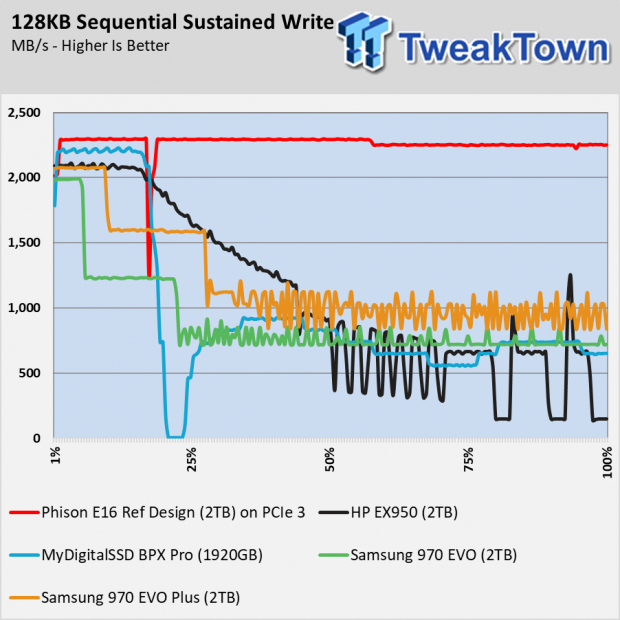 Phison now uses an advanced cache system that will operate in SLC mode for the entire drive until it has to fold data to the TLC area. This makes your extended transfers to the drive very quick, even if you have a substantial amount of data on the drive.
Random Read Performance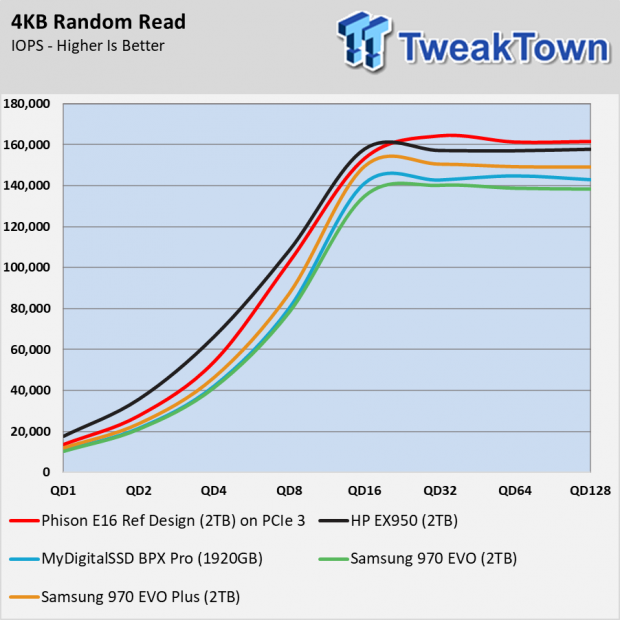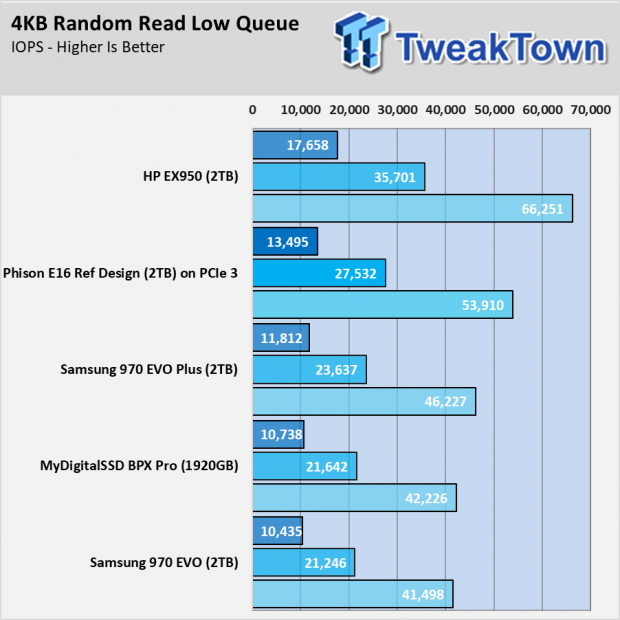 Phison collaborated with Toshiba for memory so that puts the new E16 at a disadvantage with random reads compared to other SSDs using Micron 64L and 96L flash. We would love to see this controller paired with Micron's low latency TLC. Maybe one day we will see the E16 unleashed with the power of Micron.
Random Write Performance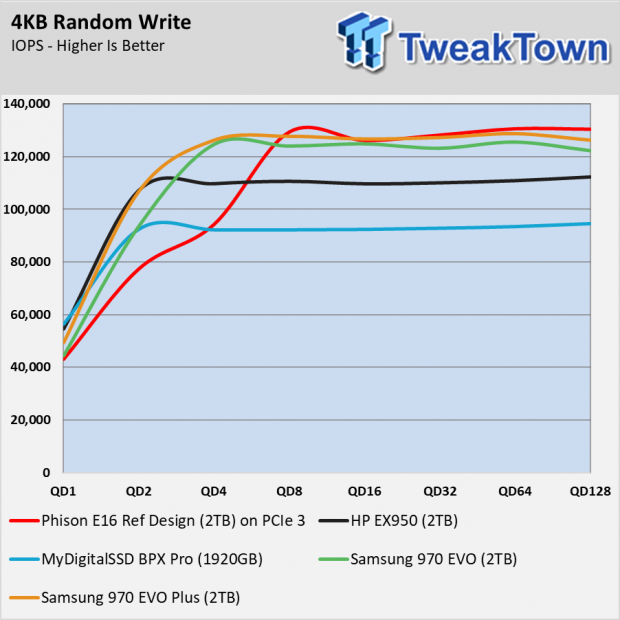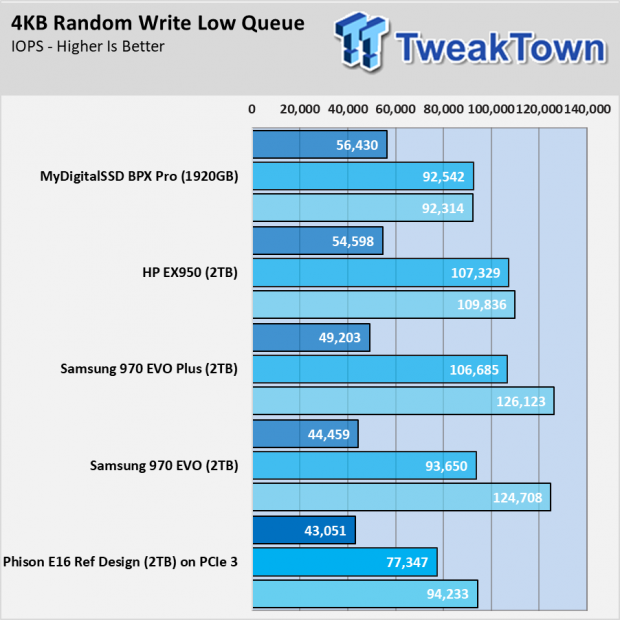 The random write performance shows the same weak start we see one new drives with the Phison E12 NVMe controller. This is likely due to hardware changes to the flash recently as Toshiba 96L displaces 64L on new products coming from the factory.
70% Read Sequential Performance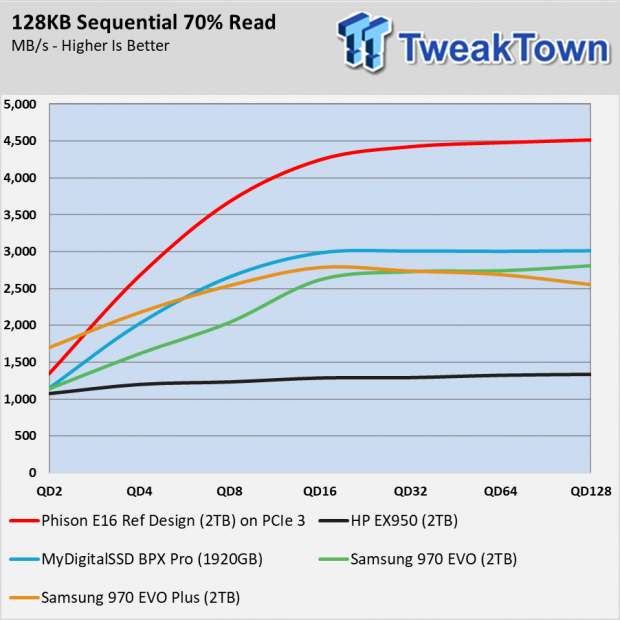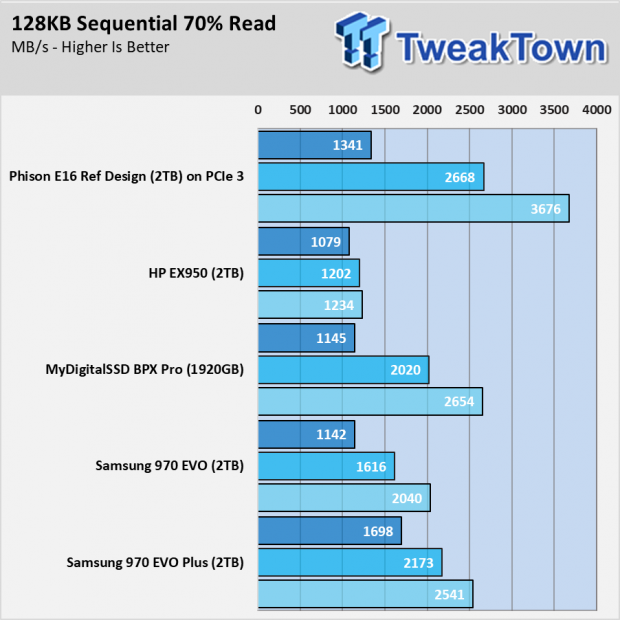 Until this point in our testing, the E16 showed some performance improvements over the previous generation on PCIe 3.0 but nothing as radical as what we see in the 70% read sequential mixed performance test.
Here we see the E16 taking advantage of the bidirectional PCIe bus to walk away from the other drives. Here, the drive has access to the 3,500 MB/s from the 70% read, but also access to the 3,000 MB/s on the 30% write side. What we end up seeing is a 4,500 MB/s peak with sequential mixed workloads, a 1,500 MB/s improvement over the previous generation.
70% Read Random Performance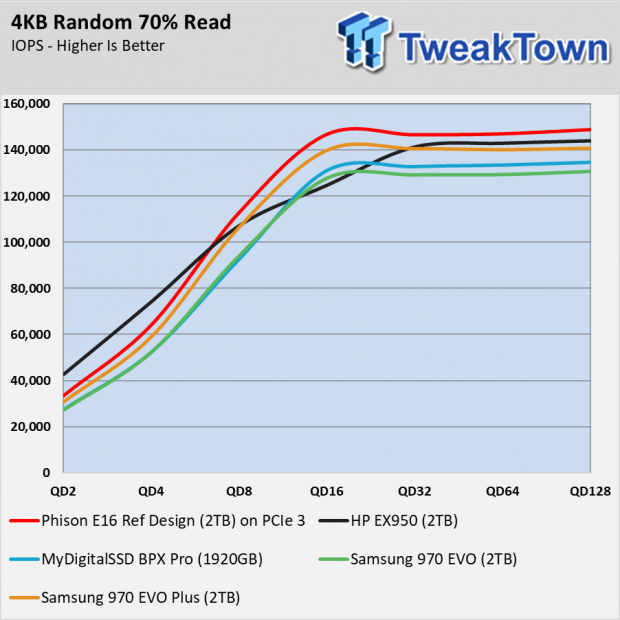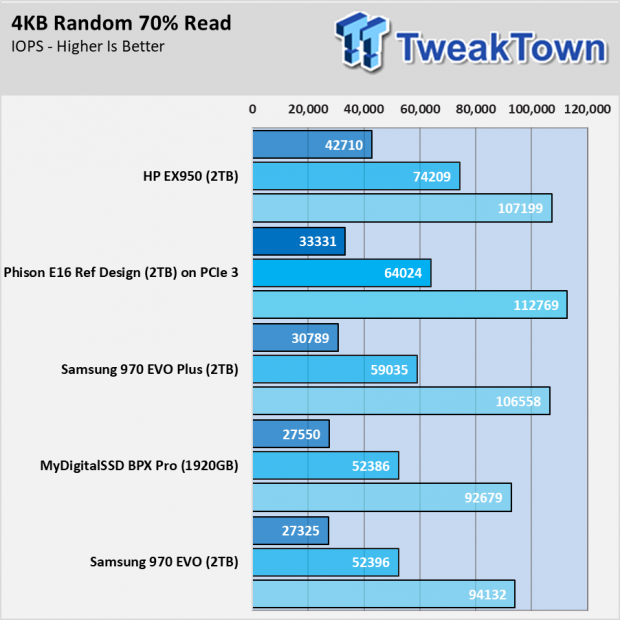 The E16 ultimately takes the top spot in our mixed random test but it starts out well behind the HP EX950 with what Toshiba and Samsung engineers must curse at daily, Micron 64L memory. The random performance isn't bus limited, and we don't expect to see much of a difference in this area on PCIe 4.0.
2TB Class Real-World Performance Testing
Game Load Time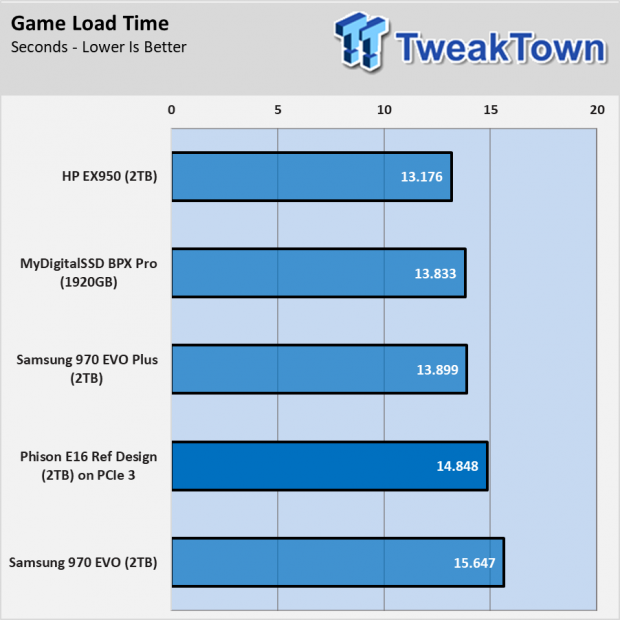 On this page, we focus on real-world performance with applications.
The first is our game load time test that comes from the Final Fantasy: Stormblood game. This test favors SSDs with strong random read performance, like many modern games. We were surprised the new E16 reference design trailed the MyDigitalSSD BPX Pro with the older E12 controller in this test. I'm sure Phison and partners are still working on the firmware that will eventually ship on retail products.
PCMark 8 Total Storage Bandwidth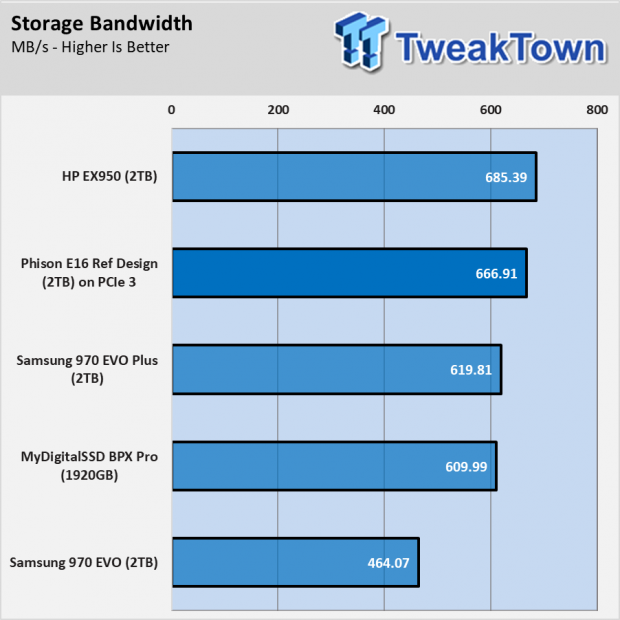 Even without the aid of PCIe 4.0's bandwidth, the E16 reference design gets very close to the HP EX950 in the PCMark 8 Storage Test.
PCMark 8 Extended Storage Test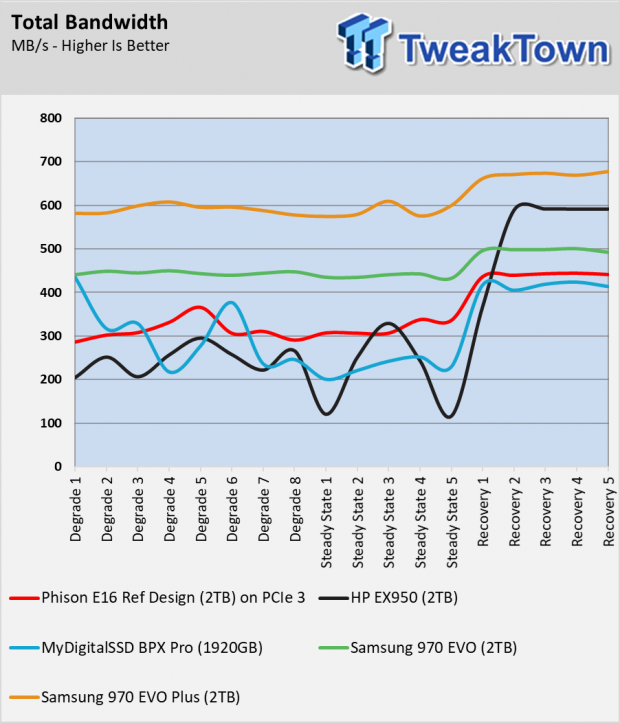 Samsung has used its five-core Phoenix controller and high-bandwidth flash to dominate write heavy workloads. Silicon Motion, Inc. and Phison have been closing the gap with dual-core controllers under heavy workloads but still, have a long way to go. The new E16 gets closer to Samsung's 970 EVO in steady state, but Samsung recently released the 970 EVO Plus that managed to double the gains made from the E12 to the E16.
SYSmark 2014 SE System Responsiveness and Power Tests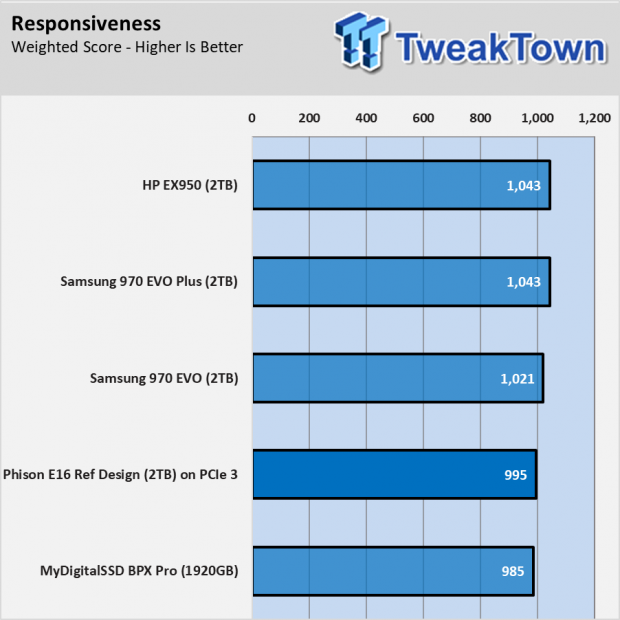 The Phison E16 reference design SSD improved the system responsiveness score over the MyDigitalSSD BPX Pro we tested with the E12 controller. We expected to see a larger gap between these two drives and hope the finalized retail products can squeeze a little more performance out.
MobileMark 2012 1.5 Notebook Battery Life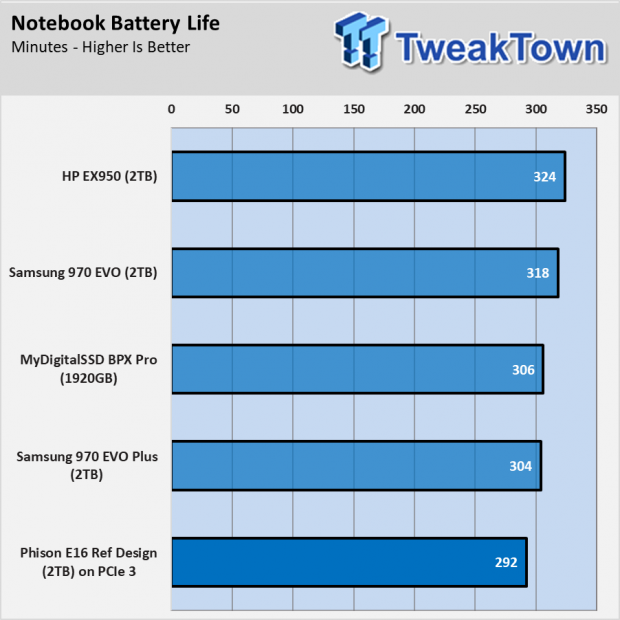 Retail SSDs based on the Phison E12 controller were never strong products for notebook battery life in our Lenovo Y700-17 gaming system. The new E16 looks to follow that same path. I don't expect to see a PCIe 4.0 notebook for some time, so this shouldn't be an issue for most people looking for the longest battery life on the go.
Final Thoughts
Like sand through the hourglass....
PCI Express 4.0 SSDs were a certainty even before Phison shocked the world with the first PS5016-E16 announcement. We know other companies have designs in the works, but the E16 will be the first to market. Phison used a lot of engineering resources to make that happen, and it will be an essential milestone in the company's history.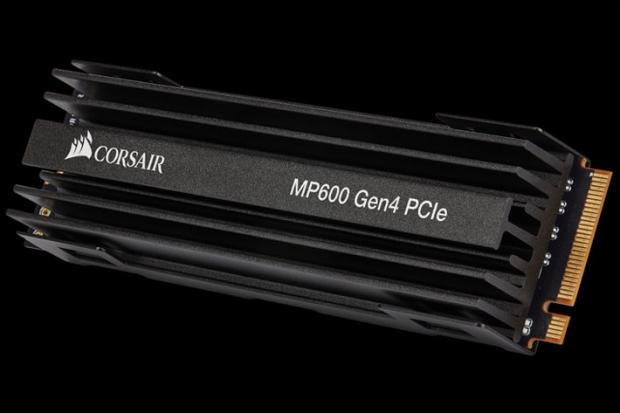 We were not able to see the full power of the Phison E16 today but hope to write that article in the near future. AMD has yet to release processors and motherboards to media. We learned just before Computex that motherboards are in very high demand for engineering teams and limited in quantity.
We were able to show performance of the first E16 reference design in existing systems with existing PCI Express technology already in place. Shoppers will face the very likely scenario of buying a PCIe 4.0 capable SSD before investing in a motherboard with PCIe 4.0 support. Compared to other SSDs shipping today, the E16 on a PCIe 3.0 bus is a strong option that should remain high on your shopping list.
Pricing will be a significant factor for everyone. The first PCIe 4.0 SSDs will have a very long lifespan in terms of usability, but some may want to wait until they have accompanying PCIe 4.0 hardware to make full use of the drives.