Metro Exodus Benchmarked: The New 'Can It Run Crysis'
Metro Exodus is one of the best looking games of 2019 so far, and it truly punishes all of our graphics cards including the RTX 2080 Ti.

Published Wed, Feb 13 2019 9:00 AM CST
|
Updated Tue, Nov 3 2020 6:57 PM CST
Intro + 4A Engine Enhancements
I have been using the Metro franchise in my GPU content for countless years now, starting with Metro 2033 and Metro: Last Light, and then into Metro: Last Light Redux for the last couple of years. Today is a big day for my benchmarking routine as 4A Games has released Metro Exodus and I can finally write about it.
NVIDIA hooked me up with an early access code for Metro Exodus a few days ago, and ever since I have spent 20-30 hours benchmarking the game across a bunch of different graphics cards in four different resolutions and two different in-game visual settings.
Before we get into the benchmark numbers, let's take a quick look at what changes 4A Games did to its in-house engine for Metro Exodus over its successors.
4A Engine Enhancements For Metro Exodus
4A did some magical work to its in-house engine for the specific needs of Metro Exodus, as this outing in the franchise changes environments and introduces new gameplay styles that meant the team had to overhaul the 4A Engine in order to create Exodus.
Metro Exodus features a modified 4A Engine that features physics-base rendering, overhauled lighting sysatems, and full-facial capture for the cinematic sequences in the game. The modified engine also makes incredibly beautiful use of the day/night cycle, dynamic weather, and more - all of which is visible in the benchmark, and more so in the full game.
On top of that, 4A Games has worked with NVIDIA on introducing DLSS and real-time ray tracing technology into Metro Exodus, something we'll be testing in the coming days. The benchmarks we have here today will only include non-DLSS and non-RTX features, as Metro Exodus will require much more time to full flesh out in terms of benchmarking.
For the purposes of this particular Metro Exodus benchmark article, I ran the game in two different settings. First, I ran it under the 'Extreme' setting with motion blur on low, tessellation on full, advanced PhysX disabled, and HairWorks off. I turned down the shading rate to 100 from its original setting of 200.
I then ran the same settings but the graphics quality on Medium, as Extreme is beyond punishing on even the fastest cards... including the GeForce RTX 2080 Ti that is chews up and spits out.
Test System Specs
Our New GPU Test Rig
Welcome to the latest revision of our GPU test bed, with our system being upgraded from the Intel Core i7-7700K to the Core i7-8700K. The CPU is cooled by the Corsair H115i PRO cooler, with the 8700K overclocked to 5GHz. We've stayed with GIGABYTE for our motherboard with their awesome Z370 AORUS Gaming 7.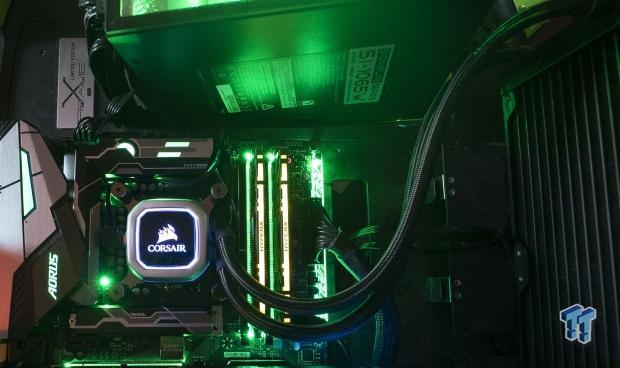 We approached our friends at HyperX for a kit of their kick ass HyperX Predator DDR4-2933MHz RAM (HX429C15PB3AK4/32), with 2 x 8GB sticks for a total of 16GB DDR4-2933. The RAM stands out through every minute of our testing as it has beautiful RGB lights giving the system a slick look while benchmarking our lives away, while the Z370 AORUS Gaming 7 motherboard joins in with its own array of RGB lighting.

Detailed Tech Specs
CPU: Intel Core i7-8700K @ 5GHz
Cooler: Corsair Hydro Series H115i PRO
MB: Z370 AORUS Gaming 7
RAM: 16GB (2x8GB) HyperX Predator DDR4-2933
SSD: 1TB OCZ RD400 NVMe M.2
SSD: 512GB OCZ RD400 NVMe M.2
PSU: InWin 1065W PSU
Chassis: In Win X-Frame
OS: Windows 10 Pro x64
Additional Images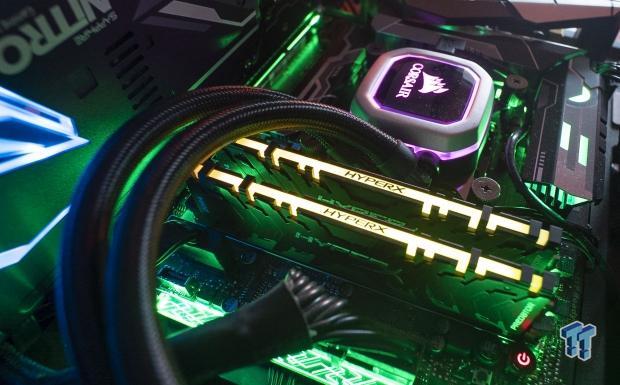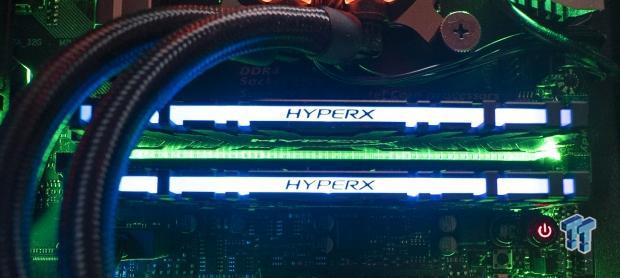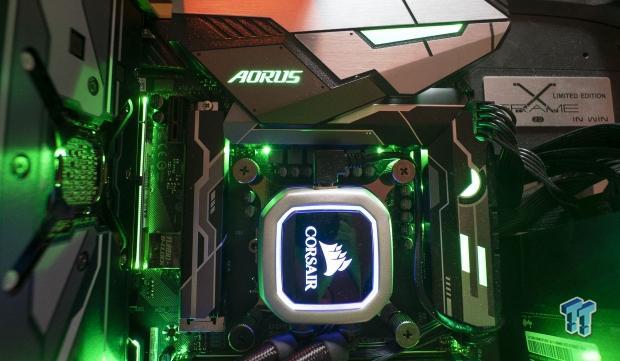 Benchmarks - 1080p
1920 x 1080 - Medium
1920 x 1080 - Extreme
Benchmarks - 1440p
2560 x 1440 - Medium
2560 x 1440 - Extreme
Benchmarks - 4K
3840 x 2160 - Medium
3840 x 2160 - Extreme
Performance Analysis & Final Thoughts
Performance Thoughts
1080p @ Medium - If you want to run Metro Exodus on a 1080p monitor then you're not going to have to try hard to hit 60FPS on a mid-range graphics card as long as your rolling out with Medium detail settings. NVIDIA's soon-to-be-replaced (with the GeForce GTX 1660 Ti) GeForce GTX 1060 is capable of 51FPS while AMD's mid-range Radeon RX 580 fares better with 58FPS.
The RTX 2060 pushes 84FPS while the second-fastest Radeon (RX Vega 64) is capable of 88FPS average while the RTX 2070 hits 100FPS. For everything above 100FPS at 1920 x 1080 you're going to need a GTX 1080 Ti, TITAN Xp, RTX 2080 or RTX 2080 Ti. The flagship GeForce RTX 2080 Ti is capable of just 142FPS average at 1080p, as remember we're running medium settings here.
1080p @ Extreme - We're effectively halving what we have above, with the GTX 1060 only capable of 24FPS while the RTX 2070 hits 47FPS and the RTX 2080 Ti is only pushing 72FPS average with Extreme settings.
1440p @ Medium - This is where things get interesting as the GTX 1070 Ti hits 59FPS, close to the smooth 60FPS minimum I want to see. The last-gen flagship GTX 1080 Ti hits 80FPS average at 1440p while the new RTX 2080 ties with the last-gen TITAN Xp with 89FPS leaving the flagship RTX 2080 Ti with 111FPS at 1440p on Medium settings. Not bad.
1440p @ Extreme - Yeah, you won't be using anything but the GeForce RTX 2080 Ti at 1440p if you want 60FPS with Extreme quality graphics, even the GTX 1080 Ti gets knocked down to 43FPS here. The RTX 2060 keeps its head above water with 32FPS, but that's still some low performance for what isn't a bad card - it's just that Metro Exodus is so demanding with Extreme graphics.
4K @ Medium - Face it, you're like me and you want to see how much Metro Exodus punishes graphics cards at 8K, right? Well if we're looking at the Medium preset we can squeeze 68FPS out of the GeForce RTX 2080 Ti, while the GTX 1080 Ti resists with 48FPS and the RTX 2060 drops to 36FPS. AMD's Radeon RX Vega 64 isn't bad here with 40FPS, but we'll be updating these results with Radeon VII in the next 24 hours - so keep an eye out.
4K @ Extreme - 3840 x 2160. Extreme graphics. Let's do this - oh, 41FPS with the RTX 2080 Ti. 32FPS with the GTX 1080 Ti and TITAN Xp. 13FPS on the Radoen RX 570. Well then. If you want to spend over $1000 on a new graphics card and wanted to get the best out of Metro Exodus at 4K, you know you'll be itching for NVIDIA's flagship Turing graphics card.
Final Thoughts
There you have it - most of the latest graphics cards from both NVIDIA and AMD benchmarked with one of the best-looking and most-demanding games out right now: Metro Exodus. The game looks gorgeous, and that's without most of NVIDIA's own technologies enabled - including ray tracing elements and DLSS. There was over 30 hours of benchmarking put into this as it was, and I wanted to give DLSS its own time when testing it.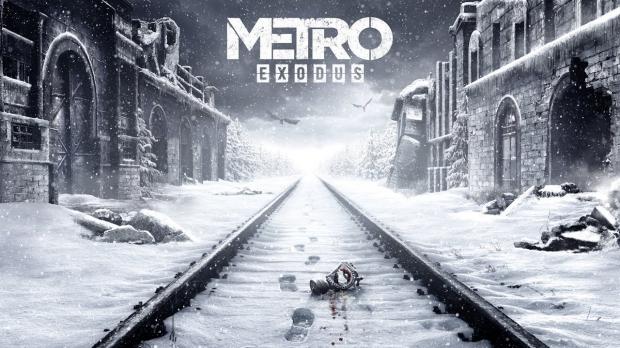 Metro Exodus looks amazing and requires some serious horsepower to achieve it. The next stop with our Metro Exodus benchmarking will be when our Radeon VII sample returns tomorrow and I can run the 7nm Vega 20 + 16GB HBM2 through this game at all resolutions. Another interesting test I'll be performing is native 8K with 7680 x 4320 and it'll be tested only with the highest-end cards in the GTX 1080 Ti, TITAN Xp, RTX 2080 Ti and Radeon VII. That'll be very interesting.
Until then, what do you think of the performance here? Is it a little crazy that the GeForce RTX 2080 Ti can only manage 41FPS average at 4K, and that's without all of the bells and whistles enabled. Are the all-the-bells-and-whistle test of Metro Exodus something I should do? Let me know in the comments below.
PRICING: You can find products similar to this one for sale below.

United States: Find other tech and computer products like this over at Amazon.com

United Kingdom: Find other tech and computer products like this over at Amazon.co.uk

Australia: Find other tech and computer products like this over at Amazon.com.au

Canada: Find other tech and computer products like this over at Amazon.ca

Deutschland: Finde andere Technik- und Computerprodukte wie dieses auf Amazon.de
We openly invite the companies who provide us with review samples / who are mentioned or discussed to express their opinion. If any company representative wishes to respond, we will publish the response here. Please contact us if you wish to respond.