Phison E12 NVMe PCIe Gen3 x4 Controller Preview
TweakTown is first to test Phison's next-gen E12 NVMe Controller.

Published Jun 4, 2018 11:10 AM CDT
|
Updated Tue, Nov 3 2020 6:57 PM CST
8 minute read time
Introduction, Specifications & Drive Details
We got our first look at working Phison E12 powered SSDs back in January at CES. We saw both M.2 and U.2 versions with both Micron and Toshiba flash posting some serious numbers. Since then, we have been eagerly awaiting the arrival of Phison's next-gen E12 controller.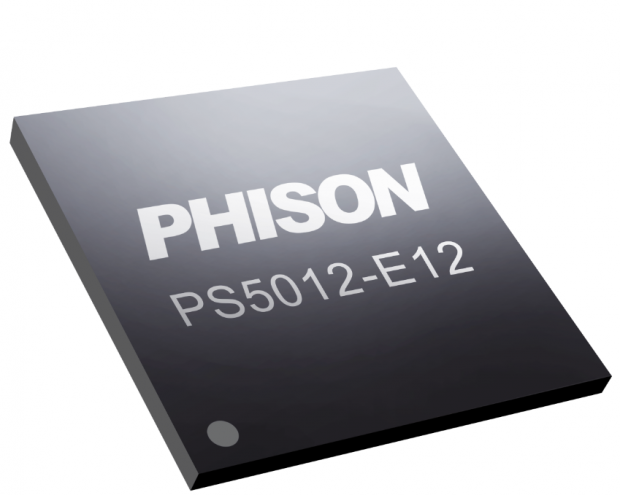 We expect to see E12 powered SSDs hitting the consumer market very soon under the usual brand names like MyDigitalDiscount, Corsair, Patriot, Kingston and many others. Phison will also be tapping the Datacenter market with E12 powered enterprise variants.
Just a couple of days ago, Phison sent out a press announcement that reads as follows:
Phison Begins Customer Sampling of Next Generation Flagship SSD Controller PS5012-E12.
Phison Electronics (8299.TW), an industry leader in flash controller and NAND solutions, announces the availability of the PS5012-E12 PCIe Gen3x4 NVMe SSD controller for customer sampling. The ultra-high performance SSD controller delivers best in class speeds over 3400 MB/s sequential read and over 3000 MB/s sequential write, with random 4K up to 600,000 IOPS read and 600,000 IOPS write performance. The controller supports up to 8TB and is available in the M.2, U.2, and AIC form factors.
With the E12 reaching close to the theoretical bandwidth of 4GB/s for PCIe Gen 3x4, it is the perfect solution for the gaming and high-end PC market. The innovative CoXprocessor 2.0 allows the E12 to gain an impressive advantage in sequential write performance that cannot be matched. It also allows for an unprecedented 600,000 IOPs random 4K read / write performance for a client SSD.
"The PS5012-E12 is our 2nd Generation PCIe Gen3x4 NVMe flagship controller." said KS Pua, Chairman and CEO of Phison. "We incorporated our latest and greatest engineering technologies, from the CoXprocessor 2.0, LDPC 3.0, and our DSP (Digital Signal Processor) 2.0. It will enable our partners to provide the most suitable PCIe SSD to the gamers and PC enthusiast who seek for the highest performing systems. This is without a doubt, Phison's best SSD controller to date."
The controller utilizes an advanced 28nm process technology. Equipped with an ultra-compact and low-power LDPC 3.0 ECC engine designed for the latest 3D TLC and upcoming QLC flash memory. The controller can support up to 8 channel and 32 chip enables (CE).
PS5012-E12DC, the enterprise optimized solution of PS5012, is tuned for maximize endurance, low latency, and sustained performance consistency, targeting the enterprise data center and cloud environments. This enterprise controller is set for customer sampling in early Q3, 2018.
Phison will be showcasing the E12 Client SSD as well as its latest flash controller technologies to close partners at Computex Taipei June 5-9, 2018.
We were able to get our hands-on a 960GB M.2 Phison E12 engineering sample with a Toshiba BiCS 3 flash array for this preview. Phison E12 powered SSDs will be competing for market share with the likes of Samsung's 970 EVO, SanDisk's Extreme Pro, Western Digital's Black, ADATA's SX8200 and Plextor's M9Pe Series. This is some stiff competition to be sure, now let's see how Phison's latest and greatest compares.
Because this is a performance preview of the E12 in non-retail form, we are not going to run our complete benchmark suite. We are leaving out our long tests including steady-state Vantage, PCMark 8 Extended and Sledgehammer. These tests take a very long time to run and are less relevant to the average user than the synthetic and moderate workload tests that we are presenting in this preview.
Phison E12 NVMe SSD Controller Features & Specs
Phison sells its SSD controllers as part of a turnkey solution to be branded and sold by vendors. This has made Phison a favorite among third-party SSD retailers. Phison's PS5012-E12 controller supports the full gambit of current and forth coming flash technologies as follows: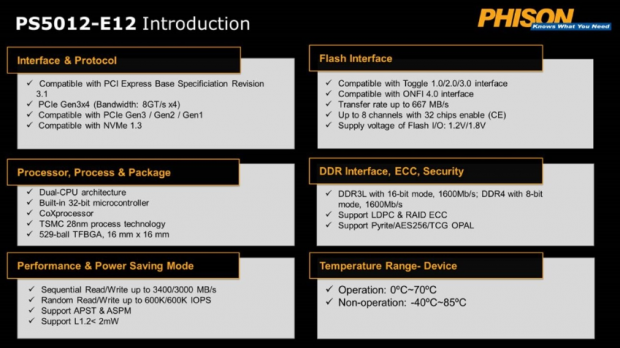 Drive Details
Phison E12 960GB M.2 NVMe SSD

This side of the PCB houses Phison's PS5012-E12 NVMe controller, a SK hynix DRAM package and two 256GB Toshiba BiCS 3 64-layer TLC flash packages.

This side of the PCB houses another SK hynix DRAM package and two more 256GB Toshiba BiCS 3 64-layer TLC flash packages.
Test System Setup, Drive Properties
Jon's Z270 Consumer PCIe SSD Test System Specifications
We would like to thank ASRock, Crucial, Intel, Corsair, RamCity, IN WIN, and Seasonic for making our test system possible.
Drive Properties
Phison E12 (ES) M.2 PCIe NVMe SSD OS Disk 75% Full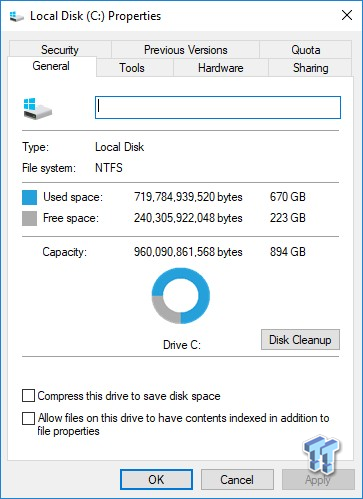 The majority of our testing is performed with our test drive as our boot volume. Our boot volume is 75% full for all OS Disk "C" drive testing to replicate a typical consumer OS volume implementation. We feel that most of you will be utilizing your SSDs for your boot volume and that presenting you with results from an OS volume is more relevant than presenting you with empty secondary volume results.
System settings: Cstates and Speed stepping are both disabled in our systems BIOS. Windows High-Performance power plan is enabled. Windows write caching is enabled, and Windows buffer flushing is disabled.
We will be presenting both empty secondary volume and system disk 75% full screenshots. We will be charting system disk 75% full for comparison with competing SSDs.
Synthetic Benchmarks - ATTO & Anvil Storage Utilities
ATTO
Version and / or Patch Used: 3.05
ATTO is a timeless benchmark used to provide manufacturers with data for marketing storage products. When evaluating ATTO performance we focus on the drive's performance curve and small-file performance.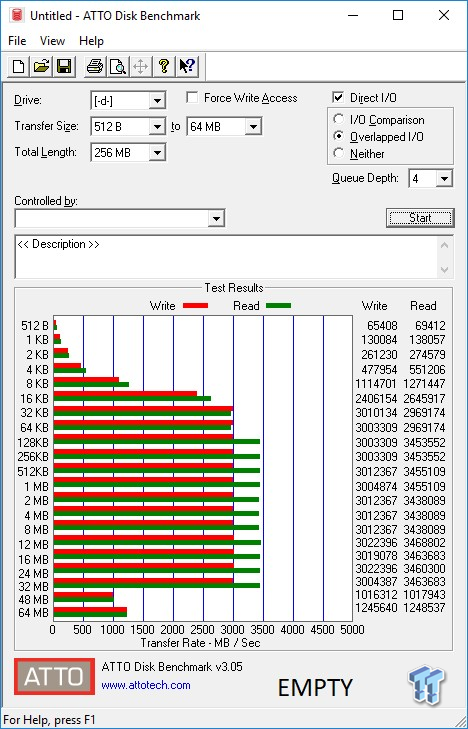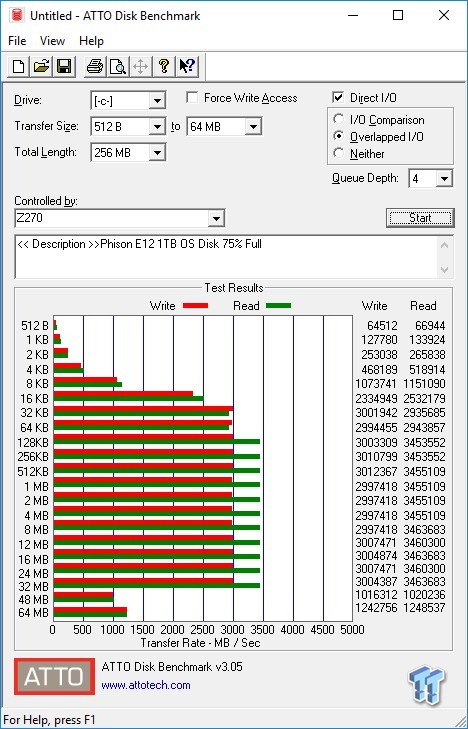 We are able match or exceed factory sequential read/write performance specs even when we are testing as system disk 75% full.
Sequential Write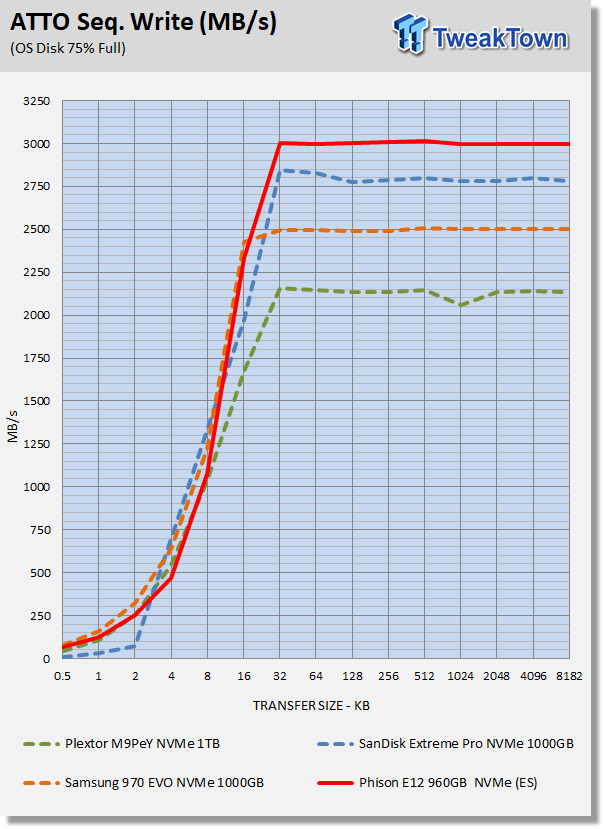 In terms of shear sequential speed, the E12 sets a new lab record. Small-file performance could be a bit better, but overall this is Tier-1 performance.
Sequential Read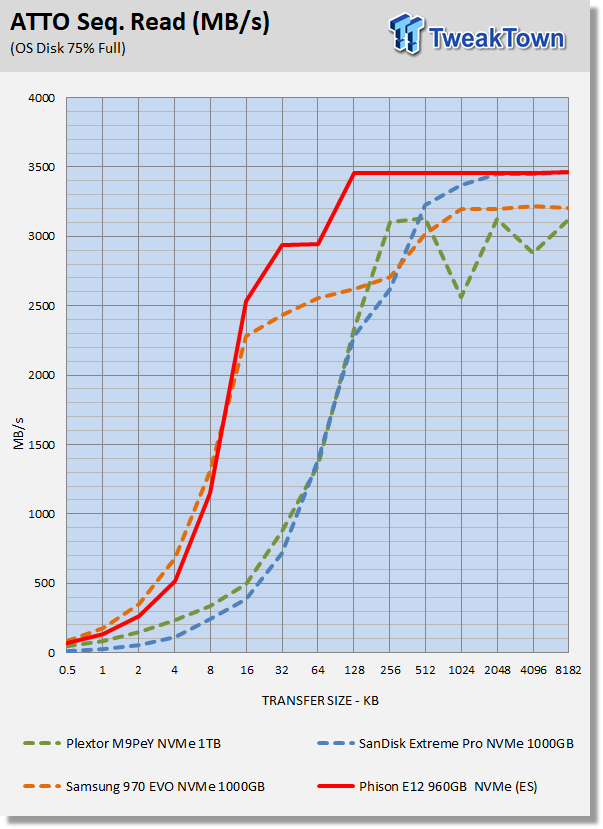 The E12 trades blows with Samsung's 970 EVO for the best performance curve of the bunch. SanDisk's Extreme Pro eventually matches the E12's throughput but does so with a vastly inferior performance curve.
Anvil Storage Utilities
Version and / or Patch Used: 1.1.0
Anvil's Storage Utilities is a storage benchmark designed to measure the storage performance of SSDs. The Standard Storage Benchmark performs a series of tests; you can run a full test or just the read or write test, or you can run a single test, i.e. 4K QD16.
When evaluating performance with Anvils, we focus on total score. When evaluating NVMe SSDs we are typically looking for a minimum total score of over 10K.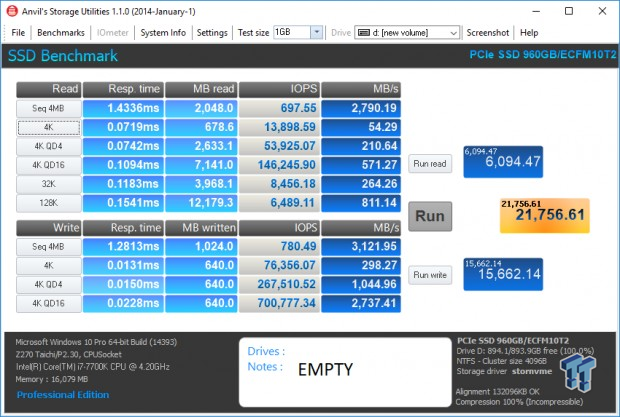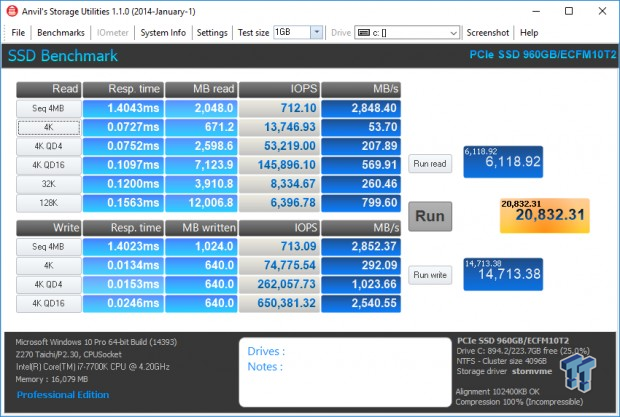 Scoring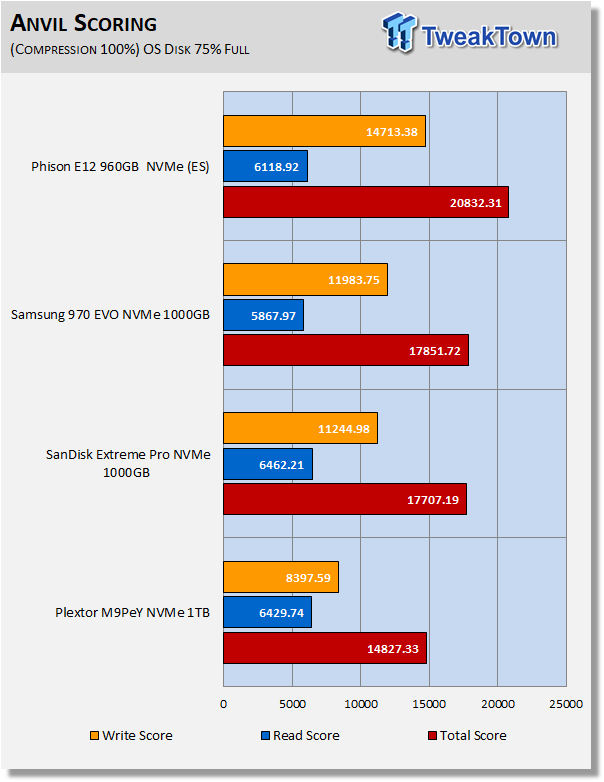 In terms of total score, Phison's E12 delivers a new lab record for a flash-based SSD. The E12 is showing us a new level of write performance. Its write score alone is almost equivalent to the M9PeY's total score. 700K random write IOPS at QD16 is mind bending to say the least.
Looking at read scoring, we see that the E12 does better than Samsung's 970 EVO but gets edged out by the SanDisk's Extreme Pro and Plextor's M9PeY.
Synthetic Benchmarks - CrystalDiskMark & AS SSD
CrystalDiskMark
Version and / or Patch Used: 5.5.0
CrystalDiskMark is the worlds most popular SSD benchmark. CDM allows us to quickly and easily evaluate an SSDs sequential and random read/write performance.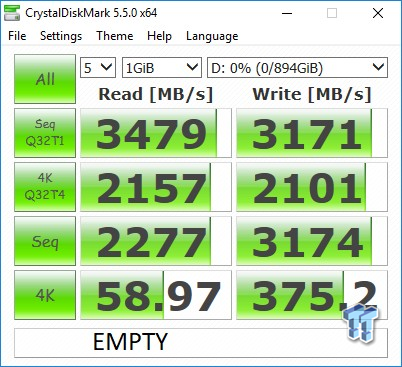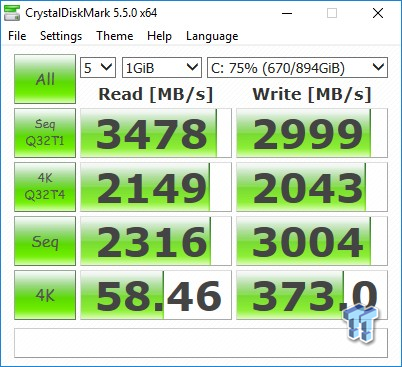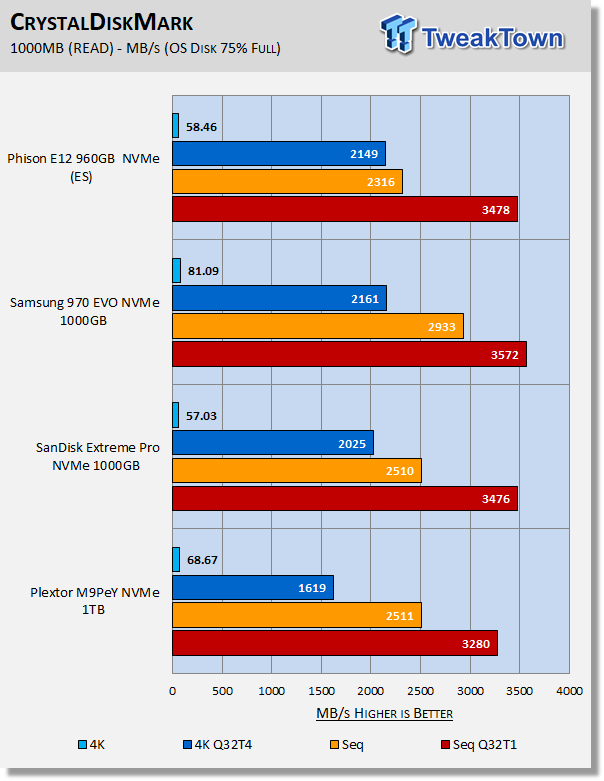 Samsung's 970 EVO wins this battle at every measured category. The E12 does edge out SanDisk's Extreme Pro for second best sequential QD32 and third best 4K QD1 performance.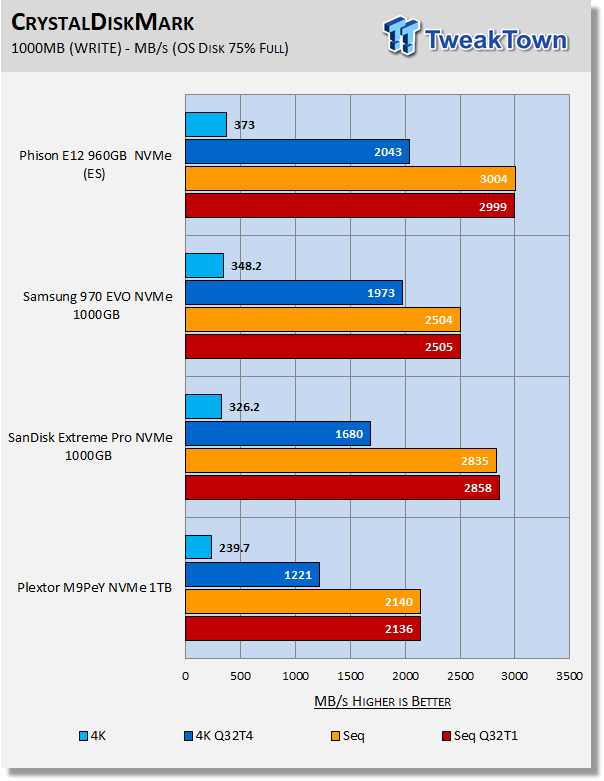 Phison's E12 destroys the competition at every measured category - delivering another lab record. This, like we saw with Anvil's, clearly shows that in terms of overall write performance, the E12 has no equal. Most impressive is the E12's random performance at QD1, especially when you consider that the E12 doesn't have the benefit of a proprietary NVMe driver like Samsung's 970 EVO does.
AS SSD
Version and / or Patch Used: 1.8.5611.39791
We evaluate AS SSD performance in terms of overall score. We are looking for a minimum total score of 2,000 when evaluating NVMe SSDs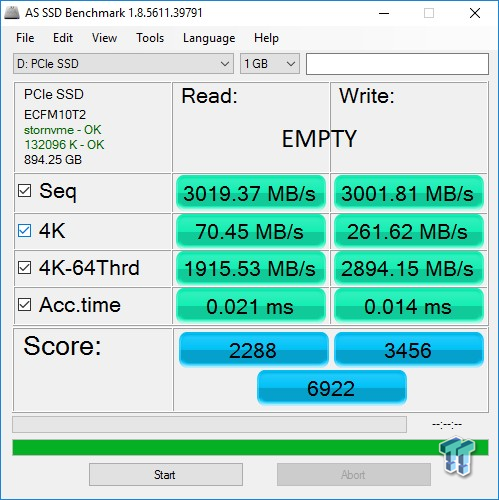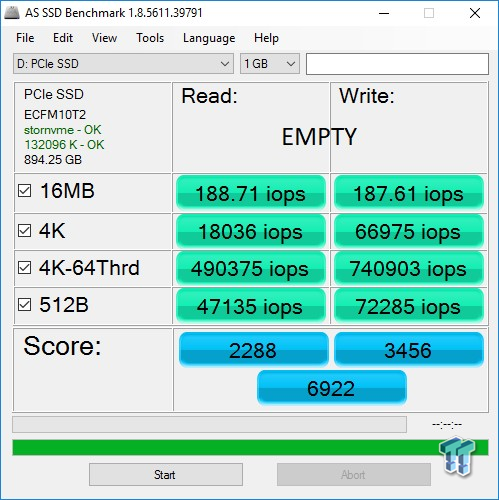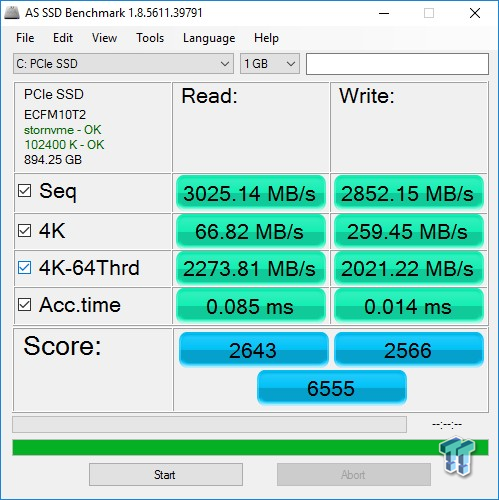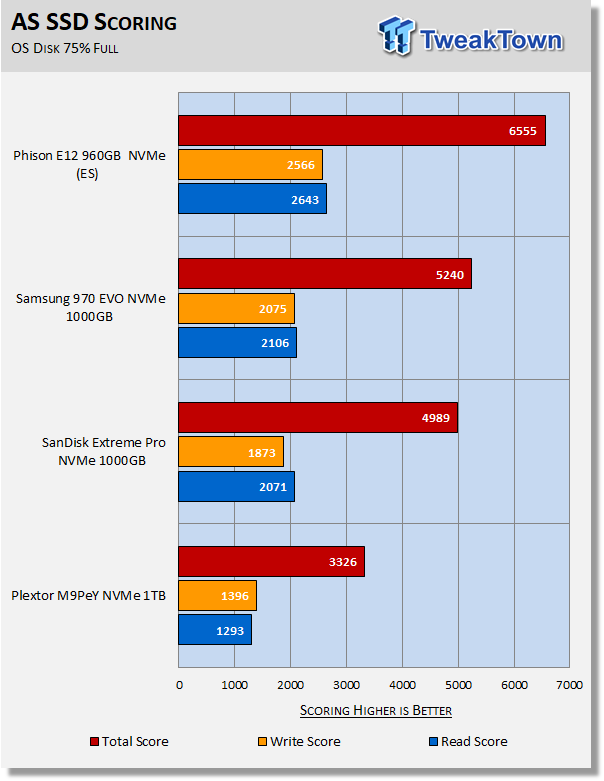 Another lab record for a flash-based SSD falls to Phison's E12. The 740K random write IOPS generated by Phison's E12 is stunning as is every other measured category provided by this test. Typically, this is one of the most demanding tests we run, but the E12 cuts through it like a hot knife through butter.
Real-World Benchmarks - PCMark 8 & SYSmark 2014 SE
Moderate Workload Model
We categorize this test as indicative of a light to moderate workload environment.
PCMark 8
Version and / or Patch Used: 2.4.304
We use PCMark 8 Storage benchmark to test the performance of SSDs with traces recorded from Adobe Creative Suite, Microsoft Office, and a selection of popular games. You can test the system drive or any other recognized storage device, including local external drives.
Unlike synthetic storage tests, the PCMark 8 Storage benchmark highlights real-world performance differences between storage devices. We focus on the total score first and then storage bandwidth when evaluating PCMark 8 results.
OS Volume 75% Full - Lightly Used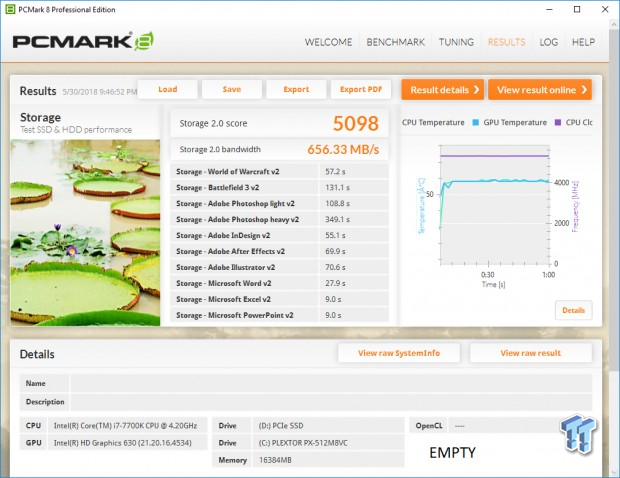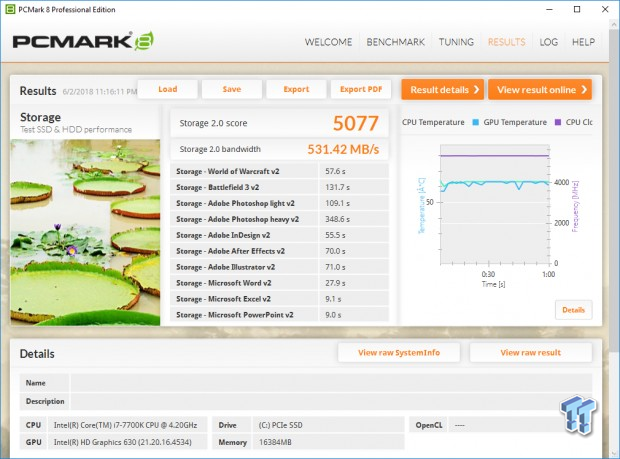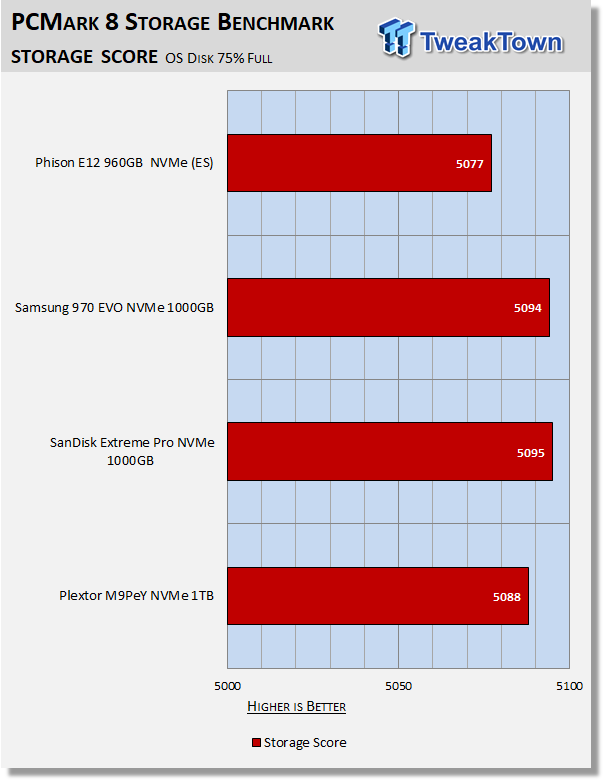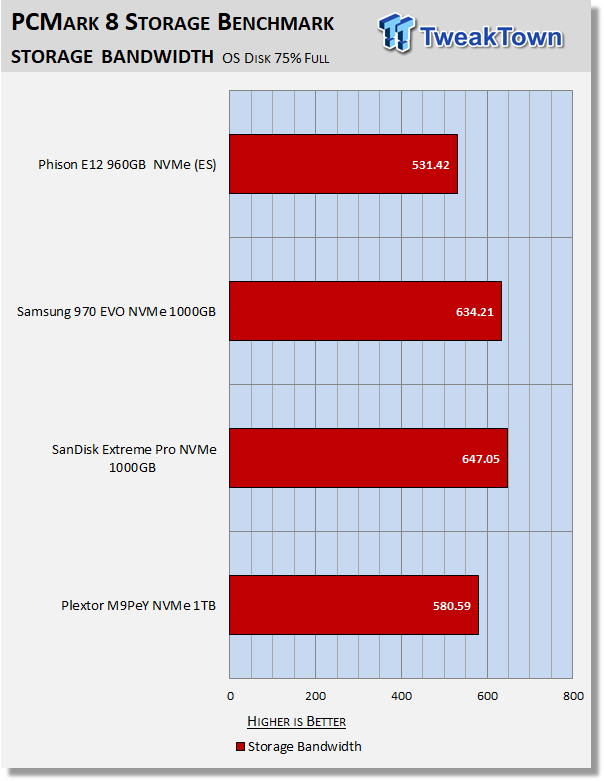 PCMark 8 is the most intensive moderate workload simulation we run. Comparing empty to 75% full shows a bigger than normal drop in performance when data is on the drive. We aren't sure what is causing drop of this magnitude when data is on the drive, but we believe that this can be remedied through firmware updates.
BAPCo SYSmark 2014 SE Application Performance
Version and / or Patch Used: 2.0.0.70
SYSmark 2014 SE is considered the gold standard for testing system performance because it is an application-based benchmark. This test gives us the ultimate in real-world results because it utilizes actual applications running on the system, instead of playing back recorded traces. If you want to know what kind of impact an SSD will have on your system's overall performance; this test will show you.
Our systems are much more powerful than the calibration system (1000-point baseline) used by BAPCo, so we ran an OCZ TL100 120GB SATA III SSD to establish a comparison point relative to our test systems.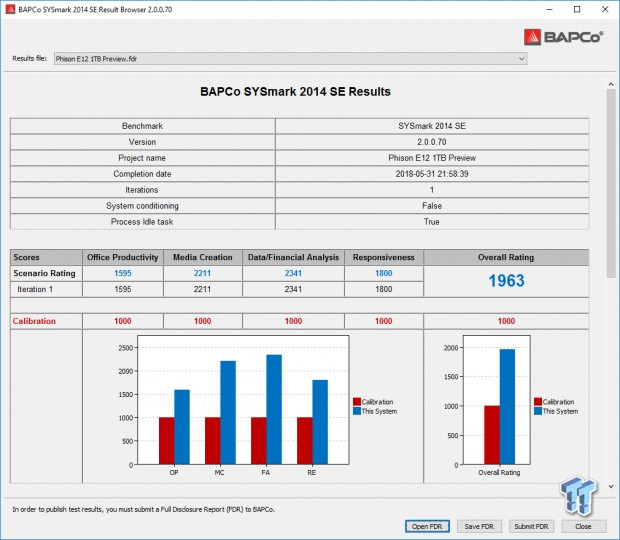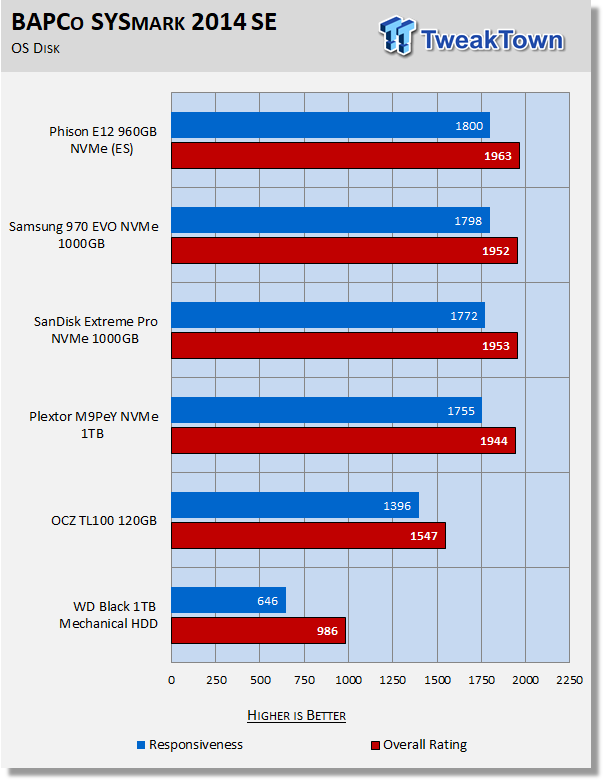 This is the real deal, this is what matters most - actual application performance. The E12 doesn't set a lab record, but it does defeat the contenders in our test pool. The results of this test indicate that the E12 is more responsive when running applications than the competitors that comprise our test pool. This is what we are all looking for in a storage device - responsiveness that is a cut above.
Final Thoughts
Phison's E12 controller delivers the goods in a big way. Even with our abbreviated testing, the E12 powered SSD we tested managed to break several lab records. This bodes well for Phison who is looking to unleash their latest and greatest upon the masses in the near future.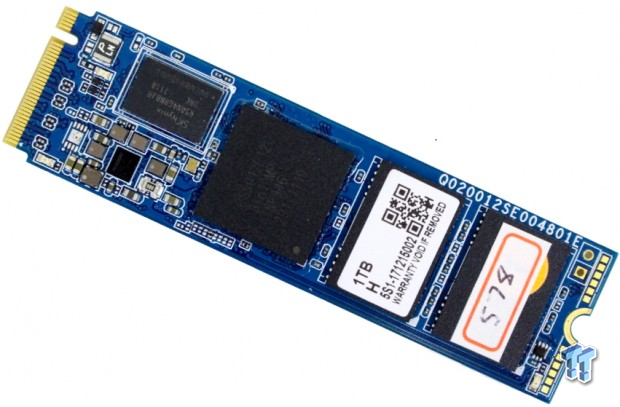 We are most impressed with how the E12 engineering sample we tested outperforms Samsung's 970 EVO, SanDisk Extreme Pro and Plextor's M9PeY when running applications as demonstrated by our SYSmark test results. This is impressive and solidifies our opinion that Phison E12 powered SSDs will be true contenders for the TLC performance crown.
User experience is what matters most, and we can testify that the Phison E12 engineering sample that we were provided delivers a user experience that is as good as it gets for a flash-based SSD. It handled everything we threw at it without skipping a beat. We experienced lightning quick boots, instant response and superior multitasking performance when running the drive as our system disk. In-fact, we plan on keeping the E12 as our system disk - it's that good.
The only gripe we have is the same one we've had since Phison's E7 controller first appeared on the scene over two years ago - no proprietary NVMe driver. Performance could be significantly better with an alternative to the Windows in-box NVMe driver. Additionally, Windows 7 users would be able to enjoy E12 powered SSDs running at their full potential.
TweakTown has been working behind the scenes with Phison providing feedback on different firmware revisions and how they perform. We want to thank Phison for providing us the opportunity to be first to publish benchmarks with their potent E12 controller.
No TweakTown SSD review would be complete without at least a couple Maxed-Out-Performance benchmarks to cap it off: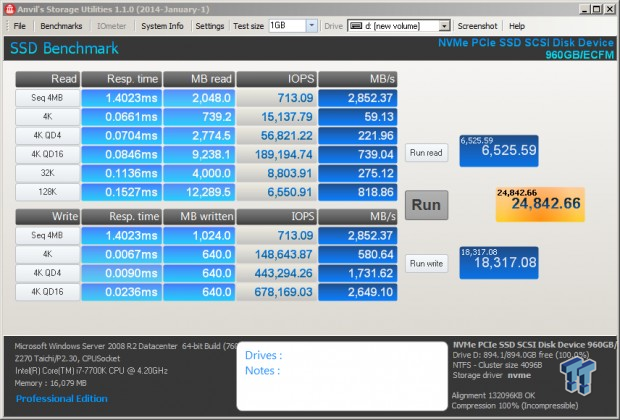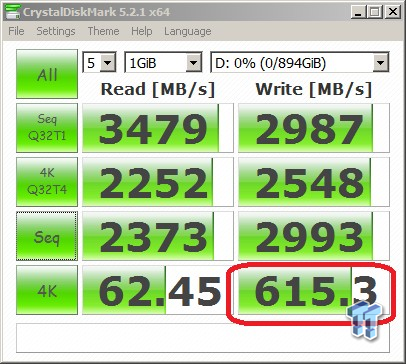 Absolutely stunning write performance. It's the best we've seen from any SSD including Optane.
Because this is a performance preview, we do not handout an award. We will save that for retail E12 powered products coming down the pike. Although we will not be handing out an award at this point, we will give Phison's next-gen E12 controller a hearty TweakTown recommendation.
Pros:
Write performance

Application Performance
Cons:
PRICING: You can find products similar to this one for sale below.

United States: Find other tech and computer products like this over at Amazon.com

United Kingdom: Find other tech and computer products like this over at Amazon.co.uk

Australia: Find other tech and computer products like this over at Amazon.com.au

Canada: Find other tech and computer products like this over at Amazon.ca

Deutschland: Finde andere Technik- und Computerprodukte wie dieses auf Amazon.de
We openly invite the companies who provide us with review samples / who are mentioned or discussed to express their opinion. If any company representative wishes to respond, we will publish the response here. Please contact us if you wish to respond.