Investigation: What wireless NIC is best in today's market?
So, which wireless NIC is best in today's market? Join as we investigate.

Published
4 minute read time
I've been pondering an article like this for a while but the logistics of getting everything in-house and testing never really came together. After completing my last round of articles, I suddenly realized I had all of the wireless NICs in-house that come in modern motherboards and laptops, apart from the Killer 1535, which easily enough was sent over to be included after emailing Rivet Networks.
Like you, I too am a member of a few tech forums, some I frequent more than others but alas many have a thread titled "best Wi-Fi for laptop" or "upgrade laptop Wi-Fi." It's no secret, not all Wi-Fi NICs are created equal - some notebook and motherboard vendors choose to take a cheaper route with 1x1 solutions while you will find the majority using 2x2 solutions from Qualcomm or Intel.
Since breaking away from Qualcomm, Rivet Networks has reinvented the Killer brand to be more than a marketing slogan on a box, pushing their Prioritization engine into routers with the WRT32x.
The focus of this article is to put all of the most commonly supplied adapters against each other using every router platform available in the same environment with the same testing methods. To do this, I reached out to Linksys to get a batch of routers sent over, one from each platform and they obliged, and for that I thank them. With that said we have the following routers and adapters in house for testing.
Routers and NICs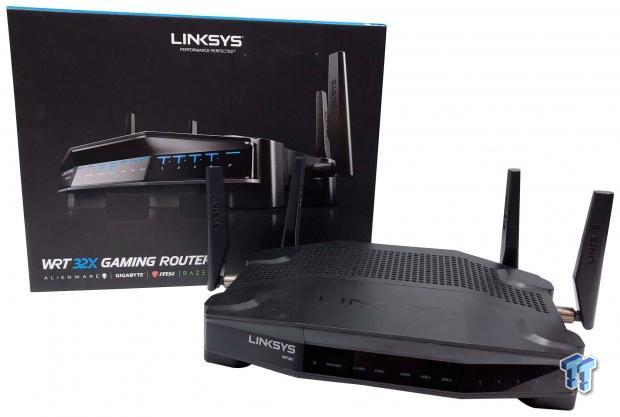 The first router on our list is the WRT32x, an AC3200-class solution featuring a Marvell 1.8GHz dual-core SoC paired with 512MB of memory and 256MB of flash. This router supports MU-MIMO, DFS technology, and VHT160. You can read our full review here.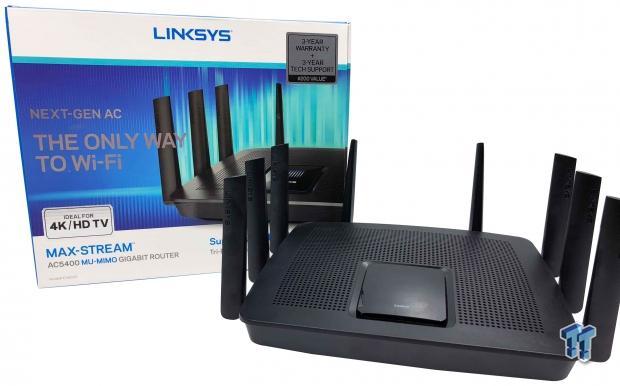 Next up, we have our Broadcom testing platform with the Linksys EA9500 v2. This solution comes with a quad-core SoC operating at 1.8GHz paired with 128MB of flash and 1GB of DDR3. Our initial review of the EA9500 was completed on v1 of this solution. You can read that here.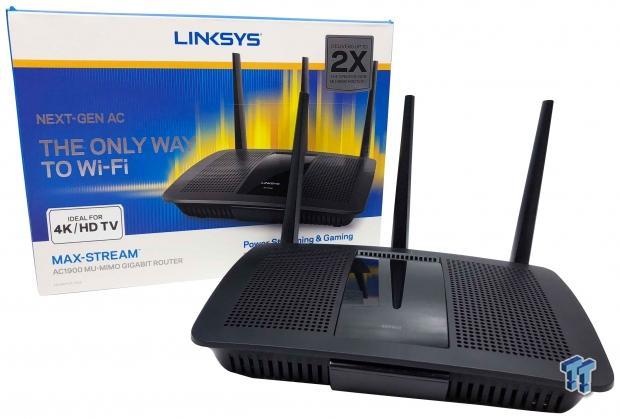 Our next platform is the EA7500 v2, which now is a MediaTek platform with a dual-core SoC operating at 880MHz. This is paired with 256MB of memory and 128MB of flash. Our initial review of this platform was at launch with the v1 solution, at that time it was Qualcomm based. You can read that review here.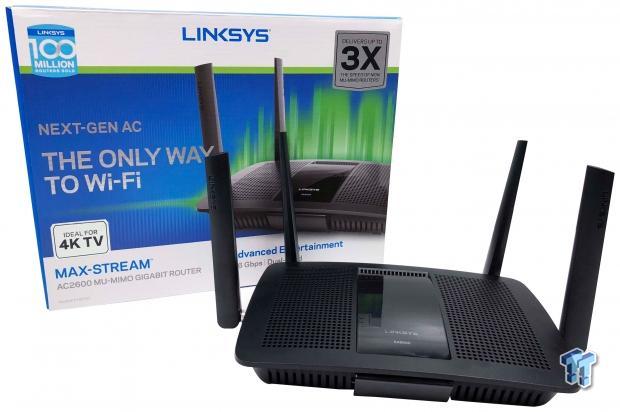 We end our list of routers with the EA8500, a Qualcomm platform with a dual-core at 1.4GHz paired with 512MB of memory and 128MB of flash.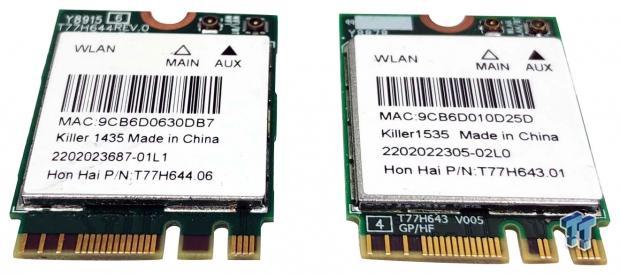 On the adapter side, we have the Killer 1435 on the left and Killer 1535 on the right. The 1435 is a Qualcomm QCA6174A 2x2 solution while the 1535 uses the same QCA6174A chipset with hardware amplifiers for the 5GHz band. Both support Bluetooth 4.1.

On the Intel side of things, we have three adapters; the 3165, 7265, and 8265. The Intel 3165NGW is a 1x1 solution using Intel's W438AK12 chipset with support for DFS and Bluetooth 4.2. The Intel 7265NGW is a 2x2 solution using the W410AK05 chipset with support for Bluetooth 4.0 and DFS. Last, we have the Intel 8265NGW a 2x2 solution using the WCS8265 chipset with support for MU-MIMO, DFS and Bluetooth 4.2.
Testing and Results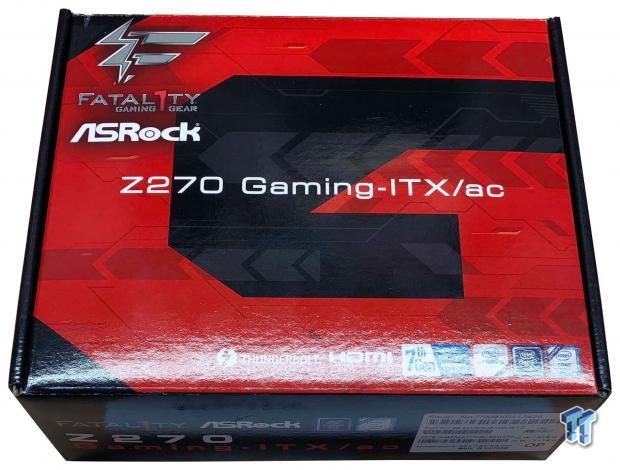 The test platform for this article includes the ASRock Z270 Gaming ITX/AC, a Core i7 7700K, and 2x8GB G.Skill TridentZ RAM. The process includes swapping each NIC into the m.2 slot at the top of the motherboard, booting into Windows 10, and installing the latest drivers.
Performance testing was done with Netperf with our desktop test system connected via ethernet as the server and the ASRock board running in client mode 20 feet or 6 meters from the router under test. You can pick up Netperf here.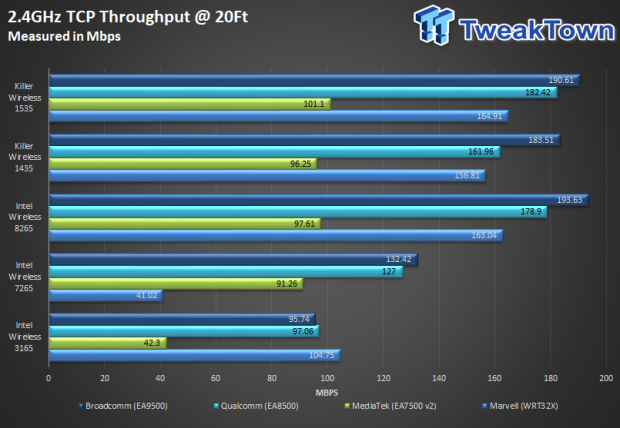 First up, I ran all of the adapters through testing with 2.4GHz. Looking at the numbers, we can see a clear difference between a 1x1 and 2x2 solution just looking at the results of the 3165 and 8265 from Intel. Things get closer between the 8265 from Intel and 1535 from Killer Networks. Between the two Killer adapters, we see smaller gains from the 1435 to 1535.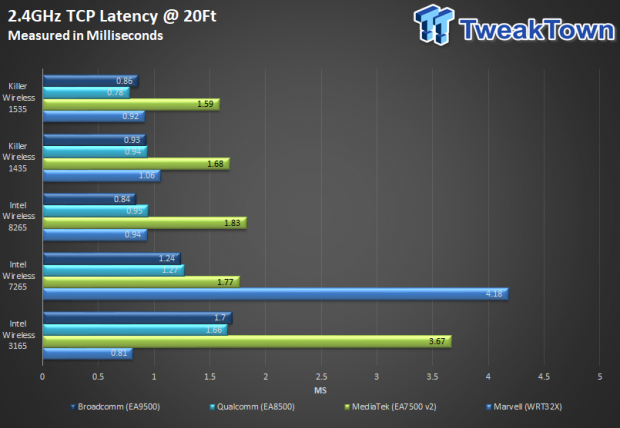 Latency during testing shows a secondary angle with the Killer 1535 peaking at 1.59ms with the MediaTek platform while the Intel peaks at 1.83ms.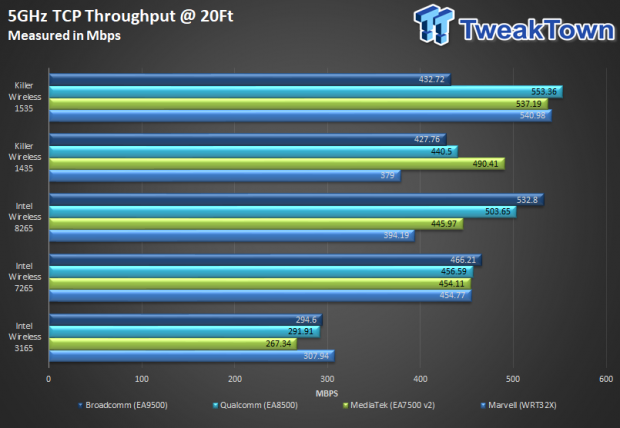 Moving over to 5GHz testing, the 3165 peaks out at 307 Mbps with the Marvell platform. The 7265 performs about the same across all platforms with its peak coming at 466 Mbps on Broadcom. The 8265 prefers Broadcom as well reaching a peak of 532 Mbps while the two Killer adapters come in at 490 Mbps for the 1435 and 553 Mbps for the 1535.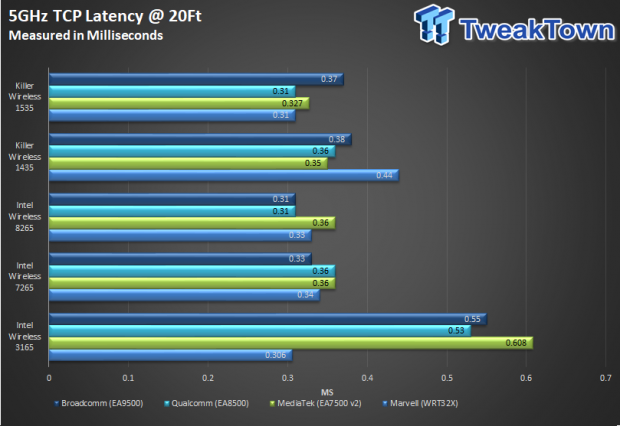 5GHz latency offers similar insight with the 3165 hovering between .306 with the Marvell solution and .608 with the MediaTek. The 7265 and 8265 are very close while the same can be said for the two Killer NICs as well.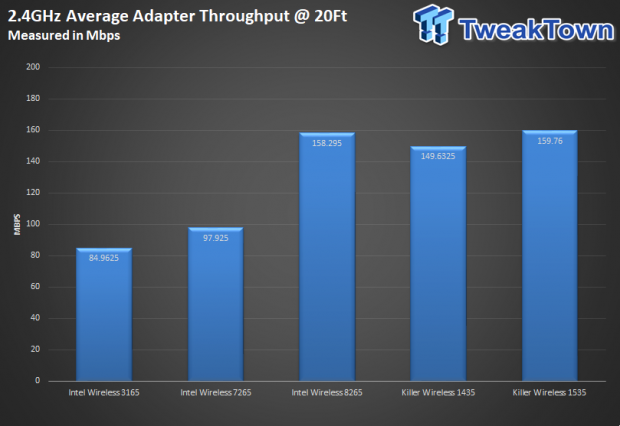 Looking at things overall, the 2.4GHz band gives us tie between the Intel 8265 and Killer 1535 and adding in 10% variance even the Killer 1435 can be included.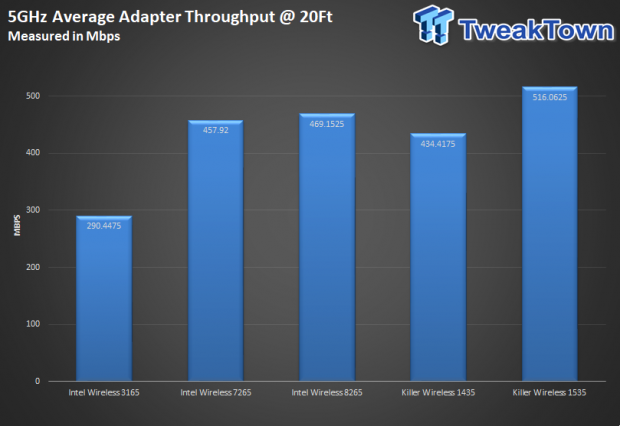 5GHz averages have things close once again but the Killer 1535 does enjoy a near 10% performance advantage over the Intel 8265NGW. The Killer 1435, however, falls behind both the Intel 7265 and Intel 8265NGW by a good 20 Mbps and lastly while the 3165NGW is likely the card you want to upgrade from, offering 290 Mbps on average.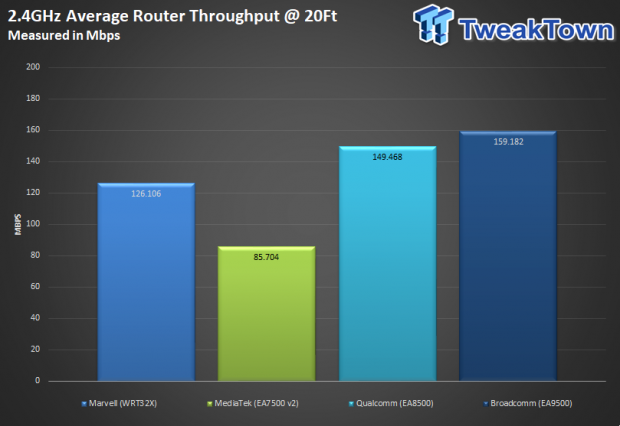 Now we can look at average throughput based on router platform at 2.4GHz. In testing, we found the Broadcom platform to offer the most throughput across all adapter tested at 159 Mbps average. The Qualcomm was right behind that at 149 Mbps and the Marvell at 126 Mbps.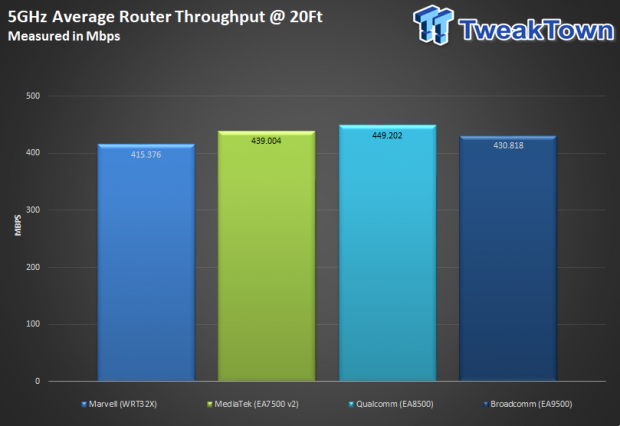 5GHz averages showed all platform relatively close, but the Qualcomm platform does prove to have the highest average throughput at 449 Mbps across all adapter while the MediaTek takes a close second at 439 Mbps and the Broadcom third at 430 Mbps.
I've been in that similar predicament as you; wanting to upgrade your laptop to the best adapter possible, all the while wondering how much more performance it would offer. I hope this article helps some of you in making your decision as it's the driving force behind this research and testing and while not all Broadcom, Qualcomm, Marvell, and MediaTek platforms will perform the same, the units I tested here offer the latest chipsets from each vendor as of this writing.
PRICING: You can find products similar to this one for sale below.

United States: Find other tech and computer products like this over at Amazon.com

United Kingdom: Find other tech and computer products like this over at Amazon.co.uk

Australia: Find other tech and computer products like this over at Amazon.com.au

Canada: Find other tech and computer products like this over at Amazon.ca

Deutschland: Finde andere Technik- und Computerprodukte wie dieses auf Amazon.de
We openly invite the companies who provide us with review samples / who are mentioned or discussed to express their opinion. If any company representative wishes to respond, we will publish the response here. Please contact us if you wish to respond.