Intel details 8th Generation Core CPUs with Kaby Lake-R
Today Intel introduces its brand new 8th Generation Core processors with the Kaby Lake-R CPU. Let's take a look!
Published Mon, Aug 21 2017 2:01 AM CDT
|
Updated Tue, Nov 3 2020 6:58 PM CST
Meet the 8th Gen. Core Processors
Meet Intel's 8th Gen. Core Processors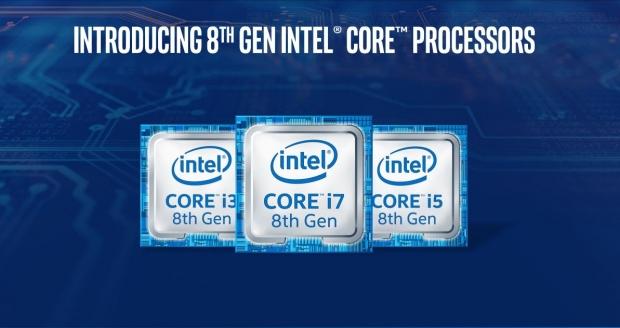 Today, Intel will officially announce the launch of their 8th generation of Core processors, something many have been waiting for. The new processors are code named Kaby Lake-R (Refresh), and not Coffee Lake as many have assumed. That is because Intel is changing up the way they name processors.
The 8th Generation of Core processors will offer three different microarchitectures including Kaby Lake Refresh, Coffee Lake, and Cannon Lake. Hopefully, this new strategy will allow for longer platform lifespans, and help to avoid the generation change every new microarchitecture brings. Right now we get to talk about Intel's official changes to their Core lineup, but we will focus primarily on the U-series of processors as that is what is launching first. The U-series is typically rated at 15W, and are very popular in thin notebooks and more powerful tablets.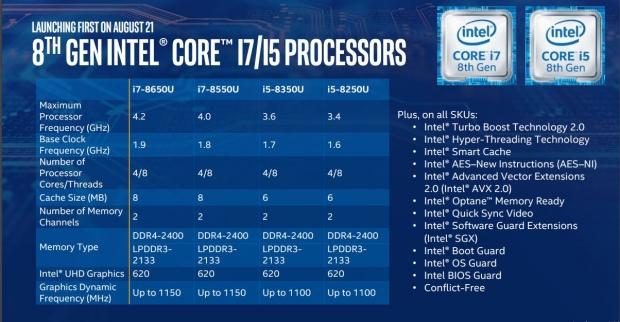 Intel has decided to double the number of cores and threads of their U-series lineup and maintain the same TDP. That's a big achievement, and huge for the market, as the biggest thing keeping back more cores in smaller products is the added power consumption. Intel, at the same time, also went and gave the CPUs higher maximum operating frequencies. The i7 and i5 processors also get double the cache of their predecessors.
The i7-8650U replaces the i7-7600U, the 8550U the 7500U, and so on. While maximum Turbo frequencies have increased around 200MHz, base frequencies have dropped a decent amount. Your processor can now more than double its base frequency when a load is applied, that is pretty huge. I should also note that Intel has increased DDR4 speeds from 2133MHz to 2400MHz. Intel's HD Graphics 620 are now renamed to Intel's UHD Graphics 620, and their maximum dynamic frequency is now 1.15GHz.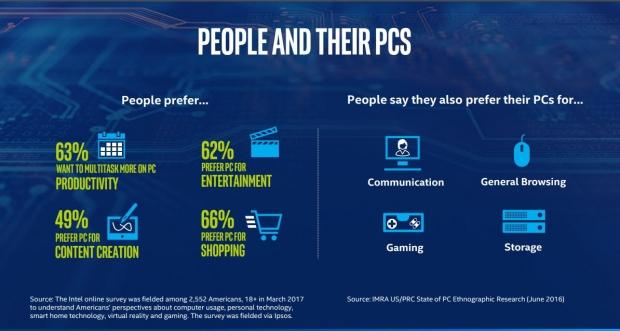 Intel went ahead and commissioned an online survey to find out what people really do with their PCs. The survey asked 2,552 Americans that were 18 or older about their perspectives on PC usage, personal technology, smart home technology, VR, and gaming. The survey was conducted via Ipsos, which is ranked 4th among the top market research firms. It turns out that over 60% of people actually want to multitask on their PC. Even though rumors from last year (before Ryzen) said Intel was bringing six cores to the mainstream with Coffee Lake, those same rumors and leaked slides didn't show any core count increases to Intel's U-series of processors. Having four real cores and eight virtual cores makes a lot of sense as people are shifting the usage model of the PC. One thing a PC does best is multitasking, and you need more cores to do that better.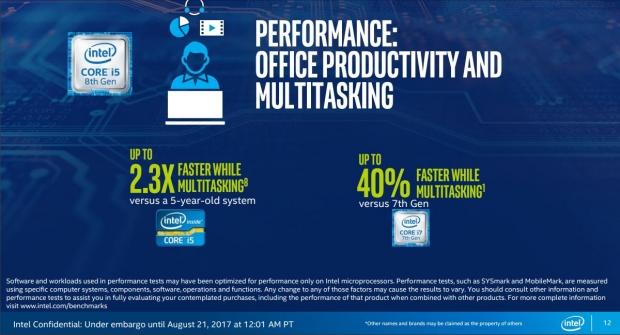 Intel is not claiming just a 15% increase as some leaked pictures from an event in China report, but they are claiming a whopping 40% increase versus the 7th generation of U-series processors when it comes to multitasking (i7-8550U vs. i7-7500U). They are also claiming the new 8th generation is 2.3x faster than a comparable Ivy Bridge-based mobile processor when multitasking (i5-8250U vs. i5-3317U).
How Intel Got 40% More Performance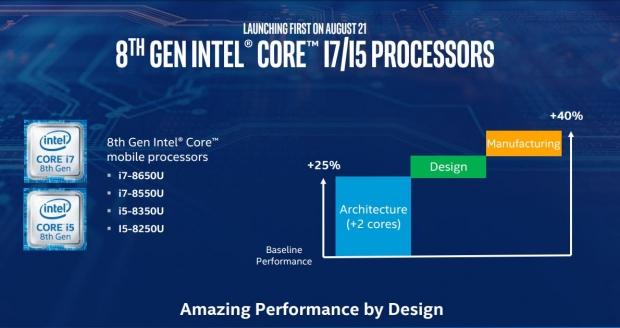 Doubling the core count in the same TDP packaging is ridiculous, and it isn't easily achievable in the mobile segment where TDP is extremely important and needs to stay low. To keep down TDP additions from double the cores we see Intel had to refine power management, reduce frequency, and improve process. That is why we see a 25% gain from just doubling the cores, as performance per core has to be slightly reduced, and I believe Intel is doing that through a lower base frequency, and countered it with a higher Turbo frequency than previous generation CPUs.
To help bump performance up another 15%, Intel had to go back and optimize the design for another 7.5% and manufacturing processor for yet again another 7.5%. What Intel did to get more performance was boost Turbo clocks above those of the 7th generation processors, and that was done by optimizing the internal design of the processor to make it more power efficient while also applying their 14nm+ process to improve yields and operational frequency.
Intel also stated that while these processors are based on 14nm+ technology, 10nm will be an extension, so it might come out on the 8th generation Core processors.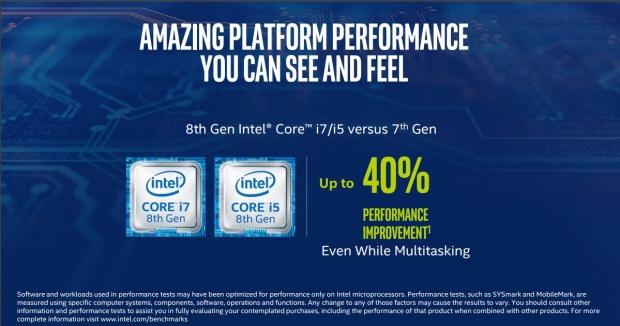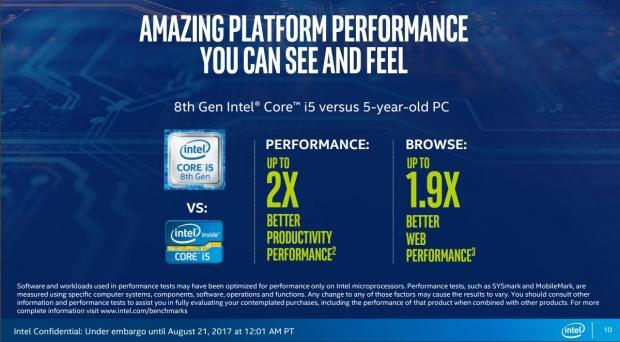 We wanted to find out how Intel measured this 40% number, and to find out where they got that number, we dug into the footnotes. Footnote "1" tells us that the 40% number was measured by Intel's Office Productivity and Multitasking Workload with an i7-8550U vs. and i7-7500U. Going down further we find that their Office Productivity and Multitasking Workload consists of leaving Slack open in the background, using PowerPoint to export a 2.28MB PowerPoint presentation into an HD H.246 MP4 video presentation, and then while that presentation is being created, they do two things. The first is they take a 6.49MB (844 page) Word document and convert it into a PDF and the second thing they do is take a 70.4MB Excel worksheet and recalculate it.
In that use case scenario, Intel is claiming the new processor does it 40% faster, and that is a use case based on more real-world performance, and the new processors are looking quite impressive. Intel claimed 2.3x faster while multitasking than a five-year-old PC on an earlier slide and so we find footnote "8" uses the same Office Productivity and Multitasking test scenario as the 40% better claim than the previous generation. It pits an i5-8250U against an i5-3317U processor. Intel tunes that number to 2X better when dealing with Productivity and 1.9X better web performance.
We go to footnotes "2" and "3" and find that Intel is using the benchmarks SYSmark 2014 SE and WebXPRT 2015 to get those numbers, which are a little bit less impressive than the real-world scenario. I like how Intel didn't use a benchmark for their 40% number or their 2.3x number. We have been thinking of adding in a multitasking workload in a similar fashion as the core wars have heated up.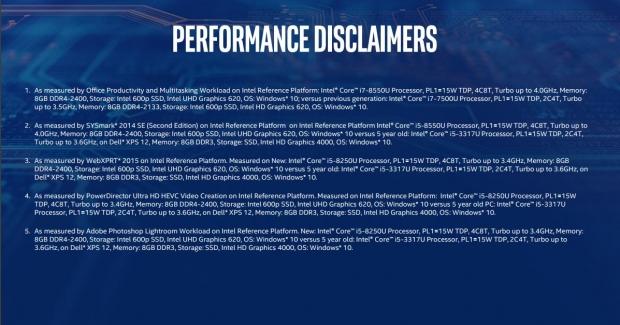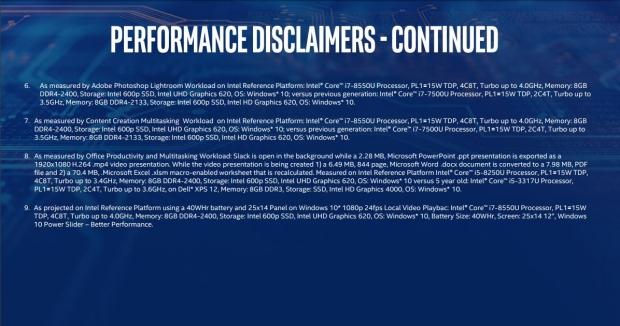 Here are the footnotes if you want to look at the exact system specifications.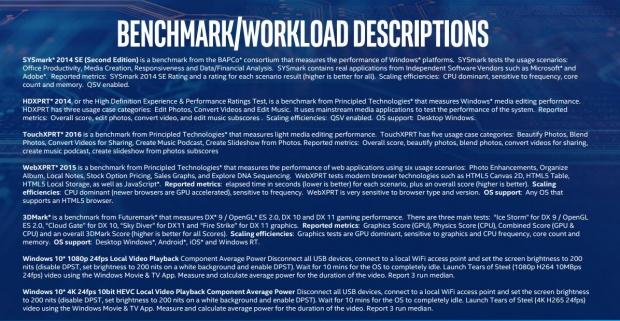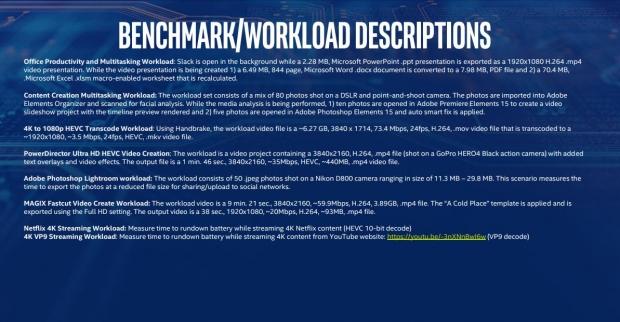 Here are the test scenario descriptions.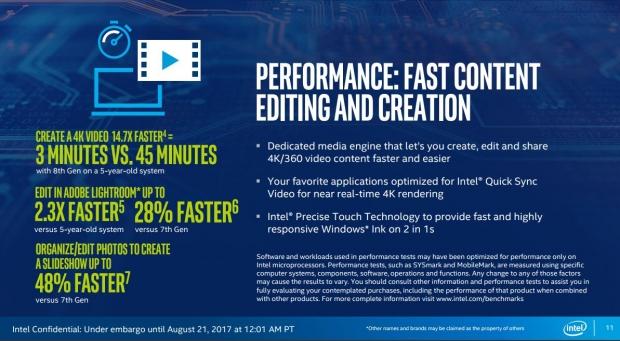 Looking at 4K video creation, Adobe Lightroom editing, and Organize/Edit photos we see Intel's claims are quite impressive too. They are using a mixture of synthetic benchmarks and actual real-world scenarios.
What to Expect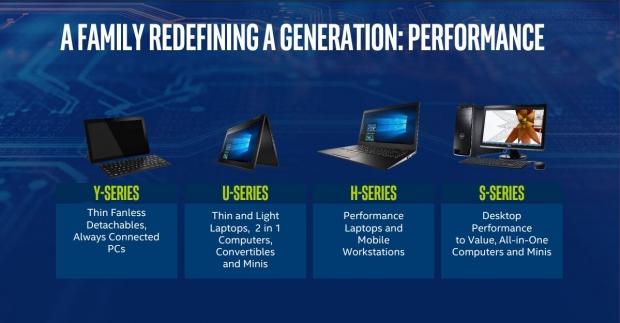 At the beginning of the presentation, Intel made it clear that the U-series of processors will launch first. These processors have a 15W TDP, while the Y-series is almost a third of that, and the H-series is typically three times that. These are the types of processors you find in those super sleek notebooks and 2-in-1s, and I have also found them in products where power consumption and heat need to be at a minimum, such as inside Dell's Rugged line of notebooks. The H-series processors are typically what you see in gaming/power laptops, while the S-series is what you get on the desktop.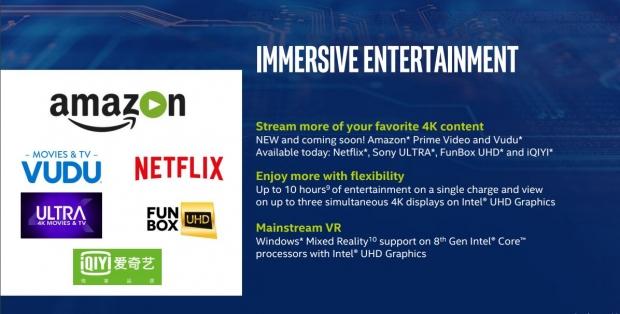 One aspect Intel didn't really change was the integrated graphics portion of the CPU. However, Intel did change the name of their graphics from HD to UHD. Intel says this was done to signify that the iGPU is built for UHD content, and that is partially due to the new improvements and additions made to the graphics core about a year ago.
The new graphics have dedicated media engine that makes 4K streaming possible (detailed here).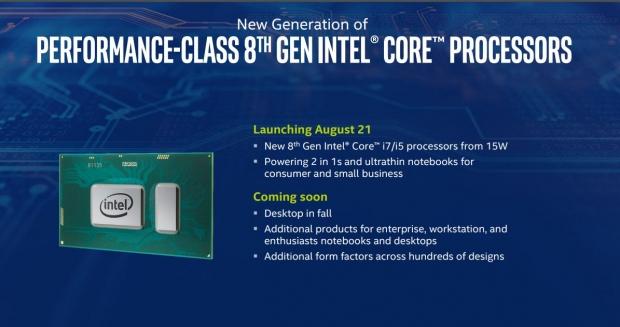 If you are anxious or eagerly awaiting the launch of Intel's S-series 8th Generation processors, join the club. Intel says that the desktop processors will be here in the Fall, so they aren't too far away. The question of chipset compatibility for the desktop came up many times, and we still don't have a clear answer, but for mobile, things haven't changed as it's a SoC package and Kaby Lake based.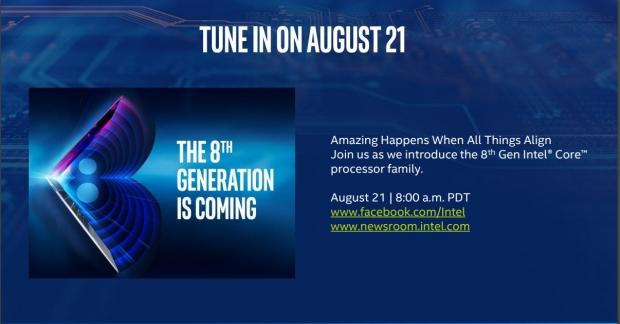 So far, Intel's 8th Generation of processors seems to have closed the largest gap in Intel's formidable army; the core count. Intel's per core performance is very impressive, but what has been lacking was higher core counts, to different segments and that is what 8th Generation will bring us first, and hopefully 10nm at its finale.
At 8 am PDT or rather eight hours after this article can go live, Intel will make a product announcement live concerning the 8th Generation Core Processors - perhaps they might shed some more light on the rest of the new generation.
PRICING: You can find products similar to this one for sale below.

United States: Find other tech and computer products like this over at Amazon.com

United Kingdom: Find other tech and computer products like this over at Amazon.co.uk

Australia: Find other tech and computer products like this over at Amazon.com.au

Canada: Find other tech and computer products like this over at Amazon.ca

Deutschland: Finde andere Technik- und Computerprodukte wie dieses auf Amazon.de