Intel 7th Gen Kaby Lake Core Processor Overview
Intel has just officially released details on its 7th Gen "Kaby Lake" Core processors and we cover just as much as we can right here.
Published
5 minute read time
Intel 7th Generation Core Processors
Intel's Kaby Lake 7th Gen CPUs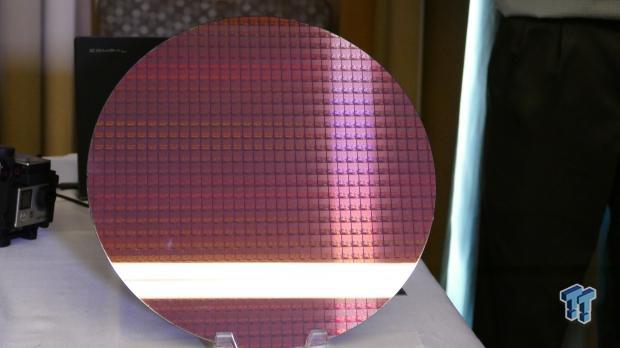 With Intel's shift away from tick-tock and towards process-architecture-optimization, we finally have the first of many third installments of the same node. Intel introduced its 14nm process on Broadwell, it introduced a new microarchitecture on 14nm with Skylake, and it is delivering an optimization of their 14nm process with Kaby Lake. By definition, Kaby Lake is the final installment of Intel's 14nm node, they have dubbed it 14nm+ (plus).
Kaby Lake is Skylake's successor and brings more to the table regarding integrated graphics improvements than it does new CPU features. That isn't to say Intel has stayed stagnant on the CPU side; the 14nm+ process employees faster transistors and brings in 15-20% higher frequencies on the mobile side. Intel will keep their normal naming scheme for the Core family, but they have done away with Core M5 and M7 names, but not M3.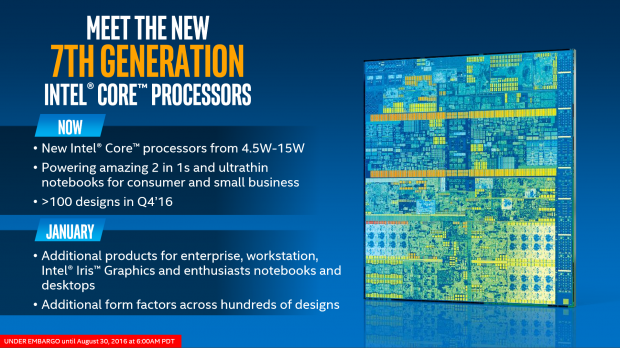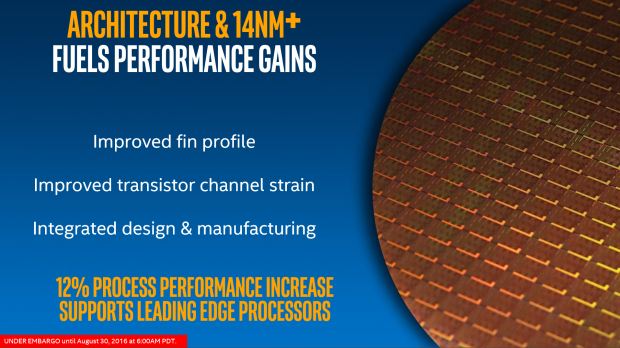 Intel's timeline is also worth a look. Kaby Lake won't launch all at once; Intel is waiting for after the holidays to release desktop and higher-end models. In the next few months, we will see Y and U series CPUs ranging from 4.5W-15W designed for mobile devices. Enterprise, workstation, Iris graphics, and H (high-end mobile) and S (desktop) series CPUs will come early next year. Intel's improvements to their 14nm node should bring noticeable frequency gains, which are always welcomed. The improved process will also allow for all cores to Turbo to maximum frequency at the same time instead of just one. While an i7-6500U was maximum 3.1GHz, the i7-7500U will run at a maximum of 3.5GHz.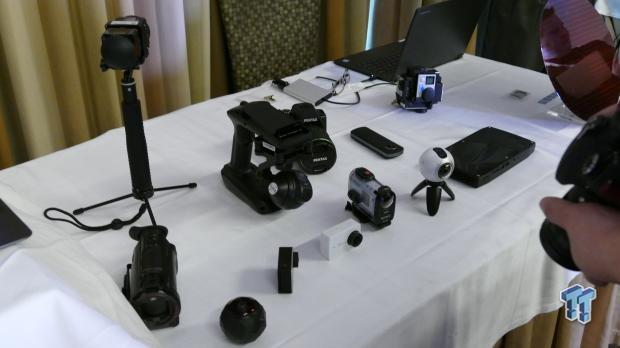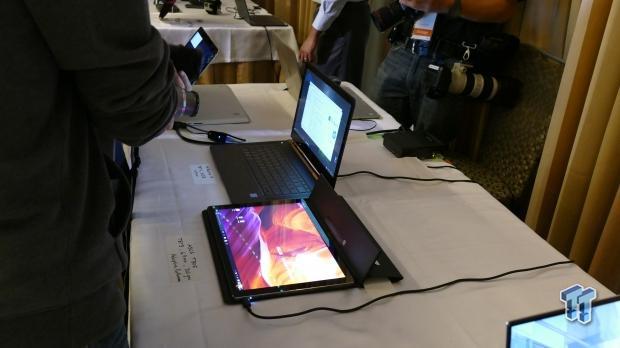 So why is Intel focusing on its integrated graphics? The answer is simple - 4K video isn't a walk in the park. At an NDA briefing at IDF 2016 in San Francisco, Intel showed off some future notebooks using their 7th generation processors as well as a growing number of 4K capture devices. Most people know that the very popular GoPro cameras capture in 4K, but now with improvements to Intel's integrated graphics, working with them on-the-go should be much easier.
While 4K capture was very niche in the past, it has become more mainstream as everything from your phone to your drone can capture in this ultra-high resolution format. I have an Ivy Bridge laptop and a Panasonic camera that records 4K at 100 Mbps, and I can't even play back the video without the laptop screaming, and even then the video lags. Skylake brought a lot of improvements in regards to 4K, but Kaby Lake promises even more.
Integrated Graphics Improvements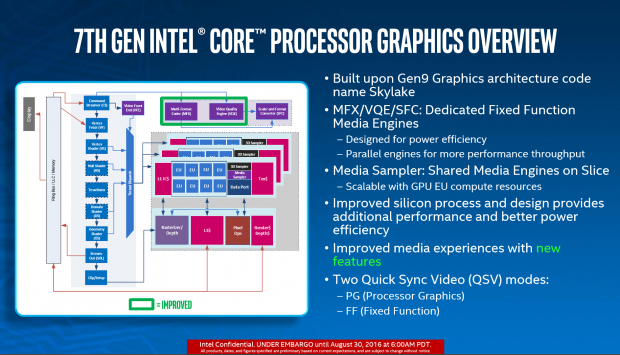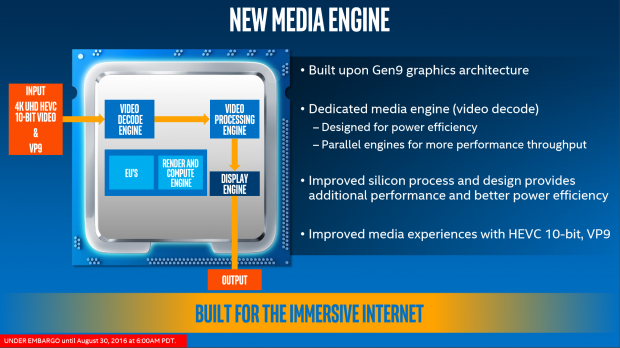 As expected, the new integrated graphics are based heavily on the Intel's Gen9 graphics in Skylake microprocessors. There is a very heavy emphasis on adding dedicated hardware to help process 4K video. These dedicated hardware units should help significantly reduce power consumption, which is very important for mobile products. Intel's graphics are split into the slice and unslice, with every three slices sharing resources, allowing for easy scaling of execution units.
However, Kaby Lake's significant improvements come in the form of fixed function units within the unslice, specifically in the Multi Format Codec (MFX) and Video Quality Engine (VQE). Intel also mentioned that there are two Quick Sync Video modes, processor graphics (PG) and fixed function (FF). With the two modes, it's possible to play a game on the integrated graphics while simultaneously streaming your gameplay. The two major improvements come in the form of full HEVC 10-bit support and support for VP9.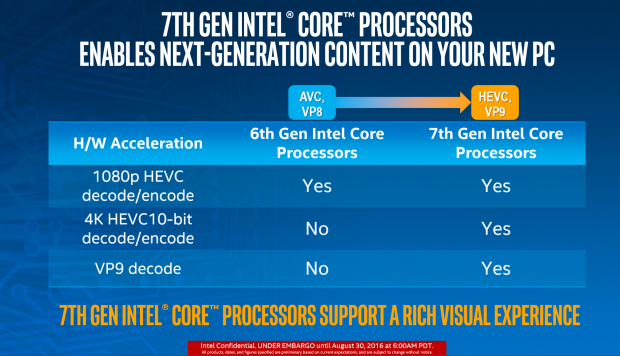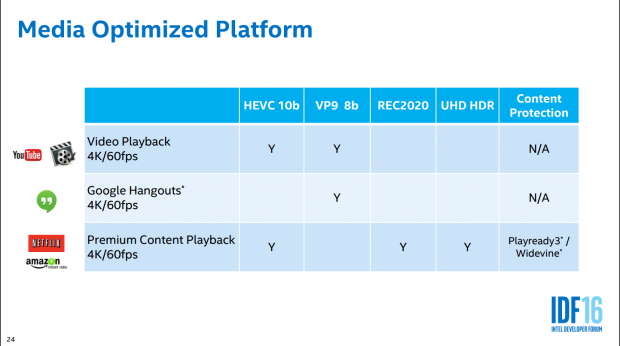 The new integrated graphics will bring in decode/encode support for 4K HEVC 10-bit and VP9 decode. These two improvements will bring the ability to playback 4K/60FPS content on YouTube, Netflix, and Amazon Prime video streaming services, with much lower power consumption.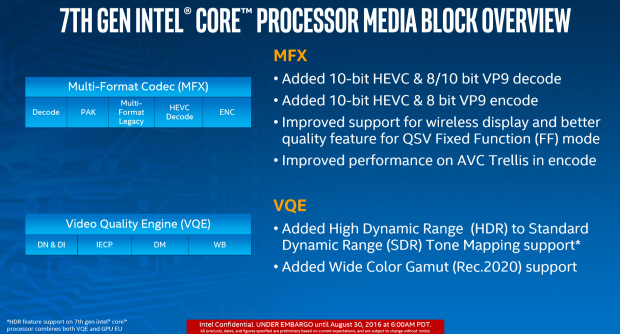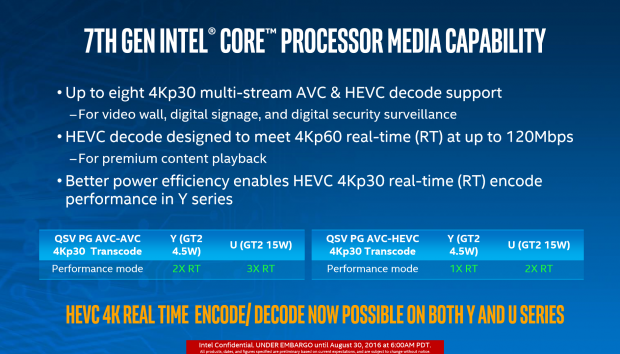 Improvements to the MFX engine comes in the form of hardware accelerated 10-bit HEVC and VP9 decode and 10-bit HEVC and 8-bit VP9 encode. There are also improvements regarding wireless display (WiDi), in the form of a dedicated encoder. Intel has also focused on bringing much-needed image improvements to its integrated graphics. Intel has also added Rec.2020 support to expand the color gamut over Rec.709. High Dynamic Range (HDR) tone mapping has also been added.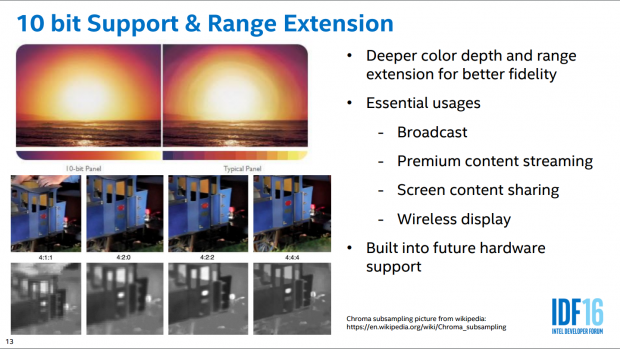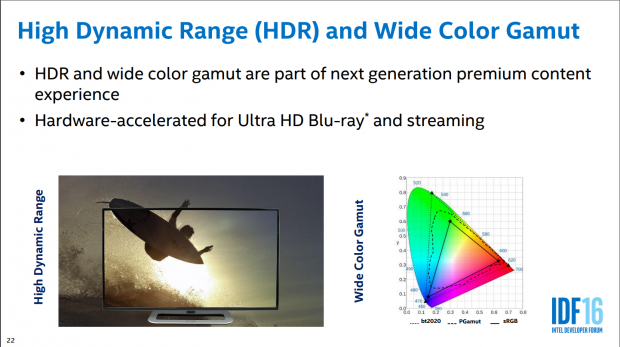 Intel also held a technical session at IDF 2016 on some of the improvements to the integrated graphics inside Kaby Lake processors. They focused on showing us the actual differences between an 8-bit panel and 1-bit panel, as well as the improvements from HDR and HEVC. There is also support for 4:4:4 Chroma subsampling. The improvements in the color gamut and new hardware acceleration units should produce impressive Ultra HD Blu-ray and streaming performance.
Benchmarks and Comparisons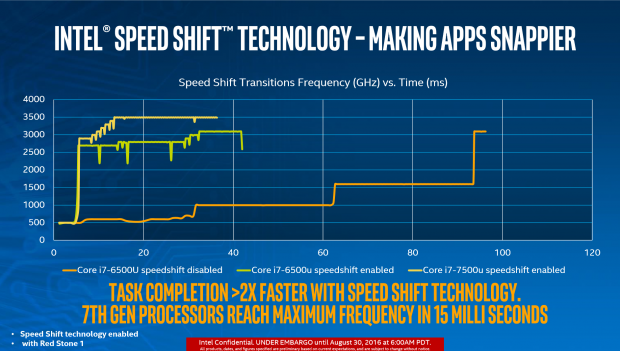 Intel teased its Speed Shift Technology with Skylake, and they have tweaked it even more with Kaby Lake. Kaby Lake should feature a faster slew rate to maximum frequency.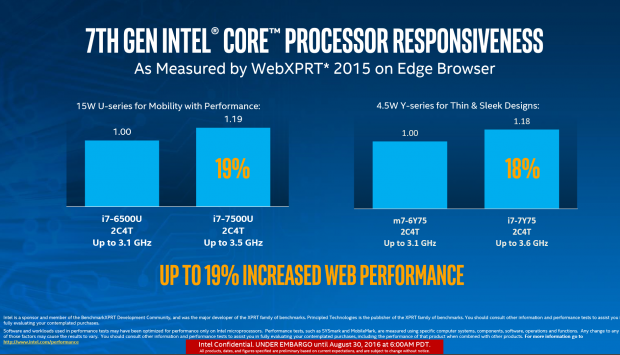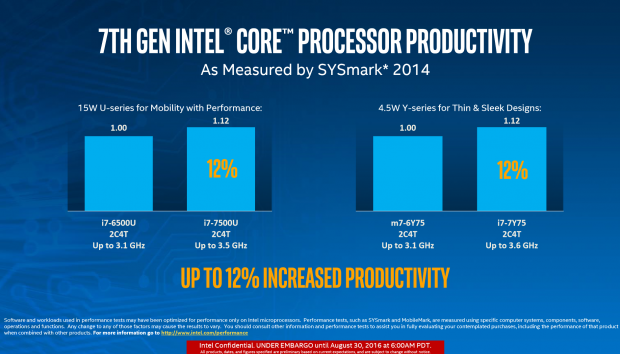 Using WebXPRT, Intel saw a 19% increase in web performance over comparable Skylake SKUs. In SYSmark 2014, Intel saw a 12% increase in productivity.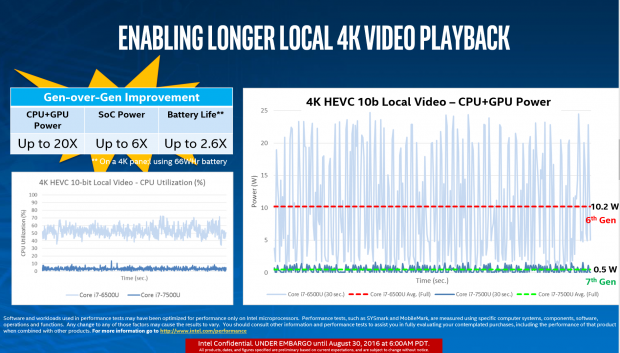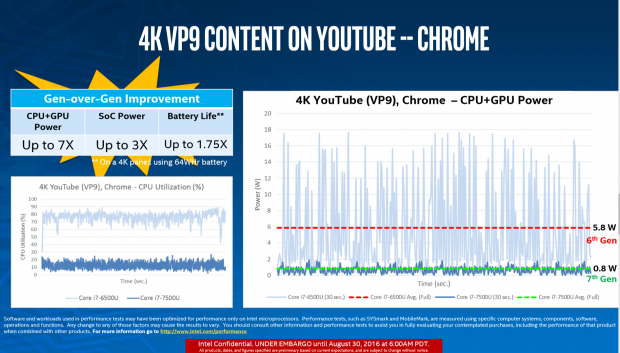 The power improvements are possibly the most impressive aspect of the new processors. While a 6th generation processor might have used 10.2W to playback local 4K HEVC 10-bit content, a 7th generation processor should be able to do the same at 0.5W. Even YouTube streaming should see improvements, increasing the amount of time you can stream video content on your mobile device without having to plug into a power source.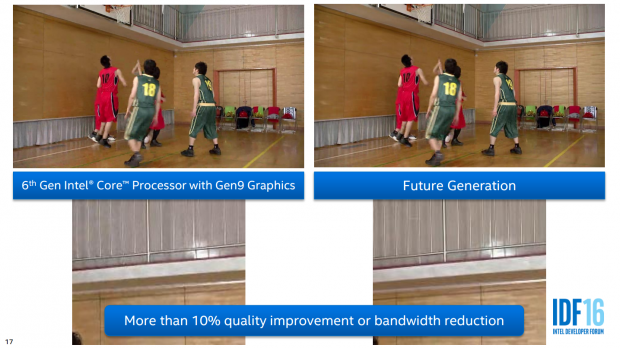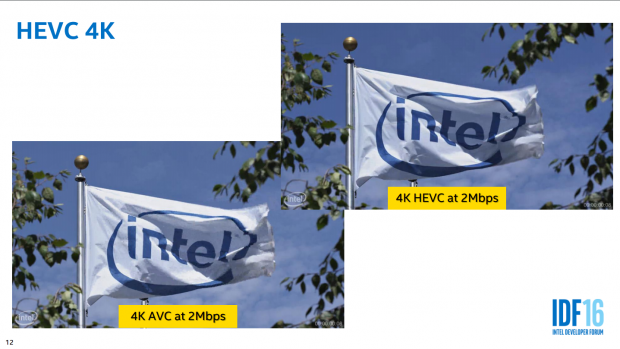 Intel also showed off some picture improvements brought forth by 7th generation core processors. Intel claims 10% quality improvement or bandwidth reduction. They also made a direct comparison of 4K AVC at 2 Mbps (6th generation CPU) versus 4K HEVC at 2Mbps (7th generation CPU).
Preliminary Lineup and Final Thoughts
The Preliminary Lineup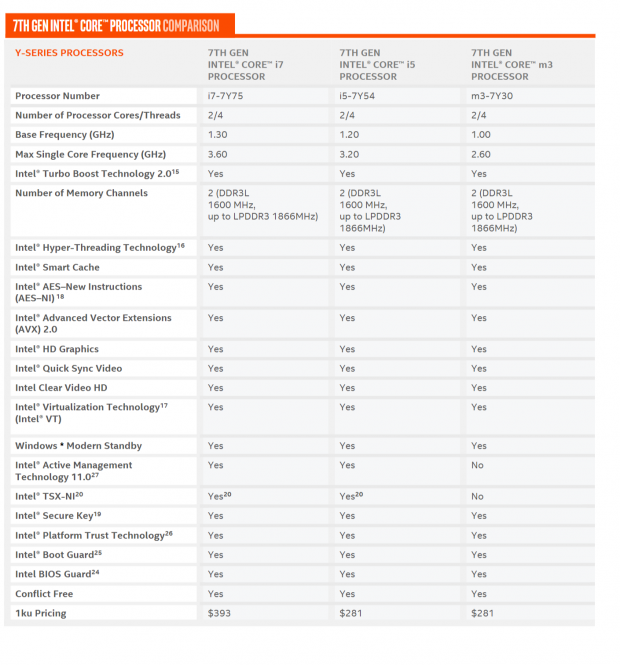 Intel did tease some of its Y-Series processors for ultra-mobile products. The Y series SoCs will run 2/4 cores/threads with modest base clocks and huge boost frequencies. They will all support DDR3L or LPDDR3, and will be priced much like their Skylake counterparts.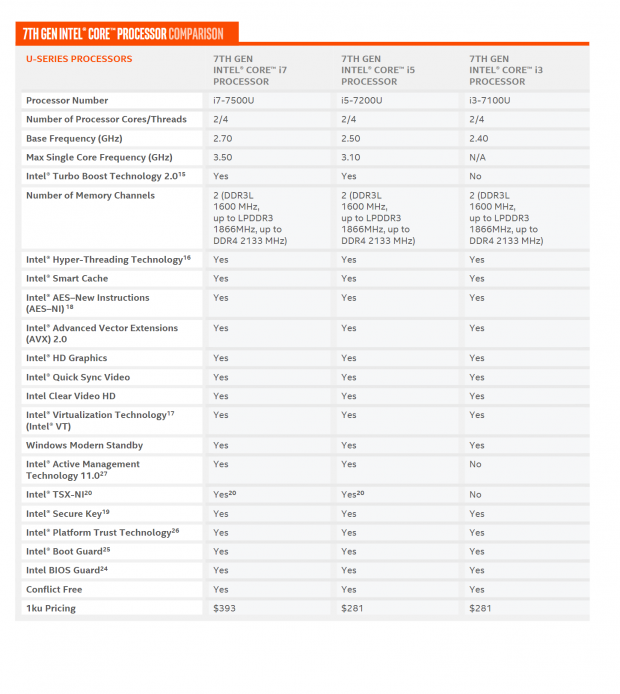 The i7-7500U will be Intel's top model, for the time being, replacing the i7-6500U found in many mobile devices. It will support a 3.5GHz Turbo over the i7-6500U's 3.1GHz. An i5-7200U and i3-7100U will replace their 6th generation counterparts. These U-series CPUs will support DDR3L, LPDDR3, and DDR4.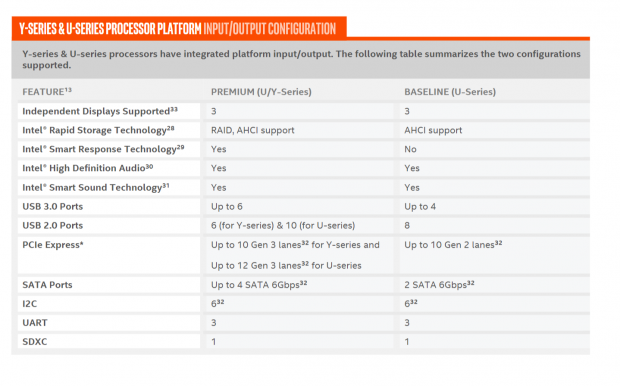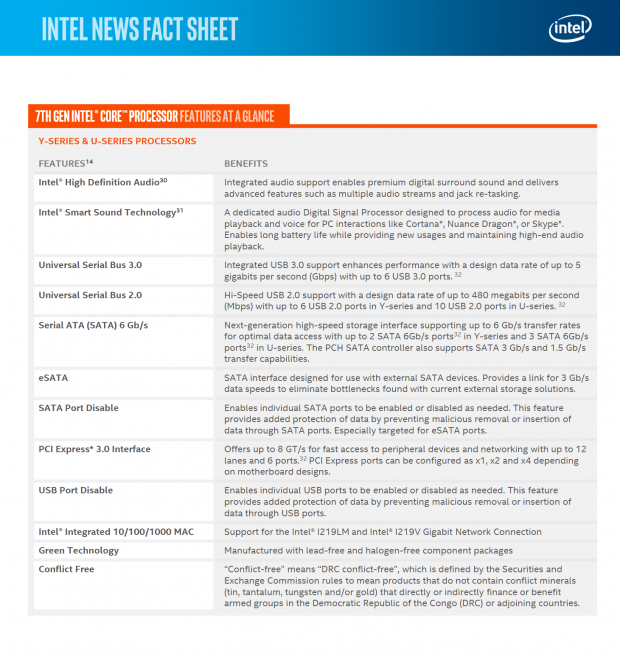 Since both Y and U-series processors are system-on-chip (SoC); the platform controller hub (PCH) is integrated off-die yet on-package. Premium series will support up to six USB 3.0 ports, and even up to 10 or 12 PCI-E 3.0 lanes for Y and U series. There is also support for up to four SATA 6Gb/s ports for premium series SoCs. Baseline U-series SoCs will feature up to four USB 3.0 ports, two SATA6Gb/s port, and up to 10 PCI-E 2.0 lanes.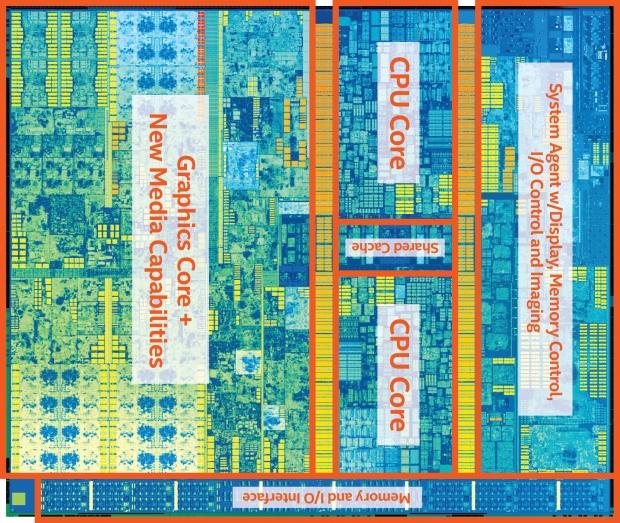 We have only seen the beginning of Kaby Lake, and I hope we have only seen the beginning of Intel's integrated graphics performance improvements. We haven't heard details about improvements to Intel's Iris line of integrated graphics; hopefully, some improvements to the slice will be included to offer improved gaming performance over Skylake's 6th generation processor graphics.
For mobile devices, Intel's Kaby Lake 7th generation of Core processors should bring huge battery life gains and overall improved performance from the frequency boosts made possible by the 14nm+ process.
I am a little disappointed that Intel decided to hold off on all Kaby Lake details, especially regarding the desktop parts, but at least you should be able to grab a notebook with a 7th generation core processor during the holiday season. There's more to come on the subject.
PRICING: You can find products similar to this one for sale below.

United States: Find other tech and computer products like this over at Amazon.com

United Kingdom: Find other tech and computer products like this over at Amazon.co.uk

Australia: Find other tech and computer products like this over at Amazon.com.au

Canada: Find other tech and computer products like this over at Amazon.ca

Deutschland: Finde andere Technik- und Computerprodukte wie dieses auf Amazon.de
We openly invite the companies who provide us with review samples / who are mentioned or discussed to express their opinion. If any company representative wishes to respond, we will publish the response here. Please contact us if you wish to respond.