Intel Broadwell 5th Gen Core Processor Family Preview
Steven gives us a look at Intel's upcoming Broadwell 5th Gen Core processor family, what you can expect from it and what it means for you in 2015.
Published Jan 5, 2015 9:00 AM CST
|
Updated Tue, Nov 3 2020 6:59 PM CST
4 minute read time
Introduction and Specifications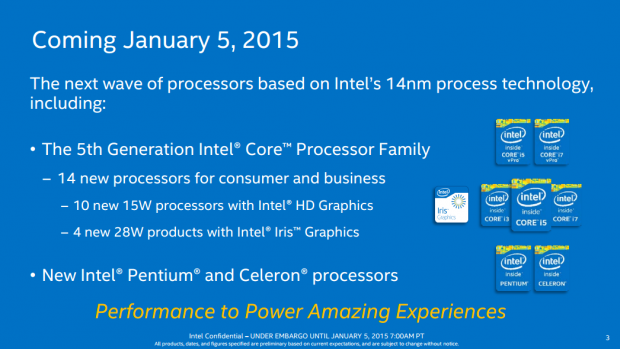 The next generation of 14nm CPUs from Intel is finally here, with Intel's Broadwell microarchitecture ushering in a new era of mobile computing. Intel is on track for its 5th generation Core series launch with 10 new dual-core SKUs with a TDP of only 15W, and 4 new dual-core SKUs featuring new Iris Graphics 6100 and a TDP of 28W.
While the new CoreM featuring Broadwell has already been launched, these new CPUs will put the Broadwell microarchitecture in a higher gear with a stronger overall performance package.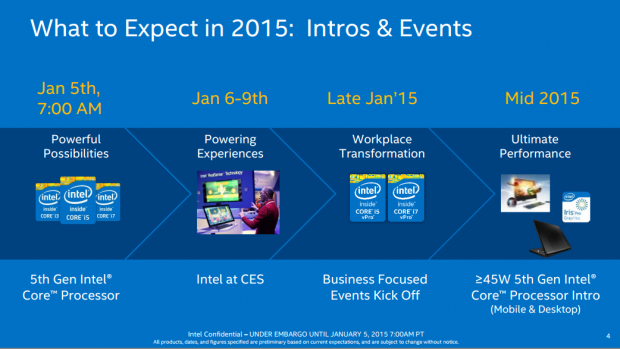 By the end of January, we should see more powerful devices with Broadwell inside, and in mid-2015, we will see the higher TDP 5th gen Core processors.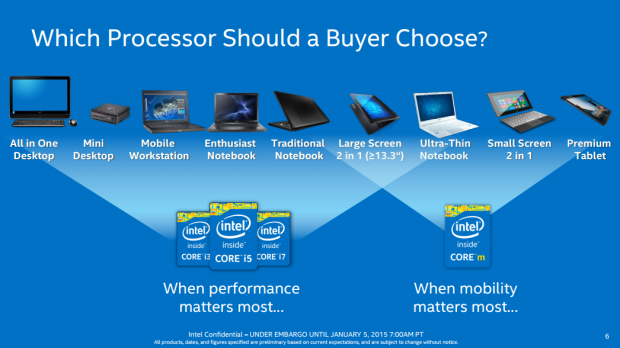 While CoreM is meant for much more slim devices such as powerful tablets, the Core series will be more focused on powerful computing platforms in the enthusiasts and business mobile notebook and 2-in-1 segments, mini desktop PCs, and AIOs.
New Line-Up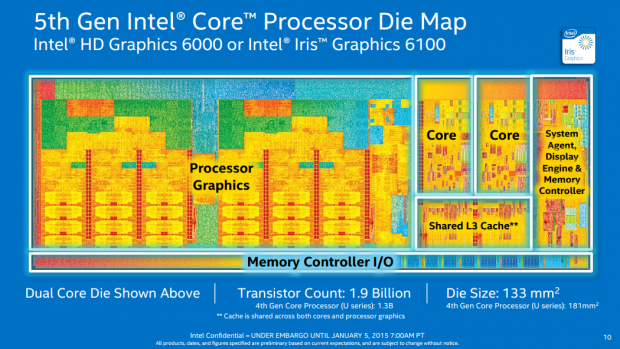 Intel has made improvements in the silicon, mainly aimed at the graphics. While there aren't major changes in the architecture of the graphics, the tuning knobs have been turned up to give significant improvements over Haswell.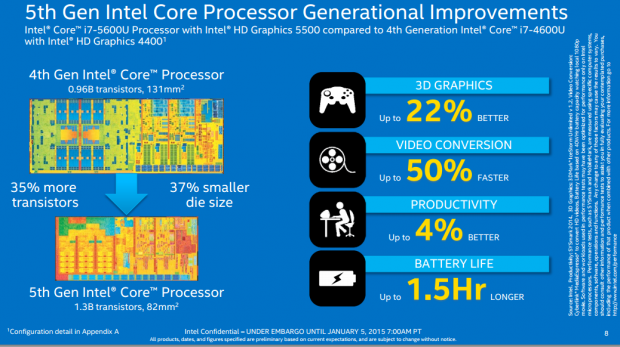 The 14nm process has allowed Intel to fit in 35% more transistors at 1.3B versus 0.96B for a comparable Haswell model, while shrinking the die size 37%. According to Intel, this leads to 22% better 3D graphics and 50% faster video conversion, while productivity improves marginally at 4%. A big improvement should also be in battery life, which should be significantly better with Broadwell compared to Haswell.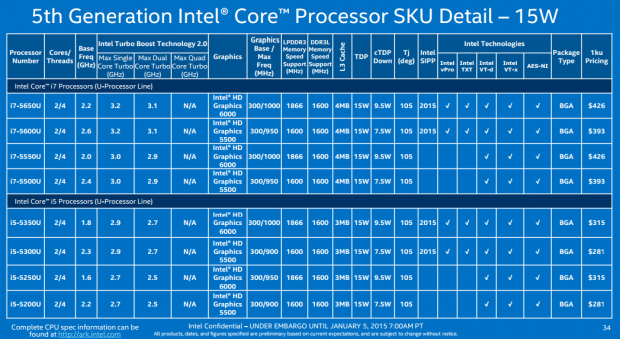 These are the top tier 15W SKUs, all of them are BGA package, meaning they will be soldered onto the motherboard. All the Core series 15W SKUs feature 2Cores/4Threads (HyperThreading), 3 or 4MB L3 Cache, and Intel HD6000 or HD5500 Graphics. All the i7 and i5-5X50U parts also feature LPDDR3 memory speed support of up to 1866MHz, and all SKUs support DDR3L of 1600MHz.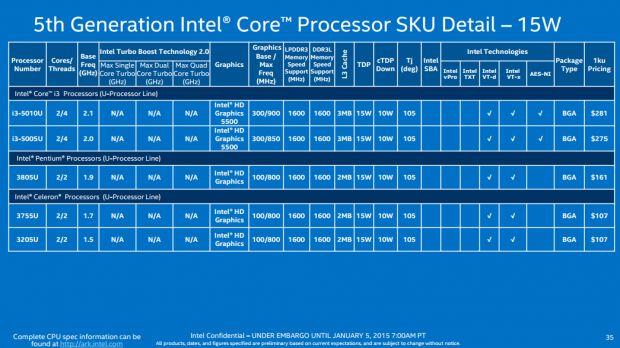 Here we can see one new Pentium SKU and two new Celerons. These three new SKUs feature Intel HD Graphics and 2MB L3 Cache.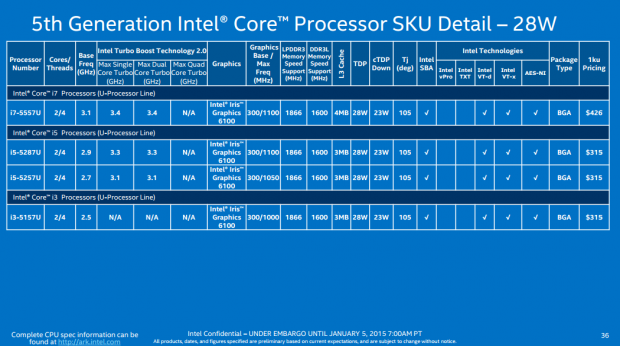 These are the new 28W Core series SKUs featuring Iris HD 6100, 1866MHz LPDDR3/1600MHz DDR3L. The i7 will feature 4MB L3 cache, while the i5 and i3 have 3MB L3 Cache.
5th Gen Core Series Platform Hardware Improvements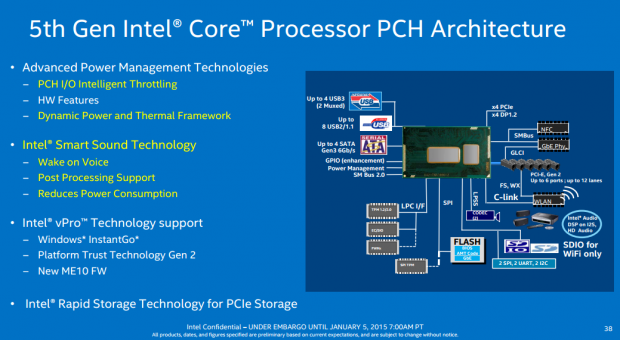 Hardware enhancements to the platform include PCH I/O Intelligent Throttling and a Dynamic Power and Thermal Framework which should provide a much more power efficient chipset in the SOC. There are also six ports of PCI-E Gen2 bandwidth for further IO expansion, like M.2 or more USB 3.0 ports. One major area of improvement is in on-die digital signal processor (DSP) which is used to process audio at the digital level.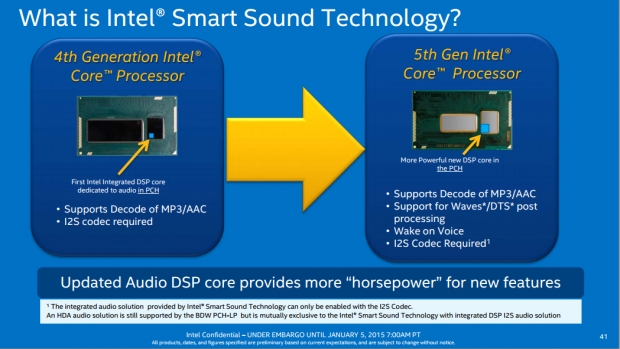 While Haswell introduced Intel's first dedicated DSP core in the PCH, Broadwell improves upon Haswell's design by supporting Waves/DTS post processing and a cool Wake on Voice feature. It also seems to reduce audio processing power efficiency as we will see shortly.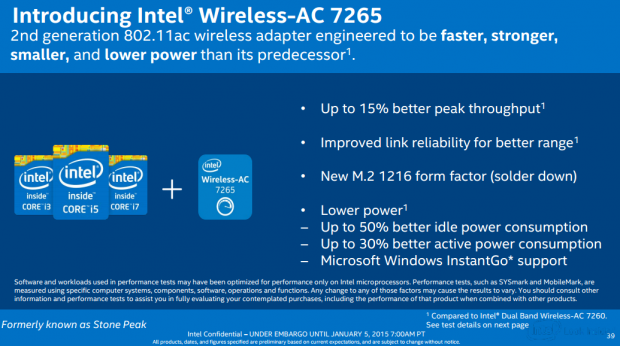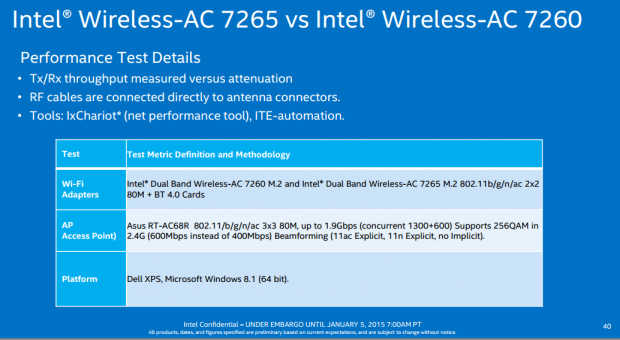 Intel is also introducing their second generation Wireless 802.11AC 7365 controller. It should feature better throughput, improved reliability and range, and will be in the new M.2 1216 form factor, but will be soldered down. There also seems to be significant power savings with the new generation 802.11AC controller.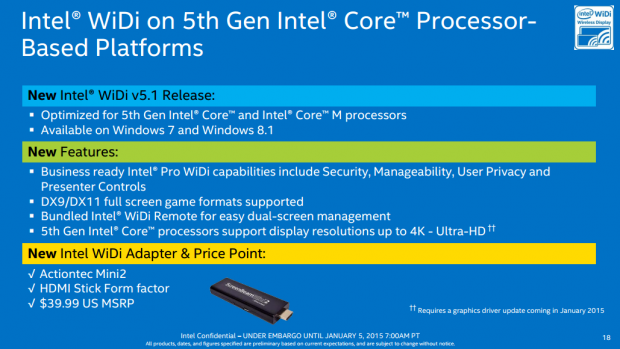 Intel is also highlighting their new WiDi v5.1 optimized for 5th Gen Core processors with 4K capabilities coming soon (through a driver update due by the end of January). We reviewed the new Intel WiDi Adapter shown in the slide above, the Mini2. WiDi v5.1 seems to be a needed improvement from my experience with WiDi in the past, to make it a feasible solution for wireless display.
5th Gen Core Series New Features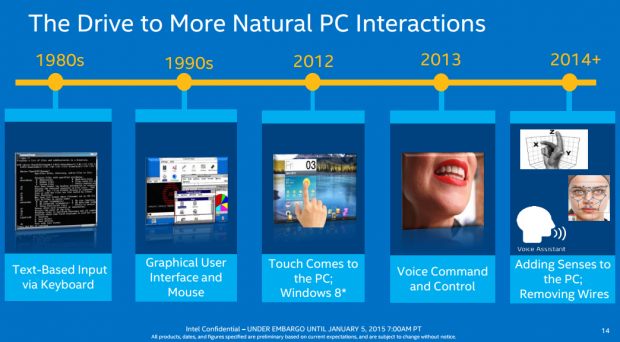 Intel is aiming to improve your experience with your computer, by integrating new features that help the computer relate to you better. I can't help but imagine a new era of computers that can sense their surroundings and blend into the environment like in the movie "Her". While the time where your computer can also double as your soul mate isn't here yet, new technologies are inching us towards that future.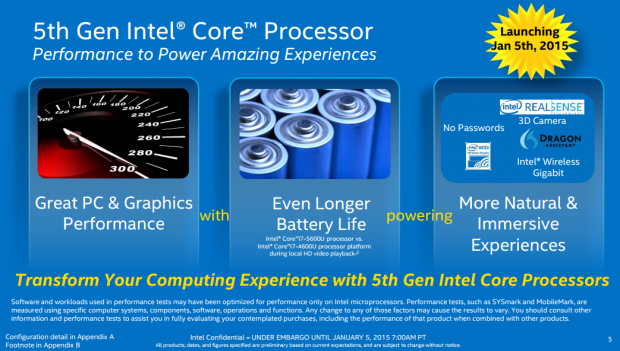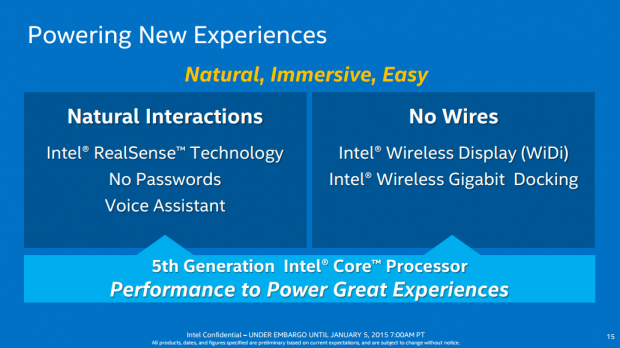 Intel is highlighting three major aspects in which the new processors will improve our lives, including; better graphics, longer battery life, and more immersive technologies. Intel is also revamping their wireless technologies for a new generation of mobile products.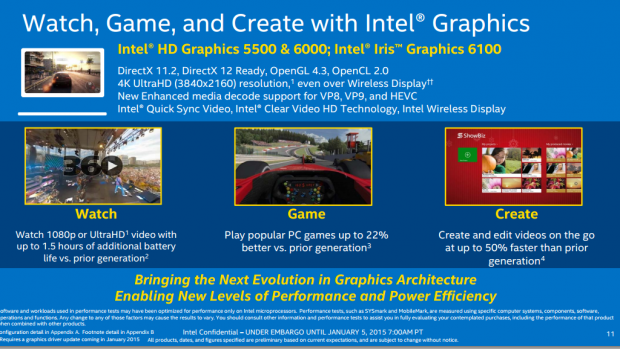 The new HD5500, 6000, and Iris 6100 graphics feature support for DX 11.2, DX 12 (ready), OpenGL 4.3, OpenCL 2.0, and even 4K support over wireless. New decoding support for VP8, VP9, and HEVC are included which should expand the popularity of Intel graphics for media playback and transcoding.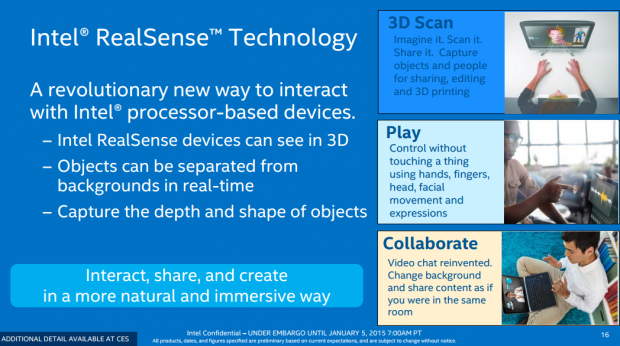 I had the chance to see Intel's new RealSense technology in person at IDF with the Dell Venue 8 7000. RealSense uses three cameras to capture images in 3D which can then be transferred to a computer model and even 3D printed. This technology will shape the future of affordable 3D scanning technology.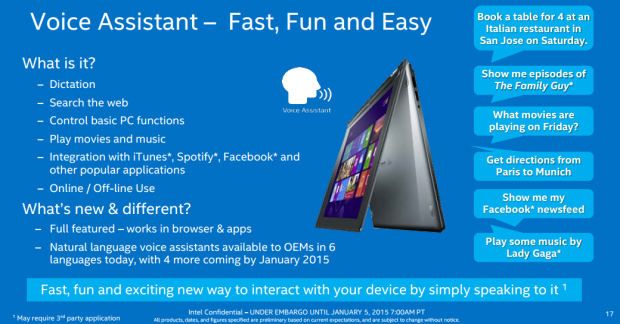 Intel is also sporting new improvements to their voice recognition technology, but if you want to take full advantage of it, you will need a third-party application. The DSP enhancements allow for features like Wake on Voice, we might soon see people talking to both their smartphones and notebooks.
What to Expect from the 5th Gen Core Series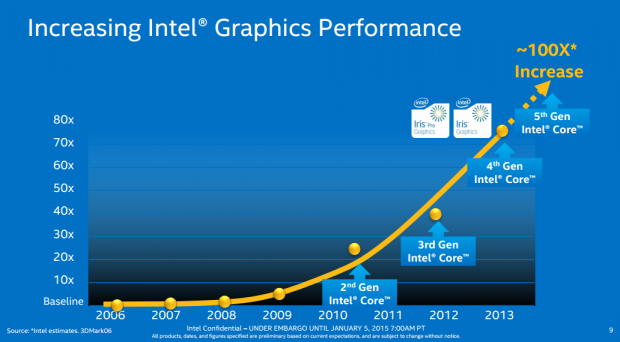 Judging from the slide above, the shift from Haswell to Broadwell based integrated graphics should be more significant than that from SandyBridge to IvyBridge. It also seems like Intel is on target for at least a linear increase in graphics performance, if not an exponential one.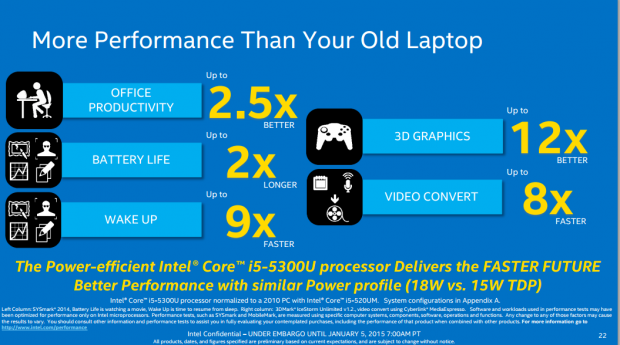 This is what a user who might be ready to upgrade to a new notebook might expect if they are coming from the original Core i5. These improvements come from a five-year improvement in technology.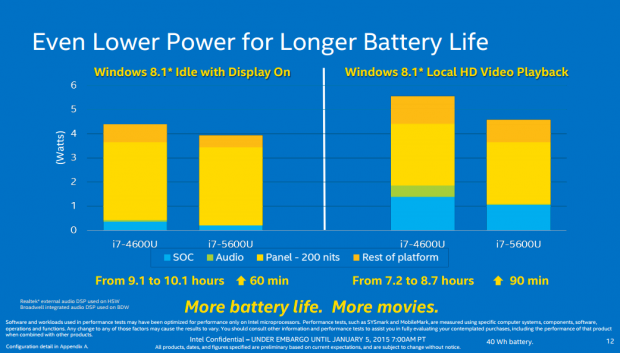 Here we can see power efficiency improvements, most notably those in the audio and SOC.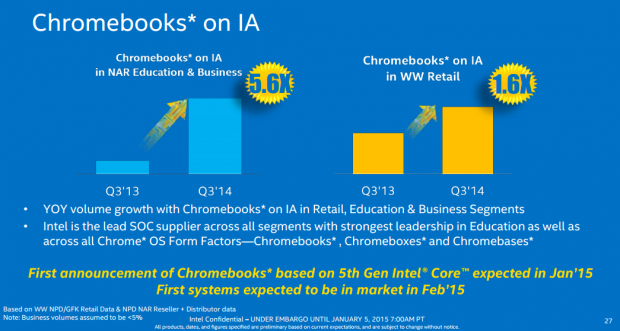 We will see many products switch over to the new Core series processors, and Google's Chromebooks are no exception. Intel has positioned Broadwell to be its main architecture for everything from tablets and phones to PCs later this year. Broadwell should bring great improvements in TDP ranges made possible by Intel's 14nm node.
It seems that Intel has proved Moore's Law feasible once again, and by doing so, Intel has made large strides in processor performance and power, as evident with their new 5th Gen Core processor family.
PRICING: You can find products similar to this one for sale below.

United States: Find other tech and computer products like this over at Amazon.com

United Kingdom: Find other tech and computer products like this over at Amazon.co.uk

Australia: Find other tech and computer products like this over at Amazon.com.au

Canada: Find other tech and computer products like this over at Amazon.ca

Deutschland: Finde andere Technik- und Computerprodukte wie dieses auf Amazon.de