Exploring Sony Vegas Pro 13 Rendering with a VisionTek Radeon R9 290
Sony's Vegas video editing software first introduced GPU assisted rendering in v10. Since then, there new processes that take advantage of your video card.
Published
7 minute read time
Introduction & Specifications, Pricing and Availability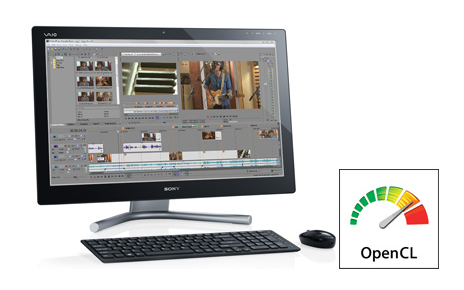 In October 2010, Sony released Vegas Pro 10, the most advanced video production tool available at the time. Out of the box, Vegas Pro 10 took advantage of NVIDIA's CUDA technology to accelerate AVC encoding in limited formats. By the forth update, a small number of ATI video cards were able to accelerate the same functions via OpenCL GPGPU API.
Before my hand gets smacked by Apple fans, I'll just go ahead and say I prefer Vegas Pro over other video editing software. The reason why is actually quite simple. Most of Sony's professional software links back to Sonic Foundry. Sonic Foundry produced audio production software when I worked in that industry. Vegas is configured like pro audio software, so it's much easier for people coming from audio to jump into video.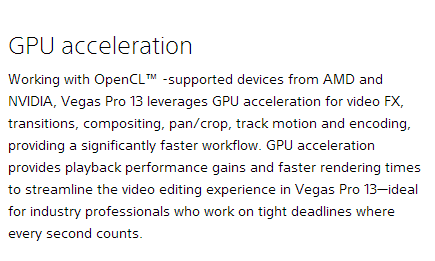 Roughly one year after Vegas 10 hit the market, Sony released Vegas Pro 11 with improved GPGPU support for both CUDA and OpenCL. In this release, wider ranges of video cards and accelerated tasks were supported. For the first time, GPGPU accelerated video decoding, effects, playback, compositing, pan/crop, transitions, and motion.
The two versions of Vegas Pro we're using to test today are Vegas Pro 12, released late 2012, and the newest Vegas Pro software, 13, released in April of this year. Both versions brought new features to the series. Of interest to us, Vegas 12 changed the way we worked in 1080p content, while Vegas 13 puts more focus on 4K content.
I shoot video in 1080p at 60 frames per second on a Panasonic handheld video camera at trade shows. Last month, I upgraded to Vegas Pro 13, and just after that, YouTube announced support for 1080p at 60 FPS. The timing couldn't be better, but video like that requires a lot of processing power. At trade shows like Flash Memory Summit, Storage Visions, CES, and Computex, time really is money. I wonder what I could do to reduce the amount of rendering time?
Specifications, Pricing and Availability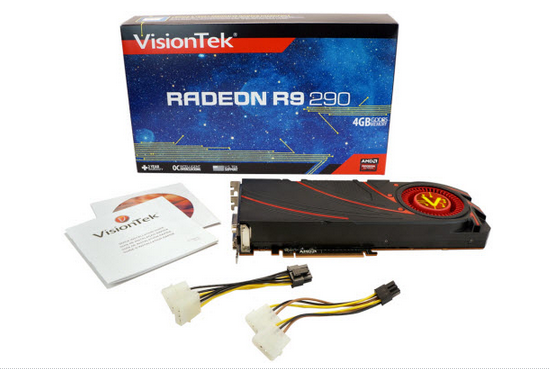 Our friends at VisionTek had an easy, drop-in solution to take care of our high video render times. With a core clock speed of 947 MHz and 2560 stream processors, the VisionTek R9 290 boasts 4.9 Teraflops of compute performance at a reasonable cost. Although designed primarily for playing video games on a PC, the crypromining revolution of 2013 proved that gaming video cards are powerful enough to fill roles in other markets.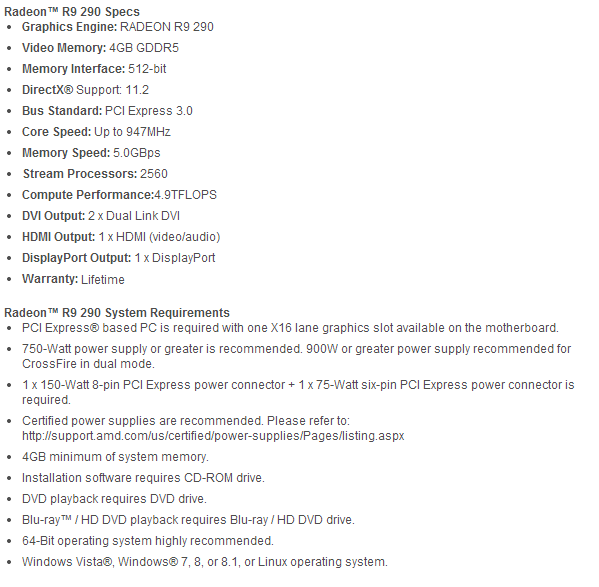 The VisionTek R9 290 also allows videographers to run multiple screens at the same time. The card has an HDMI port, DisplayPort, and two DVI ports. This allows you to run a full size preview on a second monitor and have a dedicated workflow area.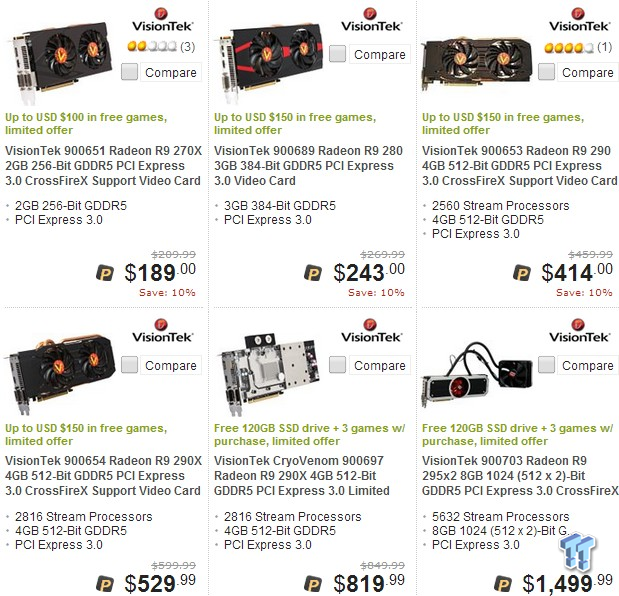 VisionTek offers several models in the R9 product family, ranging from the $189 R9 270X to the dual GPU equipped R9 295X2 at $1499.99. Today, we're using the midrange R9 290 that lists at Newegg currently for $414.99. It's important to remember when purchasing a video card for Vegas Pro rendering that double the cost does not mean a double reduction in rendering times.
The VisionTek R9 290, along with the other products listed above, ships with a lifetime warranty. That gives us peace of mind when choosing a product for our needs. VisionTek is the only video card maker still offering a lifetime warranty on video cards. The PCIe specification (the slot the card plugs into on your computer) has a long roadmap, so it's possible that you will still use your VisionTek video card ten years from now for rendering video.
Let's take a look at the card and Sony Vegas 2013.
PRICING: You can find the VisionTek R9 290 for sale below. The prices listed are valid at the time of writing but can change at any time. Click the link to see the very latest pricing for the best deal.
United States: The VisionTek R9 290 retails for $414.00 at Amazon.
Canada: The VisionTek R9 290 retails for CDN$578.95 at Amazon Canada.
VisionTek R9 290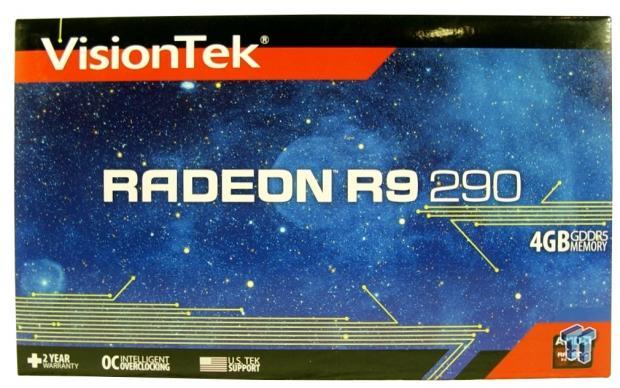 Before we look at Sony Vegas Pro 13, let's take a look at the VisionTek R9 290, its package, and what is included. VisionTek really came through for us when we needed a video card to show the GPGPU performance increase in Vegas Pro 13.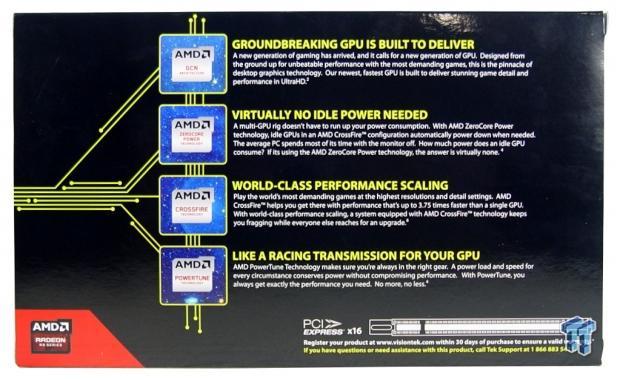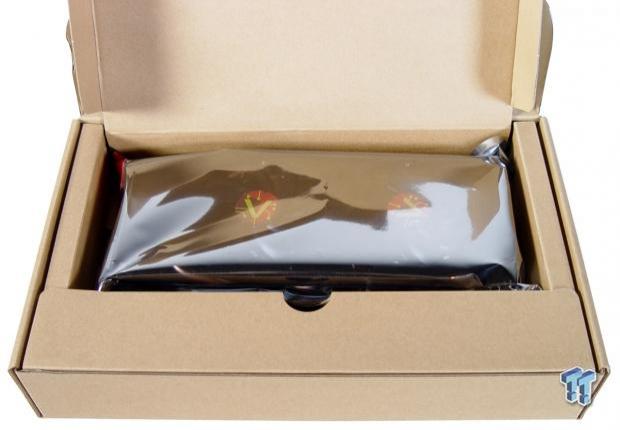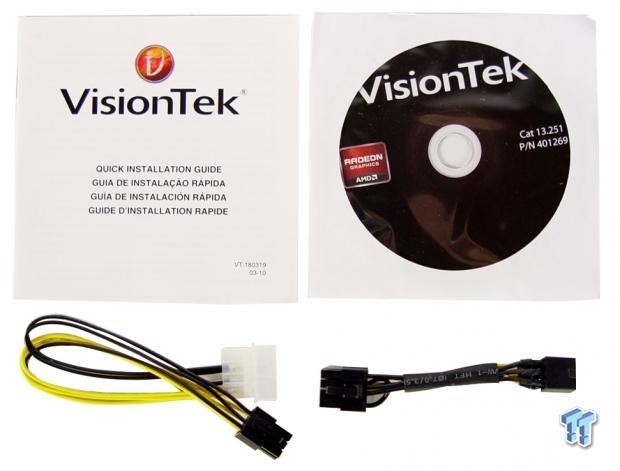 The VisionTek R9 290 ships with a quick installation guide, a software/driver disk, and two power adapters for systems that do not have modern 6-pin or 8-pin power connectors.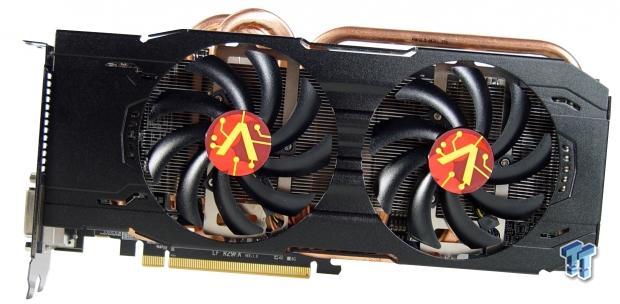 By using large fans and other advanced cooling technology, you are able to hear the audio from your speakers and not your video card. VisionTek used two fans instead of one, and this allows the card to run the fans at a lower speed, which reduces noise.

Heat pipes spread the heat out to the cooling fins, so the fans can dissipate the heat faster. This also keeps the noise down.
On the back edge of the card are two power adapters. One is a 6-pin, and the other is an 8-pin. You have to provide power to the card.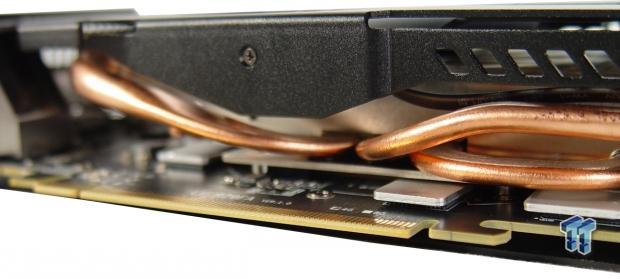 The card uses a PCIe 2.0 or PCIe 3.0 full length slot to connect to your PC. Most modern computers ship with these.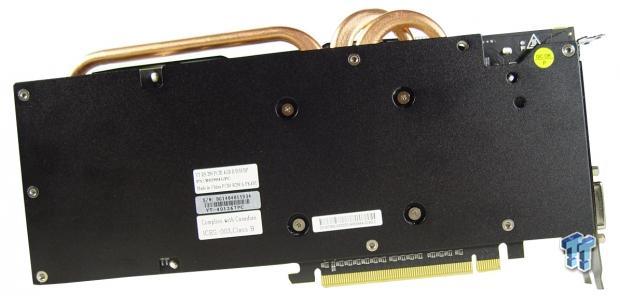 The back of the card also plays a role in dissipating heat.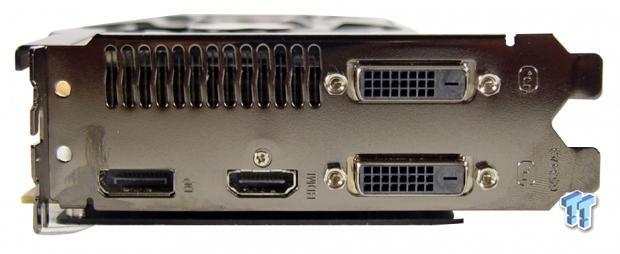 After the card is in your system, this is what you see on the back. The VisionTek R9 290 has several options; you can even connect it to your TV.
Sony Vegas Pro 13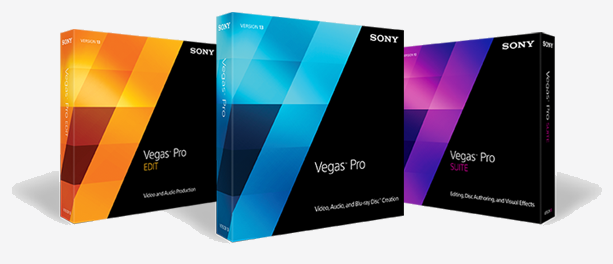 There are several different packages for Vegas Pro 13.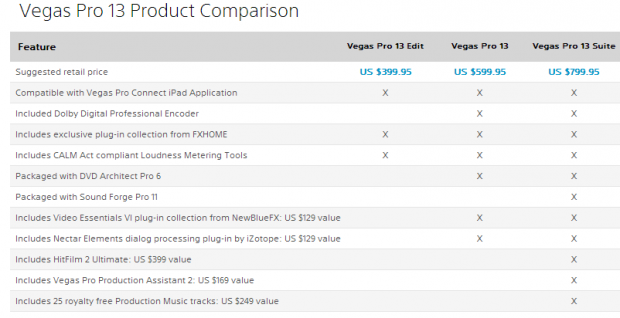 Here we see the breakdown for Vegas Pro 13 Edit, Vegas Pro 13, and the full Vegas Pro 13 Suite package. Sony also makes software on the same underlying code--essentially stripped down versions of Vegas--that starts at just $49.95 (Movie Studio 13). GPU-accelerated AVC/H.264 encoding starts at the next tier, Movie Studio 13 Platinum, which costs just $79.95.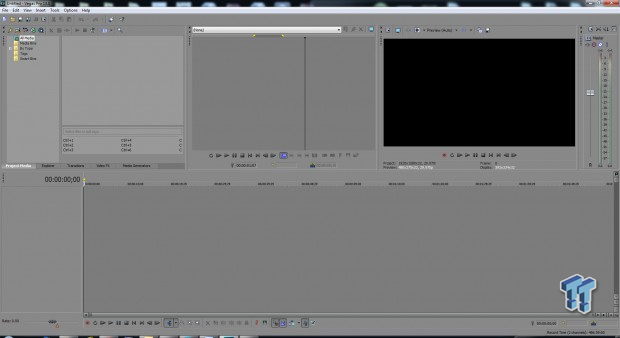 Sony hasn't changed the layout of Vegas, and we like that! Everything is nearly identical to how it was when I first started using the original software many years ago.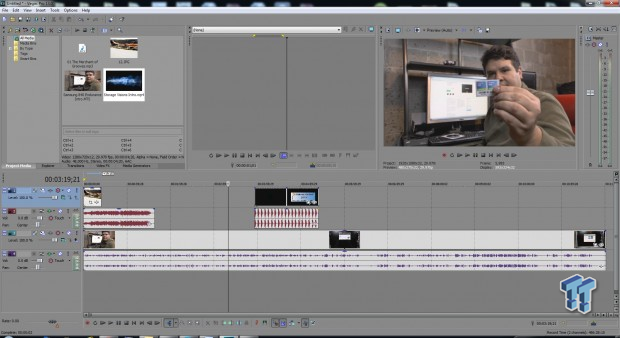 Most of the time, our Vegas 13 Pro software looks like the image above. Here we have two video files, a static image, and an MP3 track ready to drop into place.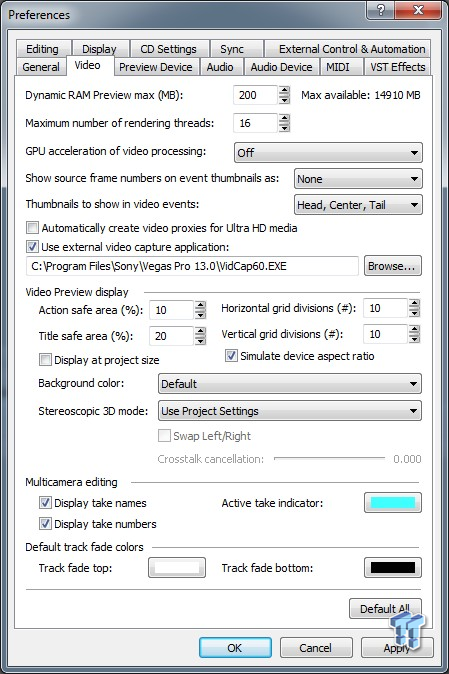 In the preferences-video menu, we get to choose our GPU acceleration of video processing device. Here you can also change the number of rendering threads and the amount of DRAM the preview window uses. Users can also accelerate the MainConcept AVC/AAC in a custom settings menu.
Test System Setup and ATTO Baseline Performance
Desktop Test System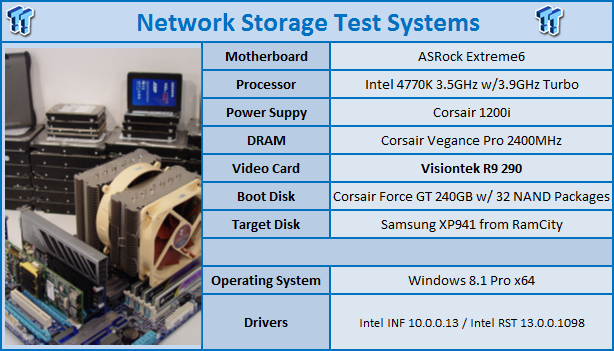 We recently built a new system for a specific product test and while loading a new operating system decided to test Vegas 12 Pro against Vegas 13 Pro. This eventually led to testing the CPU, the CPU's onboard graphics (HD4600), and finally the VisionTek R9 290 as the acceleration devices.
Vegas Pro Benchmark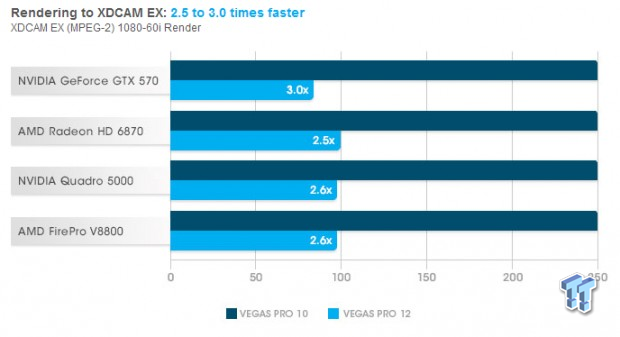 Sony built a benchmark to use in Vegas. The test, introduced with the launch of Vegas Pro 12, renders a Mercedes convertible like one you might see in a commercial. There are several transitions, text, special FX lighting, and so on. Sadly, between running the tests for this article and writing it, Sony has removed the benchmark page and it now redirects to a Vegas Pro 13 page. We managed to find the page using The Wayback Machine.
Today, we're using the Sony built Vegas Pro test in 720p; 1080p; 4K on Vegas Pro 13; and a custom real-world test of a video we rendered recently.
Benchmarks - Rendering in Vegas
Sony Vegas 12 Rendering
In Vegas Pro 12, we rendered three tests. The 720p and 1080p tests were with Sony's Benchmark files, and the Custom test is with our own video that uses transitions but no special FX. We performed three tests: CPU only render, CPU + onboard graphics, and CPU + the VisionTek R9 290.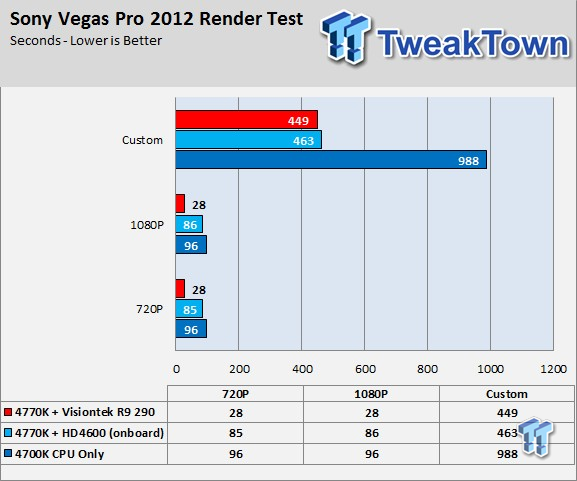 Looking at our custom test first, the CPU only render took 988 seconds to complete. The CPU, an Intel Core i7-4770K, and its onboard GPU took just 463 seconds, and the CPU with the VisionTek R9 290 took just 449 seconds. Very basic video at 1080P does not show a significant improvement with the additional card.
Graphics intensive videos with heavy transitions, special FX, audio, and other accelerated functions are another story. The 720p and 1080p tests show nearly identical times regardless of the acceleration used, but here we see that the VisionTek R9 290 cuts through the FX and renders the video in less than half of the time. Even with the onboard GPU used to accelerate rendering time, the difference between CPU only and CPU + onboard GPU is very small.
Sony Vegas 13 Rendering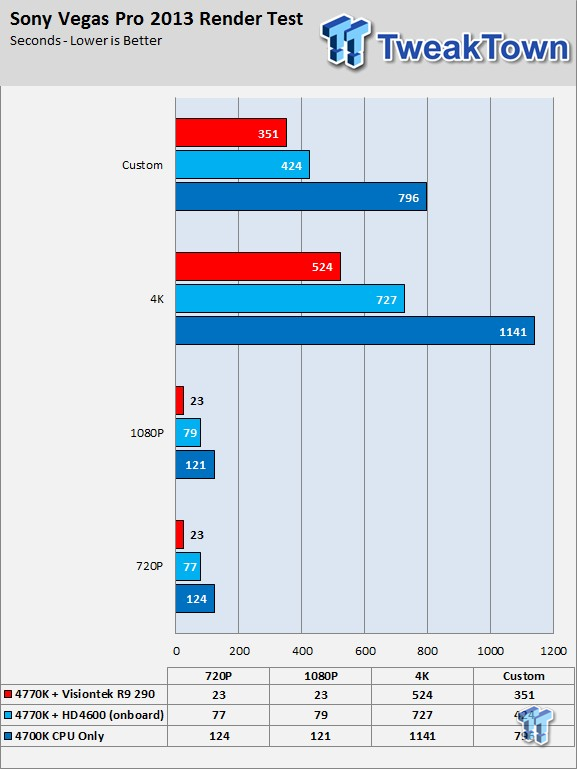 Now we're moving onto Vegas Pro 13, this time with an additional test at 4K. Here we see the VisionTek accelerated rendering of our basic video actually going much quicker than the CPU + onboard GPU. If your system only has a CPU in it, then adding an R9 290 will cut the render time nearly in half, even on a very basic video with a few transitions.
The same basic video, this time rendered in 4K, also shows a significant improvement in render times. For our custom and 4K test, we really wanted to show what it would be like for a novice video, something from your family that you might share or upload to YouTube.
Vegas Pro 13 takes greater advantage of our R9 290 GPU than Vegas Pro 12. In the professional tests at 720p and 1080p, the GPU assisted tests take even less time than before, and the R9 290 is a clear winner, besting the CPU + onboard GPU by nearly three times.
Benchmarks - Vegas 12 vs. Vegas 13 & Final Thoughts
Vegas 12 vs. Vegas 13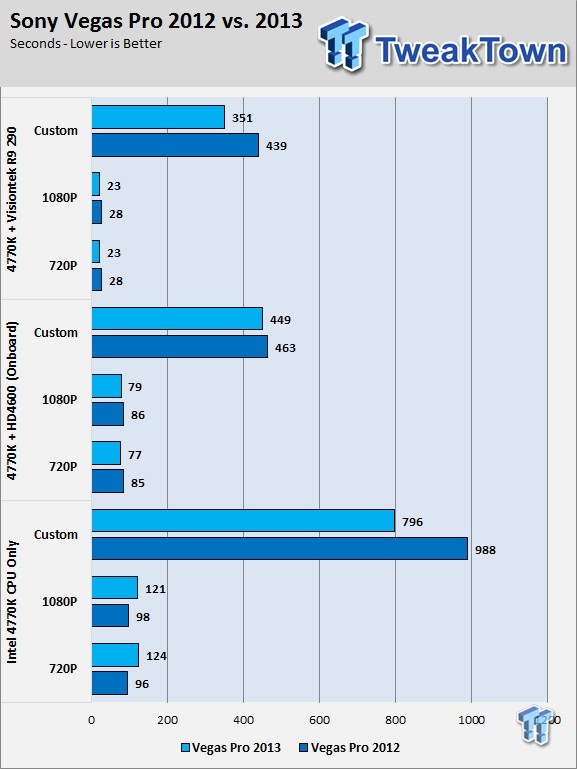 Here we see the same data but arranged to compare Vegas Pro 12 against Vegas Pro 13. With a GPU to accelerate the render, Vegas Pro 13 is faster. Oddly enough, in the CPU only professional tests, Vegas 13 is slower than Vegas 12 in two of the three tests.
Final Thoughts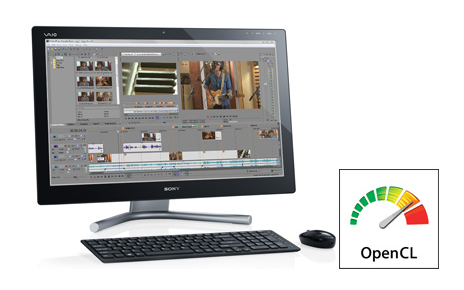 Going into the article, we knew GPGPU acceleration would reduce our render times, but most of us don't spend a lot of time figuring out how much time we actually save. When on location and trying to render and upload multiple videos, time is important. The faster we can get finished with our work, the faster we can attend other industry events.
Most of our videos are similar to yours at home. You need to preview the video, crop the beginning and ending, maybe add some text or a transition or two, and then render. Our testing today shows that with Vegas 13 software and a dedicated GPU, the render time is cut by significant margins.
Users making elaborate videos with heavy FX benefit from GPGPU acceleration even more. Sony Vegas software is in many professional broadcast booths, and postproduction companies use the software as well. A dedicated GPU is the only way to go in these situations.
The professional, all things included, version of Vegas is fairly low cost for professional software, but you don't need to spend $600 to gain GPGPU functions. Sony's Movie Studio 13 Platinum--starting at just $79.95 and including many features found in the professional software--can also produce amazing quality videos.
As we move to high resolution videos, GPGPU acceleration makes it possible to render much quicker than without the feature. 4K cameras are now less than $800, and 4K monitors have dropped in price nearly every week for the last six weeks, down to roughly $600. With movie studios failing to deliver 4K content, we might as well make our own and then share it with the world.
PRICING: You can find the VisionTek R9 290 for sale below. The prices listed are valid at the time of writing but can change at any time. Click the link to see the very latest pricing for the best deal.
United States: The VisionTek R9 290 retails for $414.00 at Amazon.
Canada: The VisionTek R9 290 retails for CDN$578.95 at Amazon Canada.
PRICING: You can find products similar to this one for sale below.

United States: Find other tech and computer products like this over at Amazon.com

United Kingdom: Find other tech and computer products like this over at Amazon.co.uk

Australia: Find other tech and computer products like this over at Amazon.com.au

Canada: Find other tech and computer products like this over at Amazon.ca

Deutschland: Finde andere Technik- und Computerprodukte wie dieses auf Amazon.de
We openly invite the companies who provide us with review samples / who are mentioned or discussed to express their opinion. If any company representative wishes to respond, we will publish the response here. Please contact us if you wish to respond.