Thunderbolt 2: Ready for Windows with the ASUS ThunderboltEX II
Today we take a close up look at the ASUS ThunderboltEX II and all the amazing performance that goes along with the new Thunderbolt 2 standard.

Published
6 minute read time
Introduction
ASUS is ready for Thunderbolt 2
When Thunderbolt technology was released to the public in 2011, many of us brushed off the technology like it was Betamax and wouldn't weather the storm. Despite the fact that the technology in its original form was capable of two times the speed of USB 3.0, many thought, including myself, it was another Apple technology much like Firewire was for many years. I mean, when was the last time you, as a PC user, plugged in a Firewire device?
Of course, it is very true that the original Thunderbolt lacked maturity for Windows users, and perhaps that did set the technology back in user's minds. Then again, it typically takes a few years for manufacturers to trust a technology and begin development of devices.
Perhaps having a partnership between Apple and Intel behind the technology is what has kept it alive for this long to begin with. Alas, Thunderbolt has made it three years into its life and we now have Thunderbolt 2, a much more mature technology ready for Windows operating systems.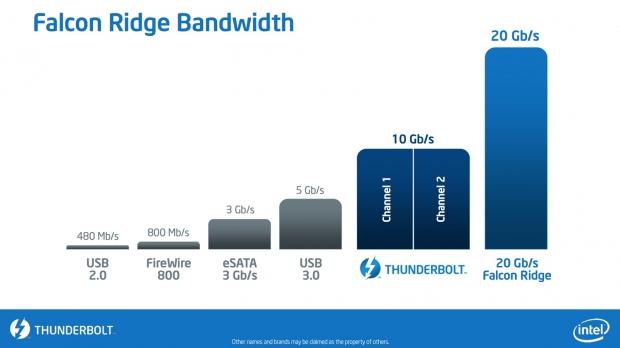 Thunderbolt 2, formerly known as Falcon Ridge, isn't too much of a change from the original Thunderbolt. What Intel did was enable channel aggregation giving you the full 20Gbps over one cable, and of course, it's backwards compatible with Thunderbolt devices, but you will need to have your Thunderbolt 2 devices forward in the daisy chain to mitigate performance loss.
In its most basic form, Thunderbolt is external PCI Express, PCIe 2.0 x4 to be exact. Now this gives us the theoretical throughput of 20Gbps that is advertised, but thanks to 8b/10b encoding, we can expect to lose 20 percent of our peak throughput, leaving us with 16Gbps or 2GB/s.
ASUS Z87 Pro & ThunderboltEX II
ASUS ThunderboltEX II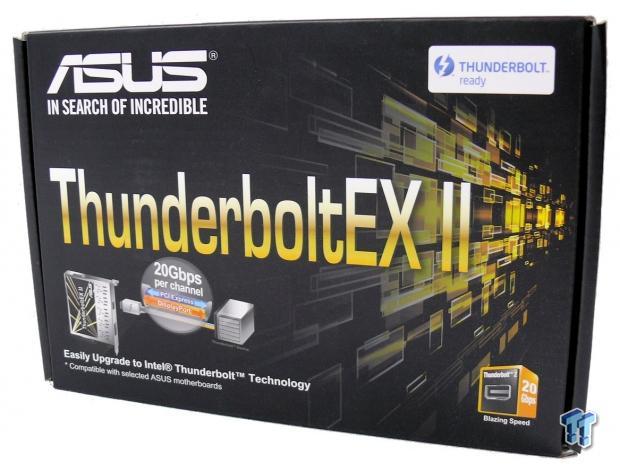 In early January, ASUS released the ThunderboltEX II series of add-on cards; these cards are available in two models, the one you see above is the single port solution, and another labeled the ThunderboltEX II DUAL adds a second Thunderbolt 2 port.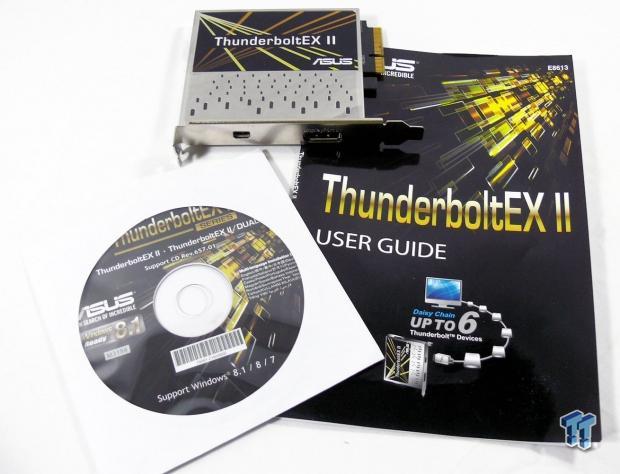 With the packaging out of the way, we can see just what comes with the EX II. Here we have the user guide with the Windows driver installation disc included. The card itself is only compatible with select motherboards from ASUS, including the Maximus VI Extreme, Sabertooth Z87, Z87 Plus, Z87-A, and the motherboard we were lucky enough to have sent over, the ASUS Z87 Pro.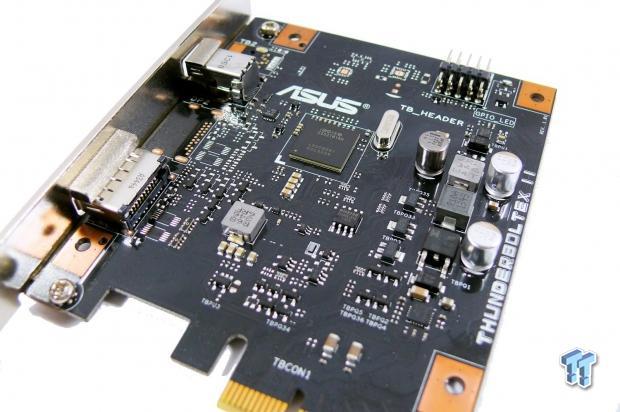 The ThunderboltEX II features a full PCIe 2.0 x4 interface with the Intel DSL5320 Thunderbolt 2 controller onboard. At the top of the card, you will find the Thunderbolt header that connects to the motherboards listed above, allowing the motherboard and card to communicate and swap timing information.
ASUS Z87 Pro Motherboard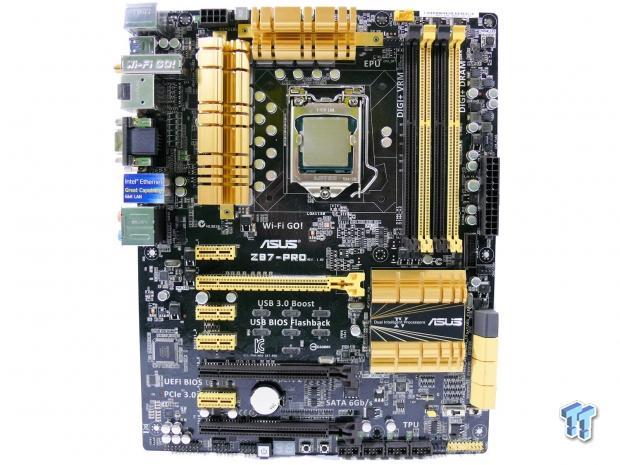 The ASUS Z87 Pro motherboard is a socket LGA1150 based motherboard ready for the latest fourth-gen Haswell CPUs from Intel. The motherboard has a single PCIe 3.0 x16 slot second from the top in gold, with the first black slot being PCIe 3.0 x8 and the last slot coming from the Z87 chipset at PCIe 2.0 x4.
In addition to the internal PCIe connectivity, we have six SATA III ports in yellow that run natively on the Z87 chipset, with another two powered by the ASMedia 1061 controller.
The rear I/O for the Z87 Pro features six USB 3.0 ports, 802.11AC wireless connectivity, and a full range of display connections. Additionally, we have Gigabit Ethernet powered by the Intel I217V and Audio powered by the Realtek ALC1150.
Installation and Setup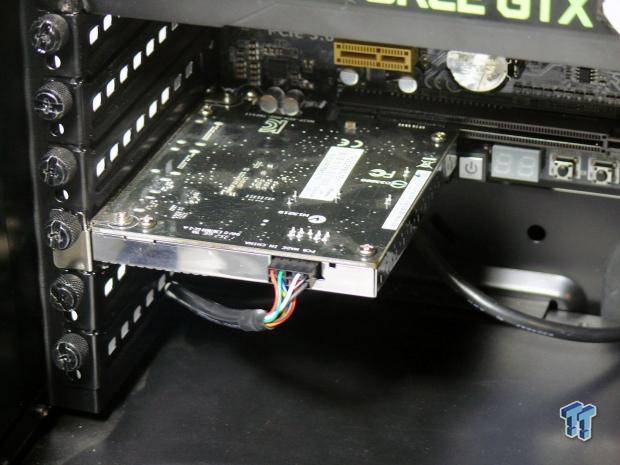 To get up and running with the latest Thunderbolt technology on the ASUS Z87 Pro, we must first install and setup the ThunderboltEX II. Going by ASUS' instructions, you must use the bottom slot on the motherboard as you can see in the image above. I can confirm this is the only slot that will work, so don't try it any other way; it just won't work as intended. Now that we have the card installed, we have to connect the short internal USB header looking wire to the Thunderbolt header on the motherboard and to the card.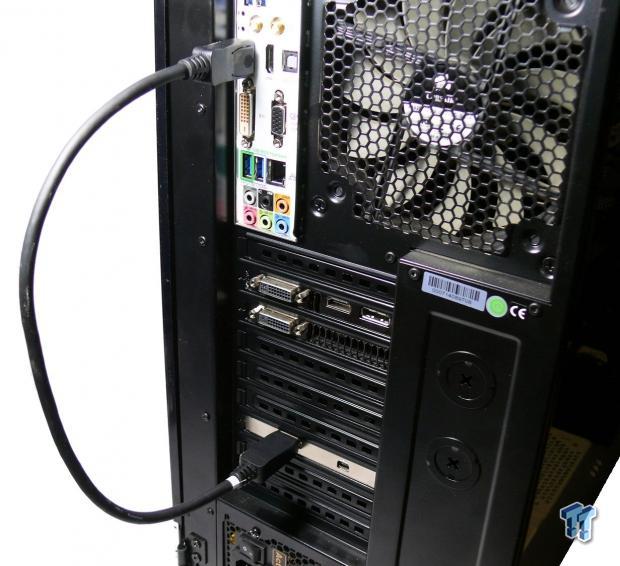 Part two of the installation procedure has us connecting the DisplayPort cable from the port on the back of the motherboard to the ThunderboltEX II. This allows the card to pass through DisplayPort display and audio to the Thunderbolt controller.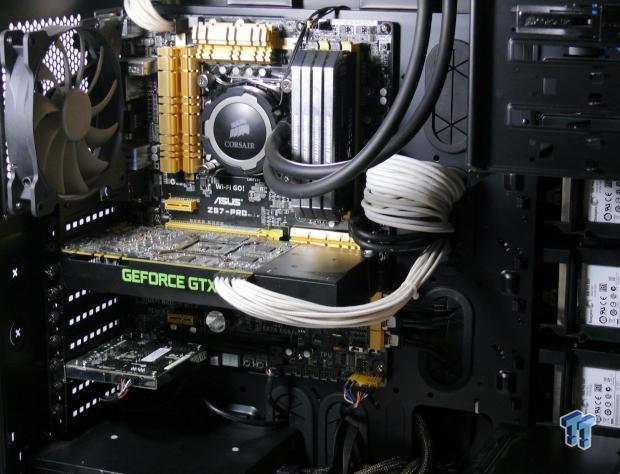 Here is our final build. We are running an Intel 4770 processor with 16GB of Corsair Dominator Platinum RAM. The GPU is the reference designed GeForce GTX 760, and system storage is handled by four Seagate 600 Pro 200GB SSDs in RAID 0.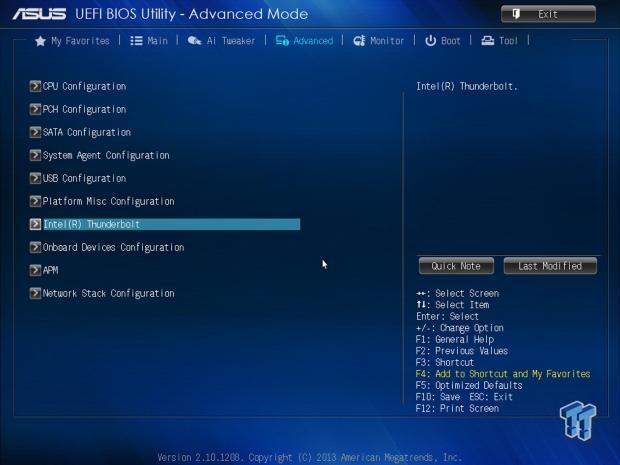 To finish setup of the ThunderboltEX II, we need to dive into the BIOS and setup a few parameters. If everything is installed correctly, you should see a Thunderbolt menu in the advanced configuration menu.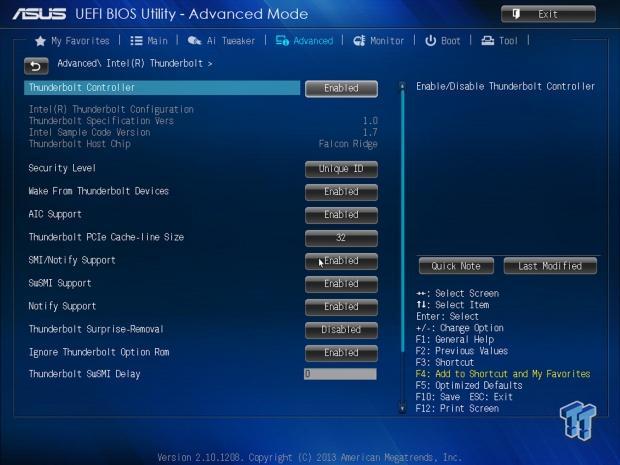 Selecting the Thunderbolt configuration, we find all the options for the ThunderboltEX II. One thing I recommend doing is setting the Cache-line size to 128 as it seems to affect performance by a fair margin.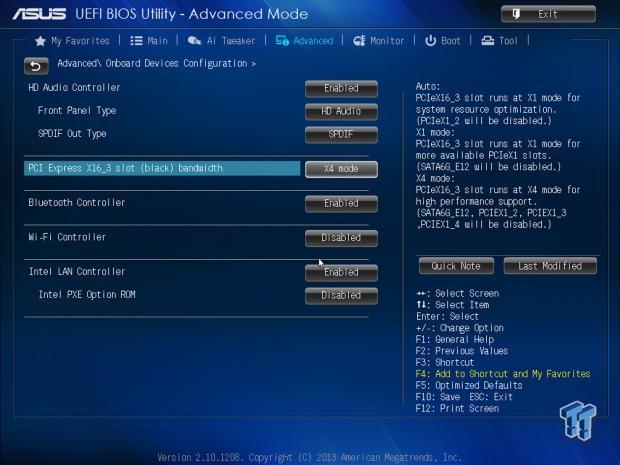 If you want your ThunderboltEX II to achieve peak throughput, we need to set the black x16 slot on the board to x4 mode. The tradeoff here is we will lose the ASMedia SATA controller, so make sure you're using the yellow SATA 6G ports for your internal storage.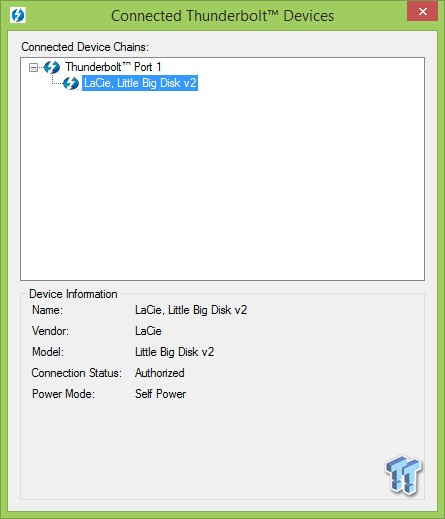 When Thunderbolt was initially launched, Windows users were left hanging with little to no support. If you wanted to use a Thunderbolt storage device, you pretty much had to pop it open to find out what controller it was using and install the drivers manually, of course lacking hot plug support as well. This time around, Intel is on the ball with full hot plug and driver support via the driver and tray software.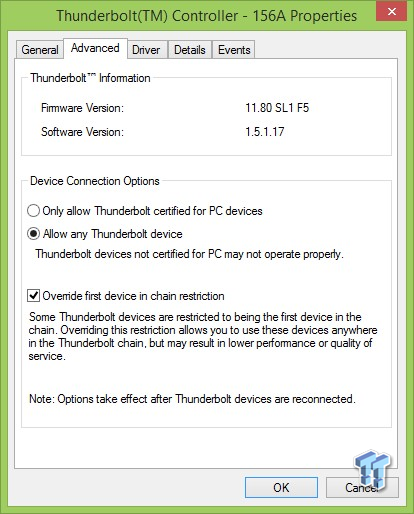 Here we can see our DCS5320L is running firmware version 11.80 SL1 F5 with software version 1.5.1.17. You can change Thunderbolt connection options in this menu as well.
ThunderboltEX II Storage Performance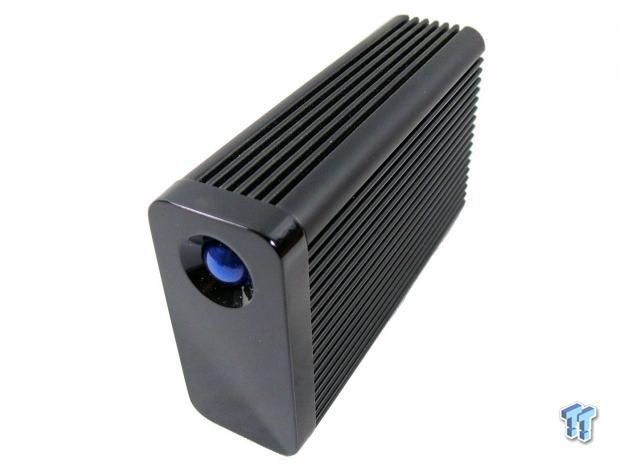 As far as modern day Thunderbolt storage solutions go, I have yet to find something as stunningly fast as the LaCie Little Big Disk Thunderbolt 2. This small device is capable of 1400 MB/s read and 1200 MB/s write, making it my de facto go to drive for testing Thunderbolt.
Inside every Thunderbolt device, you will find a small PCB similar to what you see above. As I stated previously, Thunderbolt is basically external PCI Express, so what we have here is a central controller switching that data from Thunderbolt to a PCIe slot.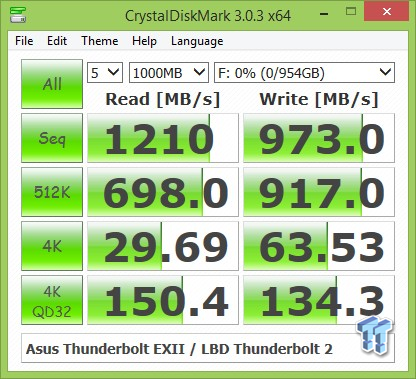 To get an idea of what kind of performance we can expect, I ran the LaCie through CDM. As you can see, we reached some pretty impressive speeds here touching 1200 MB/s read and 970 MB/s write.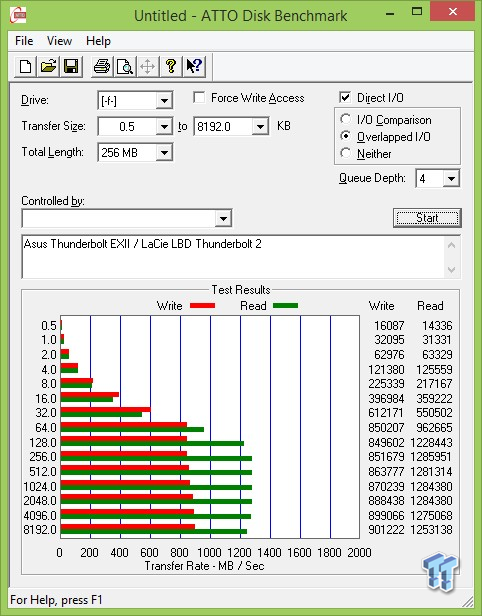 ATTO was the next benchmark on our list, so we fired it up and gave the LaCie a go. We were able to reach 1284 MB/s read and 901 MB/s write at QD4.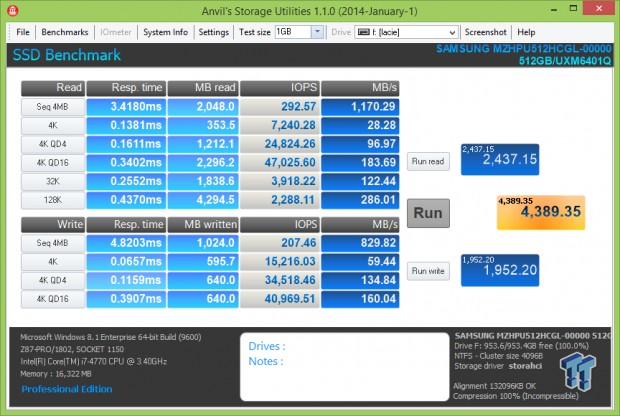 Next up, we loaded up the latest build of Anvil's storage utilities. Here we did quite well with the LaCie reaching a final score of 4389.
In our next batch of tests, we used IOMeter and tested the response time of the LaCie LBD Thunderbolt 2 with Queue Depth.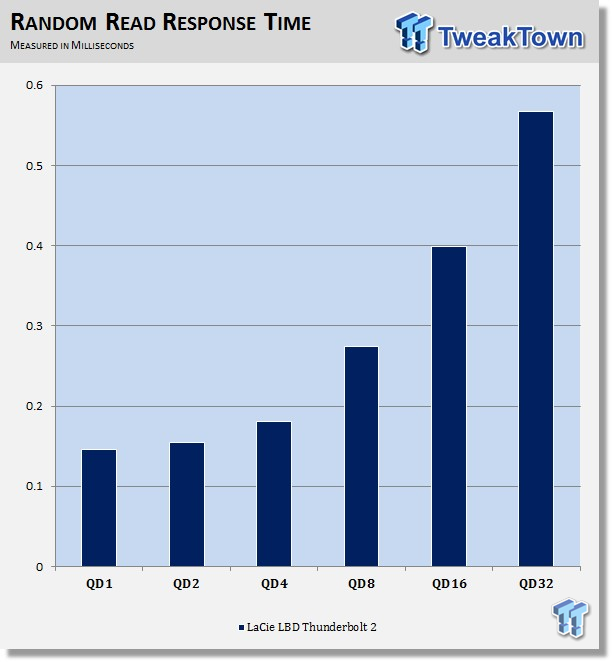 Above, we have the random read response time. Here the LBD peaked at 0.6ms at QD32.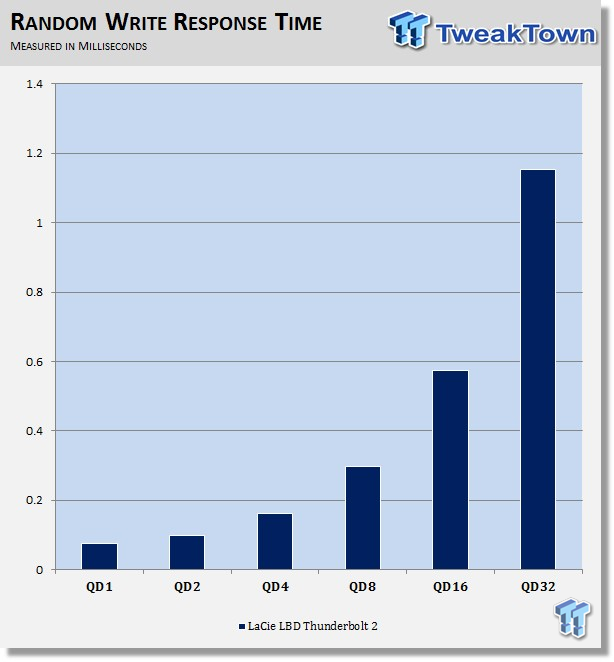 Random write response time peaked at 1.1ms, again at QD32.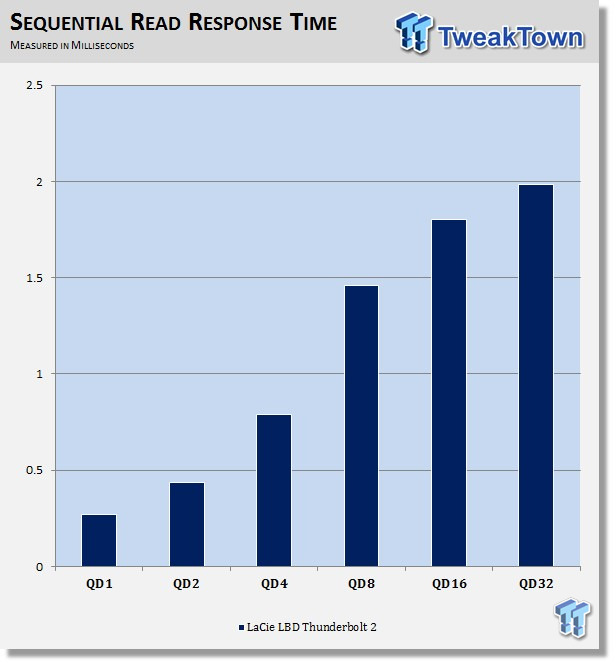 With sequential response time, we found a slight increase to 2ms at QD32.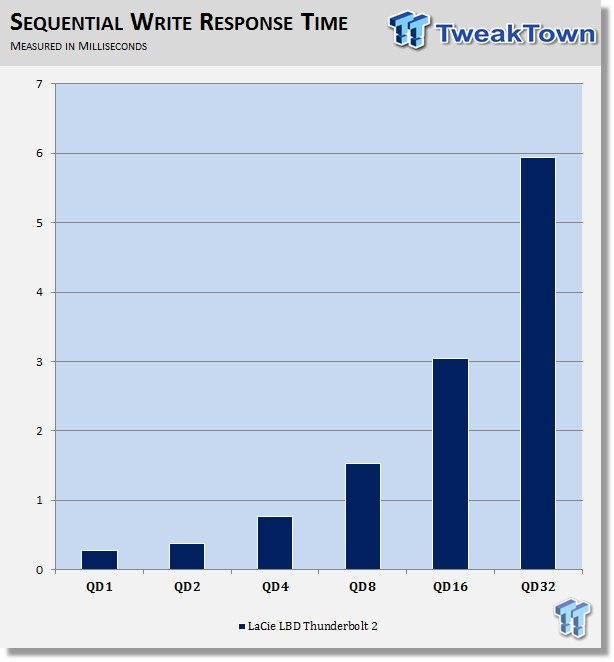 Sequential write response was by far the highest at 6ms.
Final Thoughts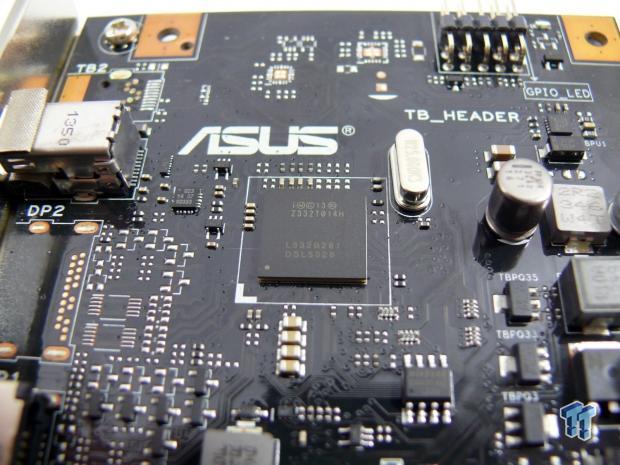 Thunderbolt as a technology has left a lot of people a little weary of adopting and jumping on the bandwagon, mainly due to the high cost of peripheral devices and lack of support on PC, until now.
The biggest issue with Thunderbolt is that most see it as a storage interface, and want to compare it to USB 3.0, when in reality it's much bigger than that. Thunderbolt was designed to be the end all be all solution for connecting external devices.
That means we can have a single cable running from the back of our PCs, which is then connected to our display, which in turn houses everything from Gigabit LAN, USB 3.0, eSATA, and even audio. Imagine how small a motherboard can be when it no longer needs the rear I/O, or how small a prebuilt PC like the Intel NUC can be when everything can be streamed out of a single 6mm cable.
For those of you that may have purchased any one of the motherboards I listed out on the second page of this article, the ThunderboltEX II is certainly a great option to upgrade your external storage needs. If you want something simple like a portable SSD, the Akitio Neutrino we reviewed a few months back can fit the bill for you there.
Of course, there are also the large storage busting Thunderbolt RAID enclosures like the OWC Thunderbay IV or LaCie 5Big; you could even swing for the fences and grab the all new Thunderbolt 2 8big Rack from LaCie. The point is, now is the time to adopt Thunderbolt if you have ever thought about doing so. With real Windows support finally here, devices should start to flood the market as prices start to come down.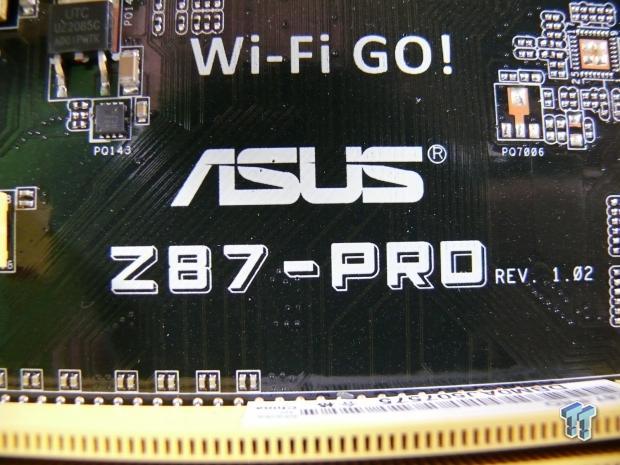 As we've seen here today, ASUS is truly ready for Thunderbolt 2 with an entire lineup of Z87 motherboards ready to accept either the ThunderboltEX II or its dual port counterpart. Either way, installation is quick and simple, and within a few minutes, you'll be up and running enjoying Thunderbolt 2 at its best.
PRICING: You can find the ASUS ThunderboltEX II for sale below. The prices listed are valid at the time of writing but can change at any time. Click the link to see the very latest pricing for the best deal.
United States: The ASUS ThunderboltEX II retails for $64.04 at Amazon.
Canada: The ASUS ThunderboltEX II retails for CDN$88.02 at Amazon Canada.
PRICING: You can find products similar to this one for sale below.

United States: Find other tech and computer products like this over at Amazon.com

United Kingdom: Find other tech and computer products like this over at Amazon.co.uk

Australia: Find other tech and computer products like this over at Amazon.com.au

Canada: Find other tech and computer products like this over at Amazon.ca

Deutschland: Finde andere Technik- und Computerprodukte wie dieses auf Amazon.de
We openly invite the companies who provide us with review samples / who are mentioned or discussed to express their opinion. If any company representative wishes to respond, we will publish the response here. Please contact us if you wish to respond.