Tiered Storage Setup for Consumers - Tips for boosting performance
Chris talks about why you should try to keep some data types off your SSD and why large programs should be installed on a mechanical hard drive.
Published Oct 31, 2013 5:01 AM CDT
|
Updated Tue, Nov 3 2020 7:00 PM CST
6 minute read time
Introduction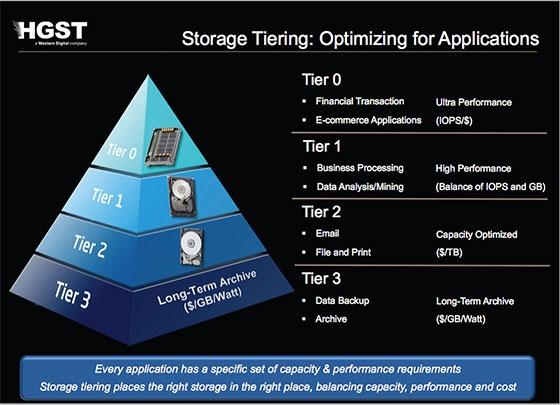 Tiered storage predates my introduction to PCs, but by the time I earned my enthusiast badge, I was using the technique to increase my system performance. I would actually go as far to say that it was a tiered storage model that put my system at the time into the enthusiast category. So, what is tiered storage you ask?
When I first started using tiered storage, it involved the use of an Adaptec SCSI RAID controller running on a pair of ribbon cables that were as long as my arms. The fastest hard drives at the time were Seagate 15,000 RPM X15 enterprise drives that cost around $1000 each. This was a time before flash as we know it today and thumb drives weren't even available. The Seagate X15 offered 36GB of data storage, but the golden setup for the operating system was three or more in either RAID 0 or RAID 5. The SCSI spec at the time allowed for 15 devices, one being the required SCSI terminator at the end of the cable. That allowed for a high number of hard drives in an era when optical disk drives were a necessity and most motherboards only shipped with two ATA ports that supported just two devices per port, a master and a slave.
With less than 100GB of storage for the operating system and programs on 'high speed' 15,000 RPM drives, other drives were added to the system to actually store data. To increase the overall performance of the system, some users added a small 10K RPM drive to store the Windows swap file - we were concerned with random performance all the way back in 2000! Relatively low-cost 10K RPM drives were plentiful when purchased used from PC recycle centers and worked well in RAID with redundancy for keeping digital pictures (often taken on Sony cameras with a floppy drive for storage) and digital music, the new fad.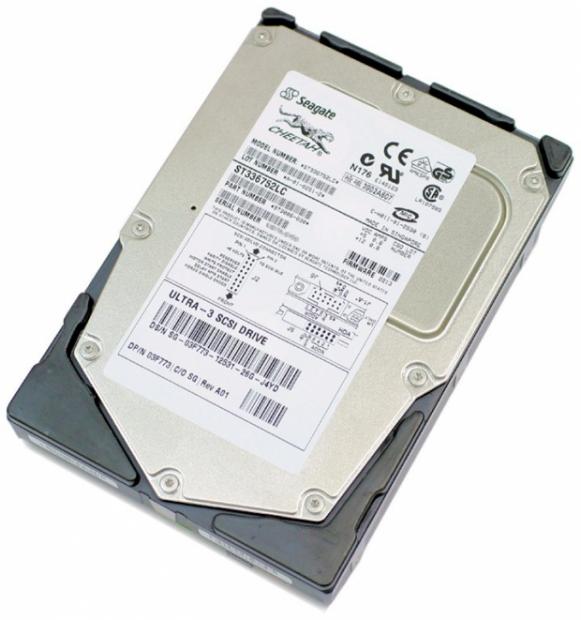 Here we are today, nearly 15 years later and facing the same problems as we did back then. The fastest storage is the most expensive and has the least amount of storage capacity. Even though the capacity has increased, so has the data we want to store. The technology has changed considerably as well, but the same issues remain - the more data you keep on your storage device, the slower it performs.
Data Kills Performance on Everything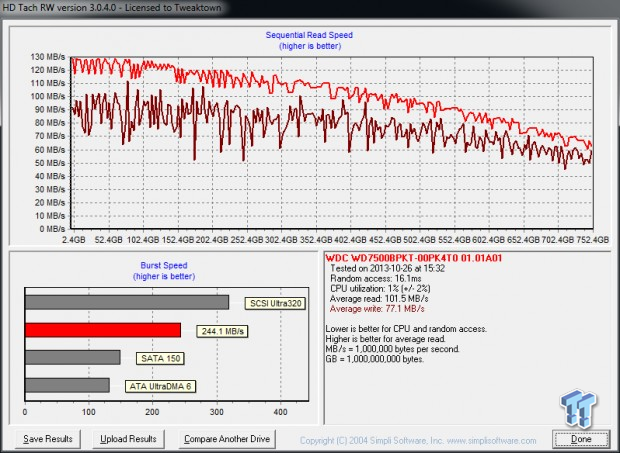 We've all looked at graphs like this in hard drive reviews before. The drive's internal programming places data on the outer portion of the platter first since data transfers are faster on that area of the disk. As data populates the drive, new data goes further to the center of the platter, where the surface area doesn't rotate past the read head as fast. That means your HDD gets slower, and slower, and slower as you put data on it. The performance curve is an accurate representation of performance across the drive.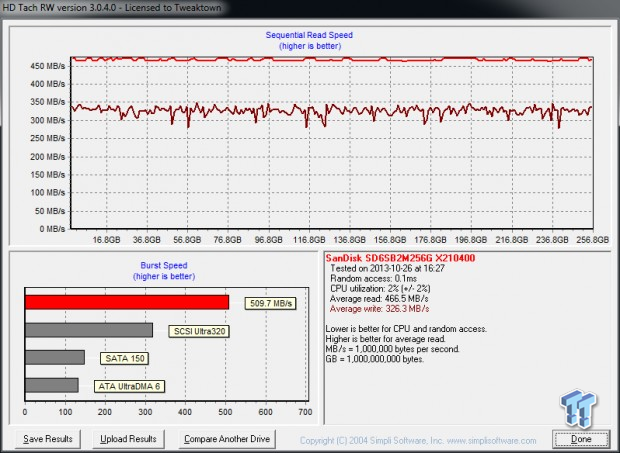 Then we have solid state drives. SSDs don't have platters, so there are no fast or slow areas of the drive. In graph above, we see high performance across all LBA space.
Sadly, in data storage, there are no fairy tales. The graph above is from the same SSD after a couple months of use as an operating system drive. As you can see, the performance drop is significant, even though the drive was cleared off all data to run the test. TRIM was disabled so the drive's performance during the test was similar to what an end-user would have during operation.
Data on Disk Testing with PCMark Vantage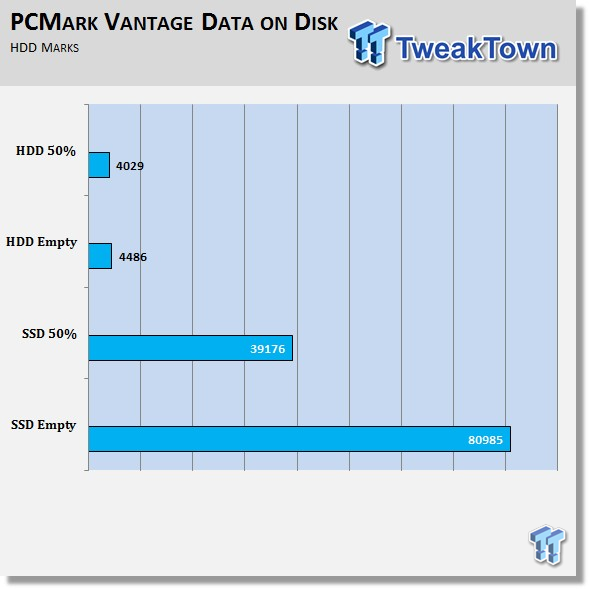 Here we see the PCMark Vantage HDD Test Suite ran on the same drives above. One set of results were taken with the drives in a fresh out of box state and the other is with 50% of the drives populated with data.
Data does not discriminate; it kills performance on everything it touches. The more data you store on a drive, the slower the drive becomes, and it doesn't matter if solid state or mechanical.
Tier Storage for Consumers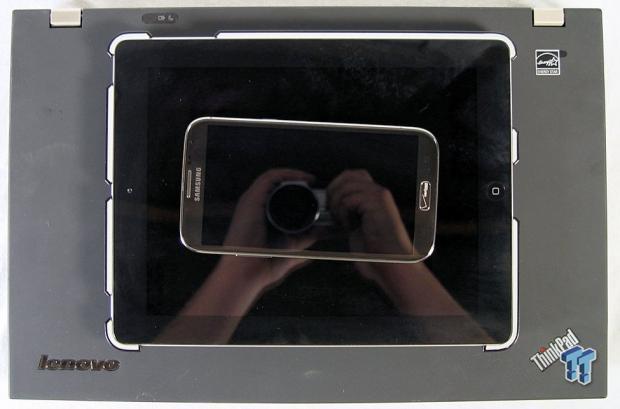 Before we make our case for spreading your data out across different types of drives, let's first discuss the devices we use data on today.
It's not uncommon for a single user to own multiple devices. Desktops, notebooks, tablets, cell phones and even media players can play or manipulate the same data. Later in this article we'll discuss ways to share the same data across all of these devices.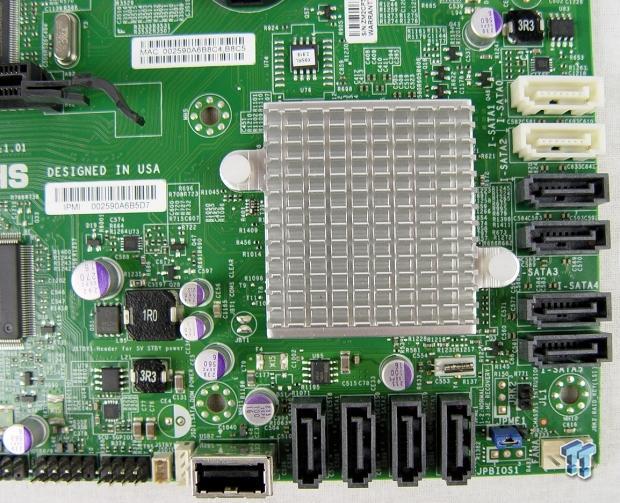 The end-user doesn't always have an option to choose or change the storage in a device, but when it comes to PCs, the options are plentiful. Most real work happens on desktops, although powerful notebooks have gained popularity over the years. High speed storage and large capacity plays a big role in keeping the desktop as the productivity king when it comes to professional applications.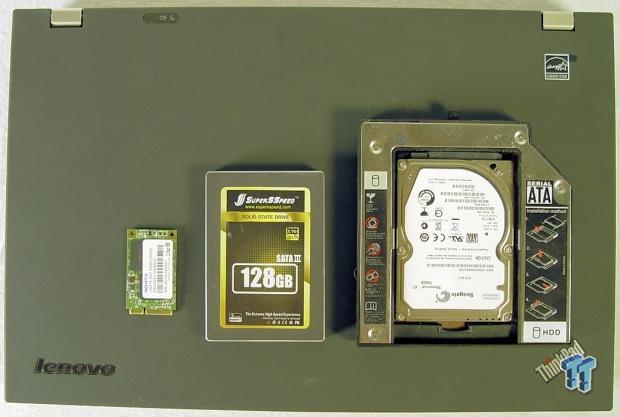 Smaller form factors such as 5mm HDDs, mSATA and the newest form factor, M.2, have brought storage tiers to notebook products. Shown here, a Lenovo W530 has an mSATA slot, 2.5" slot and with a low-cost adapter, a second 2.5" slot that replaces the optical drive.
Next generation notebooks coming to market now replace mSATA with a new, higher speed small form factor when used with a PCI Express interface, M.2. Formally known as NGFF or Next Generation Form Factory, early M.2 drives shipping today can transfer data at nearly 1GB/s. As we demonstrated on the previous page though, keeping that level of performance means keeping unneeded data off of that drive.
Storage Tiers for Consumers
Level 1 - Operating system and frequently accessed data
Level 2 - Additional programs, downloads, essential, but not actively needed data
Level 3 - Permanent data such as pictures, music, and software installation files
Storage Tier - Desktop Recommendations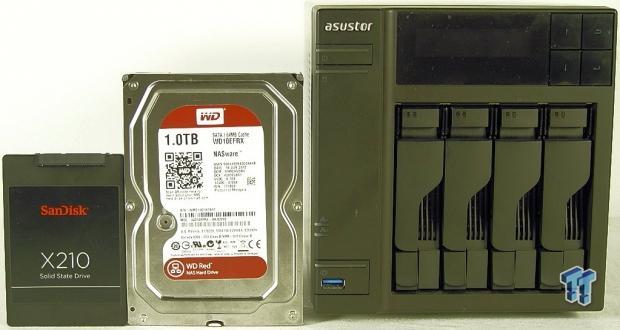 Desktops are flexible when it comes to storage. A good entry-level tiered storage is pretty basic, put your operating system and frequently used programs on an SSD and install your infrequently accessed programs on a mechanical drive. When installing programs just choose the advanced install option and install them to D:/Program Files to keep things tidy.
Moving beyond a basic setup, RAID offers more capacity and performance for the operating system and can give data redundancy for your long term storage. Modern motherboards ship with six or more SATA ports. The Z87 chipset even offers six SATA III ports and motherboard manufactures have added even more SATA ports through third-party controllers.
Several enthusiasts have moved to a two drive RAID 0 array with two identical SSDs and a three drive RAID 5 array with mechanical hard drives. This delivers the best of both worlds, high speed operating system performance and a level of data security for data you want to keep forever.
Going one step further, adding a NAS to the mix increases your data redundancy options, data availability and brings a whole host of features to the table. We'll talk about some of these on the next page.
Storage Tier - Notebook Recommendations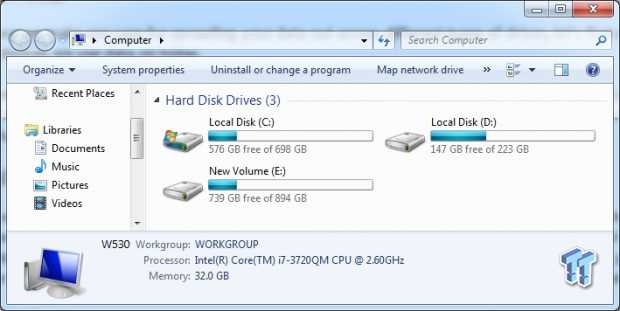 I use my notebook for just about everything other than gaming. My work weapon of choice is the Lenovo W530, at least until the new W540 hits the market next month. The W530 gives me three storage opportunities - a 2.5", an mSATA, and an additional 2.5" via an adapter that replaces the optical drive.
I recently purchased my daily use W530 and quickly loaded it with flash. I used a 750GB SSD for my operating system, a 240GB mSATA SSD for my supplemental data and for downloading content to and finally a 960GB SSD to keep movies and music on when traveling.
My goal is to reduce the amount of data on the operating system drive. It actually takes some effort to stop downloading files to my desktop, but I'm starting to get back in the habit of downloading everything to the mSATA drive. Since most of the data we download from the web is already compressed, this act saves quite a bit of performance, but over time, the operating system drive will reach a consumer steady state level.
All of your data, all of the time - NAS
The Ultimate Long Term Storage Tier

SSDs are the best choice for the operating system and choosing the best permanent storage is another easy recommendation - a NAS appliance. Many NAS manufacturers introduced a cloud feature at the end of 2012. This allows you to access your data from any device as long as you have an internet connection.
QNAP recently took personal cloud storage a step further with an add-on application called Qsync. Qsync is a Dropbox-like application that works on PC, Apple MAC, Apple iOS and Android devices and shares your data across all of your devices. This is how QNAP describes the feature that is now standard on all QNAP NAS products.
Not satisfied with the limited Dropbox storage? The Qsync utility turns your Turbo NAS into a safe data center for file synchronization with huge storage. You can upload photos from mobile or tablet devices to the Turbo NAS, and access the same files on any computer, laptop or mobile device linked to the Turbo NAS. Qsync is especially useful for frequent travelers to manage files and always have the most updated files on different devices. Qsync provides multiple ways of file synchronization and group file sharing, greatly enhancing the flexibility of collaboration.
NAS products also increase the security and protection for your data. Unlike a notebook, you don't transport your NAS and unlike your desktop, you don't download bits from the internet that are potentially infected with nasty things.
Final Thoughts
We aren't breaking any new ground today for our enthusiast or power user readers, but we hope this article helps pull some mainstream readers over to the dark side. Tiered storage is a powerful tool for enterprise and we think it's about time more consumer products ship or are built using this method.
Moving forward, as tablets and cell phones take on more roles currently reserved for proper desktops and notebooks, cloud storage will become even more popular. When it comes to cloud storage, you can trust that massive sized companies are able to keep your data secure (LOL) or that your NAS appliance on some obscure IP address with you controlling the flow, can do it better.
PRICING: You can find products similar to this one for sale below.

United States: Find other tech and computer products like this over at Amazon.com

United Kingdom: Find other tech and computer products like this over at Amazon.co.uk

Australia: Find other tech and computer products like this over at Amazon.com.au

Canada: Find other tech and computer products like this over at Amazon.ca

Deutschland: Finde andere Technik- und Computerprodukte wie dieses auf Amazon.de
We openly invite the companies who provide us with review samples / who are mentioned or discussed to express their opinion. If any company representative wishes to respond, we will publish the response here. Please contact us if you wish to respond.