OCZ Technology Vector 128GB SSD RAID Report
OCZ's Vector 128GB is one of the highest performing drives on the market today in RAID 0. Now at under $1 per GB, it could be a setup to consider.
Published Sep 4, 2013 8:08 AM CDT
|
Updated Tue, Nov 3 2020 7:00 PM CST
8 minute read time
Introduction and Specifications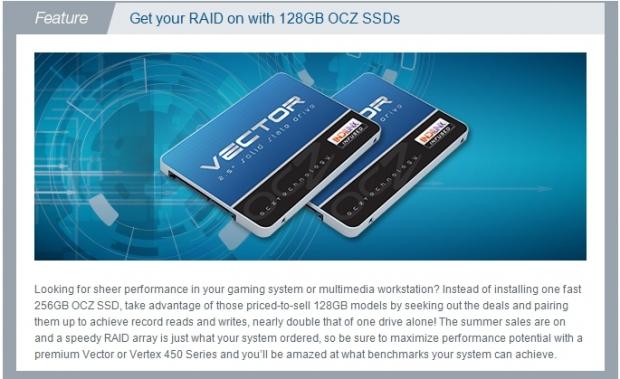 Just days before our scheduled trip to Flash Memory Summit, OCZ Technology's monthly newsletter hit our inbox. Featured in the newsletter was a section on running two OCZ Vertex 128GB drives in RAID 0. The caption, Get your RAID on with 128GB OCZ SSDs, caught my eye because, well... I'm always down to get my RAID on.
The timing couldn't be better, either. Last year at Flash Memory Summit, OCZ delivered our first Vector sample. To celebrate the one-year anniversary of OCZ's first in-house controller, we're getting our RAID on.
The premise isn't as complicated as some may think. Most Intel based motherboards already support RAID 0 from the factory. With just a couple of BIOS changes and an easy setup procedure, RAID 0 will nearly double your storage system performance, making applications load faster, and data transfers will take less time to complete.
Specifications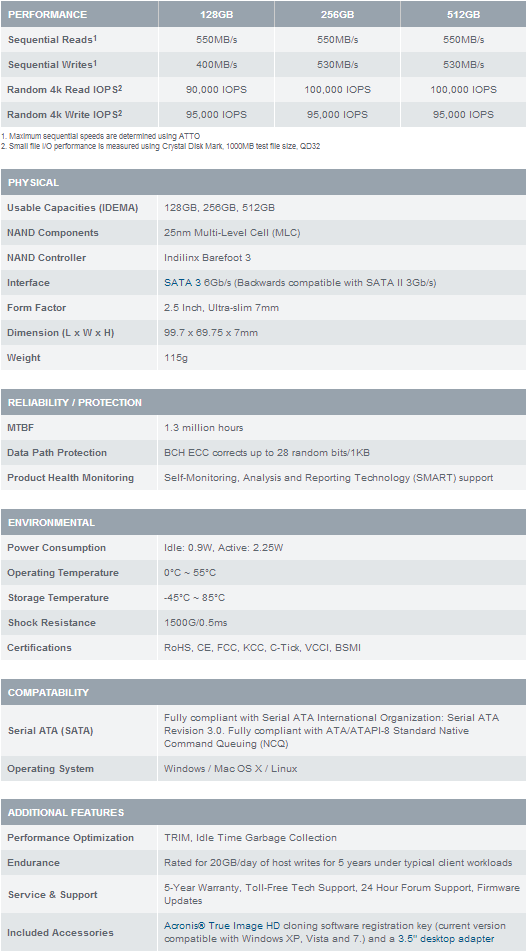 OCZ released Vector one year ago in three capacity sizes - 128GB, 256GB and 512GB. Today we're focusing on the 128GB model since it has an amazing price point, now nearly 50% less than it was one year ago.
At just $79.99 from Newegg, OCZ's Vector 128GB manages to break through the $1 per GB barrier and the in-house architecture paired with 25nm flash, makes it one of the fastest SSDs on the market today.
OCZ Technology Vector 128GB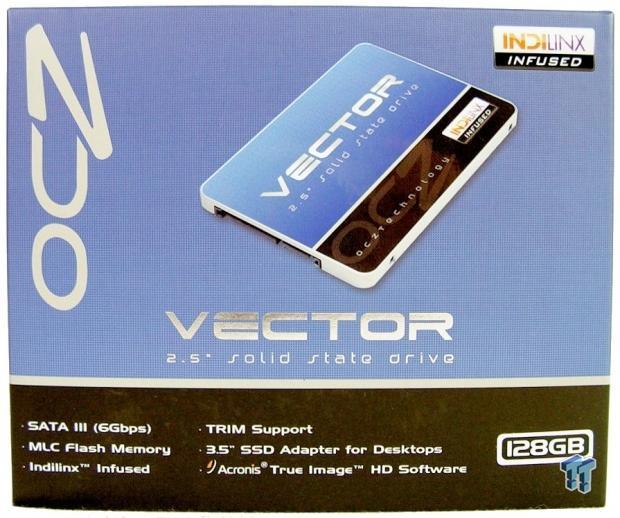 Time flies when you are having fun or Vector has just always been on our mind. Either way, it's hard to believe we first published a Vector article a year ago.
Since it's been quite a while, let's go ahead and take a look at the packaging, accessories and the drive briefly.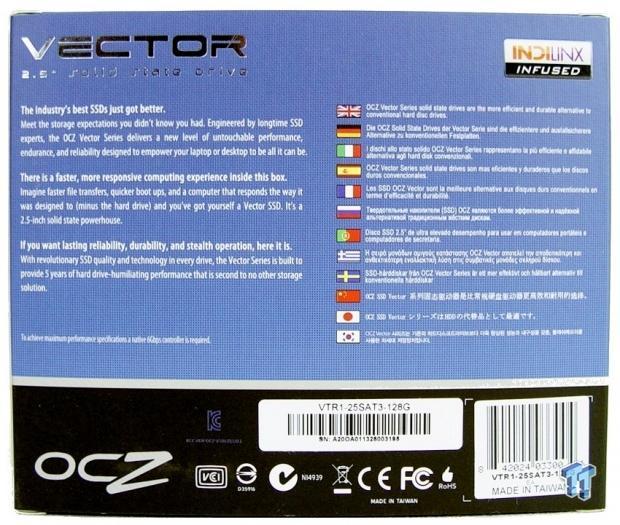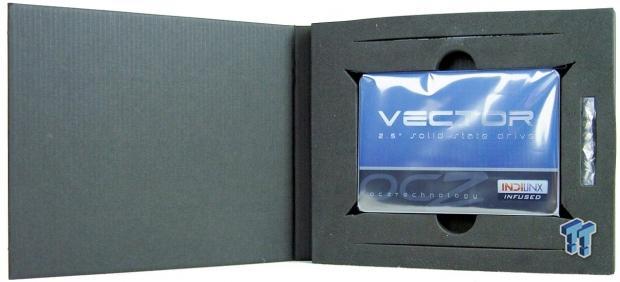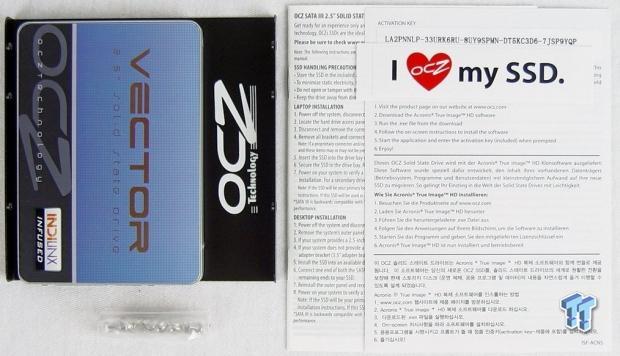 OCZ didn't cut the accessory package when they slashed the Vector 128GB price.
You still get a desktop adapter bracket, quick install guide, loyalty sticker and an activation key for Acronis data migration software.

Benchmarks - Test System Setup and ATTO Baseline Performance
Desktop Test System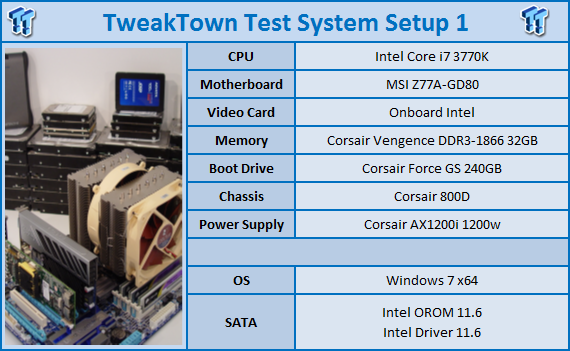 This will be the last RAID Report before we move to the new Haswell systems.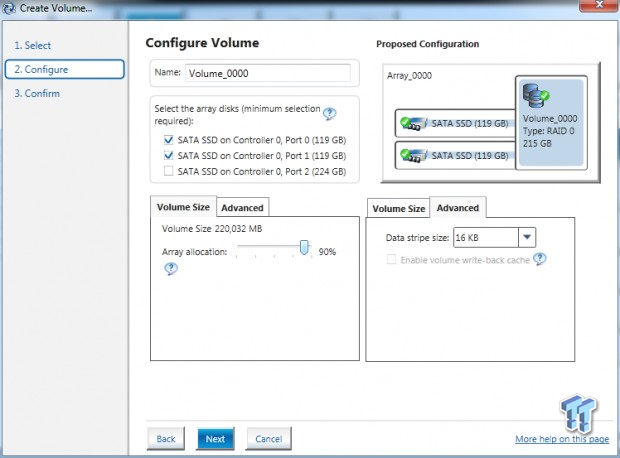 Intel is the only company that we know of that is able to pass the TRIM command to a RAID pair of drives. We gave the array a 10% overprovision and used a data stripe size of 16KB.
Larger stripe size gives better sequential performance and a smaller stripe size gives better random performance. For the onboard Intel RAID, 16KB is a good choice for general use.
ATTO Baseline Performance
Version and / or Patch Used: 2.34
Many manufactures use ATTO to determine the read and write speeds that are used in marketing document and for comparison.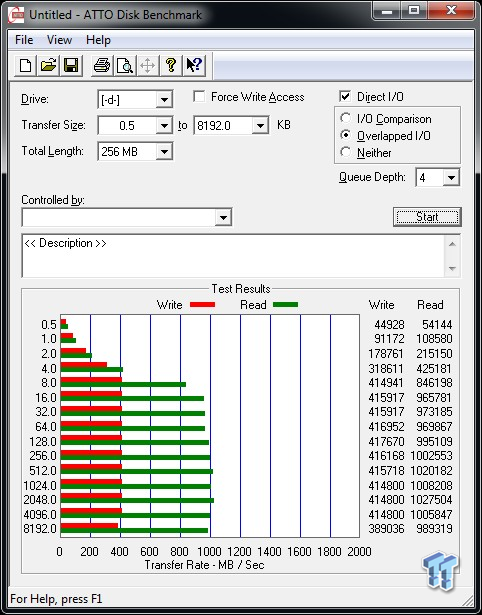 In ATTO we managed to surpass 1000 MB/s (1 GB/s!) when reading data on the two drive RAID 0 array.
Write performance was over 400 MB/s in ATTO, but we expected more since that is what a single Vector 128GB achieves.
Benchmarks - Sequential Performance
HD Tune Pro
Version and / or Patch Used: 4.00
Developer Homepage: http://www.efdsoftware.com
Product Homepage: http://www.hdtune.com
HD Tune is a Hard Disk utility which has the following functions:
Benchmark: measures the performance
Info: shows detailed information
Health: checks the health status by using SMART
Error Scan: scans the surface for errors
Temperature display
HD Tune Pro gives us accurate read, write and access time results and for the last couple of years has gained popularity amongst reviewers. It is now considered a must have application for storage device testing.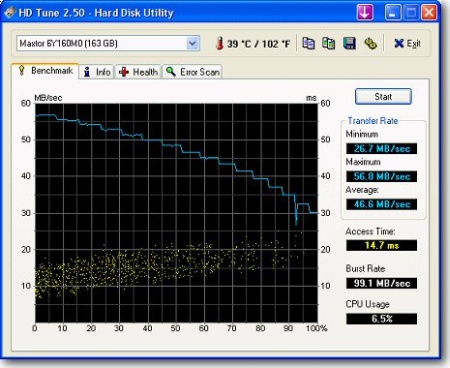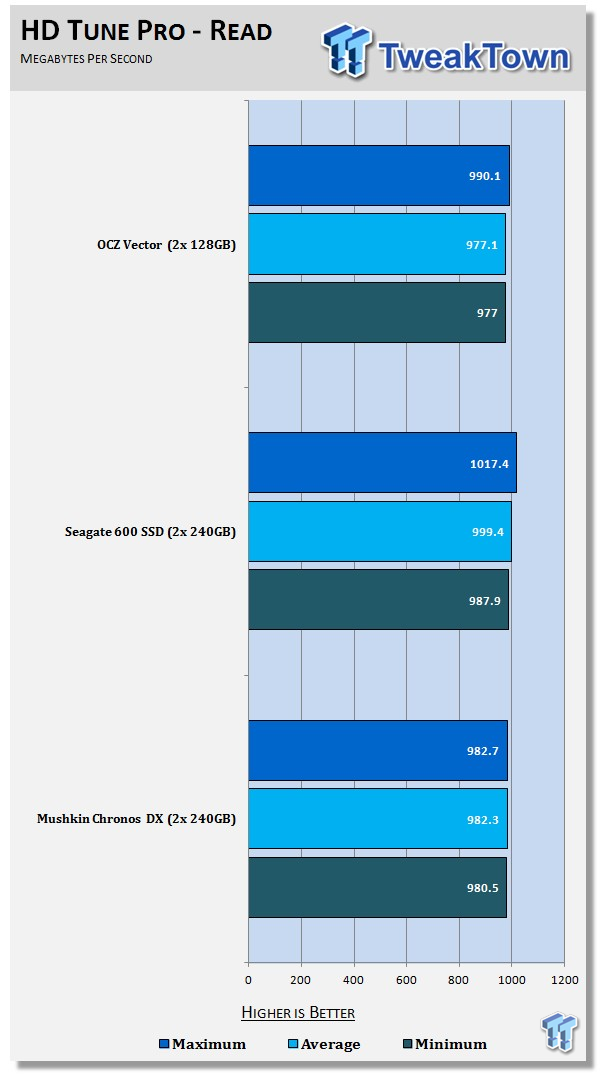 We tested three pairs of drives with the same settings, minus the additional over provisioning, on the same system. The Vector array was at a disadvantage from the start since the capacity size was half of the Seagate 600 and Mushkin Chronos DX arrays. As a single drive, Vector is faster than both of the other drives used in the other arrays, even in this capacity size so we're not too worried about an advantage due to capacity.
Putting that into practice, the Vector array runs with the larger, more expensive arrays when reading data.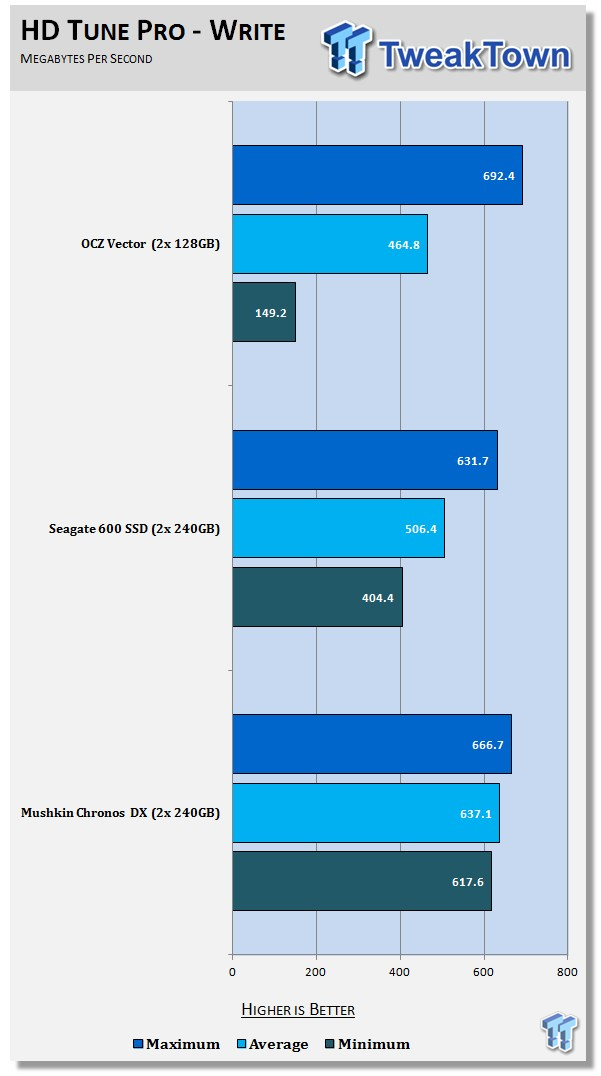 This chart is a bit misleading when it comes to the Vector arrays minimum and average performance. OCZ was the first to program in a SLC layer for writing data to the drive. SanDisk, Toshiba and Samsung have since followed suit, but OCZ was the first that we know of.
In this test where we write to the entire span of the drive, we hit some artificial performance modes that you wouldn't see under normal use.
HD Tach - Sequential Write Performance after Random Writes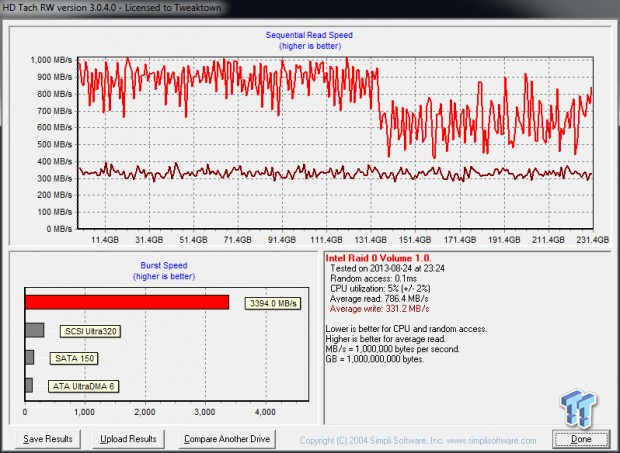 In this test, after a realistic number of random reads and writes to the drive, we see one of the limited modes kick in.
Benchmarks - AIDA64 Random Access Time
AIDA64 Random Access Time
Version and / or Patch Used: 1.60
Developer Homepage: http://www.aida64.com
Product Homepage: http://www.aida64.com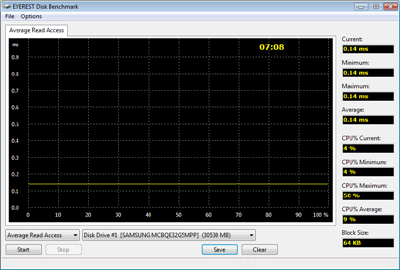 AIDA64 offers several different benchmarks for testing and optimizing your system or network. The Random Access test is one of very few if not only that will measure hard drives random access times in hundredths of milliseconds as oppose to tens of milliseconds.
Drives with only one or two tests displayed in the write test mean that they have failed the test and their Maximum and possibly their Average Scores were very high after the cache fills. This usually happens only with controllers manufactured by Jmicron.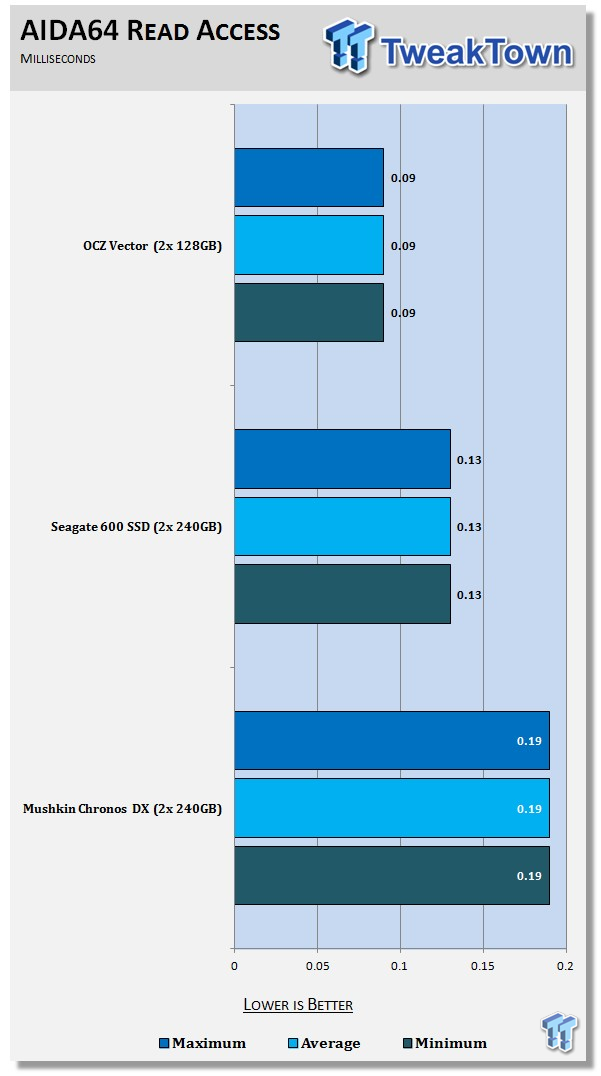 RAID didn't start with SSDs. My first array was with two Maxtor 20GB PATA drives... a few years ago. The difference between the spinners in RAID and SSDs is latency.
The mechanical drives would increase latency in an array, but SSD latency in an array is nearly identical to that of a single SSD.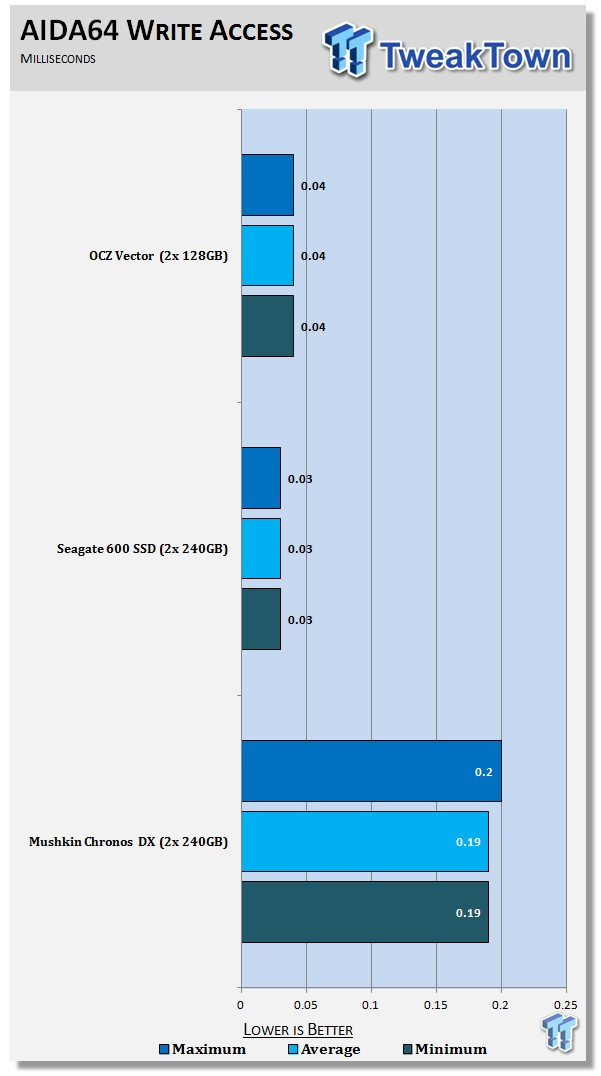 Since SSDs don't increase latency in RAID 0, you get the best of both worlds, great access times and increased sequential performance. Vector does well with both read and write latency.
Benchmarks - Anvil Storage Utilities
Anvil Storage Utilities
Version and / or Patch Used: RC6
So what is Anvil Storage Utilities? First of all, it's a storage benchmark for SSDs and HDDs where you can check and monitor your performance. The Standard Storage Benchmark performs a series of tests, you can run a full test or just the read or the write test or you can run a single test, i.e. 4K DQ16.
Anvil Storage Utilities is not officially available yet but we've been playing with the beta for several months now. The author, Anvil on several international forums has been updating the software steadily and is adding new features every couple of months.
The software is used several different ways and to show different aspects for each drive. We've chosen to use this software to show the performance of a drive with two different data sets. The first is with compressible data and the second data set is incompressible data. Several users have requested this data in our SSD reviews.
0-Fill Compressible Data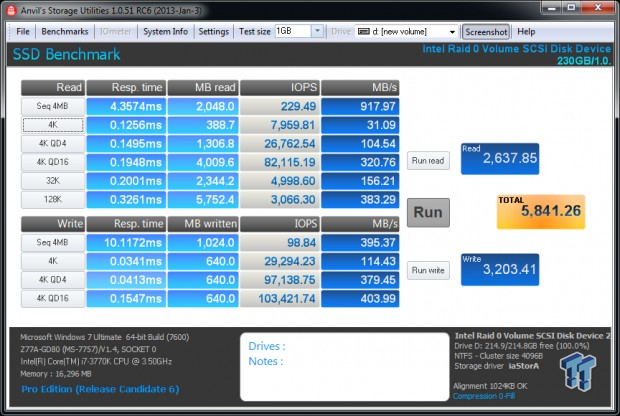 Incompressible Data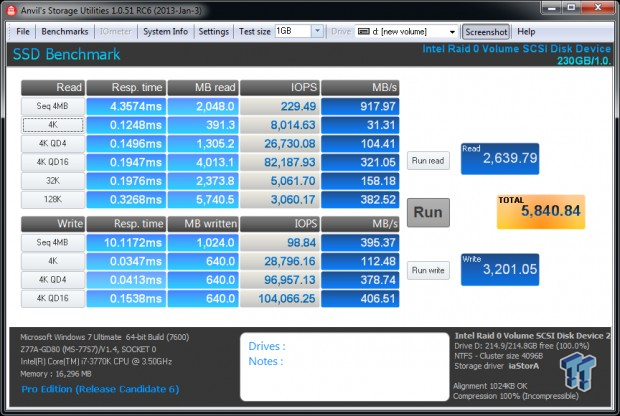 It doesn't get much more even than that. Vector performs the same with compressible and incompressible data.
Read IOPS through Queue Depth Scale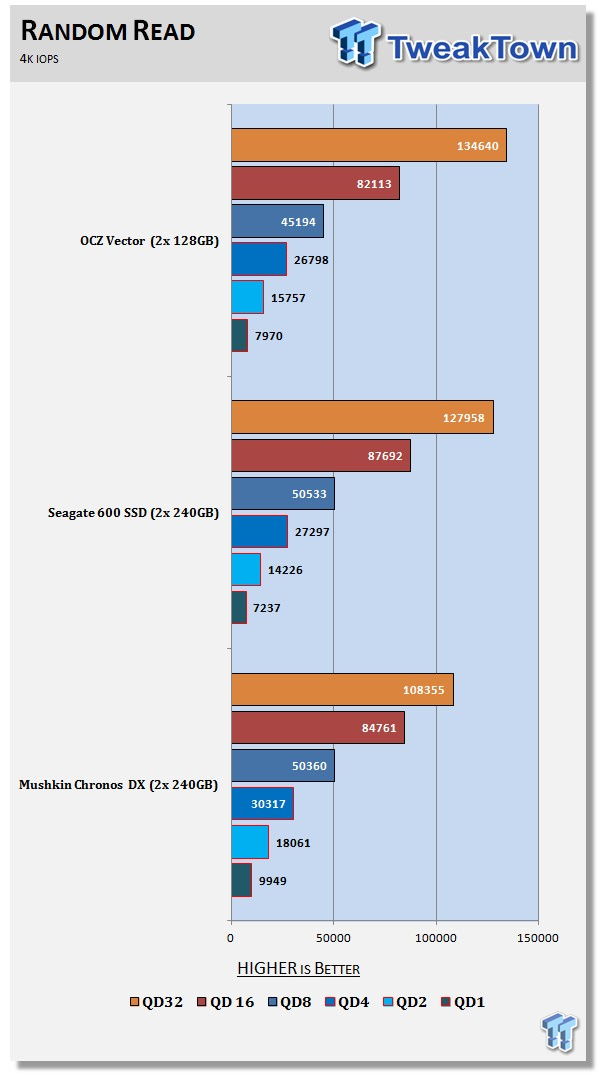 While scaling the queue depth in 4K reads, we see that low queue depth performance doesn't increase much from a single SSD. Higher queue depths see a performance increase at 4K.
Scaling Write IOPS through Queue Scale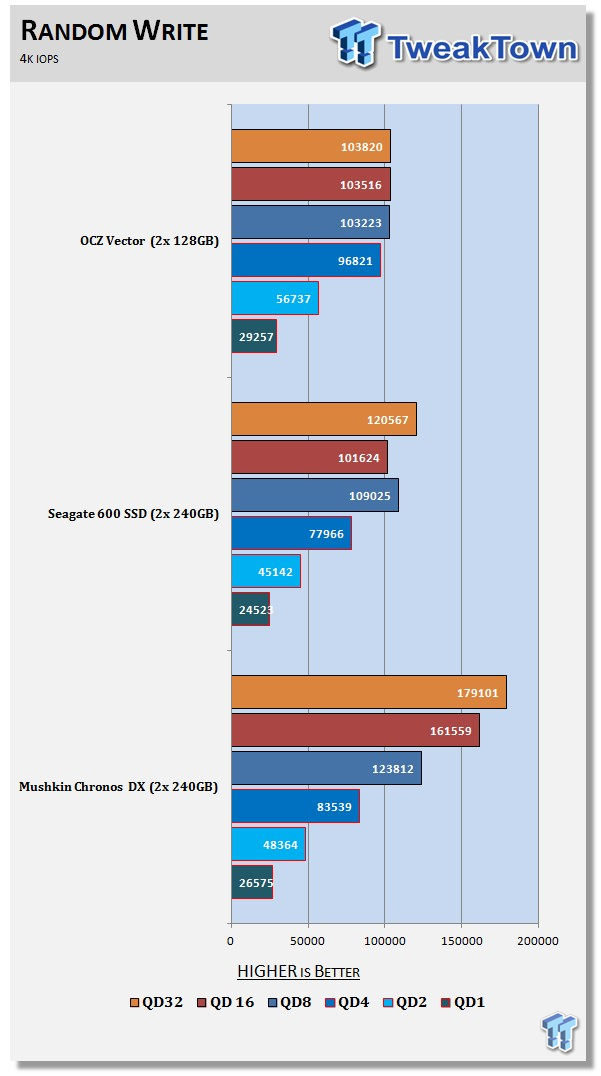 4K writes have the same effect, lower queue depths at small block sizes don't get a big increase, but higher queue depths do. Low queue depth reads and writes with larger block sizes do see an increase, as you'll see on the next page.
Benchmarks - CrystalDiskMark
CrystalDiskMark
Version and / or Patch Used: 3.0 Technical Preview
Developer Homepage: http://crystalmark.info
Product Homepage: http://crystalmark.info/software/CrystalDiskMark/index-e.html
Download here: http://crystaldew.info/category/software/crystaldiskmark
CrystalDiskMark is a disk benchmark software that allows us to benchmark 4K and 4K queue depths with accuracy.
Key Features:-
* Sequential reads/writes
* Random 4KB/512KB reads/writes
* Text copy
* Change dialog design
* internationalization (i18n)
Note: Crystal Disk Mark 3.0 Technical Preview was used for these tests since it offers the ability to measure native command queuing at 4 and 32.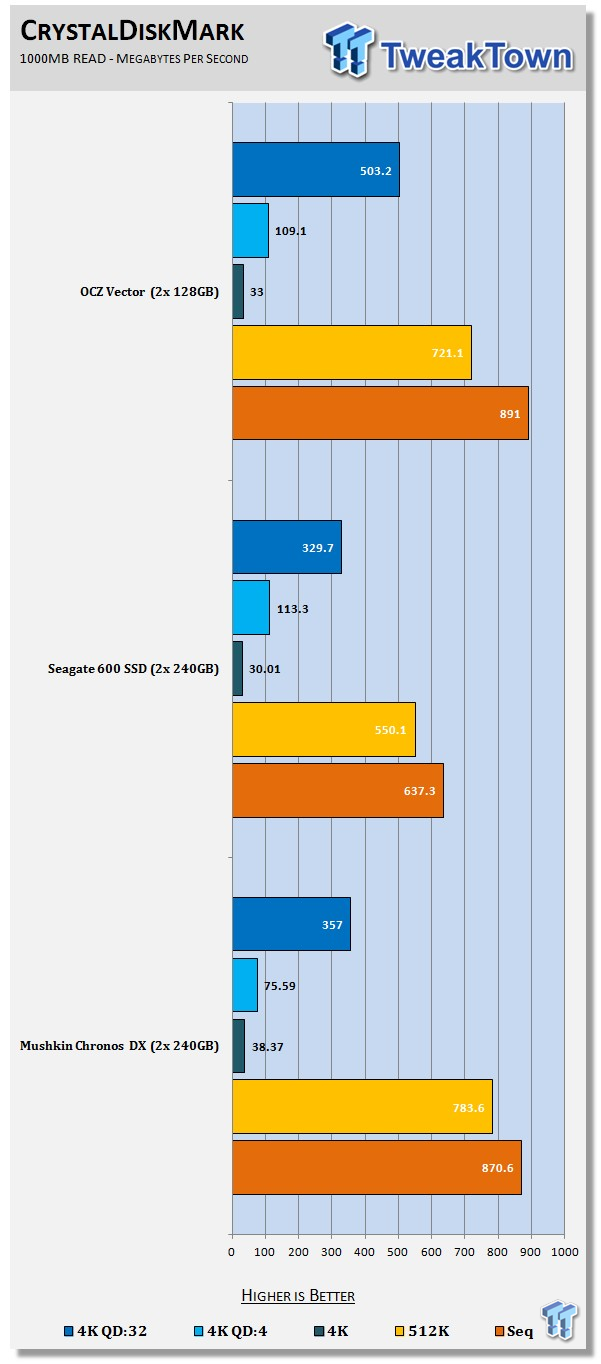 Here we see the sequential read performance in CrystalDiskMark. Even though Vector has a disadvantage from the lower capacity drives, it still manages outperform the other RAID arrays in sequential reads.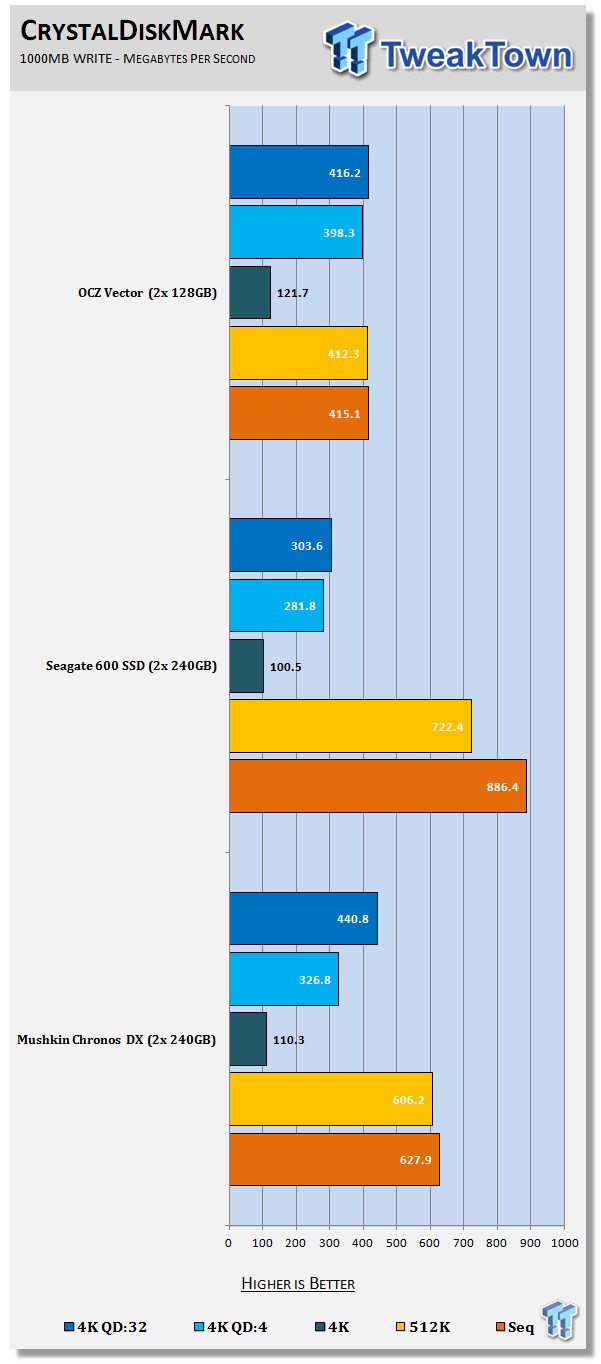 OCZ's Vector has the best 4K write performance of any SSD on the market today. The RAID 0 4K test carries that performance level over.
Benchmarks - PCMark Vantage Hard Disk Tests
PCMark Vantage - Hard Disk Tests
Version and / or Patch Used: 1.0.0
Developer Homepage: http://www.futuremark.com
Product Homepage: http://www.futuremark.com/products/pcmarkvantage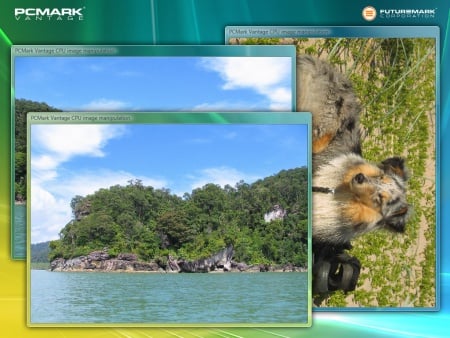 PCMark Vantage is the first objective hardware performance benchmark for PCs running 32 and 64 bit versions of Microsoft Windows Vista. PCMark Vantage is perfectly suited for benchmarking any type of Microsoft Windows Vista PC from multimedia home entertainment systems and laptops to dedicated workstations and high-end gaming rigs. Regardless of whether the benchmarker is an artist or an IT Professional, PCMark Vantage shows the user where their system soars or falls flat, and how to get the most performance possible out of their hardware. PCMark Vantage is easy enough for even the most casual enthusiast to use yet supports in-depth, professional industry grade testing.
FutureMark has developed a good set of hard disk tests for their PCMark Vantage Suite. Windows users can count on Vantage to show them how a drive will perform in normal day to day usage scenarios. For most users these are the tests that matter since many of the old hat ways to measure performance have become ineffective to measure true Windows performance.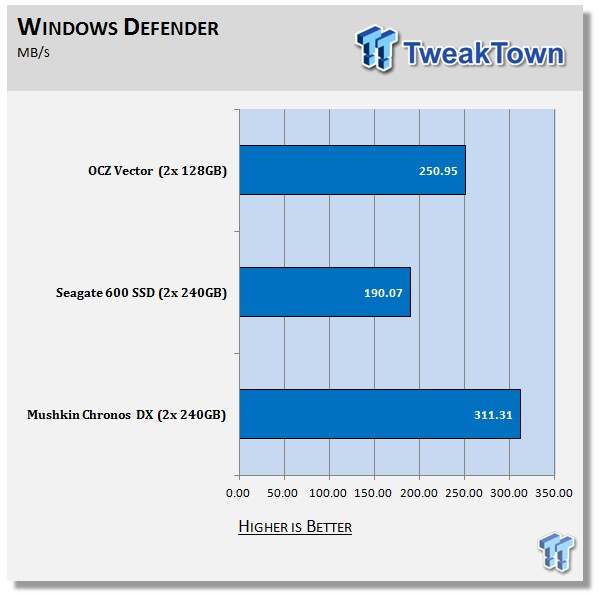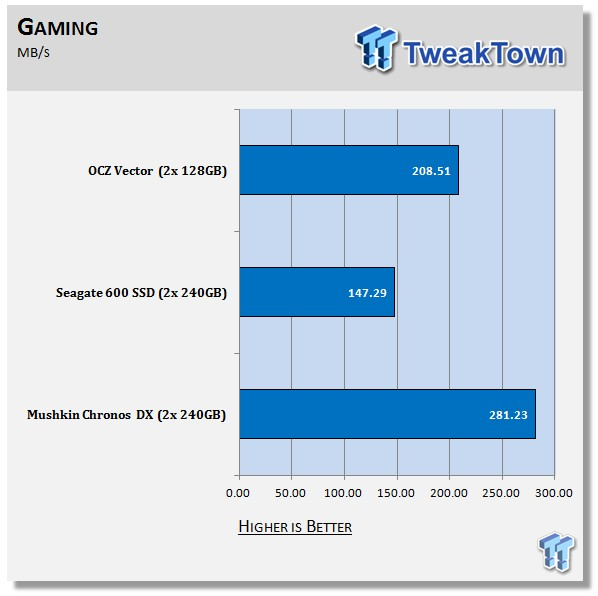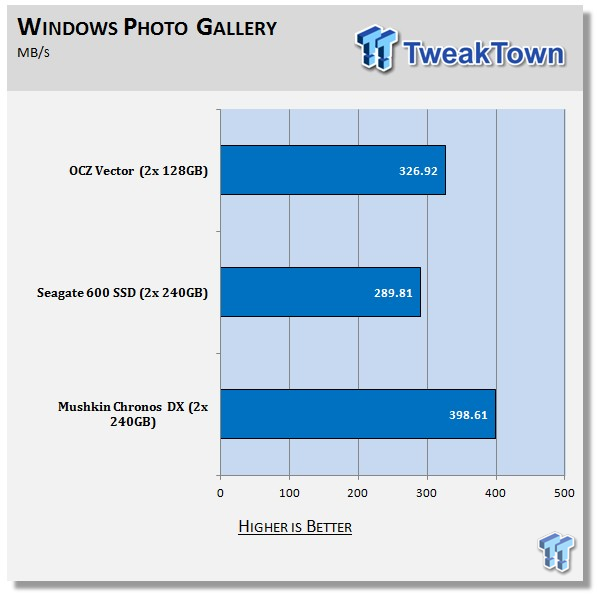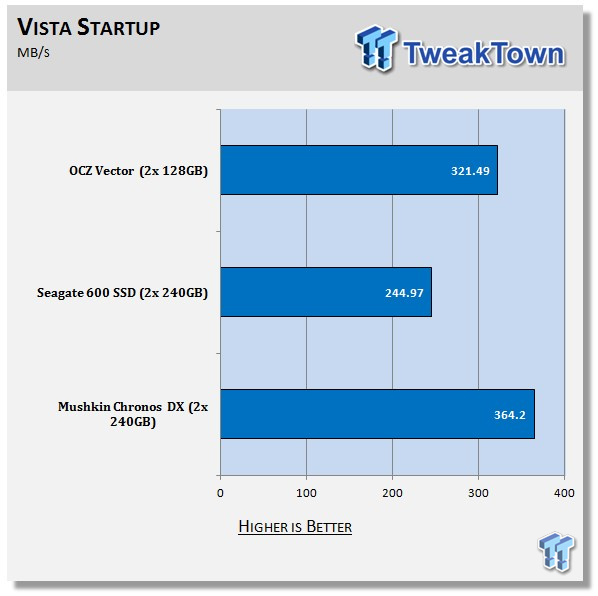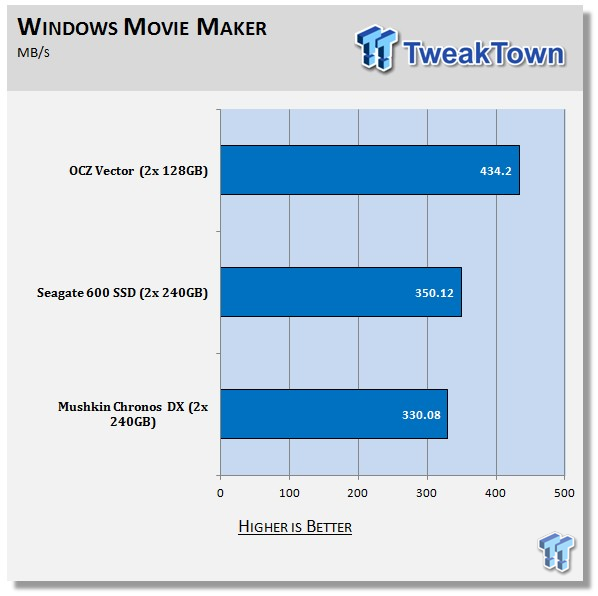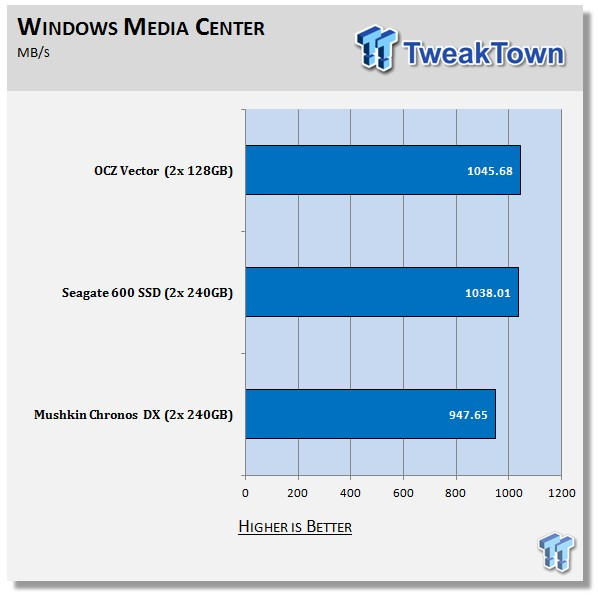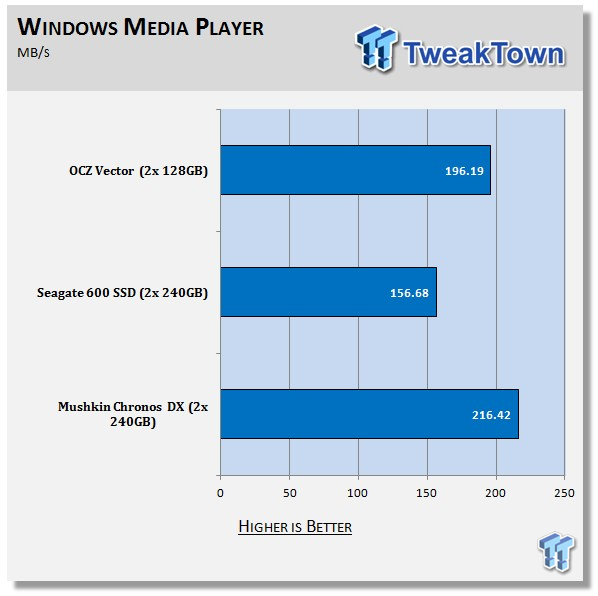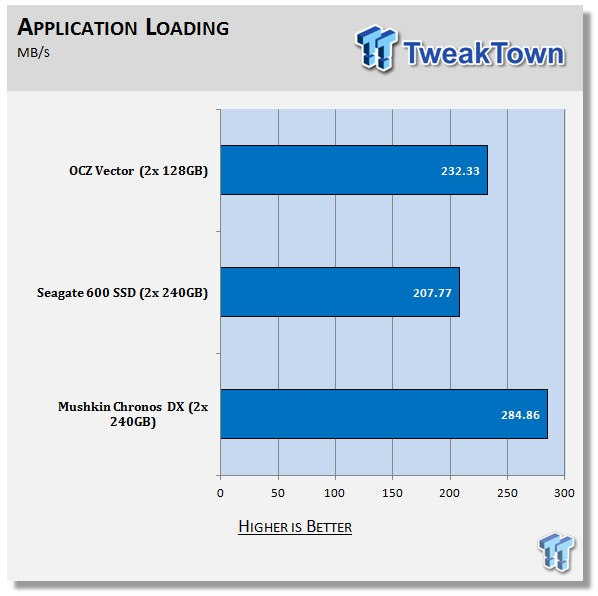 The daily use benchmarks in PCMark Vantage show how some drives perform better than others in specific applications. Tuning the array with different stripe sizes can increase performance in some benchmarks, but the down side is it reduces performance in others.
The pair of Vector 128GB drives does well with the general 16KB stripe size.
Benchmarks - PCMark 8 Hard Disk Tests
Version and / or Patch Used: 1.0.0
Developer Homepage: http://www.futuremark.com
Product Homepage: http://www.futuremark.com/products/pcmark8
Note: PCMark 8 Storage benchmark is ideal for testing the performance of SSDs, HDDs and hybrid drives. Using traces recorded from Adobe Creative Suite, Microsoft Office and a selection of popular games, PCMark 8 Storage highlights real-world performance differences between storage devices.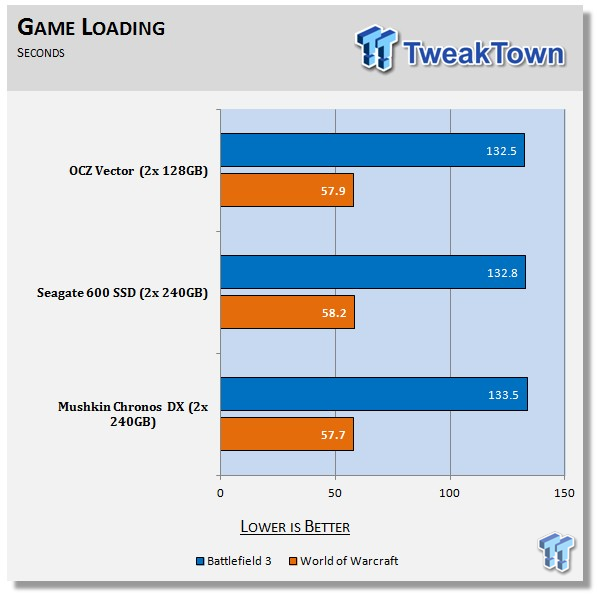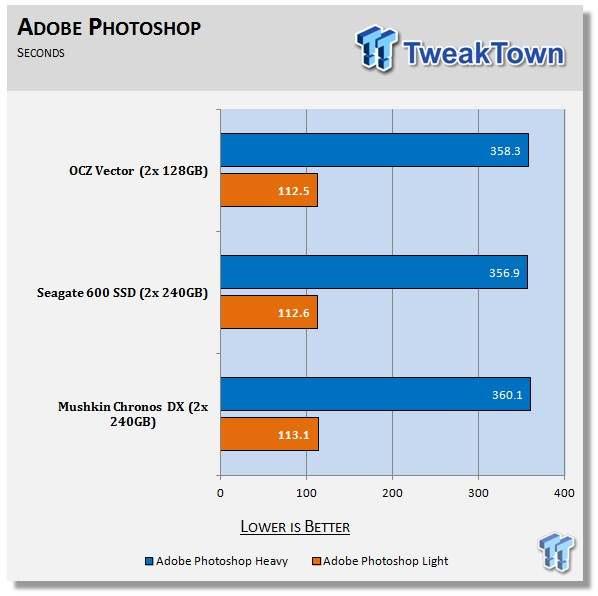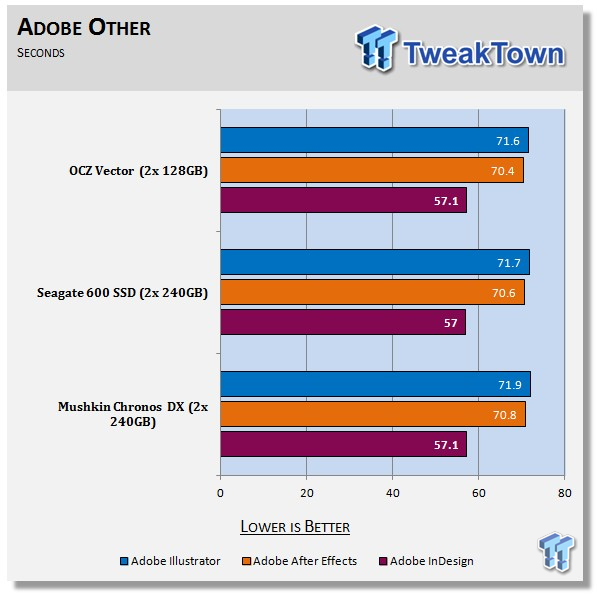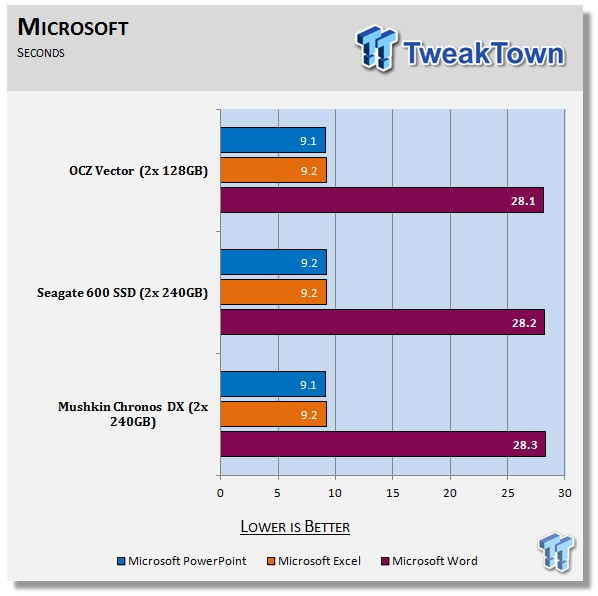 PCMark 8 delivers the results in seconds instead of megabytes per second. Here we see that the difference in performance is much closer than the previous benchmarks would lead us to believe.
Final Thoughts

When Vector came to market, we were already talking about $1 per GB and at the time, OCZ had some products priced as low as $.50 per GB. Vector's $139.99 price was higher than many of the other products on the market at the time, but its performance justified the higher price. Vector is still the fastest 128GB SSD on the market, even a year after its release. The new price, $79.99, is really good in context for what the drive is and how it performs.
Regardless of performance though, the 128GB SSD is now out of favor regardless of price. It's not a lot of capacity in an age when a single game can take up 15GB and Windows / Office takes nearly 30% of the capacity, before other applications are stacked on top of that.
OCZ's lower price point and marketing of Vector 128GB as a RAID product was a good move and we hope our article shines some light on the possibilities. RAID doesn't always improve low queue depth performance when setup for general use, but it's possible to accelerate any specific area, as long as you are willing to take a hit at the other end of the scale.
Intel's unique TRIM feature in RAID just received a nice upgrade as well with new Z87 based motherboards. Z87 has six SATA III ports native and the TRIM feature carries over to even larger arrays. Older chipsets only included two native SATA III ports.
We'll have some larger array coverage soon now that we have our Z87 with Windows 8 issues sorted.
PRICING: You can find products similar to this one for sale below.

United States: Find other tech and computer products like this over at Amazon.com

United Kingdom: Find other tech and computer products like this over at Amazon.co.uk

Australia: Find other tech and computer products like this over at Amazon.com.au

Canada: Find other tech and computer products like this over at Amazon.ca

Deutschland: Finde andere Technik- und Computerprodukte wie dieses auf Amazon.de
We openly invite the companies who provide us with review samples / who are mentioned or discussed to express their opinion. If any company representative wishes to respond, we will publish the response here. Please contact us if you wish to respond.