Introduction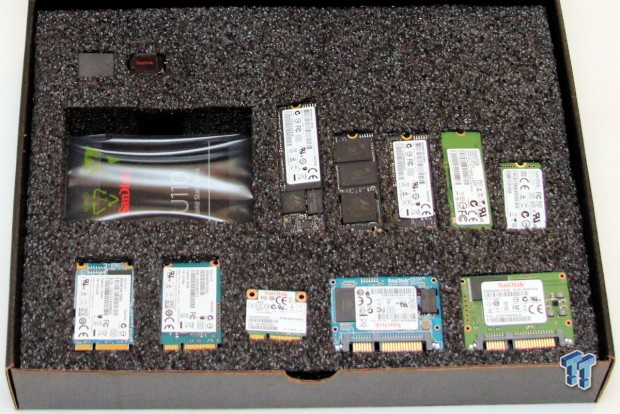 At Computex Taipei in June, we started the NGFF story with a pair of ADATA next-generation drives in preview form. At the time, we stated that SATA based NGFF SSDs were only part of the next gen formula. The shoe has finally dropped and we can now preview the world's first PCIe based NGFF product.
It's not a secret that our market is diversifying. NAND flash, although now decades in production, has simply changed our lives. Without it we would all still carry around plastic disks for our music, have 200 pound TVs and boot our computers in the time it takes to brew a cup of coffee. It's almost unfathomable to understand the reach NAND flash has. If you have a device that plugs into the wall or has a USB port, it most likely has flash in it. In the image above, we see several of SanDisk's new 2013 products and as you can see, they come in all shapes and sizes. Over the coming weeks we'll explore many of these products and discuss NAND flash use in unsuspecting products like casino games, digital signage and mobile devices. Many of these devices don't require bus blistering performance, but that's not what we're going to talk about today.
One affect NAND flash has had on the computer market is the ability to scale performance faster than the standards committees can keep up with. With platter based disk drives performance improvements came in a few tens of MB/s, with SSDs in just a short time, we went from 100MB/s to all out madness. Today's madness is native PCIe and it's called the SanDisk A110.
Based on the new Marvell 88SS9183-BNP2 controller with SanDisk built firmware, the A110 is the first PCIe based NGFF consumer product to break through the limits of SATA and deliver a powerful successor to the chains that bind our user experience.
Today we're taking a brief look at the new A110 and showing a few benchmarks ran in our hotel room at Flash Memory Summit. We want to thank SanDisk for the opportunity and Jon Coulter for providing us his SSD review system for a couple of days.
A110 Specifications and Drive
A110 Specification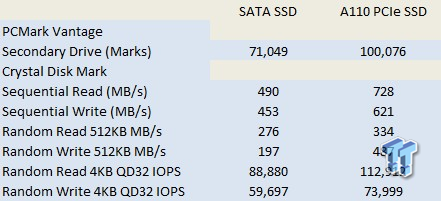 We whipped up a general specs images of what to expect from some of our tests. Breaking 100K marks in Vantage is obviously a massive accomplishment, but surpassing the SATA III limits in sequential reads and writes makes my heart skip a beat. When meeting with SanDisk today, I damn near broke out a Harlem Shake.
SanDisk A110 Benefits
Supports multi-stream for improved user experience in multi-tasking

Supports TRIM command

Minimal write amplification

Tiered Caching - volatile and non- volatile cache (not used today)

Supports ATA-register and command set

AHCI Support

SMART feature supported

Host independent details of erasing and programming flash memory

Sophisticated system for error recovery including powerful ECC

Advanced automated power management

Dynamic and static wear-leveling to extend SSD life
Initially SanDisk will offer the A110 in two capacity sizes - 128GB and 256GB. The form factor is M.2 2260 and it rides the PCIe 2.0 x2-lane highway. The sequential read performance should be in the neighborhood of 725MB/s (!) and sequential writes are 620MB/s. The claimed IOPS performance is just as impressive with over 110K 4K read with a consumer workload and 73K write IOPS. SanDisk used their advanced nCache on the A110, the flash technology we still feel is the best in the business after a long run testing products like the Ultra Plus and Extreme II.
The claimed performance doesn't meet that of two single 2.5" SATA III SSDs in RAID 0, but it's close enough for a single drive to change the way we define performance SSDs.
The SanDisk A110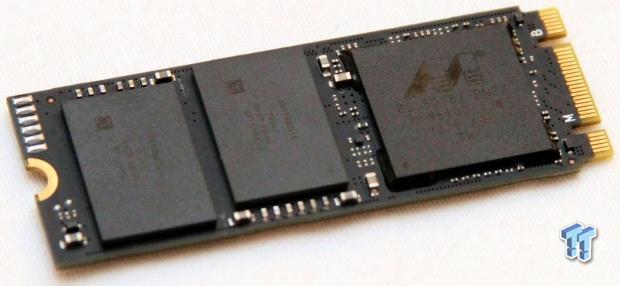 The SanDisk A110 256GB sample has three chips on the primary side, two 19nm SanDisk Toggle 2.0 with nCACHE and a new Marvell PCIe to NAND Flash controller.

On the other side, we found two more NAND flash packages with a Hynix DRR3 DRAM buffer.
Enough with the tech talk, let's get down to business and see what the next generation of computers will use for storage.
A110 Performance Preview
Sequential Reads and Writes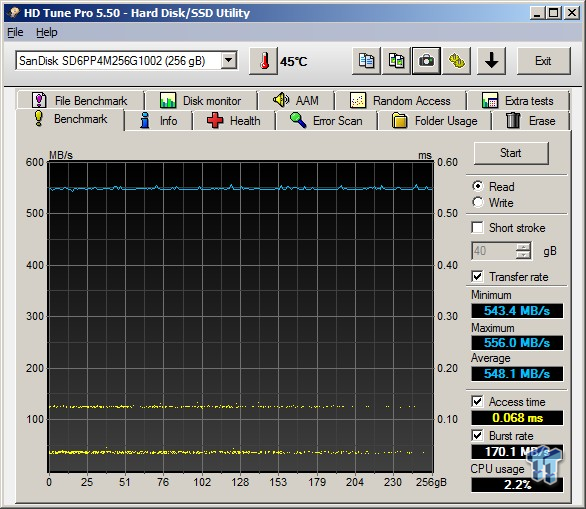 In HD Tune Pro we found a solid 100MB/s of sequential read performance over the best 2.5" SATA SSDs in this test under the same conditions.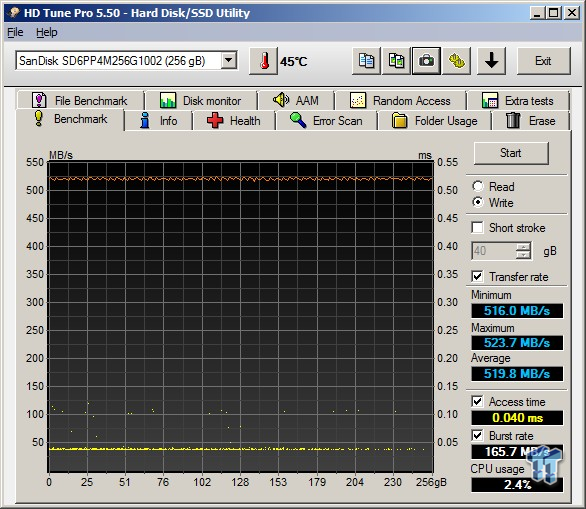 The same can be said with the sequential writes. The performance in a clean state is impressive, but it only gets better from here.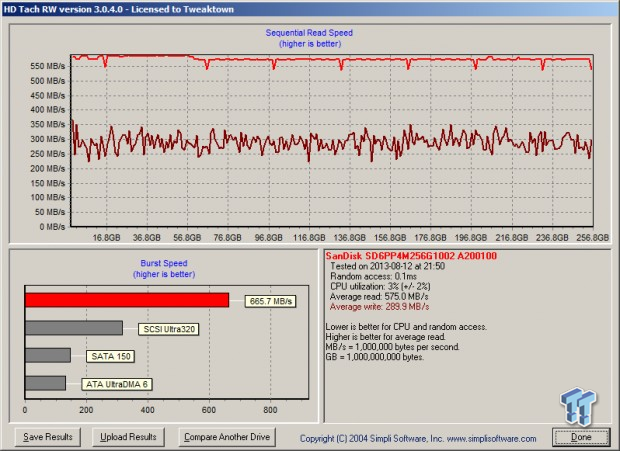 After a realistic amount of 4K writes, we ran HD Tach to see where the write performance fell into place. We saw a drop in write performance, but not as bad as we see with many of the newer SATA III products on the market with 20nm flash.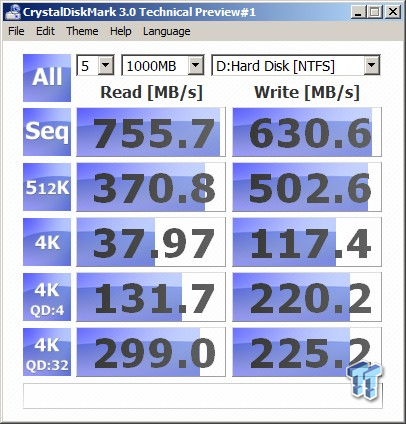 Moving down the list we were surprised to see the 4K reads under 40MB/s. Given the direct to CPU interface, we just expected a little more, but this isn't our first PCIe NGFF SSD to run this test.
At the 2013 Samsung Global SSD Summit the Samsung beta didn't surpass 40 MB/s in 4K reads in this same test.
A110 Performance Preview (cont.)
Latency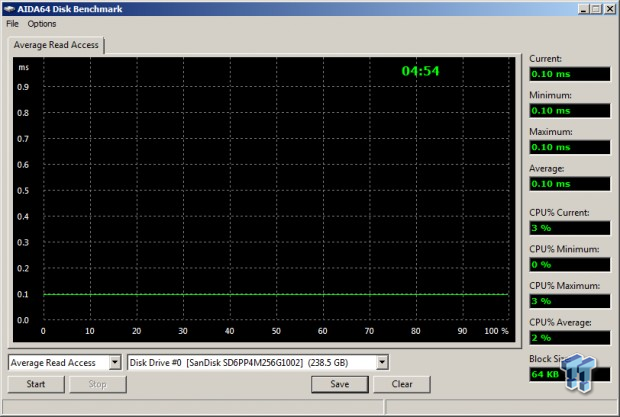 Riding on the PCIe bus directly to the CPU will deliver amazing latency numbers, but the motherboard we used for this test incorporates a PLX PCIe switching chip that may or may not get in the way of delivering the best performance possible. Over the next few weeks we've perform more tests on motherboards without PCIe switching.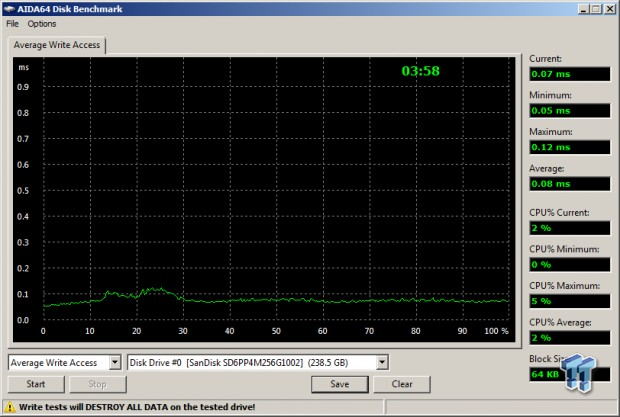 After running through several products with 20nm MLC and 19nm TLC flash, keeping write latency under 13 ms is like finding a new old stock Walter Payton jersey on EBay. We thought it was gone forever, but it appears PCIe based NGFF is the answer to NAND flash latency increases.
PCMark Vantage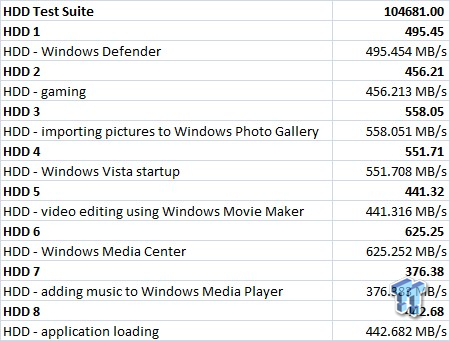 Of every test we'll show today the PCMark Vantage performance is the most telling of what you'll expect at home, in your system with the SanDisk A110.
The next generation in NGFF is more than just a form factor, it's a leap in performance.
Final Thoughts

It's easy to get caught up with performance numbers, but NGFF is more than just performance increase. Many of the greatest features we couldn't even test on the road. Features like near instant resume from a deep sleep state, like on your cell phone when you hit the power button to wake up a device, and ultra low power states that extend battery life are two just off the top of my 7AM dizzy head come to mind.
Looking at the size itself, just a few millimeter compared to 7mm for the thinnest 2.5" form factor drive will aid in turning your ultrabook into a super book are the real benefits that will drive innovative designs moving forward.
Sadly, SanDisk positioned the A Series products on the OEM side, but there will be some channel cross over. Certain companies will still carry these products, but we're pushing for desktop variations for enthusiasts and prosumers. Companies like SanDisk value our opinions, but the OEM market is where the big checks come from. If you want the opportunity to be an early adapter of this truly next great revolution in storage, you need to make your voice heard.
At the bottom of this page is a comment system, let your voice come though because SanDisk and every other SSD manufacturer is watching. This technology is what I've personally waited for and the proof is in the pudding - it's here right now, but we need to let it be known the politics and red tape are only small obstacles.
The PCIe based NGFF from SanDisk is an excellent starting point that surpassed my expectations. Look for a full review in the coming weeks after we get back to a full testing lab. Till then, if your want to talk SSDs, then meet TweakTown at booth 900 at the Flash Memory Summit 2013.