A look at SanDisk's Extreme II SSD Architecture
Today SanDisk launches a new flagship SSD for the enthusiast market. We'll have three reviews with performance data, but to start today out, let's take a look at what Extreme II has under the hood.
Published
4 minute read time
Introduction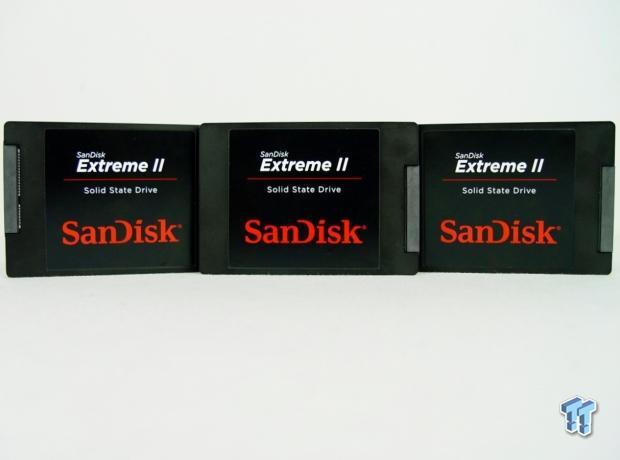 The SanDisk story is fascinating. One of three company founders, Dr. Eli Harari, is the father of flash. His work at Toshiba with Floating Gate EEPROM was dubbed 'Flash' because it was able to write data in a flash. After leaving Toshiba to start SunDisk with Sanjay Mehrotra (former Intel) and Jack Yuan (former Hughes Electronics), the three set out to develop non-volatile memory for digital cameras. Later renamed to SanDisk, the company is now involved in much more than the flash cards we associate with the SanDisk name.
SSD shipments grew 22% between 4Q 2012 and 1Q 2013 and in that time SanDisk moved into the number two spot by number of units shipped. Positioned just behind Samsung (31.3%), SanDisk's market share was 16.8% - not bad for a company that flew under our radar until the performance class Extreme SSD hit our labs in early 2012.
Today the company releases the follow up to the Extreme SSD, the Extreme II. More of a revolutionary than evolutionary part, Extreme II uses a new controller architecture and the most advanced NAND flash on the market today.
Rather than trying to lump all of this information into the three capacity size reviews of Extreme II today, let's cover the new architecture in this article and then look at the reviews of the three capacity sizes in review form throughout the day. That way we can keep each review to a coffee break size and still compare each capacity size to equal sized products.
Marvell 88SS9187 Controller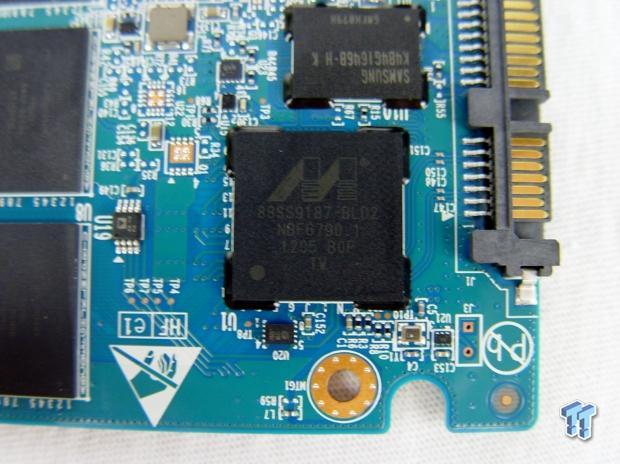 This isn't the first time we've ran across the Marvell 88SS9187 controller. First introduced in the Plextor M5 Pro and later revised in the M5 Pro Xtreme with a firmware update, the 9187 when paired with 128GB of MLC NAND produces the highest performance results in that capacity size.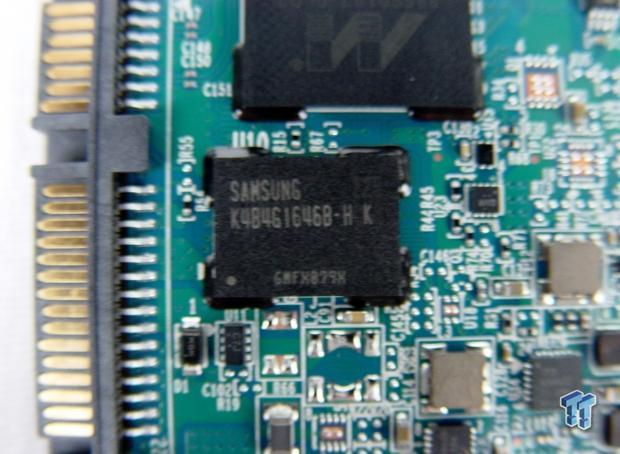 Just having the hardware isn't enough these days, Marvell hands over the hardware and a few guides, but in order to get real performance out of the 9187 controller, you have to write quality firmware. Instead of hiring LiteON or MemoRight, SanDisk tackled the task on their own and delivered one of the best initial firmware releases for Marvell hardware we're tested to date.
Using a Marvell controller also means backing the controller with DRAM to cache table data. Two of our capacity size Extreme II SSD's used Samsung DRAM and the other used Hynix DRAM. The DRAM capacity scales up to 4GB and all three spec sheets we found showed DDR3 with 1.5v requirements.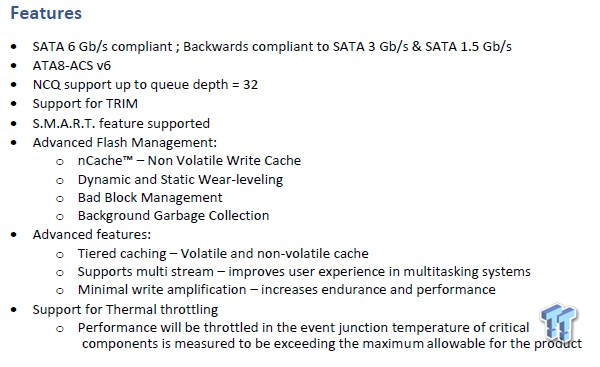 In the Features List above, we can see a set of standards the new Extreme II conforms to. Most of the Feature List is about the DRAM and flash, though.
SanDisk 19nm MLC Toggle with nCache - The Secret Weapon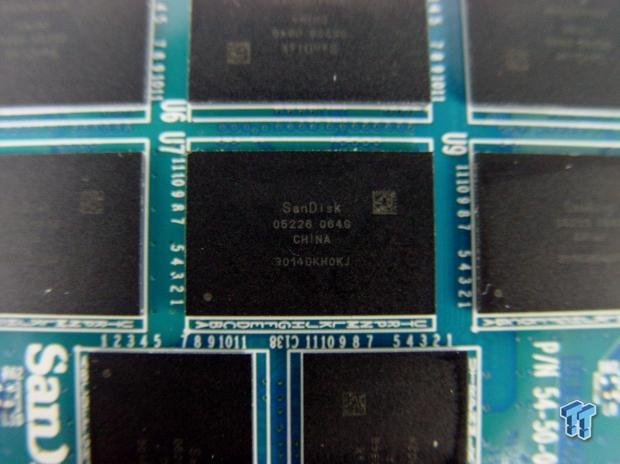 We've also run across SanDisk's 19nm Toggle Mode flash before as well and not just in SanDisk branded SSD's. The 19nm flash used in Extreme II is the same flash we found in SanDisk's Ultra Plus. The flash is truly special as we found in Ultra Plus, a 4-channel SSD designed for mainstream performance. We rarely see 4-channel designs outside of the mSATA standard. The last popular 4-channel 2.5" SSD that I recall was the original Indilinx Barefoot. For SanDisk to make a 2.5" SSD that manages to outperform products like the Samsung 840 and even give LSI SandForce drives a run for the money, something has to be special.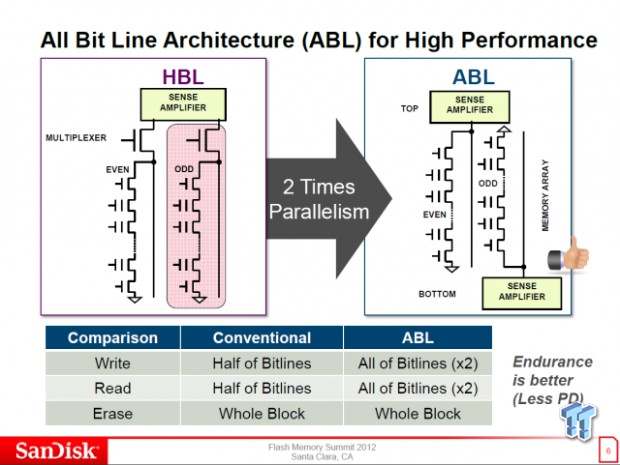 What's special is the NAND flash and the All Bit Line (ABL) is paired with the Marvell controller in Extreme II. ABL works like double data rate (DDR) effectively, but that isn't the only thing special about Extreme II's flash.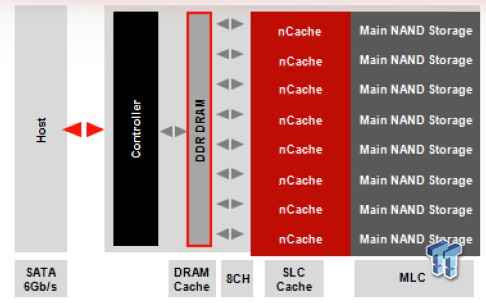 nCache returns, another carry over from Ultra Plus. nCache is a layer of MLC flash that works in SLC mode. MLC or 2-bits per cell flash can be controlled by the controller to store just one bit, like SLC and use that faster programming to cache NAND flash writes. Since it's still NAND, it's non-volatile, meaning once the flash has your data, it's not susceptible to loss with a power failure.
Over the last few months we've spent a lot of time with both 19nm and 20nm flash. The 19nm Toshiba / SanDisk flash performs much closer to 24nm, than 20nm IMFT does 25nm. So far, the only 20nm product we've really liked was the Crucial M500 960GB. The other 20nm drives are simply slower than their 25nm versions, and the write latency is significantly higher.
This is how SanDisk explains the DRAM / Flash relationship:
The SanDisk Extreme II SSD supports a unique feature to improve random write performance and ensure very positive user experience. Studies show that modern operating systems mostly access the storage device using small access blocks, with the majority being 4 KB access blocks. The small logical access blocks conflict with the physical block structure (>1 MB) for the newer generation flash memory technology. Therefore, to bridge this difference, SanDisk SSD employs three storage layers:
Volatile cache - DDR DRAM cache
nCache - A non-volatile flash write cache
Mass storage - MLC NAND flash
The nCache is used to accumulate small writes (called segments) at high speed and then flush and consolidate them to larger MLC sections of the NAND Flash memory array.
SanDisk's technology innovations like ABL and nCache allow SanDisk to push forward with performance and not move in the wrong direction like we're finding in many of the new products on the market.
Final Thoughts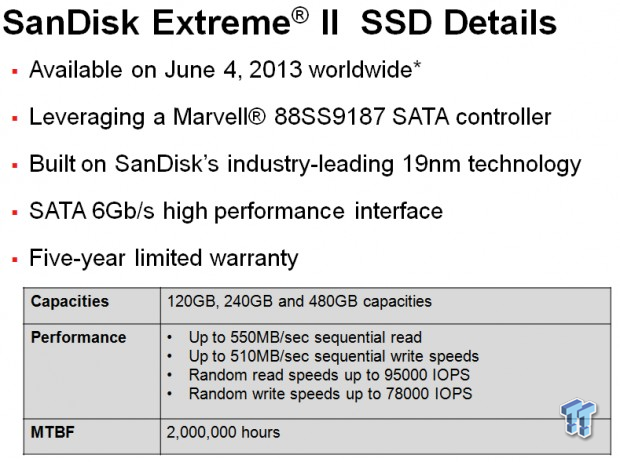 Throughout today, we're publishing three reviews of the SanDisk Extreme II SSD's. All three capacity sizes get apples to apples attention with comparable products of equal size and comparable price points.
Now that we have the architecture out of the way we can streamline the actual reviews and you won't need to read the same technical details over and over. Let's get started with the first review - we're starting with the SanDisk Extreme II 120GB. Find the review on our homepage or storage section archive.
PRICING: You can find products similar to this one for sale below.

United States: Find other tech and computer products like this over at Amazon.com

United Kingdom: Find other tech and computer products like this over at Amazon.co.uk

Australia: Find other tech and computer products like this over at Amazon.com.au

Canada: Find other tech and computer products like this over at Amazon.ca

Deutschland: Finde andere Technik- und Computerprodukte wie dieses auf Amazon.de
We openly invite the companies who provide us with review samples / who are mentioned or discussed to express their opinion. If any company representative wishes to respond, we will publish the response here. Please contact us if you wish to respond.