Corsair SSD Toolbox Software Overview - Better than Never
Corsair has only just released its first multifunction software utility for Corsair branded SSDs. The new tool is simply called 'Corsair SSD Toolbox', but for many Corsair SSD users, it's exactly what they've been waiting for.
Published Fri, May 3 2013 10:00 AM CDT
|
Updated Tue, Nov 3 2020 7:00 PM CST
Introduction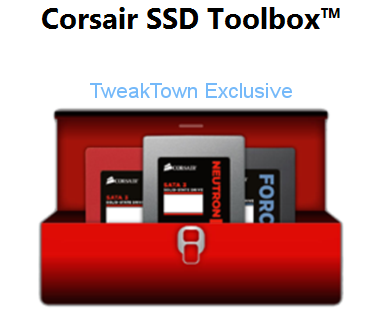 One of the largest distinguishing factors between a number of the large SSD manufacturers and the enthusiast product providers has been a SSD software package. When purchasing an Intel, Samsung or even OCZ SSD, one of the perks has been a collection of software tools built-into a single interface. Most "toolboxes" display status information from SMART attributes, allow for on-the-fly firmware updates with the firmware downloading through the toolbox and the ability to secure erase the SSD without the hassle of making a Parted Magic boot disk. SSD toolboxes are great for a number of purposes and your SSD either has one, or it doesn't.
After years in the SSD business, Corsair decided it was time to have their very own toolbox. Corsair just made two announcements. The first was the availability of a new hardware based HDD / SSD drive cloning kit. The second announcement was for the new Corsair SSD Toolbox.
The Corsair SSD Toolbox software helps Corsair SSD owners to install, configure, optimize and monitor the health of their drives. The Windows compatible software is available as a free download from the Downloads tab of SSD product pages on the Corsair website.
The Corsair SSD Toolbox features:
Drive Information - Displays model, size, firmware, serial number, and other key drive data. Also updates SSD firmware.
Over-provisioning - Allows allocation of SSD space to enhance endurance and performance.
SMART Status - Displays Self-Monitoring, Analysis and Reporting Technology status of drives.
Secure Wipe - Securely erases data from drives.
Optimize - Allows scheduling of TRIM command to optimize SSD performance.
Clone - Copies entire contents of one drive to another (coming in a future update).
Corsair SSD Toolbox Features in Detail
The Corsair SSD Toolbox Features in Detail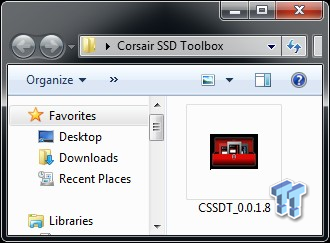 The Corsair SSD Toolbox is an installation executable that installs on your computer. On the previous page, we saw the features list from the press release, and below we have the information from the Toolbox itself.
Let's take a look at that information and then walk through the software. The below text is provided by Corsair.
Overview
Corsair SSD Toolbox is a software suite intended to enhance the user experience for customers using Corsair's SSD (Solid State Drive) products by providing them a set of "tools" to monitor, maintain, and enhance the performance of their Corsair SSD. The tools provided will include drive information, S.M.A.R.T. status and monitoring, overprovisioning, performance optimization (TRIM), firmware updater, disk cloning, and secure data wiping. The full feature set of the Toolbox will only be available when a Corsair SSD is present in a system. In addition, some tools may only be available for use with Corsair SSDs and/or certain models of Corsair SSDs.
Features
Drive Information Tool - This will show you the basic information of every drive in your system. The information displayed will include the drive model number, serial number, firmware version, drive size, ATA version, supported features, drive temperature, and total host reads and writes. In addition, if the drive selected is a Corsair SSD, the user will have the option of checking for the latest firmware versions for supported Corsair SSDs. If a newer firmware version is available, the user will be given the option of downloading and installing the latest version.
Overprovision Tool - The overprovision tool will allow the user to allocate a portion of the free space on the SSD to be used by the controller in the SSD within certain guidelines defined by Corsair. This overprovisioned space created on the drive will allow the controller to better manage and maintain the performance and longevity of the SSD drive. The Overprovision Tool is only enabled for Corsair SSDs.
S.M.A.R.T. Status Tool - This will display the current S.M.A.R.T. (Self-Monitoring, Analysis and Reporting Technology) status of the drive overall as well as the status of individual attributes of the drive. The S.M.A.R.T. Status Tool is enabled for all drives in the system and will function even if there are no Corsair SSDs present in the system.
Disk Clone Tool - This tool copies the contents of the selected source drive to the selected destination drive. The Clone Tool will only be enabled if a Corsair SSD is detected in the system and is selected as the source or destination drive for the cloning. Please note that the destination drive capacity must be equal to, or larger than, the source drive.
Optimize (TRIM) Tool - The Optimize Tool issues a TRIM command to the SSD which tells the SSD which data blocks are no longer in use, such as those left by deleted files. Regular use of the TRIM command will help the SSD maintain maximum performance. TRIM can be run manually or auto-scheduled. The Optimize Tool is only enabled for Corsair SSDs.
Secure Wipe Tool - The Secure Wipe Tool will allow the user to securely delete the entire contents of the drive. This feature will place the drive in its original unformatted RAW state without any file system. The data on your drive cannot be recovered after running a secure wipe. As a safety feature, the Secure Wipe Tool will NOT allow the user to erase the contents of their boot drive. The Secure Wipe Tool is only enabled for Corsair SSDs.
System Requirements
The SSD Toolbox runs on Windows XP SP3, Windows Vista, Windows 7, Windows 8, and Server 2008, including both 32 and 64 bit versions, and all released Service Packs on all Microsoft file systems. Supports SSD drives running on Intel, AMD, and nVidia chipset based systems with TRIM capable storage drivers on SATA host controllers operating in both IDE and AHCI modes and SSDs connected though USB ports using SAT-capable cables and enclosures.
Note1: Some nVidia storage drivers will not properly pass ATA commands to the SSD drive affecting certain functions of the SSD Toolbox. Make sure that your SSD drive is listed as an ATA/SATA device in "Device Manager" - in some cases, your SATA drive may display as a SCSI device in "Device Manager" due to incompatible storage drivers. If you experience these issues, it may be necessary to change your storage drivers to the Microsoft defaults or contact the chipset manufacturer for updated drivers.
Note2: For proper operation of the Firmware Update function, your computer's BI/OS must support AHCI mode. This allows proper communication with serial ATA (SATA) SSD drives and helps to obtain maximum performance from your SSD.
The Toolbox
Drive Information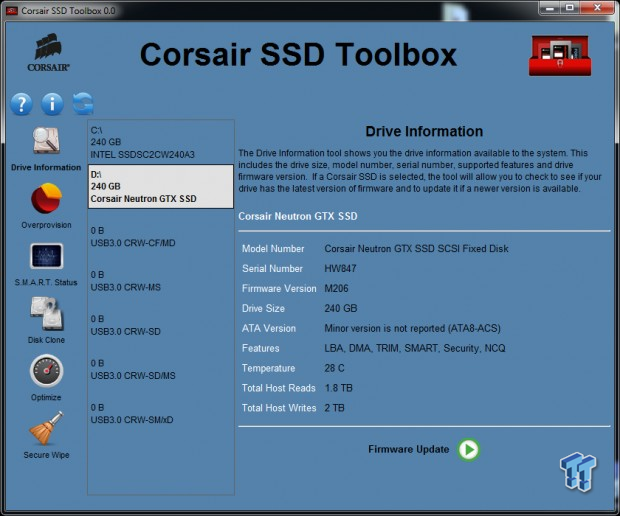 What's the story morning glory? At the start of the program, the Toolbox gives us drive information and you can even update your firmware from this page.
Overprovisioning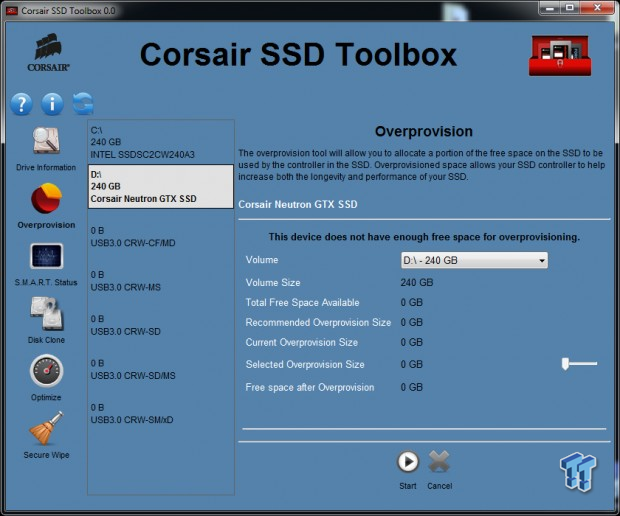 Everyone seems to be talking about further overprovisioning (OP) consumer SSDs these days. Corsair makes it easy to add additional OP space to your Corsair SSD. I did find you need a partition and drive letter on the drive already or the function will not work. With our drive ready we just slid the slider to the right and added an additional 64GB of OP space. You can use the slider to dial in the exact amount of additional OP you want.
SMART Status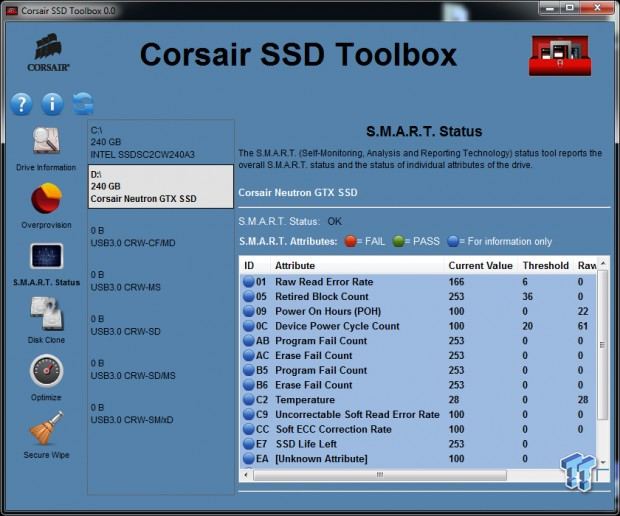 There are a number of SMART readers on the market, but having the feature built-into your toolbox is a nice addition.
Disk Clone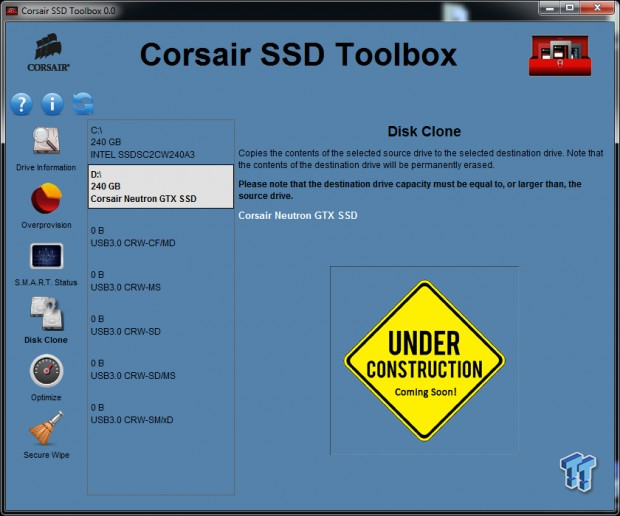 Corsair is still working on the Disk Cloning feature, hopefully it's ready by Computex.
Optimize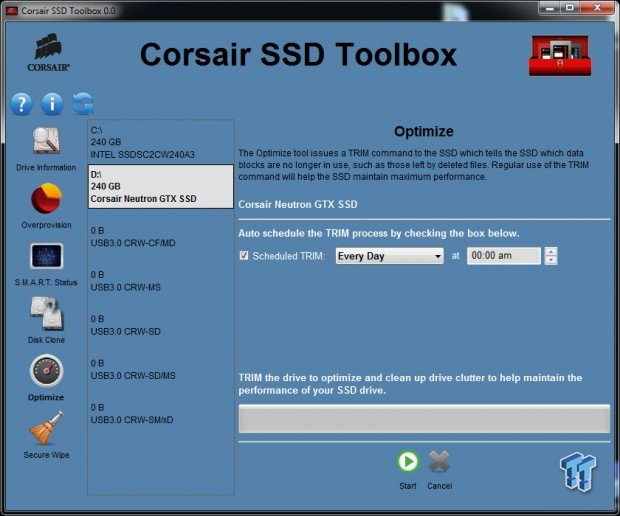 Too bad we didn't have this easy TRIM tool a year ago. You can use the TRIM tool two ways. At the bottom is a one-button solution to send the TRIM command to the drive. At the top you can schedule a TRIM command to take place at a set interval and time.
Secure Wipe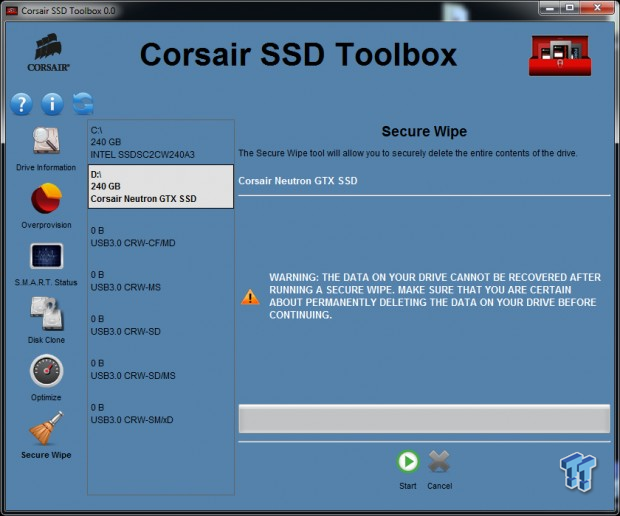 Sometimes you just want to say forget it and start all over. We call it secure erase, Corsair calls it secure wipe.
Updating the Firmware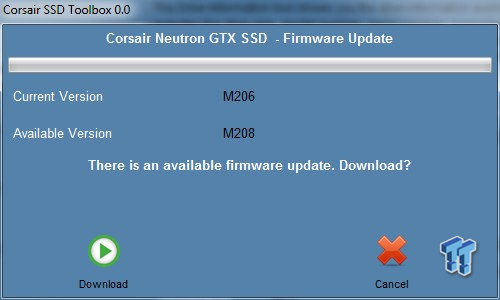 One of my favorite reasons to use a toolbox is the easy firmware update functions. We gave floppy drives the kill of death long ago for updating motherboard BI/OS, but toolboxes allow you to do the same for thumb drives. The software noticed I had an older firmware version on my Neutron GTX 240GB and we got started correcting the problem.
I do want to note that the Corsair SSD Toolbox doesn't give you a choice of what firmware to update to. I never looked to see if Corsair released a version M207. I mention this because you may want to make sure the new firmware is what you really want to move to. Given the problems over at Crucial right now with a mass exodus rolling firmware back, it's always wise to poke around before making the leap.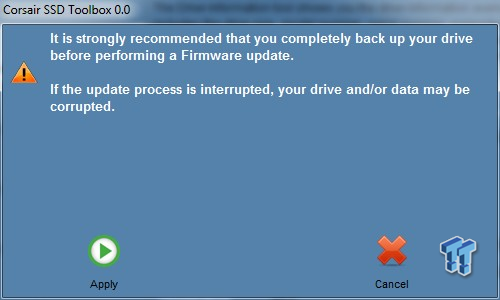 Oh yeah, and do what this warning page says to do.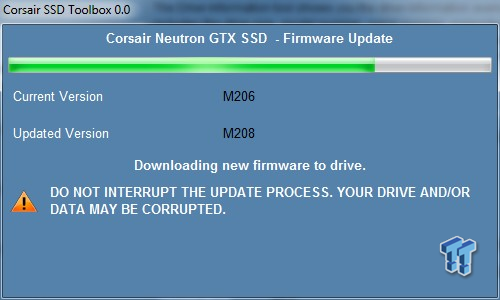 Rolling, rolling, rolling.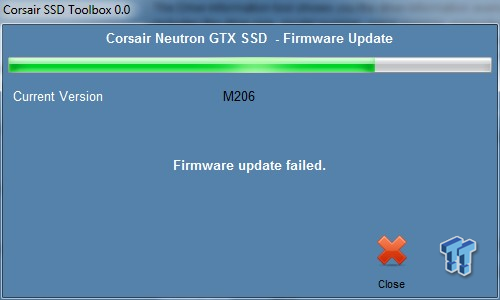 You may want to read the user manual included with the software, too. I glanced over it and didn't see anything about IDE, AHCI or RAID so we proceeded to keep my Intel PCH in RAID.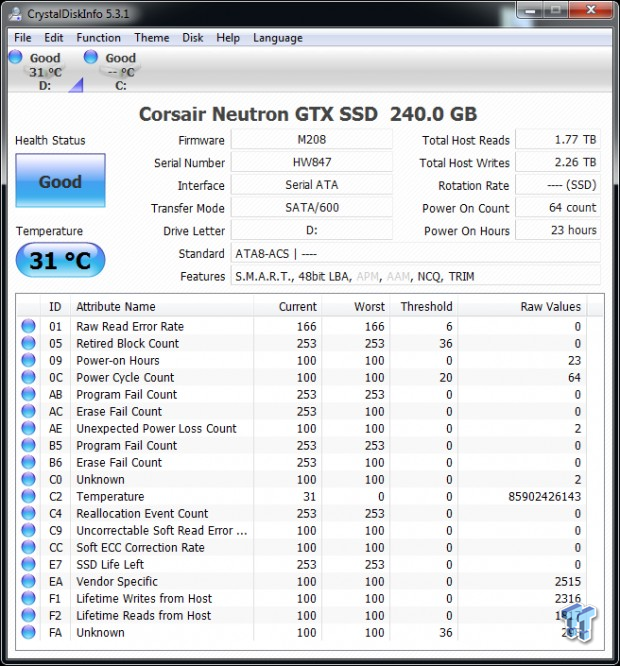 Have no fear, M208 is here. Corsair's SSD Toolbox isn't the first toolbox to kick out an error with a drive running out of an array, but on a RAID configured chipset. Even though we had a warning, the firmware appears to be installed. We ran some tests on the drive and have nothing out of the ordinary to report.
After reporting this data to Corsair they told us our configuration was the reason for the error code. The software has been tested in both AHCI and RAID, but some "in RAID" chipsets give the error and others don't. Even though it worked for us, I'd suggest moving your computer over to AHCI to be safe.
You down with OVP?
Configuring Overprovisioning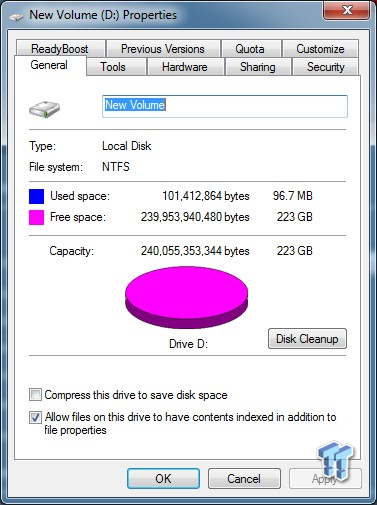 As we mentioned earlier in the editorial, you have to have a partition and drive letter for your Corsair SSD to use the overprovisioning tool in the Toolbox.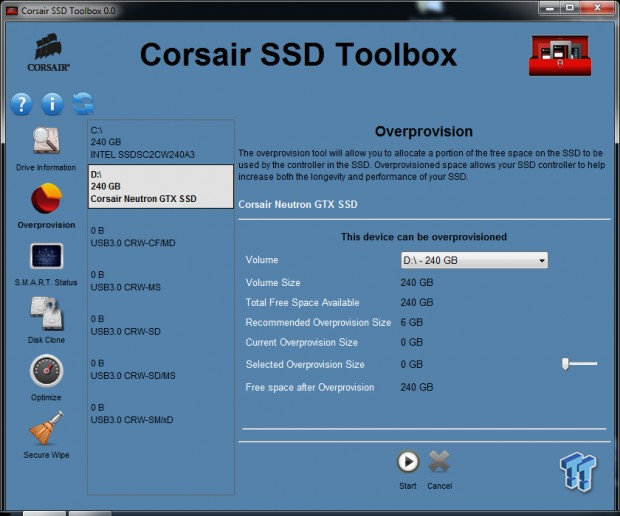 Here we see the OP page. The slider does all of the work, you don't even need to use a calculator to get the alignment right!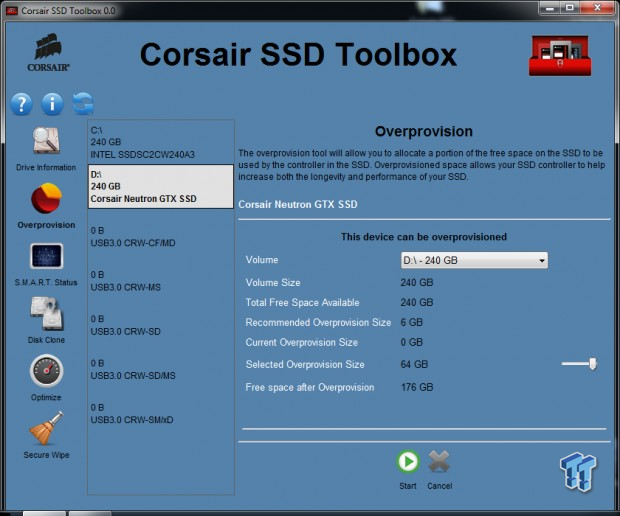 On our 240GB Neutron GTX the software allowed us to grab an extra 64GB of space to section off as reserved space for background tasks.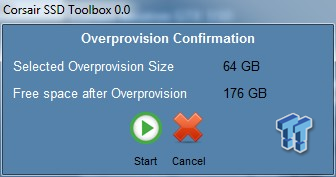 Are you sure?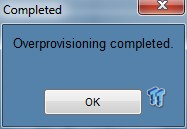 If you say so...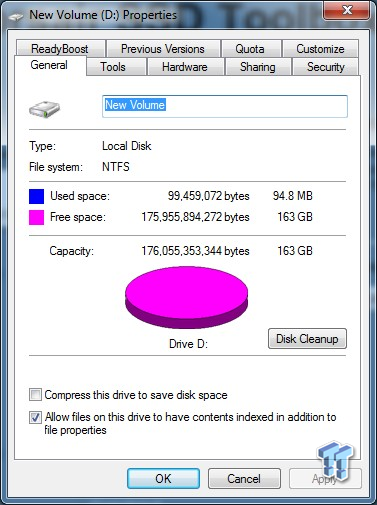 This tool worked perfectly without any fuss.
Secure Erase and Final Thoughts
Secure Erase Tool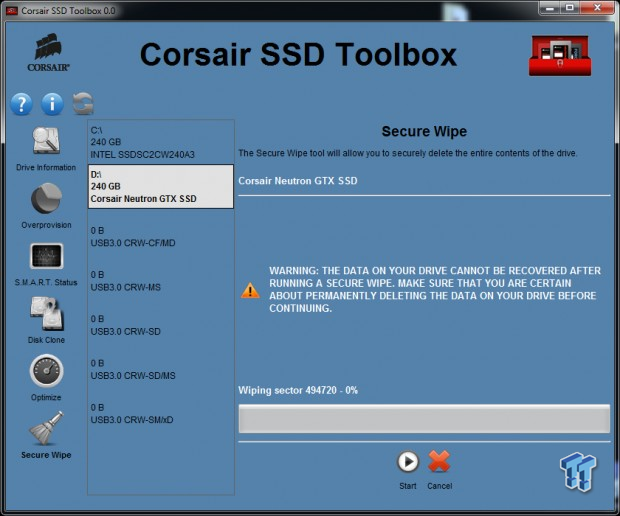 You can't SE the drive you're booting from and you might not want to have the Corsair SSD Toolbox installed on the drive you're secure erasing either.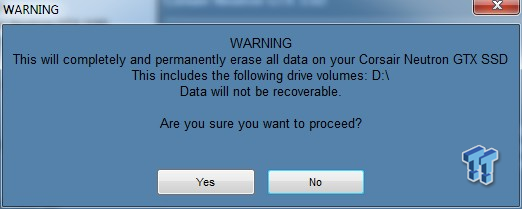 When you secure erase a SSD, you blast the NAND with voltage to erase everything. You will never get that data back, so make sure, literally double check the drive letter.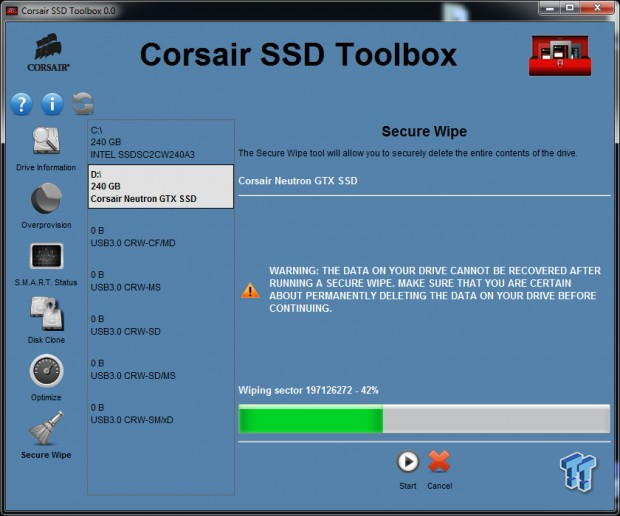 When I secure erased the drive it was full of IOMeter data so the procedure took a little longer. The bar actually went to 100% twice. We had the drive on a data logger to see the power spike during the secure erase process. Power went up during the first pass, but it settled down to an idle power state during the fast second pass.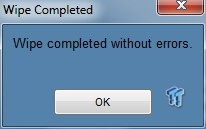 That was much easier than finding my flash drive with Parted Magic.
Final Thoughts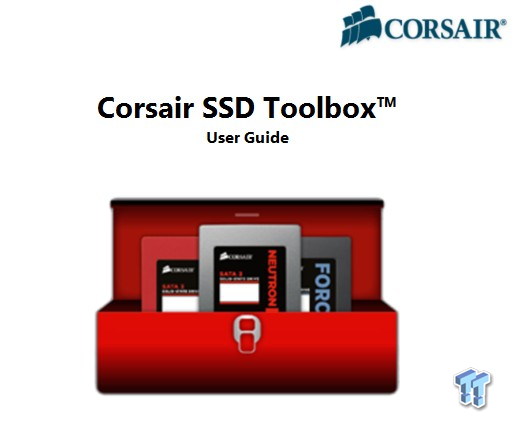 We didn't mention it before, but the Corsair SSD Toolbox also has user guide / help file. We thumbed through the file and found a lot of useful information. The one piece of information is one that I'm sure every Corsair SSD own is asking right now, does this work with my Corsair XXXXXX SSD?
We asked Corsair that same question and they said the SSD Toolbox currently works with all Force 3, Force GT, Force GS, Neutron and Neutron GTX drives with full functionality. Most other Corsair SSDs can use most of the software in the toolbox, other than the firmware update feature.
The Corsair SSD Toolbox is exactly what Corsair needed to move to the next level. Corsair's advanced digital power supplies ship with software tools and it's time for their SSDs to have it as well. How great would it be if Corsair could merge Corsair Link and SSD Toolbox! I don't think that's on the horizon, but it would be a really cool, all-inclusive feature, which could later also link other potential and future Corsair hardware that can be controlled and monitored.
You can download the Corsair SSD Toolbox on Corsair's website now.
PRICING: You can find products similar to this one for sale below.

United States: Find other tech and computer products like this over at Amazon.com

United Kingdom: Find other tech and computer products like this over at Amazon.co.uk

Australia: Find other tech and computer products like this over at Amazon.com.au

Canada: Find other tech and computer products like this over at Amazon.ca

Deutschland: Finde andere Technik- und Computerprodukte wie dieses auf Amazon.de
We openly invite the companies who provide us with review samples / who are mentioned or discussed to express their opinion. If any company representative wishes to respond, we will publish the response here. Please contact us if you wish to respond.
Related Tags