Infortrend Deduplication in Action - Creating more NAS storage space
Today we explore deduplication on the Infortrend EonNAS Pro 510 NAS, and toss in a little compression testing too.
Published Wed, Nov 6 2013 8:01 AM CST
|
Updated Tue, Nov 3 2020 7:00 PM CST
Introduction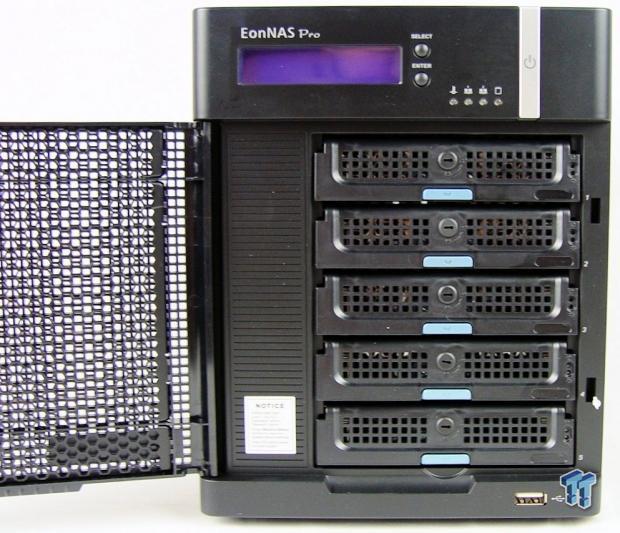 The last time we saw the Infortrend EonNAS Pro 510 was in our review that covered the layout and the performance under traditional tests. What we didn't manage to test was the performance with deduplication, a feature unique to the EonNAS Pro Series at these price points.
Deduplication or dedupe is a compression technique that removes bits of repeating data. The more often a string is repeated, the smaller the overall file and files can become. While dedupe is a form of compression, Infortrend's NAS also has LZJB algorithm data compression that can be used in conjunction with dedupe. Together, you can put more data on your NAS than what you might not normally be able to.
In most cases, that means more data than your HDDs can normally hold. Here at TweakTown, that means we're going to use solid state drives and take a run at building a flash storage NAS that, with dedupe and compression, would be viable for storing data long term.
Infortrend EonNAS Pro 510
Before we get started with testing, let's take another quick look at the Infortrend EonNAS Pro 510. The EonNAS Pro 510 scored a Features Award in our review, but data transfer performance was slower than the fastest on the market in many of our single user tests.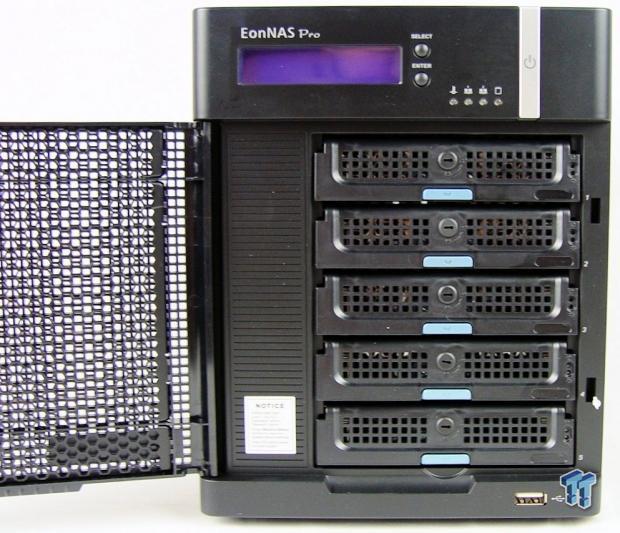 The EonNAS Pro 510 is a five-bay unit that uses a ZFS files system. Older Thecus software had ZFS, but since releasing OS 5, Infortrend is the only NAS manufacture offering the file system in this price range.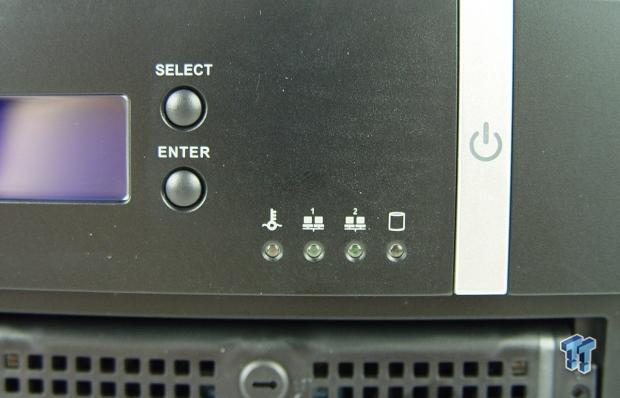 The Pro 510 is feature rich outside of the software features. The unit has a LCD display panel for easy PC-less NAS setup and activity LEDs for network and disk activity.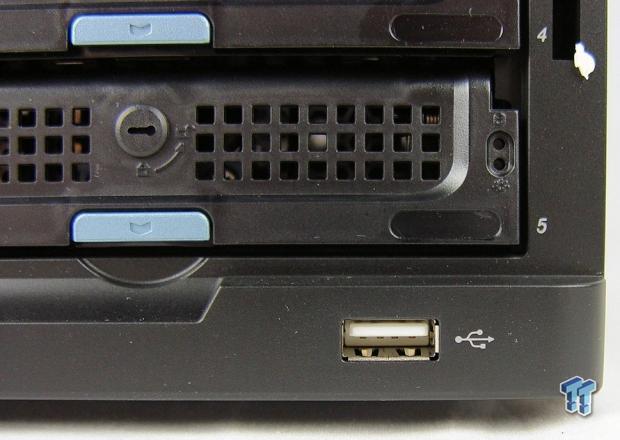 A USB port on the front of the unit.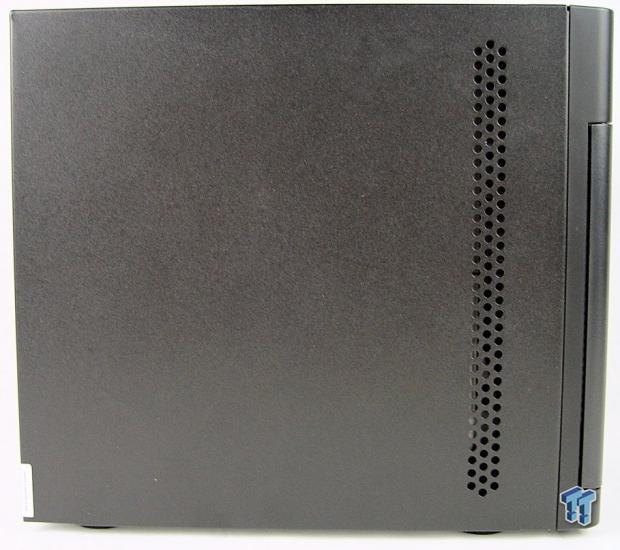 The Pro 510 runs cool thanks to a fan on the back of the NAS and vents on the front and side of the NAS.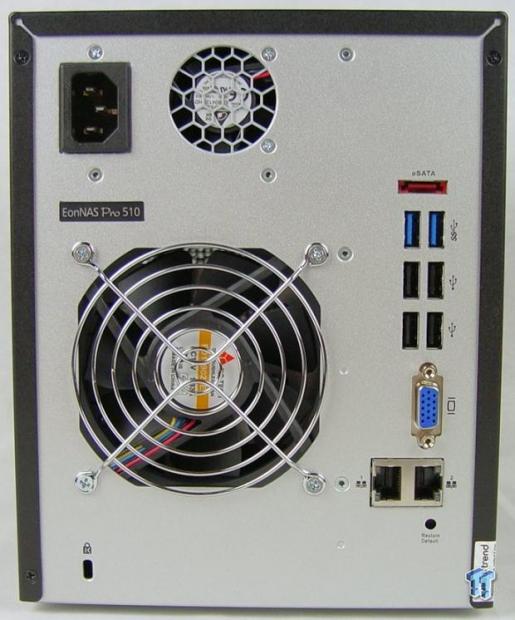 On the back we found several port options that include eSATA, two USB 3.0 ports, four USB 2.0 ports and a VGA port.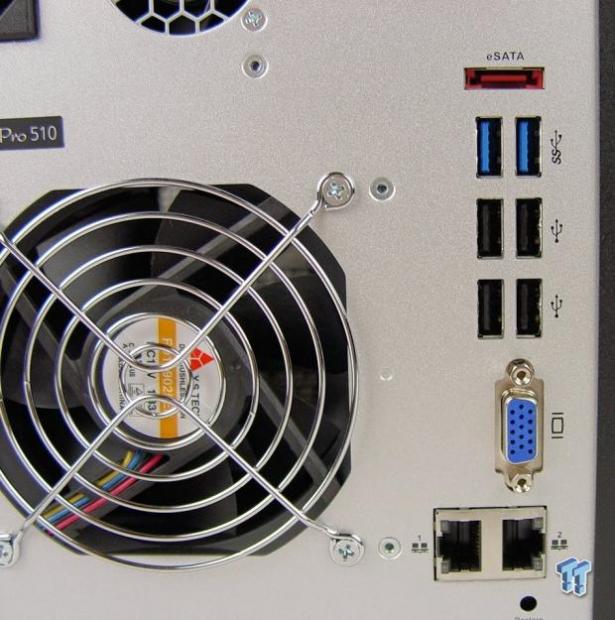 Most users will move data in and out of the NAS via the two gigabit Ethernet ports.
Test System Setup and Compression Capacity
Desktop Test System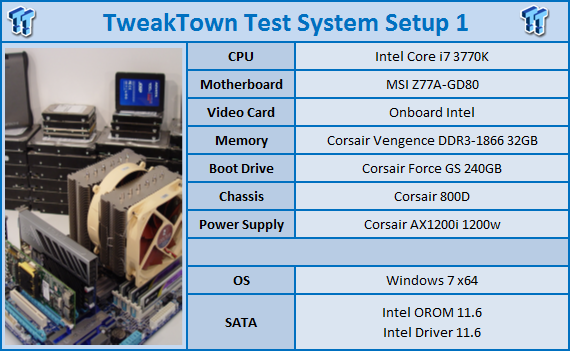 Since our NAS test servers are in the middle of moving to a new, supersized rack, we performed the test on an Ivy Bridge system used for testing SSDs. The performance numbers shown today are not comparable to our other reviews since we adhere to strict testing methods, but the three performance tests shown today are comparable to each other test.
Mushkin Chronos Deluxe 240GB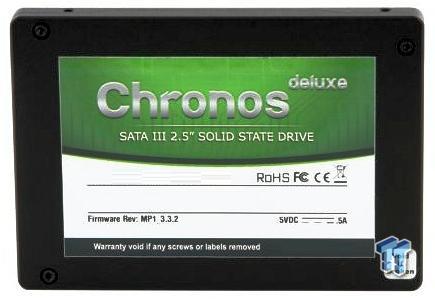 We went with Mushkin Chronos Deluxe 240GB SSDs for our test today instead of our Western Digital Red 1TB drives we normally use for NAS reviews. The more I research Pure Storage's all-flash SAN, the more I want to test the EonNAS Pro 510 with SSDs.
Data on Disk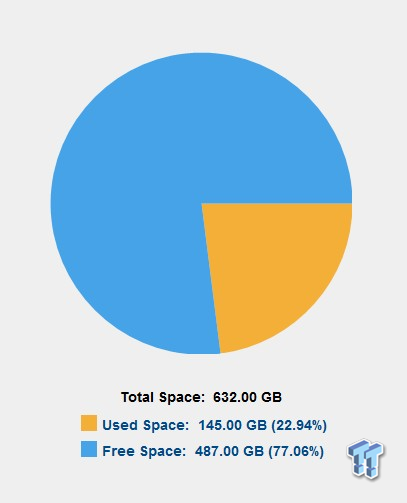 Dedupe Off, Compression Off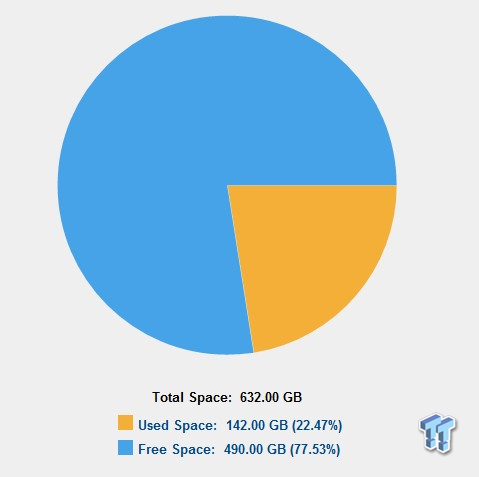 Dedupe On, Compression Off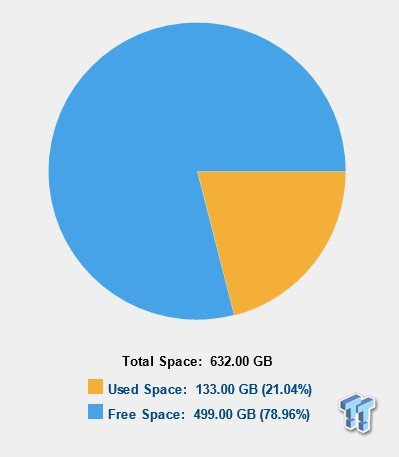 Dedupe On, Compression On
Here we see our three test modes for today.
The data capacity on the array goes from 145GB without dedupe or compression to 142GB with just Dedupe and 133GB with both dedupe and compression enabled.
The data used for our test was recently removed from a daily use notebook.
Benchmarks - Intel NASPT
Intel NASPT
The Intel NAS Performance Toolkit (NASPT) is a file system exerciser and analysis tool designed to enable direct measurement of home network attached storage (NAS) performance. Designed to emulate the behavior of an actual application, NASPT uses a set of real-world workload traces gathered from typical digital home applications. Traces of high definition video playback and recording, office productivity applications, video rendering/content creation and more provide a broad range of different application behaviors.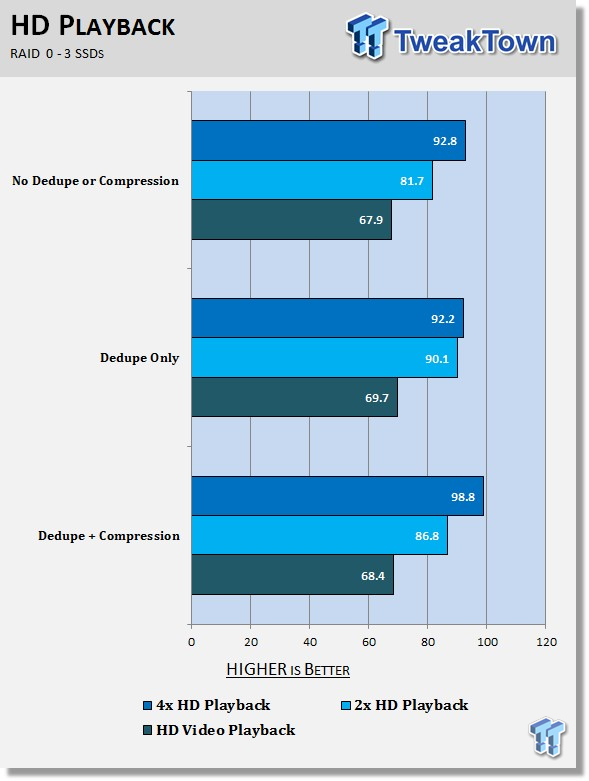 Playing data back from the NAS doesn't show a large difference between our three tests.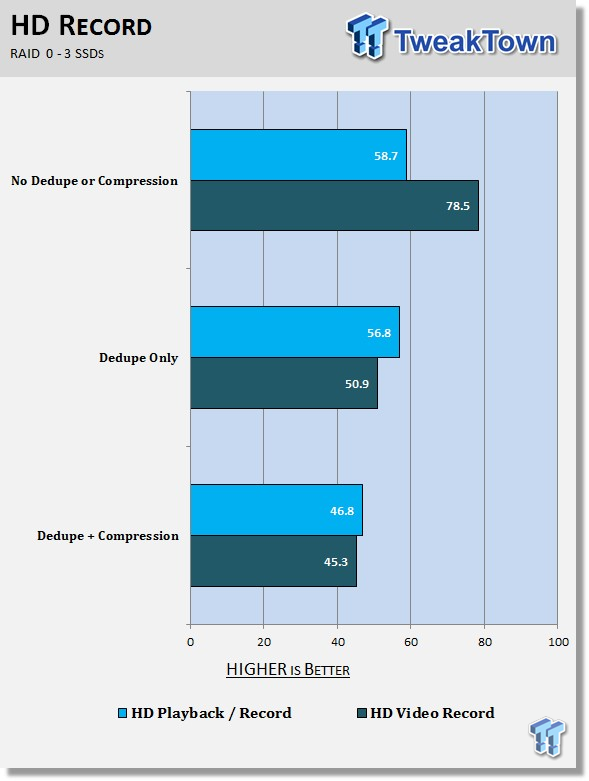 On this chart we see a mix with both reading and writing data to the NAS and a 100% sequential data write test. The mixed mode test shows very little difference between neither of the enhancements activated and deduplication activated. The write test showed a significant drop in performance with dedupe enabled.
The combination with both dedupe and compression enabled slowed the EonNAS Pro 510 down the most as it should since more CPU resources are needed to compress the data.
Here we see the same downward decline in performance as we enable more compression technology, at least in the Office Productivity test.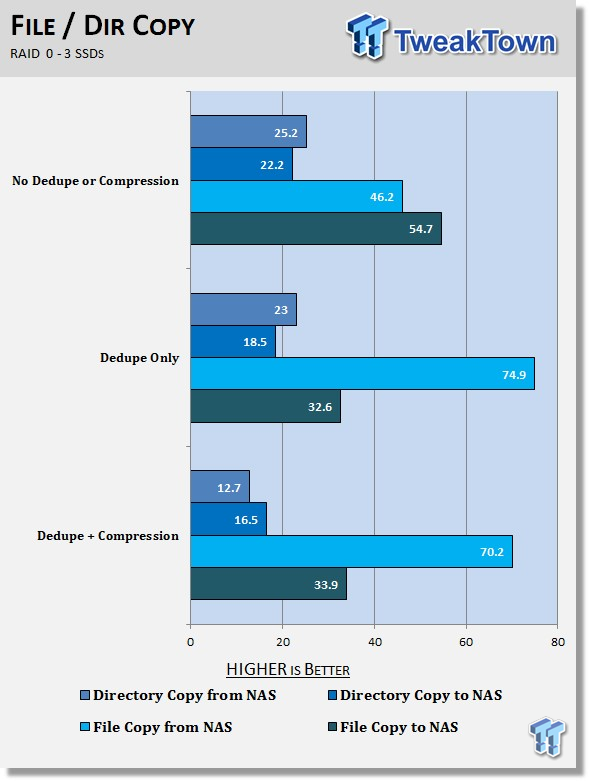 The final set of tests shows performance all over the place and nothing like what we expected from the File Copy from NAS. The other tests on the chart show the same decline in performance.
CPU Utilization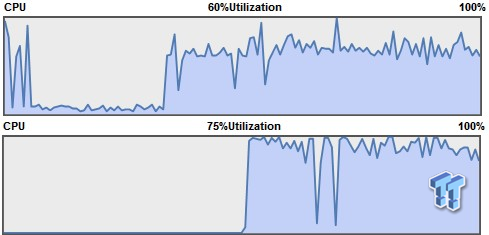 The image above shows the CPU utilizations from no dedupe and no compression (top) and both dedupe and compression enabled (bottom).
With the data compression technology enabled, the CPU works harder than without when transferring the same data to the NAS.
Final Thoughts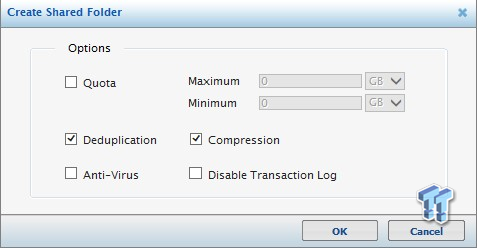 Going into this article, I had high hopes of blistering performance with the Infortrend EonNAS Pro 510 loaded with SSDs and an amazing amount of data compression that would make this combination a viable solution for holding massive amounts of data. We didn't achieve either of those goals, but we did manage to reduce the amount of data sent to the array with dedupe and compression enabled.
On the performance side, we found that the Intel Atom processor is a bit underpowered for what we asked it to do. We observed the CPU at 100% utilization with the compression features enabled. Even without compression enabled, we saw a few instances of 100% or near 100% utilization and that helps explain why the EonNAS Pro 510 lags behind other 5-bay NAS products including Thecus units with older firmware that still has the ZFS option.
The deduplication feature does work on the EonNAS Pro 510, although we didn't achieve the same results Pure Storage talks about in its marketing material. This really isn't a big surprise since consumer and enterprise data is quite a bit different.
For this test, I went with real-world consumer data even though the compression levels would have increased significantly with other file types. Also, the more data you add to the NAS, the higher the deduplication level.
It should also be noted that the Pure Storage systems are insanely expensive compared to the EonNAS Pro 510. It's around $10 per GB compared to the EonNAS Pro 510 that's around $530 for the NAS, $500 for five Western Digital Red 2TB HDDs, so roughly $10 per TB.
At this time, Infortrend is the only NAS manufacturer that we know of that offers deduplication in a SMB NAS at this price point. It's a nice feature to have, but the type of data you store on the NAS determines its effectiveness.
PRICING: You can find products similar to this one for sale below.

United States: Find other tech and computer products like this over at Amazon.com

United Kingdom: Find other tech and computer products like this over at Amazon.co.uk

Australia: Find other tech and computer products like this over at Amazon.com.au

Canada: Find other tech and computer products like this over at Amazon.ca

Deutschland: Finde andere Technik- und Computerprodukte wie dieses auf Amazon.de
We openly invite the companies who provide us with review samples / who are mentioned or discussed to express their opinion. If any company representative wishes to respond, we will publish the response here. Please contact us if you wish to respond.
Related Tags