Introduction & HD Station Installation and Setup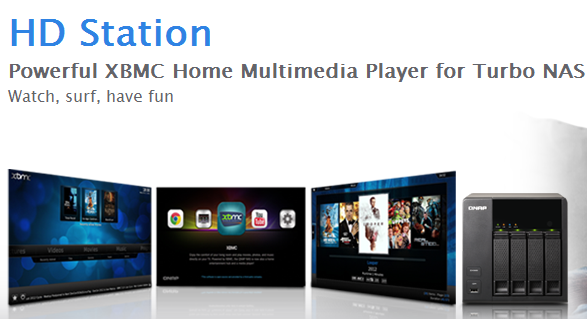 If you would have told me a year ago that I would be watching my collection of movies and television shows straight from my QNAP appliance, without the need for a standalone media player, I would have told you to get lost. The fact is, I never dreamed QNAP would take the plunge and offer such amazing features to the average consumer - I mean, we are the little guys, right?
In February of this year, QNAP announced the availability of the x69L and Pro NAS appliances. With these they also launched the greatest feature to come to the NAS platform in quite some time, HD Station. HD Station allows for those that have purchased an x69L or Pro NAS appliance to enjoy their music, photo and video collections right on the HDTV in the living room via the HDMI output on the NAS.
As HD Station has grown, QNAP has added the additional functionality of full web browser with Chrome, the ability to access the NAS administration desktop via MyNAS and even the ability to watch streaming video via the built-in YouTube app.
Today we take a close look at QNAP's HD Station and what it's all about.
HD Station Installation and Setup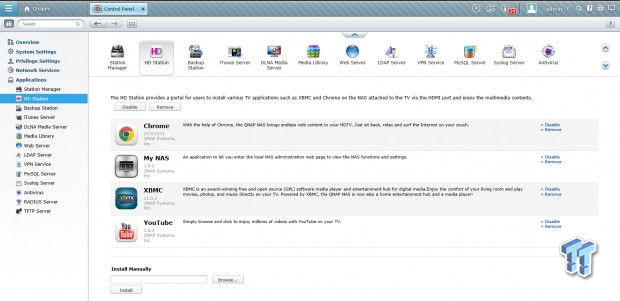 The installation procedure for HD Station and its many applications starts by heading over to the tab set aside just for it. Here you will find the web browser in the form of Google Chrome, along with MyNAS, YouTube and the star of the show, XBMC. For those of you that don't know, XBMC started out on the first generation Xbox console. Xbox Media Center or XBMC has enjoyed great success over the years, with a number of standalone media players being developed using their software. In addition to their success, XBMC almost has a cult type following with many developers making new programs for the platform each and every day.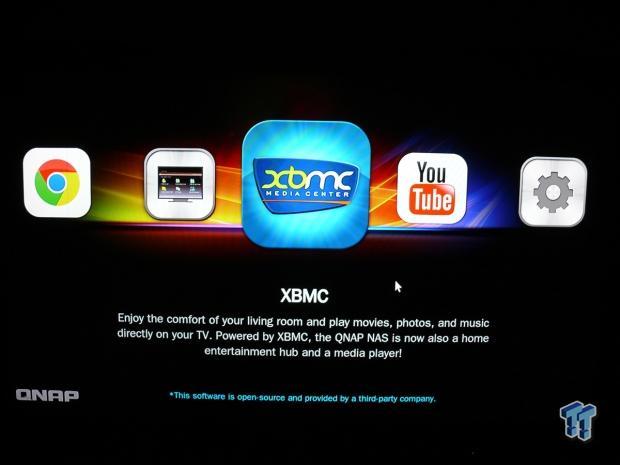 Now that you have taken care of the HD Station installation, feel free to plug in a HDMI cable to back of your NAS and fire up your HDTV. This is where everything comes together, above you can see we have many options to choose from. If you feel like browsing the web and reading some of the great articles here at TweakTown, fire up chrome in a pinch or need to change settings on your NAS, but don't want to run to your PC? Head on over to MyNAS where you will get the full administration panel at your fingertips. Additionally, if you have the need to view what's trending on YouTube, there's an app for that too. Of course, the meat of the pie lies in XBMC and where the full HD Station experience comes together.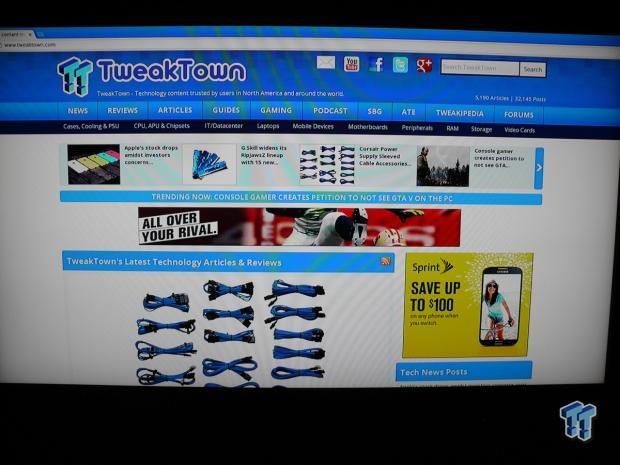 Above we have fired up Chrome, and of course headed over to TweakTown.com. Now you may wonder how you get around in a browser, without a mouse and keyboard. It's simple really, with the release of HD Station, QNAP deployed keyboard and mouse support. Additionally, QNAP has their very own app called Qremote that we will touch on later in the article.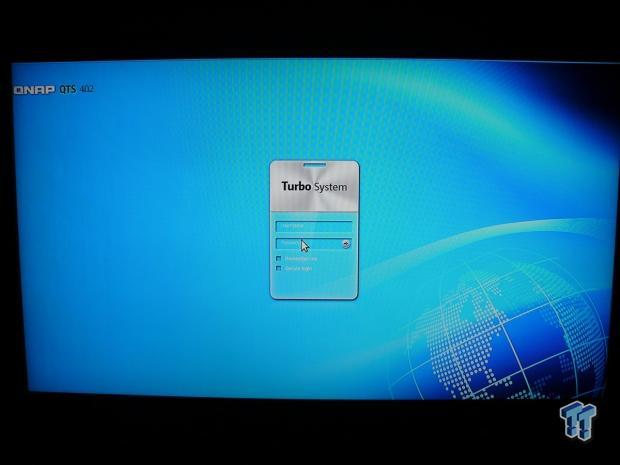 The MyNAS application allows the full administration menu right on your TV, and with keyboard and mouse support, it operates the same as it does on your PC.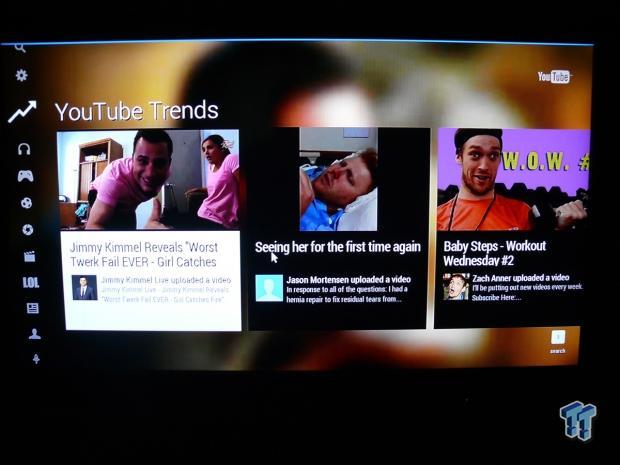 As I stated above, the YouTube app allows you to search through popular categories such as music, gaming and sports, but also features a trending section, so you can see the latest "hot" videos on YouTube.
Additionally, each application in the HD Station menu has its own configuration.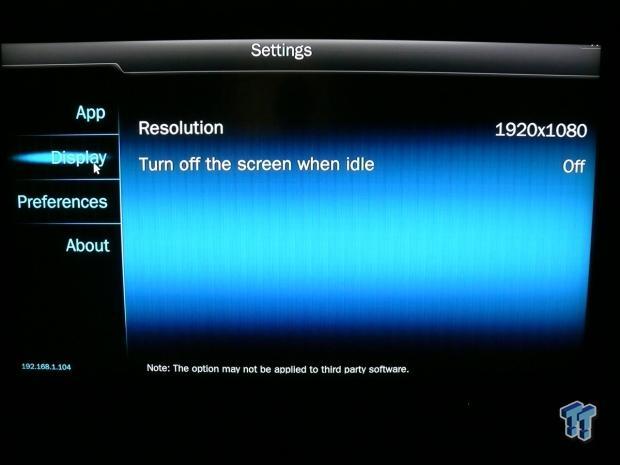 The display tab allows you to configure the HDMI output to fit your HDTV's resolution.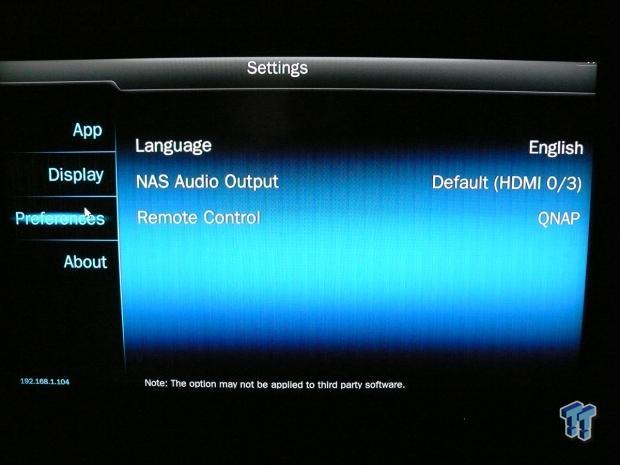 The preferences tab has the audio output configuration, along with language and remote control selection.
HD Station - XBMC Overview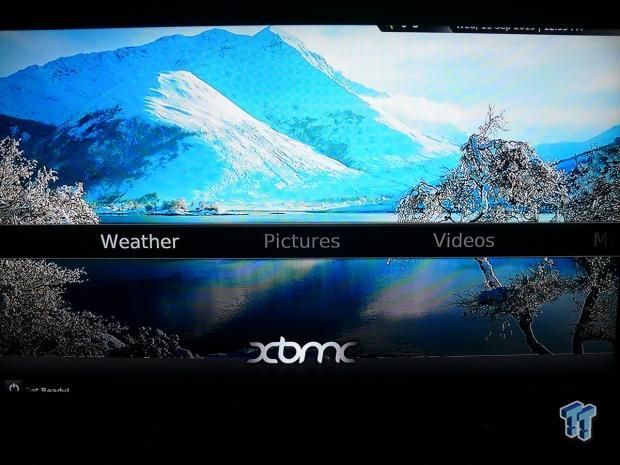 Upon launching XBMC, you will be here, at Weather. The Weather tab allows you to view a five day forecast for your area, along with current conditions. The sources for weather are configurable in the settings menu that we will look at further along in the article.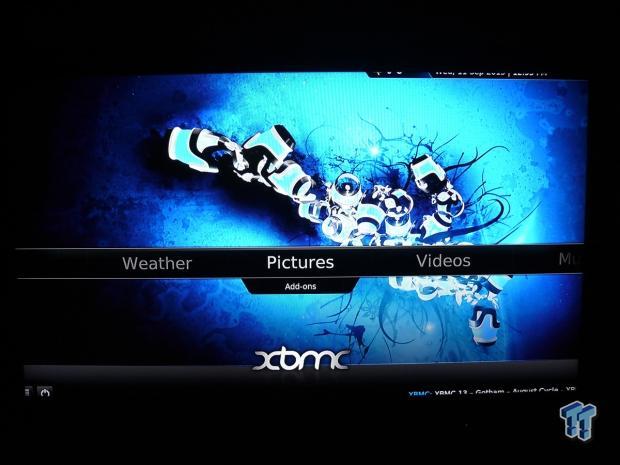 The Picture tab allows you to view all of your photos that are stored in the NAS multimedia photo directory.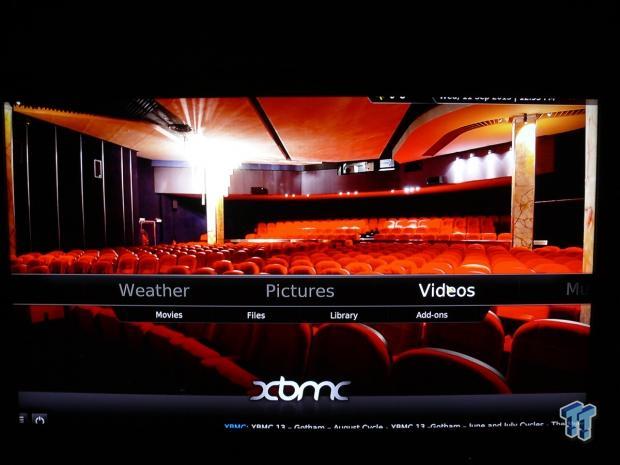 The Video tab allows a few options for watching movies or TV shows. To the left, we have the movie sub tab that we will look at in the next image, moving to the right there is the files section where you gain access to all video files based on a folder system. The Add-On section allows you to download all video related app from the massive development community.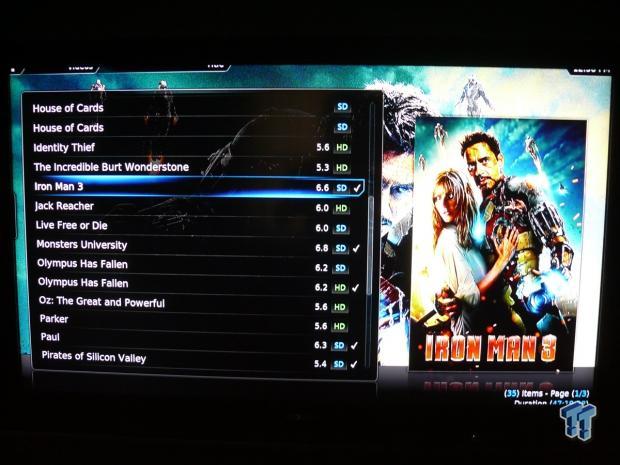 The movie tab categorizes all your films while offering a cover photo to the right. Another feature is the classification of films according to the quality.
The music tab offers several sub sections that allow you to view your music collection from several angles including artists, albums and songs. You can also view your entire collection from the file section.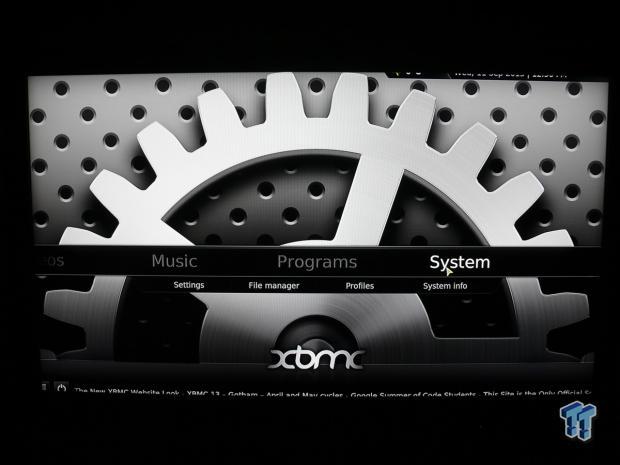 The system tab houses several different sections, along with a full on file manager. In the system info tab you can view the hardware configuration of your NAS, while the settings tab allows you to configure that XBMC interface to your liking.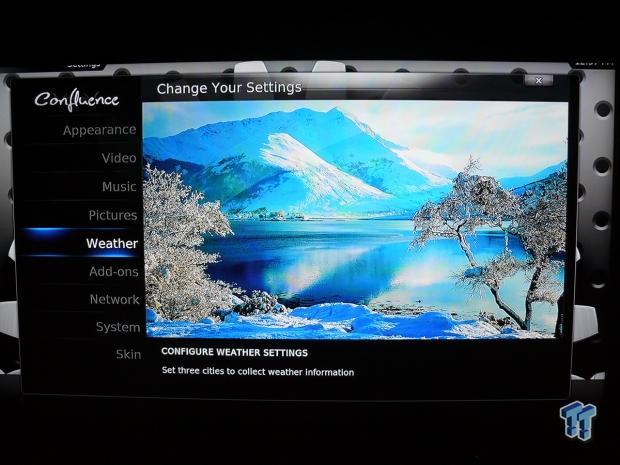 As stated above, the settings menu allows you to configure the interface to your liking. Here you can change the appearance of the interface by using skins, change video, music, and picture settings along with setting up your weather service and any add-ons you may have downloaded.
Media Library and DLNA
If over the years you have amassed a number of the over 18,000 available DLNA supporting devices, you can rest assured your QNAP NAS appliance has the capability to stream all types of media to your devices with ease, whether it be a new Smart TV, Xbox 360 or PS3 console.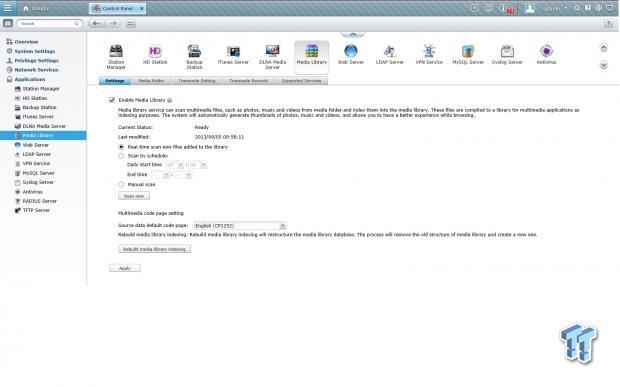 Getting started with the media library, we first need to enable it. In the menu above, QNAP allows you several ways to scan and index your media files for use in streaming to your DLNA capable devices. Options include real-time scan as media is added, with the option of scheduled scans as well.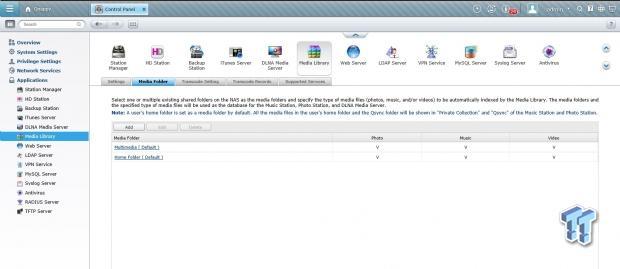 Moving over to the media folder tab, here you can add, edit and delete folders that are tracked in your media library.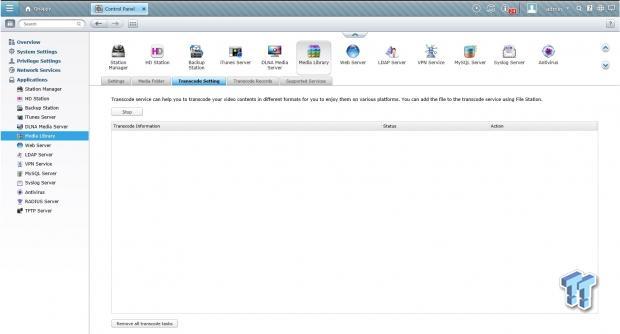 In some cases, DLNA certified devices only accept certain media formats. With the power of a QNAP NAS behind your devices, you can transcode your content, making it easier to enjoy across multiple platforms, no matter which format the device does or doesn't support.

Over to the DLNA tab, we find two sections to configure the media server embedded into each QNAP appliance. Above we have QNAP's very own DLNA media server still in its beta stages and below the ever popular TwonkyMedia Server.

Switching over to TwonkyServer following the link on the DLNA tab. Here we have the option of browsing our media folders that are available through DLNA, and optionally the configuration of the server.

Twonky has long been the media server of choice for many, and the same is true of QNAP. Since my early days of owning my own QNAP, I have always enjoyed streaming all my content via Twonky. In the image above, you will see that Twonky as installed on the QNAP comes registered so you need not mess with keys like some other NAS appliances. Over to the left we have the menu system where you can modify the server settings and setup additional transcoding if you so choose.
Qremote and QAirPlay & Final Thoughts
Qremote and QAirPlay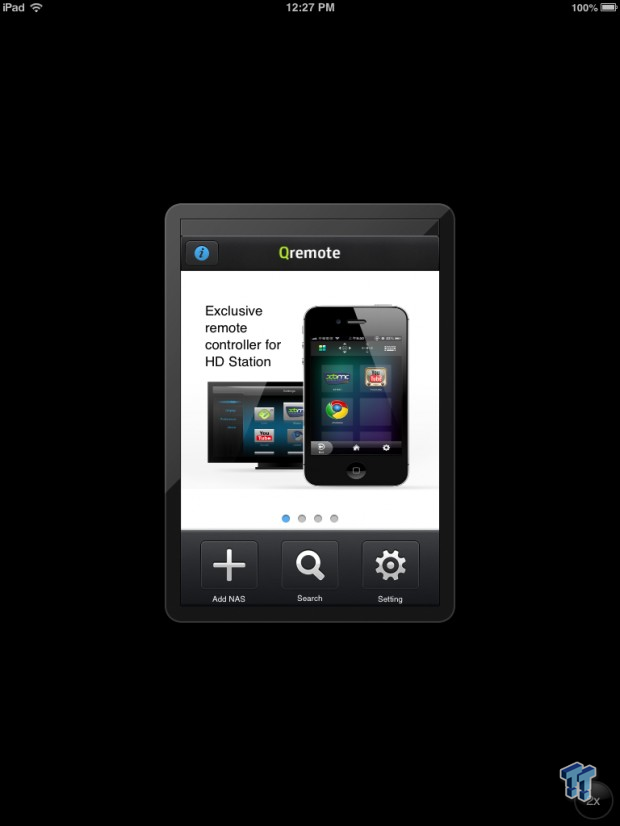 In additional to the many features of HD Station in your QNAP NAS appliance, there are also several options when it comes to controlling these features. One of which is the Qremote app available on iOS, with an Android version in the works. The Qremote app allows you complete hand on control of all HD Station features from the comfort of your couch and iPad, iPhone or iPod Touch. Here we have the initial setup screen for Qremote.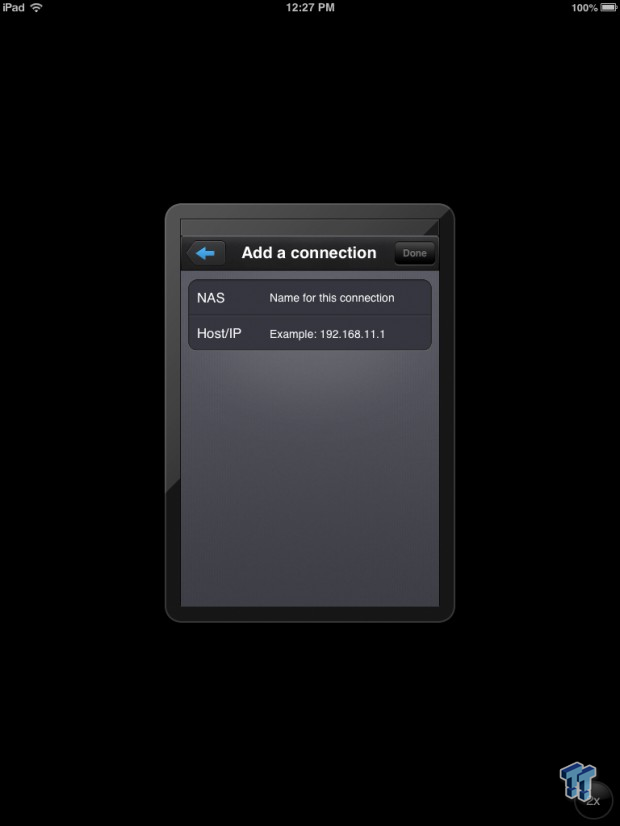 Setting up your Qremote to work with you QNAP appliance is rather simple, and after naming and inputting the IP address of your NAS, everything is ready to go.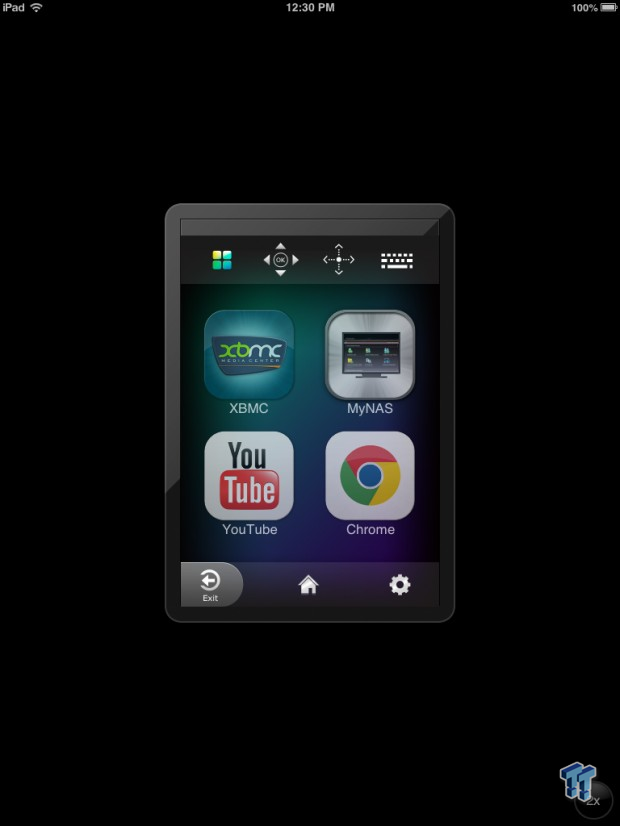 After setup is complete, the ability to switch between apps is just a touch away. At the top of the menu there is the option for text input via the keyboard icon, followed by a touch mouse and d-pad for scrolling menus.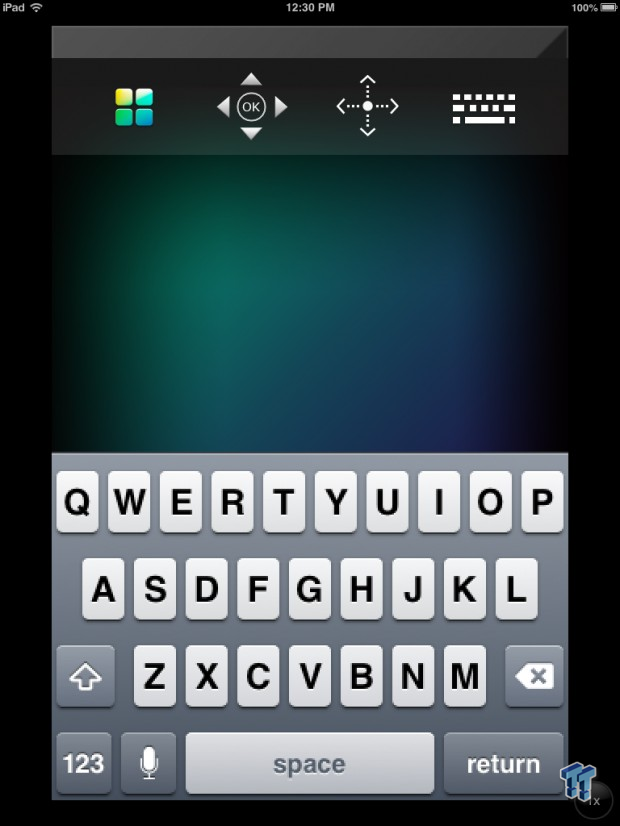 Here we have a closer look at the keyboard on our iPad mini, with the perfect amount of space between the keys allowing easier text input. In the bottom right corner there is a button to change the overall size of the keyboard and touch input.

In addition to the Qremote, QNAP has allowed complete support for all keyboard and mouse combinations, though you may want to go wireless for ease of use. Another feature that QNAP has recently made available is their very own MCE remote, available at the QNAP Accessory Store for $40.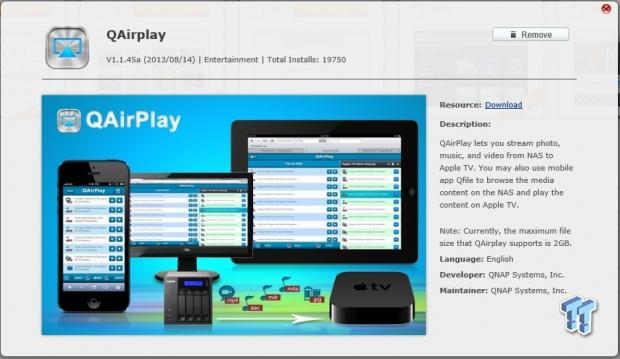 AirPlay is a significant advantage Apple users have had since 2004 when it was first introduced as AirTunes. The ability to stream the content on your iOS device straight to your HDTV via a connected AppleTV. QAirPlay furthers this allowing you to stream your entire library of content from your NAS to your AppleTV, all while controlling the content and playlists from your iOS device.
Final Thoughts

Since its first release in February of this year, I've spent my fair share of time using QNAP HD Station. While other NAS manufacturers have begun to catch on, QNAP is in the stages of refining the system. This gives a unique advantage to owners of x69L and Pro appliances in that a lot of the earlier bugs have been worked out and now the interface is smooth and error free. While I don't normally use the Chrome or MyNAS features on an everyday basis, it's a comfort to me especially in the hot summer months, to have the option to stay in my comfy living room chair accessing all the internet has to offer via Chrome, or managing my NAS via the MyNAS application.
Over the last number of years, I've had my share of standalone media players. From homebuilt HTPC's to the Pivos AIOS HD, the problem I always had was finding a media player that would do it all without installing a mess of codecs. With the HD Station from QNAP, I have found these issues have come to an end, this due to the extreme capabilities of XBMC and the development community behind it. Video formats supported include, to name a few, AVI, MPEG, WMV and MKV with audio formats like MP3, AAC, DTS and FLAC supported as well.
For those of you that enjoy multiple connected DLNA capable media devices in your home, the ability to have a movie playing on the big screen in your living room through HDMI on your QNAP and additional devices streaming content from the same NAS appliance is, in my opinion, a true delight to any home user. Additionally, users of AppleTV will enjoy the ability to control through the QAirPlay App content streaming to all there AppleTV devices in the connected network.
In closing, those of you on the edge of purchasing your very first network appliance have a ton of options in the market. While most in some form have started to bring similar options into the market, you can rest assured with QNAP to have a blissful experience with a full range of 2 to 8 bay enclosures all available with HD Station.