Introduction

Welcome to our second EyeFinity benchmark, this time of Hitman: Absolution. These pieces will slowly evolve over time as we get more GPUs to throw into our charts, and then we'll shift gears and get some NVIDIA GPUs for some Surround Vision gaming.
Let's get into it, shall we?
For your information, I'm running:
- Intel Core i7 3770K @ 4.8GHz
- Corsair H100 Hydro Cooler
- Corsair Force Series GT 240GB SSD
- ASRock Z77 Extreme 9 motherboard
- Sapphire AMD Radeon HD 7970 Dual-X OC Edition (x2)
- Lian Li PC-T60 Pitstop
- Corsair Dominator Platinum - 16GB kit of 2133MHz DDR3 RAM
- Windows 7 Ultimate Edition x64
- AMD Catalyst 13.2 beta 4 drivers
I'd like to extend a big thank you to Sapphire, Corsair and ASRock for supplying the parts for this machine, I couldn't write this article or any future articles without this hardware!
It's a seriously nice machine, and really powers through what I do each day. I've got the CPU clocked up to remove any potential CPU-based bottlenecks, the RAM is at stock as it doesn't really help gaming performance all that much and everything else is at out-of-the-box settings.
Benchmark Results
We've run Hitman: Absolution at two presets, the Ultra preset without AA (default) and the Ultra preset, but we've cranked the anti-aliasing to a GPU-crushing 8x. You can see from the results below that the 8x AA benchmarks really do crush the HD 7970s.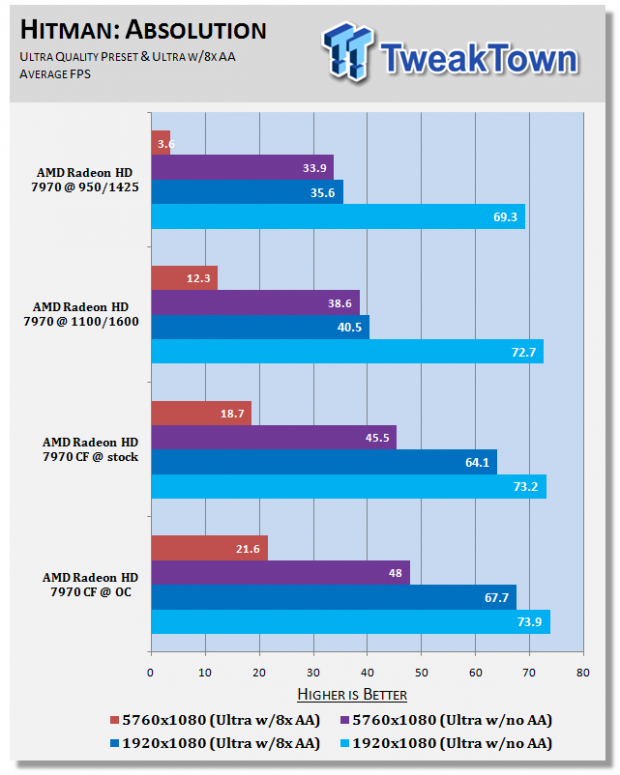 A single, stock HD 7970 gives some great performance at 1080p - 69.3 FPS average. Slapping two more screens into the mix sees the frame rate chopped in half, but still playable at over 30 FPS. Cranking the AA on the single HD 7970 to 8x brings the GPU to its knees.
I ran this test multiple times as I was surprised with the severe drop in frame rate from the overclocked HD 7970 settings which was 12.3 FPS average at 5760x1080 w/8x AA. The memory clock speed from 1425 to 1600MHz really helps, but dropping it to stock clocks at 1425MHz kills the AA performance, which makes sense.
Putting the HD 7970s in CrossFire yielded some better results, but much less than I expected. At 1080p with no AA, there's barely any increase in performance - which didn't help my 120Hz monitor or gaming - trying to reach 120 FPS.
Enabling 8x AA saw huge performance increases with CrossFire, going from 35-40 FPS to 64-67 FPS at stock/overclock, respectively. EyeFinity results increased with CrossFire, but again not as much as I expected.
One overclocked HD 7970 at 5760x1080 saw 12.3 FPS average, with two HD 7970s giving us 21.6 FPS. Not playable in my opinion, but that is with 8x AA enabled.
Turning off AA, but playing at 5760x1080 provided some decent frame rates. Again, not impressive coming from a single GPU, which provided 33-38 FPS, where CrossFiring the HD 7970s gave us a more playable 45-48 FPS.

So there you have it, a bunch of numbers on EyeFinity with Hitman: Absolution. Our next adventure with Sapphire and their great HD 7970s will be EyeFinity with Sleeping Dogs - check back in a couple of days!