Indilinx Everest 2 SSD Controller Platform Overview
Today OCZ releases the Vertex 4 SSD, but it's also a big day for Indilinx. Indilinx is back in OCZ's flagship SSD for the first time since 2009.
Published Wed, Apr 4 2012 7:53 AM CDT
|
Updated Tue, Nov 3 2020 7:01 PM CST
Introduction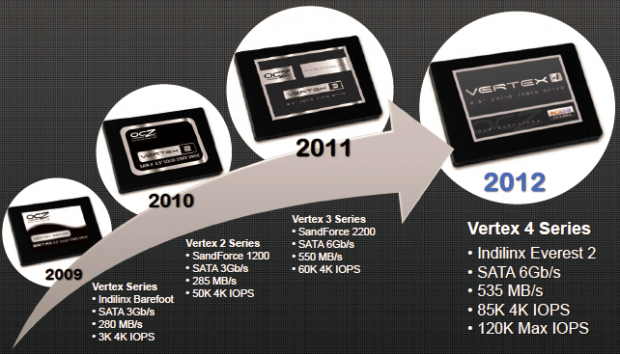 It wasn't but a few short months ago that Indilinx climbed back into the ring with their first new release in almost three years. Now a division of OCZ Technology, Indilinx is ready to make news again today with their new Everest 2 platform.
Today we're going to walk you through what we know about the new controller, what we don't know about the controller and touch on some OCZ distributed benchmarks. A full review of the new OCZ Vertex 4 256GB and 512GB SSDs (which use this very controller) will make it to the site at the same time as this article is published.
Indilinx's first Everest platform came and went without too much fuss. OCZ debuted Indilinx's first SATA 6Gbps controller on the Octane series of products, but Everest didn't quite make it in the world of high-performance SSDs currently dominated by low-cost Team SandForce products. OCZ instead used Octane as a building block and to fill a small gap that existed between Agility 3 with asynchronous flash and Vertex 3 with synchronous flash.
The experience gained was much more beneficial to both Indilinx and OCZ than the number of products sold. The lessons learned were quite simple from both. Indilinx walked away with a better understanding of what mainstream users perceived to be fast. And for OCZ, it was about getting back into the swing of marketing a product with a coveted SandForce Driven logo.
It was a win-win for both side and today we see the second chapter of the story.
Indilinx Everest 2 Platform - Flash Management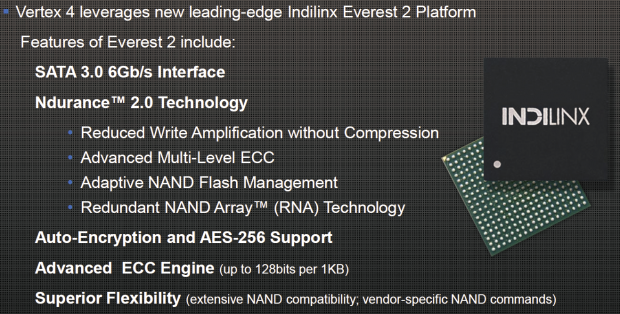 The Everest 2 controller technologically surpasses all other SSD controllers in the industry through an advanced feature set that includes:
Broadest NAND flash support, including 1xnm and TLC
Up to 8 NAND flash channels with up to 16-way interleaving per channel
Up to 535 MB/s transfer rates when using synchronous flash
HyperQueueing and Native Command Queuing (NCQ), with a queue depth up to 32 commands, and algorithms to optimize the order in which read and write operations are executed
Up to 8Gb (1GB) of 800MHz DDR2/DDR3 DRAM cache support
Multi-Level ECC with 128-bit correction capability per 1KB of data
RNA Redundant NAND Array to protect against catastrophic NAND flash failure
True end-to-end data path protection performs data integrity checks at every juncture where data is transmitted, received, processed and stored to ensure that corrupted data will be detected and not propagated
Power fail protection and optional Supercap support prevents data loss in the event of a power failure
Auto encryption and AES-256 encryption to protect and secure data
Additional flash management techniques such as TRIM, background garbage collection, dynamic and static wear-leveling and advanced flash defect management
Extending the life of NAND flash memory for MLC-based SSD requires a highly intelligent controller that can analyze and dynamically adapt to increasing NAND vulnerabilities as the flash cells wear or process geometries get smaller. The Everest 2 controller, featuring Indilinx Ndurance 2.0 technology, is designed to radically extend NAND flash memory life while providing enterprise-class endurance even when commodity-grade NAND flash is used. Ndurance 2.0 technology suite includes the following capabilities:
Advanced Multi-Level ECC: The advanced, multi-level BCH ECC engine with progressive error correction adapts to the specific error characteristics of different NAND devices. The programmable ECC engine achieves an effective correction power of up to 128 bits per 1KB of data while significantly reducing the uncorrectable bit error rate (UBER).
Adaptive Program and Read Algorithms: Proprietary and vendor-specific program and read algorithms are applied, ranging from internal voltage shifting to sophisticated signal processing techniques that minimize NAND flash deterioration, reduce disturbances that affect adjacent flash cells, and improve data recovery.
Redundant NAND Array (RNA) Technology: This option safeguards against catastrophic NAND flash failures and uncorrectable data errors by generating parity data information and striping it across multiple NAND flash cells. RNA provides RAID-like protection that enables data to be divided and replicated amongst multiple NAND flash devices within an Indilinx SSD.
Reduced Write Amplification without Compression: Lower write amplification is achieved by concatenating multiple write requests from the host while minimizing wasteful copy back operations of unaffected data sectors. This approach virtually eliminates excessive programming and read operations while preserving precious program/erase cycles without the need for performance-degrading data compression.
As you can tell all of that is from the press release. There are a few key points that I would like to touch on. The first is the longevity of Everest 2. At CES OCZ talked about this platform scaling up to 2TB in user capacity. In this press kit, Indilinx brings up 1Xnm and TLC flash. We should start seeing 20nm IMFT flash used in consumer SSDs in Q4 of this year or Q1 in 2013. That means Everest 2 will be around for the remainder of this IMFT product cycle, all of the next product cycle and into at least the beginning of the one after that.
We've read several stories recently about the current and future struggles flash manufactures face as they progress through shrinking of the technology. In order to maintain a drive that will last at least the length of the warranty period, next generation SSD controllers and their programming need to use advanced feature to conserve the flash. The bruit force methods of the past with high rates of write amplification in order to maintain high speeds will not work in the future.
Indilinx Everest 2 Platform - Specifications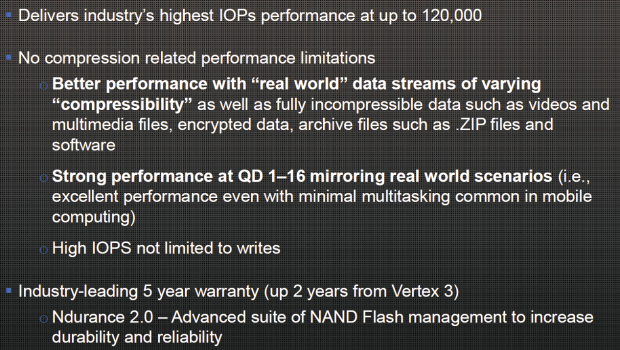 The Everest 2 SSD controller architecture features sequential bandwidth of up to 535MB/s, maximum random I/O performance of up to 120,000 IOPS, 4K random read performance of up to 95,000 IOPS and random write performance of up to 85,000 IOPS. In comparison to OCZ's previous Everest SSD controller generation, the transactional performance is doubled under typical use case scenarios such as managing and creating commonplace data such as MP3s, JPEGs, videos and digital camera RAW files.
In addition to this industry-leading transactional performance, the Everest 2 SSD controller reduces latency to 0.043ms for read operations and 0.026ms for write operations, yielding an improvement of approximately 80 percent over the previous Everest SSD controller generation. This latency reduction accelerates access to data, and hence, application system performance.
The above was taken from Indilinx's press release that is going out about the same time you read this editorial.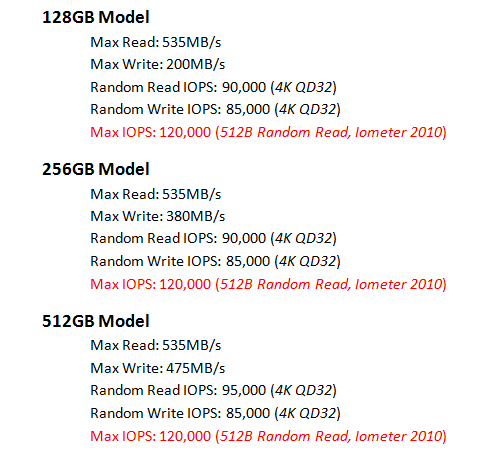 The performance numbers above were taken from our Vertex 4 review and should be the marketing performance for Vertex 4 when it's released. As you can see the read speed of these three initial capacity sizes holds steady at 535MB/s. The write speed scales with capacity though and goes from 200MB/s on the 128GB model all the way up to 475MB/s on the 512GB capacity size.
The Everest 2 platform does not take into consideration what type of data is being read to and from the drive. Incompressible data is transferred just as quickly as compressible data. We found in our testing that incompressible data is even a little faster. The distinction between compressible and incompressible data has only been an issue on drives based on SandForce architecture. SandForce used this to their advantage and write amplification was reduced by an order of magnitude. Indilinx's methods do not reduce write performance, but require more off controller cache to achieve a similar goal.
The OCZ Vertex 4 512GB model uses a massive 1GB cache buffer that retains host data until that data is forwarded to the flash. The size of the buffer is reduced with each capacity step. The 256GB Vertex 4 has a 512MB buffer and the 128GB model only a 256MB buffer cache. All of this cache is certainly expensive and without adequate power protection could be lost in the event of the host losing power.
Indilinx's Everest 2 platform is based on a dual-core, 400MHz ARM processor much like the Marvell controlled drives we've seen in the past from Crucial, Intel, Corsair, Plextor and LiteON. Most of these companies released different models based on the same controller, but used the ARM programming architecture to redefine performance attributes.
With Everest 2, at least as far as the Vertex 4 is concerned, heavy emphasis was placed on 4K write speed. Let's take a look at the performance information OCZ Technology sent over.
Provided Benchmark Data for Everest 2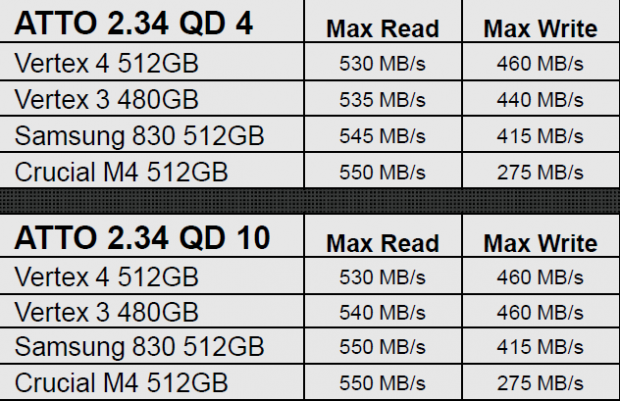 We all know ATTO as the performance benchmark that manufactures use to quote in their marketing numbers. They were provided to us by OCZ Technology for the Vertex 4 release. You can see our benchmarks here in the Vertex 4 review. This is quite an interesting benchmarks for OCZ to show in this format because it shows that the Everest 2 platform as used on Vertex 4 does not scale when going to a queue depth of 4 to 10. Instead the controller is designed to perform best at lower queue depths.

In the standard Crystal Disk Mark test we see the Vertex 4 512GB model outperforming several popular drives on the market today in all four tests.

This next test is AS SSD's total combined score. Once again Vertex 4 FTW.

Some love Iometer and then there is me. This is like OCZ's golden egg for this release and they wanted to really get the message across that their new $699.00 (MSRP) Vertex 4 kicks the $1199.99 (Newegg retail price) Vertex 3's ass in IOPS, 4K reads and writes and latency.

The icing on the cake was that Vertex 4 kicks everyone else's ass too at IOPS.
Final Thoughts

At this point you are wondering why in the world I would write an editorial that sounds like a marketing document. So far this has pretty much been a marketing document... the editorial starts now.
When asked if Indilinx (OCZ) would be sharing their new Everest 2 platform with previous purchasers of Indilinx products, we were told that they weren't saying yet. There are a couple of reasons why I think this is important.
The first has to do with LSI purchasing SandForce. Just a couple of days ago LSI announced three new products that include SandForce technology. None of them featured new Flash Processor Units and none of them are for the consumer market. LSI wants to accelerate their products and not aid in accelerating potential competition. To the public LSI is saying that nothing is going to change and that SandForce will be the same SandForce we already know. LSI doesn't have a contract with the public though that says we will see future SandForce controllers in consumer products. LSI does sell mechanical drive controllers to Seagate, Western Digital, Hitachi and so on, but in those markets your company name and reputation isn't so closely linked with the end product like it is in the consumer market.
When we get in a drive and call it a Team SandForce you know what we are talking about, the preliminary specifications and just about everything there is to know already. If I say a 7K4000 you have no idea what the heck I'm talking about or what components are inside. It's time to face the facts; LSI could pull SF from the consumer market and not look back.
With that said, a very wide hole might open up for Indilinx to fill. This time, the customer base is much larger than when Indilinx dominated the volume market with Barefoot. More people know about SSDs, they are now cheaper, more reliable in most cases and several steps closer to mainstream adaption.
Then there is the other path. OCZ could keep Everest 2 and any following revisions to themselves. That leaves Samsung, Toshiba, Intel, Marvell, Phison and JMicron left assuming that LSI pulls SF. Look at those names, some very powerful and wealthy companies in that group. OCZ would love to put OCZ/Indilinx in there and it is starting to happen now. The only real question is what products will we find on the store shelves? Will Corsair, G.Skill, Patriot or others have drives with Everest 2 at Newegg?
If they do we can point you right back to this article to show the full specifications of the Everest 2 platform. Don't forget to read our full review of the OCZ Vertex 4 as it shows our own tested performance data on the new Everest 2 controller.
PRICING: You can find products similar to this one for sale below.

United States: Find other tech and computer products like this over at Amazon.com

United Kingdom: Find other tech and computer products like this over at Amazon.co.uk

Australia: Find other tech and computer products like this over at Amazon.com.au

Canada: Find other tech and computer products like this over at Amazon.ca

Deutschland: Finde andere Technik- und Computerprodukte wie dieses auf Amazon.de
We openly invite the companies who provide us with review samples / who are mentioned or discussed to express their opinion. If any company representative wishes to respond, we will publish the response here. Please contact us if you wish to respond.