Introduction and Overclocking
Introduction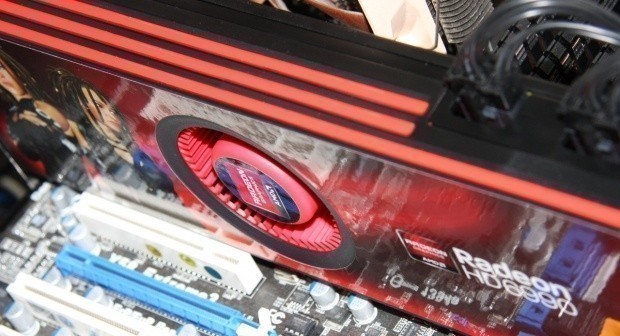 We're going to keep this short and sweet because we know all you really care about is the results. To quickly summarize exactly what we're doing here today, though, we're firing up the latest beta build of MSI Afterburner and cranking even more volts through the two GPUs that are placed on that single PCB.
We've of course already looked at the
Sapphire HD 6990 4GB
in all its out of the box glory so we won't be covering any part of the card itself here today. Instead we'll get straight into the overclocking side of things and then just get straight into some testing.
Overclocking
We love nothing more than MSI Afterburner for our overclocking which gave us the ability to move to a core voltage of 1.25v. This is up from the default 1.12v you get out of the box, and up again on the 1.175v you get in AUSUM mode.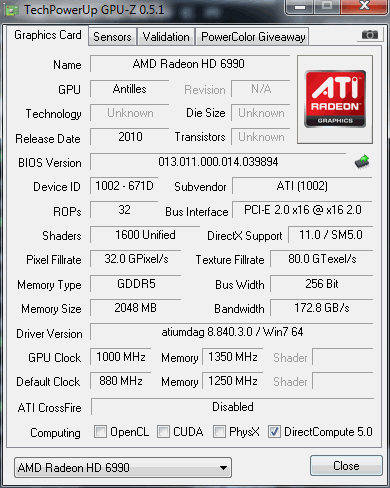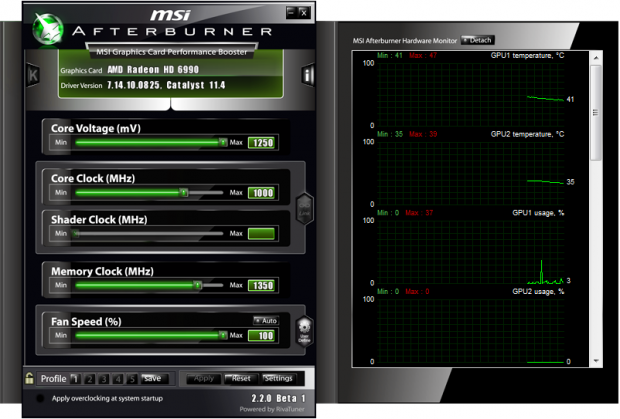 What that extra voltage helped us do was get the card running at 1GHz on the cores and 5400MHz QDR on the 4GB of memory. Unfortunately for the card to run stable we had to crank the fan up to 100%. Still it was a sacrifice my ears where willing to make.
Test System Setup and 3DMark 11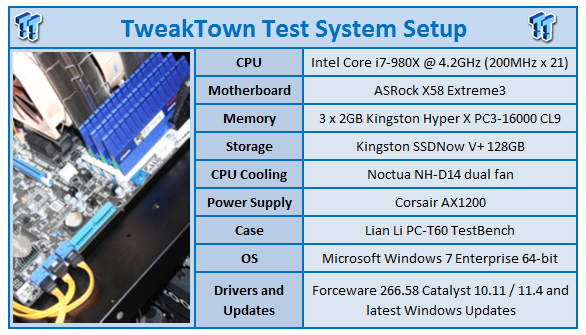 We would like to thank the following companies for supplying and supporting us with our test system hardware and equipment:
Intel
,
ASRock
,
Kingston
,
Mittoni
,
Noctua
and
Corsair
.
Due to the fact we had to run the fan at 100% to get the card to complete a loop of 3DMark 11 fully at 1GHz we've just done a cut down version of our normal benchmark line up.
We've also cut some of the cards out in our comparisons today and chosen to just keep it to the highest end setups which include the GTX 580 in SLI, HD 6970 in CrossFire and the Sapphire HD 6990 4GB at its out of the box clocks.
Let's get started!
3DMark 11Version and / or Patch Used:
1.0
Developer Homepage:
http://www.futuremark.com
Product Homepage:
http://www.3dmark.com/3dmark11/
Buy It Here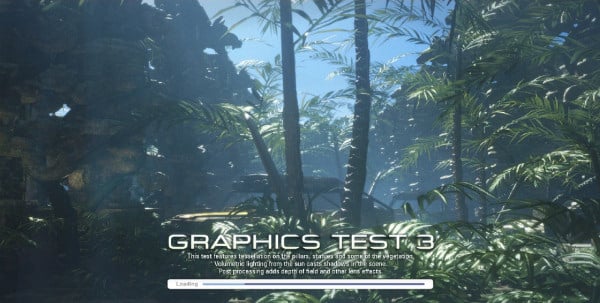 3DMark 11 is the latest version of the world's most popular benchmark. Designed to measure your PC's gaming performance 3DMark 11 makes extensive use of all the new features in DirectX 11 including tessellation, compute shaders and multi-threading. Trusted by gamers worldwide to give accurate and unbiased results, 3DMark 11 is the best way to consistently and reliably test DirectX 11 under game-like loads.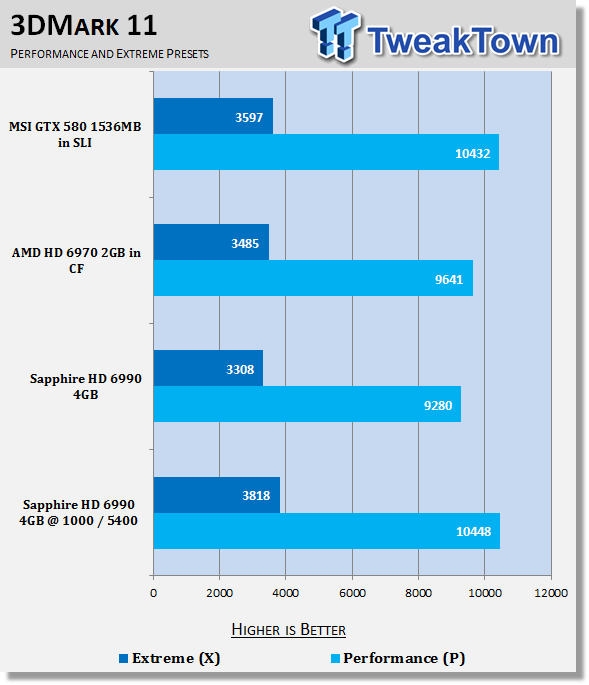 Straight away we see a great boost in performance under 3DMark 11 which puts performance on par with the GTX 580 SLI setup at the P preset and a good chunk ahead of it at the higher resolution X Preset.
Unigine Heaven Benchmark
Version and / or Patch Used:
2
Developer Homepage:
http://www.unigine.com
Product Homepage:
http://unigine.com/press-releases/091022-heaven_benchmark//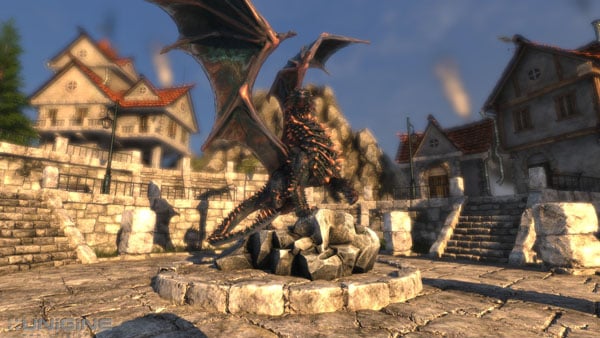 New benchmark grants the power to unleash the DirectX 11 potential in the gift wrapping of impressively towering graphics capabilities. It reveals the enchanting magic of floating islands with a tiny village hidden in the cloudy skies. With the interactive mode emerging experience of exploring the intricate world is ensured within reach. Through its advanced renderer, Unigine is one of the first to set precedence in showcasing the art assets with tessellation, bringing compelling visual finesse, utilizing the technology to the full extend and exhibiting the possibilities of enriching 3D gaming.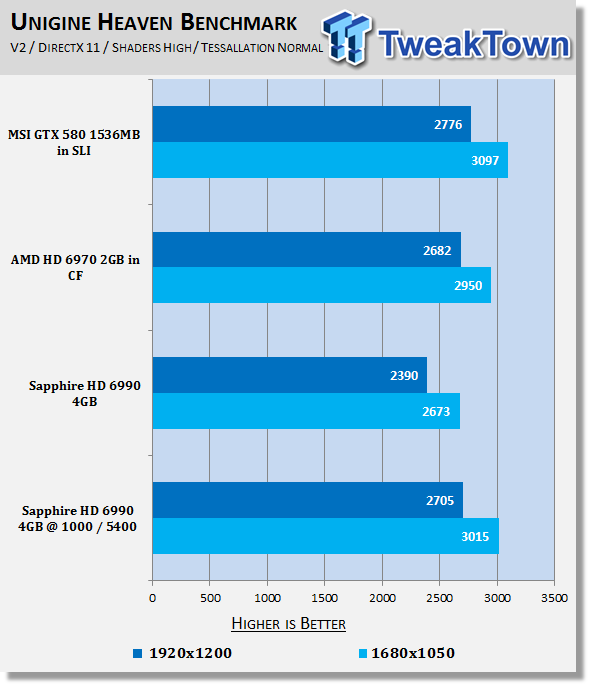 Heaven also sees a very strong performance boost which puts overall performance right on top of the GTX 580 SLI setup. The gains from the stock speed are what really impressed us here, though, especially at 1920 x 1200.
Benchmarks - Tom Clancy's H.A.W.X. 2
Tom Clancy's H.A.W.X.2Version and / or Patch Used:
Benchmark Demo
Timedemo or Level Used:
Built-in Test
Developer Homepage:
http://www.ubi.com/UK/default.aspx
Product Homepage:
http://www.hawxgame.com/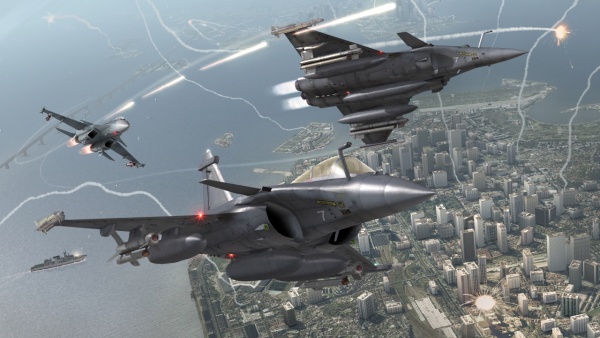 Tom Clancy's H.A.W.X. 2 is an arcade-style flight action game developed by Ubisoft Romania and published by Ubisoft. The game is the sequel to Tom Clancy's H.A.W.X., released in 2009.
The game begins with Colonel David Crenshaw participating in a routine patrol mission in the Middle East. After halting an insurgent attack, a volley of missiles is fired at the Air Force base that Crenshaw was stationed at, with one of the missiles disabling Crenshaw's aircraft, resulting Crenshaw being in enemy captivity. A joint strike force composed of the U.S. Navy, U.S. Air Force, and a Ghost Recon squad executes an operation to rescue Crenshaw. In Scotland, Royal Navy Pilot Colin Munro encounters an unidentified passenger aircraft that explodes from an on-board bomb when undergoing training exercise. In Russia, an air force squadron led by Colonel Denisov and Captain Dmitri Sokov engages separatist aircraft but is ordered to retreat from the region after numerous Russian military installations have been attacked.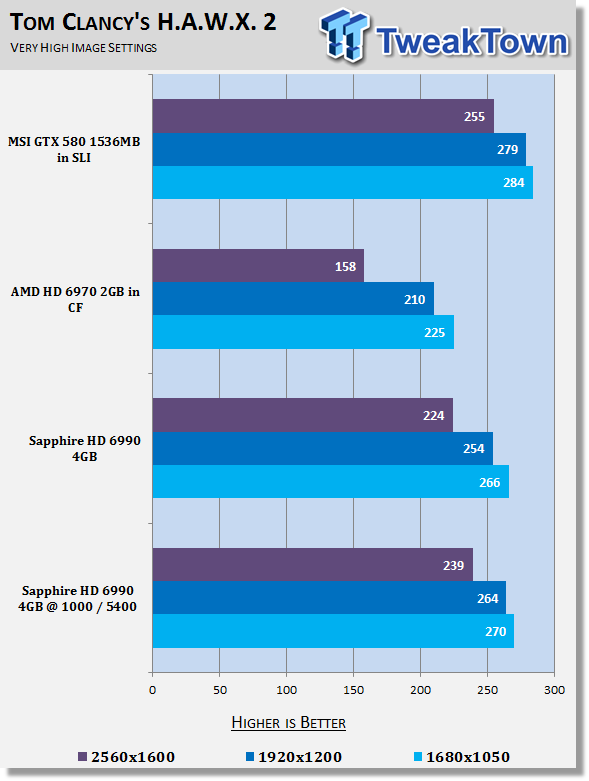 Getting into some games we do see a boost again and performance does come within reach of the GTX 580 SLI setup. Across the board it does fall a little behind, but we've already got such huge numbers across the board.
Benchmarks - Mafia II
Mafia IIVersion and / or Patch Used:
Latest Steam Update
Timedemo or Level Used:
Built in Benchmark
Developer Homepage:
http://www.2kczech.com/
Product Homepage:
http://www.mafia2game.com/
Buy It Here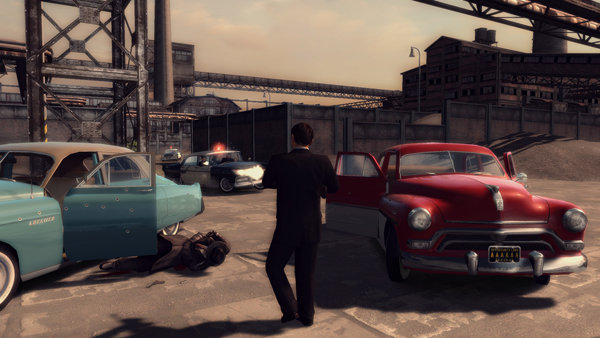 Mafia II is a third-person action-adventure video game, the sequel to Mafia: The City of Lost Heaven. It is developed by 2K Czech, previously known as Illusion Softworks, and is published by 2K Games. The game is set from 1943 to 1951 in Empire Bay (the name is a reference to New York's state nickname "The Empire State"), a fictional city based on San Francisco and New York City, with influences from Chicago and Detroit. The game features a completely open-ended game map of 10 square miles. No restrictions are included from the start of the game. There are around 50 vehicles in the game, as well as licensed music from the era.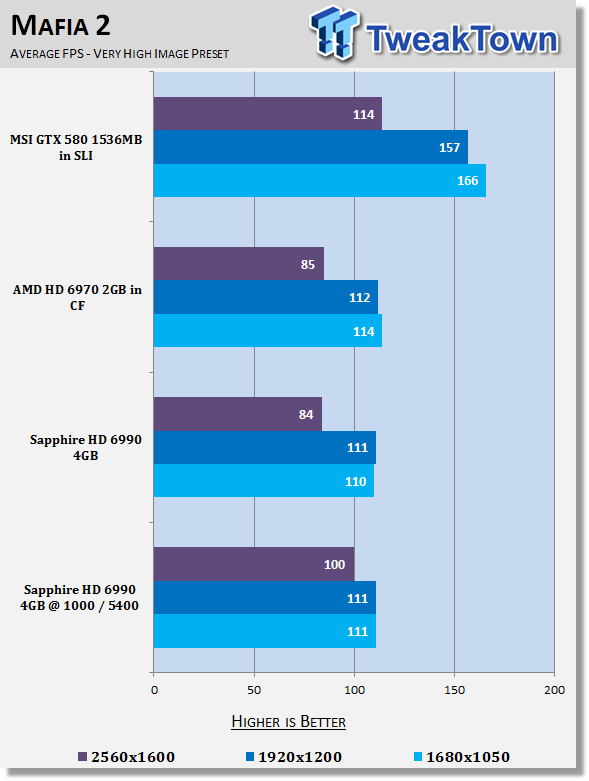 AMD seem to hit a bit of wall at about the 110 FPS mark, which means we see very little difference at 1920 x 1200 and 1680 x 1050. At the high 2560 x 1600 resolution, though, we see a really strong boost in performance giving us a 100 FPS average.
Benchmarks - Aliens vs. Predator
Aliens vs. PredatorVersion and / or Patch Used:
Standalone Benchmark
Timedemo or Level Used:
Built in Benchmark
Developer Homepage:
http://www.rebellion.co.uk/
Product Homepage:
http://www.sega.com/games/aliens-vs-predator/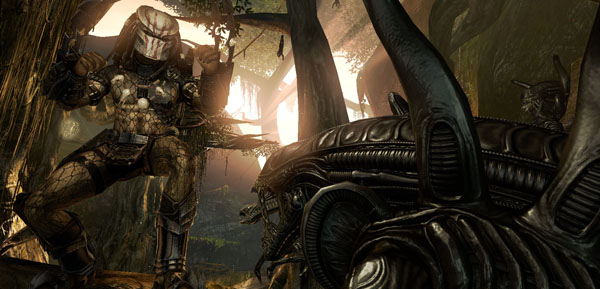 Aliens vs. Predator is a science fiction first-person shooter video game, developed by Rebellion Developments, the team behind the 1999 original PC game, and published by Sega for Microsoft Windows, the PlayStation 3 and the Xbox 360. The game is based on the Alien vs. Predator franchise, a combination of the characters and creatures of the Alien franchise and the Predator franchise. There are three campaigns in the game, one for each race/faction (the Predators, the Aliens and the Colonial Marines), that, while separate in terms of individual plot and gameplay, form one overarching storyline.
Following the storyline of the campaign modes comes the multiplayer aspect of the game. In this Multiplayer section of the game, players face off in various different gametypes in various different ways.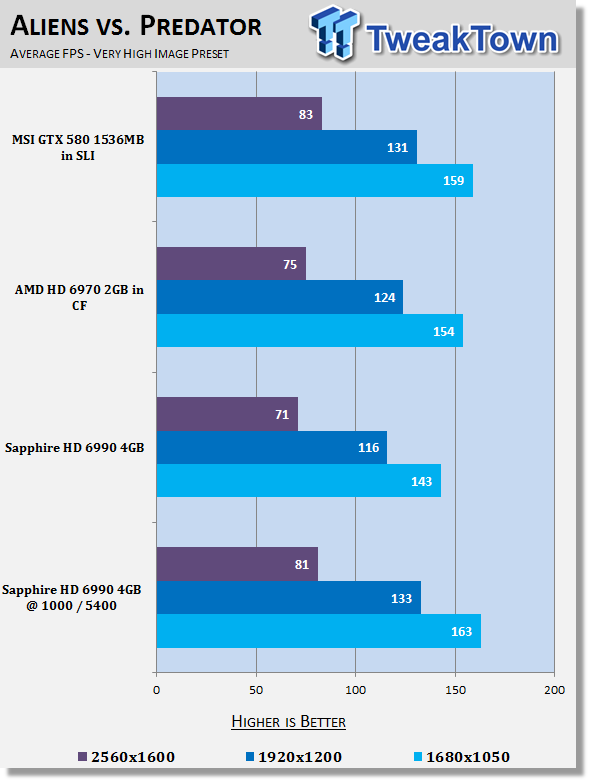 The performance boost we're seeing with the 1GHz core puts the Sapphire HD 6990 4GB ahead of the GTX 580 SLI at 1920 x 1200 and 1680 x 1050. At the highest resolution its performance continues to be very strong at over 80 FPS, but is just a few FPS behind the GTX 580 SLI setup in this instance.
Benchmarks - Far Cry 2
Far Cry 2Version and / or Patch Used:
1.01
Timedemo or Level Used:
Ranch Long
Developer Homepage:
http://www.ubi.com/
Product Homepage:
http://www.farcry2.com/
Buy It Here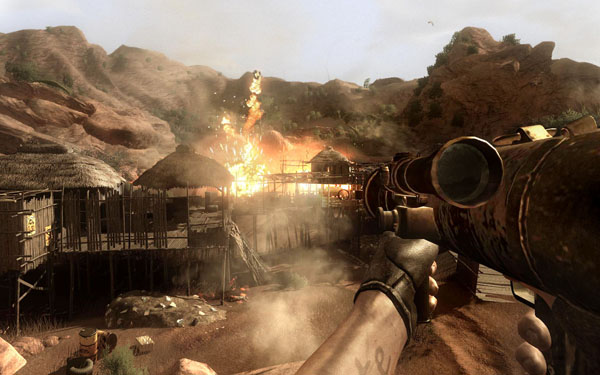 The Dunia Engine was built specifically for Far Cry 2 by the award-winning Ubisoft Montreal development team. It delivers the most realistic destructible environments, amazing special effects such as dynamic fire propagation and storm effects, real-time night-and-day cycle, dynamic music system, non-scripted enemy A.I. and so much more.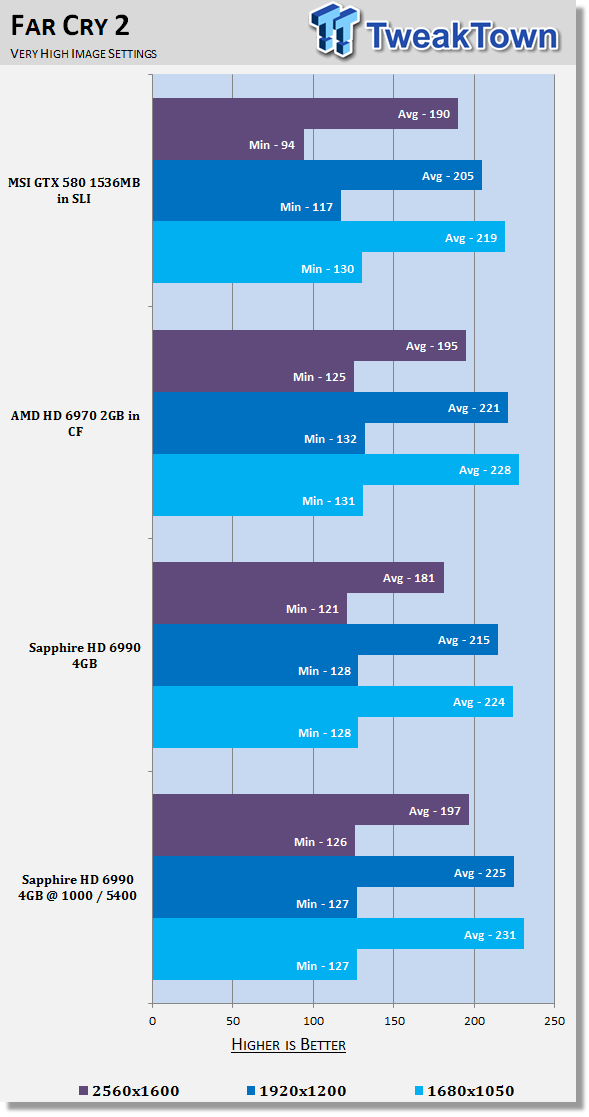 A lot like Mafia 2 you can see we're hitting a bit of a wall under FarCry 2; especially in the minimum department. Compared to the GTX 580 SLI setup the performance is still ahead, especially at the highest resolution.
Benchmarks - High Quality AA and AF
High Quality AA and AF
Our high quality tests let us separate the men from the boys and the ladies from the girls. If the cards weren't struggling before they will start to now.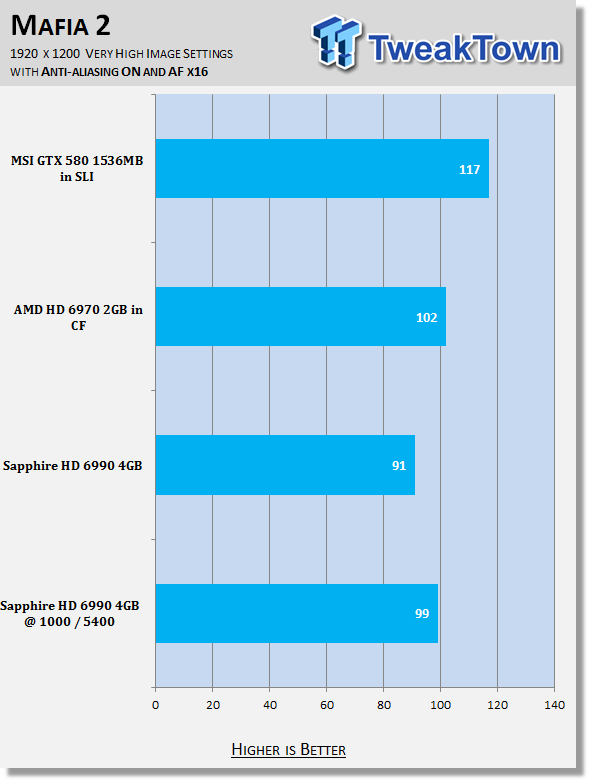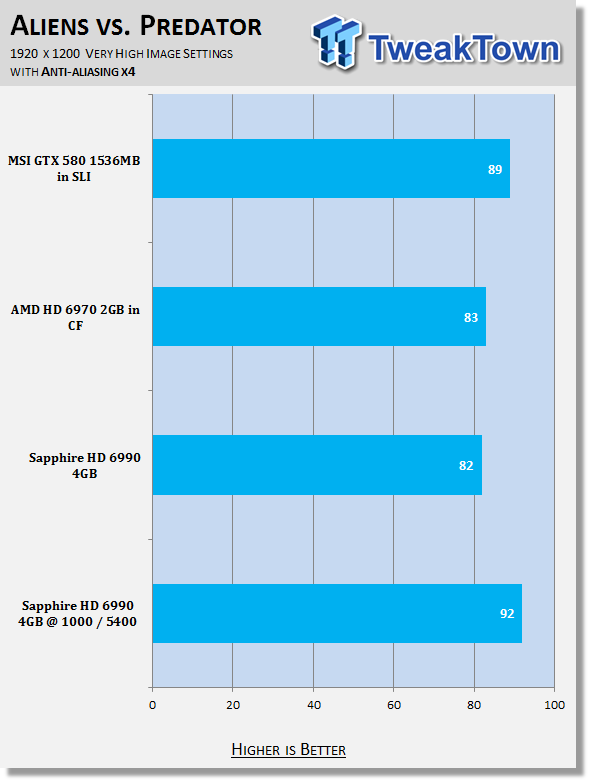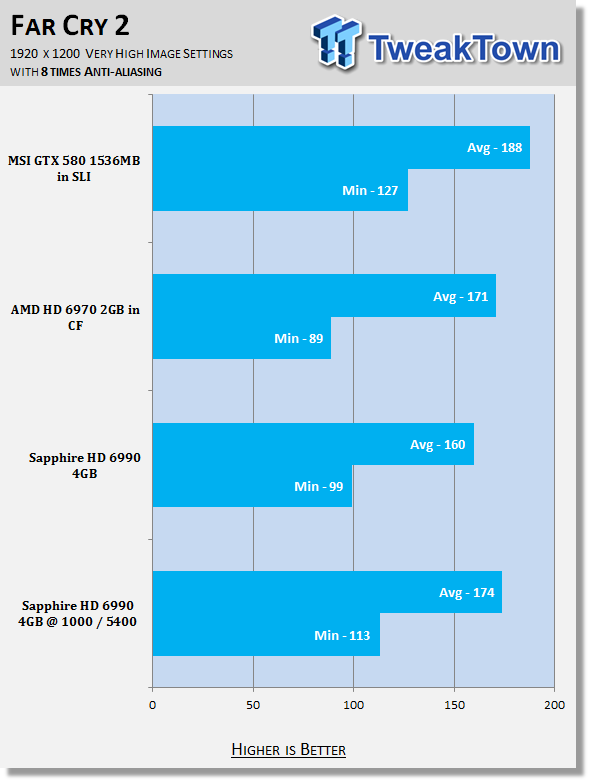 We've already got playable FPS in every test here, but you can see for some games we're not getting those insane numbers so the extra boost here given by the Sapphire HD 6990 4GB at 1GHz is impressive and appreciated.
Final Thoughts
Just quickly before we wrap it all up let me just give you some of the numbers you might be interested in. During 3DMark 11 our core temps came in at only 72c and 61c thanks to the fan running at 100%. Speaking of 100% fan speed that comes in at an ear blistering 90.2dB or
DAMMMMM LOUDDDDD!!!!!
Finally we have power draw, normally we would grab this through Vantage, but we didn't test that today so we pulled it from 3DMark 11.That came in at 606w. To give you an idea of how that compares, the Sapphire HD 6990 4GB draws 475w out of the box. And in AUSUM mode, which you haven't seen yet (but something we've tested), we get a power draw of 523w, so you can clearly see the jump in extra power.
On to the performance side of things the Sapphire HD 6990 4GB is already a fast video card made even more attractive by its single PCI-E design. At 1GHz it is just kicked up a notch.
Under 3DMark 11 the Sapphire HD 6990 4GB out performs the GTX 580 SLI setup at stock, Heaven sees near identical performance, while H.A.W.X. 2 again sees the GTX 580 SLI setup come out on top due to the game indeed preferring the NVIDIA options.
Mafia II performance shows very little change and it would seem we hit a bit of a limitation at around the 111 FPS mark. AvP sees some great increases and puts it and the GTX 580 SLI setup right next to each other while FC2 again seems to hit a little bit of a wall that still puts it ahead of the GTX 580 SLI setup.
Cranking up the detail is where we see the setup really shine, though, with just some fantastic performance under our AA tests.
Sure this isn't really going to be an option for most people because 90dB isn't comfortable in any situation. It's going to be great for benchmark runs, though, and shows us some hope of what may be possible when we see companies like Sapphire attach a mammoth triple slot cooler.