Introduction and Package
Introduction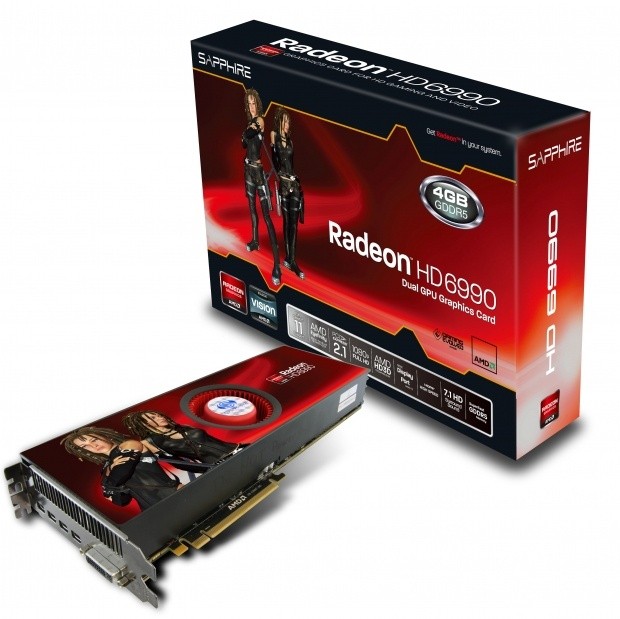 I wish we could offer you the performance numbers of the new HD 6990 4GB, but no thanks to my Australian location falling into the APAC region and the APAC region not always getting the same love as the European and North American ones, our HD 6990 4GB is running late.
The whole situation is made only worse by a public holiday here yesterday. That means while the card arriving a day beforehand would've caused an extremely busy day, at least it would have meant we would've had our performance numbers in time, since only the weak need sleep. The Sapphire HD 6990 4GB should be arriving literally any minute now and instead of having to type about the card as well as do all the testing and graphs, we thought we'd get that part out of the way first.
We've got all our slide decks from AMD and some images from Sapphire. We'll tell you all the stuff we normally would in a video card review outside of the performance of course. Because there's so much to cover as well, it means we can get the performance article to you even faster while making sure we can cover as much information about the new dual GPU beast from AMD.
The Package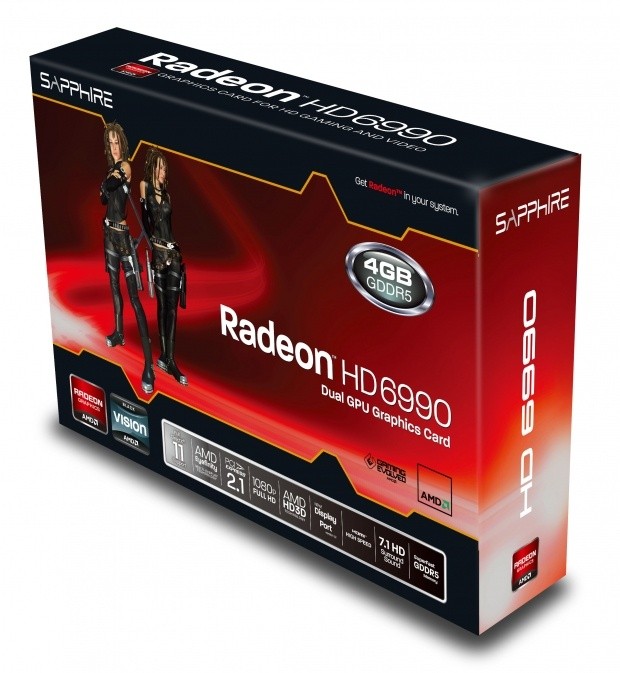 Looking at the package, there's nothing really all that different to what we've seen before. Of course, the brand and model are very noticeable; so is the fact that Sapphire has chosen to let us know that it's a "Dual GPU Graphics Card".
Also on the front we can see a lot of the features like 4GB of GDDR5, DirectX 11, AMD HD3D, Display Port, High Speed HDMI, 7.1 HD Surround Sound and more. We can also see the new "Vision" labeling that AMD is going to start to push. The HD 6990 4GB falls within the "Black Vision" series which seems to be at the top of the tree.
As for the bundle; while we don't have a picture, we can tell you what's inside. Apart from the normal stuff like Driver CD, Manual, Sapphire sticker and CrossFire bridge, we've also got a bunch of adapters.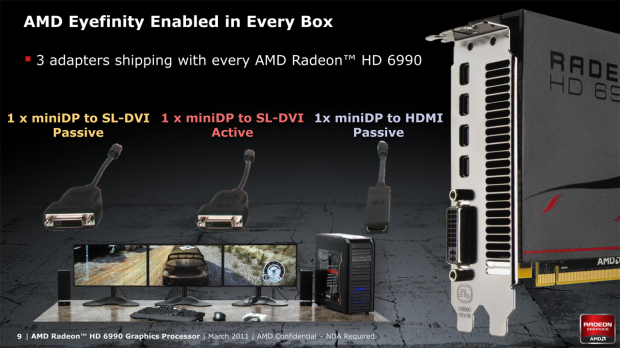 We've got three to be exact with two Mini Display Port to Single-Link DVI adapters being included. One is active while the other as passive. We've also got another Mini Display Port adapter with this one going to HDMI.
I assume we'll also see some form of power converters like we do from most companies, but we weren't able to confirm what exactly we would get. It's probably safe to assume that two Dual 6-Pin to 8-Pin PCI-E power connectors will be included. We'll confirm this in our performance article, though, when we take pictures of our own card.
Card and Features
The Card and Features
With a combination of Sapphire and AMD board pictures along with the launch press kits, we're able to give you a great idea and picture of what exactly the HD 6990 4GB offers.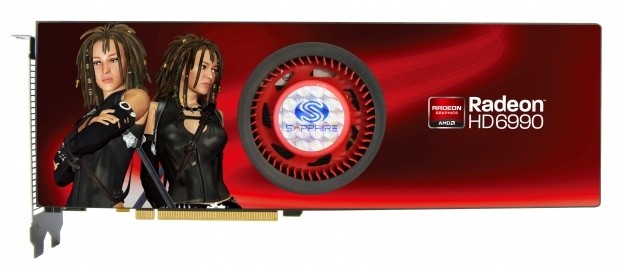 The overall card design is very similar to the previous generation HD 6000 series and even the series prior with that blower fan that pushes air out the back of the card. The design on the card here is a little different, though, as the fan is moved to the middle.
Sapphire has placed their own sticker on the card and for the moment that's the only difference we'll see from companies. We're sure it's not going take long for companies to really begin to mix it up, though.
Considering the 450 Watt quoted number from the card, one of the earlier slides in the launch deck of the new model indeed lets us know just how you cool a card that draws so much power and offers so much power.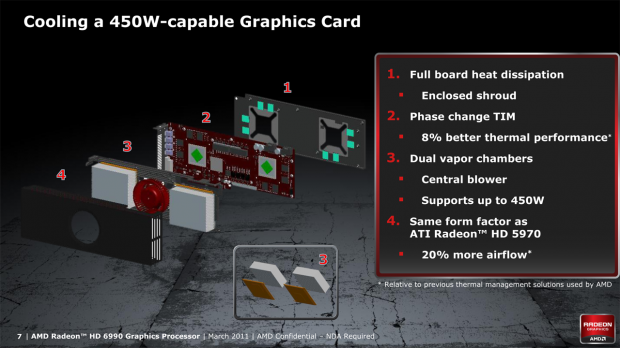 As you can see above, they've opted for a "Dual Vapor Chamber" setup over the top of each GPU with the "Central Blower" in the middle of the card. AMD has also opted for a higher quality thermal paste or TIM that they quote offers "8% Better thermal performance".
Of course, we've also got the enclosed shroud and same form factor of the HD 5970 that we've seen in the past. Clearly this works for AMD, so the decision to offer any changes in that particular area was unnecessary.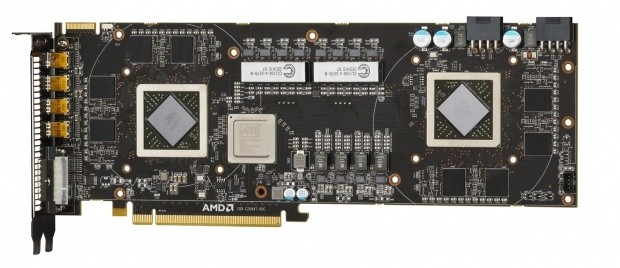 While we don't have a direct shot of the power setup, we do have the information and we can also clearly see it on the naked picture provided by AMD. We've got two 8-Pin PCI-E power connectors and you can see in the above picture that they're actually separated slightly and not next to each other like we normally would see.
While also looking across the top of the card, we can see there's only a single CrossFire connector. This isn't a surprise since we can only achieve up to a four GPU setup which only requires two cards in this case thanks to the dual GPU nature of the HD 6990.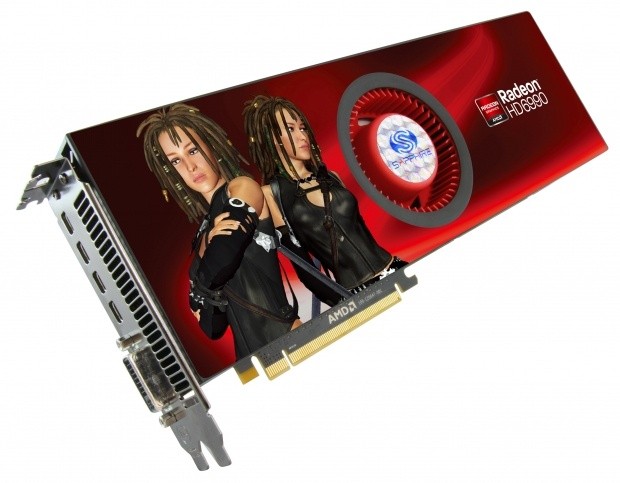 From the actual card perspective, one of the other big important features is the connectivity on offer. What AMD has opted for is a single Dual-Link DVI connector and four Mini DisplayPort connectors. While this might be a concern for some, we did mention that a large number of Mini DP connectors are included in the bundle, so most users shouldn't run into any problems with connecting their monitor or monitors.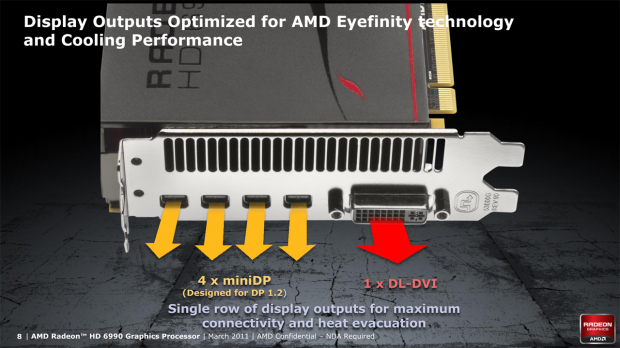 What the design also does is give us the ability to have a full slot for exhaust, something we haven't seen in a while from these higher end cards due to the large amount of connectors. Since the design of the cooler pushes hot air out the back of the card, the more exhaust room means more heat can escape. It's the little things that will help keep the card running cooler.
Features Continued & Specifications
One of the most interesting additions to the card is actually something we already have on the HD 6900 series cards. The Dual-BIOS switch that we saw launch with the HD 6900 again appears on the HD 6990. This time it's a little more exciting, though, as AMD call it "AUSUM" or Antilles Unlocking Switch for Uber Mode.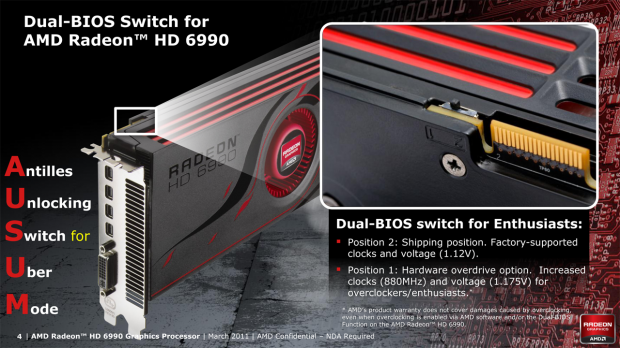 The card will ship in "Position 2" and that will place the card at the factory core clock which is 830MHz. This is closer to the 800MHz clock of the HD 6950 than the 880MHz clock that the HD 6970 offers. Moving to "Position 1" brings with it not only a push to 880MHz, but an adjustment in the core voltage that moves from 1.12v to 1.175v.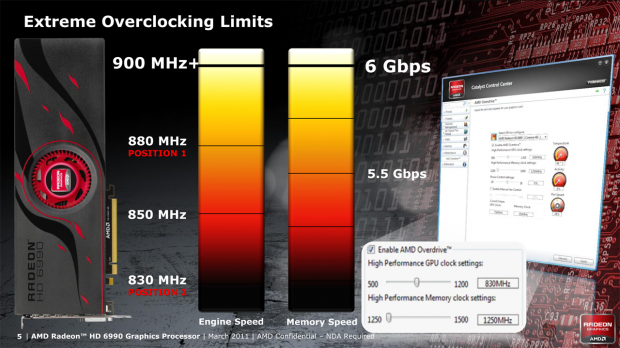 The increase in voltage will bring with it the ability to achieve even more speed, though, with AMD saying we'll be able to achieve clock speeds in excess of 900MHz on the core. During all this, the 4GB of GDDR5 remains unchanged and comes in at a 5000MHz QDR clock on a 256-bit bus. This is the same speed that the HD 6950 comes in at.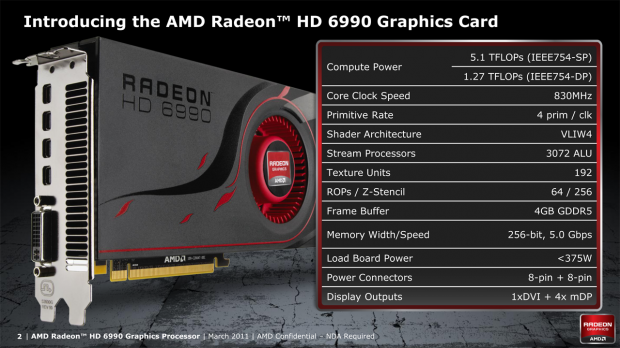 What's so important in knowing how fast the card will run at is the amount of Stream Processors the card will carry. Like the HD 5970, AMD has done the right thing and used the highest single GPU card as its base. That means that the 3072 Stream Processors and 192 Texture Units equate to the same amount as two HD 6970s.
This tells us that out of the box you're going to receive performance in between a HD 6970 CF setup and HD 6950 CF setup. It will be slower than the HD 6970 CF setup, even in "Position 1", as the memory clock is 500MHz QDR slower, but faster than the HD 6950 CF setup because the core is clocked higher in both positions and more Stream Processors and Texture Units are on offer.
This is exactly what people wanted with the "Dual BIOS" switch and I think we're going to see some companies really go nuts with it, especially when we start getting some massive triple slot cooling solutions on the card.
It seems that the "Dual BIOS" switch along with PowerTune allows AMD to get around some of the limitations that we normally see on these ultra-high end video cards. Below you're able to see exactly what flicking that switch to "AUSUM" mode does.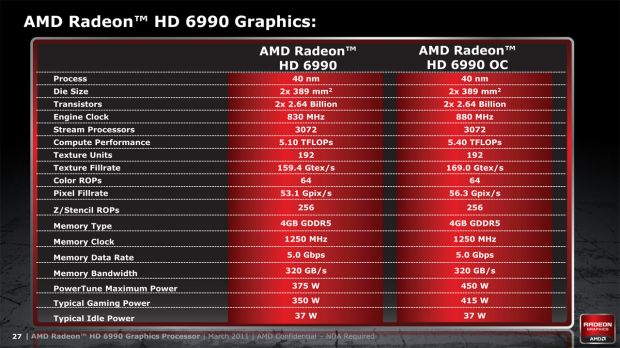 We told you what it does as far as clocks go, but above you're also able to see the extra bandwidth that is offered. More importantly is you're able to see what happens to power draw which turns the card from a 350 Watt "Typical Gaming" / 375 Watt "Maximum Power" setup to a 415 Watt "Typical Gaming" / 450 Watt "Maximum Power" one.
In CrossFire that translates to 900 Watt of Video Card Power Draw, or a really expensive and high quality power supply that exceeds well into the 1000 Watt mark with something like an AX1200 from Corsair being a necessity.
That's really a lot of power, but for years we've been hearing people whine about the fact that people buy 1000 Watt power supplies and have no use for them. Well today, that changes, as you're going to need over 1000 Watt to deal with a dual card setup that equates to four GPUs.
Making use of the Power: New Games
We know with just one card we're going to have an absolute bucket load of performance on offer, but with two the performance will simply be insane. The question is, how do you really make use of all this power that's on hand, though?
Eyefinity is one way with AMD actually promoting the five monitor setup quite strongly with this card. In portrait mode gaming is at a different level again than the standard landscape one and with five displays supported off a single card it's going to be the must have setup for gamers who demand the most impressive setups.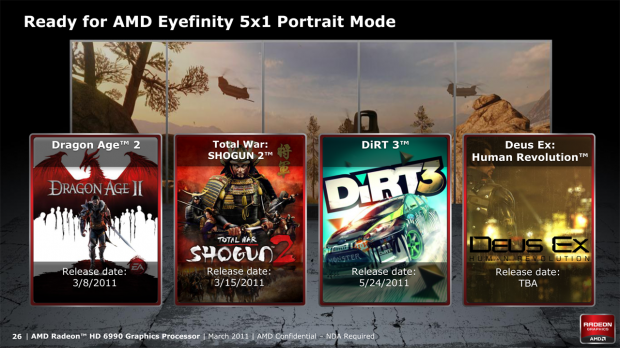 AMD has already announced four upcoming titles that will support the technology which include Dragon Age 2, Total War: Shogun 2, DiRT 3 and Dues Ex: Human Revolution.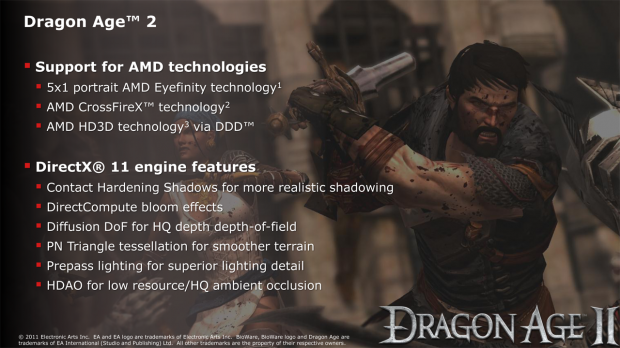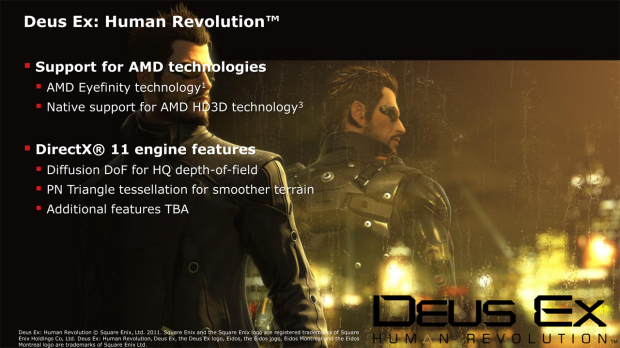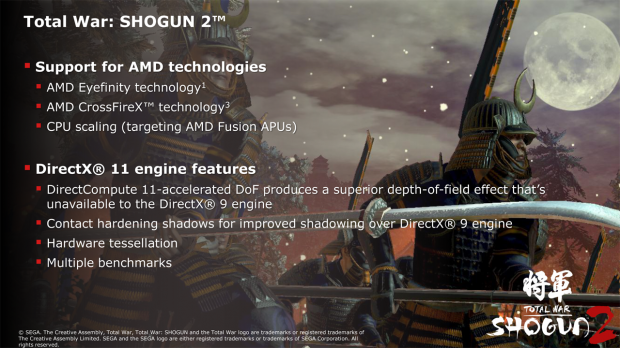 All these games offer more than just Eyefinity support, though. In the above slides you can see other AMD features like CrossFireX and HD3D support offered alongside some beautiful DX 11 features.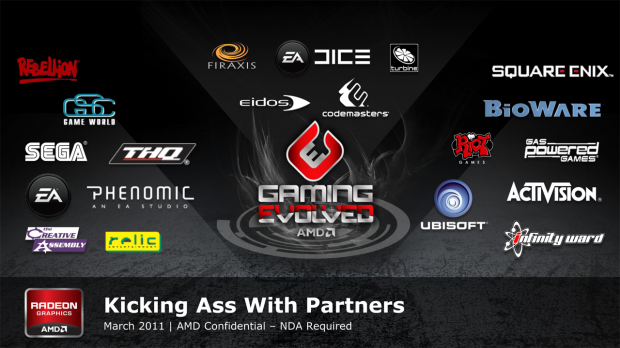 For the first time I get the real sense that AMD is working with game companies to make sure their card runs better than the competition. This is so important with NVIDIAs "The Way It's Meant To Be Played" program. The inclusion of built in benchmarks which is mentioned above for Shogun 2 are also very important and it will be really interesting if this is a trend AMD follow.
Are we Excited?
Absolutely! The fact that I haven't got the card yet means that I've really gone through the launch deck top to bottom multiple times. It's exciting to see what AMD is offering here, not just with the card itself, but the push for better support with gaming partners.
Really, without the gaming partners releasing games that can really make use of the power and features that are on offer from these cards, they're really pointless. It seems that AMD is really trying to make sure that we have a reason to upgrade to new higher end cards by helping developers implement new features.
Of course, the card looks like it's going to be an absolute beast, though, with the "Dual-BIOS" switch finally being used in the way we wanted it to along with just the huge amount of power that's going to be on offer from a card that only requires a single PCI-E slot.
We of course wish that our card arrived on time and we could give you all those yummy performance benchmarks, but the second it arrives some quick happy snaps will be taken and the card will be slid delicately into our machine for some benchmarking.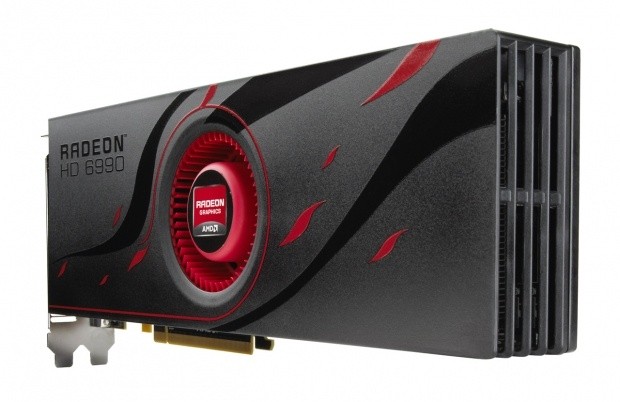 Of course, we'll then have a bunch of articles following in the coming weeks including "AUSUM" mode, our own overclocking, CrossFireX and CrossFireX overclocking.
For now, though, we hope you enjoyed an in depth look of everything else revolving around the HD 6990 and make sure you keep an eye out for the performance results when they go live here at TweakTown.