AMD Athlon II X4 630 Extreme Overclocking with LN2 by Deanzo
Today we see how far an AMD Athlon II X4 630 processor can be pushed when cooled to minus 180 degrees celcius with LN2 extreme cooling.
Published Fri, Oct 30 2009 12:46 AM CDT
|
Updated Tue, Nov 3 2020 7:03 PM CST
Introduction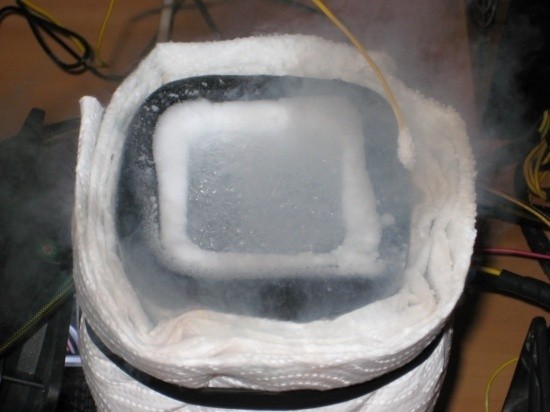 For those that do not know me, my name is Deanzo. I am an extreme overclocker from New Zealand who competes in online and live global competitions hosted by the likes of GIGABYTE and MSI. What that means is, I like to torture hardware with sub zero cooling; dry-ice and liquid nitrogen (LN2) are my preferred weapons of choice to obtain the highest levels of performance.
For my first article here at TweakTown I am putting the mainstream AMD Athlon II X4 630 on the chopping block. I have high expectations of this mainstream CPU as its big brother, the Phenom II, scales extremely well with sub zero cooling and exhibits none of the cold related issues we have been fighting with on Intel platforms for the last couple of years.
How far can I push it with only a 14 times multiplier to play with? How will the CPU and motherboard hold up to minus 180 degrees celcius? And of course, there's the all important benchmark numbers.
I would be lying if I said I wasn't hoping to see a 6 GHz screenshot. With that said, let's see how it all went down. First watch a video we prepared.
Now for the specifics, go onto the next page!
Extreme LN2 Overclocking
Below you can view a series of motherboard screenshots I took during my preparation phase with regard to suiting up the ASUS Crosshair III Formula motherboard for some extreme cooled goodness.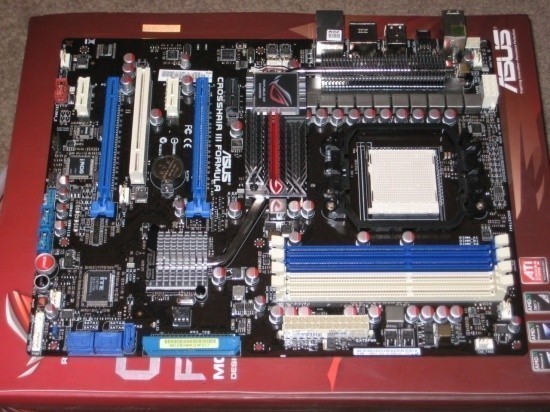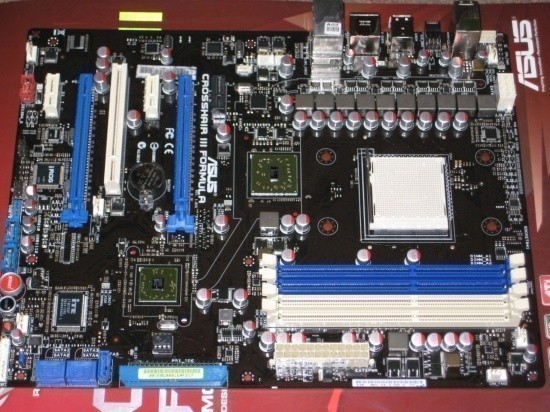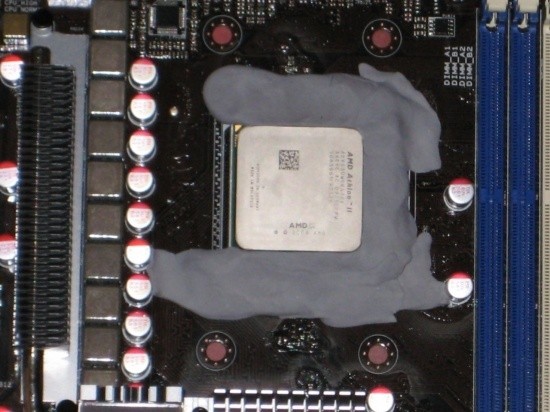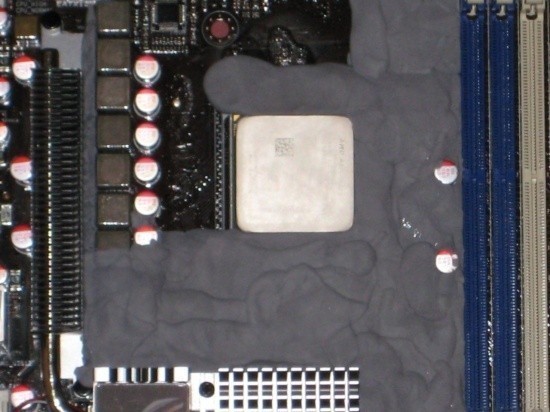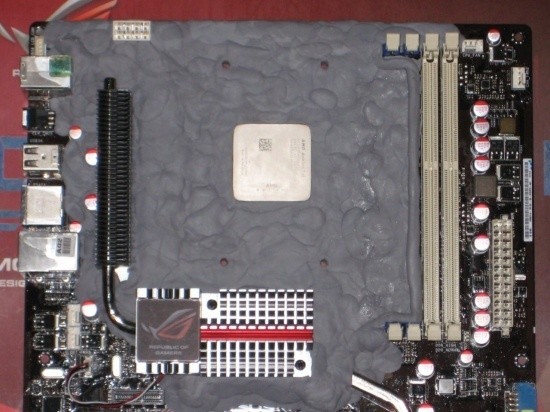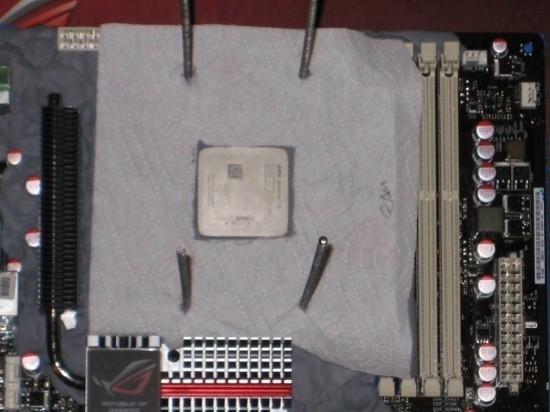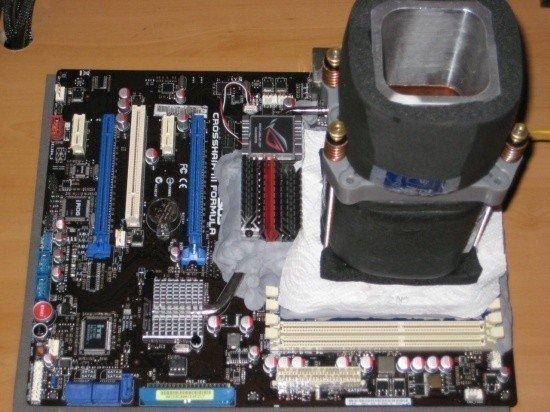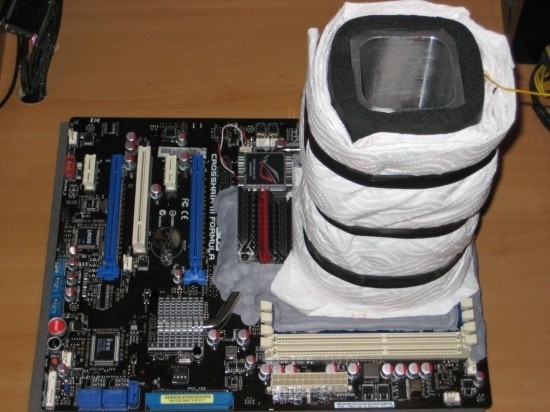 And here's the reward :
[img]2[/img]
[img]3[/img]
What a fun little processor the Athlon II 630 turned out to be. With a stock speed of 2.8GHz, I was able to overclock to 4GHz using after market air cooling and a very respectable 5586 MHz with LN2.
You can see the validation for the
CPU here
.
Unfortunately this combo had a hard HTT wall of 400. Even though 399x14 was relatively easy to obtain, 400 would instantly give me a black screen with the board shutting down soon after. I was unable in the time allotted to find a way around this wall which is unfortunate, as I was able to bench multi-threaded applications very close to that mark, so the CPU should theoretically have more to offer.
In my results I have added stock and 4GHz scores generated on air. For LN2 I did a base collection at 4.9GHz as that was my maximum boot speed. All clocks after that was utilising the ASUS utility "Tweak IT" to increase the clock speeds within Windows.
I have also added a spread of benchmarks that we utilise in CPU competitions.
Important Editor Note: Our maximum overclocking result is the best result we managed in our limited time of testing the motherboard. Due to time constraints we weren't able to tweak the motherboard to the absolute maximum and find the highest possible FSB, as this could take days to find properly. We do, however, spend at least a few hours overclocking every motherboard to try and find the highest possible overclock in that time frame. You may or may not be able to overclock higher if you spend more time tweaking, or as new BIOS updates are released. "Burn-in" time might also come into play if you believe in that.
Test System Setup and SiSoft Sandra
Test System Setup
Motherboard
: ASUS Crosshair (Supplied by
ASUS
)
Hard Disk
: Seagate 320GB (
Seagate
)
Graphics Card
: Galaxy GTX295 (
Galaxy
)
Cooling
: Dragon F1 Extreme Edition (
KINGPIN COOLING
)
Operating System
: Microsoft Windows 7 RC 7100 64-bit
Drivers
: ForceWare 191.07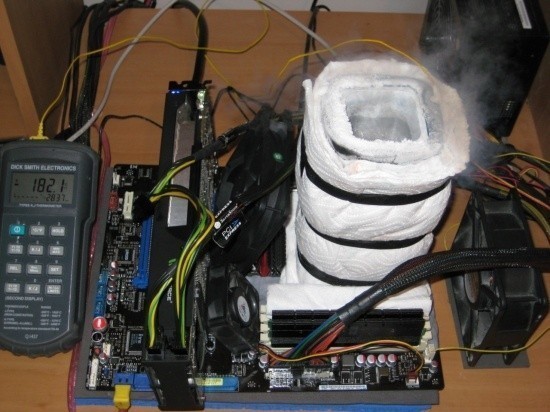 Unlike most test beds, we will be utilising LN2 to freeze the CPU. We will strap on a Dragon F1 CPU pot instead of a standard heatsink and fan.
As all air testing was done prior to the release of Windows 7, RC 7100 was used and continued with for the subzero results.
The graphics card is at full stock settings and no benching or operating system tweaks have been utilised.
SiSoft SandraVersion and / or Patch Used:
2009
Developer Homepage:
http://www.sisoftware.co.uk
Buy It Here
SiSoft Sandra (
S
ystem
AN
alyser,
D
iagnostic and
R
eporting
A
ssistant) is a synthetic Windows benchmark that features different tests used to evaluate different PC subsystems.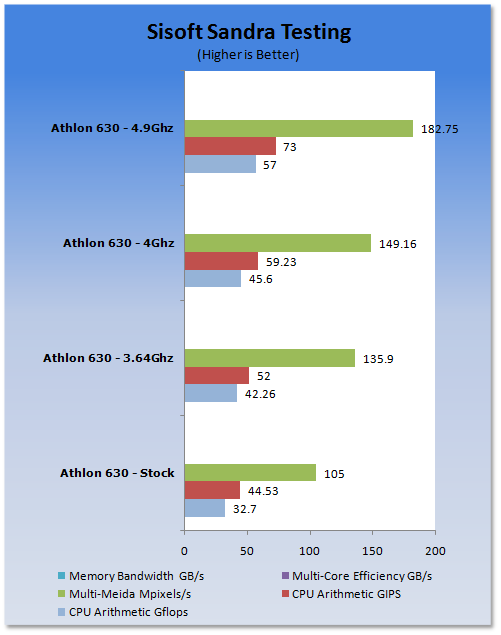 A bit of a mixed bag can be seen with these results. The multi-core efficiency test gave inaccurate results, so for now I have left them off the graph. There is also an issue with the way the benchmark calculates scores relating to clock speed, as it would only recognise the initial boot clocks and did not scale whatsoever with increased speeds generated within Windows. Being that 4.9GHz was my maximum boot speed, I have only included results to that point.
Benchmarks - Hyper Pi
HyperPi 0.99Version and / or Patch Used:
0.99
Developer Homepage:
www.virgilioborges.com.br
Product Homepage:
www.virgilioborges.com.br
Download It Here
HyperPi is a front end for SuperPi that allows for multiple concurrent instances of SuperPi to be run on each core recognized by the system. It is very dependent on CPU to memory to HDD speed. The faster these components the faster it is able to figure out the number Pi to the selected length. For our testing we use the 32M run. This means that each of the four physical and four logical cores for the i7 (four total on the PII x4 955 and Core i5) is trying to calculate the number Pi out to 32 million decimal places. Each "run" is a comparative to ensure accuracy, and any stability or performance issues in the loop mentioned above will cause errors in calculation.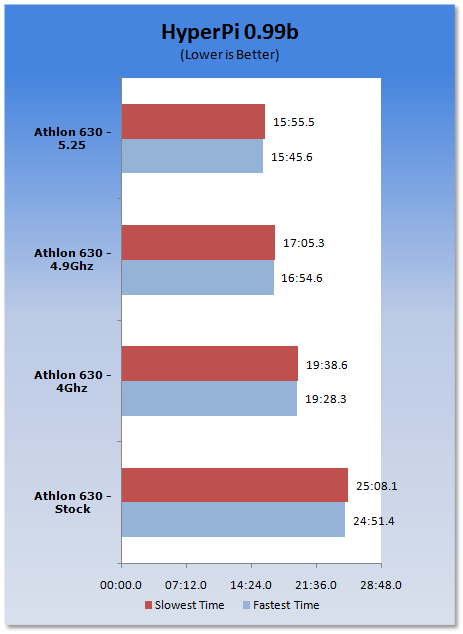 Here we see HyperPi scaling nicely with the added CPU and memory speeds, up to a maximum speed of 5250MHz.
A poor core (number 4) and a potentially below par memory controller on the chip were holding back a number of these results under Windows 7.
Benchmarks - PCMark Vantage
PCMark VantageVersion and / or Patch Used:
1.0.0.0
Developer Homepage:
http://www.futuremark.com/
Product Homepage:
www.futuremark.com
Buy It Here
For overall system performance we use PCMark Vantage; this is run in both x86 and x64 mode to give the best indication of performance.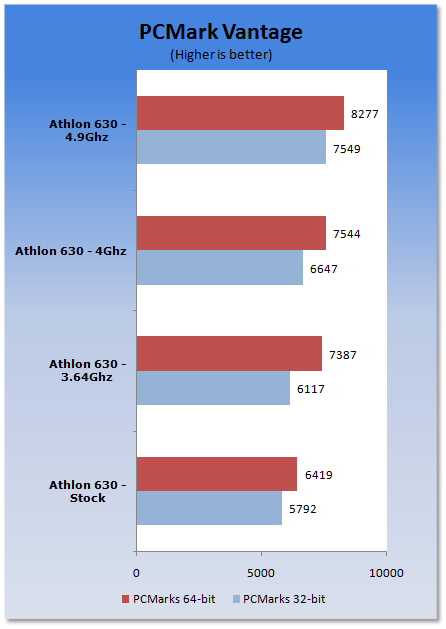 At 24 minutes a run this is not something that would often be used in conjunction with LN2, but here you can see it scaling with the added speed. I capped this at 4.9GHz due to the length of time and the amount of LN2 required to find the absolute maximum speed for this benchmark.
Benchmarks - CINEBENCH R10 x64
CINEBENCH R10 x64Version and / or Patch Used:
R10
Developer Homepage:
http://www.maxon.net/
Product Homepage:
www.maxon.net
Download It Here
CINEBENCH is a synthetic rendering tool developed by Maxon. Maxon is the same company that developed Cinema4D another industry leading 3D Animation application. CINEBENCH R10 tests your systems ability to render across a single and multiple CPU cores. It also tests your systems ability to process OpenGL information.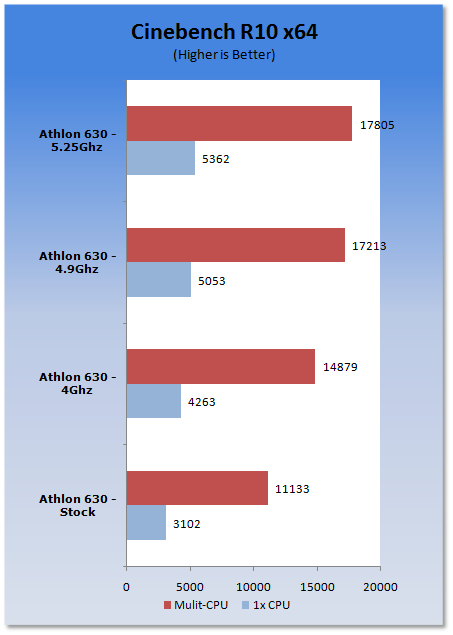 I'm very surprised to find that CINEBENCH added more strain to the system than 3DMark Vantage (results on the next page). As you can see, my maximum benchable speed was 5250MHz.
Benchmarks - 3DMark Vantage
3DMark VantageVersion and / or Patch Used:
101
Developer Homepage:
http://www.futuremark.com
Product Homepage:
http://www.futuremark.com/products/3dmarkvantage/
Buy It Here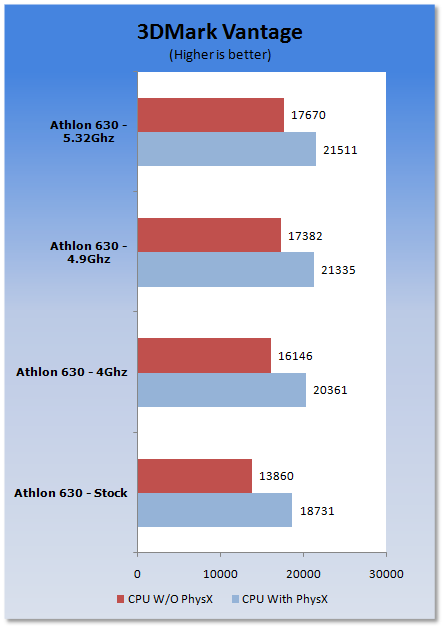 Here we see the Athlon II X4 630 was successfully able to pass 3DMark Vantage at a respectable 5.32GHz. I also completed a quick test at the same speed, but with the video card clocked to a modest 690 on the core and 1200 on the memory, giving me a score of P19461 or P24670 with physics enabled.
Final Thoughts
For an extreme bencher like myself, the Athlon II X4 630 is never going to set world records; but for what it lacked in performance, it made up for in fun. Not having to fight coldbugs (a temperature where components cease working), made for a most enjoyable change, while still giving plenty of scope to overclock. As you could see from the CPU-Z screenshot, we almost achieved a 100% overclock.
Unfortunately it was not without its own unique quirks. For the life of me this setup simply refuses to pass 400HTT. At this time I believe it to be a board limitation or the memory controller on the chip (the system had great difficulty running above 1600MHz on the memory as the CPU clock speeds increased), or perhaps a combination of both. I have e-mailed ASUS to try to resolve this problem and I will update my results if possible.
I have also taken the opportunity to run the full spread of competition benchmarks utilizing different operating systems and tweaks. Check out the forums shortly to see these results posted and to see how they stack up against the competition.
If you were wondering why anyone would go to such lengths, please remember that not so many years ago, if you said you watercooled your processor people looked at you like you were from another planet. There are also positive spinoffs for mainstream users as manufacturers have to produce more robust and versatile components to meet our needs.
Put quite simply, if we (extreme overclockers) can't kill it, no-one can, and hopefully the vendors will have fewer RMA's and the mainstream users less hardware failures.
Oh, and for the record, benching at minus 180 degrees ROCKS!!!
PRICING: You can find products similar to this one for sale below.

United States: Find other tech and computer products like this over at Amazon.com

United Kingdom: Find other tech and computer products like this over at Amazon.co.uk

Australia: Find other tech and computer products like this over at Amazon.com.au

Canada: Find other tech and computer products like this over at Amazon.ca

Deutschland: Finde andere Technik- und Computerprodukte wie dieses auf Amazon.de