Introduction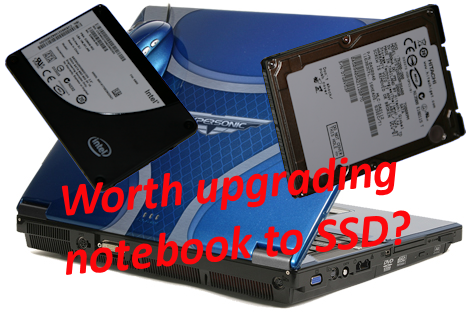 OCZ sent me one of their fancy new Hypersonic notebooks around this time last year and today it is still quite a powerhouse for what I do with it, especially considering its size.
People often mistake it for a netbook, but then see how quick she runs with its speedy Intel mobile Core 2 Duo T9300 and 4GB of memory. I usually upgrade notebooks regularly (once a year), but this baby still delivers quite a punch. But what could we do to give it extra boost?
It came installed with a rather fast 200GB 7,200 RPM SATA notebook hard disk drive from Hitachi and it works rather well. However, I did start to notice that something may have been holding the notebook back, especially loading applications and with boot time. This notebook is often used on the road at trade shows and other events and it needs to be very snappy - of course so we can bring you the news as soon as possible. Now with online video content coming into play, we need a system that will allow us to also edit video and publish online, on the road and wherever we find ourselves when a new product comes out or when a tech story breaks.
With all of that in mind, we decided to run some tests and see if it would be worthwhile or not upgrading our notebook from a standard notebook hard disk drive to a shiny new SSD - in particular, the Intel X25-M 80GB SATA drive. And don't worry, we upgraded to the
latest Intel firmware for its X18 and X25 series of SSD drives
, which is designed to improve performance.
In this article we run through how to change out your HDD and replace with an SSD, performance, power consumption and finally price and weight considerations before wrapping it all up. Is it time to give your notebook an SSD upgrade? Read on and find out as we deliver the answers right here.
Quick video on replacing notebook HDD with an SSD
So, let's assume here that you want to upgrade your standard notebook HDD to an SSD.
We have prepared a short video below which shows how easy it is to upgrade. We used an OCZ Hypersonic notebook for the job. Installation will vary slightly with every notebook, but the basic idea is the same. We are replacing a 200GB Hitachi 7,200 RPM SATA hard drive with an 80GB Intel X25-M SATA SSD drive.
As you can see in the video above, installation is simple and only takes a few minutes, if that.
What we forgot to mention in the video is that SATA drives don't use jumpers to set master and slave - some come with jumpers for upgrading firmware, though. Just pop your new SSD in gently, make sure it is detects correctly in your BIOS or at POST and then you're in business. If it doesn't detect, your motherboard may need a new BIOS update or you didn't install the SSD properly, with the power and data connectors attached properly.
Since all new SSD drives being released use the SATA interface, just make sure that your notebook supports it. You can still buy older PATA (IDE) based SSD drives, but they are slower and usually smaller in capacity.
On the next page let's take a look at the performance considerations between a HDD and SSD.
HD Tune Pro performance testing - HDD vs. SSD
You've just seen how easy it is to install an SSD into your notebook, now let's take a close look at performance with HD Tune Pro. We are looking at read speed performance.
Today we are using an OCZ Hypersonic notebook, which is about one year old. Don't let that fool you, though; it is quite a beast still to this day. It uses Intel's T9300 Core 2 Duo mobile processor, which operates at a maximum clock speed of 2.5GHz. Based off of the Intel 965M chipset with ICH8-ME southbridge, it comes with 4GB of DDR2 memory, which is configured in dual channel mode.
We replaced the factory installed Hitachi 7K200-200 7,200 RPM SATA hard disk drive with an Intel X25-M 80GB SATA SSD drive. The Intel SSD was upgraded with the latest Intel firmware which improves performance. We also tested using the latest Windows 7 64-bit RC build 7100 operating system with latest drivers from Windows Update. No SSD tweaks were applied and each drive was tested on a brand new fresh install.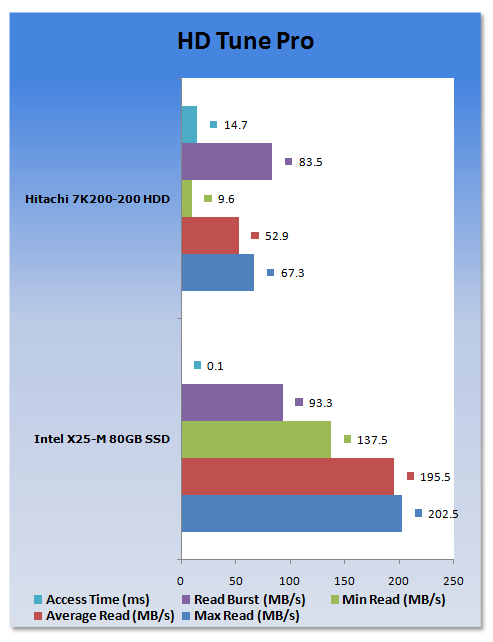 As you can see, the speedy flash memory enabled SSD drive entirely crushes the standard notebook HDD into tiny little pieces.
These numbers are all good and well, but what about some real-world action? Next page.
Boot Time performance testing - HDD vs. SSD
We just saw the SSD totally crush the notebook hard drive, but what about some real-world testing action?
Here we show the difference in boot time between the two. We measured using a stopwatch and timed from the point we turned the Hypersonic notebook on until the very first point each reached the Windows 7 desktop.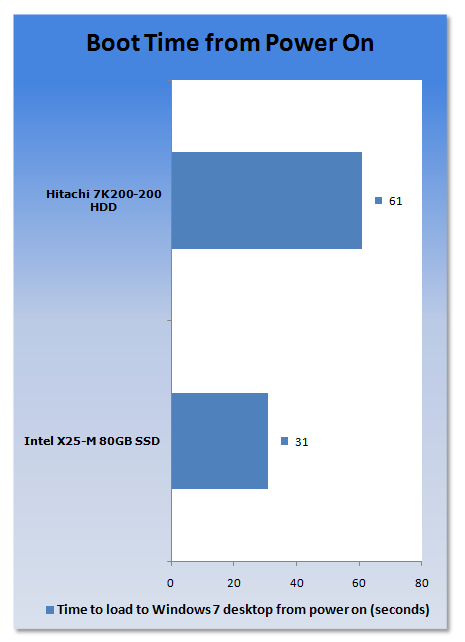 As you can see from the results above, this idea of upgrading to an SSD is turning out pretty good so far. The Intel X25-M SSD is a full thirty seconds quicker at booting up! Where the HDD had to sit and think just before displaying the desktop, the SSD breezed through it in an instant.
Unfortunately we ran out of time to compare video encoding performance, but as you can see from the numbers so far, it will totally break the HDD as we've seen so far already from the SSD.
Power consumption testing - HDD vs. SSD
Our final test for the day pits both in the all important power usage stakes.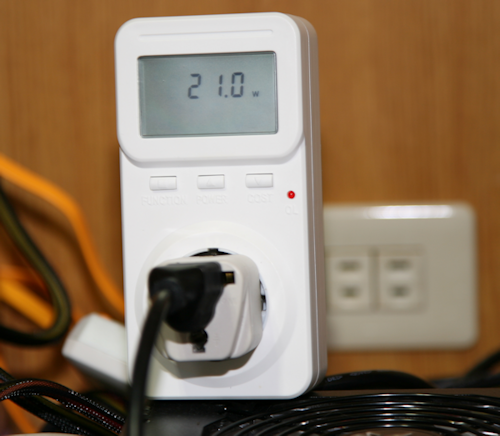 We have seen other media perform similar tests and claim that SSDs actually use more power than hard drives, but that just seems too hard to believe. Without even getting anywhere close to technical, SSDs use flash memory with no moving parts. HDDs are all about moving parts that spin very fast.
In the results below, we use a standard wall power measure to compare full system performance with each HDD and SSD installed.
Some notes - we tested maximum wattage during our HD Tune Pro test at roughly the same point. At this point the CPU was clocked at its maximum clock speed of 2500MHz. Wi-Fi was enabled for all tests. In idle mode on the desktop, the CPU used its speed step technology to clock down to 1197MHz. Power consumption was monitored for a total of five minutes for each test and the highest wattage number was recorded during that time.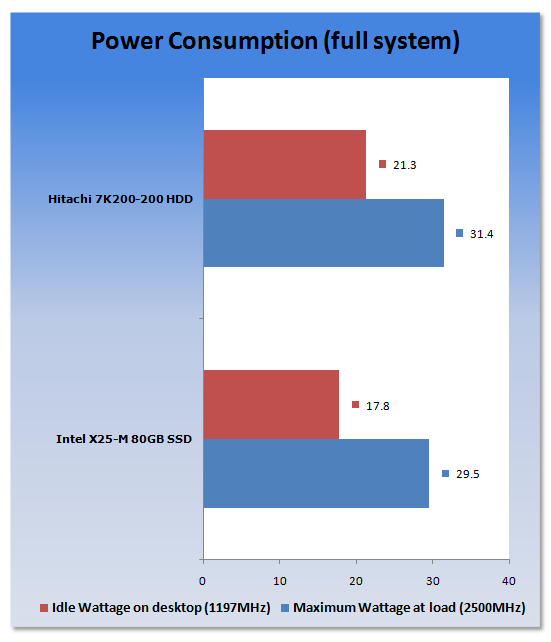 As we can see from the results above, at idle loading the SSD uses 3.5 watts less than the HDD - that works out to be around 16% less.
When it comes to load testing, the results are not as impressive, but we still do see the SSD providing a 6% drop in power usage. We ran out of time to do battery life testing, but it is a subject we can explore in much more detail later on.
Final Thoughts
As you would expect, new SSD technology puts aging hard disk drive technology to shame.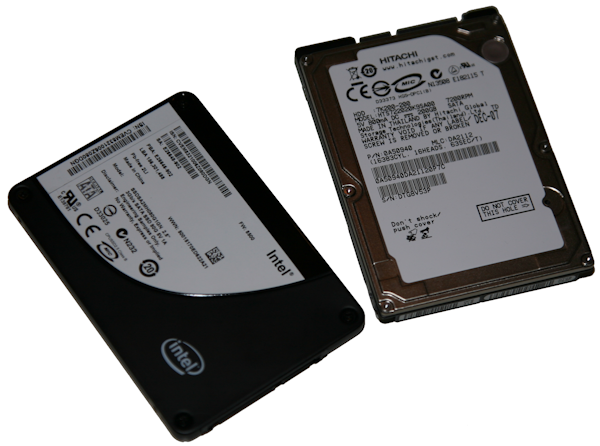 In every test we performed, the SSD came out in front and not by just a small margin, but a massive one. From the raw results under HD Tune Pro where the hugely fast throughput of the Intel X25-M showed its face, through to the much faster boot times with SSD installed and finally to the power consumption results where the SSD also showed its strength in managing to save power.
Should we just throw out all of our hard disk drives right now and be done with them then? Well, tech enthusiasts would most be all for that idea. However, there are a couple of things to remember before getting too excited.
At the time of writing, we checked Newegg and it is stocking the Intel X25-M
80GB
retail model
for $314.99 USD with free shipping
. The Hitachi 7K200-200 drive is a little older now and harder to find, but we managed to see it listed for a little over $200 USD. A quick look on Newegg shows us that we can pick up a Seagate 500GB 7,200RPM notebook drive for about $140 USD. SSD technology is great - plenty of speed and super fast access time, but it still comes at a cost on the wallet.
How about the actual weight of an SSD versus a traditional notebook hard disk drive? It's not as much as you may think actually. The 200GB hard drive we used for testing weighs in at 115 grams and the 80GB SSD comes in a little less at 80 grams. Will this make a big difference to the overall weight on your notebook? Not really, as the average small notebook weighs 1Kg or more and that 35 gram weight reduction is very hard to notice, if at all.
So, we set out to find out if it is worth upgrading your notebook to an SSD drive and if you haven't already realized, the answer is an obvious
YES!
. As long as you have the extra cash free, it is a valuable upgrade to any notebook. If the price of the Intel X25-M scares you, there are plenty other brands out from folks like Runcore, Patriot Memory and G.Skill just to name a few.
You can read our
SSD reviews from this page
.