Kingston SSDNow M-Series 80GB SSD w/ Intel Firmware Update
Kingston follows Intel down the road to SSD bliss. Let's see what the SSDNow is all about.
Published Wed, Apr 15 2009 6:59 AM CDT
|
Updated Tue, Nov 3 2020 7:03 PM CST
Introduction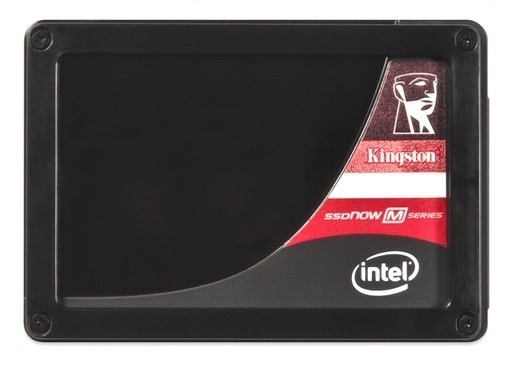 We have been waiting on Intel's firmware update for a few weeks now. At the same time we knew Kingston would have their first consumer solid state drive built with Intel technology on the way to us. Little did we know that the two would arrive within days of each other.
If you missed the news reports, Intel launched an updated firmware for their X25-M Series of solid state drives. The new firmware is supposed to address issues found when specific data patterns are used in benchmarks. At the same time Intel used the opportunity to rework their algorithms for a little more oomph, not that the X25-M really needed anymore.
Kingston started out with a single product back in 1987 and is now one of the largest privately held companies in America. Every year Kingston adds to their product portfolio and in many cases if it has the Kingston "Redhead" on it you know it is the best product available.
Solid state storage technology has evolved faster than anyone could have dreamed. New retail drives are coming to market faster than were released at the height of the NVIDIA / ATI video card wars from just a few years ago. To be a player in this market you need to be able to throw hundreds of millions of Dollars towards R&D, spend months testing and by that time someone else has already came up with a competing product that out shines your latest creations. Another avenue would be to team up with a company that is already at the top. Since Kingston is dedicated to bringing the highest quality parts to market they have chosen to release solid state drives that meet their high expectations.
Specifications, Availability and Pricing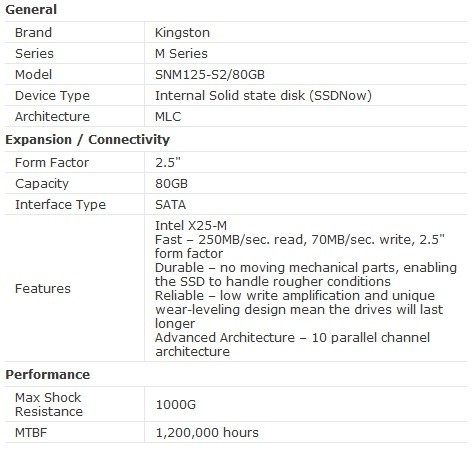 The specifications won't show any difference between the Intel X25-M and Kingston's SSDnow M-Series. The two drives are in fact the same with a different label. Choosing one drive over the other is going to come down to personal preference between the RMA procedures, cost at the time and availability.
We already know that the X25-M is the fastest consumer level solid state drive on the market now. We have tested a few drives that were sent to us with a claimed, "Intel X25-M Like Speed", but so far they have all fallen short. Talk about a complement; when your competitors advertise their drive as having speed close to yours. Kingston doesn't have to make these comparisons; they came on the field with Montana and Rice on their team.
At the time of this writing Newegg had the Kingston M Series in 80 GB capacity
for 461.00 USD with free shipping
. The Intel version is
listed at Newegg for 393.00
, but you can find both for a little less if you shop around.
To keep things a little interesting today we are testing the Kingston SSDNow M-Series 80GB drive with the latest 1.1 firmware that was just released a couple days ago.
The Packaging
I have yet to see a full color package from Intel or Kingston on their SSD lines. They both receive the brown box treatment.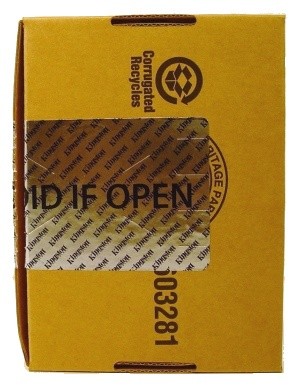 On the back you can see that the Kingston SSD gets a warning foil around it.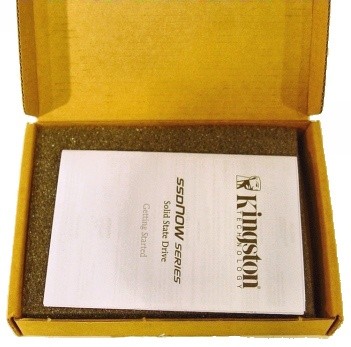 Once the package has been opened you will find the manual and the drive is surrounded by a lot of medium density foam.
The Kingston SSDNow M-Series SSD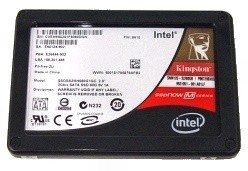 The label has a few subtle differences from the Intel version of the drive. As you can see, the drive has some Kingston branding with the SSDNOW logo.

The biggest difference that I have found with the Kingston M-Series drive is the use of a top plate that makes the drive the same height as standard 2.5-inch notebook drives. It might not seem like much but the plate made it a lot easier to get the Kingston drive into my Lenovo T61p notebook. Nearly all notebooks are designed to fit the standard height and when the spacer is removed it is a little harder to get the drive lined up to fit properly.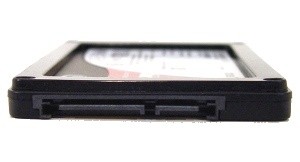 Along the back we see the standard data and power connectors and that they are placed where they should be.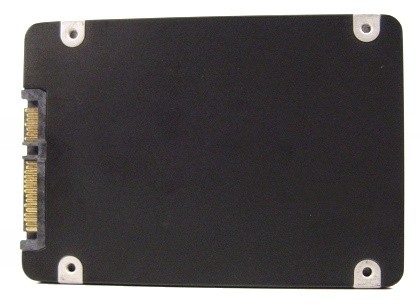 The back of the drive is pretty much plain since all of the serial and product information is on the front of the drive.
Test System Setup
Test System
Processors
: AMD Opteron 2356 (2.3GHz Quad-Core) x2
Motherboard
: Tyan S2915-E (Supplied by
Tyan
)
Memory
: Kingston KVR667D2S4P5/2G x4 (Supplied by
Kingston
)
Graphics Card
: XFX 8800 GTX (Supplied by
XFX USA
)
Enclosure
: Lian Li V2000
Cooling
: Noctua NH-U12DO (Supplied by
Noctua
)
SATA Controller
: Areca ARC-1231ML (Supplied by
Areca
)
SAS Controller
: Areca ARC-1680i (Supplied by
Areca
)
Operating System
: Microsoft Windows Vista Ultimate X64
Today we are comparing the Kingston SSDNow M-Series SSD with other 2.5-inch drives that we've reviewed in the past.
All of the drives tested were performed on the listed system under identical conditions to ensure true apples to apples performance results for comparison.
Benchmarks - HD Tune Pro
HD Tune ProVersion and / or Patch Used:
3.00
Developer Homepage:
http://www.efdsoftware.com
Product Homepage:
http://www.hdtune.com
HD Tune is a Hard Disk utility which has the following functions:
- Benchmark: measures the performance
- Info: shows detailed information
- Health: checks the health status by using SMART
- Error Scan: scans the surface for errors
- Temperature display
HD Tune Pro gives us accurate read, write and access time results and for the last couple of years has been gaining popularity amongst reviewers. It is now considered a must have application for storage device testing.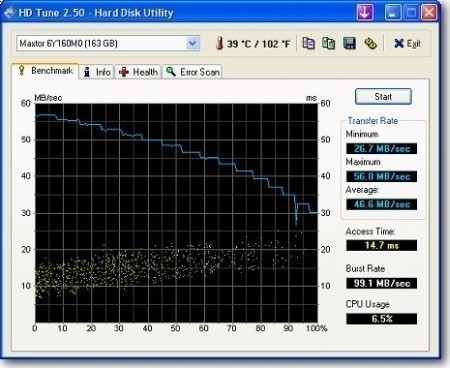 Read Tests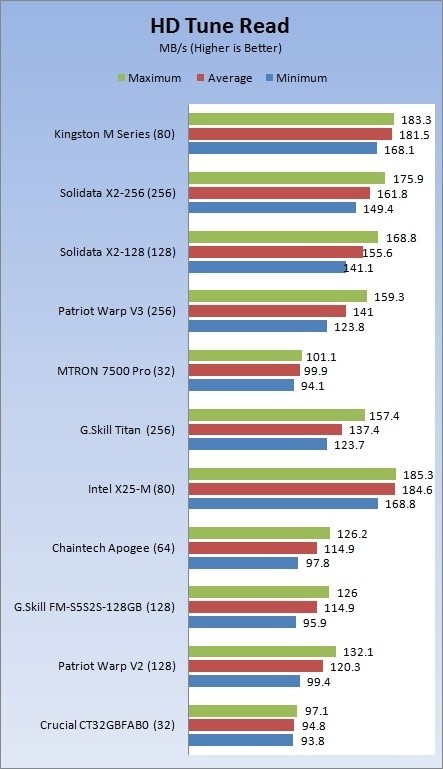 The read performance of the Kingston with the latest firmware shows little change from the old firmware that was used on our first X25-M tests. The X25-M is still one of the fastest drives we have ever tested.
Write Tests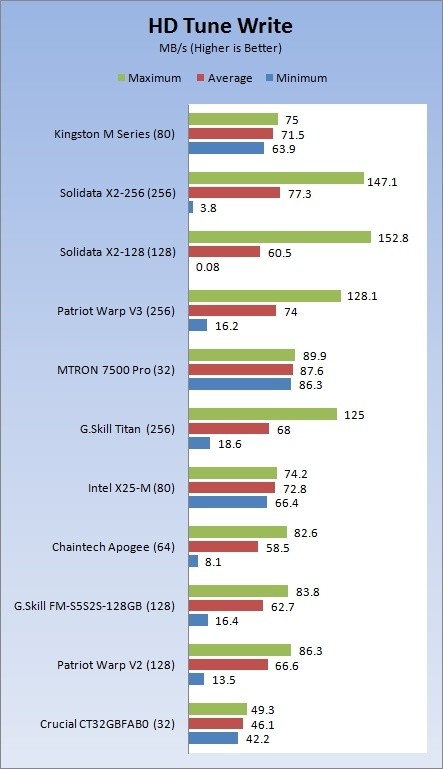 Write transfer tests once again show little change between the Kingston drive with the updated firmware and the Intel with the old firmware.
Benchmarks - EVEREST Random Access Time
EVEREST Random Access TimeVersion and / or Patch Used:
4.60
Developer Homepage:
http://www.lavalys.com
Product Homepage:
http://www.lavalys.com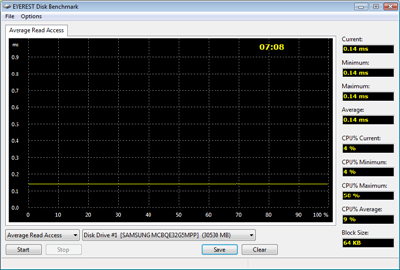 Everest Ultimate and Corporate Edition offer several different benchmarks for testing and optimizing your system or network. The Random Access test is one of very few if not only that will measure hard drives random access times in hundredths of milliseconds as oppose to tens of milliseconds.
Read Tests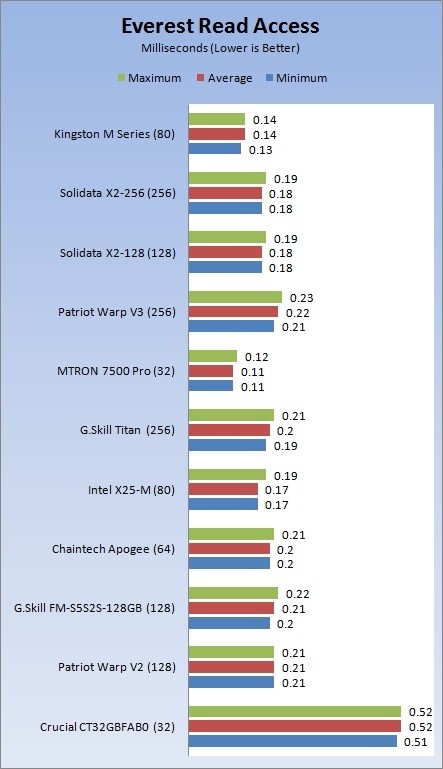 Here we see that the read access times have been reduced with the latest firmware by a small margin.
Write Tests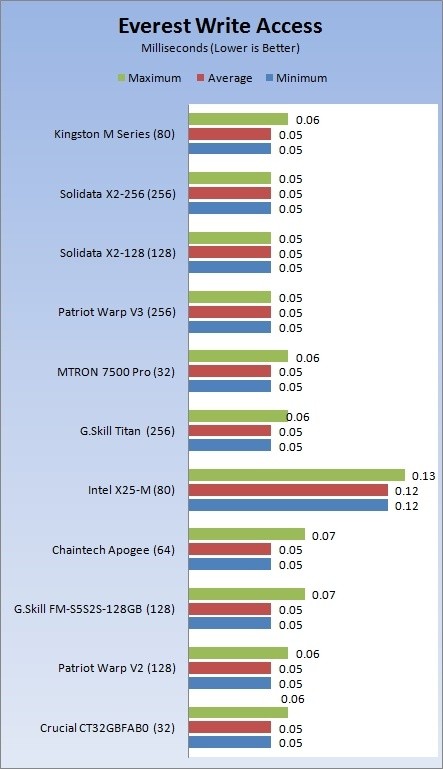 Bingo! The biggest difference between the new and old firmware for the X25-M can be found in the write access times. We see that the Kingston SSDNow drive is running right where SSDs should.
Let's see how all of these synthetic benchmarks relate to real world applications.
Benchmarks - PCMark Vantage Hard Disk Tests
PCMark Vantage - Hard Disk TestsVersion and / or Patch Used:
1.0.0
Developer Homepage:
http://www.futuremark.com
Product Homepage:
http://www.futuremark.com/benchmarks/pcmark-vantage/
Buy It Here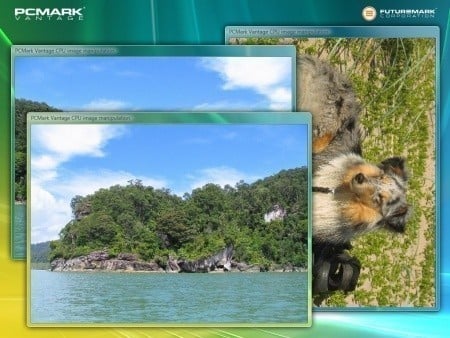 PCMark Vantage is the first objective hardware performance benchmark for PCs running 32 and 64 bit versions of Microsoft Windows Vista. PCMark Vantage is perfectly suited for benchmarking any type of Microsoft Windows Vista PC from multimedia home entertainment systems and laptops to dedicated workstations and high-end gaming rigs. Regardless of whether the benchmarker is an artist or an IT Professional, PCMark Vantage shows the user where their system soars or falls flat, and how to get the most performance possible out of their hardware. PCMark Vantage is easy enough for even the most casual enthusiast to use yet supports in-depth, professional industry grade testing.
FutureMark has developed a good set of hard disk tests for their PCMark Vantage Suite. These tests are based on real world applications that many of us use daily.

HDD1 - Windows Defender
HDD2 - Gaming
HDD3 - Windows Photo Gallery
HDD4 - Vista Startup
HDD5 - Windows Movie Maker
HDD6 - Windows Media Center
HDD7 - Windows Media Player
HDD8 - Application Loading
In our first real world test we see that the Kingston SSD with updated firmware shows improvements in many of our tests. The largest is with Windows Defender, a 20 MB/s increase in performance!
Benchmarks - Passmark
Passmark Advanced Multi-User TestsVersion and / or Patch Used:
6.1
Developer Homepage:
http://www.passmark.com
Test Homepage:
http://www.passmark.com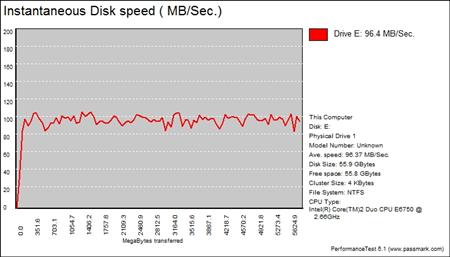 Many users complain that I/O Meter is too complicated of a benchmark to replicate results so my quest to find an alternative was started. Passmark has added several multi-user tests that measure a hard drives ability to operate in a multi-user environment.

The tests use different settings to mimic basic multi-user operations as they would play out on your server. Variances is read / write percentage as well as random / sequential reads are common in certain applications, Web Servers read nearly 100% of the time while Database Servers write a small amount of data.
The Workstation test is the only single user environment and will be similar to how you use your system at home.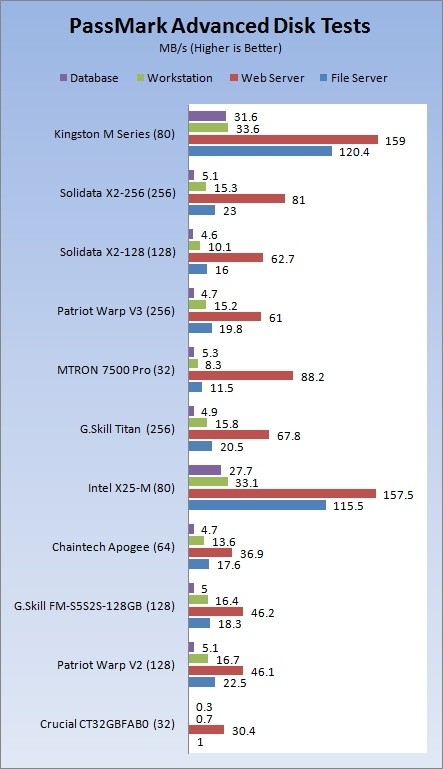 The Passmark Advanced Disk Tests show small improvements, but nothing substantial. The X25-M is still a solid drive for enterprise users even though it is supposed to be Kingston's consumer SSD.
Final Thoughts
We have known for months now that the X25-M is a remarkable solid state drive that is generations ahead of the competition. No matter how you spin it or what name you put on it, the M-Series is simply the fastest MLC drive there is. When it came time for Kingston to choose between spending a large amount of time and resources developing their own technology or jumping onboard with a proven winner, the choice became pretty clear. From the benchmark results it looks like Kingston made the right decision.
I wish this next part was more cut and dry for the long term. Normally I can sit here in my chair and proclaim one product is better than another based on performance, cost and availability. Things aren't so easy this time when it comes to the M-Series. Obviously price is going to be the biggest concern for shoppers and at this point in time the Intel version is cheaper. I honestly am not sure where the price of both drives will be at a week from now, much less a month out. The Intel X25-M has been on the market longer and therefore naturally it will be priced lower, so in time the Kingston drive may come down in price and at that point the retailers and etailers can duke it out by cutting their margins.
The Kingston SSDNow M-Series shares the title as the fastest consumer solid state drive on the market. The new firmware that we tested the drive with today shows that it is even faster than ever. Price wise these drives are quite a bit more expensive than the JMicron drives, but obviously the quality of the experience is much better. The new Barefoot controller drives are just around the corner and our early tests show that they perform close to the Intel controller, but once again, no cigar.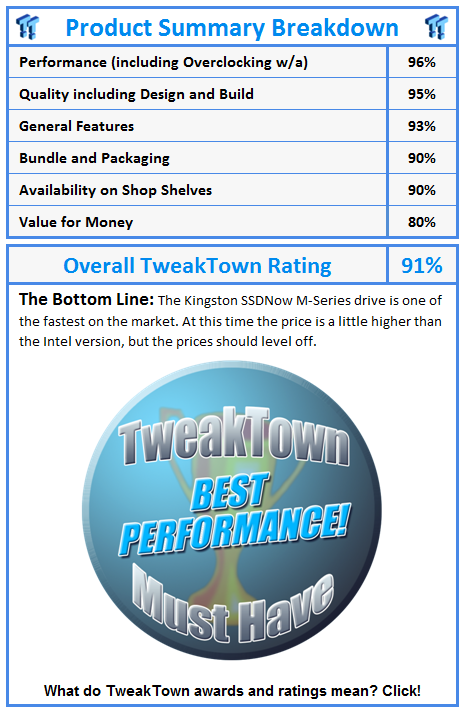 PRICING: You can find products similar to this one for sale below.

United States: Find other tech and computer products like this over at Amazon.com

United Kingdom: Find other tech and computer products like this over at Amazon.co.uk

Australia: Find other tech and computer products like this over at Amazon.com.au

Canada: Find other tech and computer products like this over at Amazon.ca

Deutschland: Finde andere Technik- und Computerprodukte wie dieses auf Amazon.de
We openly invite the companies who provide us with review samples / who are mentioned or discussed to express their opinion. If any company representative wishes to respond, we will publish the response here. Please contact us if you wish to respond.