Introduction

Having been already impressed by the HD 4870, it was time to head down to
IBuyPower Australia
to strap not one, not two but three of these bad boys into the ASUS P5E64 WS Evolution. Moving from two cards upwards on the HD 4850 caused some problems, but we're hoping that the HD 4870 doesn't have the same issues.
The P5E64 WS Evolution isn't the most ideal board due to the fact that the third slot only runs at x4; in a perfect world we would have all three cards running at x16. However, there isn't a board out there that lets us do this. Hopefully this is something that is addressed in upcoming chipsets since NVIDIA has three x16 slots on its 780i and 790i chipsets.
Since we've already looked at the
Sapphire HD 4870
in a fair bit of detail, we're just going to have a look at some pictures of the test system before we get stuck into the results. So, with everything said and done, let's get stuck into it and see what happens when we put three of these cards together.
Some System Pictures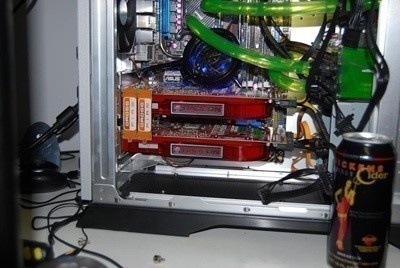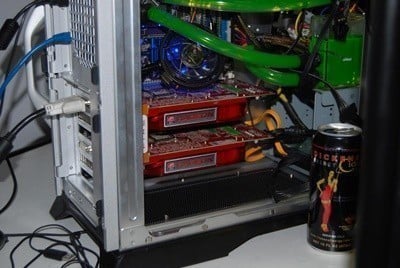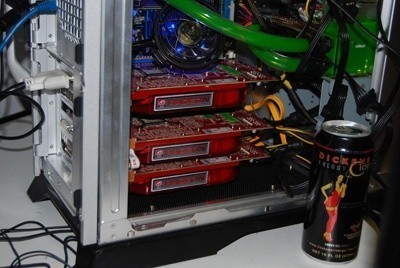 Test System Setup and 3DMark06
Test System SetupProcessor(s):
Intel Core 2 Quad QX9650 @ 4GHz (400MHz x 10)
Cooling:
Swiftech Apogee GTX Block (CPU) 3x 120mm Radiator, MCP655-B Pump
Motherboard(s):
ASUS P5E64 WS Evolution / EVGA 780i SLI (SLI Tests Only)
Memory:
2 X 2GB OCZ DDR-3 @ 1666MHz / 2 X 2GB OCZ Reaper X DDR-2 @ 1066MHz
Hard Disk(s):
Western Digital Raptor 150GB 10,00RPM SATA
Operating System:
Windows Vista SP1
Drivers:
June Hot Fix Catalyst Driver (HD 4800 Series), Catalyst 8.6, Forceware 175.16 (9 Series) 177.34 (GTX 280),
What we've done is add our SLI results from the Tri SLI GTX tests to see how the HD 4870 compares to the much more expensive GTX 280 SLI setup. The only cards that are tested on the 780i SLI board are the two SLI configurations; all other cards are tested on the ASUS P5E64 WS Evolution.
3DMark06Version and / or Patch Used:
Build 110
Developer Homepage:
http://www.futuremark.com
Product Homepage:
http://www.futuremark.com/products/3dmark06/
Buy It Here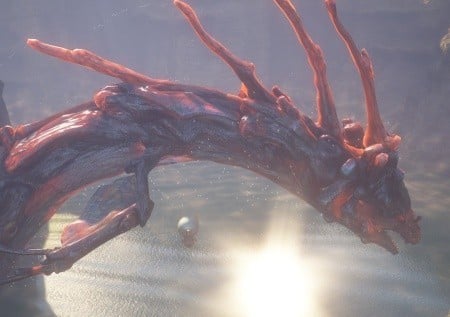 3DMark06 is the worldwide standard in advanced 3D game performance benchmarking. A fundamental tool for every company in the PC industry as well as PC users and gamers, 3DMark06 uses advanced real-time 3D game workloads to measure PC performance using a suite of DirectX 9 3D graphics tests, CPU tests, and 3D feature tests.
3DMark06 tests include all new HDR/SM3.0 graphics tests, SM2.0 graphics tests, AI and physics driven single and multiple cores or processor CPU tests and a collection of comprehensive feature tests to reliably measure next generation gaming performance today.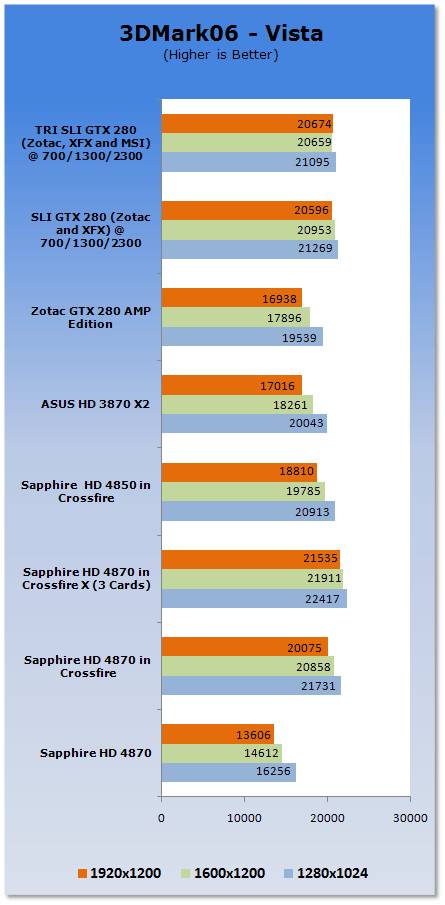 In our first test we can see the CrossfireX setup coming out on top. The standard Crossfire setup sits just slightly behind and offers a good boost in performance when compared to the single card setup.
Benchmarks - 3DMark Vantage
3DMark VantageVersion and / or Patch Used:
1.0.1
Developer Homepage:
http://www.futuremark.com
Product Homepage:
http://www.futuremark.com/products/3dmarkvantage/
Buy It Here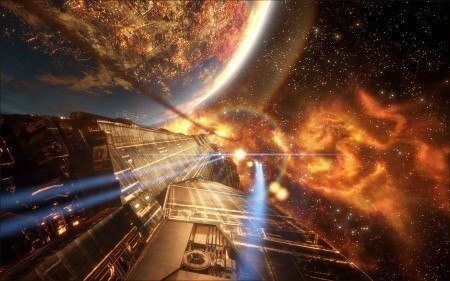 3DMark Vantage is the new industry standard PC gaming performance benchmark from Futuremark, newly designed for Windows Vista and DirectX10. It includes two new graphics tests, two new CPU tests, several new feature tests, and support for the latest hardware.
3DMark Vantage is based on a completely new rendering engine, developed specifically to take full advantage of DirectX10, the new graphics API from Microsoft.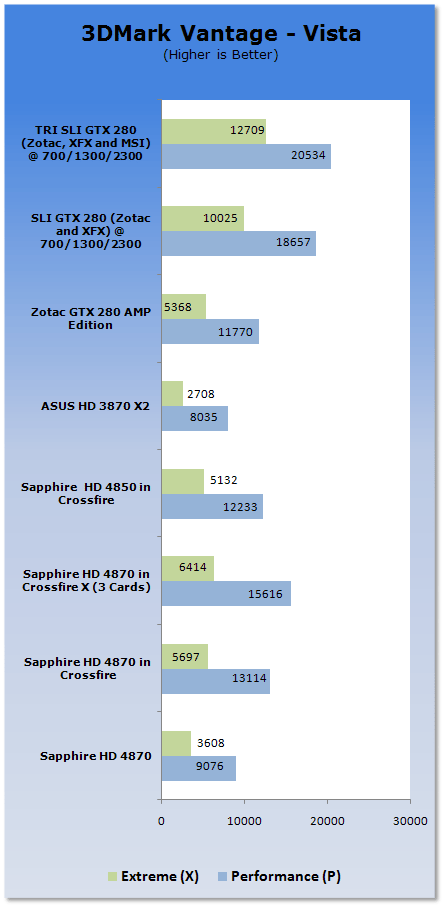 Vantage shows small gains with the CrossfireX setup; the two card setup offers some good gains over the single one. Two cards put us ahead of the single GTX 280, but can't really compete against the two and three GTX 280 setups.
Benchmarks - PT Boats: Knights of the Sea
PT Boats: Knights of the SeaVersion and / or Patch Used:
Benchmark Demo
Developer Homepage:
http://en.akella.com/
Product Homepage:
http://www.pt-boats.net/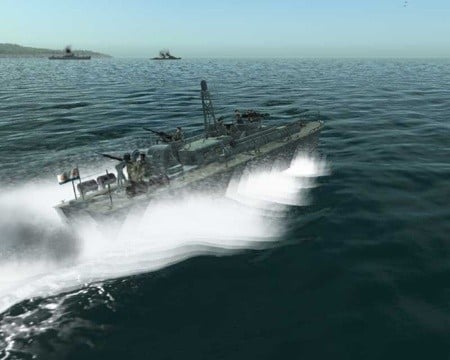 PT Boats: Knights of the Sea is a naval action simulator that places gamers in charge of a mosquito fleet of the Allied Forces, Russia or Germany during the height of World War II.
Using the latest Direct X 10 technology PT Boards - Knights of the Sea manages to apply a lot of stress to the components of today which in turn gives us quite an intensive benchmark.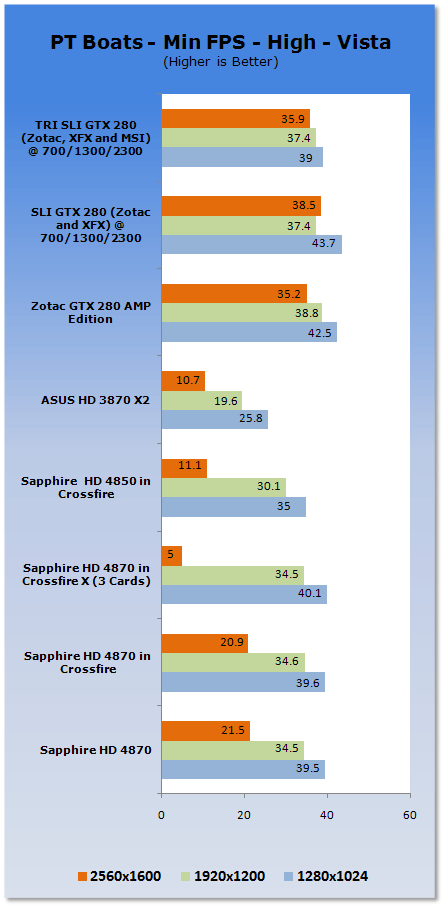 PT Boats shows us almost no difference between one, two or three cards; it only manages to fumble with three cards at 2560 x 1600 where performance goes backwards. Since the game can't make use of Crossfire, the dual card setup still sits behind the single GTX 280.
Benchmarks - CINEBENCH R10
CINEBENCH R10Version and / or Patch Used:
Release 10
Developer Homepage:
http://www.maxon.net/
Product Homepage:
http://www.maxon.net

CINEBENCH is a real-world test suite that assesses your computer's performace capabilities. MAXON CINEBENCH is based on MAXON's award-winning animation software, CINEMA 4D, which is used extensively by studios and production houses worldwide for 3D content creation. MAXON software has been used in blockbuster movies such as Spider-Man, Star Wars, The Chronicles of Narnia and many more.
MAXON CINEBENCH runs several tests on your computer to measure the performance of the main processor and the graphics card under real world circumstances. The benchmark application makes use of up to 16 CPUs or CPU cores and is available for Windows (32-bit and 64-Bit) and Macintosh (PPC and Intel-based).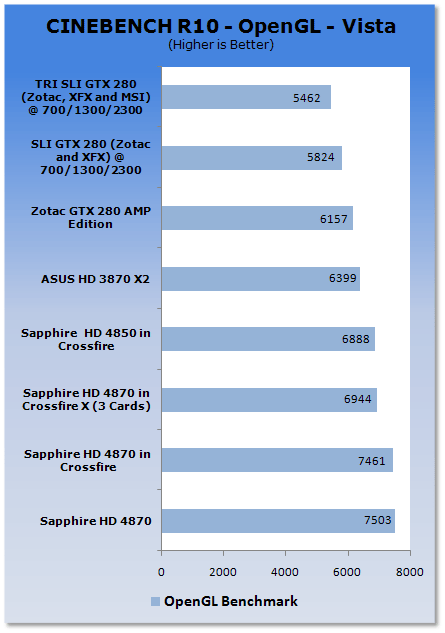 CINEBENCH shows us big numbers for the single AMD card with a 1500 point jump over the single GTX 280. Adding multiple cards actually has a negative effect on CINEBENCH performance.
Benchmarks - World in Conflict
World in ConflictVersion and / or Patch Used:
1.0.0.5
Timedemo or Level Used:
Built-in Test
Developer Homepage:
http://www.massive.se
Product Homepage:
http://www.worldinconflict.com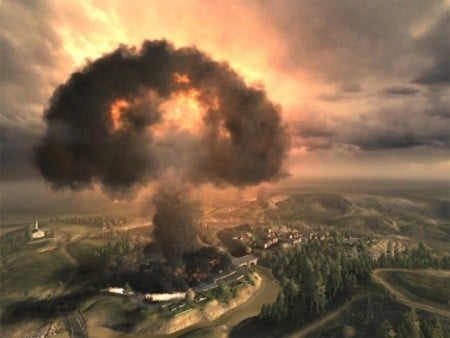 World in Conflict is a real-time strategy video game by Massive Entertainment and to be published by Sierra Entertainment for Windows (DX9 and DX10) and the Xbox 360.
The game is set in 1989 where economic troubles cripple the Soviet Union and threaten to dissolve it. However, the title pursues a "what if" scenario where, in this case, the Soviet Union does not collapse and instead pursues a course of war to remain in power. It is an intensive new game is sure to put plenty of stress on even the latest graphics cards and we use the built-in benchmarking for our testing.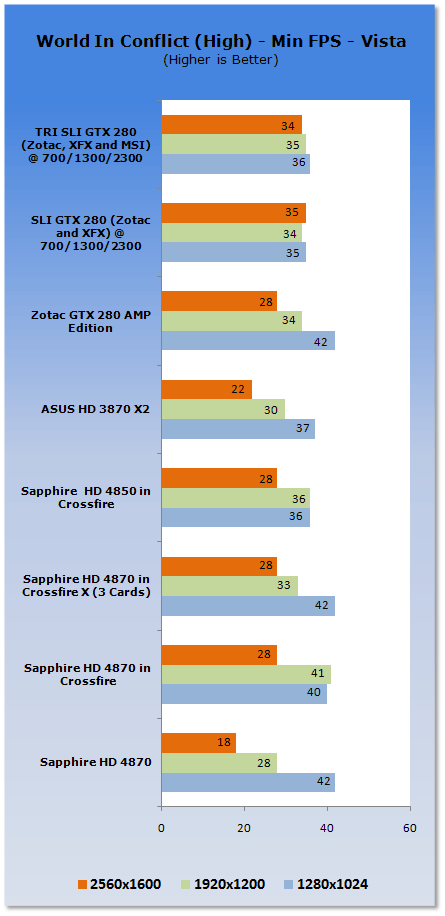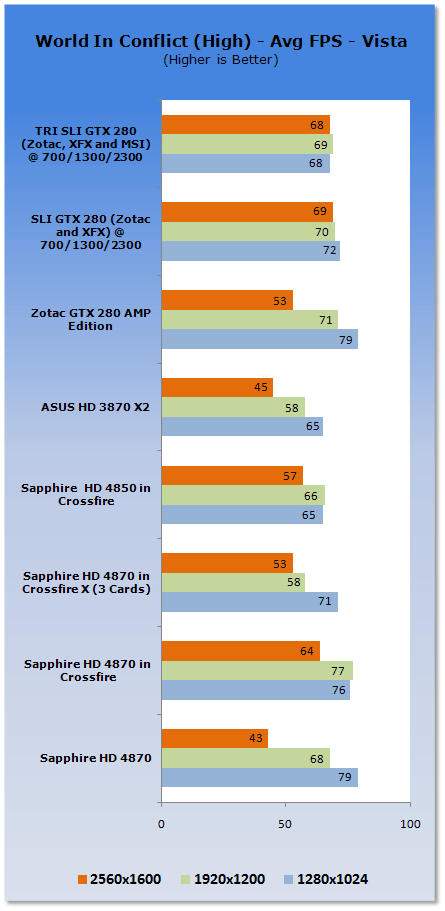 Moving to two cards sees the HD 4870 come out ahead at the higher resolutions, also managing to outperform the other setups here at 1920 x 1200. When we move to 2560 x 1600 the CF configuration performs about the same as a single GTX 280. Adding a third card into the mix does nothing for performance, it has a negative effect in some tests which we saw a lot in our HD 4850 CFX testing.
Benchmarks - Crysis
CrysisVersion and / or Patch Used:
1.2.1
Timedemo or Level Used:
Custom time demo
Developer Homepage:
http://www.crytek.com/
Product Homepage:
http://www.ea.com/crysis/
Buy It Here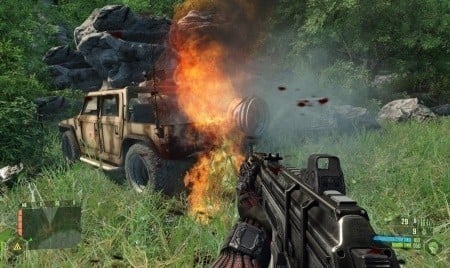 From the makers of Far Cry, Crysis offers FPS fans the best-looking, most highly-evolving gameplay, requiring the player to use adaptive tactics and total customization of weapons and armor to survive in dynamic, hostile environments including Zero-G.
Real time editing, bump mapping, dynamic lights, network system, integrated physics system, shaders, shadows and a dynamic music system are just some of the state of-the-art features the CryENGINE™ 2 offers. The CryENGINE™ 2 comes complete with all of its internal tools and also includes the CryENGINE™ 2 Sandbox world editing system.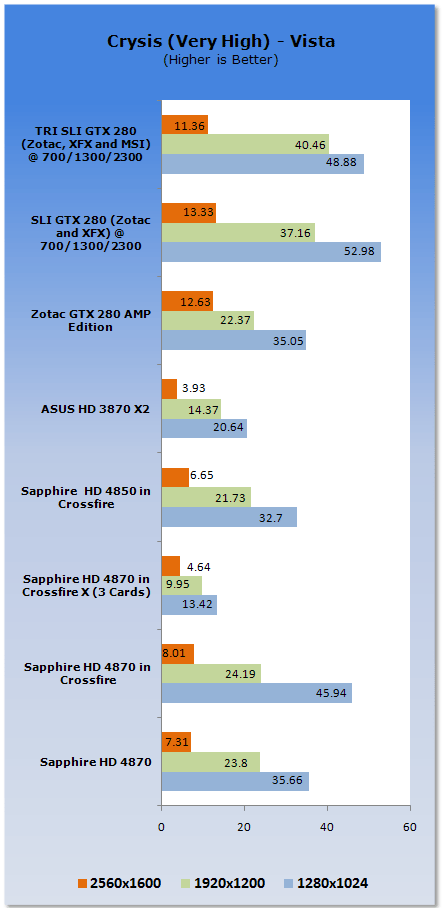 At the lower resolution we see a decent boost when adding the second card, putting it ahead of the single GTX 280. Unfortunately, as we move up in resolution the gains can't really be seen.
Benchmarks - Unreal Tournament 3
Unreal Tournament 3Version and / or Patch Used:
1.1
Timedemo or Level Used:
Developer Homepage:
http://www.epicgames.com/
Product Homepage:
http://www.unrealtournament3.com/
Buy It Here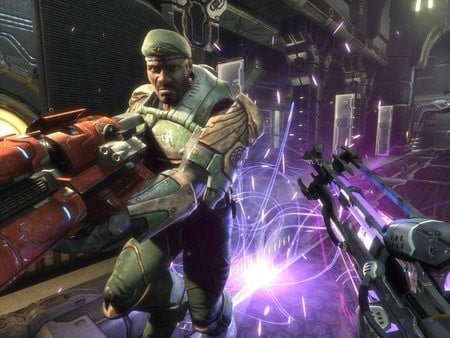 Following the formulae that made Unreal Tournament so great the third installment to the series has hit us recently with better than ever graphics. The games uses the latest Unreal Engine which like most modern day games when maxed out puts the pressure on our lineup of graphics cards.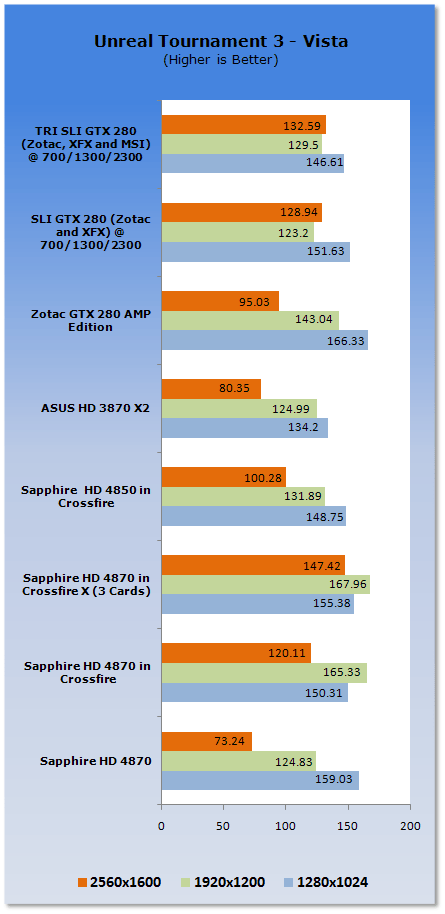 UT3 manages to get some good gains at 2560 x 1600, making the Crossfire setup perform well above the single GTX 280. When we add another card our score goes even higher, giving us the fastest configuration here.
Benchmarks - High Quality AA and AF
High Quality AA and AF
Our high quality tests let us separate the men from the boys and the ladies from the girls. If the cards weren't struggling before they will start to now.
3DMark06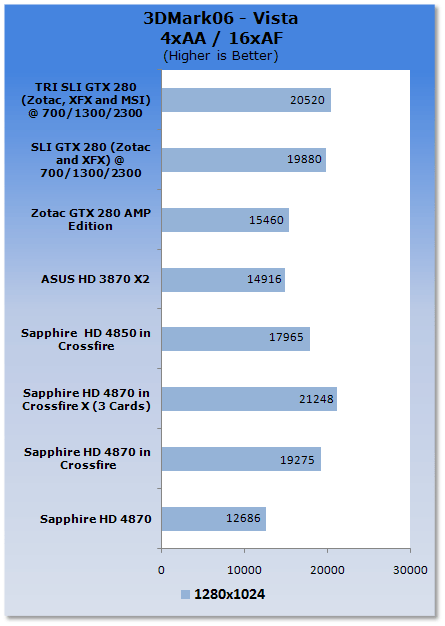 Under 3DMark06 we really can see the benefits of three cards. In this case, ATI again have the fastest configuration. We know for a fact, though, that this doesn't translate into the real world.
World In Conflict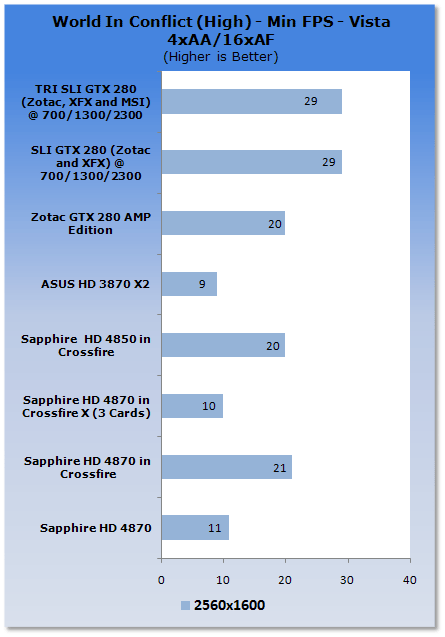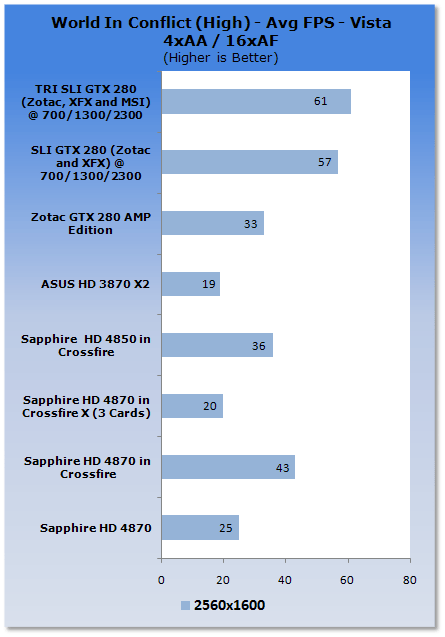 Adding the second card into the mix under WIC sees some excellent gains, putting it just ahead of the single GTX 280. Adding a third card does nothing for performance and we end up with single card numbers again.
Final Thoughts
The first thing I have to say is that it's nice to see CrossfireX with the HD 4870s not having the same issues as we experienced with the HD 4850 setup. Adding three cards into the system, while for the most part did nothing, it didn't offer horrendously backwards performance, bar one or two tests.
The numbers here today do have a big up on our 3GHz test bed, and it shows that you do begin to hit CPU limitation in some areas with such a massive amount of GPU power. At 3GHz we find 3DMark06 sits around the 16k mark; here today our CrossfireX configuration scored over 22k.
The good news is that 4GHz isn't exactly out of reach for a lot of people these days; it's one thing to turn around and test Crossfire on a 5.7GHz LN2 cooled system, but that doesn't help 99.9% of computer users out there. 4GHz shouldn't be too much of an effort with the right CPU and extremely good air cooling, or some decent water cooling like we used here today would certainly suffice.
The HD 4870 is an impressive piece of kit and does a good job of outperforming the GTX 280 when in Crossfire configuration, providing the game makes use of the technology, that is. Ultimately, the GTX 280 is the fastest single core GPU on the market at the moment; but that's not the be all and end all these days. Sure, if you've got money to burn, buy one; buy two! - But truth be told; the everyman and women who wants a good gaming experience and doesn't want to break the bank is going to be looking at the HD 4870 priced at 1/2 of the GTX 280. If they really feel like indulging and the games they play make use of CF technology, purchasing a second will put them at the same price as a GTX 280, and mostly with better performance.
AMD are now offering extreme performance at a very good price; NVIDIA on the other hand offer extremer (is that even a word?) performance at a higher price. Is the extra cost justified? - That's really up to you. Which route you go is going to come down to how much money you're willing to burn. Throw in the cost of a 780i or 790i over an X48 and going SLI becomes very expensive, very fast. But we're not naïve; the ultimate gamer with no budget is still no doubt going to be looking at SLI, as it's ultimately the fastest solution.