Sapphire Radeon HD 4870 in Crossfire
I don't know what to type here; I'm too excited. HD 4870s! Two of them! - Inside. Click Click Click!
Published
12 minute read time
Introduction

Given the level of excitement the HD 4850 left, not only with us, but also gamers and enthusiasts all over the world, the HD 4870 quickly became extremely anticipated by people. Will it beat the GTX 260? - How much faster than the HD 4850 is it? - Can it out-perform the GTX 280? - How does Crossfire scale?
These are all questions that we want answered, and today we intend to have answers for all of them. On paper the HD 4870 looks to be the right card for a lot of people. On the internet, looking at early prices it also seems to be the right one. Ultimately though, what it's going to come down to is performance.
While the HD 4870 may come in significantly cheaper than the GTX 280, it can't perform significantly lower; it's aloud to be a little lower, but ultimately if AMD intend to get any form of speed crown it has to perform extremely well in a Crossfire environment. Crossfire is going to constantly have the upper hand over SLI thanks to the huge amount of Intel based chipsets out there and all of the people jumping on the CF bandwagon. It's not only an easier setup, but a much cheaper one too.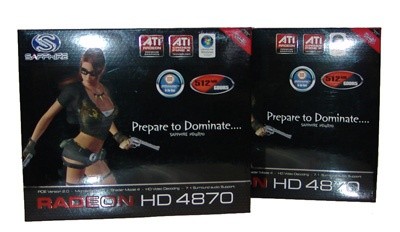 We've got Sapphire cards again on hand; we say cards because we have two! - If one HD 4870 is exciting, then two is some word that I don't think exists yet. Before we get into the benchmarks, we will have a look to see what Sapphire has done with the HD 4870 package and have a look at the core specifications in a bit of detail.
The Package
The first thing you notice is just how similar the box art is to that of the HD 4850. While we do have a slightly different lady on the front of the box, the rest of it is pretty similar. The middle has the "Prepare to Dominate...." motto while across the bottom we have the model and some of the main features.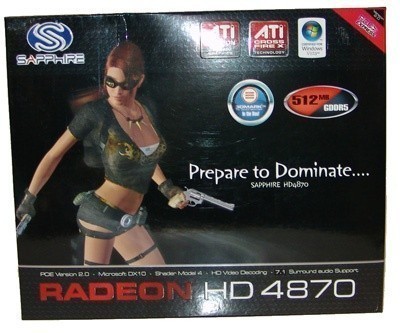 Across the top of the card we have the Sapphire logo. Moving across, we have some ATI ones along with the Vista one. The top right corner mentions that the card is PCI Express. Just below this we have mention that a copy of 3DMark06 is included in the package along with 512MB of GDDR5 memory.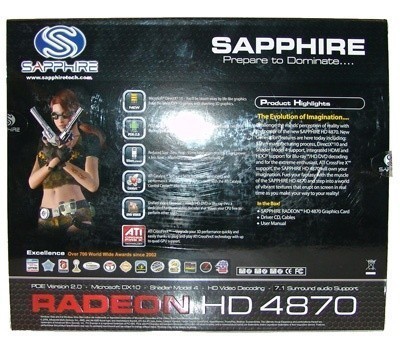 Turning the box over, we again have the model across the bottom. Above that we also have a number of awards that Sapphire has achieved over the years. We have a bit of a blurb on the right about the card and down the middle we have some more details on some of the main features the card offers.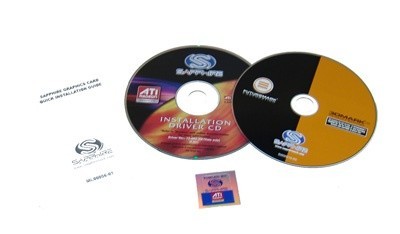 Moving inside the box, we have the driver CD, quick install guide, full version copy of 3DMark06 as mentioned on the front of the box along with a little sticker so you can let people know what card (or cards in this case) are in your system.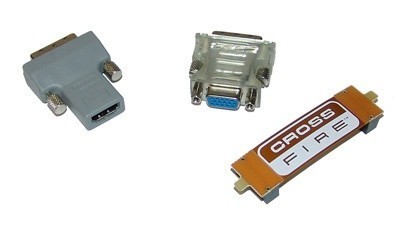 As far as cables go, we have two Molex to 6-pin connectors, Component-out dongle and an S-Video to RCA convertor. We also have a DVI to VGA connector, DVI to HDMI connector and Crossfire connector.
The Card
While the cooler might be slightly different to the HD 3870, the card on a whole does feel very similar. Unlike the HD 4850, the card is of dual-slot design which means instead of the traditional fan style we have the same type that we saw on the HD 3870.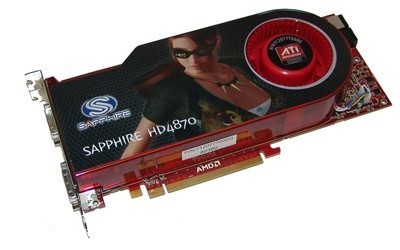 Of course, Sapphire has stickered the cooler up, letting people know that the card is from them.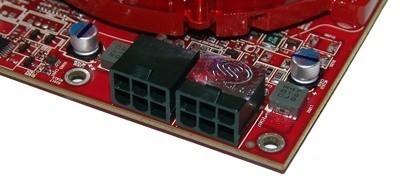 Looking around the card, it's simply awesome to see that AMD has opted for dual 6-pin PCI Express connectors over the use of an 8-pin one. This means that more people can simply get straight into using the card without having to lose other connectors, no thanks to the use of convertors.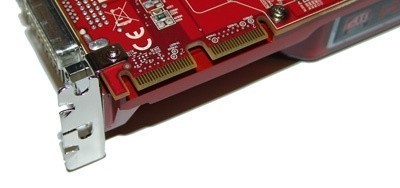 The top of the card of course has our two Crossfire connectors that we will well and truly be making use of today.

The I/O side of things doesn't hold any surprises such as HDMI connectors; we simply have two Dual Link DVI connectors and a single TV-Out port. Above that we have our exhaust outlet.
Specifications
There is a lot about the HD 4850 and HD 4870 that is very similar in the specification department; both cards have 965 million transistors, 55nm built core, 800 stream processors, 40 texture units and 16 render back ends.
The HD 4870 is more of a HD 4850 on steroids with a bump in the core from 625MHz to 750MHz and a MHz DDR memory clock on the 512MB of GDDR5 memory. The move from GDDR3 to GDDR5 has boosted the memory data rate massively from the 2Gbps that the HD 4850 offers to 3.6 Gbps.
The move to GDDR5 is meant to mean that the large 512-bit memory bus isn't needed while still being able to offer massive performance. Ultimately there is only one way to find out if there is any truth to this though.
After looking at the performance of the 256-bit memory bus on the HD 4850, this isn't really a concern for us. The main problem now is whether or not the HD 4870s are going to be hindered with only 512MB of memory compared to the 896MB found on the GTX 260 and the 1GB found on the GTX 280.
Test System Setup and 3DMark06
Test System SetupProcessor(s):
Intel Core 2 Quad Q6600 @ 3GHz (333MHz x 9)
Cooling:
Corsair Nautilus500 (Supplied by
Corsair
) with Arctic Cooling MX-2 Thermal Compound (Supplied by
Arctic Cooling
)
Motherboard(s):
GIGABYTE X48-DQ6 (Supplied by
GIGABYTE
)
Memory:
2 X 1GB Kingston PC6400 DDR-2 3-3-3-10 (KHX6400D2ULK2/2G) (Supplied by
Kingston
)
Hard Disk(s):
Seagate 250GB 7200RPM SATA-2 7200.10 (Supplied by
Seagate
)
Operating System:
Windows XP Professional SP2, Windows Vista SP1
Drivers:
Forceware 175.16 (9 Series) 177.34 (GTX 260/280) & Catalyst 8.6
We've got the HD 4870 against a flurry of cards here today. The one thing worth nothing is the price of the card; at launch we're able to get into a pair of HD 4870s for under $850 AUD. This is about the same price as a single GTX 280, so when we talk about the performance between two HD 4870s and a single GTX 280, please remember that the two configurations are priced almost identically.
3DMark06Version and / or Patch Used:
Build 110
Developer Homepage:
http://www.futuremark.com
Product Homepage:
http://www.futuremark.com/products/3dmark06/
Buy It Here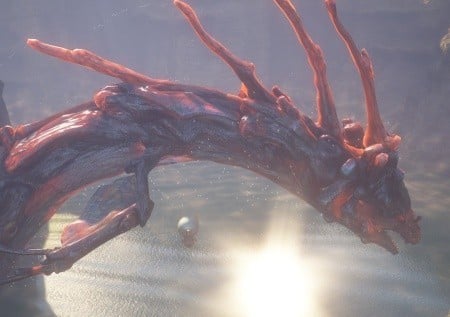 3DMark06 is the worldwide standard in advanced 3D game performance benchmarking. A fundamental tool for every company in the PC industry as well as PC users and gamers, 3DMark06 uses advanced real-time 3D game workloads to measure PC performance using a suite of DirectX 9 3D graphics tests, CPU tests, and 3D feature tests.
3DMark06 tests include all new HDR/SM3.0 graphics tests, SM2.0 graphics tests, AI and physics driven single and multiple cores or processor CPU tests and a collection of comprehensive feature tests to reliably measure next generation gaming performance today.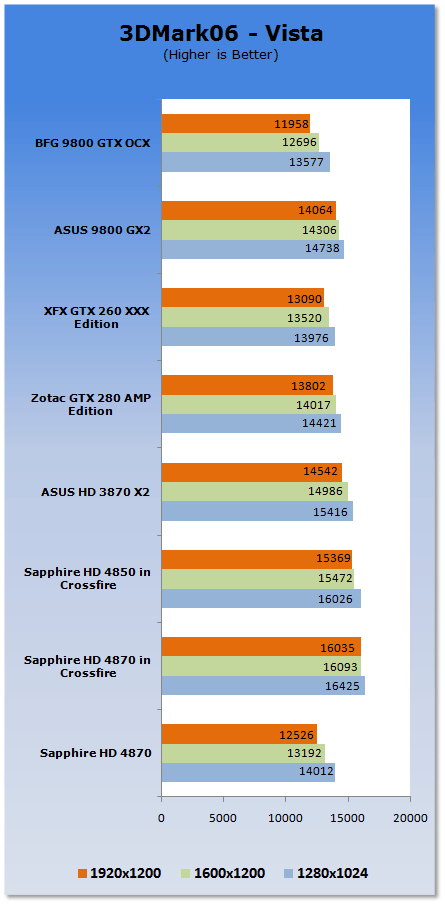 In our first test we can see where the cards all sit; the HD 4870 in CF offers some good gains over the single card while coming out on top. At the lower resolution we see the HD 4870 by itself outperforming the GTX 260 XXX, but as we go up, the heavily overclocked GTX 260 does come out ahead.
Benchmarks - 3DMark Vantage
3DMark VantageVersion and / or Patch Used:
1.0.1
Developer Homepage:
http://www.futuremark.com
Product Homepage:
http://www.futuremark.com/products/3dmarkvantage/
Buy It Here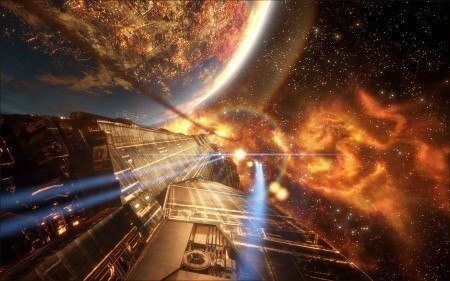 3DMark Vantage is the new industry standard PC gaming performance benchmark from Futuremark, newly designed for Windows Vista and DirectX10. It includes two new graphics tests, two new CPU tests, several new feature tests, and support for the latest hardware.
3DMark Vantage is based on a completely new rendering engine, developed specifically to take full advantage of DirectX10, the new graphics API from Microsoft.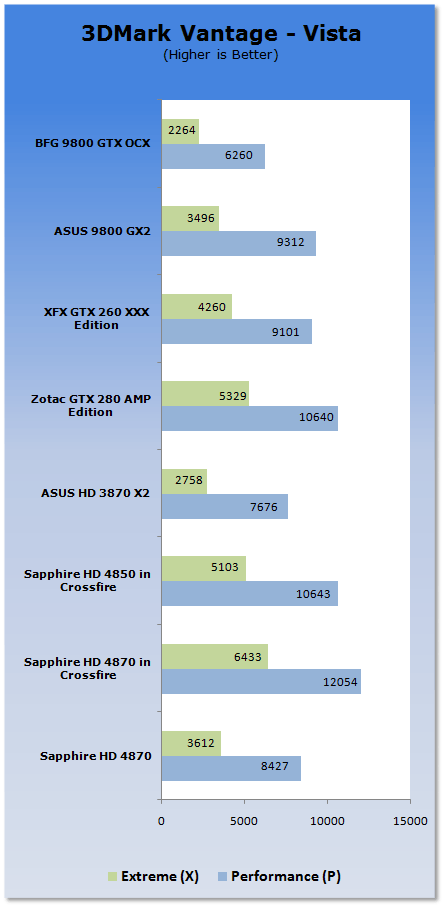 The more intensive 3DMark Vantage really paints much of the same picture, though the HD 4870 in Crossfire comes out ahead over the overclocked GTX 280 by almost 20%.
Benchmarks - PT Boats: Knights of the Sea
PT Boats: Knights of the SeaVersion and / or Patch Used:
Benchmark Demo
Developer Homepage:
http://en.akella.com/
Product Homepage:
http://www.pt-boats.net/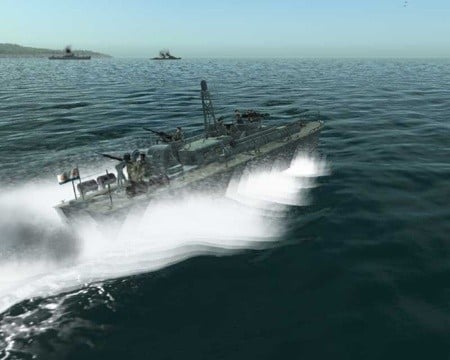 PT Boats: Knights of the Sea is a naval action simulator that places gamers in charge of a mosquito fleet of the Allied Forces, Russia or Germany during the height of World War II.
Using the latest Direct X 10 technology PT Boards - Knights of the Sea manages to apply a lot of stress to the components of today which in turn gives us quite an intensive benchmark.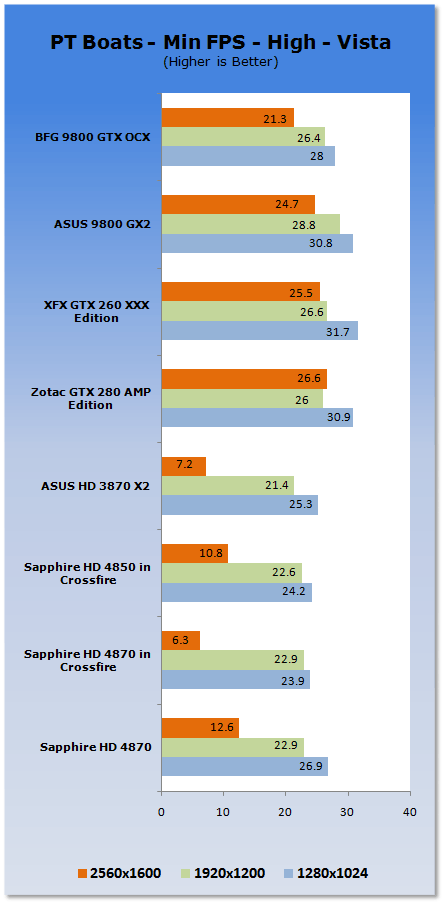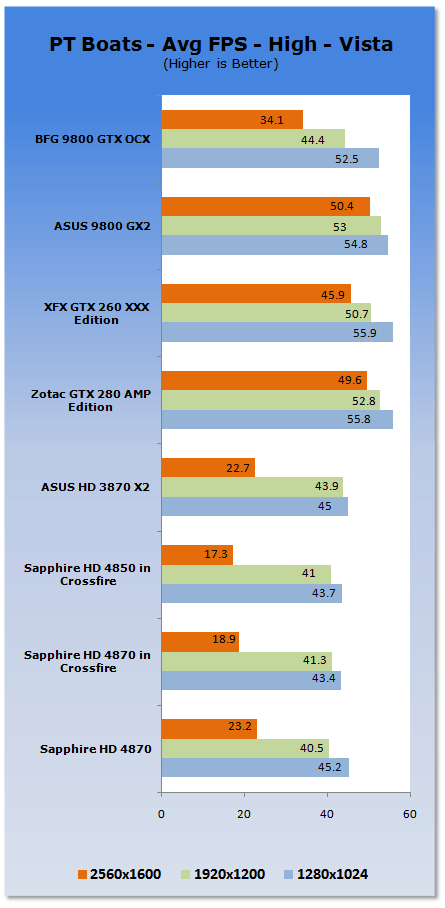 We can see across the board that PT Boats seems to swing to the NVIDIA side of things. Single card performance is good with the 4870 sitting a bit behind the GTX 260 at the lower resolution. At 2560 x 1600, however, we see the card taking a mammoth hit in performance like all other ATI cards here.
Benchmarks - CINEBENCH R10
CINEBENCH R10Version and / or Patch Used:
Release 10
Developer Homepage:
http://www.maxon.net/
Product Homepage:
http://www.maxon.net

CINEBENCH is a real-world test suite that assesses your computer's performace capabilities. MAXON CINEBENCH is based on MAXON's award-winning animation software, CINEMA 4D, which is used extensively by studios and production houses worldwide for 3D content creation. MAXON software has been used in blockbuster movies such as Spider-Man, Star Wars, The Chronicles of Narnia and many more.
MAXON CINEBENCH runs several tests on your computer to measure the performance of the main processor and the graphics card under real world circumstances. The benchmark application makes use of up to 16 CPUs or CPU cores and is available for Windows (32-bit and 64-Bit) and Macintosh (PPC and Intel-based).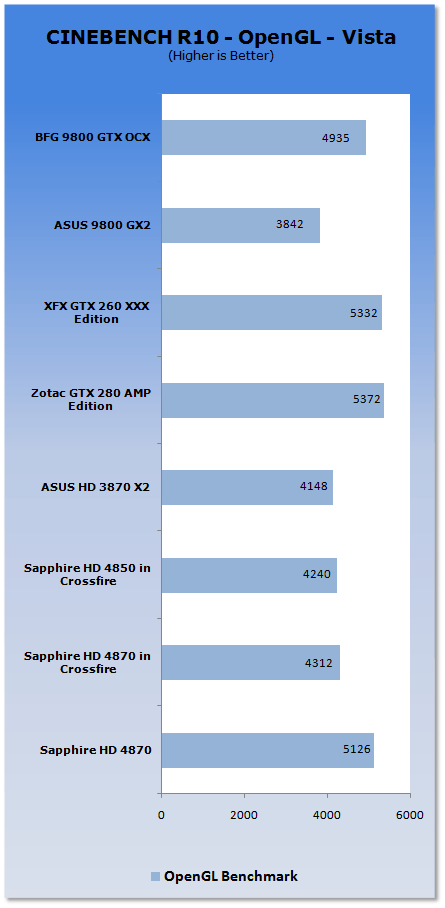 Single card CINEBENCH performance sits at around the same level as the GTX 200 cards. When in Crossfire the performance drops back a little, as CINEBENCH has absolutely no ability to make use of the second card.
Benchmarks - World in Conflict
World in ConflictVersion and / or Patch Used:
1.0.0.5
Timedemo or Level Used:
Built-in Test
Developer Homepage:
http://www.massive.se
Product Homepage:
http://www.worldinconflict.com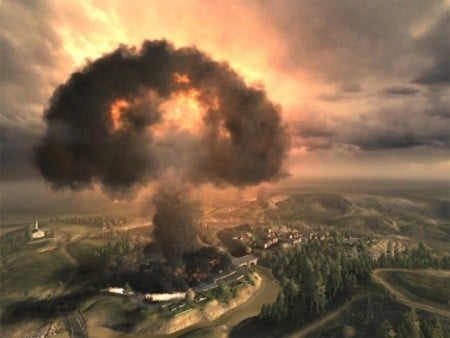 World in Conflict is a real-time strategy video game by Massive Entertainment and to be published by Sierra Entertainment for Windows (DX9 and DX10) and the Xbox 360.
The game is set in 1989 where economic troubles cripple the Soviet Union and threaten to dissolve it. However, the title pursues a "what if" scenario where, in this case, the Soviet Union does not collapse and instead pursues a course of war to remain in power. It is an intensive new game is sure to put plenty of stress on even the latest graphics cards and we use the built-in benchmarking for our testing.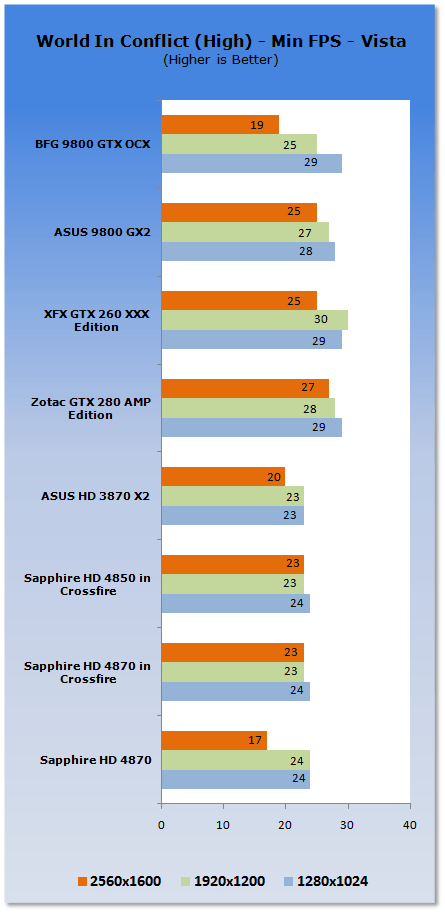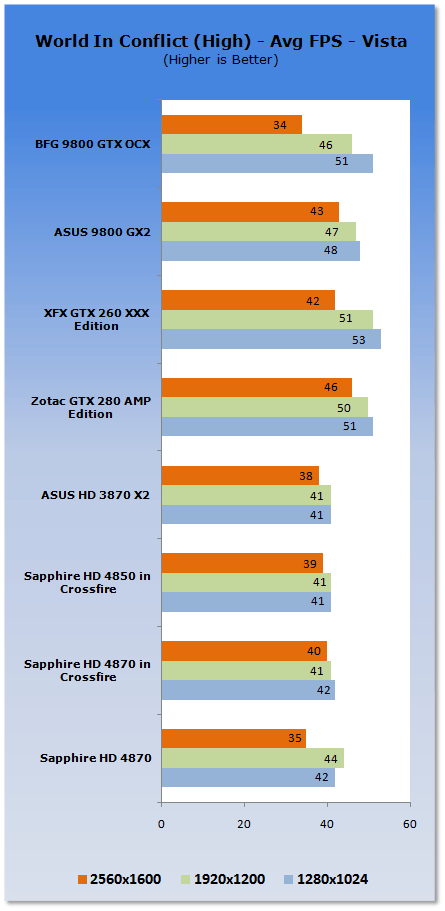 Under WIC we can see the performance increase is only seen at the highest resolution. Unfortunately the numbers are at a similar level to the HD 4850 in CF. What's interesting is that all the ATI cards score extremely close to each other; the NVIDIA cards on the other hand seem to perform better under WIC and don't seem to be hitting any form of limitation.
Benchmarks - Crysis
CrysisVersion and / or Patch Used:
1.2
Timedemo or Level Used:
Custom time demo
Developer Homepage:
http://www.crytek.com/
Product Homepage:
http://www.ea.com/crysis/
Buy It Here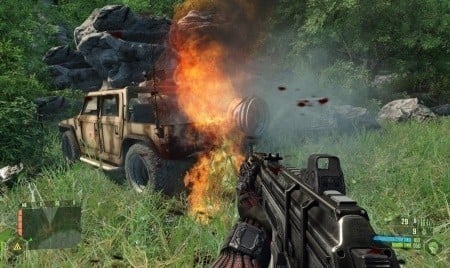 From the makers of Far Cry, Crysis offers FPS fans the best-looking, most highly-evolving gameplay, requiring the player to use adaptive tactics and total customization of weapons and armor to survive in dynamic, hostile environments including Zero-G.
Real time editing, bump mapping, dynamic lights, network system, integrated physics system, shaders, shadows and a dynamic music system are just some of the state of-the-art features the CryENGINE™ 2 offers. The CryENGINE™ 2 comes complete with all of its internal tools and also includes the CryENGINE™ 2 Sandbox world editing system.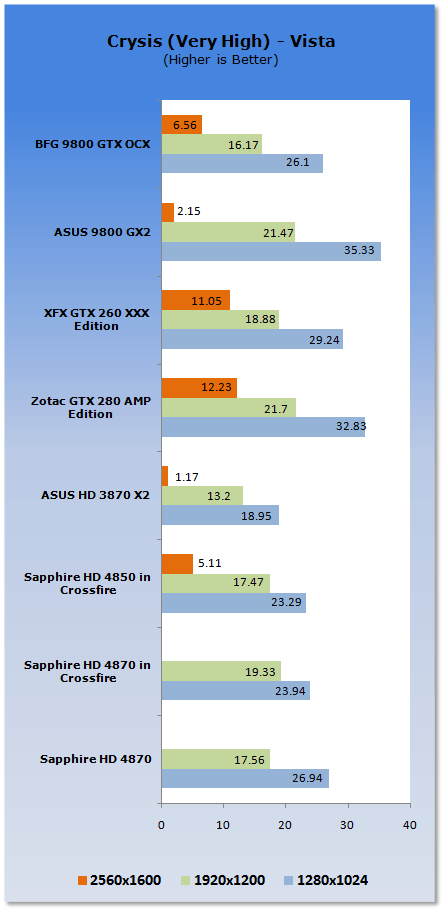 At the higher resolution we can see we get a slight advantage with Crossfire, though at 1280 x 1024 we don't. Performance is actually a little lower with the second card added. The NVIDIA offerings do manage to come out ahead here, though the GTX 260 is only ever so slightly in front when compared to the single HD 4870.
Benchmarks - Unreal Tournament 3
Unreal Tournament 3Version and / or Patch Used:
1.1
Timedemo or Level Used:
Developer Homepage:
http://www.epicgames.com/
Product Homepage:
http://www.unrealtournament3.com/
Buy It Here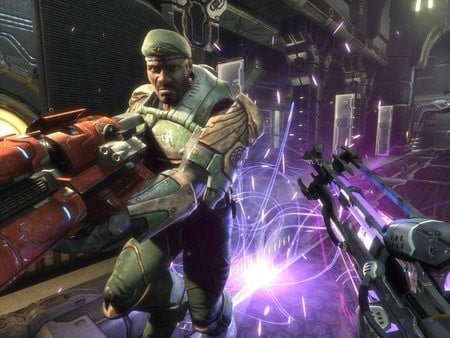 Following the formulae that made Unreal Tournament so great the third installment to the series has hit us recently with better than ever graphics. The games uses the latest Unreal Engine which like most modern day games when maxed out puts the pressure on our lineup of graphics cards.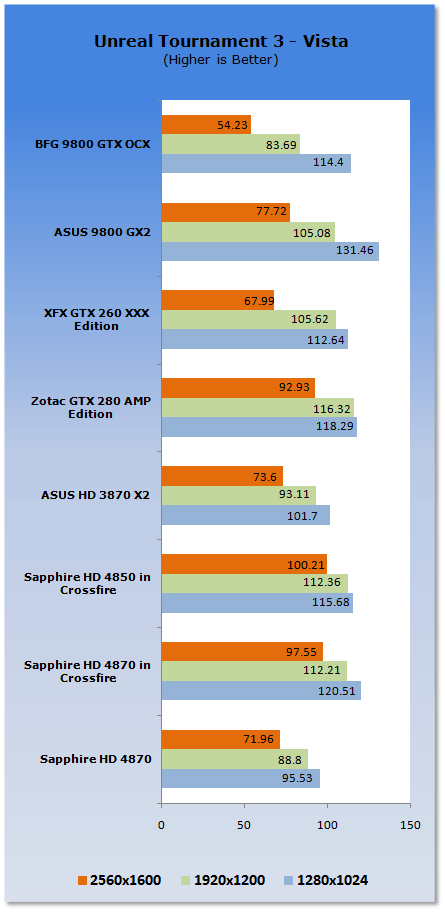 Moving to CF, we see some good gains at the higher resolution. What we also see is that the HD 4850 and HD 4870 in CF perform quite close to each other. It's more than possible at this kind of level that we really do begin to see some CPU limitation, even at 3GHz.
Benchmarks - High Quality AA and AF
High Quality AA and AF
Our high quality tests let us separate the men from the boys and the ladies from the girls. If the cards weren't struggling before they will start to now.
3DMark06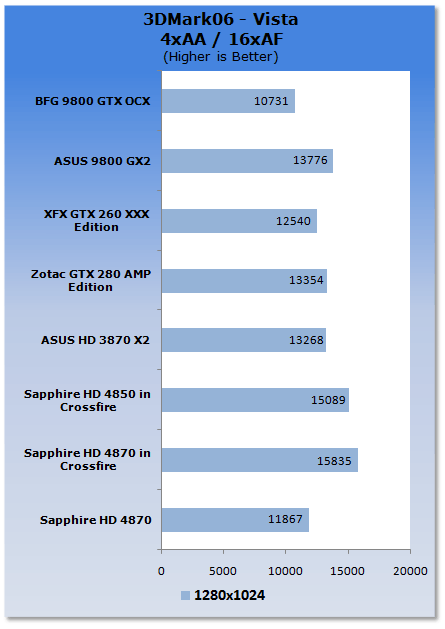 Cranking up the AA and AF under 3DMark06; we can see that the Crossfire configuration is able to beat out everything. The single card solution sits only a little behind the heavily overclocked GTX 260 from XFX.
World In Conflict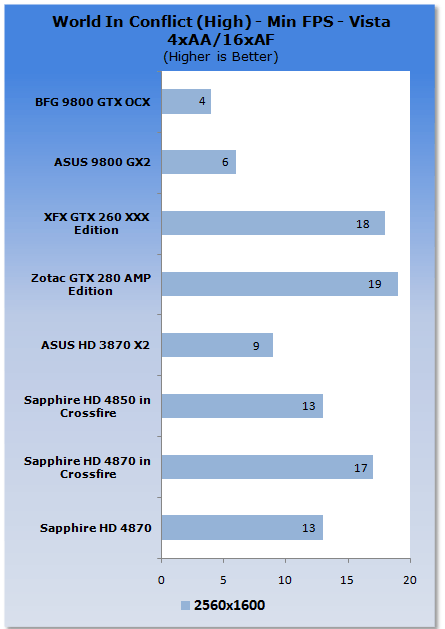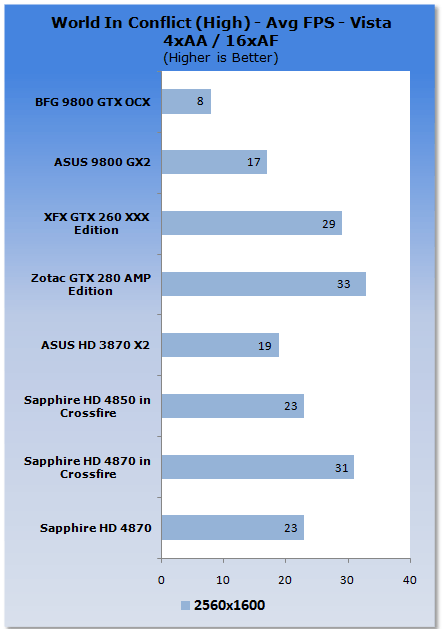 What we see here under these extreme circumstances is the HD 4870 setup really shining against the single card. Compared to the GTX 280, there is only a few FPS between the two setups. The single card sits behind the GTX 260 while out performing everything else.
Temperature and Sound Tests
Temperature Tests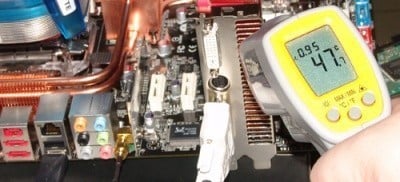 With the TES 1326 Infrared Thermometer literally in hand we found ourselves getting real-world temperatures from the products we test at load (3D clock speeds).
There are two places we pull temperature from - the back of the card directly behind the core and if the card is dual slot and has an exhaust point we also pull a temperate from there, as seen in the picture.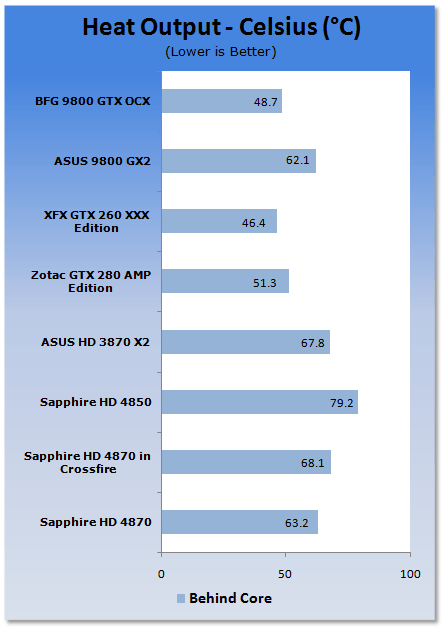 The dual slot cooler does wonders for the temperatures of the card, bringing it way down compared to the single slot HD 4850. The GTX 200 series do come in cooler, but you have to remember that a shroud is covering the card, making it harder to get a realistic reading.
Sound Tests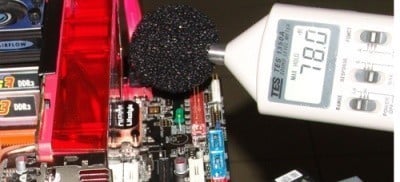 Pulling out the TES 1350A Sound Level Meter we find ourselves quickly yelling into the top of it to see how loud we can be.
After five minutes of that we get a bit more serious and place the device two CM away from the fan on the card to find the maximum noise level of the card when idle (2D mode) and in load (3D mode).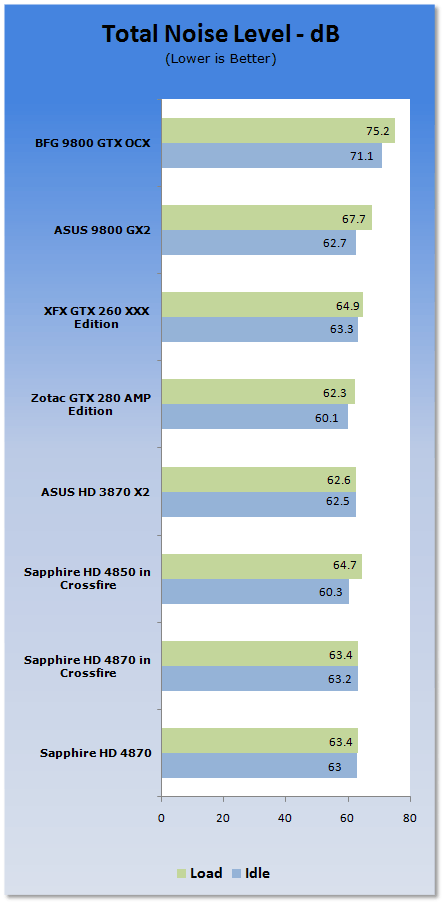 Noise out of the dual slot cooler isn't anything out of the ordinary, coming in at the low 60dB range.
Power Consumption Tests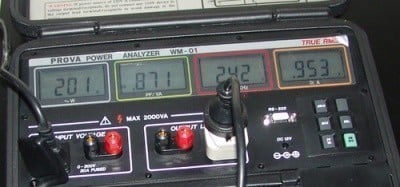 Using our new PROVA Power Analyzer WM-01 or "
Power Thingy
" as it has become quickly known as to our readers, we are now able to find out what kind of power is being used by our test system and the associated graphics cards installed. Keep in mind; it tests the complete system (minus LCD monitor, which is plugged directly into AC wall socket).
There are a few important notes to remember though; while our maximum power is taken in 3DMark06 at the same exact point, we have seen in particular tests the power being drawn as much as 10% more. We test at the exact same stage every time; therefore tests should be very consistent and accurate.
The other thing to remember is that our test system is bare minimum - only a 7,200RPM SATA-II single hard drive is used without CD ROM or many cooling fans.
So while the system might draw 400 watts in our test system, placing it into your own PC with a number of other items, the draw is going to be higher.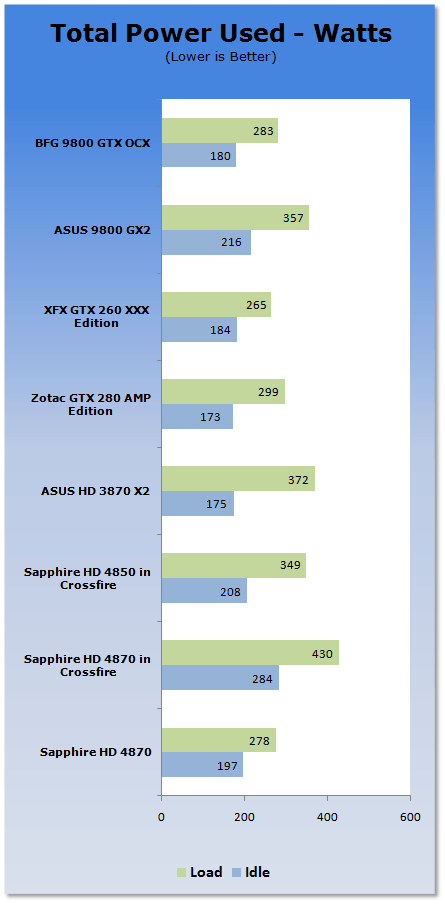 It doesn't come as any real surprise that two HD 4870s manage to draw the most power, coming in at over 400 watts. Idle sits pretty high at 284; the single card looks better with just under 200 watts for idle and 278 watts at load, putting it between the GTX 260 and GTX 280.
Final Thoughts
The single HD 4870 does an excellent job at standing its ground, floating around the GTX 260 XXX card we have here today. Like the HD 4850, turning on AA doesn't cause the card to fall to its knees as was the case with the HD 3800 series of cards of last generation.
The dual-slot cooler does a good job of keeping noise to a dull roar, while helping drop those temps as well. This was something that was a concern with the HD 4850; there isn't a doubt in our mind that we will see companies begin to change the HD 4850 cooler to dual-slot options to get the temps way down and likely below it's big brother; the HD 4870.
The main problem that we really have is at 3GHz on a quad core we do feel somewhat CPU limited, with little gains seen with the implementation of CrossFire in the real world environment. Fortunately, we will be strapping the two cards into a 4GHz test bed soon enough, which should hopefully let these cards shine.
If you're looking for a new single card graphics card solution, which way do you go? - Well, the HD 4870 manages to come in lower than the GTX 260 while on the most part being able to compete with it, though the latter card is heavily overclocked. That's good news for ATI since the HD 4870 here hasn't got its clockspeeds increased at all.
If you have an SLI motherboard, well, you have two options. If you're going to actually make use of SLI, go for the GTX 260; you really don't have any other choice when it comes down to it, since the board can't make use of CrossFire. If you're not going to make use of SLI, we would probably opt for the HD 4870 and begin to overclock it! If you're on an X48 or X38 board, the choice is easy; go the HD 4870 and start saving for that second card straight away.
If you're on a board that doesn't have dual x16 slots, then we would probably look at the HD 4870, or if money isn't an issue then the GTX 280 would make sense due to the simple fact that the GTX 280 is the fastest single GPU solution on the market today. The good news for AMD is that it doesn't smash the HD 4870; the leads are only small and the price gap is literally double.
As someone who is about to build a new personal test system, I will be going for a pair of HD 4870s on an ASUS P5E64 WS Evolution which carries with it dual x16 slots. The price of the X48 based chipsets compared to 780i and 790i are significantly lower, and for the most part enthusiasts will say that the Intel based chipsets are the nicer boards.
With that done, it's time to jump in the car and head on over to see the boys at IBP, because like the HD 4850 I think once we give these cards another GHz to play with we should really see some significant performance increases.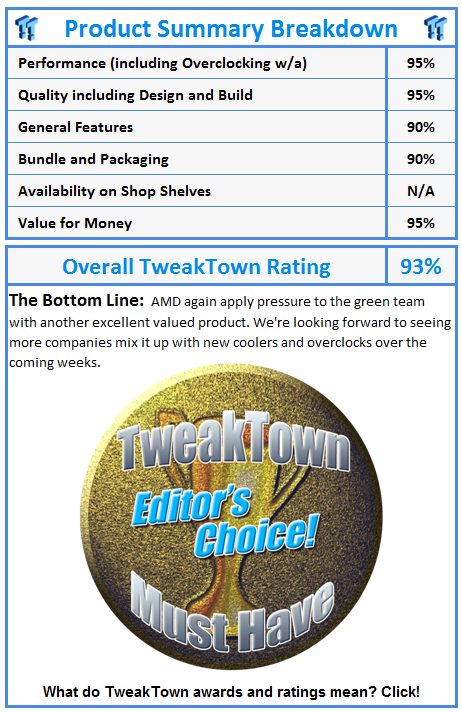 PRICING: You can find products similar to this one for sale below.

United States: Find other tech and computer products like this over at Amazon.com

United Kingdom: Find other tech and computer products like this over at Amazon.co.uk

Australia: Find other tech and computer products like this over at Amazon.com.au

Canada: Find other tech and computer products like this over at Amazon.ca

Deutschland: Finde andere Technik- und Computerprodukte wie dieses auf Amazon.de
We openly invite the companies who provide us with review samples / who are mentioned or discussed to express their opinion. If any company representative wishes to respond, we will publish the response here. Please contact us if you wish to respond.