Introduction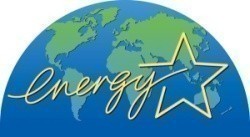 As of recently the market focus has moved away from high powered, ultra fast gaming rigs that spare no thought to the wallet or the environment. As of now, "Green" is the "IT" thing; and no, we aren't talking about the colour green, we are talking about environmentally friendly computing. Over the last two years we have seen some major strides from the computer industry in order to help out Mother Nature.
Up until recent years, all of the electrical components on the boards have been held on by using solder containing lead, and while this may be a good conductor, it's also a huge environmental problem as lead is deadly in sufficient quantities. Lead has been removed from petrol as well as paints, so why not remove it from computers? - Well, thanks to the RoHS standards, this is now a reality and boards coming left, right and centre are now using lead free solder.
While this is one small step, companies like GIGABYTE have managed to turn production around by producing much less wasted PCBs as well as recycling many materials that were thrown out in the past; these including old and damaged boxes as well as recycling PCBs that are potentially viable, but simply didn't make Quality Assurance.
Now, these steps have been good, but the biggest move forward has to be the introduction of power efficient computers that manage to save as much power as possible when in idle states. AMD was one of the first to really get started on this with
Cool'n'Quiet
; a power saving technology that slowed the CPU clock speed down and reduced the CPU VID when in idle states. This allows for a cooler running system as well as a more energy efficient product when compared to the Intel processors. While some energy saving technologies were added to the Pentium D and Pentium Extreme processors, they were power hogs, even at idle. Core 2 has been the most energy efficient processor that Intel has for the desktop, and the new 45nm Penryn based units are even better at saving energy.
While the processor implementations are exceptional, there is still wasted energy in the desktop PC, and the motherboard accounts for quite a bit of this. When in an idle state, traditional motherboards still run with their full amount of voltage regulators pumping away. This is wasted energy at idle; the CPU, memory and graphics cards are in a low function state requiring much less power. So far we have seen two major players come out with their latest technologies to help save power. ASUS has EPU and GIGABYTE has DES. In our recent tests we found that GIGABYTEs DES system has a more stable power output, better voltage stepping and even more phases to handle just about anything you can throw at it.
We recently built an energy efficient AMD based HTPC using the AMD 4850e processor to demonstrate what you can achieve. Today we are doing an energy efficient Intel based system that is for the same purpose; energy efficency and ultra quiet computing.
The Components
What We Used
Before we get into the testing, we wanted to give a bit of info on what components we used and a little bit of a rundown on each. We have a couple of repeat products from our AMD HTPC build, but our motherboard is brand new.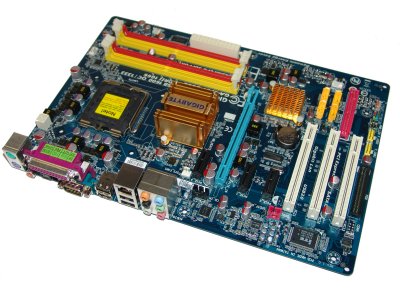 The board we decided to use is GIGABYTEs new low cost, low power GA-EP31-DS3L motherboard. It's based around a standard ATX layout on the traditional blue PCB that GIGABYTE use for all its boards. While aiming at a low power and lower cost market, it still manages to impress. The board's layout is exemplary; the 24-pin power connector is placed behind the four DDR2 memory slots while the 4-pin power connector goes behind the PS/2 slots on the left hand top corner of the board. The IDE and SATA ports are at the bottom right of the board, just below the ICH7 Southbridge.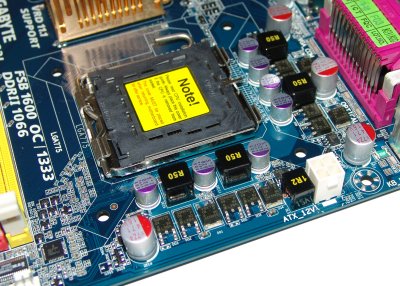 The CPU area is extremely clean thanks to the use of solid state components for the power regulation system. While these components are still higher in cost compared to the older electrolyte capacitors and copper wound chokes, the amount of energy saved using these is incredible. Not only is power saved thanks to the solid state nature, but they also run a lot cooler than traditional voltage regulation systems which allows for a quieter PC.
The CPU is fed voltage through a 4-phase voltage system that can be controlled through GIGABYTEs DES system, allowing the system to run at either two, three or four phases depending on load and the settings that the user applies. Cooling for the board's components comprise a passive heatsink on the P31 Northbridge and a passive heatsink on the ICH7. However, the ICH7 is a much older and cooler running Southbridge; its need for cooling is mute. The P31 is a new addition from Intel to its budget chipset fleet, and while it's aimed at value segments, it's a discrete-only graphics option. There is no Intel GMA based IGP here. Also, given it's a newer chipset, why it's paired with ICH7 and not ICH8 or 9 is beyond us.

Moving to the rear I/O ports, we don't get a huge abundance of ports like we expect with the big boys boards. However, there is enough to keep most satisfied here. We see the return of a Serial and Parallel port on this board. While there are no eSATA ports which are more useful in today's digital market, we are a bit disappointed that at least one eSATA wasn't added through an external chip.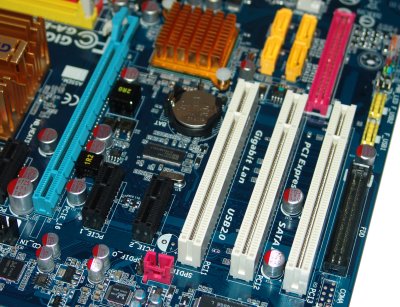 Thanks to the full ATX size of the board there are enough slots for you. The P31 chipset supports a single PCI Express x16 graphics slot using 1.1 specs. If you were hoping for PCIe 2.0, you're going to be left out here. However, all PCIe 2.0 graphics cards work just fine in this board, but at the reduced rate of 8GB/s bandwidth. Two PCI Express x1 slots run off the ICH7 Southbridge which give you additional PCIe expansion possibilities for RAID controllers or eSATA controller cards if you would like to add one in. And lastly, three PCI legacy slots are included for older sound cards and TV tuners if you prefer to use them.
Unfortunately the board doesn't come with any additional controllers onboard; no extra RAID, eSATA or FireWire controller chips to be found, which is a bit disappointing considering we are moving into the digital media world. FireWire is a must for DV cameras, and iPod users will be annoyed at the lack of it too.
The Components - Continued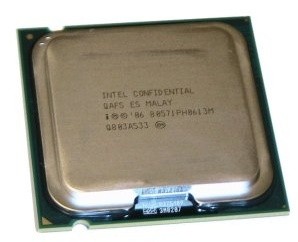 Moving along, we have the processor for the system. Thanks to Intel's recent processor review, we have on hand the Intel Core 2 Duo E7200. This is the new value oriented low power processor from Intel which runs at a 2.53GHz core clock using a 1066MHz FSB and carries with it 3MB of L2 cache for the two cores to share. It's based around the 45nm Penryn architecture and belongs to the Wolfdale Core 2 Duo family.
Compared to the older Conroe E4000 series, the E7200 has a massive lead without a huge price tag. Adding to all this, the TDP of the CPU is only 65watts. While that's 20watts more than the AMD Athlon 4850e we used in the AMD HTPC article, it's still very respectable.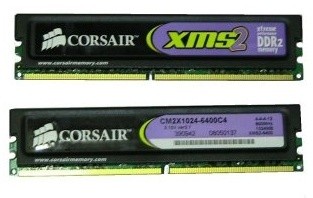 For our memory, we used the same Corsair 2GB Dual Channel Kit from the AMD HTPC article. These modules are rated to run 800MHz with low latencies. While the GIGABYTE board is designed to take 1066MHz DDR2 modules, more voltage will be needed to get these modules this high and we wanted to keep power as low as possible. While this will hamper memory performance, we don't expect a huge hit.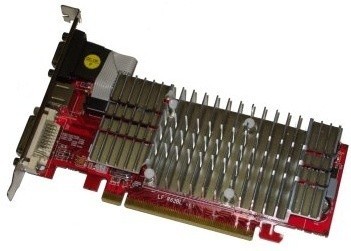 While we could have gone with a faster graphics card, we are aiming for a value conscious low power system for basic gaming and general office work, and the ATI Radeon 3450 based graphics card from HIS was perfect for this.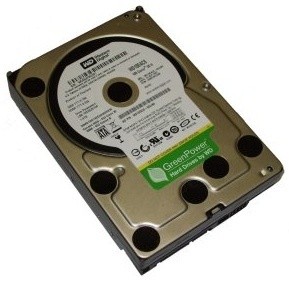 Lastly, the hard disk. We used a Western Digital 1TB Caviar GP drive which is designed to operate quieter, cooler and use less power thanks to its in-built thermal and power management software. In all, a well rounded system by any means.
Test System Setups and Memory Performance
Intel Test System
Processor
: Intel Core 2 Duo E7200 @ 2.53GHz (9.5x266MHz)
Motherboard
: Gigabyte EP31-DS3L (Supplied by
GIGABYTE
)
Memory
: 2x 1GB DDR2-800 Corsair (Supplied by
AMD
)
Hard Disk
: 1TB Western Digital caviar GP (Supplied by
Western Digital
)
Graphics Card
: HIS Radeon HD3450 (Supplied by
AMD
)
Cooling
: OCZ Vanquisher (Supplied by
OCZ
)
Operating System
: Microsoft Windows Vista SP1
Drivers
: Intel INF 8.3.1.1009, ATI Catalyst 8.4
AMD Test SystemProcessor
: AMD Athlon 4850e @ 2.5GHz (10.5x200MHz)
Motherboard
: ASUS M3A78-EMH HDMI (Supplied by
AMD
)
Memory
: 2x 1GB DDR2-800 Corsair (Supplied by
AMD
)
Hard Disk
: 1TB Western Digital caviar GP (Supplied by
Western Digital
)
Graphics Card
: HIS Radeon HD3450 (Supplied by
AMD
)
Cooling
: OCZ Vanquisher (Supplied by
OCZ
)
Operating System
: Microsoft Windows Vista SP1
Drivers
: ATI Catalyst 8.4
Today we have re-used the AMD HTPC we made just recently, using identical components as our new Intel setup. The only change made was the Catalyst drivers having been updated for the graphics card. To give the AMD system the best possible result we used Hybrid Crossfire since it supports it. As Intel doesn't have any Hybrid graphics support, we simply used the Discrete GPU in this case.
EVEREST Ultimate EditionVersion and / or Patch Used:
2006
Developer Homepage:
http://www.lavalys.com
Product Homepage:
http://www.lavalys.com
Buy It Here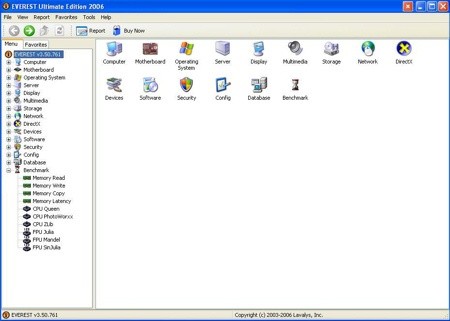 EVEREST Ultimate Edition is an industry leading system diagnostics and benchmarking solution for enthusiasts PC users, based on the award-winning EVEREST Technology. During system optimizations and tweaking it provides essential system and overclock information, advanced hardware monitoring and diagnostics capabilities to check the effects of the applied settings. CPU, FPU and memory benchmarks are available to measure the actual system performance and compare it to previous states or other systems.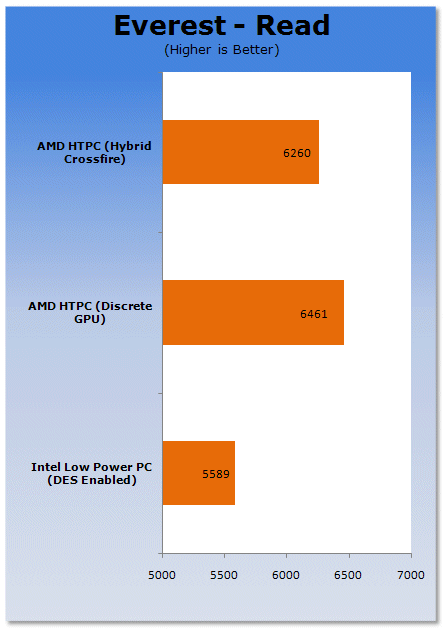 Despite the older architecture of the AMD 4850e processor, its on CPU memory controller gives it much more memory bandwidth to play with when compared to the Intel offerings which are simply not able to keep up on raw memory bandwidth.
Benchmarks - PCMark Vantage
PCMark VantageVersion and / or Patch Used:
Unpatched
Developer Homepage:
http://www.futuremark.com
Product Homepage:
http://www.futuremark.com/benchmarks/pcmark-vantage//
Buy It Here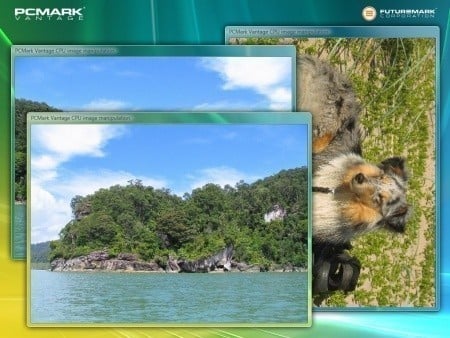 PCMark Vantage is the first objective hardware performance benchmark for PCs running 32 and 64 bit versions of Microsoft Windows Vista. PCMark Vantage is perfectly suited for benchmarking any type of Microsoft Windows Vista PC from multimedia home entertainment systems and laptops to dedicated workstations and high-end gaming rigs. Regardless of whether the benchmarker is an artist or an IT Professional, PCMark Vantage shows the user where their system soars or falls flat, and how to get the most performance possible out of their hardware. PCMark Vantage is easy enough for even the most casual enthusiast to use yet supports in-depth, professional industry grade testing.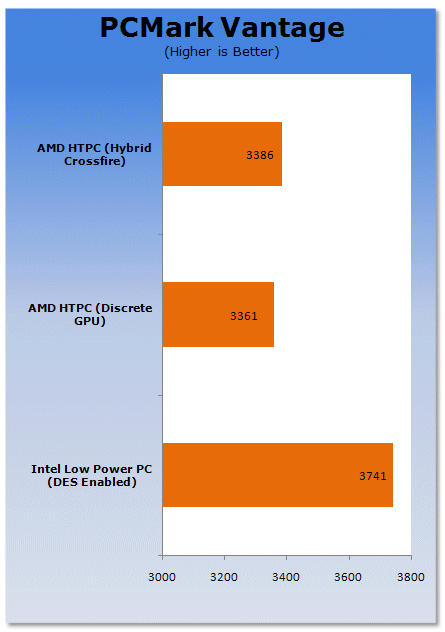 Moving into the overall system test suite of PCMark Vantage, the Intel system manages to pull ahead of the competition here; albeit not by a huge margin. This is due to the more efficient CPU architecture of the Core 2 Duo. On a clock for clock basis, AMD just can't keep up.
Benchmarks - Adobe Premiere Elements 3.0
Adobe Premiere Elements 3.0Version and / or Patch Used:
3.0
Developer Homepage:
http://www.adobe.com
Product Homepage:
http://www.adobe.com/products/premiereel/
Buy It Here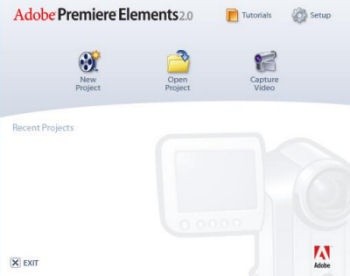 Our test with Adobe Premiere Elements 3.0 is performed with a raw two hour AVI file. It is then compressed into DivX format using the latest version codec. We measure the time it takes to encode and then record CPU usage.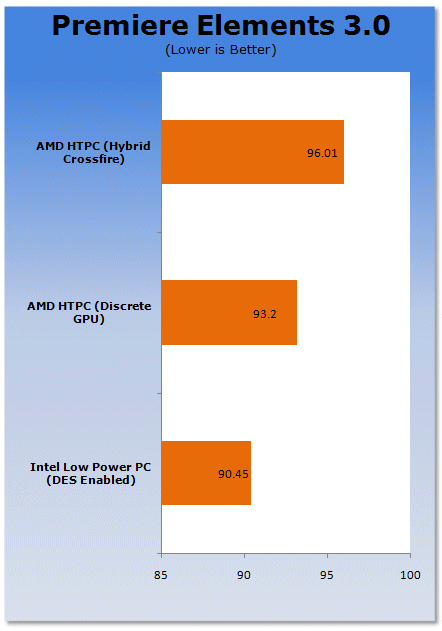 Intel's more efficient CPU architecture comes into play once again. Even the older Pentium D and Extreme Edition line of CPUs were able to beat AMD in media encoding tasks, and the Core 2 continues this by knocking a good few minutes off the encode time.
Benchmarks - SYSmark 2007 Preview
SYSmark 2007Version and / or Patch Used:
1.04
Developer Homepage:
http://www.bapco.com/
Product Homepage:
http://www.bapco.com/products/sysmark2007preview/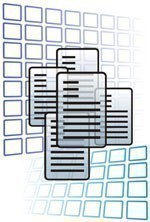 SYSmark 2007 Preview is the latest version of the premier performance metric that measures and compares PC performance based on real world applications.
SYSmark 2007 Preview extends the SYSmark family, which has been widely accepted by IT Managers, PC OEMs, press and analysts worldwide to support Windows Vista™.
SYSmark 2007 Preview allows users to directly compare platforms based on Windows Vista™ to those based on Windows XP Professional and Home.
The new release also incorporates numerous new features and enhancements such as an improved GUI allowing streamlined start-up and run along with a heads-up-display (HUD) and automated error reporting.
SYSmark 2007 Preview is an application-based benchmark that reflects usage patterns of business users in the areas of Video creation, E-learning, 3D Modeling and Office Productivity. This new release includes a robust and refreshed set of applications.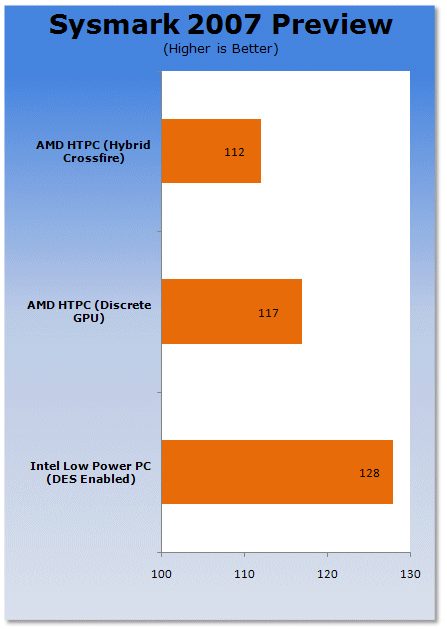 SYSmark 2007's use of the CPU architecture in the real world shows us that on a clock for clock basis, Intel still have the more powerful CPU.
Benchmarks - HDD Performance
HD TachVersion and / or Patch Used:
3.0.1.0
Developer Homepage:
http://www.simplisoftware.com
Product Homepage:
http://www.simplisoftware.com/Public/index.php?request=HdTach
Buy It Here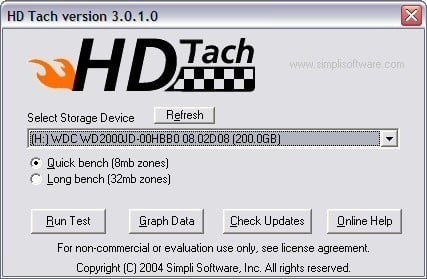 HD Tach has been around for a long time and is excellent when it comes to testing hard drive performance. It is also a very handy program when it comes to testing the controller used on particular motherboards. Tests such as Read, CPU Utilization and Burst are available at a click of the button and give you a good idea of how the hard drive can perform from system to system.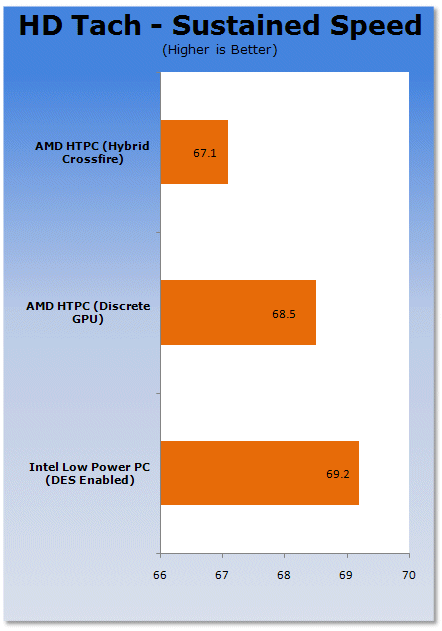 In the HDD performance department we see that the Intel Mass Storage System is slightly better than the SB700 of the AMD 780G chipset. But the gap certainly isn't huge.
Benchmarks - 3DMark06
3DMark06Version and / or Patch Used:
1.1.0
Developer Homepage:
http://www.futuremark.com
Product Homepage:
http://www.futuremark.com/products/3dmark06/
Buy It Here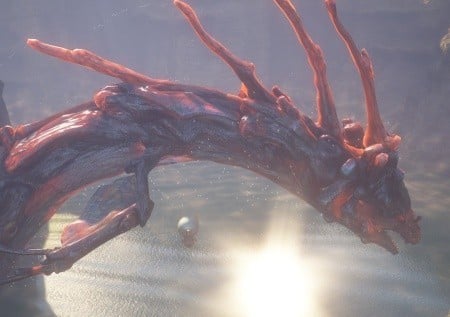 3DMark06 is the very latest version of the "Gamers Benchmark" from FutureMark. The newest version of 3DMark expands on the tests in 3DMark05 by adding graphical effects using Shader Model 3.0 and HDR (High Dynamic Range lighting) which will push even the best DX9 graphics cards to the extremes.
3DMark06 also focuses on not just the GPU but the CPU using the AGEIA PhysX software physics library to effectively test single and Dual Core processors.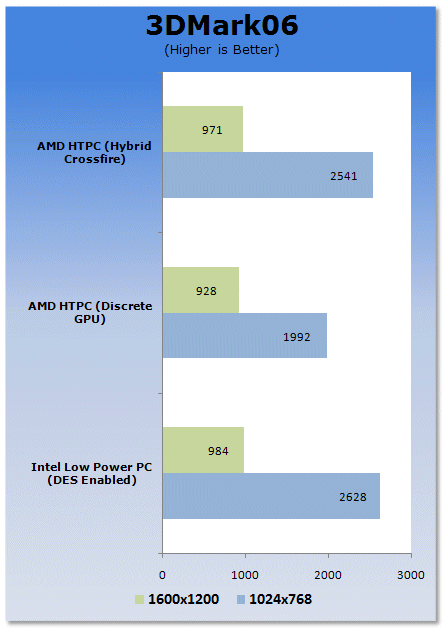 Intel's low power option manages to get a slight upper hand here.
Benchmarks - Prey
PreyVersion and / or Patch Used:
1.2
Timedemo or Level Used:
Hardware OC Demo
Developer Homepage:
http://www.humanhead.com
Product Homepage:
http://www.prey.com
Buy It Here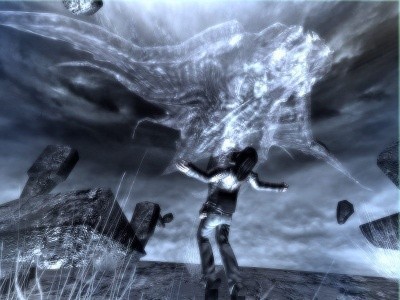 Prey is one of the newest games to be added to our benchmark line-up. It is based off the Doom 3 engine and offers stunning graphics passing what we've seen in Quake 4 and does put quite a lot of strain on our test systems.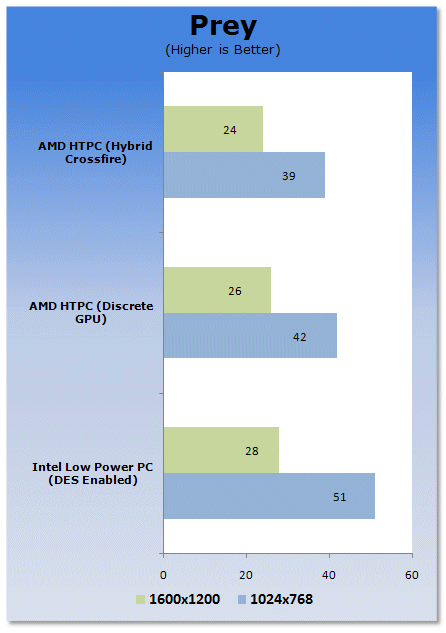 Prey gives the win to Intel, though it isn't a huge one. However, when taking into account the fact that DES is enabled, this is quite a good result.
Benchmarks - Battlefield 2142
Battlefield 2142Version and / or Patch Used:
1.25
Timedemo or Level Used:
Custom Timedemo
Developer Homepage:
http://www.dice.se/
Product Homepage:
http://www.battlefield.ea.com/battlefield/bf2142/
Buy It Here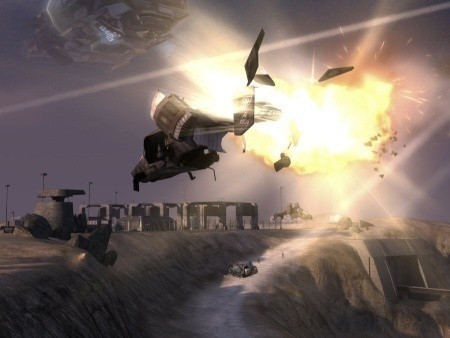 In Battlefield 2142, players choose to fight for one of two military superpowers - the European Union or the newly formed Pan Asian Coalition -in an epic battle for survival.
Armed with a devastating arsenal of hi-tech weaponry, including assault rifles, cloaking devices and sentry guns, players will also take control of the most lethal vehicles known to man. Massive Battle Walkers wage fierce combat on the ground, while futuristic aircraft rule the skies. When taking on this futuristic armor players will need to use their wits and an arsenal of new hi-tech countermeasures like EMP grenades and smart mines to level the playing field.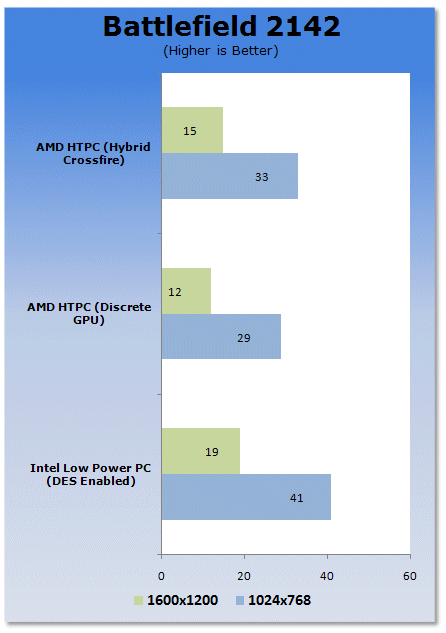 Battlefield 2142 puts the Intel platform in front by a quite a few frames.
Benchmarks - Far Cry
Far CryVersion and / or Patch Used:
1.3
Timedemo or Level Used:
Benchemall Default Demo(
download here
)
Developer Homepage:
http://www.crytek.com
Product Homepage:
http://www.farcrygame.com
Buy It Here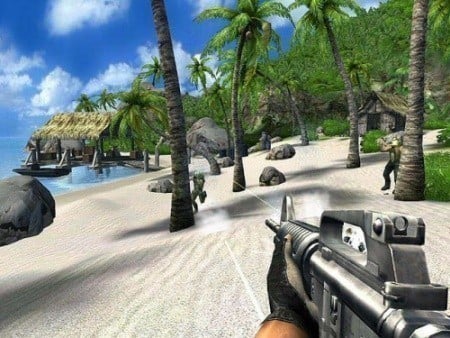 While Far Cry is now one of our older benchmarking games, it is still able to put pressure on most computers systems as it is able to utilize all parts of the system. Utilizing PS2.0 technology with the latest versions supporting Shader Model 3.0 with DX9c and offering an exceptional visual experience, there is no denying that even some of the faster graphics cards get a bit of a workout.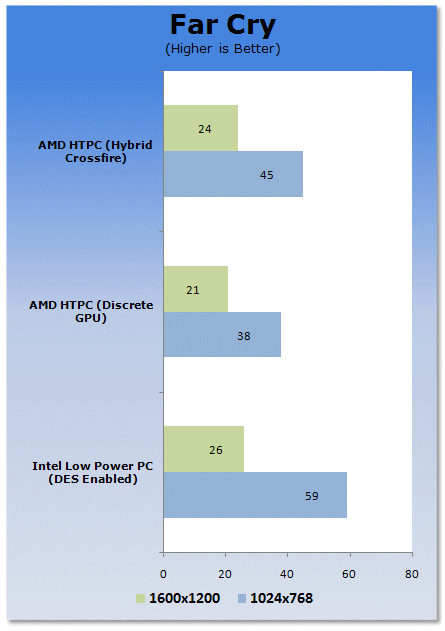 In our last test we see that the Intel platform still manages to sneak ahead, especially at the lower resolution where the graphics card isn't so much the limiting factor.
Power Consumption Tests
Power Consumption
We are now able to find out what kind of power is being used by our test system and the associated graphics cards installed. Keep in mind; it tests the complete system (minus LCD monitor, which is plugged directly into an AC wall socket).
There are a few important notes to remember though; while our maximum power is taken in 3DMark06 at the same exact point, we have seen in particular tests the power being drawn as much as 10% more. We test at the exact same stage every time; therefore tests should be very consistent and accurate.
The other thing to remember is that our test system is bare minimum - only a 7,200RPM SATA-II single hard drive is used without CD-ROM or many cooling fans.
So while the system might draw 400 watts in our test system, placing it into your own PC with a number of other items, the draw is going to be higher.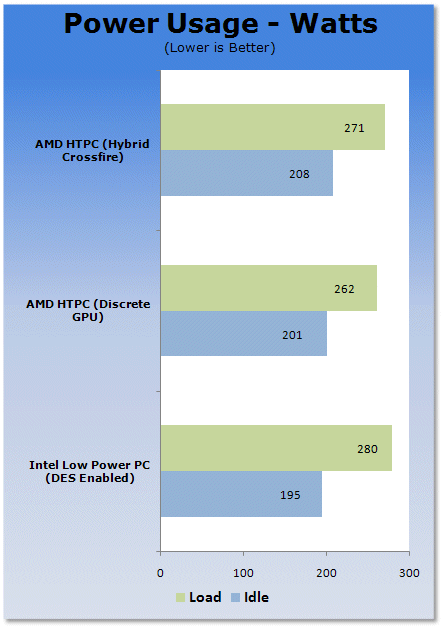 Power usage is the main aim for the purpose of this article, and Intel manages to keep its power usage below that of the AMD system at idle speeds. However, it is slightly higher under load.
Now, this is still quite impressive considering its CPU has a 20watt higher TDP than the 4850e processor. We can only put this down to the fact that the GIGABYTE board is extremely energy efficient at its job when throttling the CPU.
Final Thoughts
With "Green" being the big word these days, any system that is able to reduce its power consumption while keeping up performance is extremely impressive. AMD has managed to show us some very impressive results, and we were quite content with its performance, features and power usage. However, with a little help from GIGABYTE the Intel power efficiency has also come a long way.
Intel's track record for power efficiency has been less than stellar; Prescott based CPUs from Intel were known for TDPs of over 150watts, and with its strained silicon design, thermal loss was extremely high. In fact, it was so high on certain CPUs that if a large vacuum sounding heatsink wasn't used, the CPU would throttle itself due to heat issues.
Core 2 managed to help Intel regain some face with a much more energy efficient architecture and higher quality strained silicon. Things managed to pick up. Since the 45nm CPU was brought in, Intel's energy efficiency has increased further. While it's good to see the CPU take on an energy efficient stance, it's not going to help unless the rest of the system also manages to do its part with energy consumption.
GIGABYTE has pioneered its motherboard line-up with its
Dynamic Energy Saver
technology, and it will now be included on all of their new boards to help in reducing the overall amount of energy wasted by computers on a daily basis.