Logitech G15 Gaming Keyboard
The G15 from Logitech oozes charm and seductive aesthetics, but how's it fair as a true gamers keyboard? Pop inside!
Published
7 minute read time
Page1 Introduction
It's just a keyboard... right?
How much thought have you given about your keyboard? Go ahead, close your eyes and try and describe it.
If you said it has keys from A-Z, 0-9, and also a bunch of F keys, then you should check out my threads at the
my little pony forum
, because frankly this review will most probably just sound like the deluded ravings of a fan boy.
If on the other hand you just described every loving detail about your keyboard including the numerous stains and funny anecdotes about how they got there, or that the WASD keys no longer have their letters on them, then this review is for you!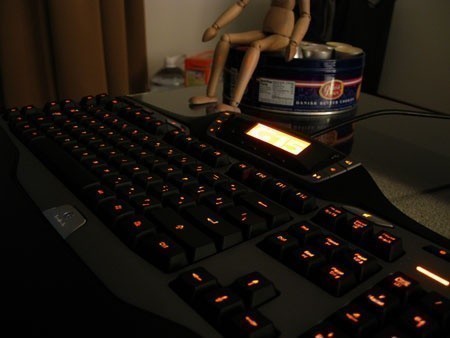 I'll begin by reminding you how important it is to have a decent keyboard underneath your stubby digits if you're going to
pwn n00bs
or kick the crud out of some 14yr old lvl70 elf warrior on W.O.W; you need something that is comfortable to use for long periods of time. Ultimately, you would benefit from some back lighting to make it easier to find keys in the dark when you realise that it's 3am and you started playing at lunchtime the day before.
Some hot-buttons to bind macros to would also take a step closer to the perfect gamers keyboard, saving you precious seconds when your ass is being handed to you by the 14yr old lvl70 elf warrior on W.O.W.
Now throw in a back-lit LCD along with some media buttons and you have the best keyboard for telling people about your limited edition Windy Wings Moon Jumper on the
my little pony forum
... err, I mean pwning n00bs and 14yr old lvl 70 elf warriors...
I'm talking about Logitech's G15 gaming keyboard, of course. Let's take a closer look and see if it really does help you to excel in your gaming abilities.
A Closer Look
Closer Look at Logitech's G15
The Logitech G15 ticks many boxes on the gaming keyboard requirements list, along with a few that are not even on it. You have the soothing orange backlight of the keys, and not distractingly illuminating the whole key either, just the letter in the center of the matt-black mini-monolith. This also makes it much easier to read the key in the dim darkness of your den.
The hot buttons (six of them, with three modes to give a total of 18 macro bindable buttons) which can be used in any software/game and the ability to bind keys to the buttons whilst in game makes them extremely useful.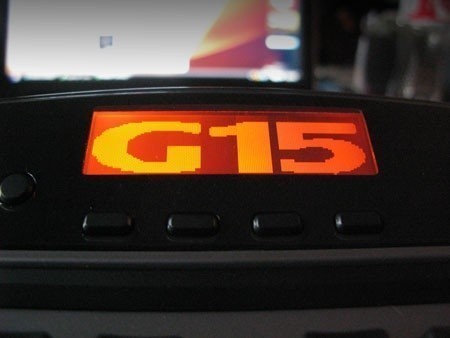 A nicely positioned LCD unit, while not completely necessary for gaming, does have some advantages. It is capable of displaying stats, windows info and media related activities. Four soft buttons underneath allow you to select an LCD option defined by a program. There is an additional button to the side of the LCD too, this allowing you to switch the LCD's mode.
There's two USB ports on the back of the board, so you can whip your various dongles in and out as much as you want without bending over your pc searching in the dark for the elusive little buggers.
NB: They are recessed slightly into the keyboard, so fatties might not fit.
A host of media controls are also residen; play/pause, skip, volume, and stop. Off to one side is also a mute button and 3-mode brightness control button (off, dim, bright). Coupled with the usual full-sized A to Z's and a numeric keypad nestled sweetly off to the right hand side, it makes for a good all rounder, should you need to actually type words that is.
The final and quite useful feature of the board is this little sliding switch with a picture of a joystick on it. I had
no
idea what it did, until I read the help...
I found that it disables the Windows and Shortcut keys when you are in-game, preventing the frustration and hair tearing associated with such accidental keystrokes. Nicely done, Logitech!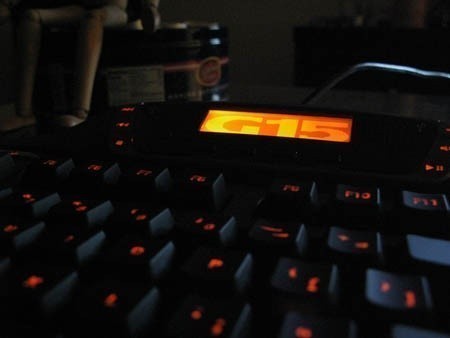 Software and SDKs
Installation
Most products like to say in the instructions "Install drivers first, then plug in the device", but I love to throw caution to the wind; the moment it came out of the box it was plugged into a USB slot faster than you can say "Microsoft-HID-compliant-device".
It was recognised instantly in Vista as a USB keyboard. Most of the standard features work without the need for the Logitech software, but then again, you might as well buy a cheap keyboard if you wanted just that.
Thankfully, putting in the CD and installing the software was painless. The drivers restart the keyboard, and this time the LCD scrolls through several default installed programs. JOY!
By default, the G15 has a range of LCD applications pre-installed; some are specific to games, however, and will not load until the game itself is active. There are a number of 3rd party applications for the LCD that can be downloaded from the interweb to add greater functionality to the display.
Further to this, Logitech have given us the power to create our own applications by including an SDK with their software. For those who don't know, an SDK means you can make your own programs for the company's hardware, but unless you are a coder, you might want to forget this titbit of information. To make an LCD program for this keyboard you will need some proficiency in C++ and compiling said code with the supplied libraries.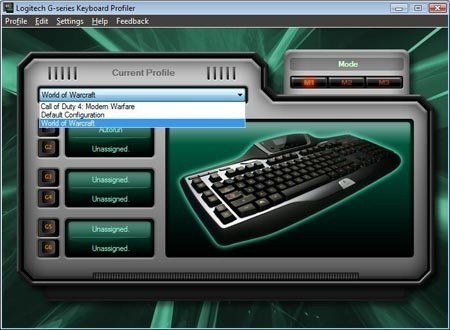 Taking It For A Spin
Get your game on!
Enough talk! It's time to break this baby in with some gaming.
First up, World Of Warcraft. I fire up the Logitech software and configure the G keys to some preset macros. Fortunately, the software automatically detects installed games, and there is support to add them manually if they are not detected. You just select a profile, and BAM, there's a bunch of pre-defined macros waiting for you to drop onto the G keys. So off we go...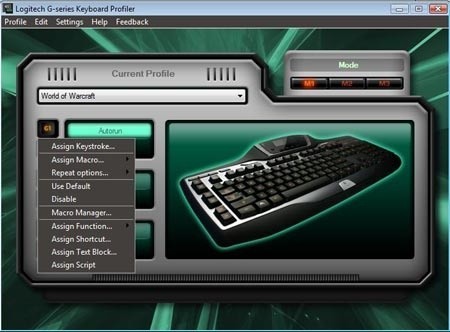 Four Hours Later.......
Wait... when did the sun set? - Why is it dark in my room?
With the glow of this keyboard, you fail to notice the little details like the sun setting or the numbness in your behind as you feverishly lay waste to your enemies! The macros worked really well and saved me from diving through in-game menus to do certain repetitive tasks. Also, by having the G buttons close to the WASD setup, my hand felt more relaxed compared to reaching all the way to 9 and 0 to activate an attack type.
Now for some Call of Duty 4. Off to the Macros assignments I go.
Somewhere around 3am.......
It's really amazing how six little keys can make a difference to your playing style in the FPS games, and while COD4 isn't as fast paced as the likes of Quake, it has a number of features that often leave you hunting for buttons in the thick of a gun battle. This makes it in my opinion just as interesting as Quake, because instead of running around as fast as you can, getting head-shots with a rail gun etc., you are running around as fast as you can to find a new gun to pick up after your current one ran out of ammo!
The whole time I was playing, the keyboard remained incredibly responsive and the keys had a solid feel to them, not leaving you wondering if you have pressed them or not which can make all the difference when you are trying to increase your body count.
Final Thoughts
After reading through the last two pages, you are probably nauseated by the amount of sucking up I have just done in favour of this particular Logitech product. Do not get me wrong, I'm not on Logitech's payroll or anything; I even went out and bought this keyboard with my own hard swindled cash from a Nova store in Taiwan!
So, to balance it all out we come to the part of the article where I can air my gripes about the keyboard. I will now proceed to say some bad things about this board, not mentioned previously in the review.
The price; It's just too high for some people that want a decent keyboard which didn't come with their computer when they bought it. I paid approx 2,800NTD (Taiwan Dollars) and immediately felt stupid as I looked into my empty wallet. There is a reason for the steep price jump, though this also brings me to my second annoyance.
Why do we need an LCD in a keyboard? Yes! I know, it's pimp. But seriously... why an LCD? I can see my currently playing tracks on the LCD... but wait... if I lift my head 15 degrees I can also see it in Windows Media Player! - Now, it's a bit unfair criticising a keyboard for a feature I purposefully chose (there are enough out there without an LCD that could have done the same job at a lower price), but I'm not willing to concede that it's my fault! I'm merely a victim of marketing and hype..... Okay, so maybe that last gripe was more about my own selfish need to impress the ladies on
my little pony forum
, so I'll air my final one to make up for it.
Saving my worst gripe for last, it's time to talk about the quality of the materials. The keyboard, well, quite frankly it just looks like sex. However, it is let down the moment you start to use it because it has a somewhat plastic-y feel to it. The keys have a silky texture finish to them and it makes my fingers feel weird when playing for long periods of time. Then there are the media control buttons, you end up chipping a nail every time you press them. It would have been much better if they stuck with the rubber style buttons they used on the LCD controls themselves. These plastic keys are too hard to push compared with everything else on the keyboard, it just doesn't seem right.
Oh and before I forget, the clip on wrist wrest. It has a large seam when clipped onto the keyboard which left my wrists with huge raised tracks on them! It would have been nicer to have a wrist wrest that becomes flush with the rest of the keyboard when attached; this doesn't seem like too much to ask.
While I'm disgusted at myself for dropping too much money on a keyboard, I am still really pleased with it overall. The good points substantially outshine the bad, and it's possibly the sweetest looking keyboard I have ever owned.
Now, if you will excuse me I'm expecting a delivery of My Little Ponies any time now...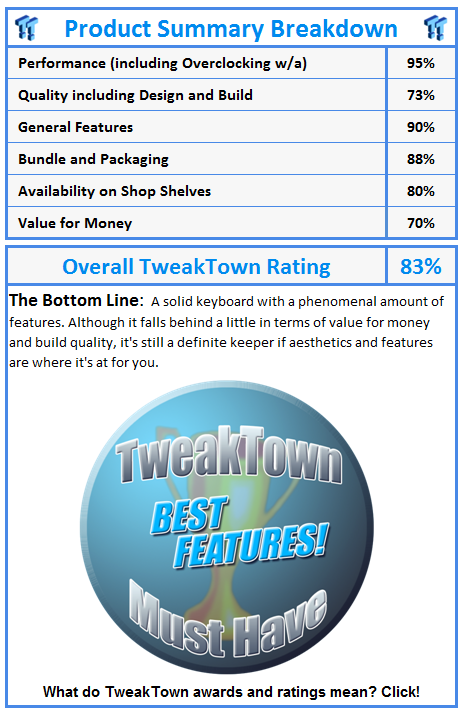 PRICING: You can find products similar to this one for sale below.

United States: Find other tech and computer products like this over at Amazon.com

United Kingdom: Find other tech and computer products like this over at Amazon.co.uk

Australia: Find other tech and computer products like this over at Amazon.com.au

Canada: Find other tech and computer products like this over at Amazon.ca

Deutschland: Finde andere Technik- und Computerprodukte wie dieses auf Amazon.de
We openly invite the companies who provide us with review samples / who are mentioned or discussed to express their opinion. If any company representative wishes to respond, we will publish the response here. Please contact us if you wish to respond.