Introduction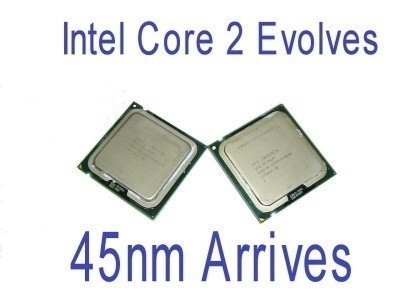 Let's face it people, Core architecture has been a runaway success for the big blue CPU giant, and it's about time they got it right too. For nearly two years prior to the Core 2 release for the desktop, Intel was under fire for its continuation of the Netburst based Pentium 4, Pentium D and Pentium Extreme Edition CPUs, especially the ones running on the 90nm process. Compared to the AMD Athlon 64 of the time, the competing Netburst CPU ran slower in game benchmarks and generated nearly two times the heat of the green machine's CPU using the same 90nm transistors.
It's now been a generation on and Intel has pushed the Core 2 series into quad core variants, something AMD is yet to achieve. While Phenom is on its way, Intel still have the crown for the first quad core CPU to the market; and while technically not a true quad core, it still has four processors working on a single CPU package, just not on a single die.
While AMD still plays catch up, Intel has kept its processor train at full speed with yet another new processor in the Core 2 range. Using the 1333MHz FSB that the QX6850 brought to the party, the new series based on the Penryn architecture as it's now known reduces the production size from 65nm to 45nm as well as adding in a few new features along the way. Today we test out the Intel Core 2 Extreme QX9650 processor based on Penryn technology to see what or if anything has improved.
Processor Architecture Changes
Architectural Changes from Conroe to Penryn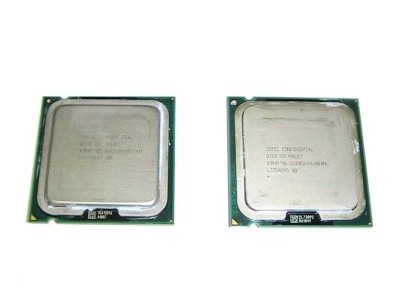 The new Core 2 Series of CPU based on the Penryn architecture will include a few new surprises over the original Conroe design which we plan to cover here. The first big one is Intel's change of transistors from the Silicon/Silicon Dioxide type to what's now known as High-K metal gate. With the reduction in size Intel has gone to extreme lengths to boost the voltage leak factor that affects the 65nm series CPU as well as boost the switching speed of the transistors, the High-K metal Gate series is supposed to do that.
Next on the list is Penryn's boost to the L2 cache side of things. Currently there are two series of CPU that will come out using the Penryn architecture, Yorkfield is the quad core series and Wolfdale is the dual core series under the Core 2 brand. On the current Conroe Core 2 Duo, cache sizes have been 2MB shares across the two dies, and 4MB for quad core as each separate die has its own L2 cache. Wolfdale dual core goes up by 4MB to a total of 6MB for Core 2 Duo and Yorkfield goes to 12MB since it has two Wolfdale cores on its single CPU package. While this is nice to see, there is still one problem with the Yorkfield CPU and that is communication between the two dies.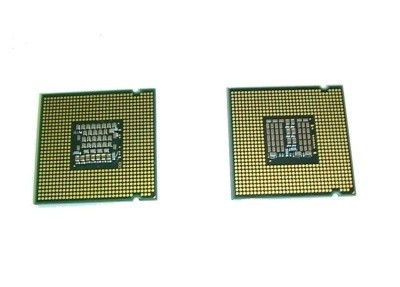 On Kentsfield cores, in order for Die A to communicate with Die B, a request has to be sent along the FSB, back to the northbridge and then along the memory bus; so while the two cores on Die A can communicate across the L2 cache, and the two cores on Die B can communicate the same way, in order for the two cores on Die A to know what the two cores on Die B are doing is a somewhat long and slow process.
Yorkfield hasn't changed this either as the same method is used, and while the FSB is at 1333MHz to try and reduce this delay, it's still not fast enough and a true quad core with all four cores on a single die sharing a single L2 cache must come from Intel very soon to offset this stumble. Compared to Phenom, Intel's quad core is simply multi core technology.
Next on our upgrade list is the inclusion of a new set of multimedia instructions, these known as SSE4. The new SSE set contains 54 new instructions designed to speed up the video editing and multimedia rendering on the Penryn based CPU. SSE4 brings a new level of simplicity for the video rendering system by doing away with complex strings of commands needed with SSE3 series chips. Penryn only supports SSE4.1 which is revision 1 of the SSE4 instructions, and only 47 out of the 54 are included. We will have to wait for the next revision to come in for us to get the final seven instructions which will hopefully speed up game performance once they support SSE4.
Test System Setup and Sandra XII
Test System
Motherboard
: GIGABYTE X38T-DQ6 (Supplied by
GIGABYTE
)
Memory
: 2x 1GB DDR3-1800 Dominator(Supplied by
Corsair
)
Hard Disk
: 500GB Seagate 7200.9 (Supplied by
Seagate Australia
)
Graphics Card
: MSI GeForce 8800GTS 640MB (Supplied by
MSI
)
Cooling
: Intel Stock Cooler
Operating System
: Microsoft Windows XP SP2
Drivers
: Intel INF 8.3.1.1009, Forceware 163.21
Today we are using a board we haven't reviewed yet, GIGABYTE's X38T-DQ6 which supports DDR3 and the new 45nm CPU. We aren't going for any overclocking tests at the moment as this is just a CPU review. Overclocking will come in a separate article.
We have three Intel CPUs on show as well as one AMD CPU for comparison.
Today we have the QX9650 running at 3.0GHz on the 1333MHz FSB. Next on the list is a QX6850 running 3GHz using the same 1333MHz FSB. Lastly for the Intel lineup we have a Core 2 Quad clocked at 2.93GHz on the 1066MHz FSB. AMD wise, we have a dual core AMD Athlon 64 X2 6000+ running at 3GHz, so all of the CPUs run at the same core frequency of 3GHz.
SiSoft SandraVersion and / or Patch Used:
XII
Developer Homepage:
http://www.sisoftware.co.uk
Product Homepage:
http://sisoftware.jaggedonline.com/index.php?location=home&a=TTA&lang=en
Buy It Here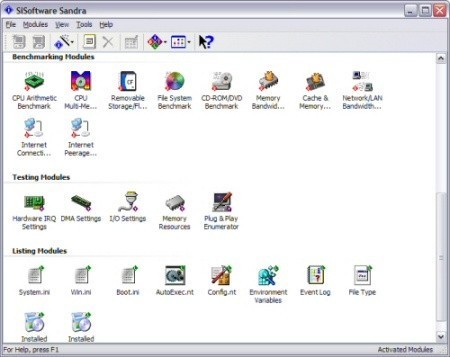 SiSoft Sandra (
S
ystem
AN
alyser,
D
iagnostic and
R
eporting
A
ssistant) is a synthetic Windows benchmark that features different tests used to evaluate different PC subsystems.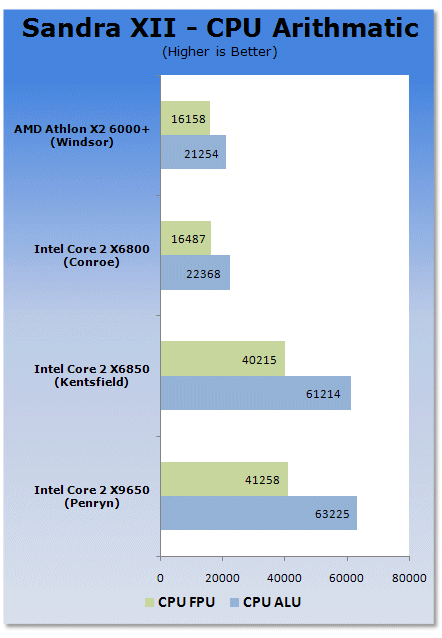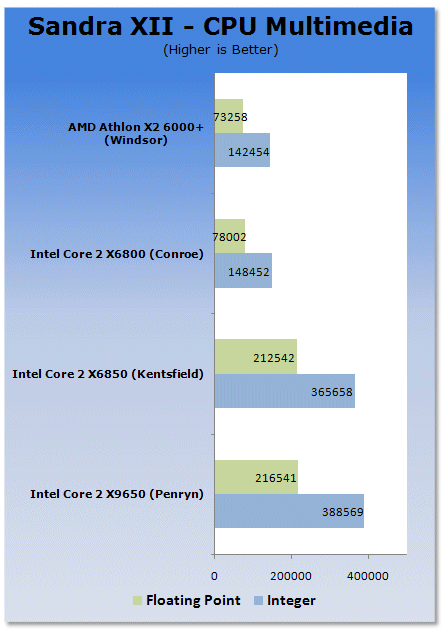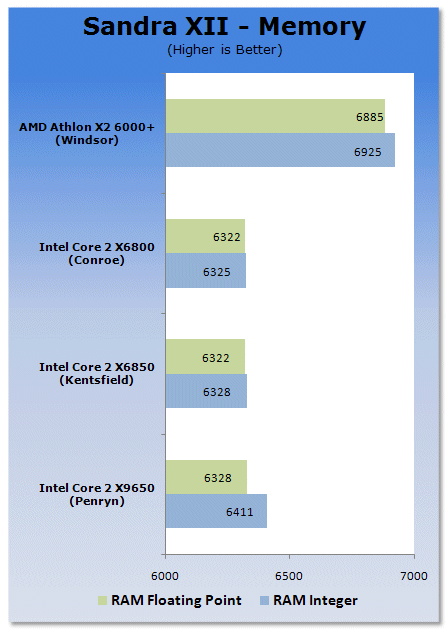 Our first series of tests puts the QX9650 ahead of the rest of the CPUs by quite a bit. This is largely because it doesn't need to access the memory as much thanks to its larger L2 cache and new architectural improvements. One area it can't beat the AMD on is the memory performance, AMDs on die memory controller keeps it king here despite using 800MHz DDR2 vs. 1333MHz DDR3; AMD still has memory dominance.
Benchmarks - Everest
EVEREST Ultimate EditionVersion and / or Patch Used:
2006
Developer Homepage:
http://www.lavalys.com
Product Homepage:
http://www.lavalys.com
Buy It Here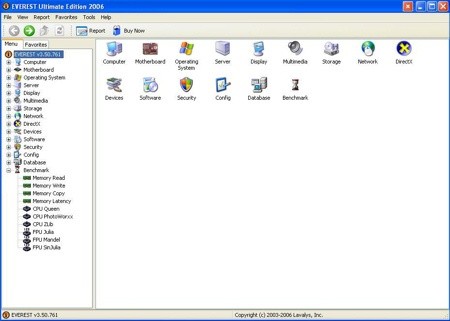 EVEREST Ultimate Edition is an industry leading system diagnostics and benchmarking solution for enthusiasts PC users, based on the award-winning EVEREST Technology. During system optimizations and tweaking it provides essential system and overclock information, advanced hardware monitoring and diagnostics capabilities to check the effects of the applied settings. CPU, FPU and memory benchmarks are available to measure the actual system performance and compare it to previous states or other systems.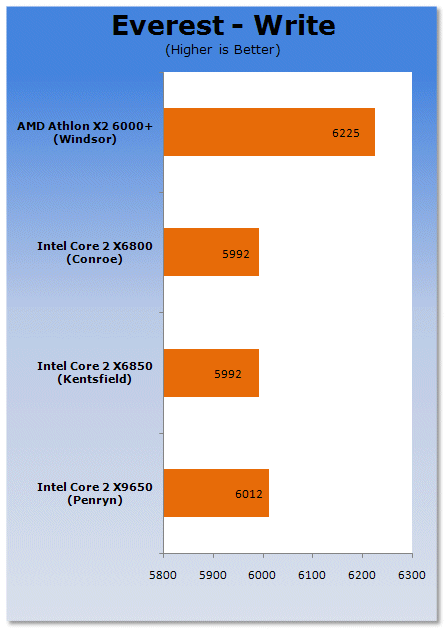 Again, Everest tests memory and the QX9650 keeps ahead of the Intel pack but still falls short of the AMD counterpart.
Benchmarks - PCMark05
PCMarkVersion and / or Patch Used:
1.2.0
Developer Homepage:
http://www.futuremark.com
Product Homepage:
http://www.futuremark.com/products/pcmark04/
Buy It Here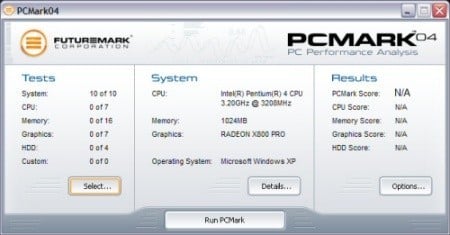 PCMark is a multipurpose benchmark, suited for benchmarking all kinds of PCs, from laptops to workstations, as well as across multiple Windows operating systems. This easy-to-use benchmark makes professional strength benchmarking software available even to novice users. PCMark consists of a series of tests that represent common tasks in home and office programs. PCMark also covers many additional areas outside the scope of other MadOnion.com benchmarks.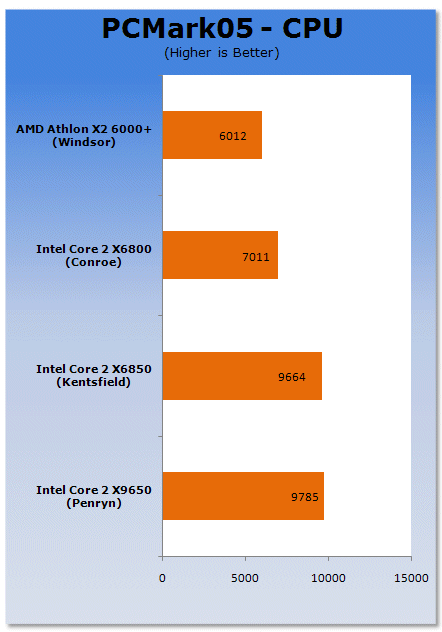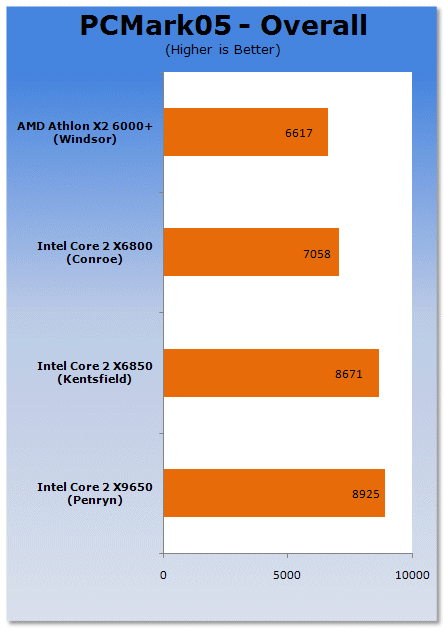 CPU performance is tested here and we see that the QX9650 is very fast, it manages to beat out the other Intel cores as well as kicking some serious green buttocks.
Benchmarks - Adobe Premiere Elements 3.0
Adobe Premiere Elements 3.0Version and / or Patch Used:
3.0
Developer Homepage:
http://www.adobe.com
Product Homepage:
http://www.adobe.com/products/premiereel/
Buy It Here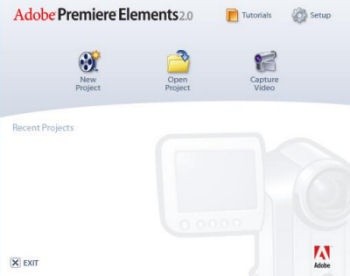 Our test with Adobe Premiere Elements 2.0 is performed with a raw two hour AVI file. It is then compressed into DivX format using the latest version codec. We measure the time it takes to encode and then record CPU usage.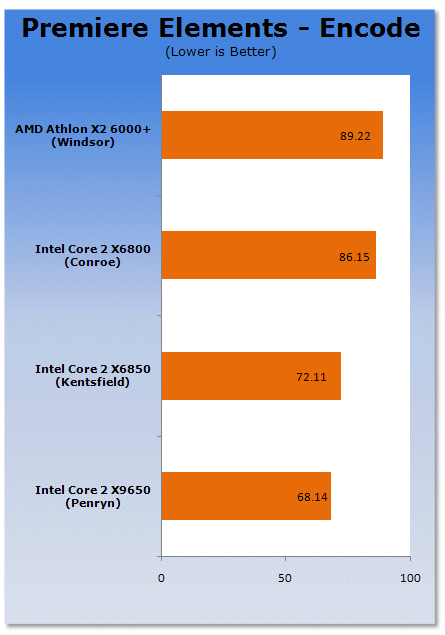 Using Premiere Elements 3.0 with the latest DivX 6.7 codec gives this program SSE 4.1 support, and here we see the advantage of using SSE4. The movie encode times have dropped remarkably.
Benchmarks - Super PI
Super PIVersion and / or Patch Used:
x
Developer Homepage:
http://pw1.netcom.com/~hjsmith/Pi/Super_Pi.html
Product Homepage:
http://pw1.netcom.com/~hjsmith/Pi/Super_Pi.html
Developed by some folks from the University of Tokyo (yes, Japan), Super PI is a small utility that does just as the name implies. It figures PI to a set number of decimal places. Since PI is an infinite number to the right of the decimal point, the utility measures the time it takes to figure a set number of places. It runs the calculations a set number of times and gives a time for the completion of the task. This is a simple and effective way to measure the raw number crunching power of the processor being used to compile the results.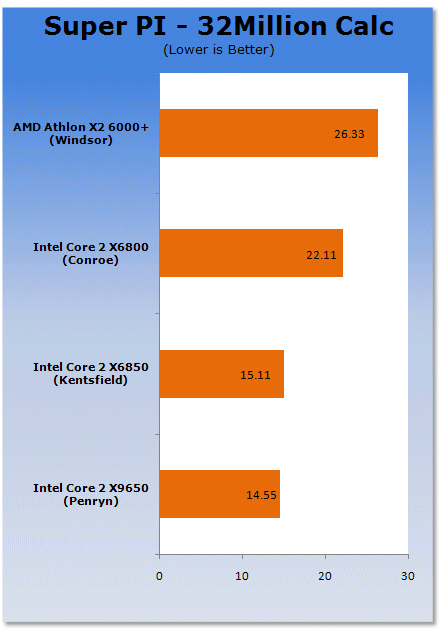 Super PI manages to cut a little time off the 32 million places calculation over the QX6850.
Benchmarks - 3DMark06
3DMark06Version and / or Patch Used:
1.1.0
Developer Homepage:
http://www.futuremark.com
Product Homepage:
http://www.futuremark.com/products/3dmark06/
Buy It Here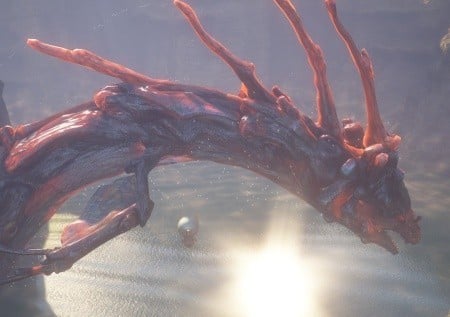 3DMark06 is the very latest version of the "Gamers Benchmark" from FutureMark. The newest version of 3DMark expands on the tests in 3DMark05 by adding graphical effects using Shader Model 3.0 and HDR (High Dynamic Range lighting) which will push even the best DX9 graphics cards to the extremes.
3DMark06 also focuses on not just the GPU but the CPU using the AGEIA PhysX software physics library to effectively test single and Dual Core processors.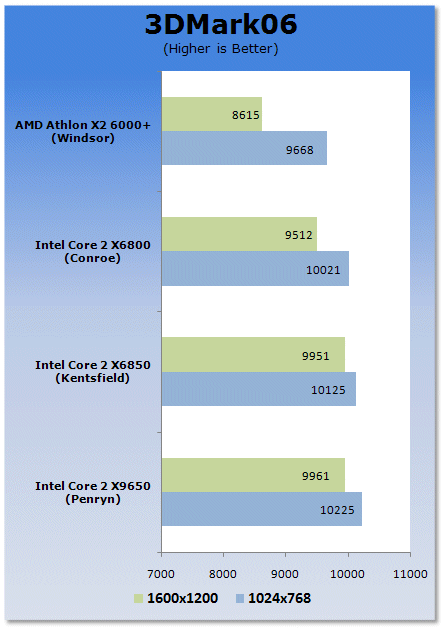 3DMark06 puts the QX9650 just in front here, not a huge lead but still nice to see there's a gain.
Benchmarks - Prey
PreyVersion and / or Patch Used:
1.2
Timedemo or Level Used:
Hardware OC Demo
Developer Homepage:
http://www.humanhead.com
Product Homepage:
http://www.prey.com
Buy It Here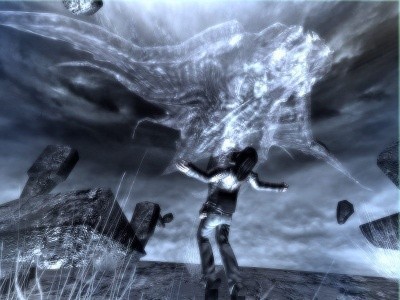 Prey is one of the newest games to be added to our benchmark line-up. It is based off the Doom 3 engine and offers stunning graphics passing what we've seen in Quake 4 and does put quite a lot of strain on our test systems.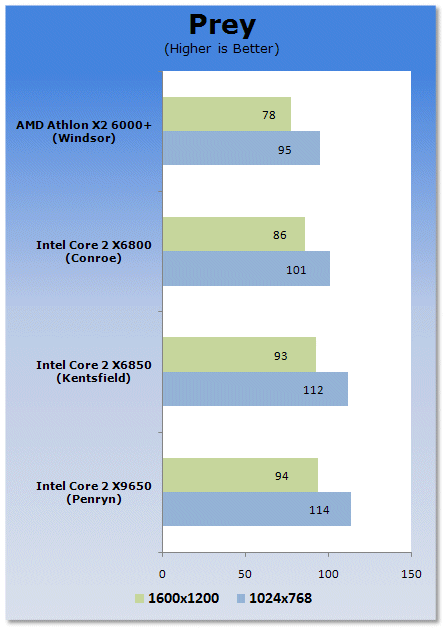 Prey gives the QX9650 a slight lead again, but nothing super outstanding.
Benchmarks - Far Cry
Far CryVersion and / or Patch Used:
1.3
Timedemo or Level Used:
Benchemall Default Demo(
download here
)
Developer Homepage:
http://www.crytek.com
Product Homepage:
http://www.farcrygame.com
Buy It Here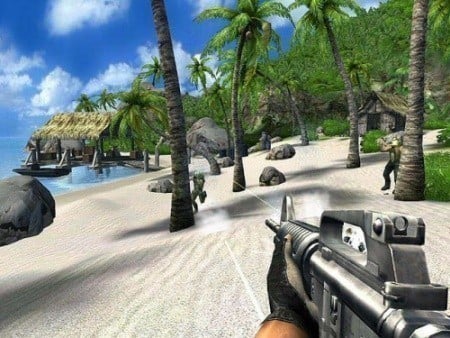 While Far Cry is now one of our older benchmarking games, it is still able to put pressure on most computers systems as it is able to utilize all parts of the system. Utilizing PS2.0 technology with the latest versions supporting Shader Model 3.0 with DX9c and offering an exceptional visual experience, there is no denying that even some of the faster graphics cards get a bit of a workout.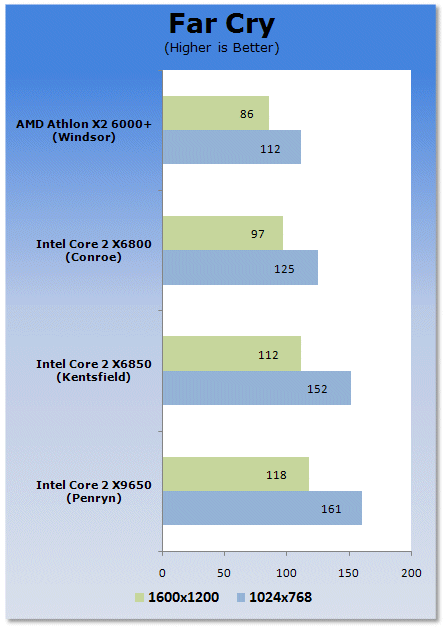 Far Cry shows the most improvement as it's not as CPU intense and thus allows the CPU to flex its muscles.
Power Consumption Tests
Power Consumption
We are now able to find out what kind of power is being used by our test system and the associated graphics cards installed. Keep in mind; it tests the complete system (minus LCD monitor, which is plugged directly into an AC wall socket).
There are a few important notes to remember though; while our maximum power is taken in 3DMark06 at the same exact point, we have seen in particular tests the power being drawn as much as 10% more. We test at the exact same stage every time; therefore tests should be very consistent and accurate.
The other thing to remember is that our test system is bare minimum - only a 7,200RPM SATA-II single hard drive is used without CD-ROM or many cooling fans.
So while the system might draw 400 watts in our test system, placing it into your own PC with a number of other items, the draw is going to be higher.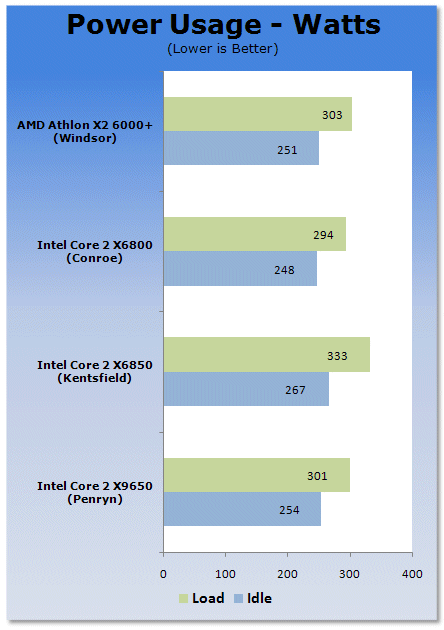 This was the most impressive test. Using the new 45nm process has reduced the amount of power the system uses under load and especially idle with its sleep state. The new 45nm CPU is the most efficient desktop CPU from Intel yet.
Final Thoughts
Well, what can be said other than "Wow!"
Intel's Core 2 road train has just added another engine to the haulage and this one is stronger than its replacement, which is very good to see. We have been expecting flops from Intel when it comes to their upgraded CPUs. While Willamette to Northwood was an upgrade, Prescott was a downgrade from Northwood and Prestler was even more of a downgrade.
Core 2 has been the final turn-around and things are getting better, Intel is not going for the 'pure clock speed is better' advantage which cost them so much on Netburst, rather they're adding new features to the CPU. The X9650 doesn't run a higher clock speed than our X6850, the same 3GHz clock is used. However, the new SSE4.1 instructions combined with the new ALU dividers and the larger cache size has increased performance while reducing the CPU die size and thus reducing power requirements for the CPU.
Overall, if you're going to upgrade to Core 2, wait a month or two for the Wolfdale dual core series to come out as these will use the same 45nm process, support SSE 4.1 and the new ALU dividers. For the extreme users the QX9650 with quad core setup is the go, it's a definite win when it comes to the multimedia side of the coin.