Dell Latitude D820 business notebook
Our first notebook review is of Dell's D820. It is not designed for gamers but we put it to the test for business users.
Published Thu, May 3 2007 11:00 PM CDT
|
Updated Tue, Nov 3 2020 7:04 PM CST
Introduction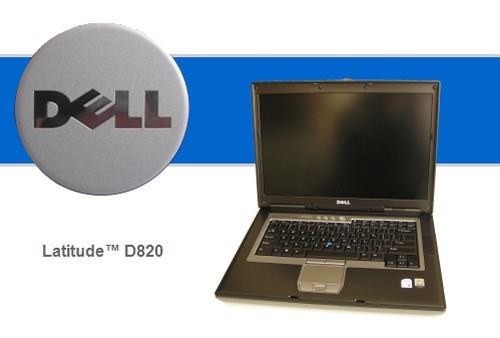 Traditionally Dell has had two primary sections in the notebook department, one for business and one for consumers. The business section, unsurprisingly, would consist of notebooks right for business, a spartan or basic configuration containing only those options truly needed to do your work. Consumers, on the other hand, had more choices in terms of options for multimedia enhancements, different designs, or maybe even more cutting edge technology built-in. But now times have changed and both selections have overlapping configurations for each notebook flavor.
The business section is basically divided into two series, Precision and Latitude. Precisions are more cutting edge technology, sacrificing some stability for the latest features, which might have some instability possibly caused by new drivers. Latitudes are the more conventional choice for businesses offering increased stability due to being built on a proven platform.
Today we have the pleasure of reviewing the Latitude D820 series which falls into the high-end of the Latitude range and it's our very first of many new notebook reviews here at TweakTown. While this notebook is listed under Dell's business section it actually boasts some nice features for an entertainment system, including a WUXGA display (that is 1900x1200 pixels to you and me) and HD audio.
Is this a perfect all round notebook for work (boo!) and fun (yay!)? Let us get cracking on this review and find out.
Specifications
Specifications of the Dell D820 business notebook
We have already said the D820 has some impressive features; here is a more complete list:
Processor
Intel Core Duo T2500 (2Ghz)
Video
Nvidia Quadro NVS 110M (128MB)
Memory
2.0GB, 533MHz DDR2 SDRAM (2x1024MB)
Display
15.4-inch WUXGA (1920x1200)
Audio
SigmaTel 9200 HD
Hard drive
100GB SATA (7, 200-rpm)
Optical drive
Philips 8X DVD+/- RW
Networking
Intel Pro Gigabit Ethernet
Intel Wireless 3945
Power
90W AC Adapter
9 Cell 85WHR LI-ION primary battery
Peripherals
Dell 350 Bluetooth Card
Conexant HDA D110 56.6K V.92 Modem
PC card slot
ExpressCard slot
Smart Card reader
Ports
Mic-in
Serial port
IR port
4 USB ports
VGA port
Speaker-out
1394 port (Firewire)
Extras
Nylon carry case
Wave Systems fingerprint reader
One thing you will notice if you rush over the Dell website now in order to buy this system, is that some of the specs listed here are not available anymore. Dell has updated the range with faster CPUs and increased memory speed for example. You should bear this in mind when looking at the benchmark scores later on.
Features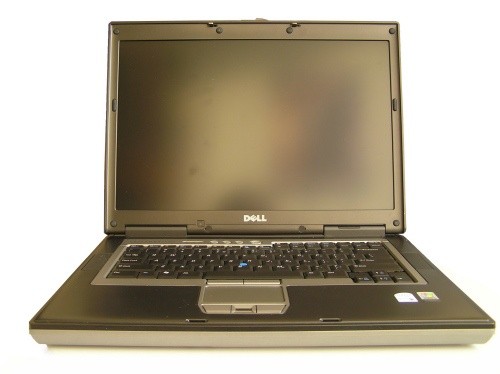 The Latitude D820 is a sleekly designed notebook. Because of all its features, widescreen being one for example, it is not one of the smallest notebooks, nor the lightest. It weighs about 2.5kg (6lbs). When you look at the screen you can see it is not a high gloss screen, but rather a matt finish one. Which of these you prefer is a matter of taste and how you intend to use the system, but Dell does not seem to offer a choice.
Moving from the keyboard closer to the lid you can see buttons for power, mute, and volume. This is different from some notebooks where those buttons are integrated into the keyboard itself.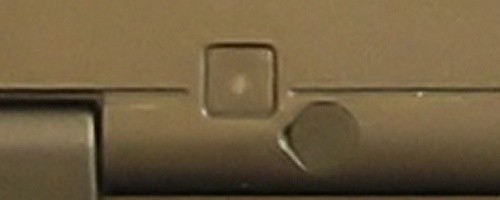 If you look closer at the screen you will notice a small square located at the base of the display. This is the ambient light sensor. It will adjust and change the brightness of the display based on the amount of ambient light. This is implemented to save battery power and can be quite useful at times.
On both sides of the keyboard you will find the speakers. They are stereo sound, and like most built-in speakers, you should not expect them to rock your world.
To make your way around the desktop of your operating system, there is a touchpad mouse and stick in the middle of the keyboard.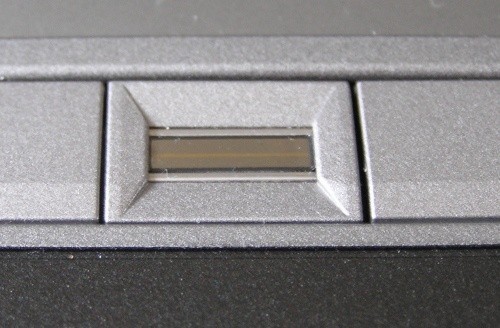 You might ask yourself what the device is in between the two mouse buttons. Well that is the fingerprint reader on the notebook. Along with the Smart Card reader, this is one of the security measures on the notebook. It hooks into the TPM chip onboard which handles security functions such as encryption. If you're a business user and working with sensitive information, it could come in quite handy and keep prying eyes away.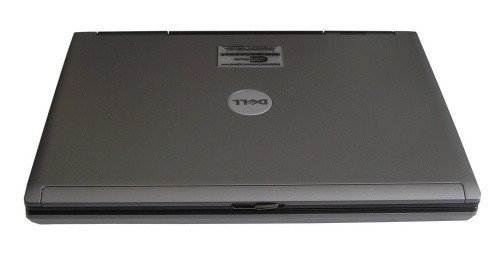 With the notebook closed it still looks stylish. Whether you are sitting in the board room with the boss or scoring free Internet along with a cup (or three) of java at a local coffee shop, you are not going to feel embarrassed by this system.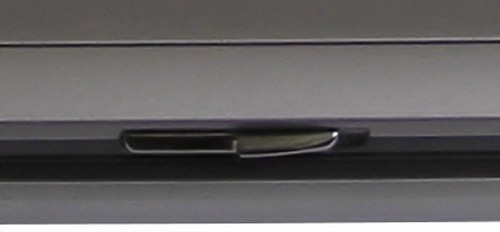 The latch on the front is slightly different from other Latitude models. This is actually a metallic latch and not a plastic button.
More Features
Moving on to the sides, let us see what kind of ports and other peripherals this notebook has.
The left side first, as you can see there is one Firewire port, and then come two audio ports - microphone-in and headset-out. Underneath the audio ports is the ExpressCard slot. In between the latch and the audio ports, is the infrared (IR) port. The latch itself is the Wi-Fi control light. If there are any wireless access points nearby, you can use the Wi-Fi to detect them when your notebook is turned off. The control light will indicate if there is one nearby. It is also used to turn Wi-Fi on and off. Almost off the picture is the PC card (PCMCIA) slot, most notebooks feature this. Underneath the PC card slot is the card reader.
Turning the notebook so we can take a look at the rear you will see some more ports available.
First off is the Intel Pro network port. To the right of that are two USB ports, one of which is special. It houses power for external devices such as an external writer or hard disk. Next to that is the modem, a simple 56k Connexant modem. Then you will see the serial port (COM 1), the external VGA port and the power connector.
The power connectors on all Latitudes are the same and as such you can use power adapters from other Latitudes. But not all power adapters are equipped to power the bigger notebooks. It will power your notebook, but expect power management to kick in and reduce the performance of the notebook.
Now we switch over to the right side and the remainder of the ports.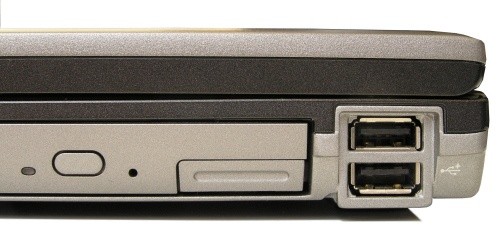 This side does not have much flavor to it; it only has two USB ports and houses the DVD-writer. On the writer you will see two buttons, the smaller one is for ejecting your media and the other one is for ejecting the whole writer itself. Obviously the small hole in the middle of the writer is to eject the tray when the writer is powered down.
With all sides done, let us flip over the system and take a look at the belly of the beast.
Squarely in the middle is the place where you can expand the memory of the notebook. Underneath the lid are two DIMM slots to put memory modules in. Just above that is the connector for the port replicator or port expansion bay, for when you use the notebook in a docking-station. There are some screws that have a little icon next to them. This means they have a particular use. In the upper left corner you will see places for a screw with a lock icon next to it, this is used to lock the DVD-writer in place so it cannot be removed. On the lower right corner you can see two screws with hard disk icons next to them; these are used to remove the hard disk if necessary. What is left is the battery on the lower left corner. It has a test button to check the health and charge of your battery.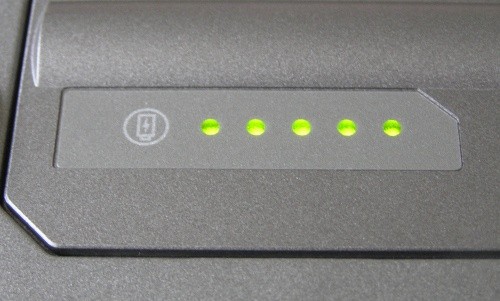 It seems this battery is in proper shape and fully charged. If you remove the battery you will stumble on to a nice surprise. It is the UMTS card expansion, to increase your mobility.
We were not been able to play with this feature much, because we did not have a SIM card to support it. This slot has support for Vodaphone and some other providers in America. You would have to check with Dell locally to see what kind of support you can get with this feature.
UMTS is one of the third generation mobile phone technologies. It enables you to enjoy relatively high speed Internet connections while being mobile. This is one of the first Dell notebooks we have seen that has this option integrated, so it came as a small surprise.
Benchmarks - Test Setup and Sandra
Benchmarks
Now let us put this puppy through its paces. Today we have some general benchmarks in store for you, along with some graphics benchmarks on the side and Windows Vista WEI scores for dessert. How does that sound?
The test setup is the notebook itself and the benchmarks installed. Look for the technical specifications on page 2. To gather some insight into the near future, this notebook was installed with both Windows XP and Vista and the benchmarks ran on both systems. In terms of operating systems, they were both cleanly installed and patched with the latest updates that were available at the time of testing. Other than that the operating systems have not received any special tweaking; quite simply put it is a benchmark of a system straight out of the box, just like how you would buy it.
Due to a lack of any reference systems for this review since we have only just started testing notebooks, we have pitted the notebook against itself, making it operating system versus operating system. All drivers were obtained through the Dell website. The graphics benchmarks are setup as default; only the resolution has been changed as appropriate.
Due to the lack of availability this review does not contain benchmarks from either Mobilemark or Sysmark. We hope to resolve this next time around, so stick with us for now. Let us begin!
SiSoft SandraVersion and / or Patch Used:
2007 SP1
Developer Homepage:
http://www.sisoftware.co.uk
Product Homepage:
http://sisoftware.jaggedonline.com/index.php?location=home&a=TTA&lang=en
Buy It Here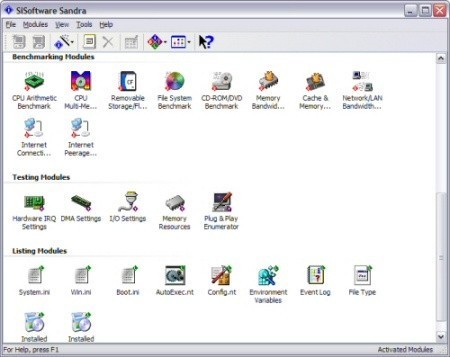 SiSoft Sandra (
S
ystem
AN
alyser,
D
iagnostic and
R
eporting
A
ssistant) is a synthetic Windows benchmark that features different tests used to evaluate different PC subsystems.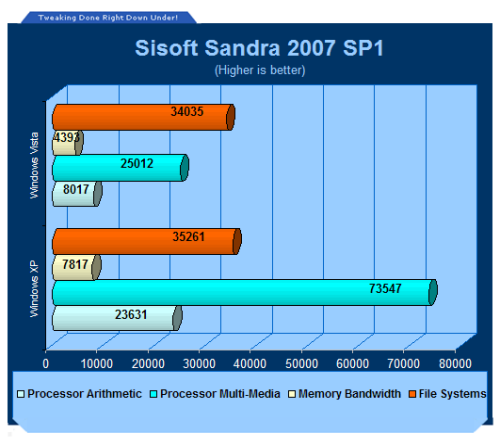 Save for the file system benchmark it seems Windows XP takes the lead. The spike is the multimedia test which scores way better in Windows XP than in Windows Vista.
Benchmarks - PCMark
PCMarkVersion and / or Patch Used:
2005 1.2
Developer Homepage:
http://www.futuremark.com
Product Homepage:
http://www.futuremark.com/products/pcmark04/
Buy It Here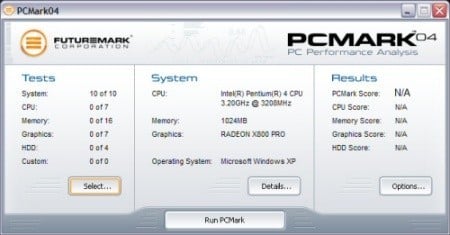 PCMark is a multipurpose benchmark, suited for benchmarking all kinds of PCs, from notebooks to workstations, as well as across multiple Windows operating systems. This easy-to-use benchmark makes professional strength benchmarking software available even to novice users. PCMark consists of a series of tests that represent common tasks in home and office programs. PCMark also covers many additional areas outside the scope of other MadOnion.com benchmarks.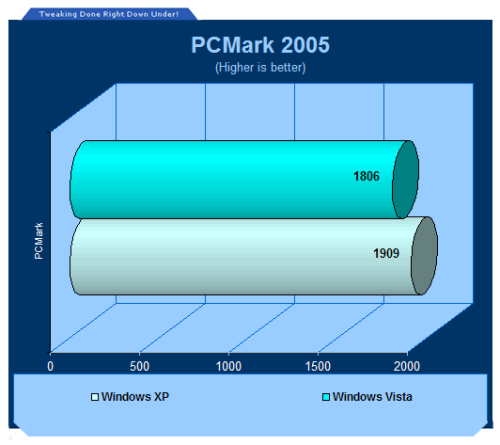 If you look at the individual tests you can see that the results do not carry that much except when it comes to the graphical tests. Here Windows XP clearly takes the lead and it results in the PCMark scores being different from each other.
Benchmarks - Windows Vista (WEI)
Windows Vista (WEI)Developer Homepage:
http://www.microsoft.com
Product Homepage:
http://www.microsoft.com/vista
Buy It Here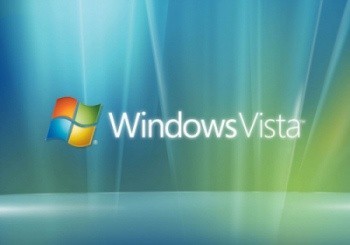 Windows Vista itself does not count as a benchmark, but the built-in performance tool gives a rating that Microsoft will use in the future to rate games and perhaps other software. It tests the complete system and gives categories such as memory, hard disk, and CPU scores. The lowest score will be the WEI index score total.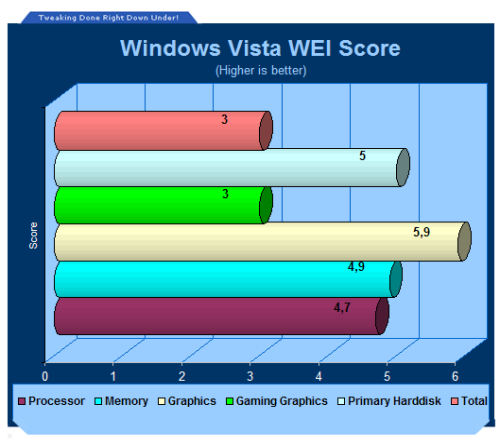 The score looks good except for one part and that is gaming graphics. We saw earlier that the notebook does not score high in the graphics tests and this does not prove to be the exception.
However, you can see the second graphics category score is high, this means that on the desktop with Aero glass enabled, the system is performing well. The fast spinning 7,200-rpm hard disk scores very well in this test, as well.
Benchmarks - 3DMark05
3DMark05Version and / or Patch Used:
Build 130
Developer Homepage:
http://www.futuremark.com
Product Homepage:
http://www.futuremark.com/products/3dmark05/
Buy It Here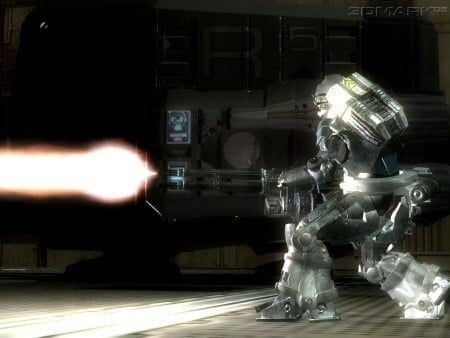 3DMark05 is now the second latest version in the popular 3DMark "Gamers Benchmark" series. It includes a complete set of DX9 benchmarks which tests Shader Model 2.0 and above.
For more information on the 3DMark05 benchmark, we recommend you read our preview
here
.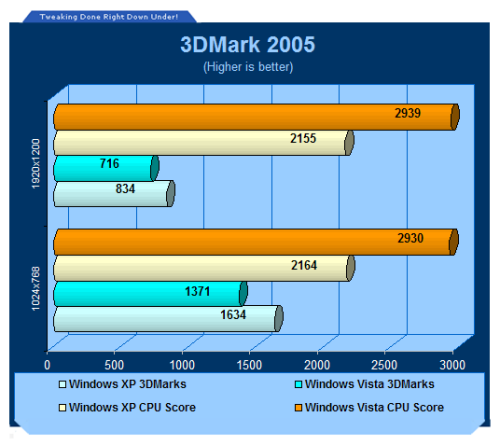 As you can see the performance nearly halves when switching to a higher resolution. This is expected, as it has more work to do. The CPU performance stays the same near enough. It is surprising to me that the Vista CPU performance outdoes the XP performance. The video performance shows the exact opposite.
I guess the graphics card drivers need some more performance tweaking under Vista.
Benchmarks - 3DMark06
3DMark06Version and / or Patch Used:
Build 110
Developer Homepage:
http://www.futuremark.com
Product Homepage:
http://www.futuremark.com/products/3dmark06/
Buy It Here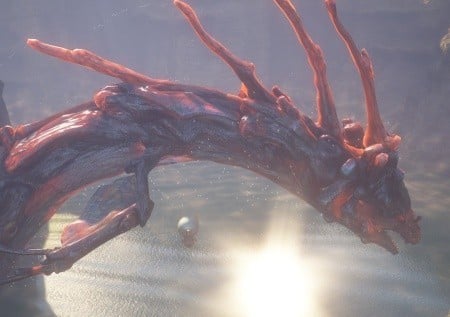 3DMark06 is the very latest version of the "Gamers Benchmark" from FutureMark. The newest version of 3DMark expands on the tests in 3DMark05 by adding graphical effects using Shader Model 3.0 and HDR (High Dynamic Range lighting) which will push even the best DX9 graphics cards to the extremes.
3DMark06 also focuses on not just the GPU but the CPU using the Ageia PhysX software physics library to effectively test single and dual-core processors.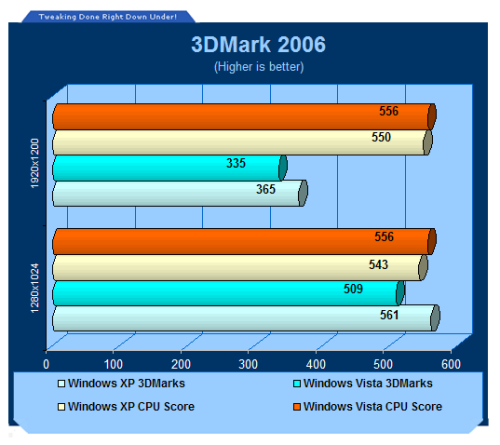 This benchmark shows the same story as before with 3DMark05, the video performance is an exact opposite of the CPU performance. You can see that the increase of graphical effects is taking its toll on the notebook, it nearly croaks under the weight.
Battery Life
As explained earlier one of the benchmarks missing in this lineup has to be MobileMark. Since we did not have the benchmark present at the time we tried to measure the battery life manually, which is probably the most accurate anyway but not entirely consistent. This is not an exact science but we were able to record the time you can use the notebook under certain conditions. The recorded times are rounded to the nearest hour. Battery life was tested with the notebook in regular power saving mode and not in performance mode which means the CPU and so forth are not running at full speed and the screen is not at its brightest setting.
Using simple programs such as Microsoft Office, some games, photo editing software and other various small programs we mimicked day to day work on the notebook and measured the lifespan of the internal battery. In this case the battery life span came down to roughly four hours with day to day usage.
If you use the notebook for heavy duty gaming or rendering of any kind the battery life is shortened to about three hours max and that is being generous.
When casually reading documents or eBooks, the life span of the battery increases to about five hours. For a business user just reading e-mail, the battery life is quite good and while it's not the best out there, it is one of the better notebook models.
Luckily battery charging is quicker and easier then draining it. Dell has incorporated the ExpressCharge technique by which a 6-cell battery loads to 80% charge in one hour and 100% charge in 2 hours. This D820 houses a 9-cell battery so it takes a little longer then an hour to reach the same levels, but it is still impressive.
Final Thoughts
Now that everything is said and done, let us summarize the notebook. Since in this review we have not actually compared this notebook to a reference system, it is hard to say much of anything on the performance of the notebook. We did however compare it with itself using two different operating systems. Based on the benchmarks the video drivers need some work in Windows Vista to get close to the performance under Windows XP.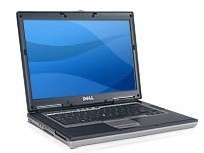 Looking at the
Dell website
and comparing the D820 to what you can order now compared to this earlier model, we can safely say that performance will increase, giving you more bang for your buck. Specifications have changed since we first got hold of the D820 a few months ago, for instance now you pop in a newer Core 2 Duo processor which sees better performance and more cache (4MB vs. 2MB with the T7xx series) compared to the old Core Duo CPU.
Dell has built this notebook for stability and wants to target the business sector with it. That in itself does not mean it cannot have any perks. The video card onboard is based on the Nvidia GeForce 7-series and that is quite good but as we showed in our benchmarks, it definitely is not a notebook you would use for high-end gaming. Right away this is the problem that we can spot with this notebook. The GPU needs good drivers to be able to perform. In here there is an Nvidia Quadro NVS which is an OEM-based card. Nvidia does not supply driver support for notebooks, so you are dependant on Dell to release updates and notebook companies do not tend to release new VGA drivers anywhere as much as Nvidia, ATI and so on. Sadly that does not happen often, especially not for this model.
Some of you might say that you can download Nvidia ForceWare drivers and use a modified inf-file to be able to install the latest drivers. This is true, but when benchmarking the system (and doing that), some benchmarks were unable to use the video card properly. So yeah it is possible but for a price, which we do not think business users are going to be happy with.
Everything else performs like a charm. The fast hard disk is remarkable, it really goes and you would expect it from a Serial ATA based 7,200-rpm drive. Combine that with the memory and processor and you will be fairly pleased. Like we said before the specifications are upgraded even more when you order this system now, so it will be even better. It's not the cheapest notebook on the market but at the same time the price is quite reasonable, too. You will need to customize the notebook a little and spend a little more cash to get the extras such as 7,200-rpm hard drive, 4MB cache Core 2 Duo, 2GB DDR-2 (which you should do if you intend on using Windows Vista). A configuration like this will end up costing you a little over US$2,000 - by no means cheap but this fit out makes it one of the more powerful notebooks available.
You have seen the pictures yourself, the notebook looks great too. It is stylish and sleek, without it being too over the top. The 15.4-inch display is nice and big at 1920 x 1200 resolution if you choose the Ultra Sharp WUXGA, making it ready for big spreadsheets option, Windows Vista and high-definition video. Taking the newer models into account, this notebook is ready for the future and business users should end up being quite impressed with what it has offer in terms of performance and features. It's not small nor is it light but with rapid battery charging, finger print sensor, long battery life and so on, it leaves us quite happy with what we see.
Keep in mind the new Intel Santa Rosa mobile platform is just around the corner, so it might be worth waiting and checking out upcoming notebooks to see what they have to offer before investing in the Dell D820 business notebook.
- Pros
Heavy duty equipment for a notebook (CPU, video card, hard disk)
Good performance
Security features
Widescreen and 1920 x 1200 resolution
Mobile connectivity through not only Wi-Fi, but 3G or UMTS (SMS mobile) network
Great battery life and fast charging
- Cons
Our test model specs outdated (newer models no problems)
Size and weight
Not for gamers
Rating - 7.5 out of 10 (current models 8.5 out of 10)
PRICING: You can find products similar to this one for sale below.

United States: Find other tech and computer products like this over at Amazon.com

United Kingdom: Find other tech and computer products like this over at Amazon.co.uk

Australia: Find other tech and computer products like this over at Amazon.com.au

Canada: Find other tech and computer products like this over at Amazon.ca

Deutschland: Finde andere Technik- und Computerprodukte wie dieses auf Amazon.de
We openly invite the companies who provide us with review samples / who are mentioned or discussed to express their opinion. If any company representative wishes to respond, we will publish the response here. Please contact us if you wish to respond.