Introduction & Drive Details
As storage enthusiasts, we love Flash Memory Summit. It's like the Superbowl for us. FMS brings together every notable purveyor of solid-state storage from across the planet. We witness firsthand bleeding-edge solid-state storage devices in action and report on what consumers will see in retail form immediately or soon. Occasionally, we are fortunate enough to get our hands on something special, which we have here for you today.
Now, if you follow the progression of solid-state storage at all, you know that Phison Electronics is the sole storage-controller company on the planet delivering PCIe Gen5 SSDs in the consumer space. In our opinion, Phison is, as we've stated on many occasions, the most forward-thinking SSD company in the world. Phison was the first to deliver 4TB M.2 NVMe SSDs, 8TB M.2 SSDs, consumer PCIe Gen4, and now Gen5.
The day Phison's E26 controller first appeared on the scene was the same day that Phison, for the first time, laid claim to the flash-based performance crown and has been steadily increasing its performance leadership ever since. First, we got 10,000 MB/s throughput, next we got 12,000 MB/s, and now for the first-time in history, we have 14,600 MB/s throughput in the house.
Phison's newest iteration of its E26 controller, codenamed Max14um, is delivering full saturation of the PCIe Gen5 x4 interface and, for the first time delivering on the full potential throughput of its PS5026-E26 controller: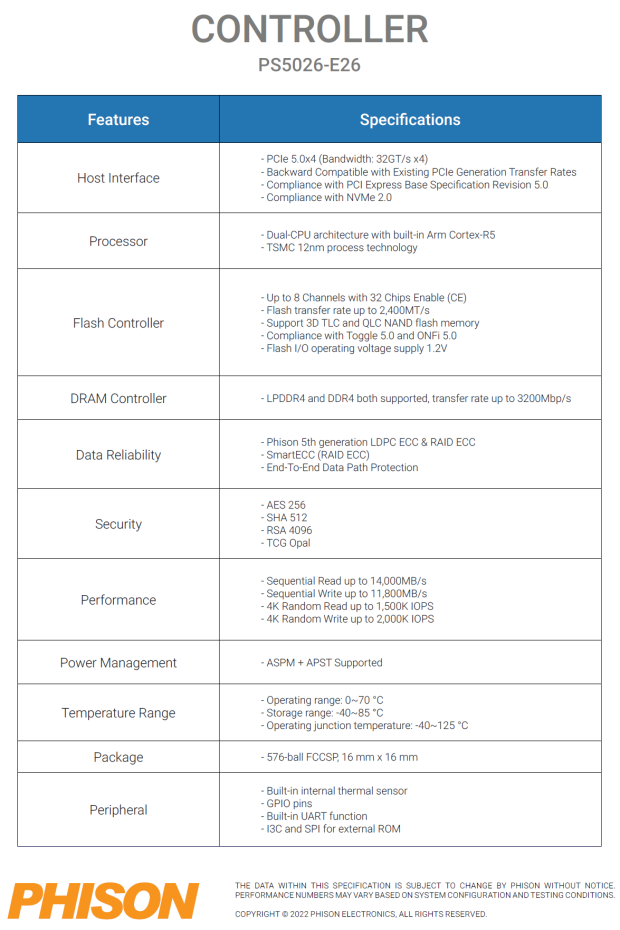 Not only is Phison's E26 Max14um controller in front of Micron's 2,400MT B58R meeting E26 up to specifications, but it's also significantly exceeding them, as we will demonstrate in short order. Phison states its E26 controller was built for 2,400MT B58R, and both companies have been working closely together to bring forth what we have here for you today.
Micron's B58R is revolutionary for the following reasons: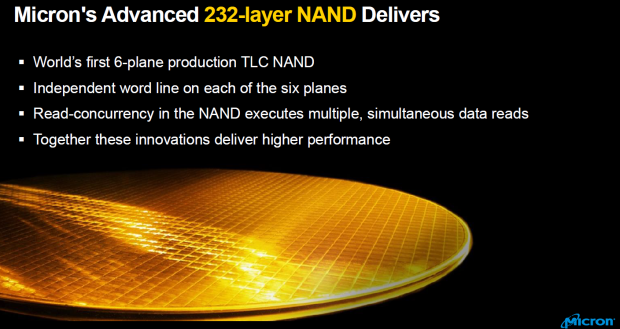 We can and will attest that B58R, even in its slowest 1,600MT form, is by far the best performing, most architecturally superior flash we've ever experienced. Just imagine how much more performance can be had when it's 50% faster at 2,400MT. Oh wait - you don't need to imagine; we will show you exactly how much more performance it brings to Phison's E26 controller platform.
So why exactly have we not seen 2,400 MT flash behind an E26 controller until today? The main reason why is something that wouldn't be the first thought that comes to mind. The main reason is M.2 power delivery which is currently limited to only 11.55 watts. Because of this, and how hard it is to extract 14 GB/s throughput from such a wattage limitation, the first 14,000 MB/s throughput we had in hand was on the enterprise SSD front, due to its much higher power envelope of up to 25 watts.
Because of this set-in-stone power limitation, as well as the limitations of Phison's initial E26 power delivery, there has been no reason to deploy 2,400MT B58R flash on the E26 platform simply because it couldn't get enough power to make a performance difference over 2,000 MT B58R. That is until today. Today is a new day, and Phison's innovation in power delivery has made 14 GB/s throughput possible within an 11.55 watt power envelope. This is big news to us because we had been under the impression that it would be quite some time before the power issue could be resolved. Again, we say Phison is the most forward-thinking SSD company in the world.
Okay, so now we've got that 14 GB/s throughput at our fingertips: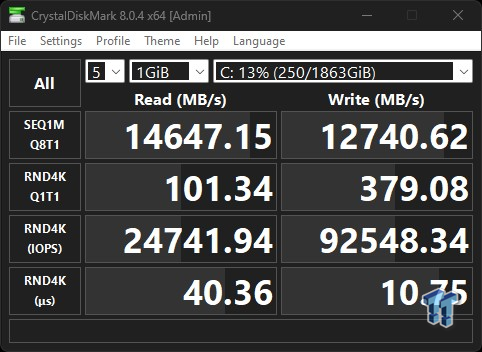 And it's mind-blowing, to be sure, but what about the heat? Well, the truth is heat hasn't been a huge issue at any point along the way of Phison's E26 journey, provided adequate passive or active cooling is employed by the end-user. This has been stated upfront from the very beginning, but of course, that didn't stop some from running the drive naked and hammering it with unrealistic sustained sequential workloads in an effort to impugn Gen5 SSDs as not recommended for most users.
Don't believe it? Well then, some proof is in order. What we have here is the world's fastest, highest-performing SSD sitting in the M.2 slot of a $225 value-centric AMD B650E motherboard: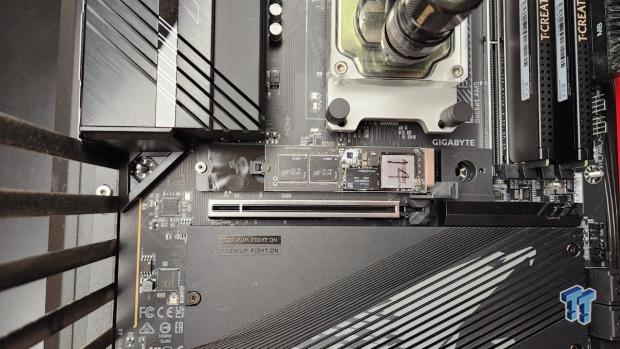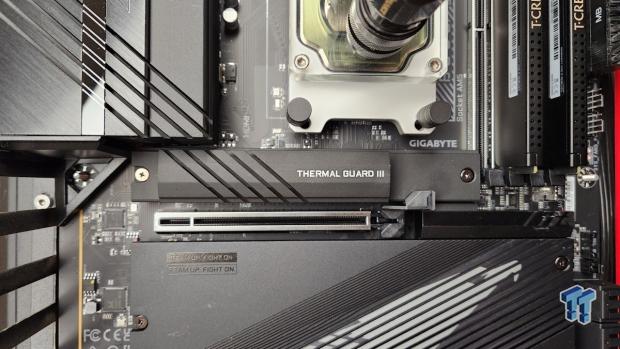 We are using the motherboard's passive M.2 heatsink. To further induce a worst-case scenario, we are on an open test bench with zero airflow. The idle temp before heating commences is 34c: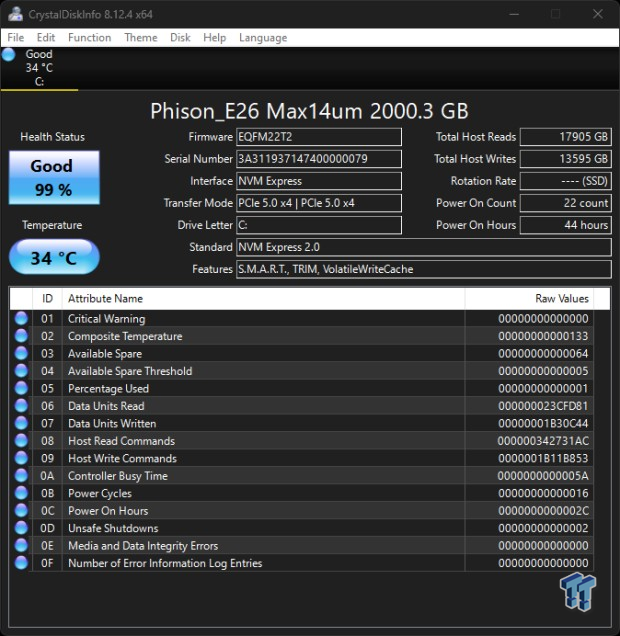 Next, we blast the drive with a ridiculous amount of sequential read/write throughput: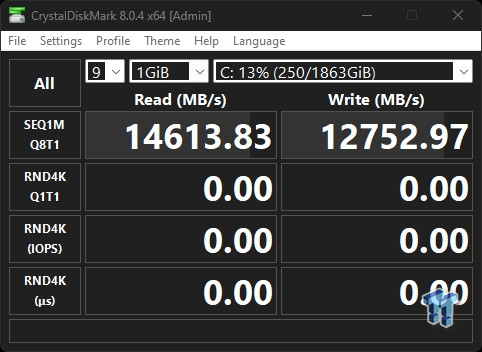 We call it ridiculous because there is no real-world use case scenario in the consumer realm where 14 GB/s sustained or anything even close to that will ever be encountered. What do we get in our worst-case scenario?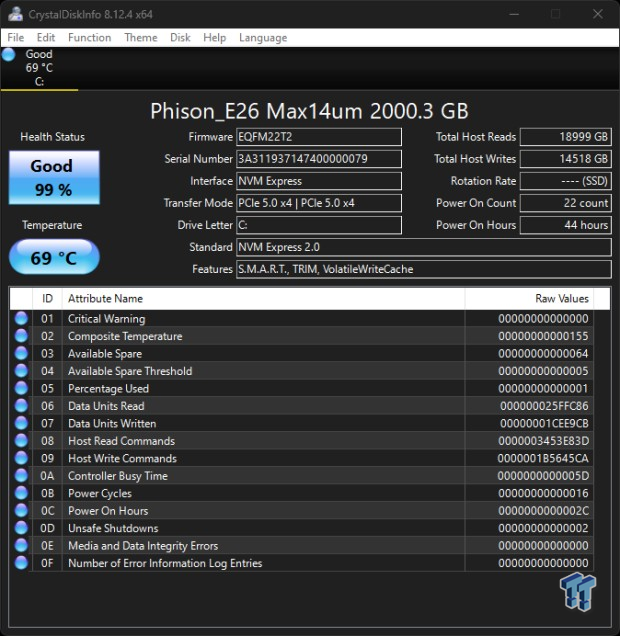 69c, which is well below the drive's throttling threshold. Again, this is a worst-case scenario which is artificially high to prove a point.
As a further testament to heat being a non-issue, I am an avid Warzone player. I use Crucial's T700 Gen5 drive in my gaming system, and the drive is passively cooled by my Tachyon B650E's integrated heatsink which is on the thin side, and my drive temp never exceeds 53c even when playing for hours on end. So again, if adequate cooling is provided by the end-user, heat is a non-issue. In fact, we are now of the opinion that ANY Gen5 M.2 motherboard slot is just fine as it seems they ALL come with integrated cooling solutions that are adequate for any typical consumer usage pattern.
Okay, now, just because heat is not a real issue if the end-user provides an adequate heatsink, that doesn't mean that Phison isn't looking for innovative ways to improve thermals. Enter Frore Systems AirJet solid-state cooling. Phison's Chris Ramseyer, himself a TweakTown alumnus and close friend of ours, teamed up with Frore Systems to develop a next-gen cooling solution.
This jointly developed proof of concept M.2 cooling solution: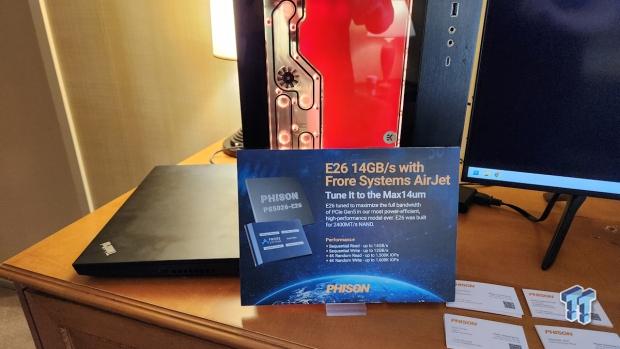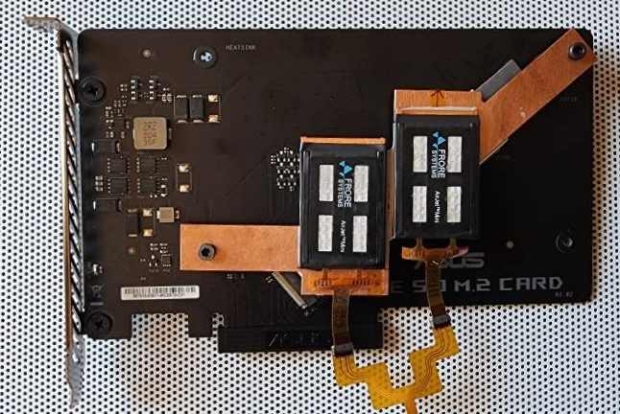 It was a big hit at this year's FMS, even winning an award for innovation. This is the exact setup, the very same engineering sample we have on the bench today. This cooling solution is indeed effective, as demonstrated by the following screenshots: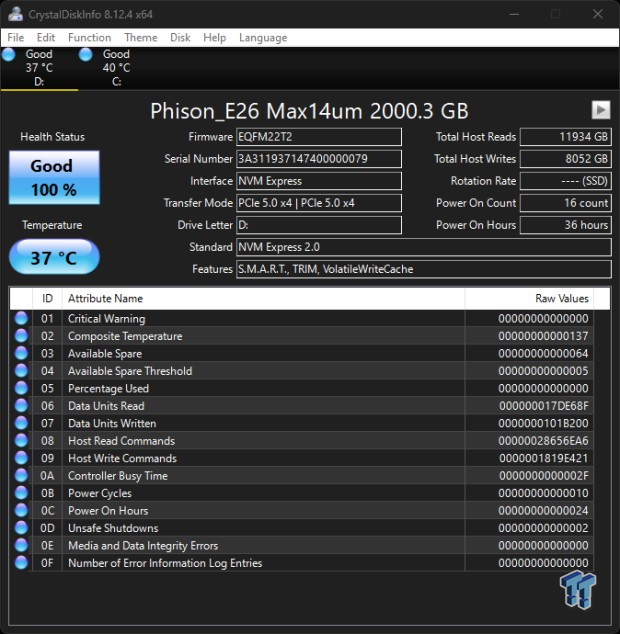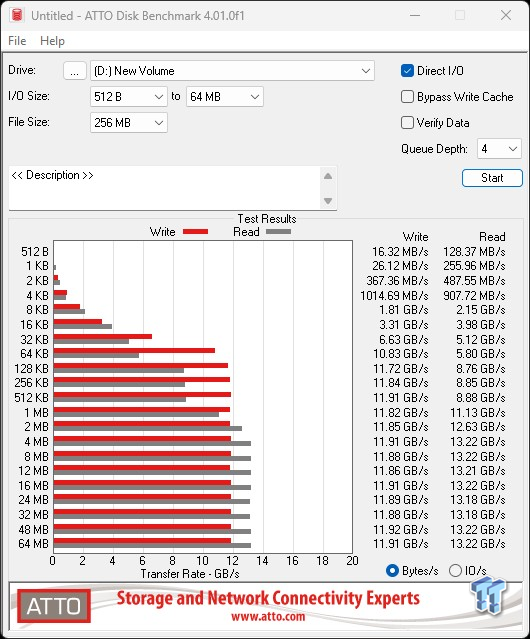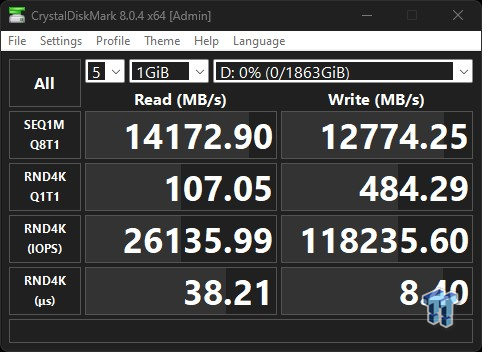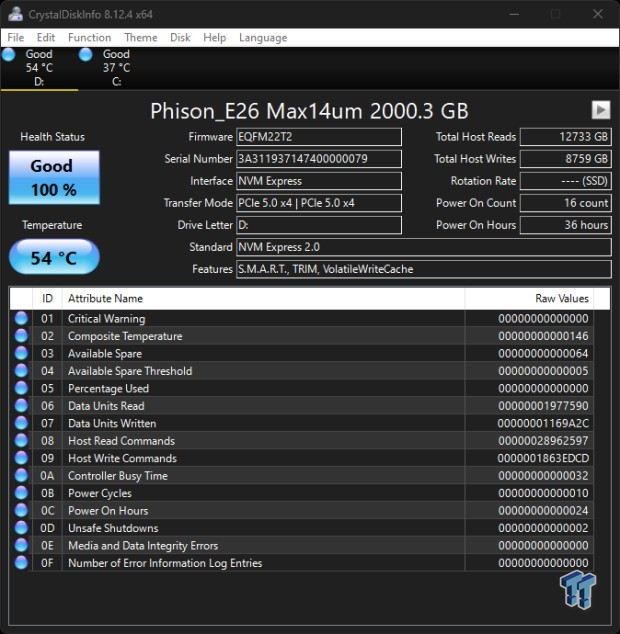 37c at idle and a maximum of 54c under full sustained sequential load on an open test bench with zero airflow outside of that generated by the AirJet solid-state cooling solution itself. Incredible as we see it, and we look forward to a future design that will potentially fit completely within the label-space of a 2280 SSD.
Okay, so now let's get into what most of you are here for, those never before attained performance metrics as delivered by what is currently and by far, the world's fastest flash-based SSD, Phison's E26 Max14um arrayed with Micron 232-Layer B58R 2,400MT flash.
Drive Details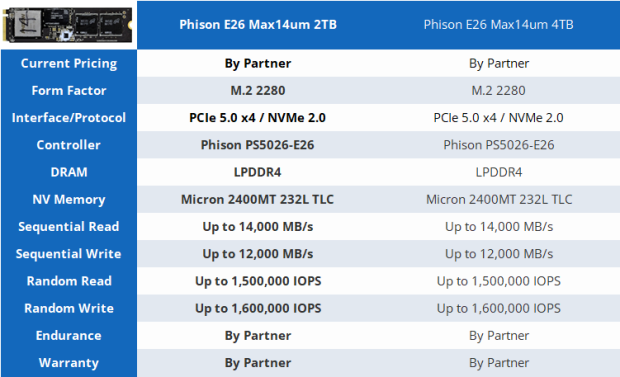 The E26 Max14um's pricing, warranty period, and endurance rating will be determined by individual partner clients.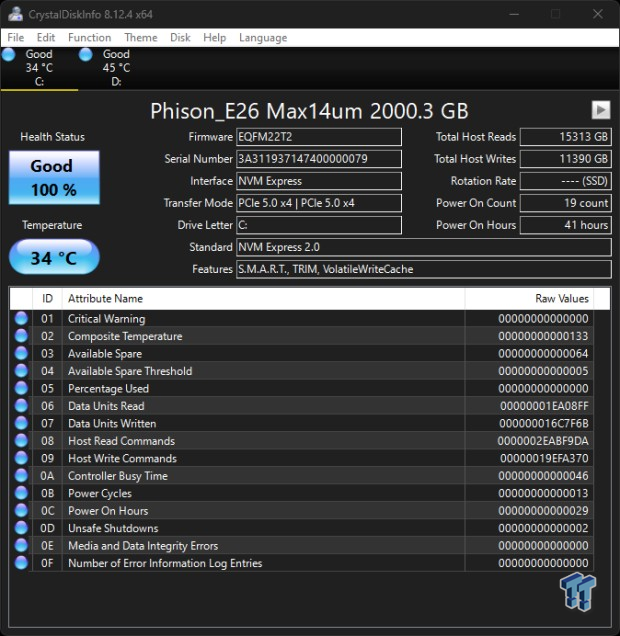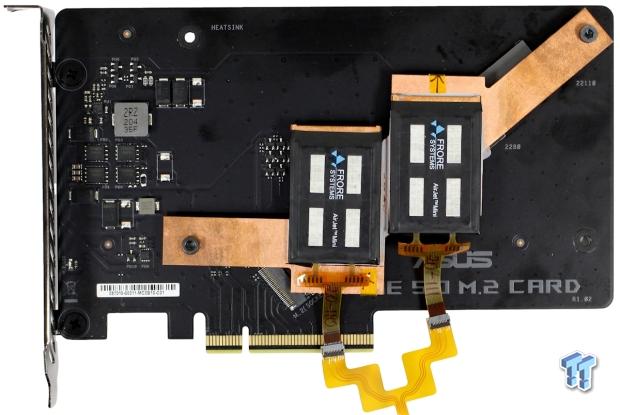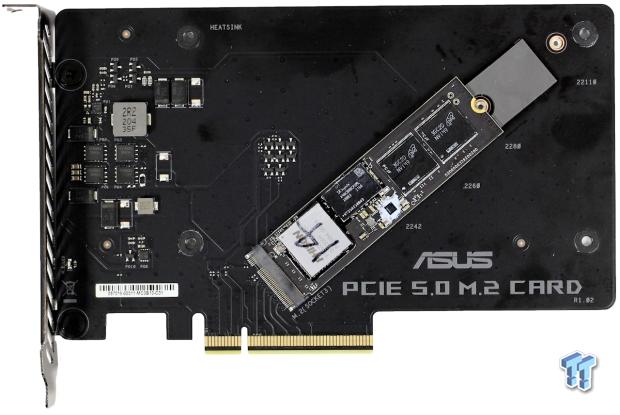 Pictured above is the proof-of-concept design co-developed by Phison's Chris Ramseyer and Frore Systems. Two AirJet Mini coolers are thermally interfaced with a copper plate which is in turn interfaced via a thermal pad to the SSD underneath. An ROG Gen5 M.2 card is used to interface with a PCIe slot.
Jon's Test System Specifications
Intel Test System
AMD Test System
Because we at TweakTown like to be first at everything whenever we can, we will present our storage performance results for the test subject on both 13th Gen Intel and 7000 Series AMD platforms going forward for the foreseeable future. Because Intel still delivers the best real-world storage performance, (Look Here), our running chart will continue to be Intel-based until AMD can deliver better real-world storage performance than its rival.
Crucial T700 2TB Gen5 NVMe M.2 SSD with heatsink
Synthetic Benchmarks: CDM, Anvil, ATTO
CrystalDiskMark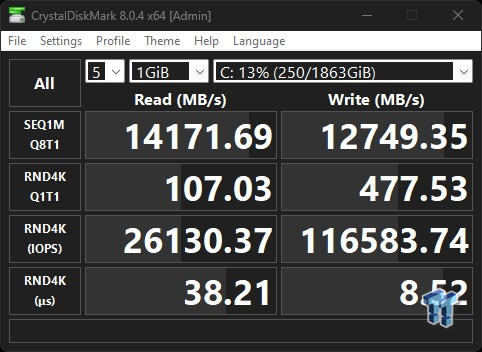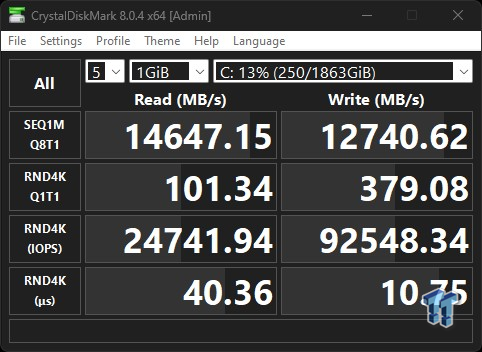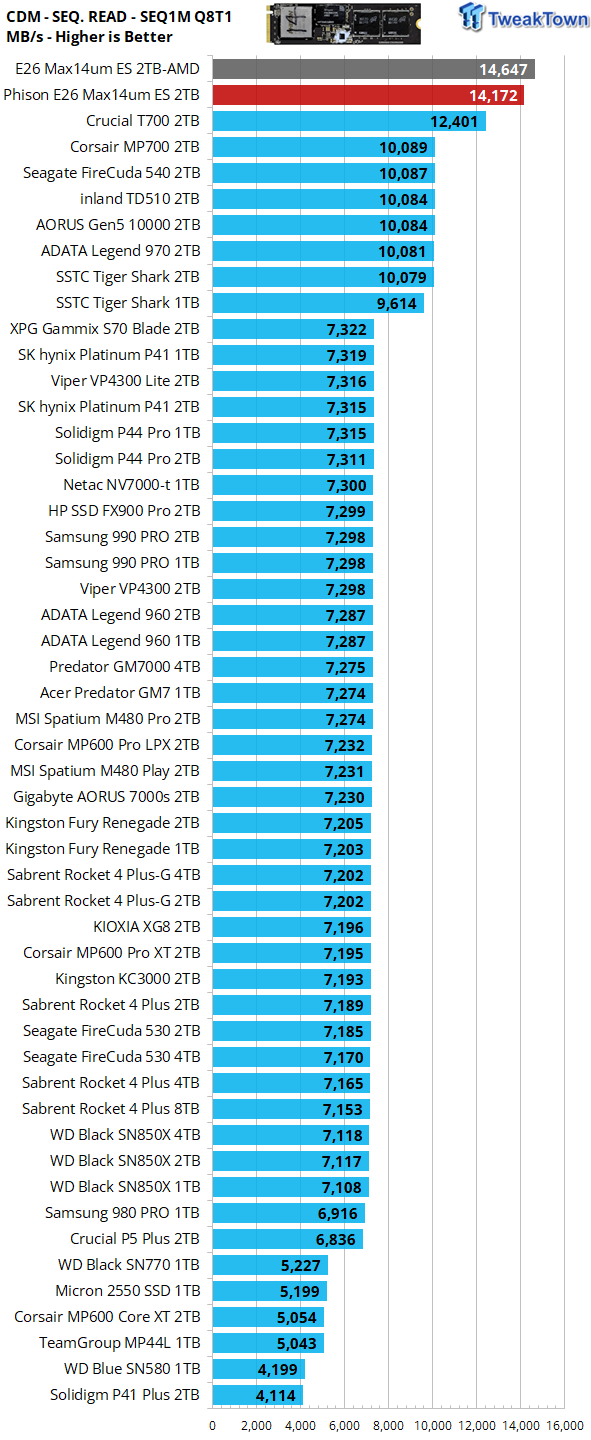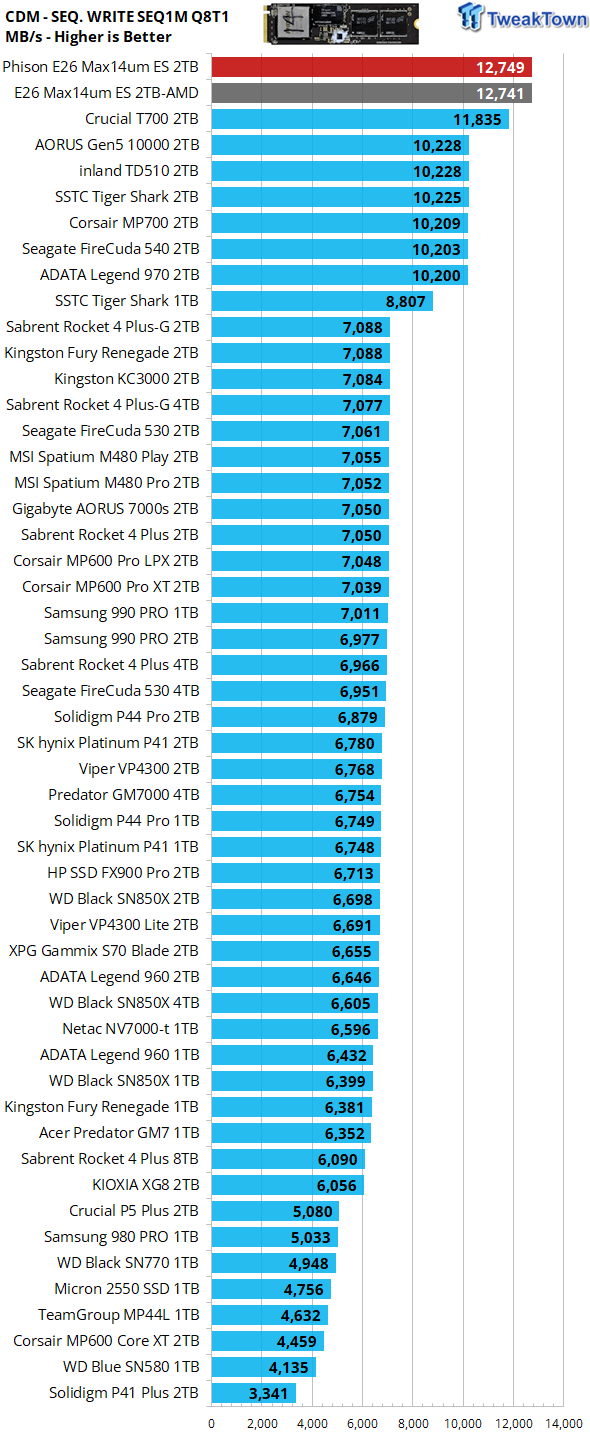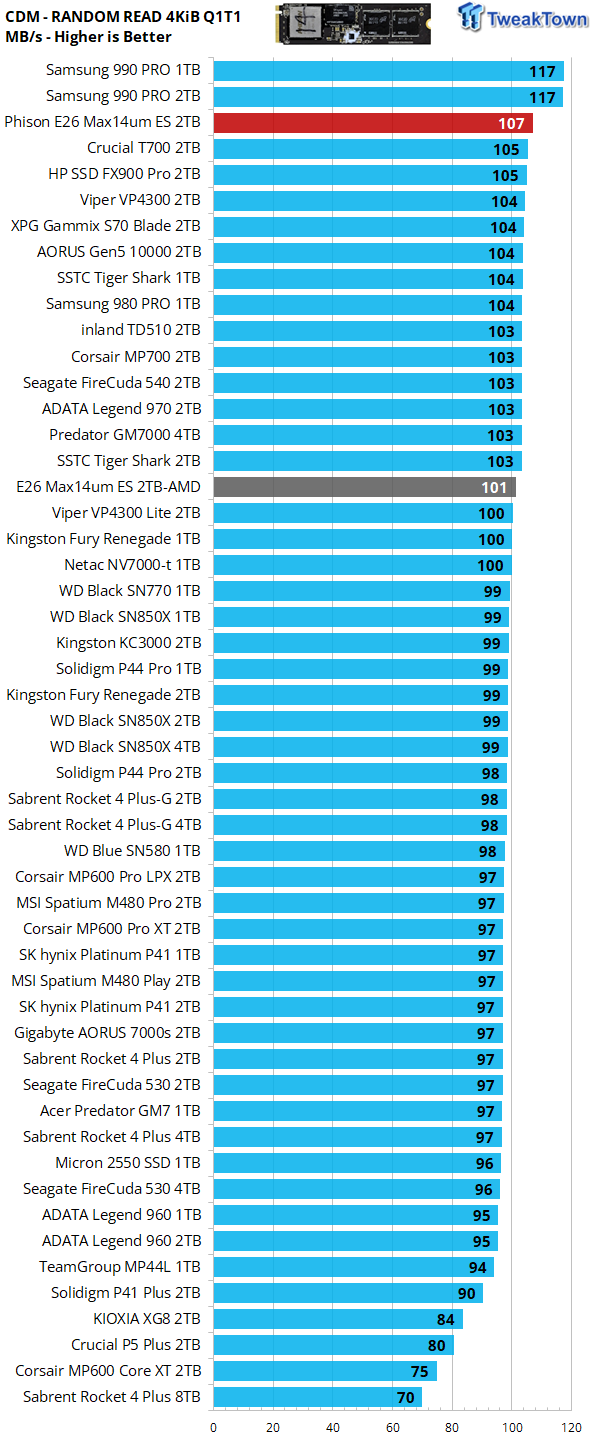 We employ CDM as our standard measurement for both sequential throughput and Q1T1 random read. And there you have it, up to 14,647 MB/s sequential read throughput and up to 12,749 MB/s sequential write throughput. More importantly, we are getting up to 107 MB/s Q1T1 random read, which is a nice performance uplift over the T700 and where most of the real-world performance increase stems from.
Anvil's Storage Utilities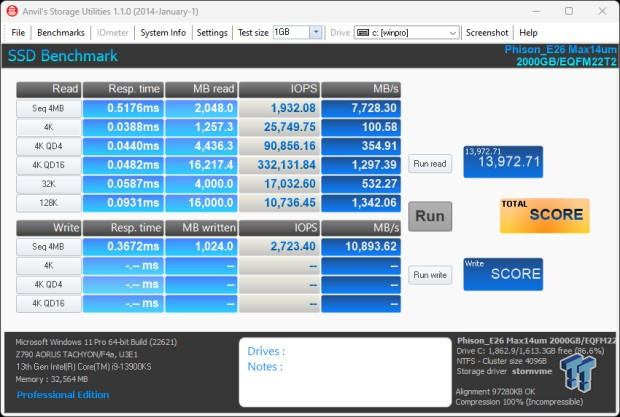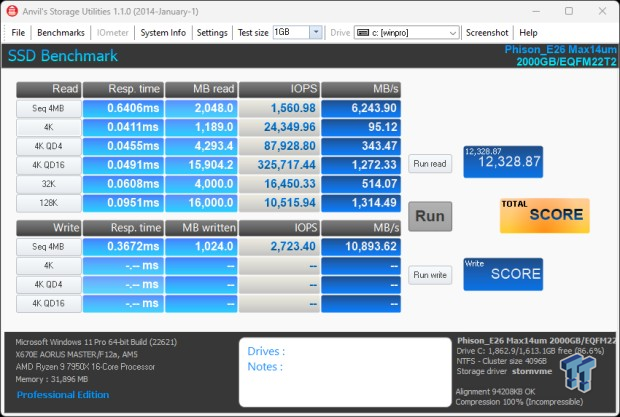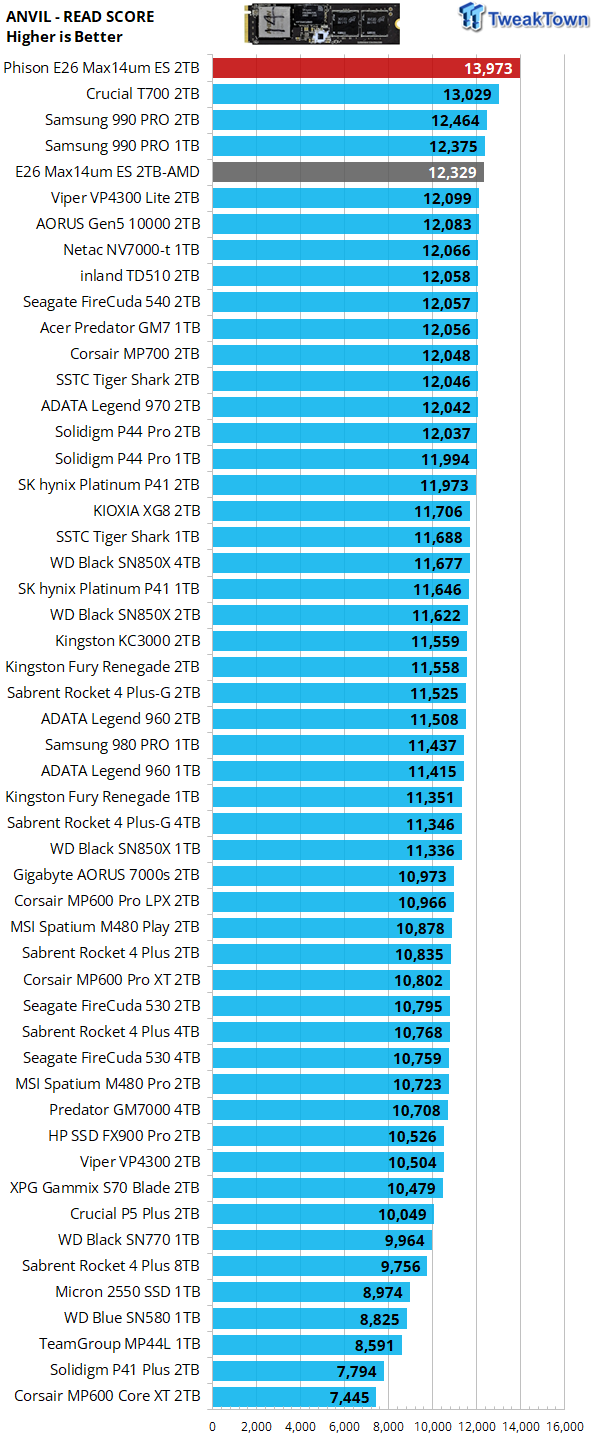 We are looking for a minimum read score of 13K here with this hardware configuration. Our Intel platform gets us nearly 14K. However, for some unknown reason, we can only get 12K from our AMD platform. Not to worry, though, as this is synthetic performance, not performance that matters.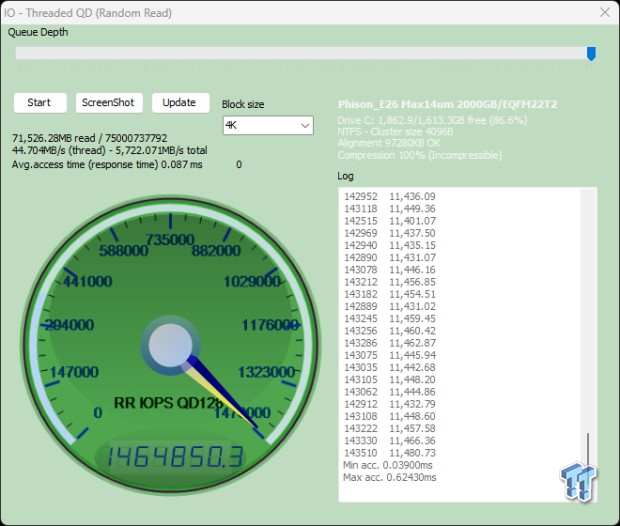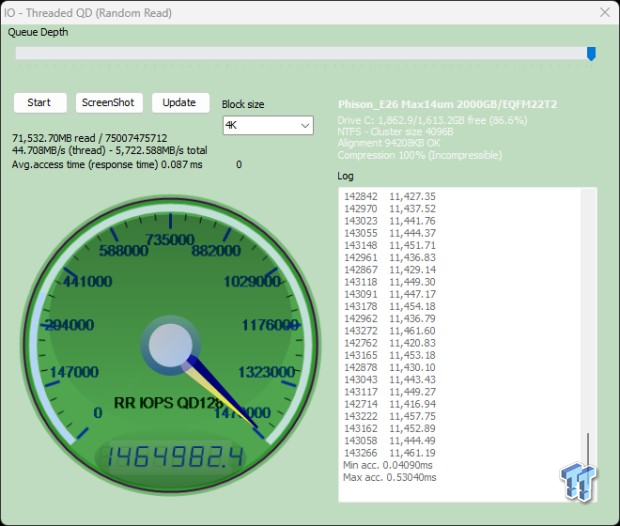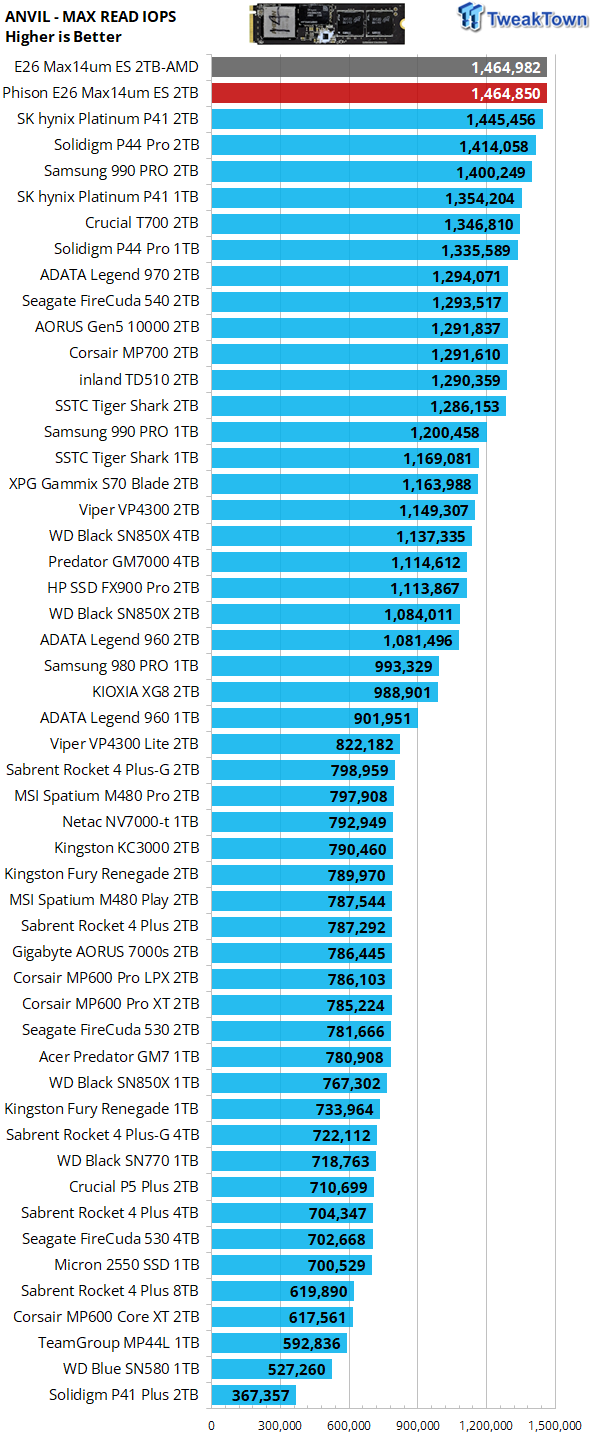 We employ Anvil's random read test as our standard for measuring max random read IOPS. This test is very accurate as it at its core is Iometer skinned over. We test at QD128. 1.46 million IOPS here is very impressive and marks the very first time a Phison-controlled SSD has held the top spot on our chart.
ATTO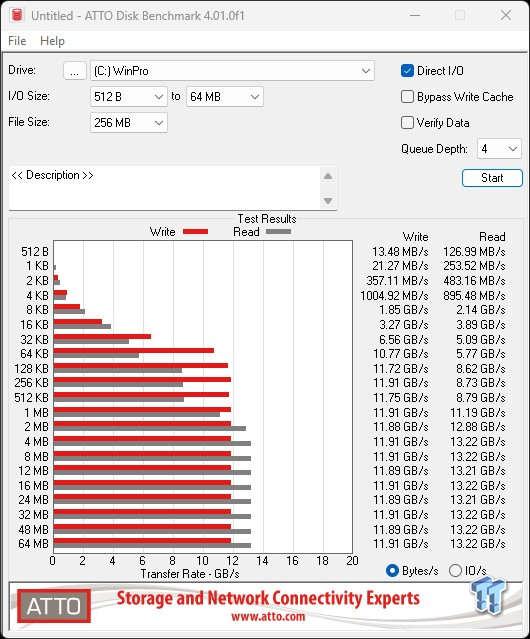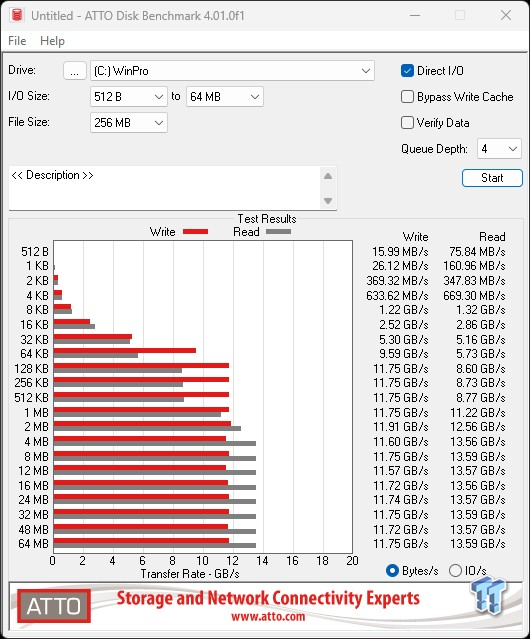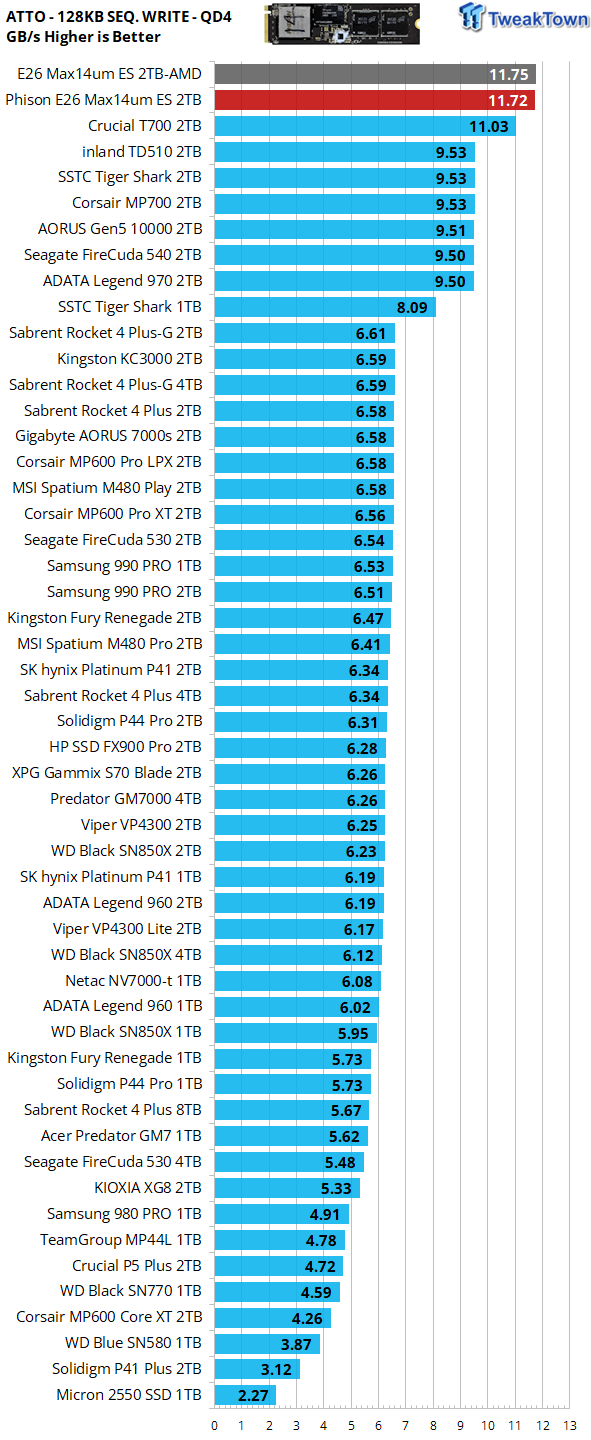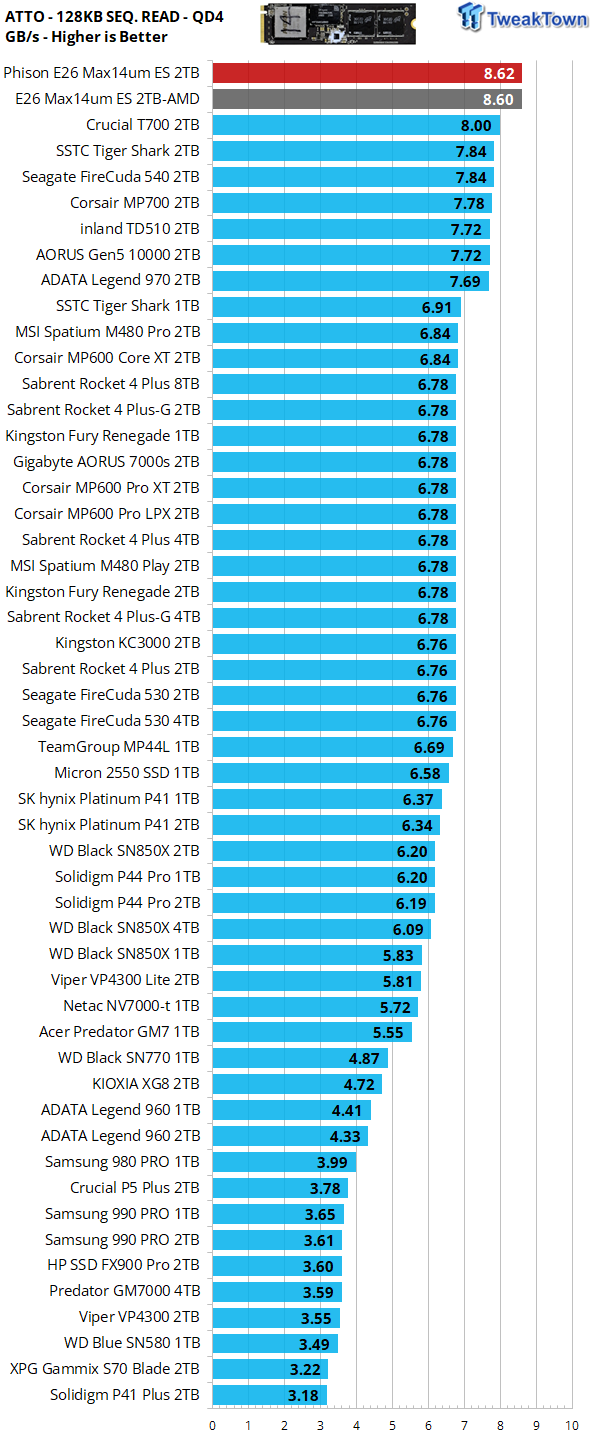 ATTO gives us a clear picture of what transfer sizes a particular SSD favors in terms of sequential throughput. We chart 128K transfers. Our test subject favors sequential transfers of 4MB or larger when serving data to the host (reading) and 128K or larger when programming (writing) data.
Real-World Testing: Transfers, 3DMark SSD Gaming Test, PCM10 Storage
Transfer Rates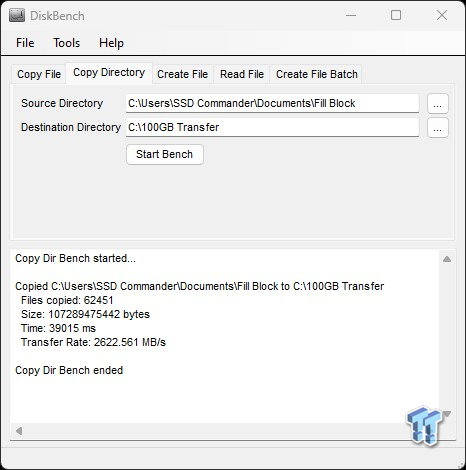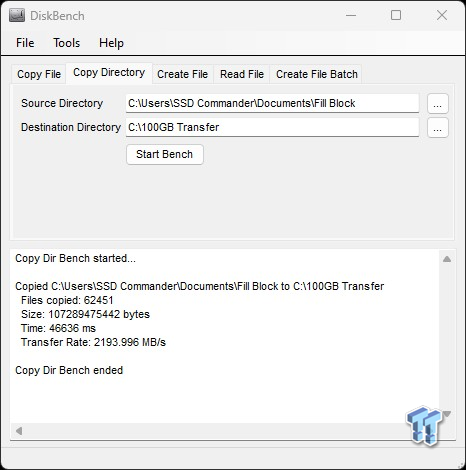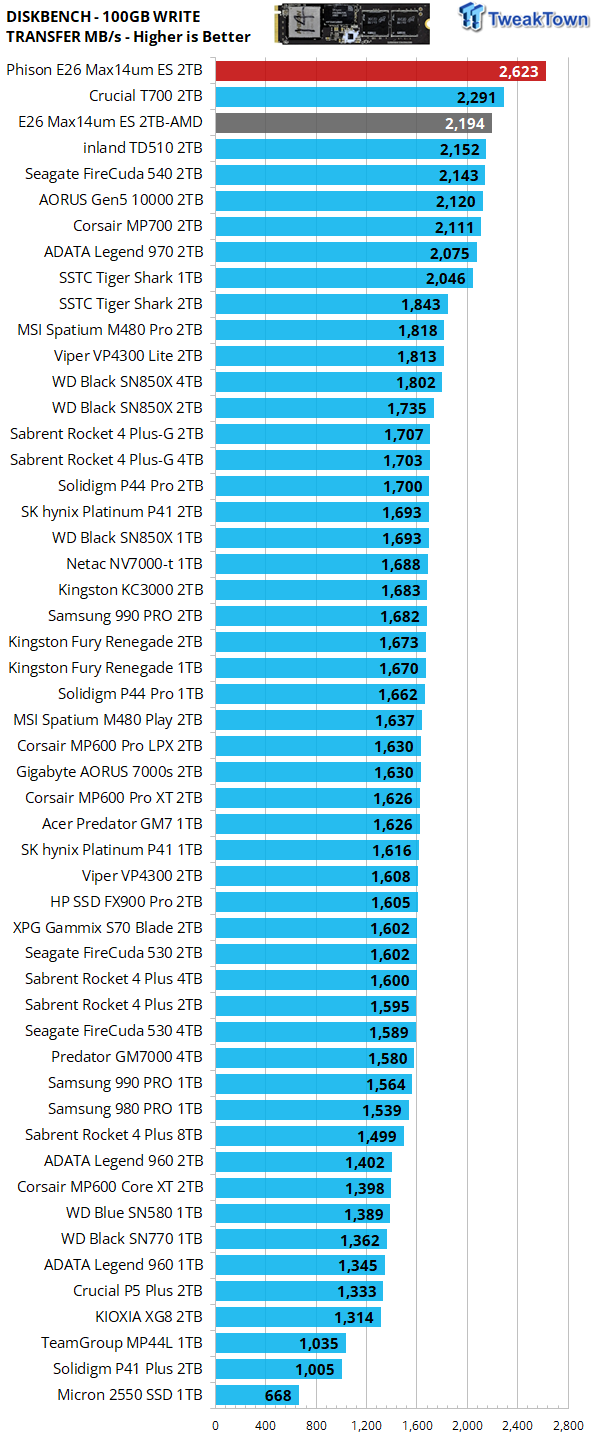 Our 100GB data transfer test is not your ordinary 100GB of data. Ours is a crushing mix composed of more than 62K files. Write performance random or sequential, is an infrequent operation, and as such, we do not consider it to be an important performance metric in the consumer space. An example being how many times is a game installed vs. how many times it's played. Intel has the advantage when writing large blocks of random data.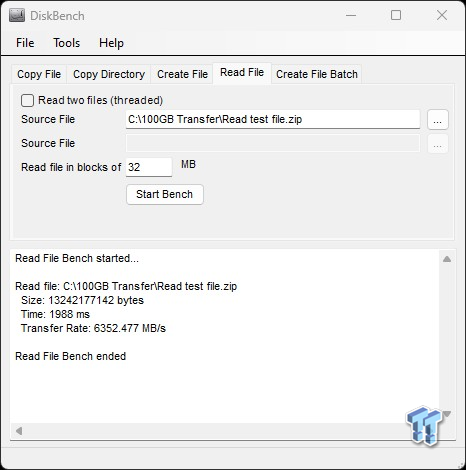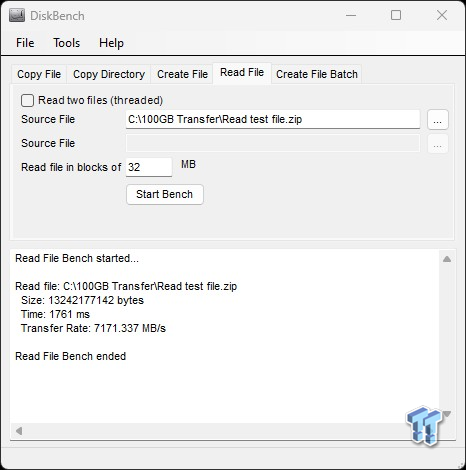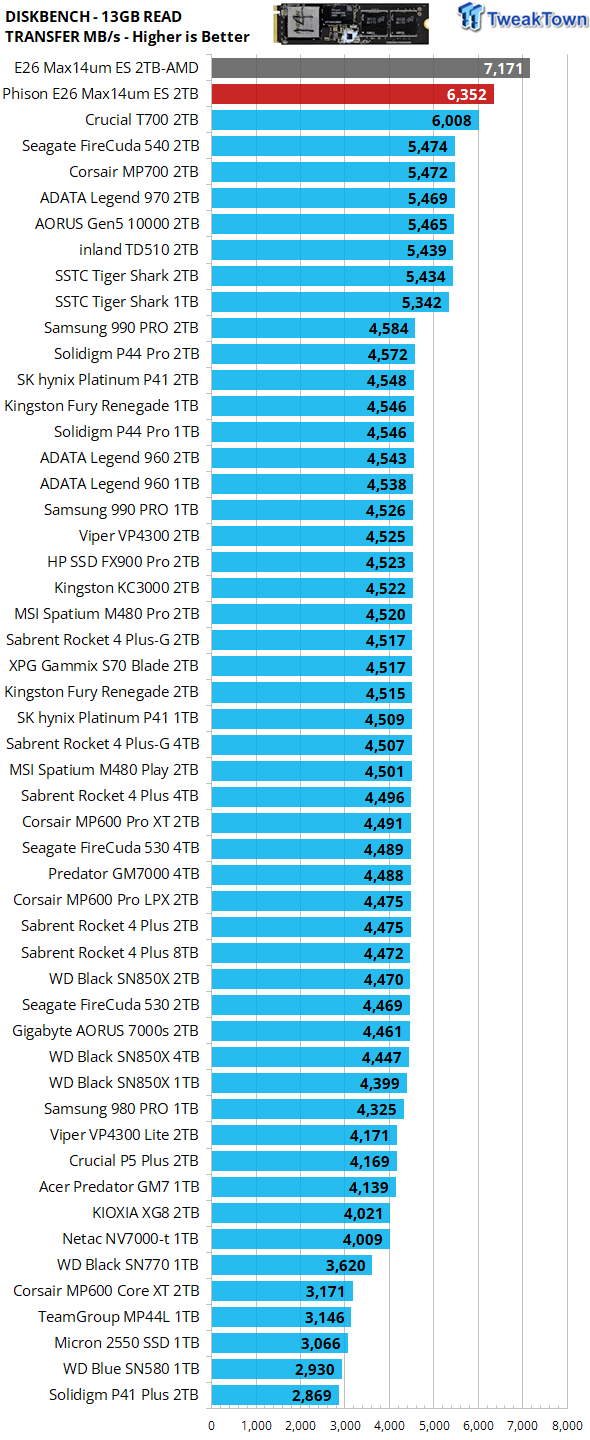 Unlike programming (writing) data, serving data to the host (reading) is always an important performance metric as it relates to the consumer space. AMD has the advantage here because the transfer is relatively sequential in nature.
3DMark SSD Gaming Test
UL's newest 3DMark SSD Gaming Test is the most comprehensive SSD gaming test ever devised. We consider it superior to testing against games themselves because, as a trace, it is much more consistent than variations that will occur between runs on the actual game itself. This test is in fact the same as running the actual game, just without the inconsistencies inherent to application testing. In short, we believe that this is the world's best way to test an SSDs gaming prowess and accurately compare it against competing SSDs. The 3DMark SSD Gaming Test measures and scores the following:
Loading Battlefield V from launch to the main menu.

Loading Call of Duty Black Ops 4 from launch to the main menu.

Loading Overwatch from launch to the main menu.

Recording a 1080p gameplay video at 60 FPS with OBS (Open Broadcaster Software) while playing Overwatch.

Installing The Outer Worlds from the Epic Games Launcher.

Saving game progress in The Outer Worlds.

Copying the Steam folder for Counter-Strike Global Offensive from an external SSD to the system drive.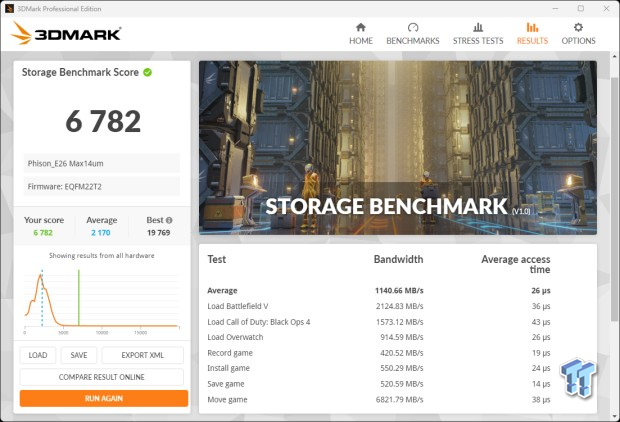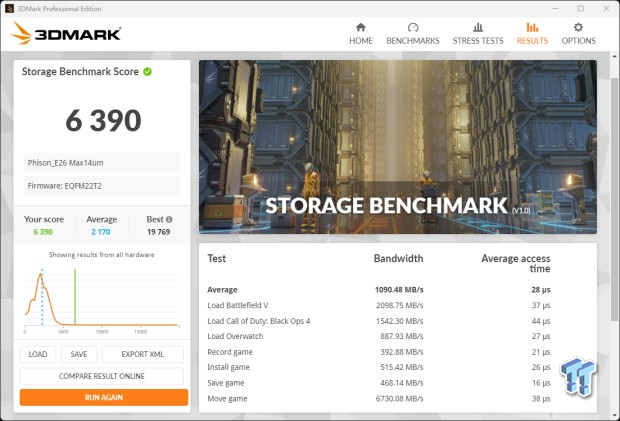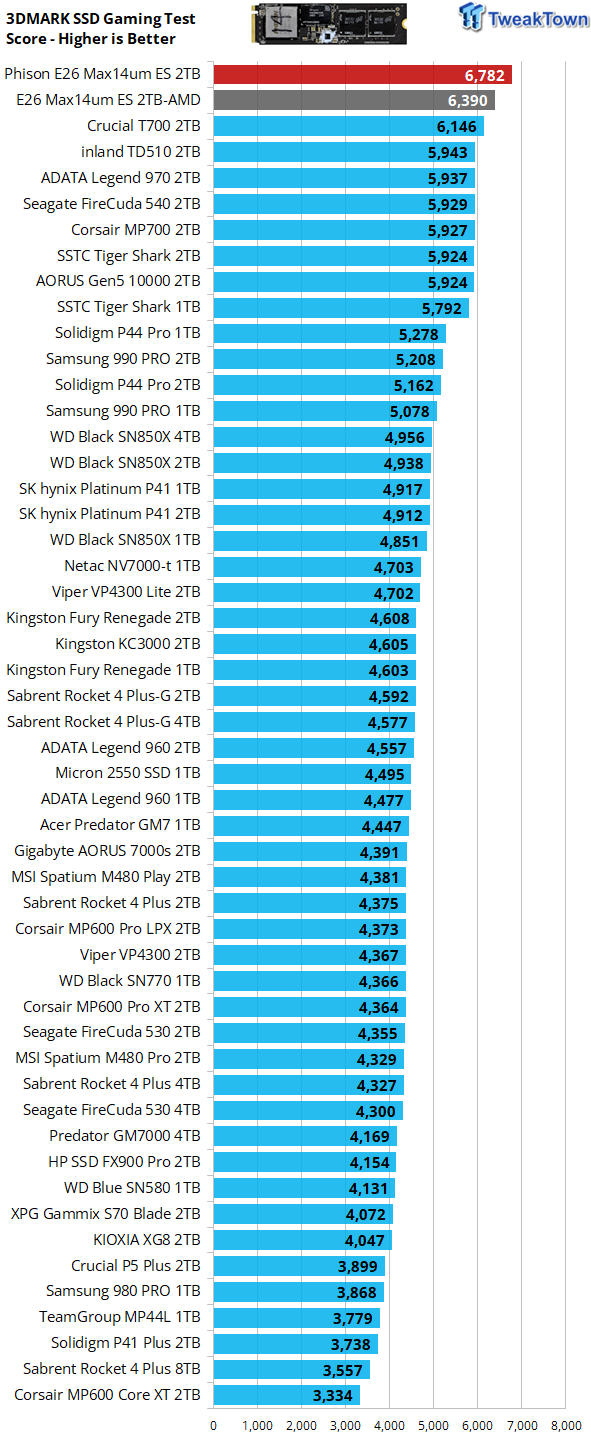 Gaming is a performance metric that matters to the majority of DIY consumers, especially to the enthusiast crowd that TweakTown caters to. This is performance that matters, and our test subject is delivering by far the most we've ever extracted from a flash-based SSD. A whopping 10% more performance than the 2,000MT B58R arrayed T700. Impressive.
PCM10 Storage Tests
PCMark 10 Storage Test is the most advanced and most accurate real-world consumer storage test ever made. There are four different tests you can choose from; we run two of them. The Full System Drive Benchmark and the Quick System Drive Benchmark. The Full System Drive Benchmark writes 204 GB of data over the duration of the test. The Quick System Drive Benchmark writes 23 GB of data over the duration of the test. These tests directly correlate with mainstream user experience.
PCMark 10 Full System Drive Benchmark
This particular test writes 204GB data and covers a broad range of common consumer tasks, including booting Windows 10, file transfers, Adobe and Office applications, and startup times for games, including Battlefield V, COD Black Ops 4, and Overwatch. Unlike synthetic numbers, this is comprehensive real-world data which is why we use it to rank SSDs in terms of user experience.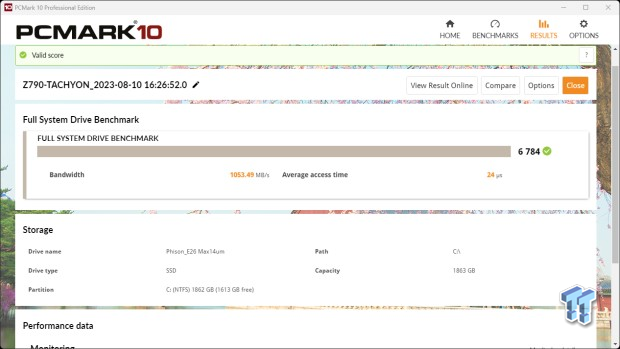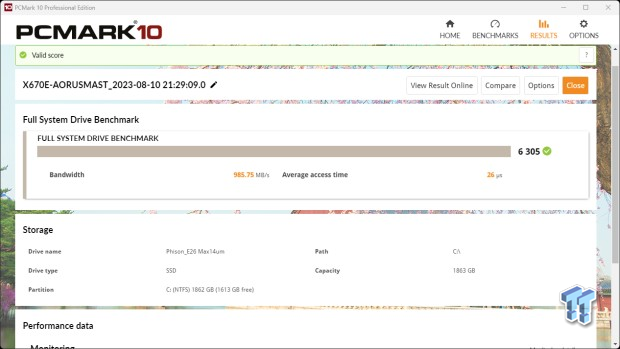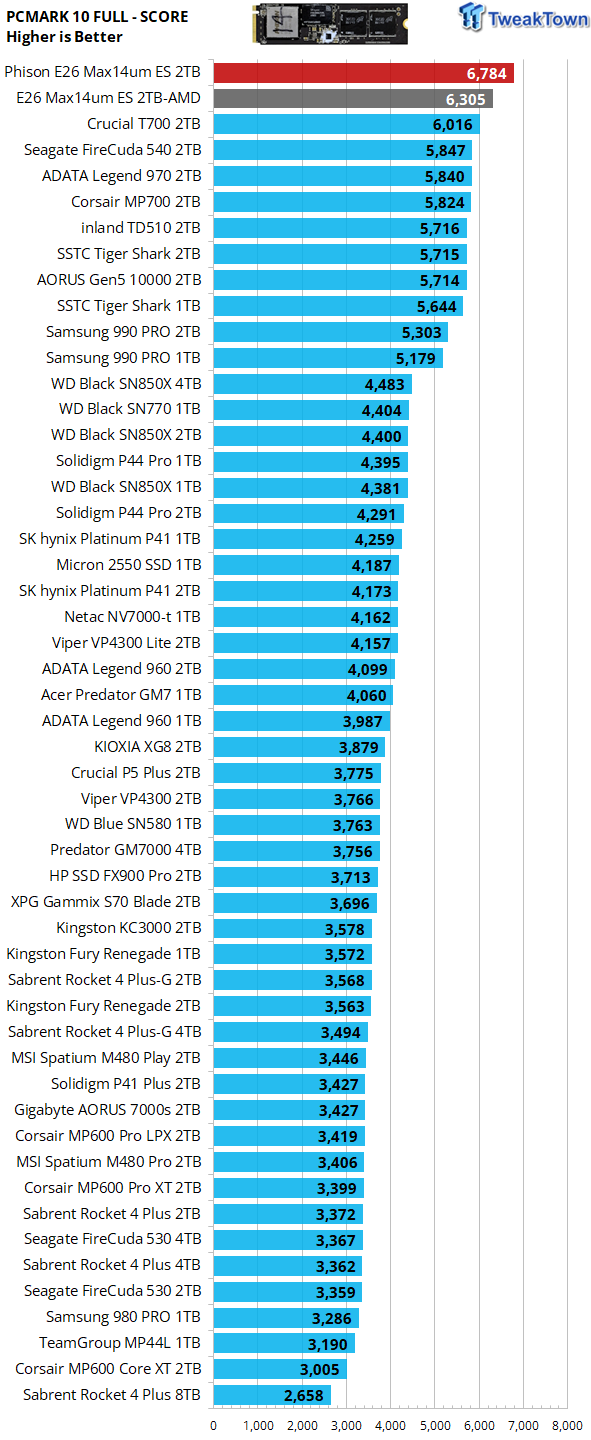 Again, our test subject delivers impressively over its predecessor, Crucial's T700. Here we are seeing a massive 12.7% performance uplift with the move to 2,400MT flash. Like we always say, it's all about the flash!
PCMark 10 Quick System Drive Benchmark
The Quick System Drive Benchmark writes 23 GB of data over the duration of the test.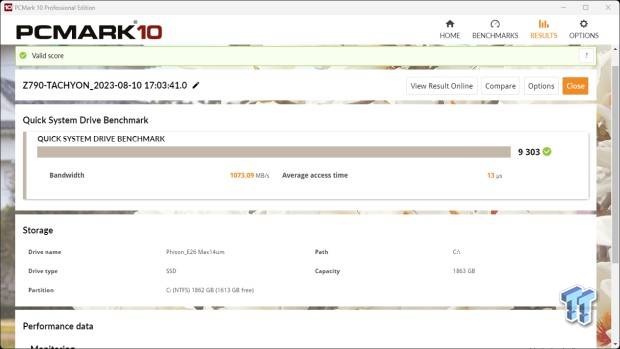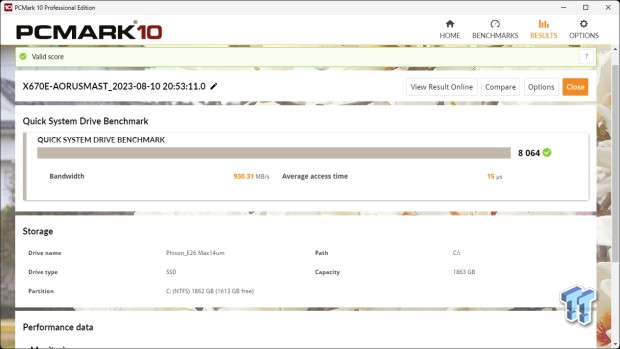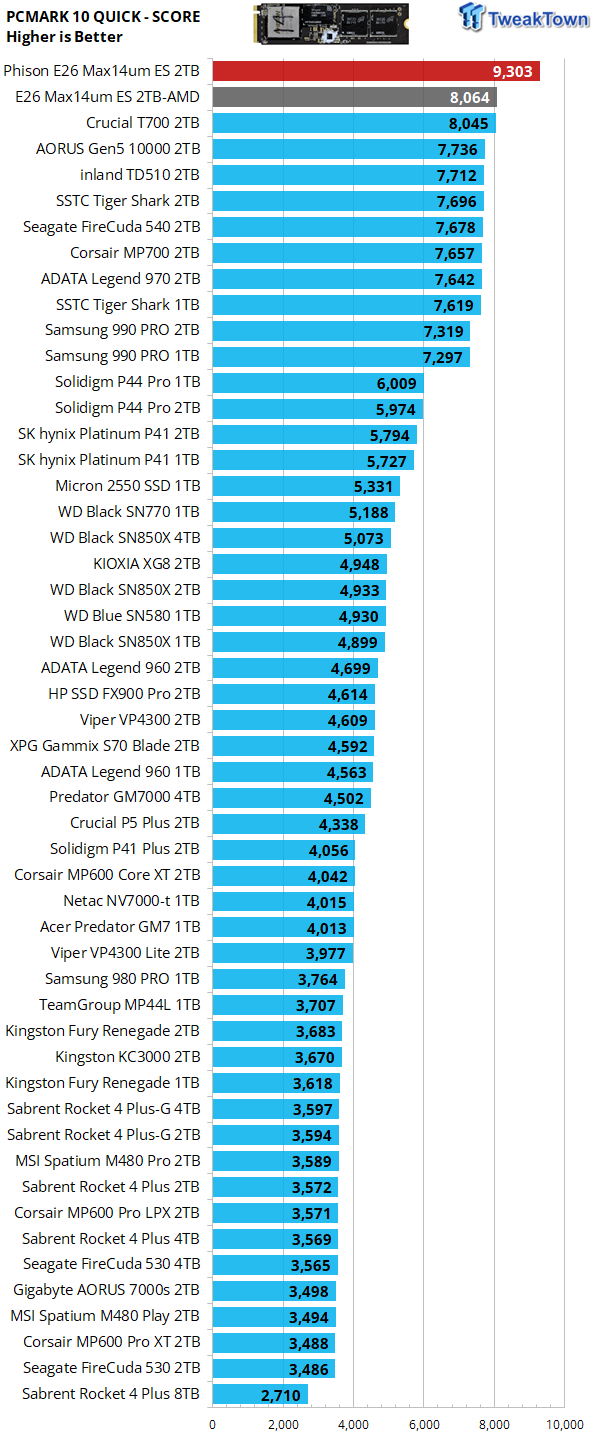 As impressive as the previous two results are, this one outshines them both with a staggering 15% performance uplift over the T700.
Final Thoughts
The numbers speak for themselves. Phison's E26 Max14um controller in front of a Micron 2,400MT B58R flash array is a storage enthusiast's dream come true. This is what PCIe Gen5 storage done right is all about. This is what Phison is all about and the reason we consider the fabless controller company the most forward-thinking SSD company in the world. Where's the competition? There is none at this point, and we've seen no indication that there will be any for the foreseeable future.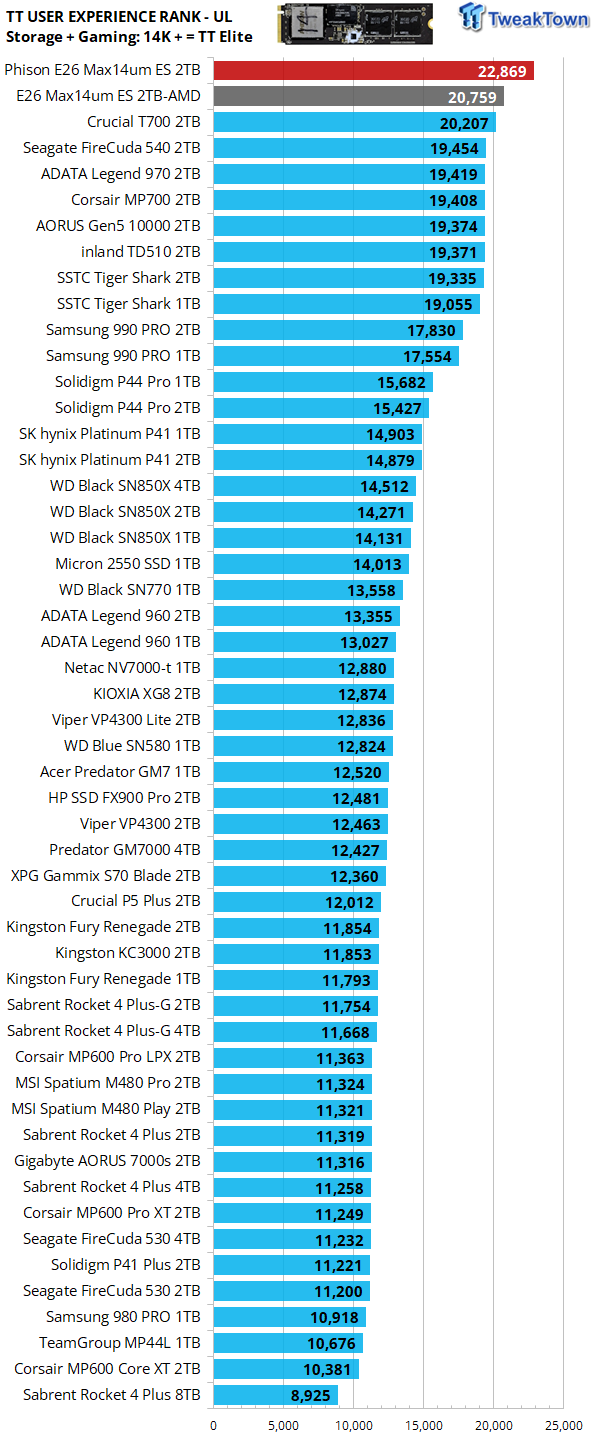 We rank SSDs in terms of overall user experience (performance where it matters most) as expressed by PCMark 10 storage and 3DMark gaming storage tests. We consider a user experience score of 14K or more to verify an SSD as a TweakTown Elite performer. As it was with literally every benchmark we ran, our test subject delivered a new lab record for a flash-based consumer SSD. Overall it is 13% more performant than anything flash-based that has come before it. This degree of performance uptick over the T700 was completely unexpected, considering the E26 controlled, 2,000MT B58R arrayed drive is a mere 3.8% more performant than the 1,600MT arrayed FireCuda 540. E26 firmware is getting better.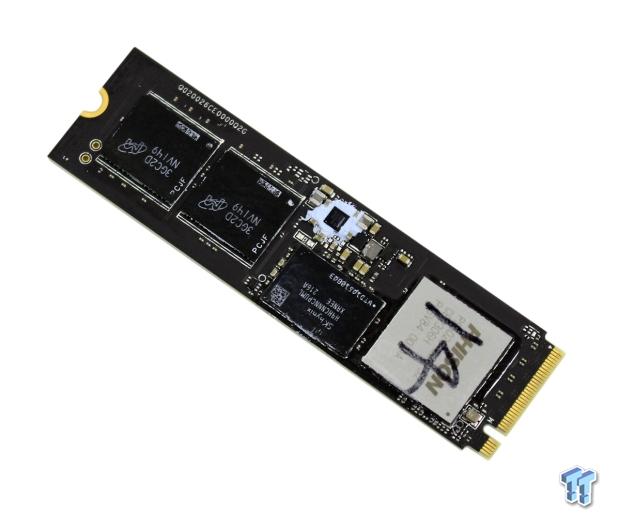 Okay, so there you have it. The world's highest performing consumer SSD.