When AMD launched the Radeon R9 290X in October of 2013, it was one serious powerhouse of a GPU. Based on AMD's latest architecture, codenamed Vesavius, it was and still is to this day, one of the best GPUs the company has crafted.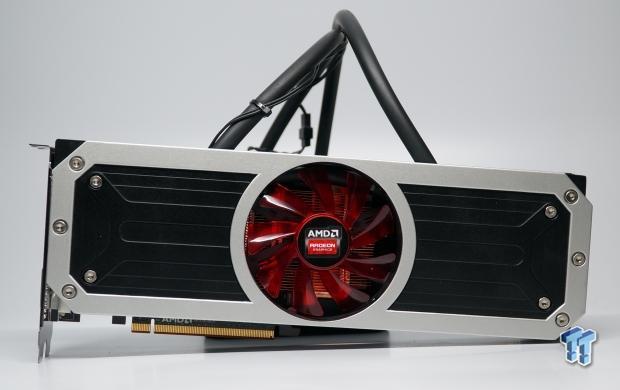 A bunch of AIB partners made some seriously powerful versions of the R9 290X, with the likes of SAPPHIRE, MSI and ASUS throwing their expertise behind the GPU and making even better cards from an impressive GPU. Nearly six months later, AMD unveiled its dual GPU in the form of the Radeon R9 295X2. The Radeon R9 295X2 is still, again, to this day one of the best video cards you can buy.
They're both still very relevant cards, and with myself planted in the position of Video Card Editor, we're going to play around with our new found toys. Starting with Tweakipedia, we're going to see how well these cards scale with the latest drivers at 4K in our suite of benchmarks. We're going to follow this up with another article showing off how Mantle performance is with Battlefield 4 and a few others, and then we're going to verse these Hawaii-based R9 290X and Vesavius-based R9 295X2 cards against the Maxwell-based GeForce GTX 980 from NVIDIA.
We're using a specific set of components for this test, with an all AMD system.
CPU: AMD FX-9590 8-core processor w/Corsair H110 cooler (stock clocks)
Motherboard: ASUS Crosshair V Formula-Z
RAM: 16GB Corsair Vengeance 2400MHz DDR3
Storage: 240GB SanDisk Extreme II and 480GB SanDisk Extreme II
Chassis: In Win X-Frame
PSU: Corsair AX1200i digital PSU
Software: Windows 7 Ultimate x64
Drivers: Catalyst 14.12
Synthetic Benchmarks
This is where we're going to see the biggest improvements, in my opinion, is from the synthetic benchmarks. 3DMark and Heaven scale incredibly well with multi-GPU systems thanks to their superior multi-GPU coding, as most games are built with consoles in mind, so they do not scale well with multiple GPUs.
Let's start off with 3DMark Fire Strike Ultra, at 4K.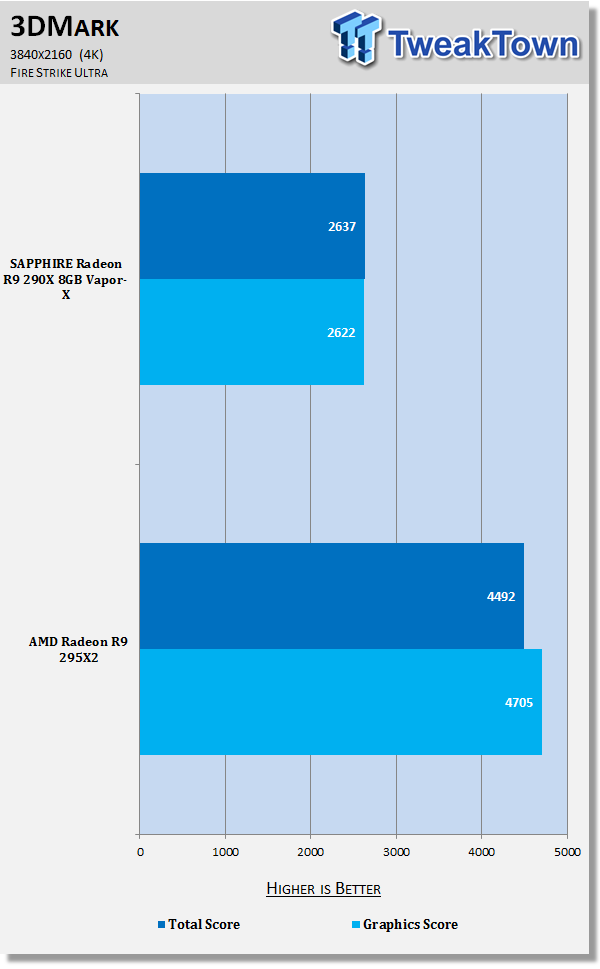 Next, we have Heaven at 4K.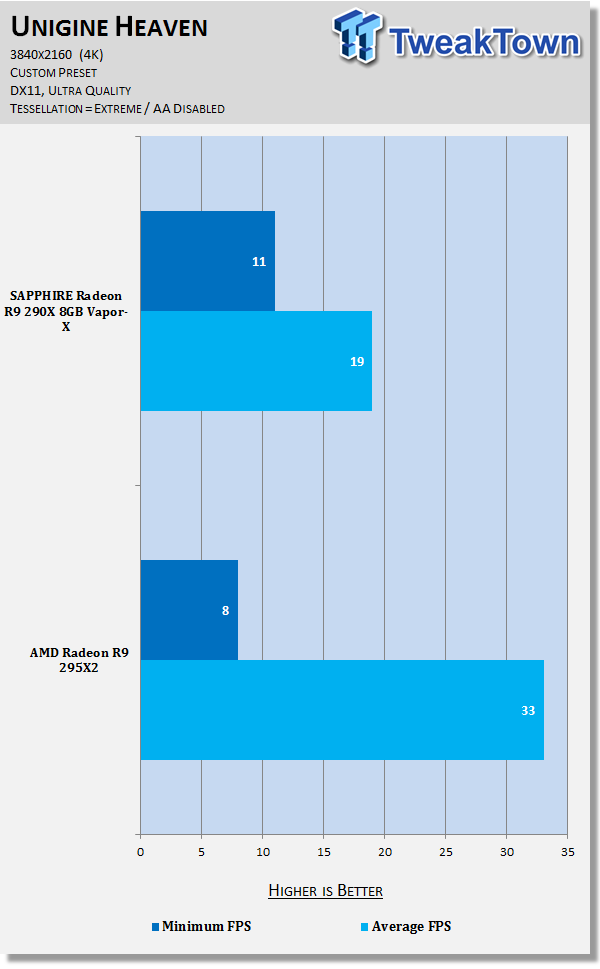 Game Benchmarks
Battlefield 4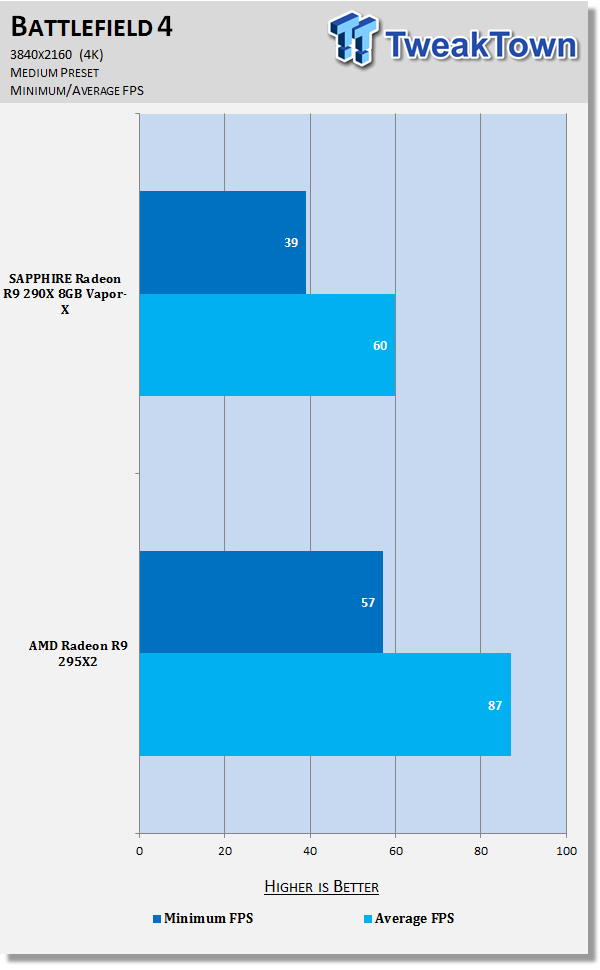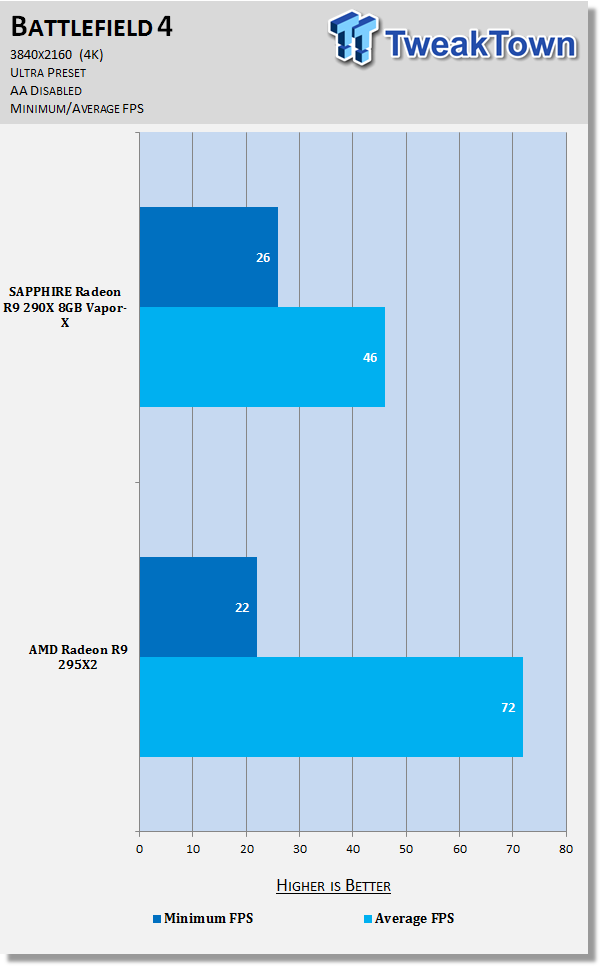 GRID Autosport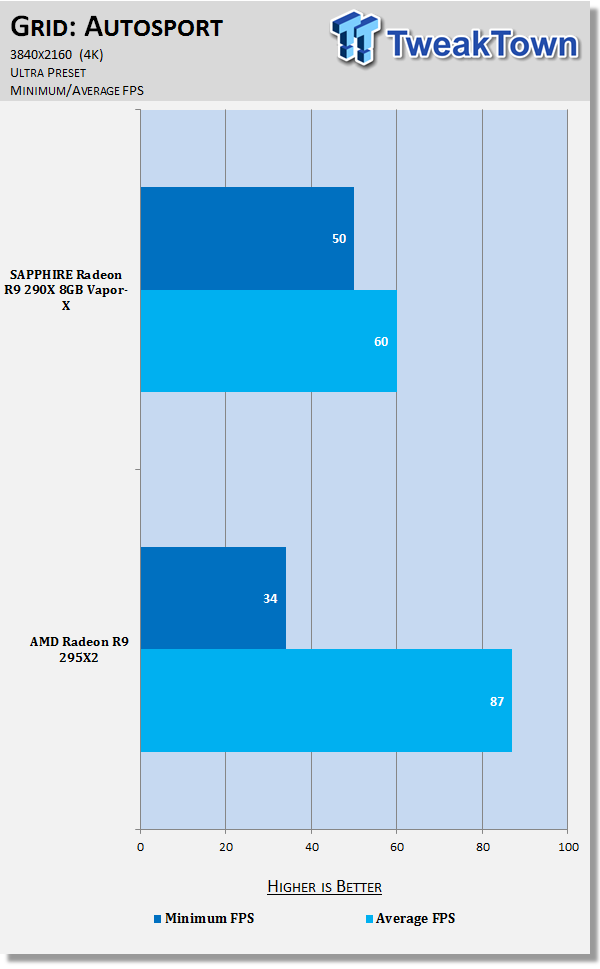 Metro: Last Light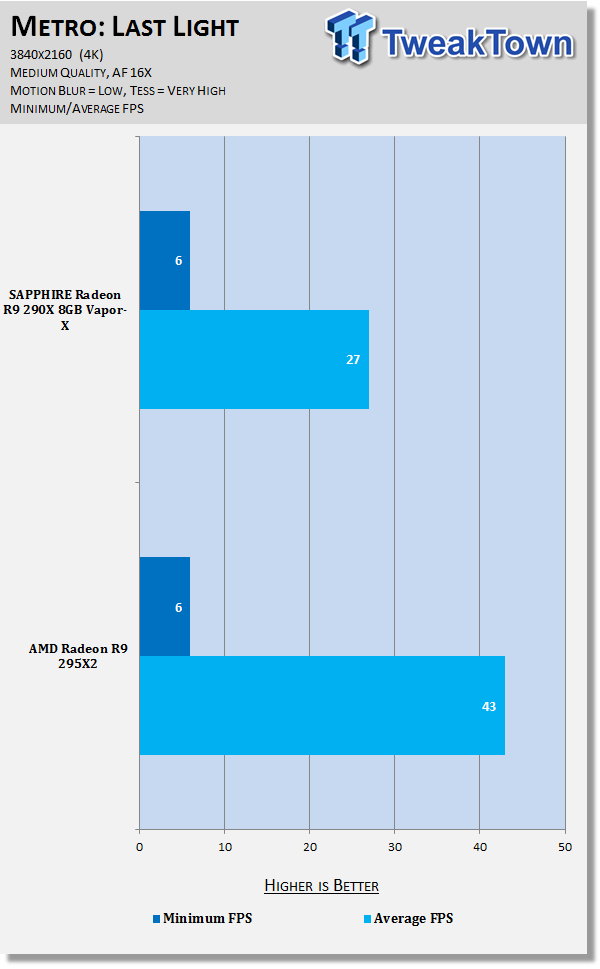 Middle-earth: Shadow of Mordor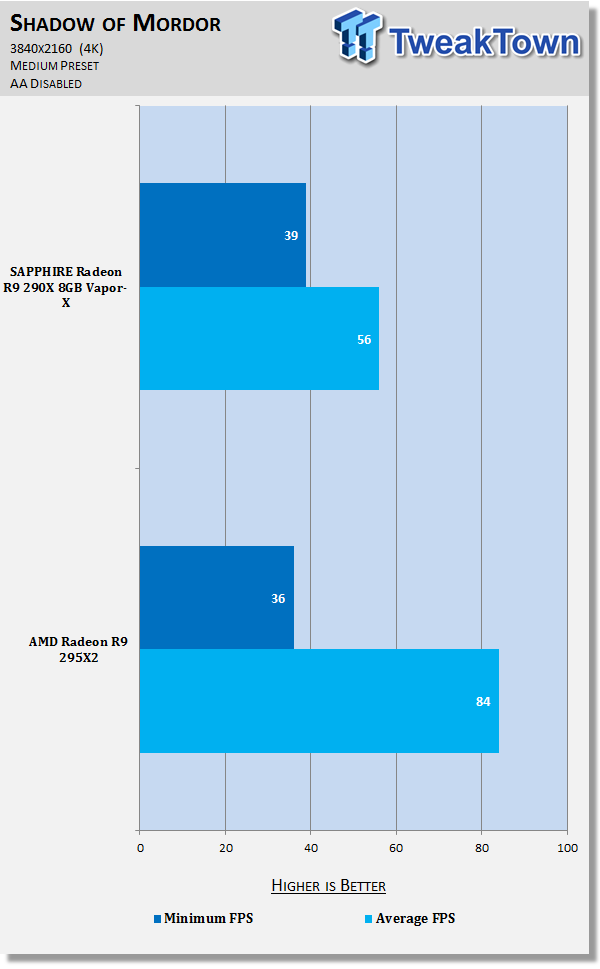 Thief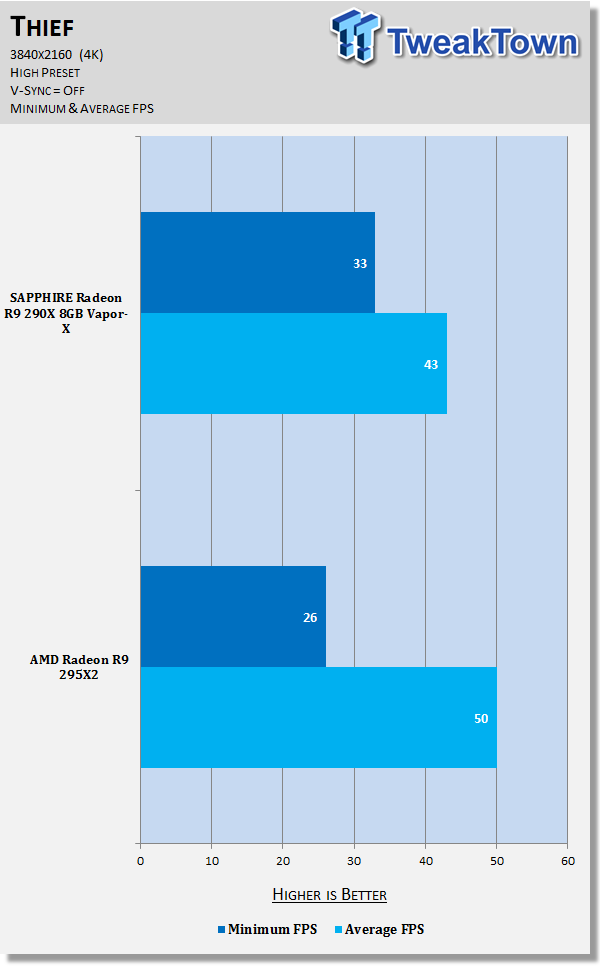 Sniper Elite 3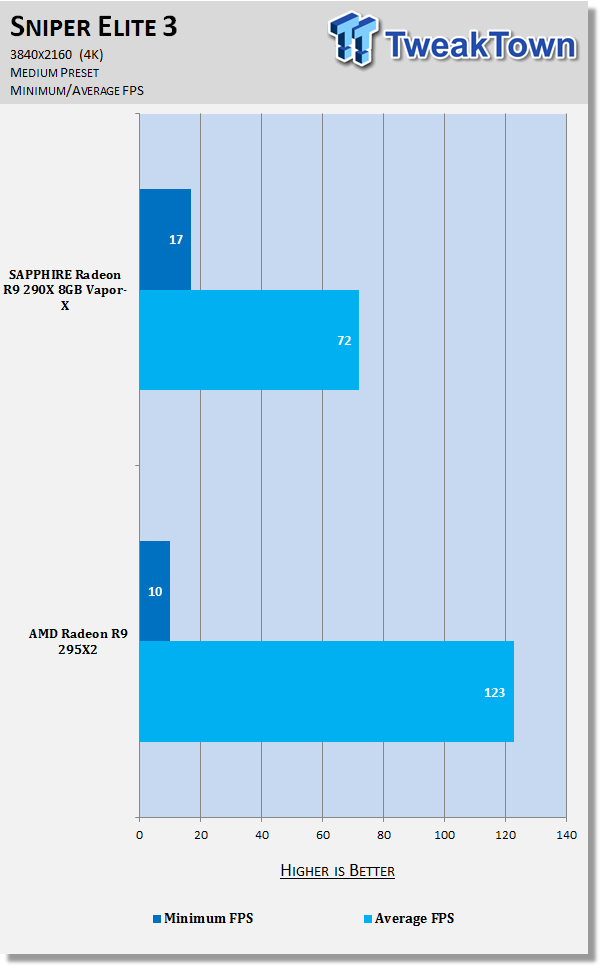 Tomb Raider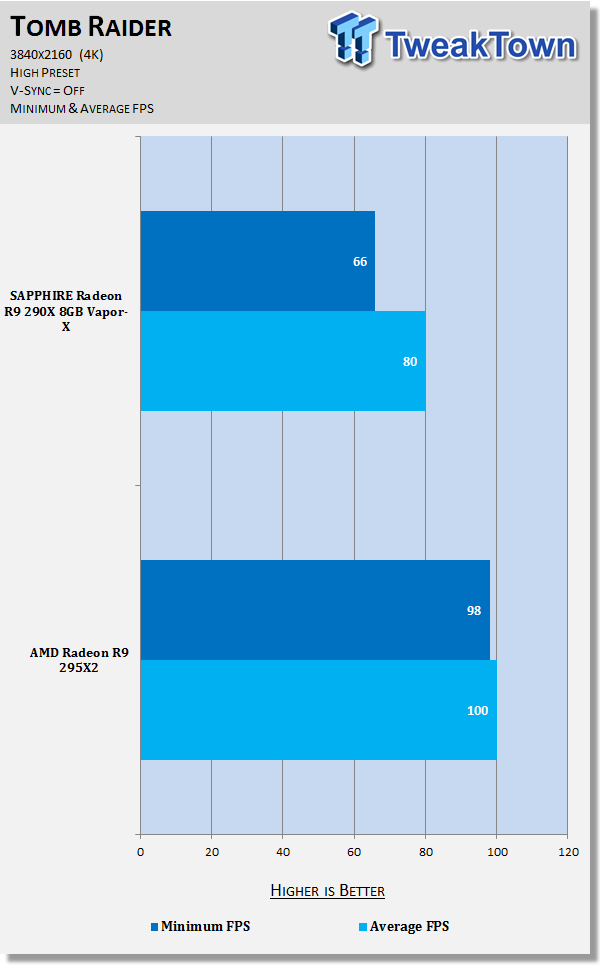 BioShock Infinite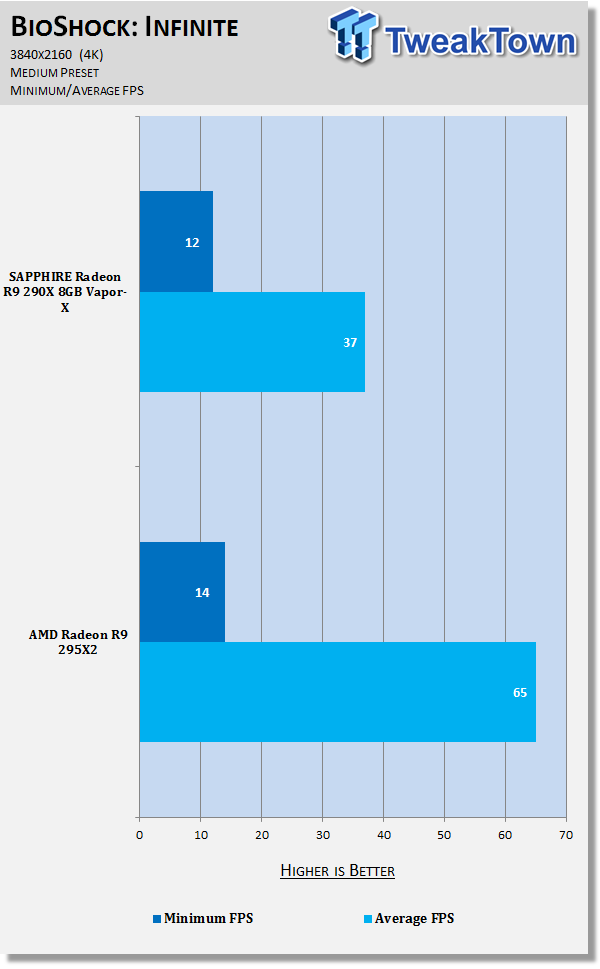 DiRT Showdown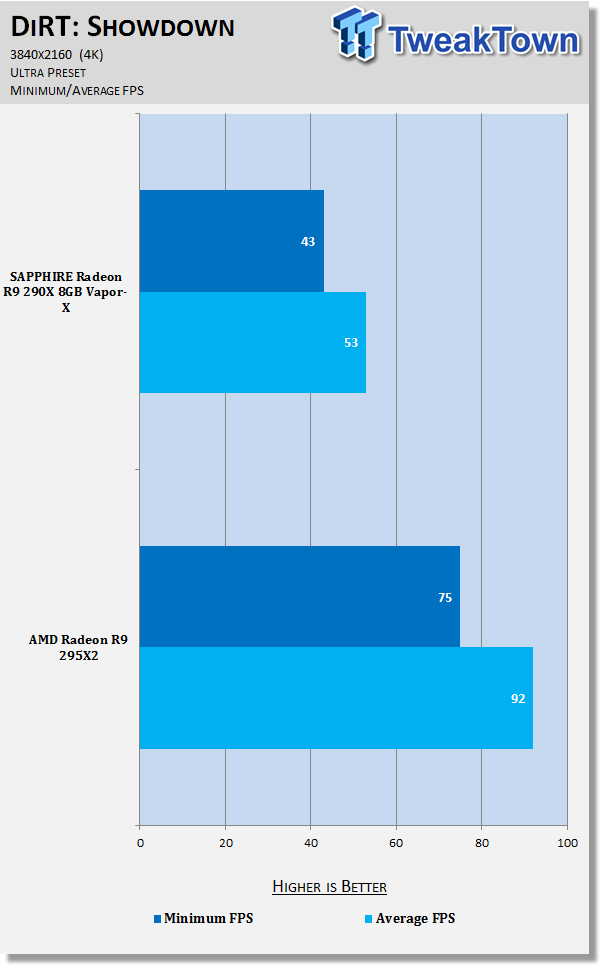 Batman: Arkham Knight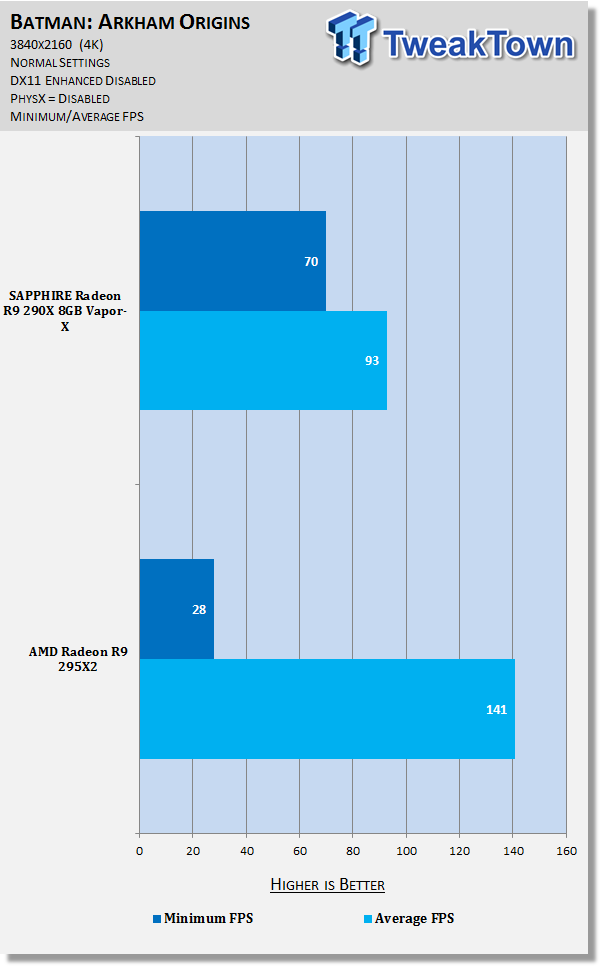 Final Thoughts
One of the more surprising things from these tests is that we used an AMD CPU and still saw some huge results at 4K. Most people, and I would dare say 80% or more, would go Intel when building a new performance or gaming system. These days, any mid-range CPU (whether it's Intel, or AMD) will do the job just fine. We've proven this before, using an AMD FX-8350 versus the Intel Core i7-4770K and Core i7-4930K with the AMD coming out on top for most of the tests at 4K.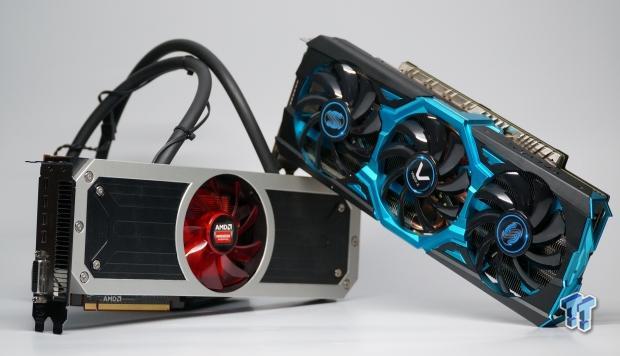 We can see that in our synthetic tests that the Vesuvius-based Radeon R9 295X2 is close to twice as fast - as it has twice the amount of GPUs powering it, obviously. But then when it comes to games, the dual GPU goodness doesn't help all that much in some games, but in most - there's a huge improvement.
Starting off with our real-world performance in a 64-player Battlefield 4 match, we see some amazing results. With the Medium detail at 4K, the R9 295X2 provides a 50% increase in performance, with 87FPS average against the R9 290X 8GB and its 60FPS average. But when we enable the Ultra detail (minus AA) the R9 295X2 stomps all over the R9 290X 8GB, even with its 8GB of VRAM.
The Radeon R9 295X2 is able to manage 72FPS average which is an amazing result considering we're running 3840x2160, while our Radeon R9 290X 8GB manages 46FPS average. 46FPS isn't a bad result, but it is under 60FPS, which is not what we want from a performance card.
GRID Autosport isn't that much better, with less than 50% improvement, while Metro: Last Light sees a huge performance increase jumping from 27FPS to 43FPS average at 4K. Shadow of Mordor is another title with a great improvement with the R9 295X2 installed, where we scale from 56FPS average at 4K to 84FPS average on the R9 295X2.
BioShock Infinite shows that the dual GPU has its strengths, absolutely demolishing the R9 290X 8GB card. The R9 290X pushes out just 37FPS average at 4K, while the R9 295X2 is capable of a huge 65FPS average, close to a 100% performance increase. DiRT Showdown also joins the performance show, with 53FPS on the R9 290X 8GB while the R9 295X2 crushes it with 92FPS.
Last updated: Nov 3, 2020 at 07:12 pm CST