Intel Core i5-12600K "Alder Lake" CPU Review
Intel's Core i5-12600K "Alder Lake" processor is an impressive CPU for its performance, low power consumption, and availability.

Published Mon, Nov 8 2021 2:15 PM CST
Rating:

98%
Manufacturer: Intel (i5-12600K)
Introduction and Pricing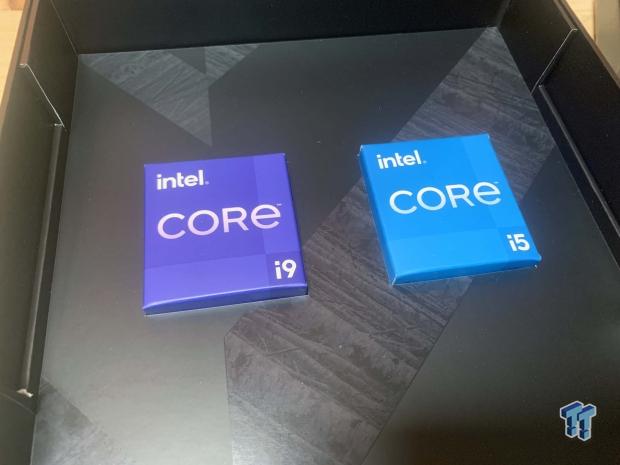 With Alder Lake now released to the masses, it's only a matter of time before enthusiasts and gamers alike start re-evaluating their machines. DDR5 and PCIe 5.0 make this a desirable platform, and with board vendors pushing some impressive solutions to market, we should see a slight shift in CPU market share later this year and early next year.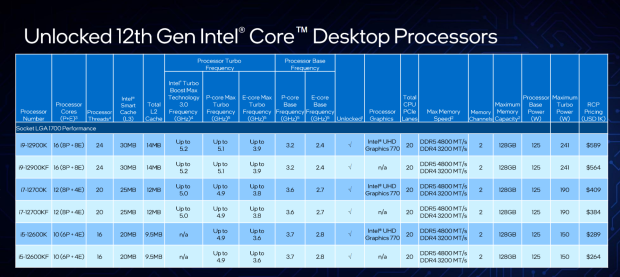 12600K will be huge for Intel, early reviews are high on this chip, and for the proper reason, its lower power consumption and high performance make it a fantastic bang for your buck. For those not aware, the Core i5 entry into the Alder Lake portfolio features ten cores with a 6-P 4-E arrangement; the P-Cores offer Hyper-Threading to push threads to 16 with peak turbo frequencies at 4.9GHz and 3.6GHz, respectively.
The Intel Core i5 12600K has a tray price of $289; market pricing is currently $319.99.
Packaging and Test System
Intel Core i5-12600K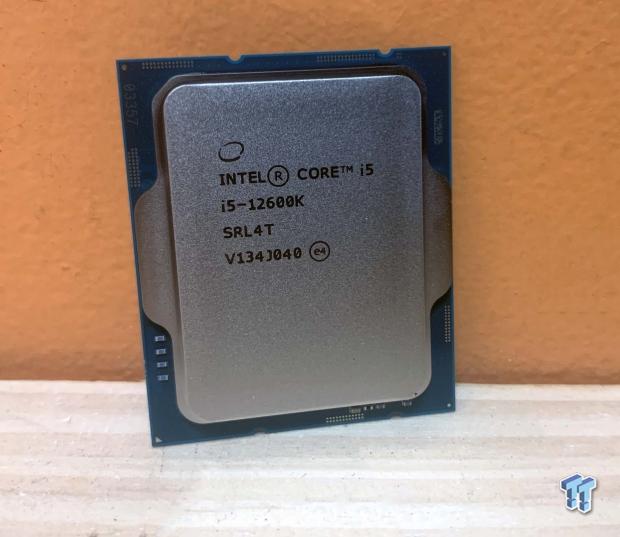 Like the 12900K, the 12600K features the same LGA1700 design, locating cutouts are on the top and bottom.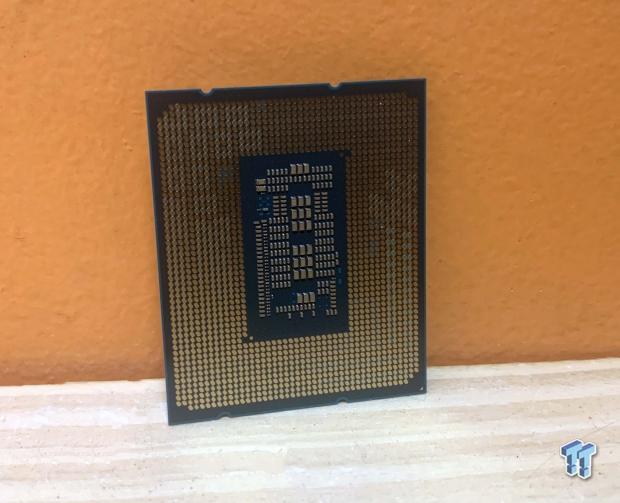 On the LGA side, we have 1700 pads.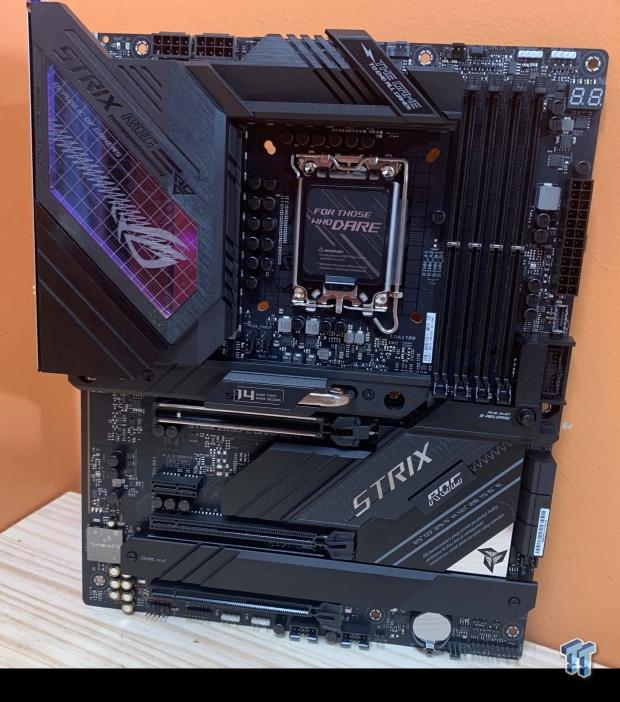 The board sent for testing the 12600K is the ASUS ROG Strix Z690-E Gaming Wi-Fi.

Our full test setup, seen above, does include a kit of Micron DDR5. Additional components are listed below.
Cinebench R20,R23 and AIDA64
Cinebench and AIDA64
Cinebench
Cinebench is a long-standing render benchmark that has been heavily relied upon by both Intel and AMD to showcase their newest platforms during unveils. The benchmark has two tests, a single-core workload that will utilize one thread or 1T. There is also a multi-threaded test that uses all threads or nT of a tested CPU. We run both the legacy R20 and modern R23.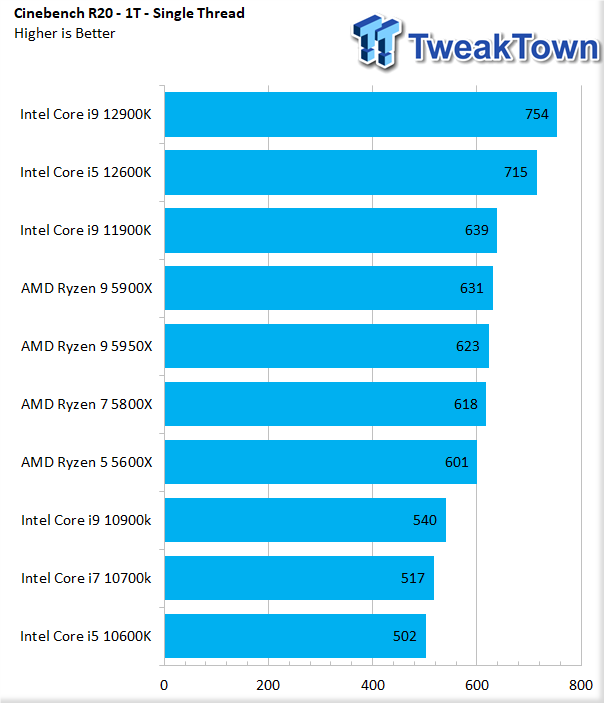 Kicking off our testing, 12600K does quite well, touching 715 in R20 single thread. This puts it above every current Zen 3 SKU.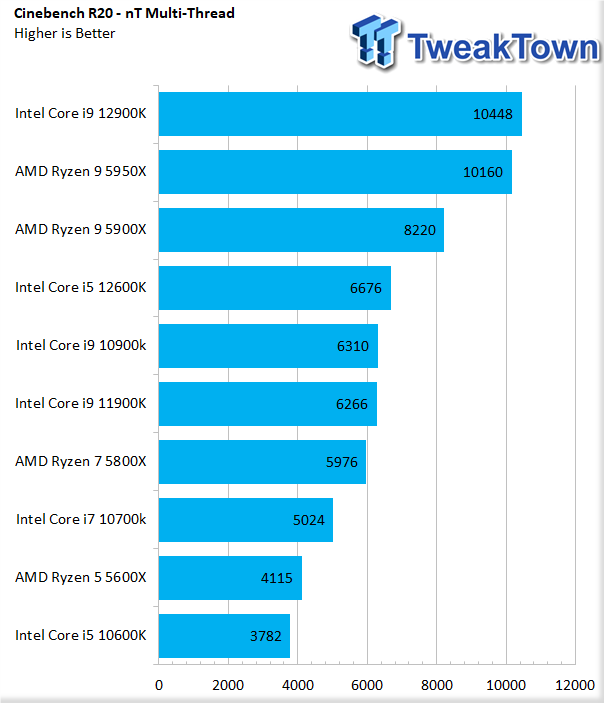 R20 nT places the 12600K right under the 5900X, ahead of both the 5800X and 5600X from AMD.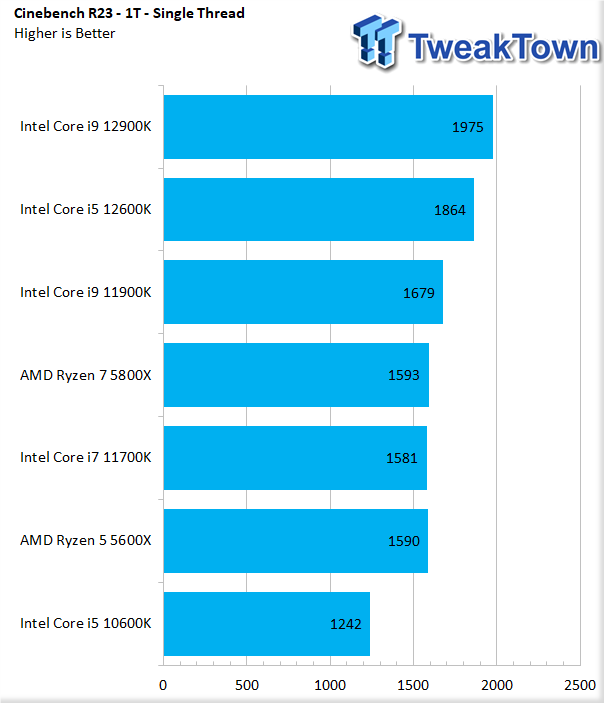 R23 shows a similar case; 12600 K beats out both 5800X and 5600X by a good margin.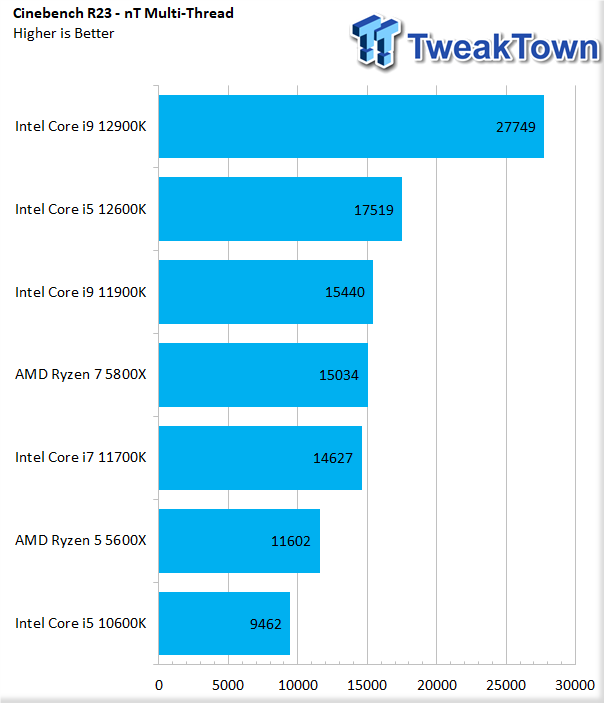 nThread R23 shows 17519 for 12600K.
AIDA64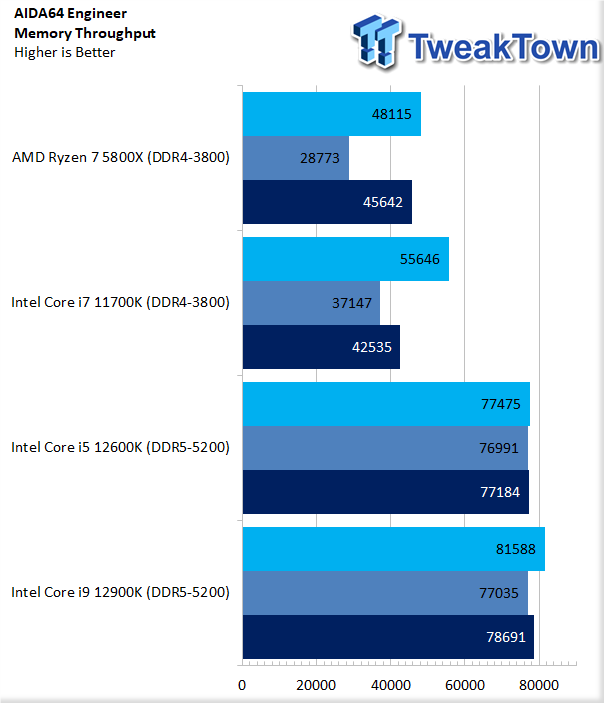 Memory throughput follows 12900K; we saw 77K read, 76K write, and 77K copy.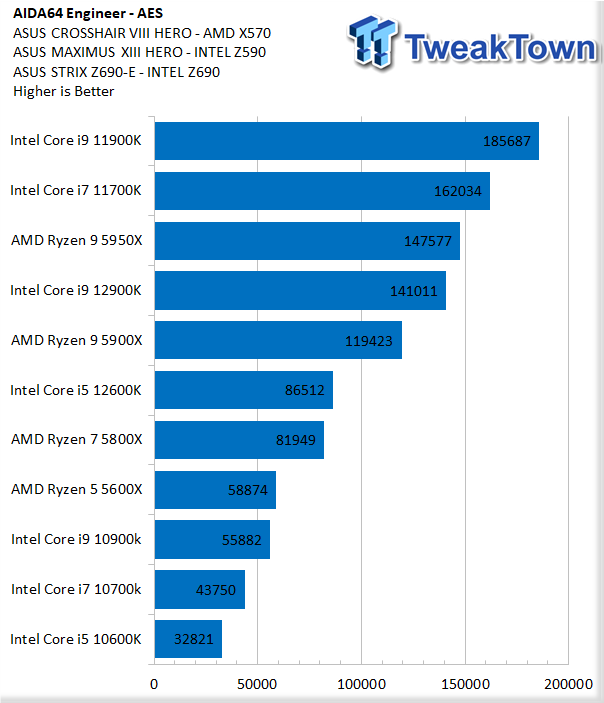 AIDA64 still has yet to officially support Alder Lake in any of their benchmarks, but preliminary runs show 86512 for the 12600K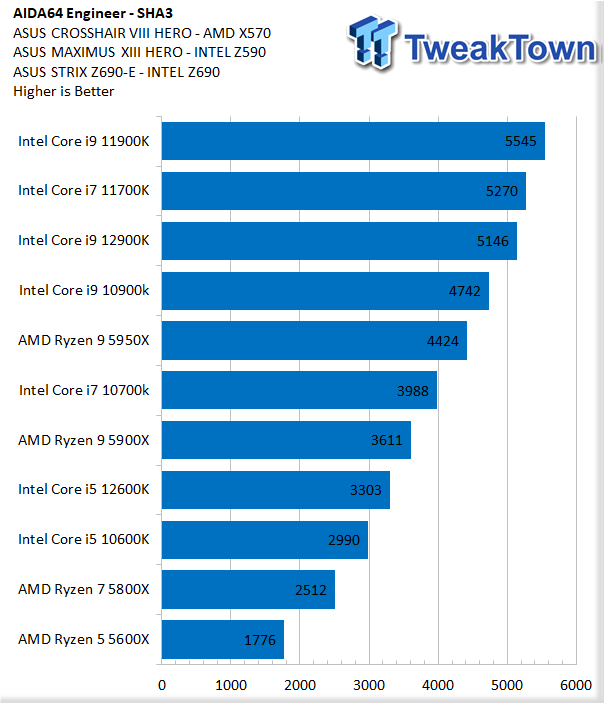 SHA3 showed 3303 for the 12600K.
UL Benchmarks and CrossMark
PCMark 10 Applications
PCMark 10 Applications
PCMark is a benchmark from UL and tests various workload types within Microsoft Office and Edge.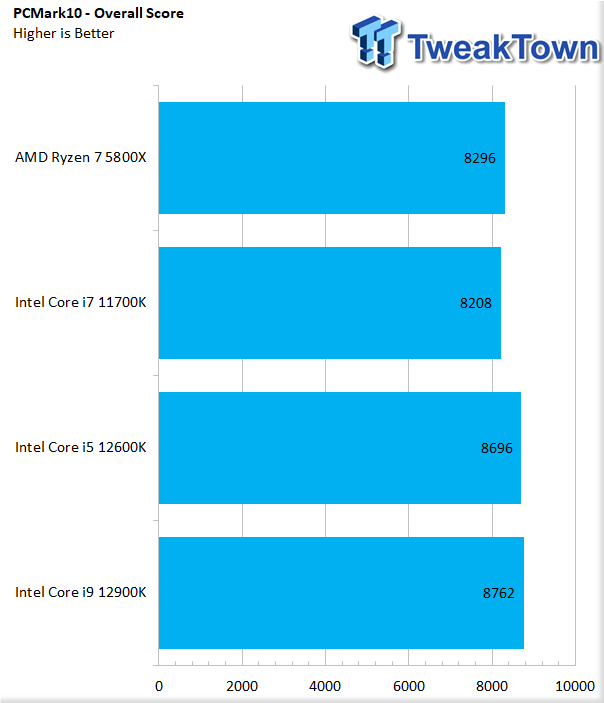 PCMark overall gives us a score of 8696, not far behind the 12900K.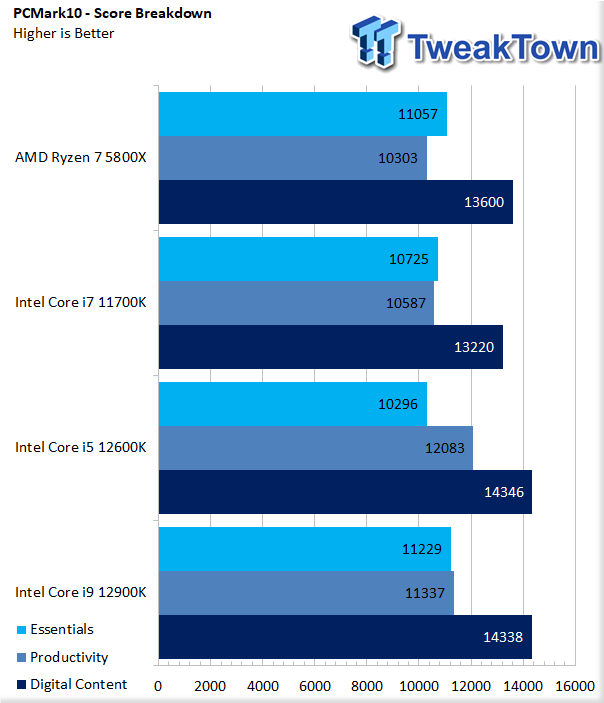 Score breakdown shows 12600K beating 12900k in productivity and matching it in digital content.
3DMark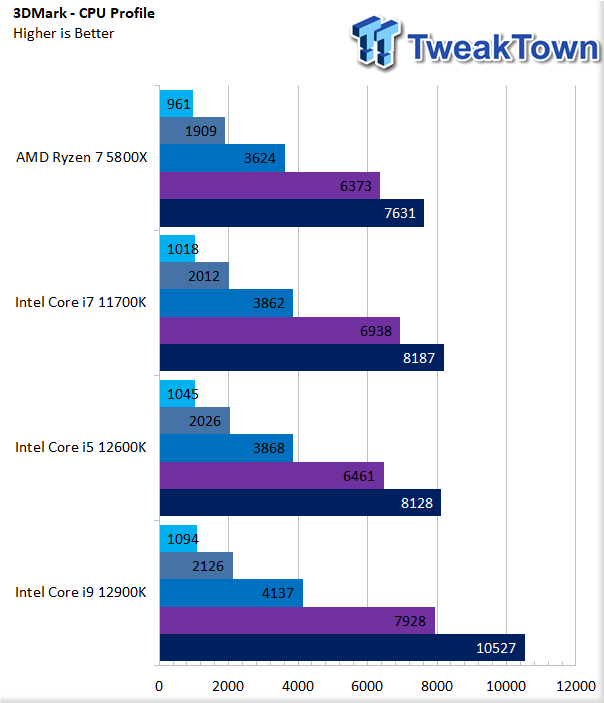 CPU Profile in 3DMark has the 12600K near even with the 11700K.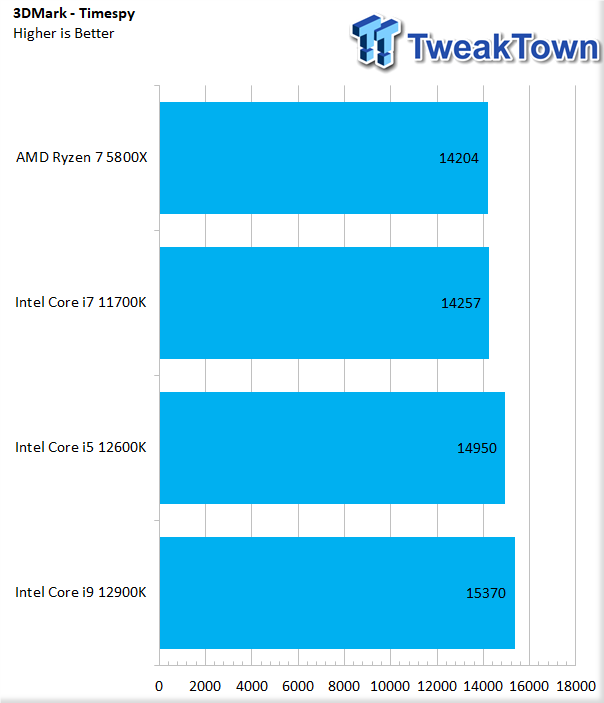 Timespy with our RTX card showed a score of 14950 for the 12600K.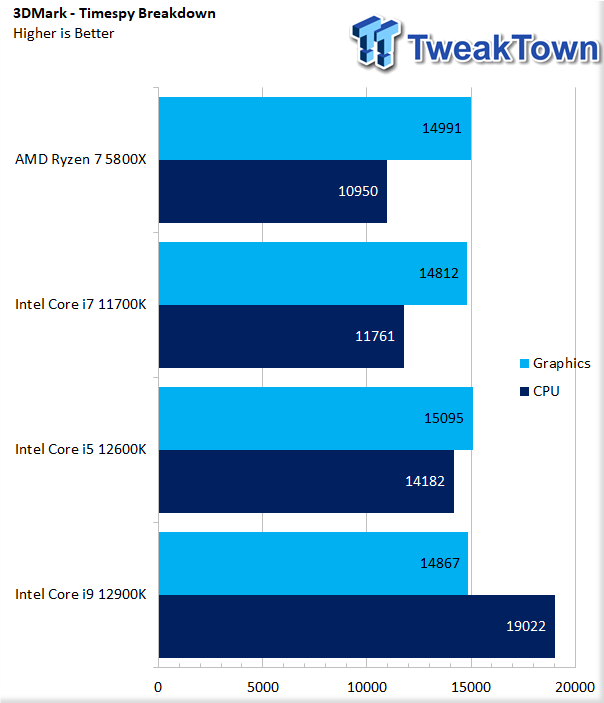 Breakdown shows a benefit to 12600K in graphics while a touch behind in CPU power to the 12900K. It does beat up on last-gen 11700K by a good margin.
CrossMark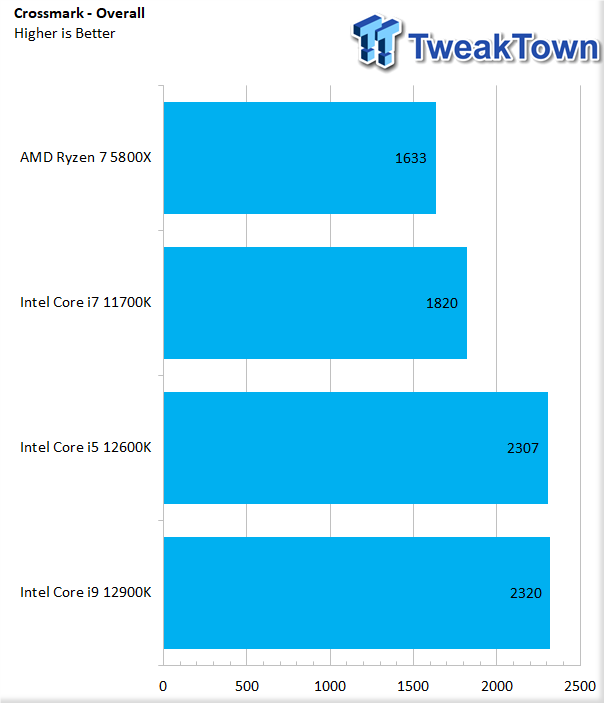 Running through CrossMark, the 12600K grabbed 2307 to the 12900K at 2320.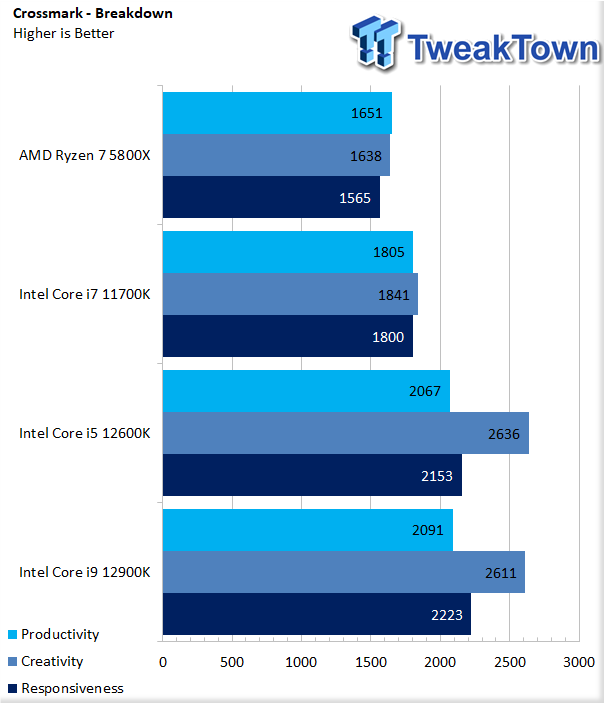 The breakdown for CrossMark has the 12600K matching 12900K in two of three workloads.
Gaming, Power and Final Thoughts
Gaming Performance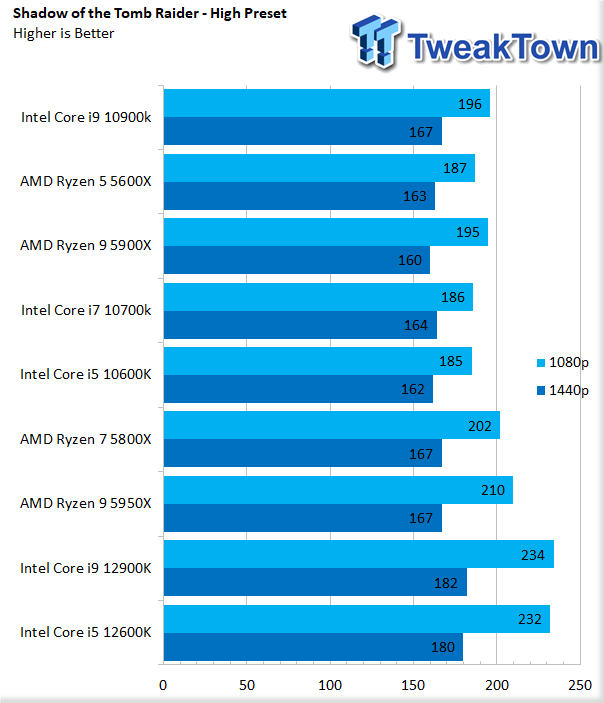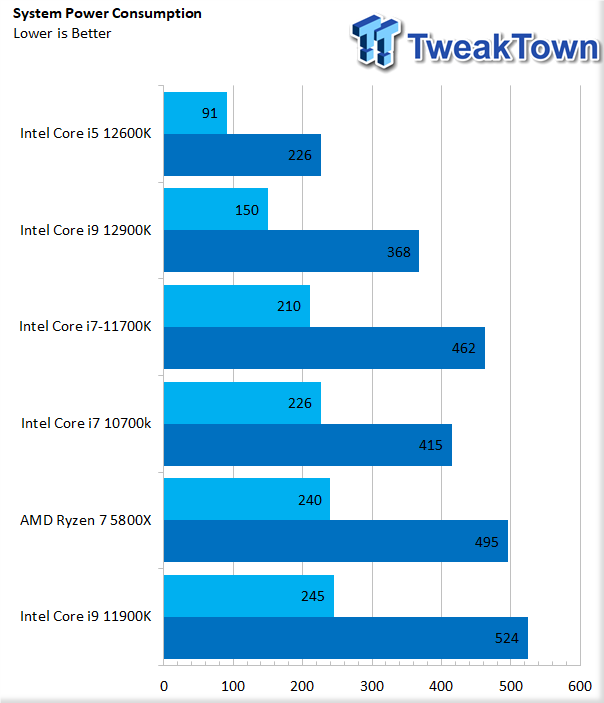 I used Far Cry New Dawn and Shadow of the Tomb Raider for comparison purposes, testing both 1080p and 1440p gaming at high resolution.
Shadow of the Tomb Raider was quite good, 12600K dropping a single frame to the 12900K.
Far Cry New Dawn was nearly identical, 12600K a sizable upgrade over last gen.
Power Consumption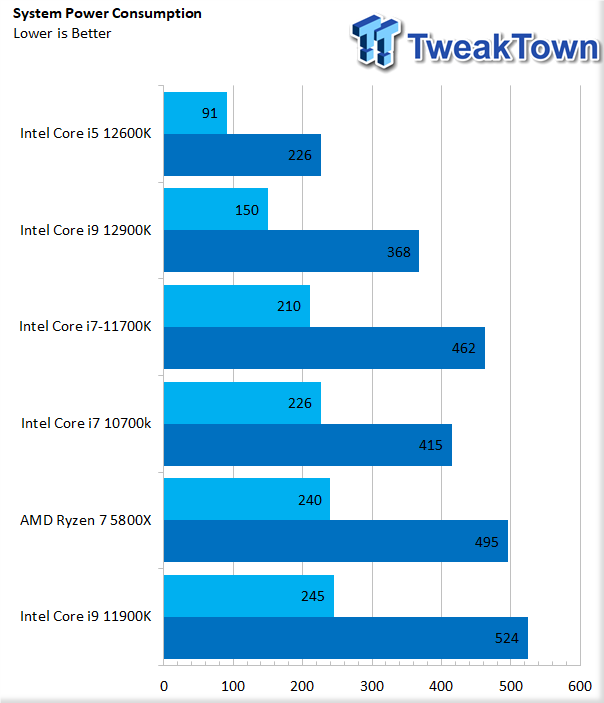 Power consumption for the 12600K was 91 watts idle for our test system. We read 226 watts at load with R23, which is quite a bit lower than the flagship 12900K.
Thermals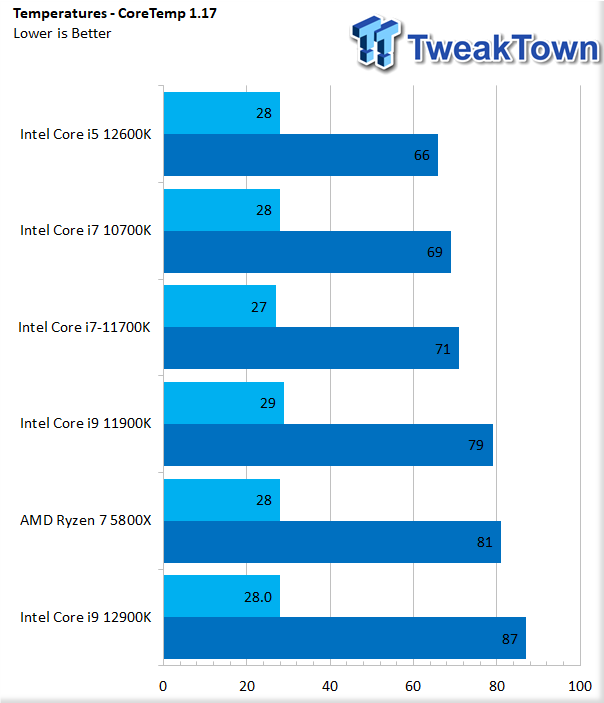 We used a Noctua NH-U12A Chromax cooling solution for the 12600K to keep things fair across all platforms. In testing, the 12600K idled at 28c, full load in R23 reached 66c.
Final Thoughts
As we saw in our initial review of Alder Lake with the 12900K, this platform is a huge jump for Intel. The 12600K cements the lineup as the entry-level CPU and gateway for many gamers to DDR5 and PCIe 5.0, and I suspect many of you have already been thinking about your upgrade path.
It's unknown, at this point, where AMD will take Zen 3; rumors offer us a possible solution early next year with 3D V-Cache technology but likely not a platform overhaul. This boosts Intel tremendously as they could be the only vendor offering DDR5 and PCIe 5 for upwards of a year, and with Gen5 NVMe just around the corner, things are heating up!
Mentioned briefly above, the 12600K is a fantastic option for those building gaming machines on the current Z690 platform. In our testing, we had several scenarios where the 12600K was the better CPU; in PCMark, productivity was at its highest with 12600K, and Crossmark showed higher performance with Creativity. AIDA64 showed identical memory throughput for 12600K, so nothing was lost with the Core i5, and 3DMark even proved a near 200-point advantage for 12600K in graphics performance with our RTX 3070.
Like the 12900K, we saw a solid boost in FPS for Far Cry and Tomb Raider, and more recently, we have played with Warzone and a few others that showed similar 5-10FPS jumps in FPS. Power consumption is much more reasonable with 12600K, 91 watts idle for our tests system, and at full CPU load, we were using 226 watts. This lower power aided our temperatures, with the 12600K reaching a mild 66c in testing with the NH-U12A Chromax.
| | |
| --- | --- |
| Performance | 99% |
| Quality | 95% |
| Features | 99% |
| Value | 99% |
| Overall | 98% |
The Bottom Line
12600K more than any other SKU delivers as it offers the same impressive performance with lower power consumption, not to mention availability!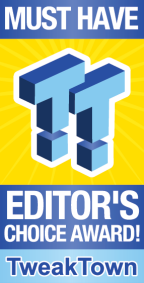 We openly invite the companies who provide us with review samples / who are mentioned or discussed to express their opinion. If any company representative wishes to respond, we will publish the response here. Please contact us if you wish to respond.