TweakTown's Rating: 93%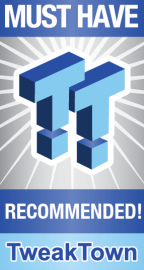 The Bottom Line
Consumers looking for the single best CPU across all workloads will want to take note of the Intel Core i9-13900KS despite its huge power numbers.
Pros
+

In socket upgrade

+

6GHz boost!

+

Overall performance
Cons
-

Needs decent cooling

-

Uses lots of power
Should you buy it?
Avoid
Consider
Shortlist
Buy
Introduction and Pricing
After pushing through a solid stack of motherboard reviews, I finally made time to test the Intel Core i9-13900KS "Raptor Lake" CPU, admittedly a bit late to the party. Keeping this review to the point, those that want to read up on architecture changes can do so in either of our two previous articles, 13600K or 13900K.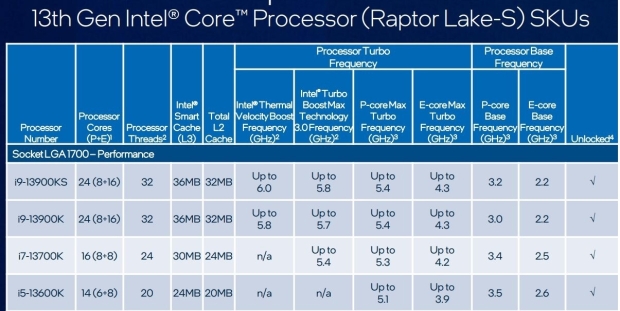 With that, the 13900KS is the most recent launch from Intel that looks to allow them to keep their edge in gaming, even after AMD's Zen 4 3D parts are released later this month. As big of a task as that will be, the 13900KS has some impressive specs, including its massive 6GHz boost clock out of the box.
Before we get ahead of ourselves, let's first run over the numbers for this new chip. We start with the LGA1700 socket, and the KS is a 24-core 32-thread part with a base clock of 3.2GHz and boosts to 6GHz on the P-Cores. E-Cores have their own 2.2GHz base clock but can boost to 4.3GHz. The cache is 32M, like we saw in the 13900K, and of course, this CPU is unlocked.
The MSRP of the Core i9-13900KS processor is $699.99 with a one-year warranty.
Test System, and the 13900KS
Test System
Motherboard: ASRock Z790 Taichi Carrara
GPU: GeForce RTX 3090 Ti
RAM: Kingston Fury Beast 32GB 7200MHz CL38
Cooler: 3x140mm Custom Water
OS Storage: Sabrent Rocket 4 Plus Gaming 2TB
Power Supply: AORUS GP AP1200PM
Core i9 13900KS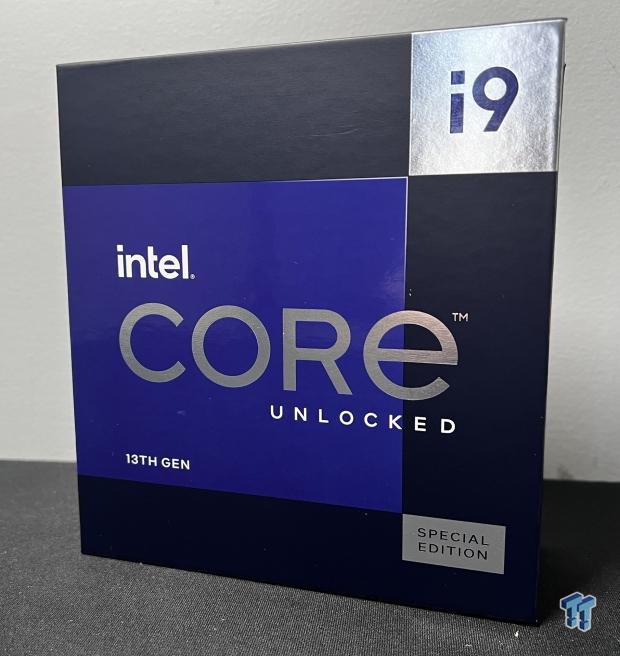 Our sample of the 13900KS arrived in retail packaging.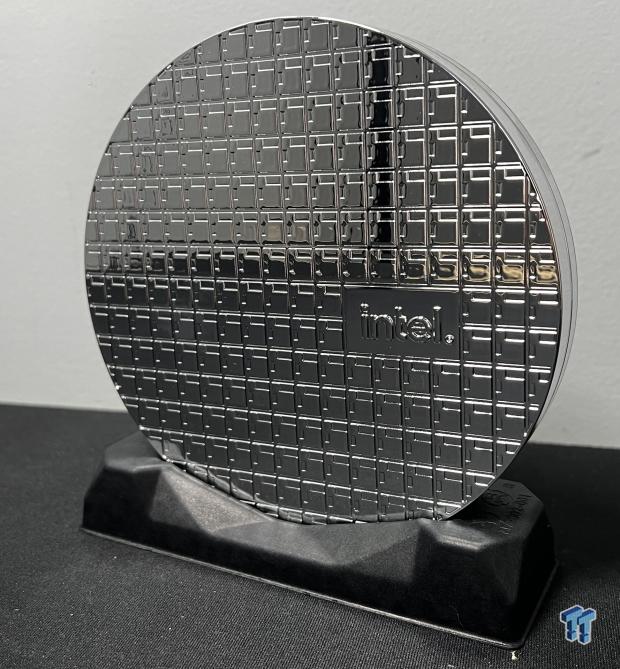 Unboxing, we have the platinum wafer holding the CPU.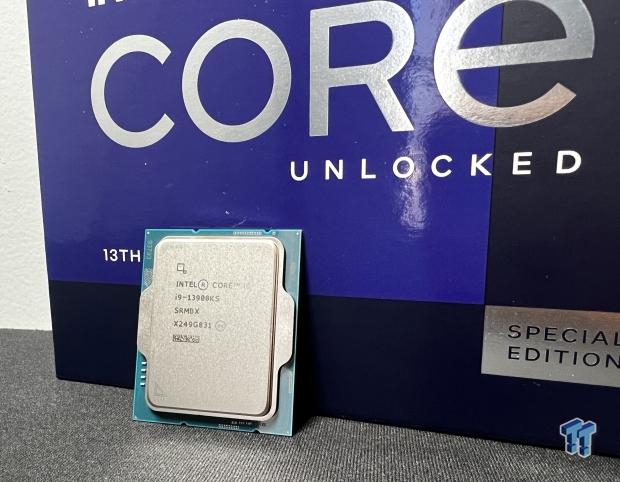 Opening the wafer, we have the CPU itself with its model and batch code on the top.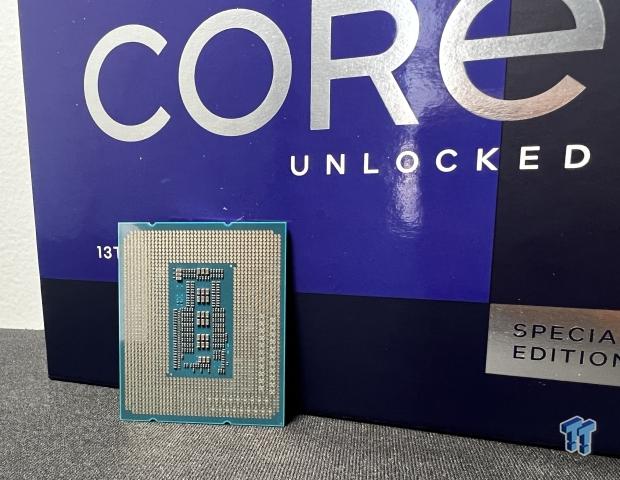 The backside offers 1700 pins, including a few that look to be reinforced.
Cinebench, Crossmark and AIDA64
Cinebench R23
Cinebench is a long-standing render benchmark that has been heavily relied upon by both Intel and AMD to showcase their newest platforms during unveils. The benchmark has two tests, a single-core workload that will utilize one thread or 1T. There is also a multi-threaded test which uses all threads or nT of a tested CPU.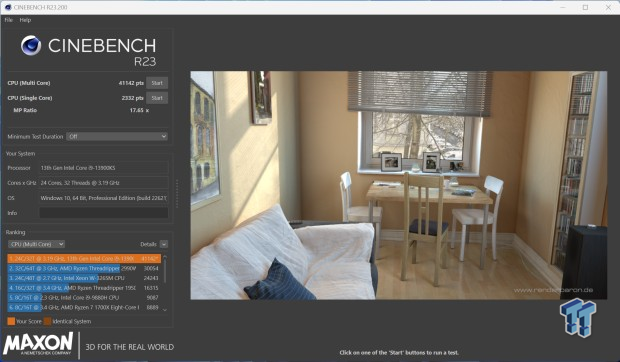 R23 gave us a 2332 single-thread score alongside a very nice 41142 multi-thread score.
Crossmark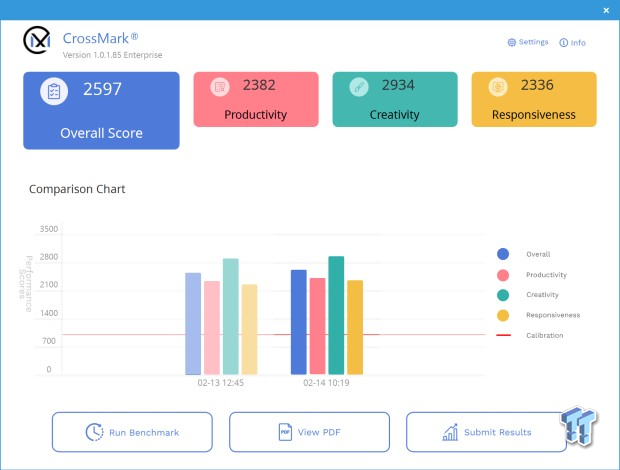 CrossMark gave us an overall of 2597, only a touch better than the 13900K.
AIDA64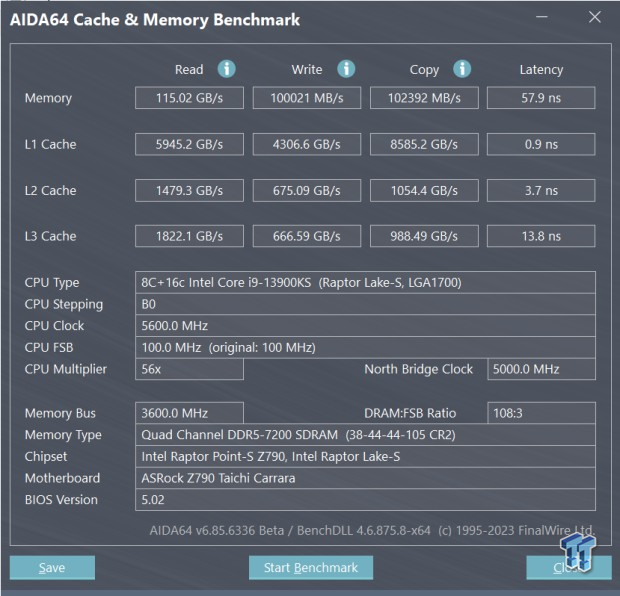 AIDA showed solid memory performance, upwards of 100 GB/s across the board. Latency landed at 57.9ns.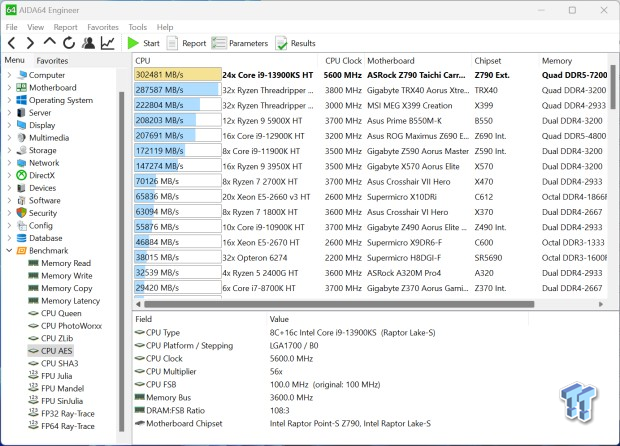 AES came in at 302481.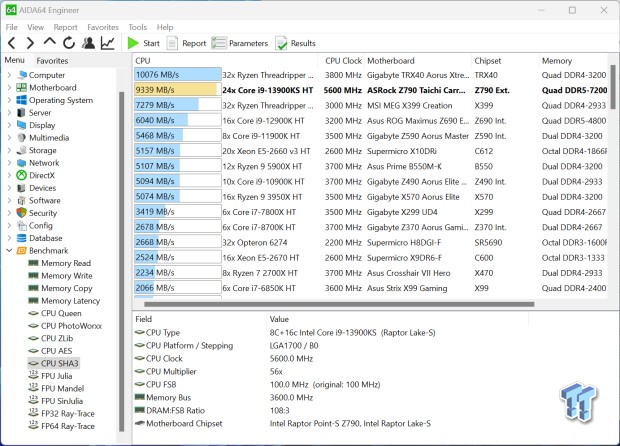 9339 was our SHA3 score.
WEBXPRT4, Gaming, and UL Benchmarks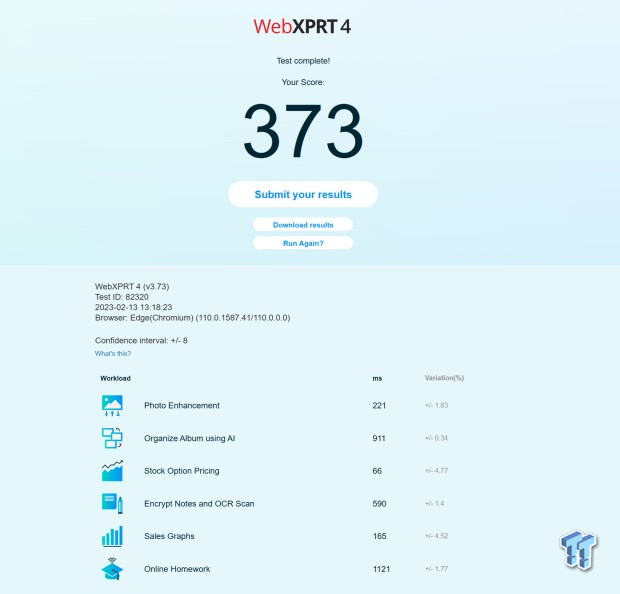 Getting into more real-world workloads, we ran the 13900KS through WebXPRT4, ending with a score of 373.
3DMark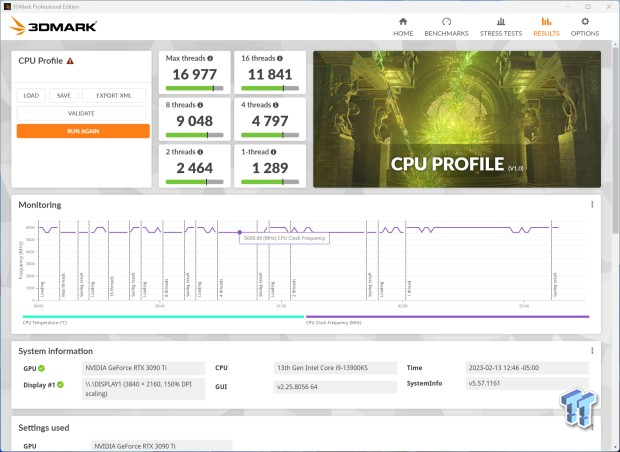 CPU Profile came in with a single thread of 1289 and a sixteen thread score of 11841.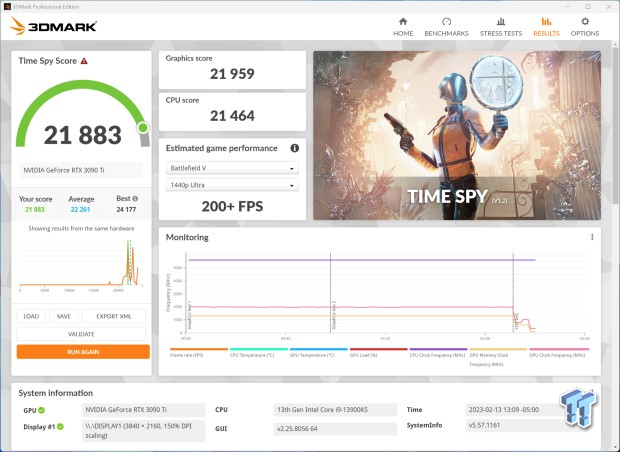 Sliding into a few synthetic gaming scenarios, our Timespy score landed at 21883.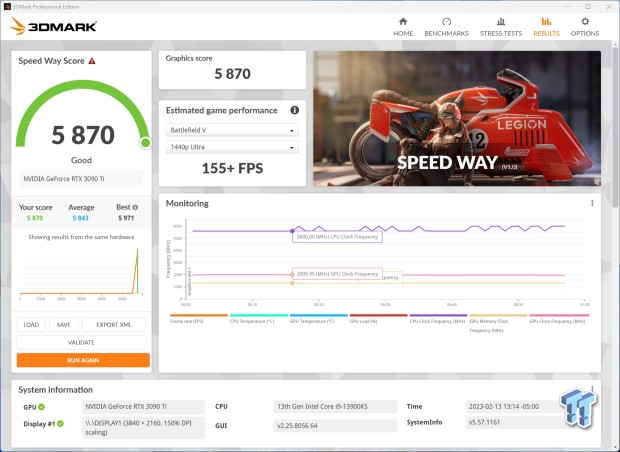 Speed Way landed a score of 5870 for the 13900KS.
Gaming Performance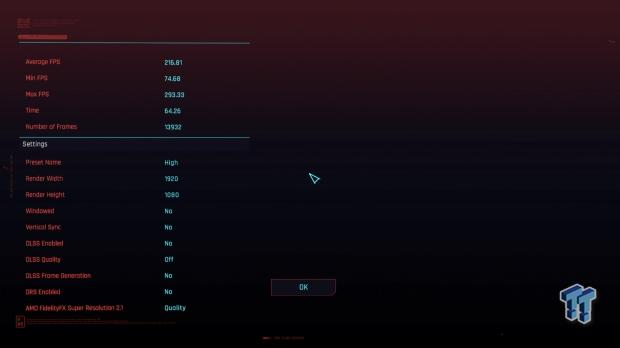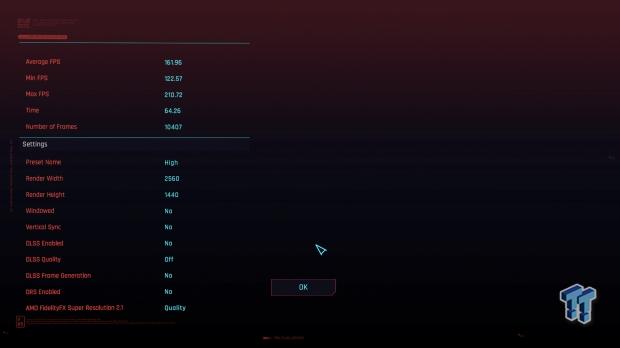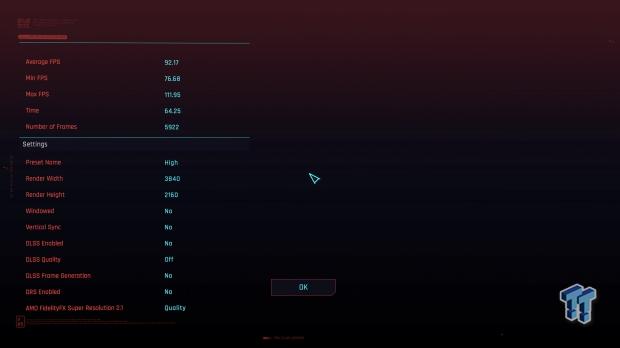 Getting into some real gaming workloads, Cyberpunk pulled in 216 FPS at 1080p. We followed that with 1440p, which ended at 161 FPS, and 4K, which came in at 92 FPS.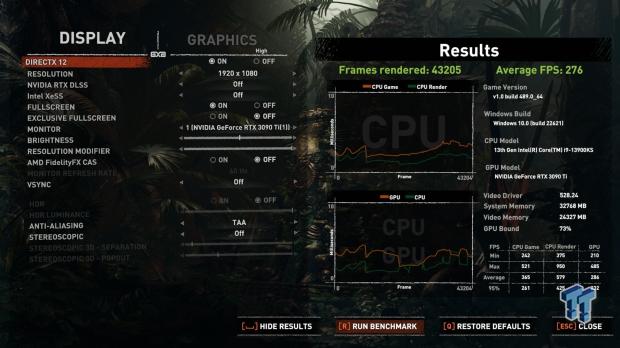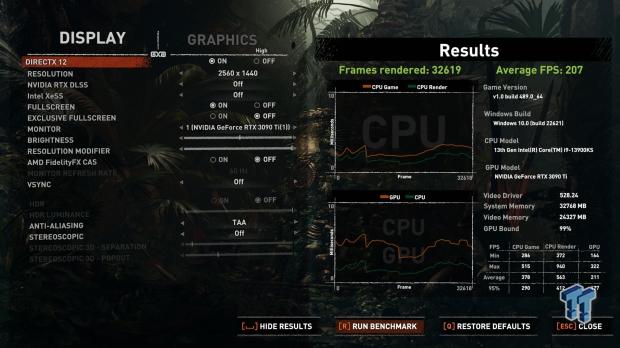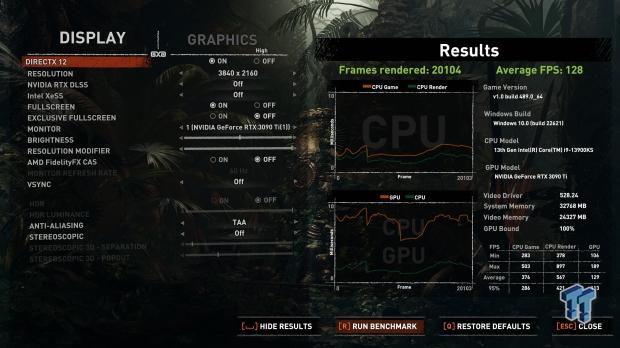 Tomb Raider offered even better performance, the KS pushing to 276 FPS at 1080p. 1440p and 4K came in at 207 FPS and 128 FPS, respectively.
Comparisons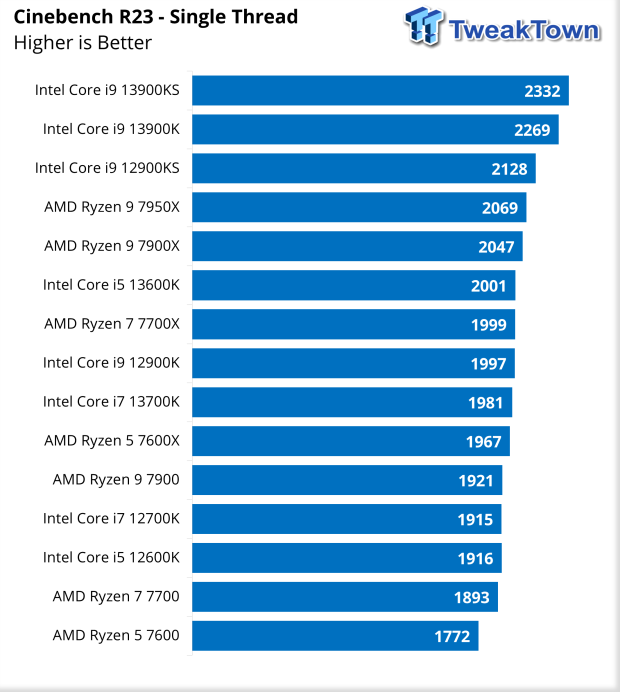 Getting into our charts, the 13900KS took the top spot looking at 1T R23 scores.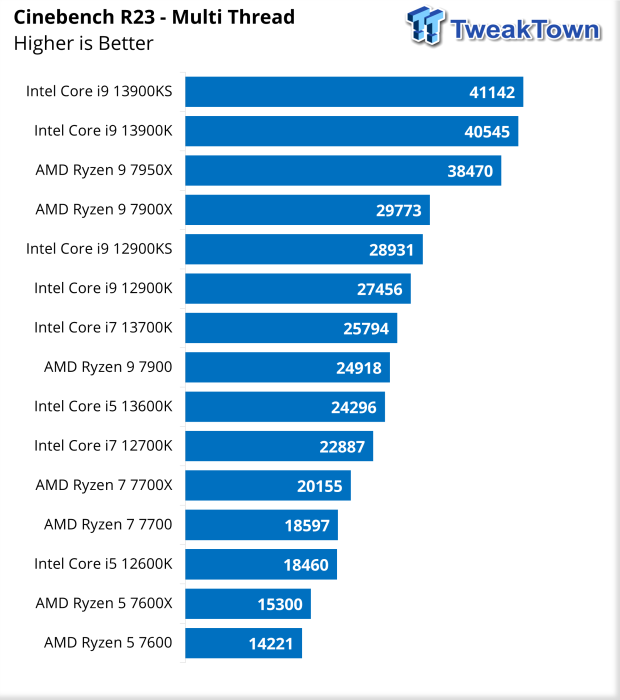 Moving our workload to nT, the 13900KS picked up 41142, which nudges the 13900K aside.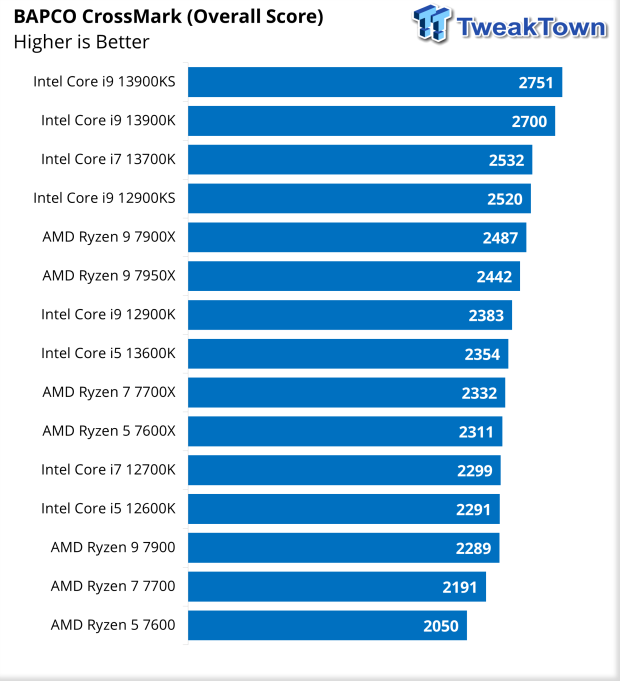 CrossMark picked up a slight amount of performance, 51 points, to push it to the top.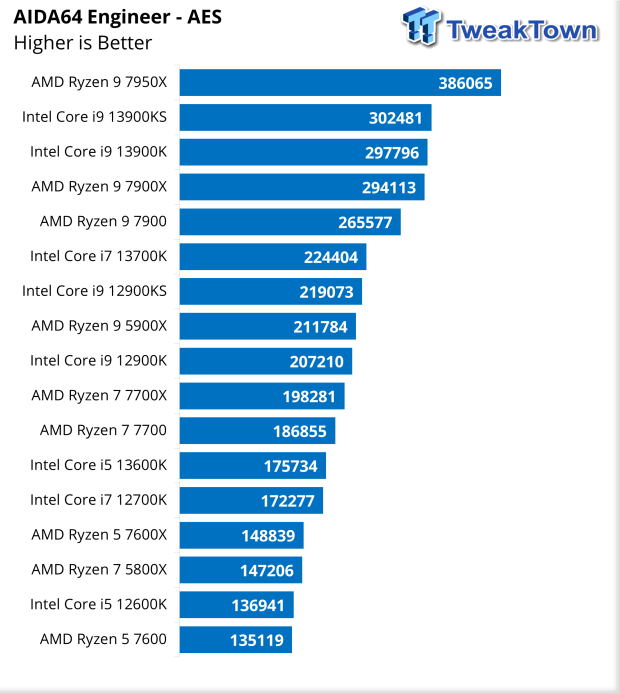 Loading up AIDA64 AES, the 13900KS sits right behind the 7950X, enjoying a decent 5000-point lead over the 13900K.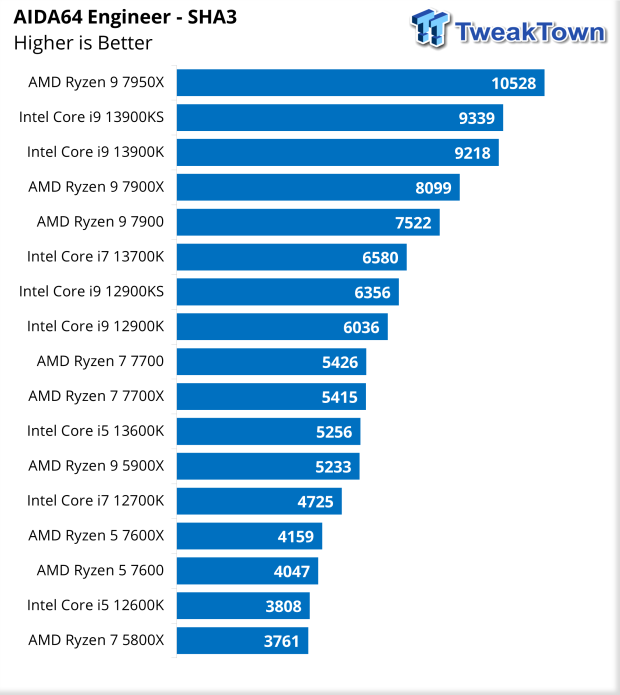 SHA3 was similar, with a small bump over the 13900K.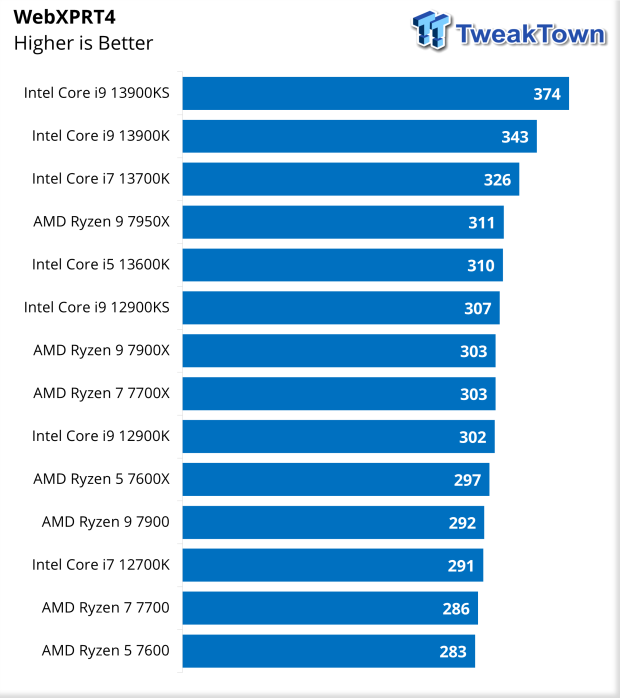 Entering our WEBXPRT4 score into the charts, the 13900KS takes the top spot by 30 points.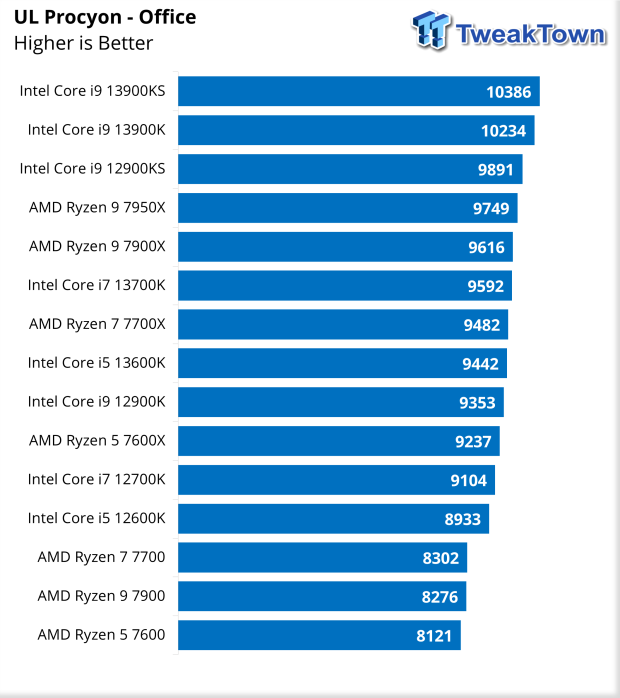 UL Procyon pulled in a score of 10386 for the 13900KS, the top spot once again.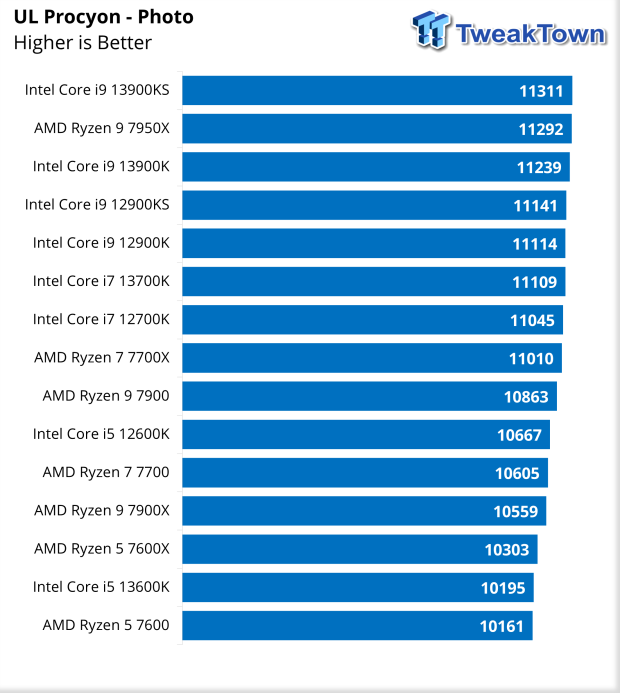 The Photo workload allowed the KS to bump past the 7950X by 19 points for the top spot in our charts.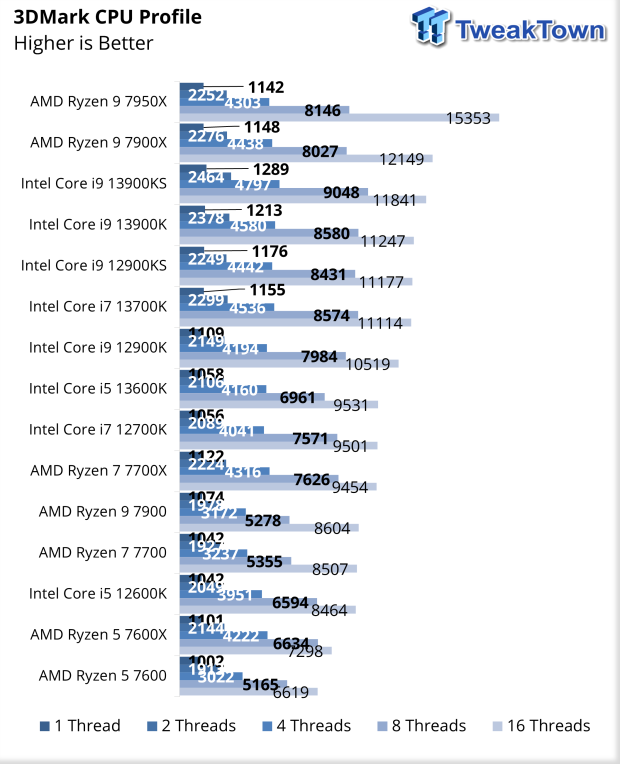 If we look at the CPU Profile, the KS lands in third place, with a single thread score of 1289 and sixteen threads at 11841.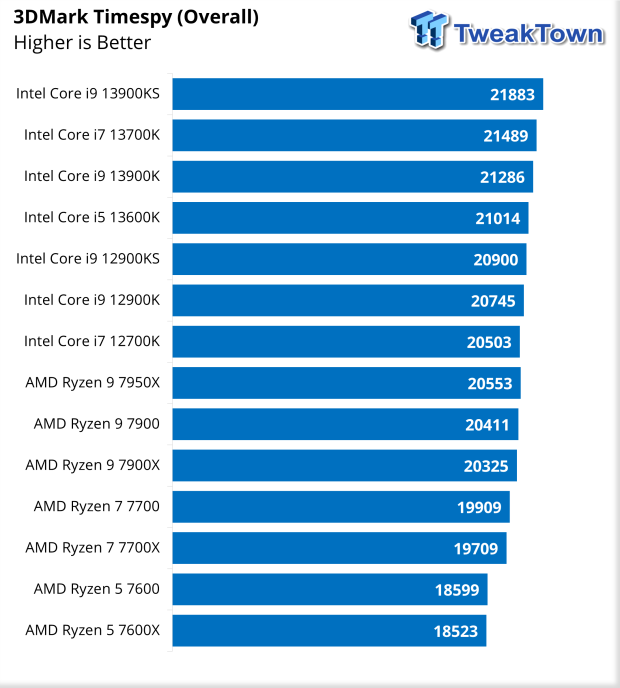 Timespy allowed the KS to take the top spot again with a score of 21883 with our 3090 Ti.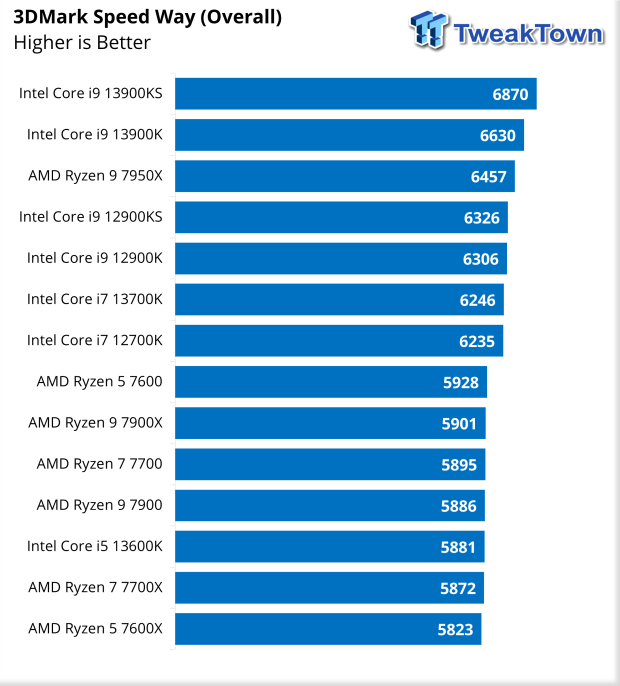 Moving over to Speed Way, we saw a score of 6870 for the KS.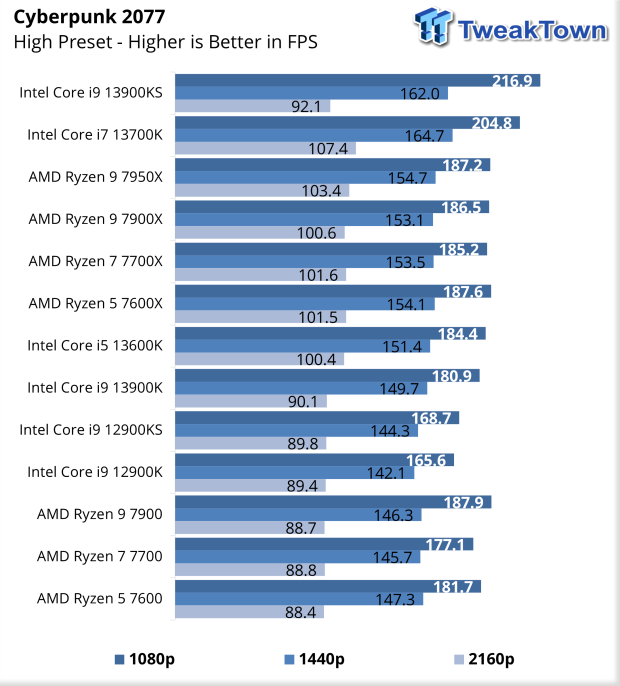 Adding our new gaming numbers to our charts, the KS does have the lead in Cyberpunk with 216 FPS at 1080p, 162 FPS at 1440p, and 92 FPS at 4K.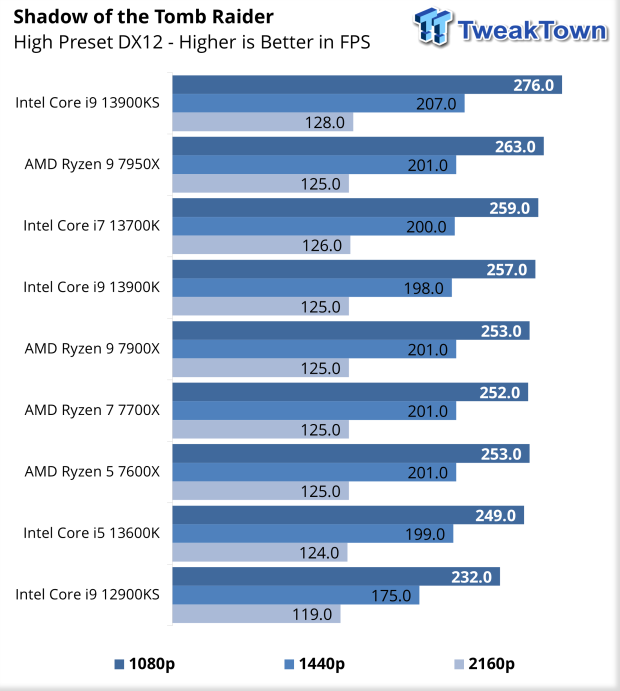 Throwing in our Tomb Raider results, the KS nudged the 7950X to the side with a top FPS of 276.
Power, Value, and Final Thoughts
Power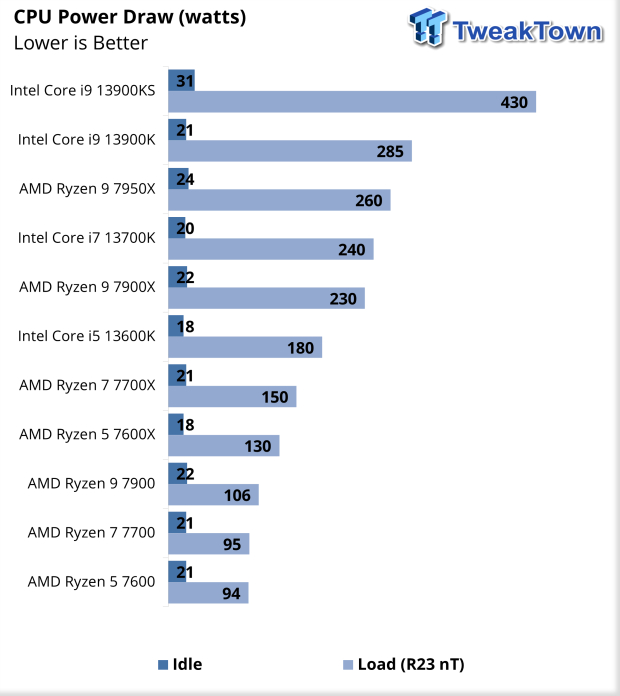 Testing the 13900Ks, we moted a peak of 430 watts, CPU only, while testing R23 nT. Idle power was a touch over 30 watts.
Value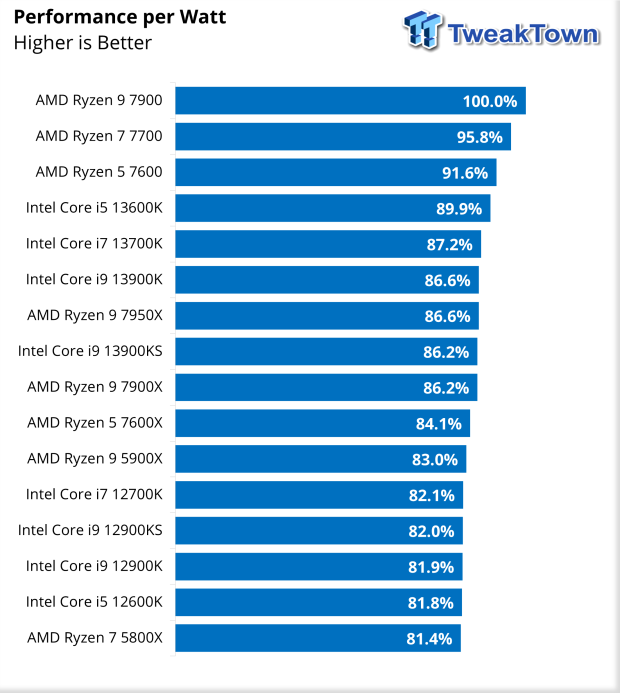 Looking at Performance per Watt, the 13900KS is middle of the pack at 86.2%.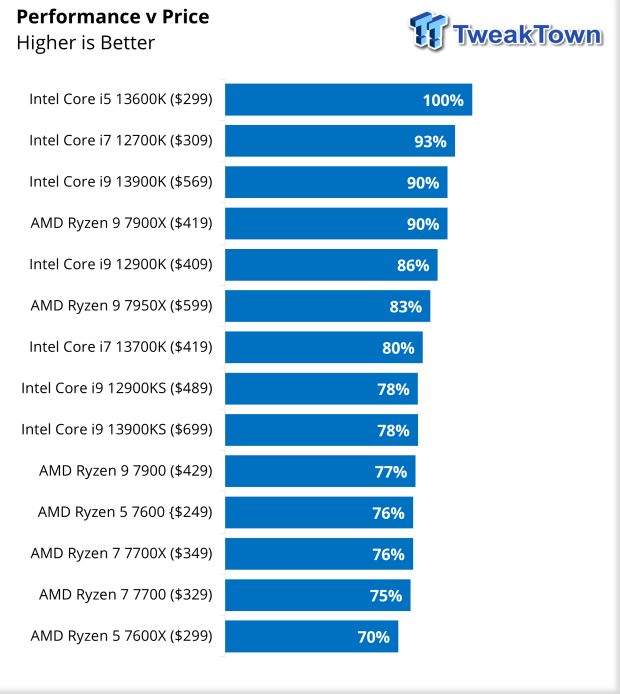 Adding in the CPU cost, we have the 13900KS near the middle at 78%.
Final Thoughts
Intel has a winner with the Core i9-13900KS, but consumers looking to buy into this CPU should have wider intentions than just gaming. The KS picked up about 13 FPS in Cyberpunk paired with our 3090 Ti at 1080p. If we up the resolution to 1440p, where the GPU comes more into play, things evened out a bit, and the KS struggled to beat the 13700K.
If we switch our game to Tomb Raider, which has been around for quite some time, we see about 20 FPS over the next best Intel CPU, which happens to be the 13700K once again; the KS, too, holds a slight lead over 7950X. If we move our focus to applications, we picked up about 150 points in Procyon Office and nearly 80 points in Procyon Photo. Crossmark's bump was even smaller, with the KS grabbing just 51 points over the 13900K.
Out of the box, our CPU did boost to 6GHz on several occasions, thanks to our custom cooling loop. We also enjoyed better overall performance from the higher all-core boosts this CPU can handle. With that came the impressive power draw of 430 watts; we measured this from the two 8-pin CPU power connections during a run of R23 nT.
As we look forward to the launch of AMD's Zen 4 3D in just a few short weeks, it will be interesting to see where the competition goes as CPUs like the 7950X3D offer impressive core counts paired with a stack of cache that, along with its competitive pricing, will almost certainly put the screws to the 13900KS.