Introduction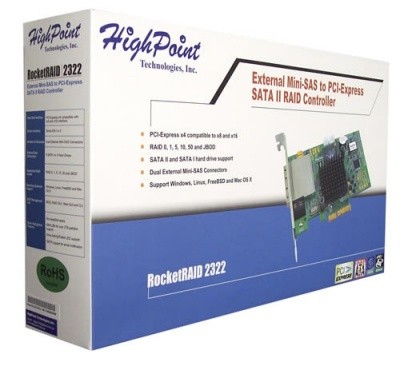 Since SATA made its debut back with the Intel ICH5 Southbridge, its performance ability was questioned, and its usefulness over Parallel ATA was brought up. At introduction, SATA was no faster than PATA, but its effectiveness was not in question. The need for a 7 pin serial cable over an 80 pin parallel cable meant less clutter in the case, and the expansion possibilities of SATA with unlimited channels means you can get more drives onto a system with less cable clutter.
SATA is clearly here to stay. In fact, Intel has now abandoned PATA ports on its ICH8 Southbridge, rather foolish considering 99% of optical drives (CD and DVD that is) are all Parallel ATA ATAPI devices - only a few companies have gone SATA on ATAPI, and none of them are DVD recorders, just CD-RW combo drives.
With SATA 2.5 specs now approved, we are now seeing speeds hitting 3Gbps from the controller chip to the cache of the drives, making RAID setups faster than Parallel RAID arrays with independent channel communication rather than two drives on each channel that Parallel ATA had. Another feature of the SATA 2.5 spec is e.SATA or external Serial ATA. This new specification allows for connecting to Serial ATA protocol outside the case, allowing for 3Gbps external HDD enclosures.
Today we are taking a look at Highpoint's first controller card that is devoted entirely to e.SATA. Introducing the Highpoint RocketRAID 2322, Mini SAS to e.SATA controller - If you're on the market for a high performance e.SATA solution, make time to read on over the next several pages.
Packaging and Contents
Package and Contents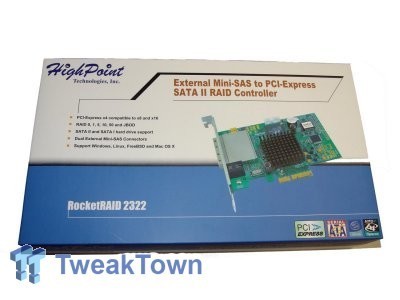 With all our reviews we like to start off with the box and what you get. It's always nice to know what you get along with the product - after all, if you don't get what you need from the start, it's hard to setup a good system. The box that Highpoint slaps the RocketRAID 2322 in is the white, blue and red box that denotes its server/workstation products, as this is aimed more at the workstation user, but desktop users can benefit from this product, too. The front has a picture of the card as well as the model number.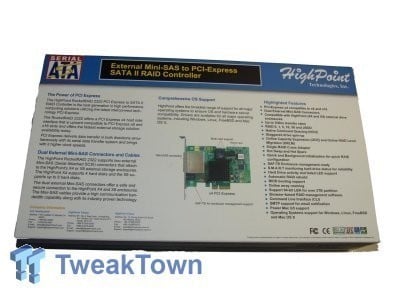 The back of the box contains a lot of information on the card, a detailed layout drawing with labelling of the features and circuits as well as a full spec list. Highpoint always go the extra mile so you know what you get before you buy it and we like that.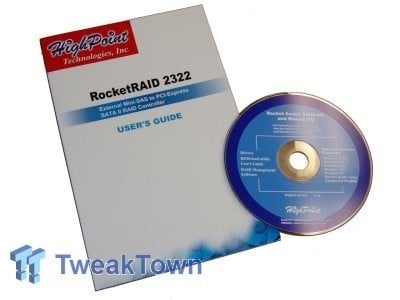 The documentation and software are pretty simple. There is a single user manual with all the features, BIOS settings and specifications of the card to get you up and running. The CD contains drivers for Windows 2000, 2003, XP, XP64 and Linux distributions to get you fully set, so there are no downloads from their website required.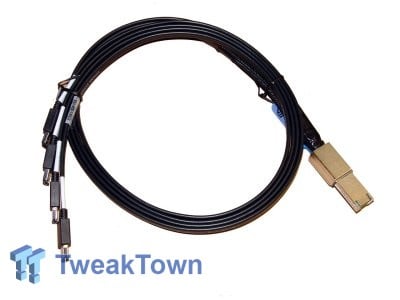 Highpoint have included some nifty cables. At one end is a large Min SAS connector that routes four SATA channels through it. At the other end of the cables there are four e.SATA plugs. The RocketRAID 2322 supports up to 8 e.SATA devices, so there are two sets of cables included. If you are going to use one of the Highpoint X4 or X8 external enclosures, you can also get a Mini SAS to SATA cable pair with SATA ports at the end rather than e.SATA connectors. The e.SATA variant cables we were supplied with measured one metre in length.
The Card
Highpoint RocketRAID 2322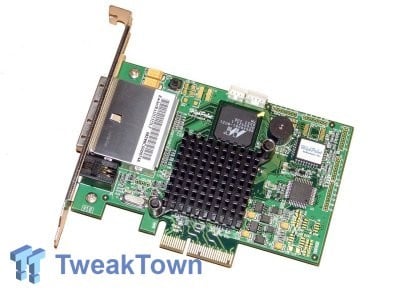 Measuring just over 12cm in length and 8.5cm in height, the card is short but high, in fact it's larger than the half height form factor that Highpoint normally use, making it a definite no-no for servers that only support half height expansion cards. With these measurements, it's clear this card is more the workstation or desktop user's best friend.
The front of the card houses the Mini SAS external connectors, the Marvell controller chip, an Intel System Management and hardware RAID controller chip as well as the Single RAID links and the Highpoint 601 hot swap chip.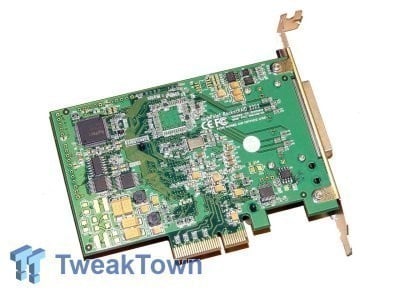 The back of the card is surprisingly bare with just the voltage regulators on the real estate, normally Highpoint is packing a lot on the back - we guess the full height PCI setup affords them more room.
The interface to the board is a PCI Express x4 connector. This card will fit into universal PCI Express slots as well as x8 and x16 slots. We used our Gigabyte P965-DQ6 motherboard and placed the controller in the second PCI Express x16 slot, which is normally reserved for VGA cards.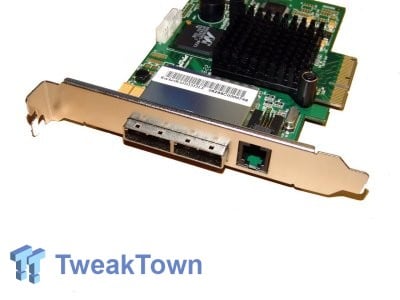 On the PCI expansion bracket we see the Mini SAS connectors which the card uses. These ports support four drives each. Thanks to the Marvell chipset, you can RAID the external enclosures all together, that's 8 drives in RAID mode - outside of your case! If you use a second 2322 card with the single RAID link mode, you can have a 16 drive RAID array and some seriously kick ass performance or redundancy or both.
Benchmarks - Test System Setup and PCMark
Test System SetupProcessor
: Intel Core 2 Extreme X6800 (Supplied by
Intel
)
Motherboard
: Gigabyte P965-DQ6 (Supplied by
Gigabyte
)
Memory
: 2x 1GB DDR2-1066 Corsair (Supplied by
Corsair
)
Hard Disk
: 2 x 200GB Seagate 7200.9 in RAID 0
Graphics Card
: MSI Radeon X1950 Pro (Supplied by
MSI Australia
)
Cooling
: Gigabyte 3D Galaxy 2 (Supplied by
Gigabyte
)
Operating System
: Microsoft Windows XP SP2
Drivers
: Intel INF 8.1.1.1002
In our tests today, we are comparing the RocketRAID 2322 against the ICH8R Southbridge chipset on the Gigabyte P965-DQ6 motherboard as well as the JMicron 2 port SATA RAID controller that is built onto the board.
Both the Highpoint and JMicron use the PCI Express interface to connect to the system. The Southbridge does have advantages with its direct access to the DMI link reducing overall latency.
How will the Highpoint solution compare against its competitors? Let's take a look and investigate the performance numbers.
PCMarkVersion and / or Patch Used:
1.1.0
Developer Homepage:
http://www.futuremark.com
Product Homepage:
http://www.futuremark.com/products/pcmark04/
Buy It Here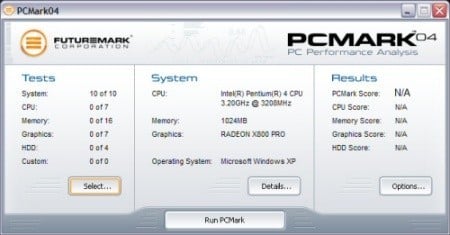 PCMark is a multipurpose benchmark, suited for benchmarking all kinds of PCs, from laptops to workstations, as well as across multiple Windows operating systems. This easy-to-use benchmark makes professional strength benchmarking software available even to novice users. PCMark consists of a series of tests that represent common tasks in home and office programs. PCMark also covers many additional areas outside the scope of other MadOnion.com benchmarks.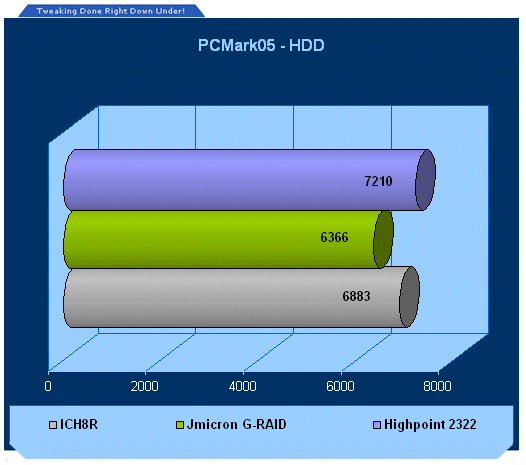 Thanks to its hardware-based RAID engine, the Highpoint controller manages to outscore the Intel ICH8R controller which uses software to control its RAID setup, requiring more CPU time which results in added latency (slower performance).
Benchmarks - HD Tach
HD TachVersion and / or Patch Used:
3.0
Developer Homepage:
http://www.simplisoftware.com
Product Homepage:
http://www.simplisoftware.com/Public/index.php?request=HdTach
Buy It Here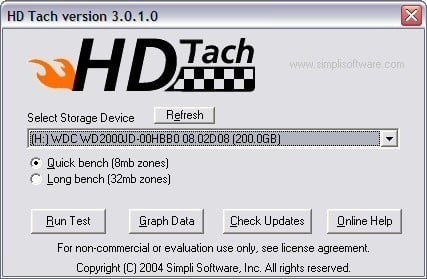 HD Tach has been around for a long time and is excellent when it comes to testing hard drive performance. It is also a very handy program when it comes to testing the controller used on particular motherboards. Tests such as Read, CPU Utilization and Burst are available at a click of the button and give you a good idea of how the hard drive can perform from system to system.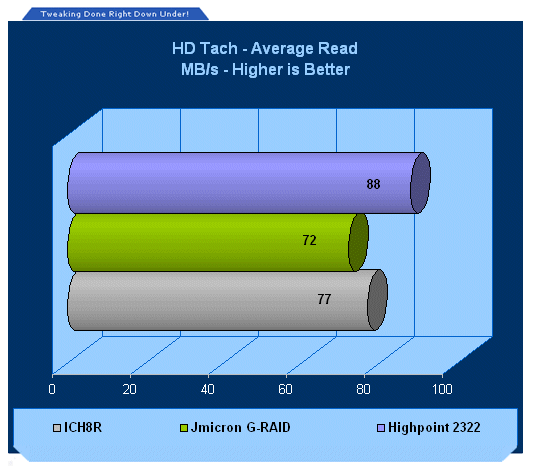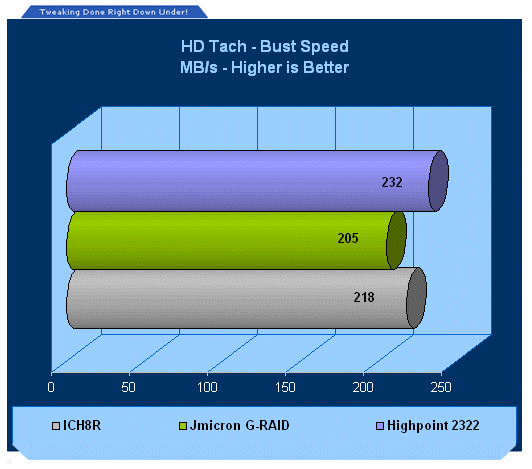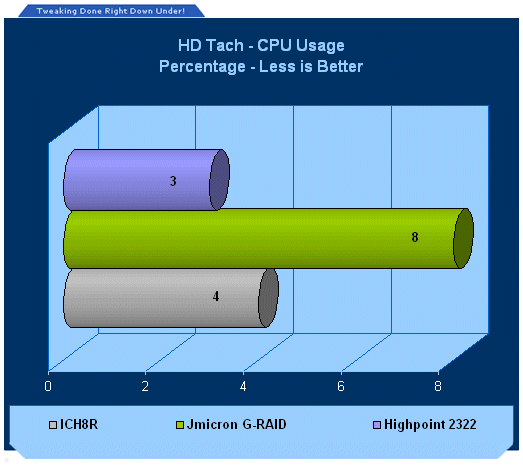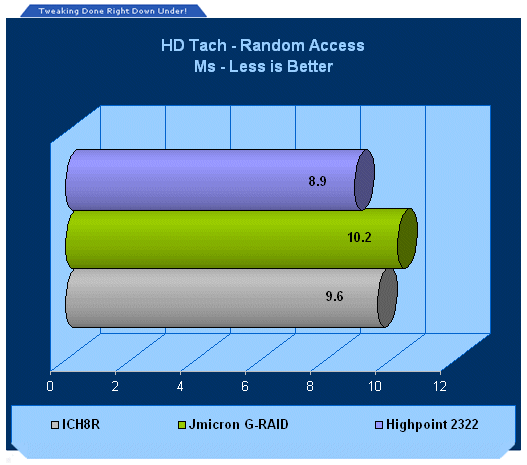 Again with a hardware engine, we see the Highpoint manage a lower CPU usage result and a slightly higher burst rate than the Intel ICH8R or the JMicron chip.
Benchmarks - File Copy Test
X-Bit Labs File Copy TestVersion and / or Patch Used:
0.5.3
Developer Homepage:
http://www.xbitlabs.com
Product Homepage:
http://www.xbitlabs.com/articles/storage/display/fc-test.html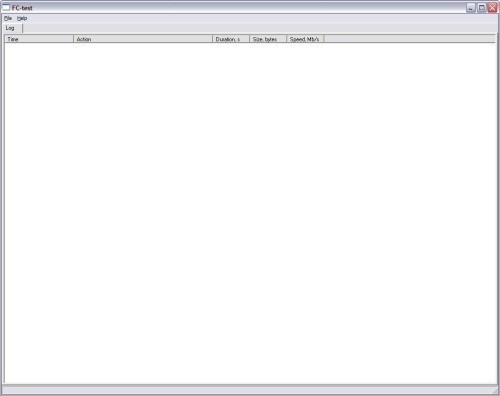 X-Bit Labs File Copy Test is a real world benchmark used to measure the performance of IDE subsystems. In this test, we time how long it takes to copy 2.3GB worth of data (four x 590MB files) onto the same hard disk drive with File Copy Test program optimizations disabled to help provide the most accurate time possible.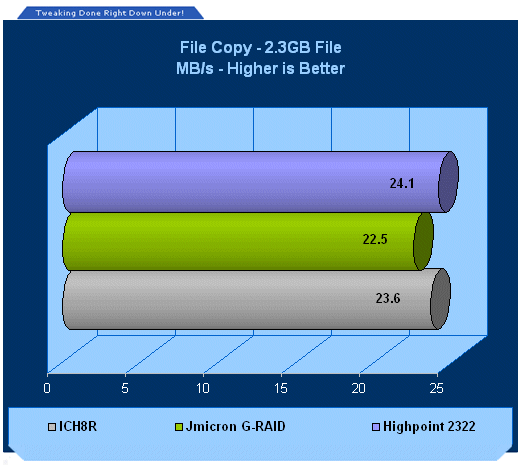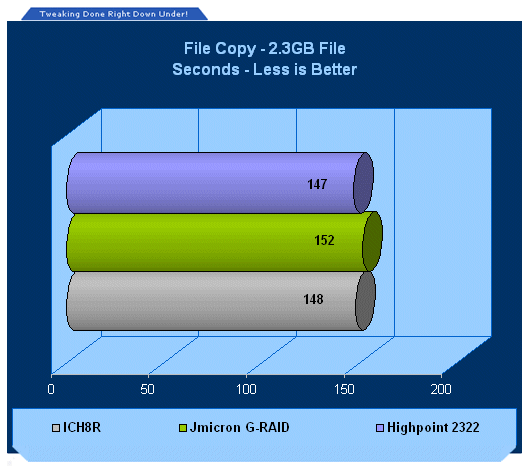 Here in the real world we see that the RocketRAID and the ICH8R are pretty well evenly matched.
Benchmarks - HD Speed
HD SpeedVersion and / or Patch Used:
1.5.22.5
Developer Homepage:
http://www.steelbytes.com
Product Homepage:
http://www.steelbytes.com/?mid=20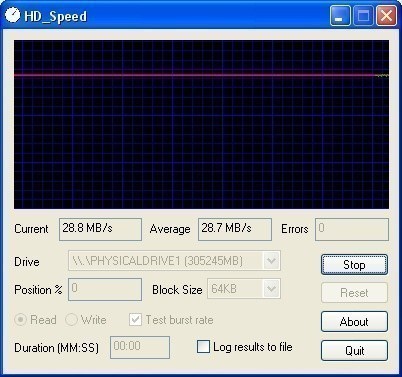 Measures both sustained and burst data transfer rates of your hard disks, cd/dvd-roms and floppy.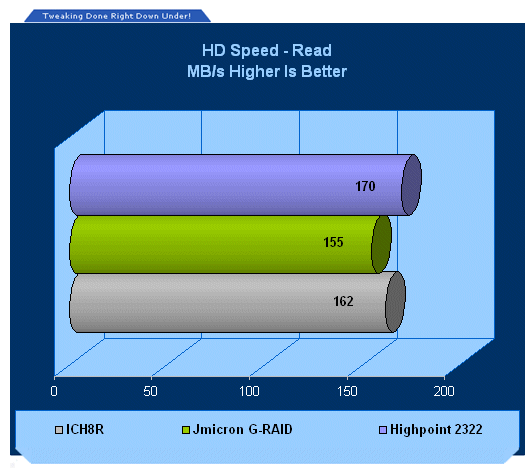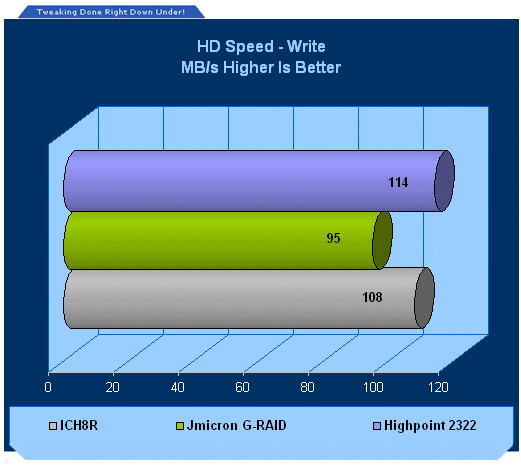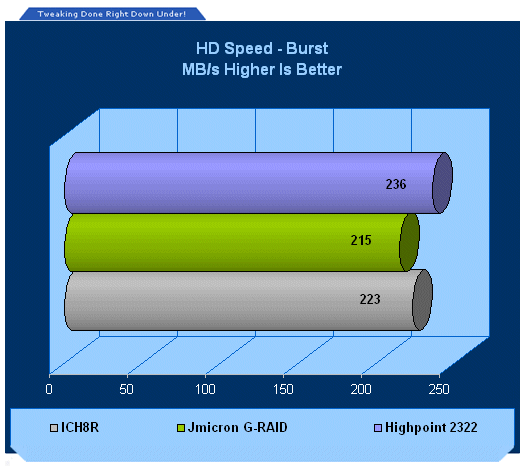 HD Speed also shows the RocketRAID just out in front of the ICH8R.
Benchmarks - Game Loading Times
Game Level Load Times
Here we manually time (with a stop watch) game level loading times.
We loaded our test maps in Doom 3 and Quake 4. We did the tests over three attempts on each and used the average time to give a fair example. Due to the human factor, there is a slight reaction time delay because nobody is able to hit the button on the exact millisecond, however, all were right on the point of full load in each map.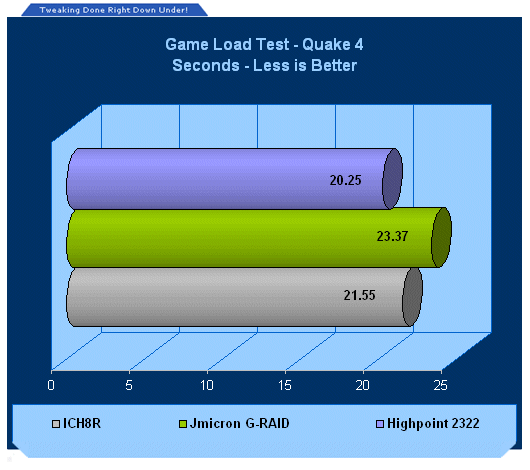 Here is there is very little difference between the Highpoint and Intel ICH8R controllers.
Final Thoughts
Highpoint just keeps on coming these days with new products and new innovations - SATA has opened the door for expanding the way we store data on HDD's as well as the ways we can access it.
For nearly two years now, external storage has meant we had to go USB 2.0 or Firewire. While both these do offer reasonable speeds, they can in no way match the speed at which the HDD can produce the data. Now we have something which can actually take advantage of the fast speeds which all the latest SATA drives are able to offer.
e.SATA has allowed companies like Highpoint to now give us high speed external storage and at a fairly reasonable price. e.SATA does carry a higher price premium to USB or Firewire external storage, but if you want the speed on offer, you can easily justify the extra few dollars for the e.SATA controller and enclosures. It is going to cost you around $250 USD for one of these controllers, but for some, that money spent will be easy to justify.
Highpoint's first e.SATA offering matches its speed to internal controllers and even passes the speed that the ICH8R can offer thanks to its hardware management and RAID engine.
- Pros
Impressive speed
Hardware RAID setup
Management Software keeps our RAID arrays secure
8 e.SATA ports
Fast PCI Express connection
Spanning across two identical cards for huge RAID arrays
Faster than USB or Firewire External Enclosures
- Cons
Carries a higher price than USB or Firewire External solutions
- Latest Pricing
Rating - 8.5 out of 10 and TweakTown's "MUST HAVE Best Performance Award