TweakTown's Rating: 95%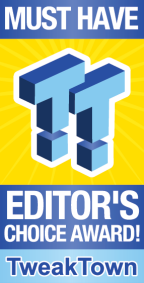 The Bottom Line
Intel delivers the 11900K processor as a premium Rocket Lake SKU, binned from the cleanest silicon to offer top clock speeds and advanced boost technologies.
Introduction and Pricing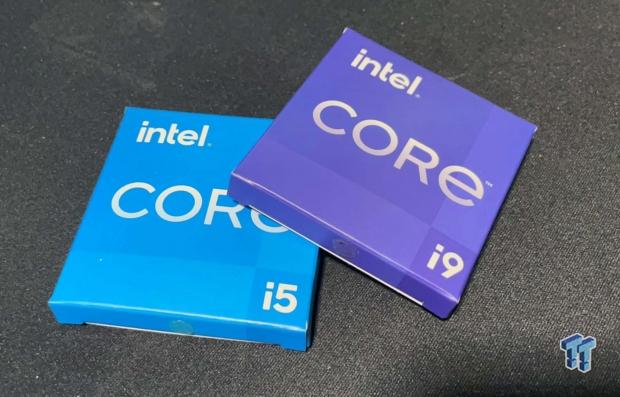 It's only been ten months since the 10th Generation Intel Core was released to the masses, but this is how fast technology changes. AMD upped the ante in November, but Intel stayed within reach, and the pandemic in itself has stifled production of everything from AMD's CPU and GPU launches to NVIDIA's entire RTX platform. Things seem to be coming back slowly. It is now March, and AMD CPUs are popping back in at retail prices and just in time for today's launch of the 11th Generation Core platform from Intel.
Intel has their work cut out for them, and even if Rocket Lake is a stop-gap platform on our way to Alder Lake late this year or early next year, this platform almost saves itself because it is an in socket upgrade for many consumers that want the increase in IPC.
That said, Z590 brings with it a lot of connectivity; technologies like USB 3.2 Gen2x2, Thunderbolt 4, and WiFi6e were only found on premium motherboards in the past and will now be found on nearly every Z590 board that comes to market, but let's not ramble on here too long, let us get into the tech behind Rocket Lake S and the Core i9 11900K!
Z590 Chipset and Rocket Lake S Architecture
Z590 Chipset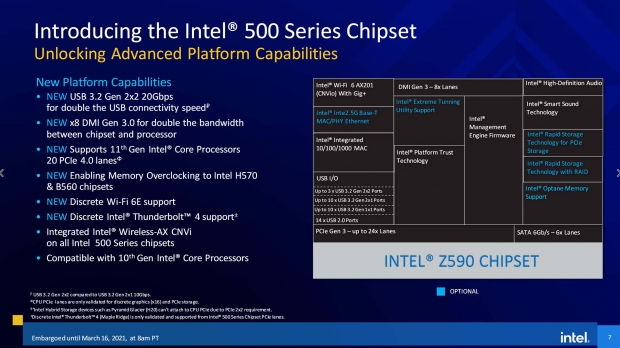 Z590 is probably the most significant platform upgrade I can remember having been around the DIY PCs community for over a decade. With Z590, motherboard vendors have the flexibility to deploy up to 3x 20Gbps USB 3.2 Gen2x2 ports alongside ten Gen 2 ports at 10Gbps and ten more Gen 1 ports at 5Gbps. Outside of that, the chipset supports fourteen USB 2.0 ports, Integrated Gigabit Ethernet, and support for 2.5Gbe. DMI has been widened, doubling the link between the CPU and chipset, and Thunderbolt 4 is something nearly all boards will support.
Rocket Lake S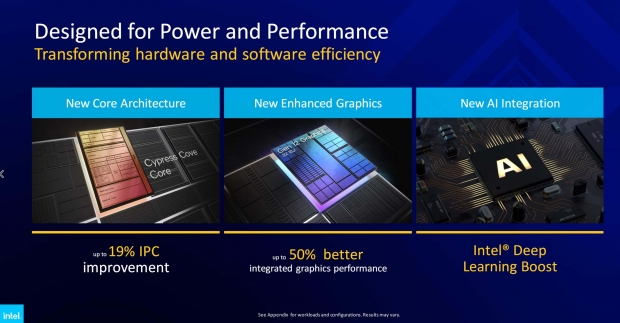 Rocket Lake S offers a substantial increase in IPC gen over Gen with a 19% increase. This is due to a new core architecture, "Cypress Cove," that was initially designed for 10nm. In addition, Rocket Lake S adds Intel UHD 750 as its integrated graphics solution, powered by Xe, allowing a 50% performance boost.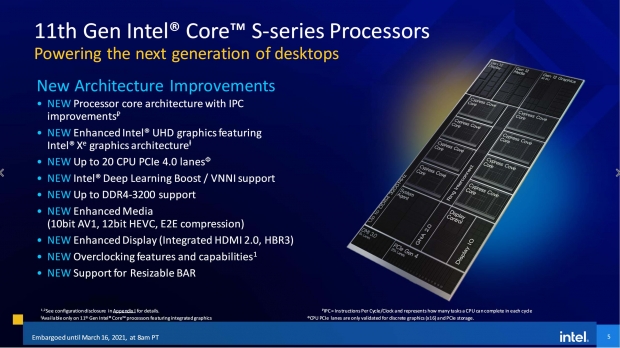 New architecture improvements power Rocket Lake S with increased IPC alongside the upgrade to PCIe 4.0 with 20 CPU lanes available to motherboard vendors. An entirely new memory controller design leads us to JEDEC standard DDR4 3200 with enhanced overclocking features and on-the-fly control with Intel XTU.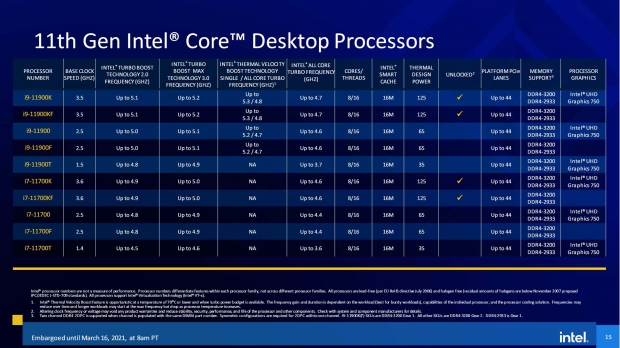 The initial product stack for Rocket Lake S includes several 11900 SKUs with the "K" model binned as the highest. It's important to note only 11900 supports Intel TVB technology, and only K and KF are unlocked. TDP is 125W for the 11900K; we have a base clock at 3.5GHz and a boost of 5.1GHz; an additional "boost" is given under certain circumstances with TVB reaching 5.2GHz and ABT at 5.3GHz. 11900K is an 8C16T part with 16M of smart cache supporting DDR4-3200 Gear 1.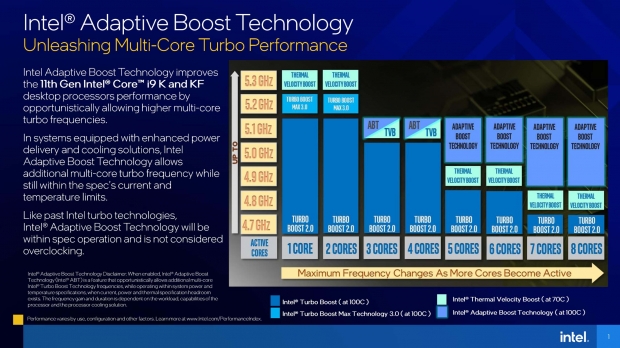 The new Intel Core i9 deploys several "boost" algorithms to maximize performance potential. Only available on Core i9 K and KF SKUs, ABT allows systems equipped with enhanced power and cooling systems additional multi-core turbo frequencies. For example, the 11900K has a 3.5GHz base clock and Turbo boost of 4.7GHz across all cores; Thermal Velocity Boost will push that to 4.8GHz at 70c, and after Adaptive Boost Technology will accept the hand-off allowing for a 5.1GHz all-core clock speed up to 100c.
Packaging and Test System
Intel Core i9-11900K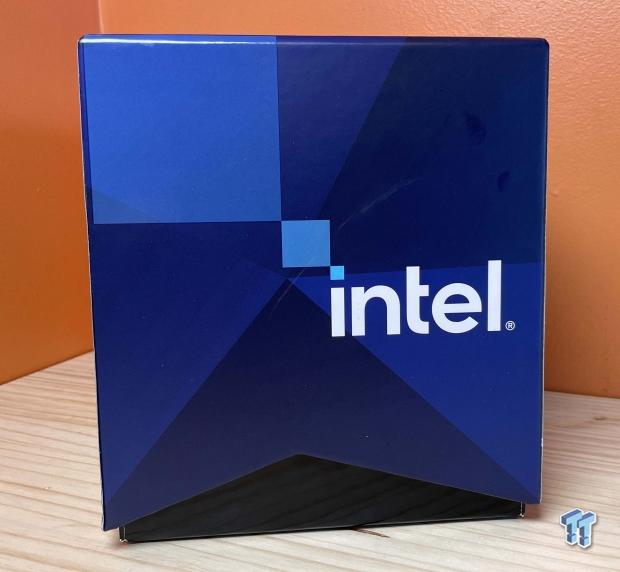 Special packaging delivered the 11900K and 11600K to our door.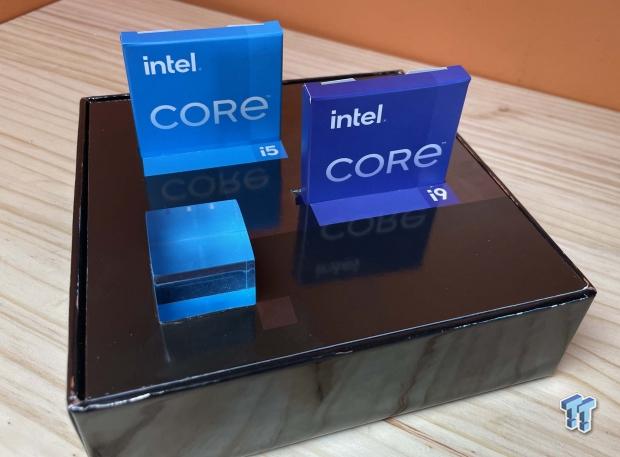 Unboxing, we have both CPUs packaged separately.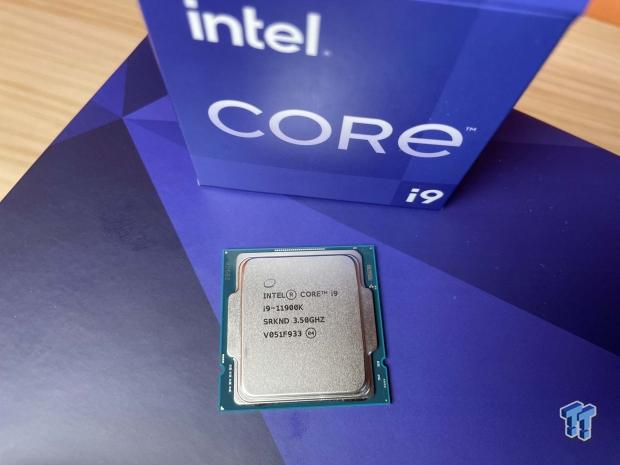 11900K is an LGA1200 platform CPU sharing the same footprint as the 10th Gen series. The IHS is printed with processor information and model number.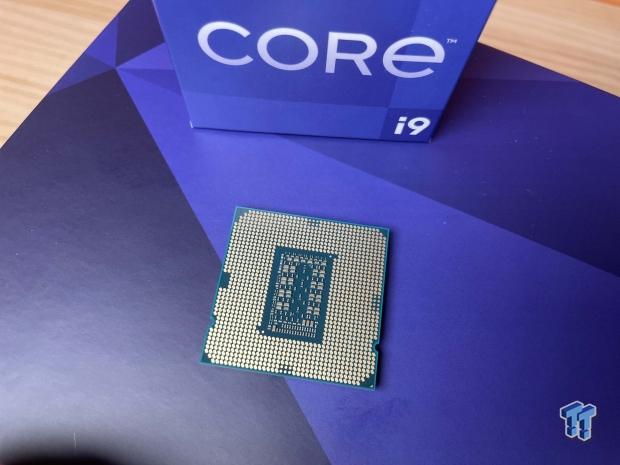 1200 gold pads link the CPU to the motherboard.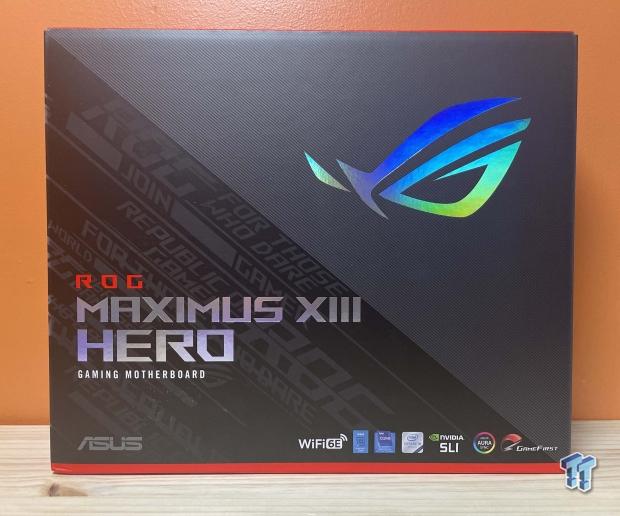 To test the Core i9-11900K, Intel sent over the Maximus XIII Hero from ROG.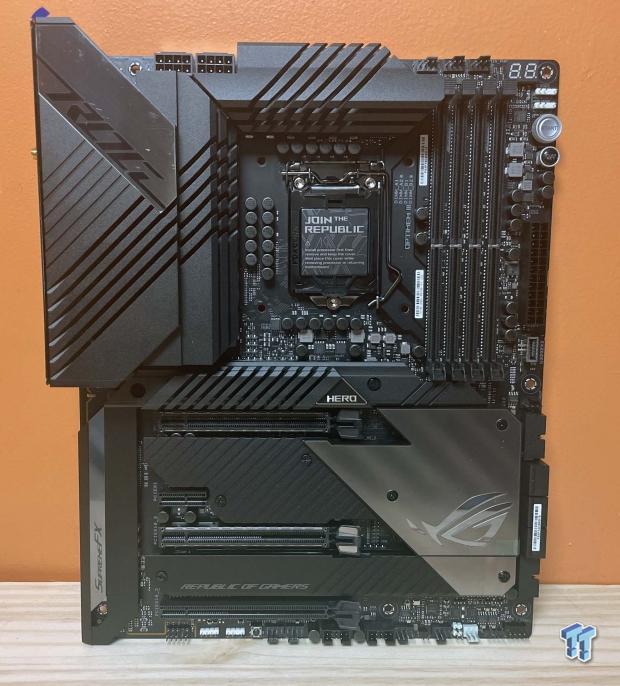 The Hero is a premium motherboard full of connectivity and features, a widespread platform for gamers.
Test System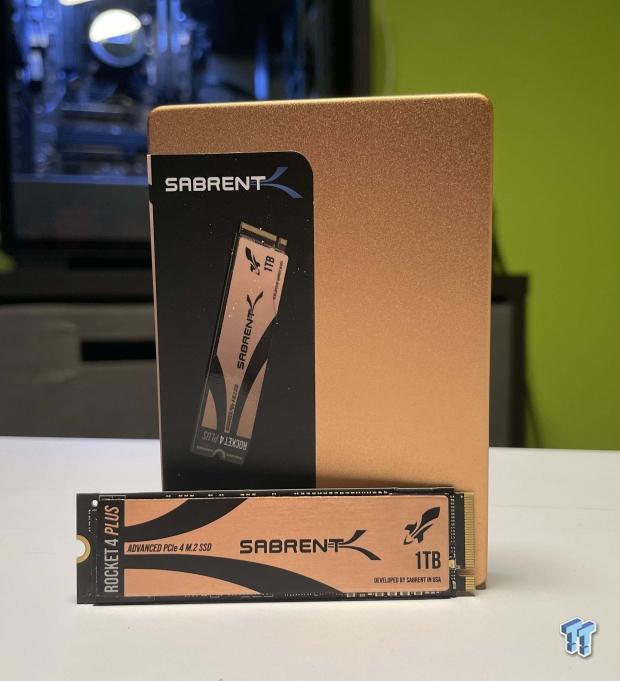 Sabrent was kind enough to continue supporting us with storage for testing 11th Gen and Z590 motherboards with their Rocket 4 Plus.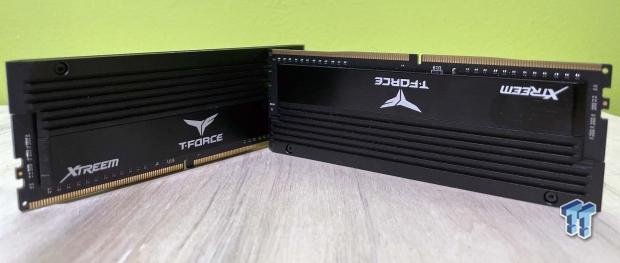 TeamGroup supports us with a fantastic kit of DDR4 4000 from their Xtreem lineup. This is a 2x8GB kit at CL18.
I ran all benchmarks stock and overclocked. Memory was set at XMP DDR4-4000 CL18 for both the AMD and Intel systems; AMD was overclocked with PBO2 while Intel was all core 5.2GHz, as seen below. 10700K was tested on the same Z590 motherboard with the same memory settings.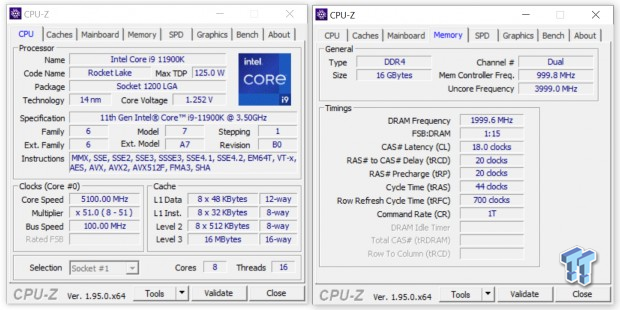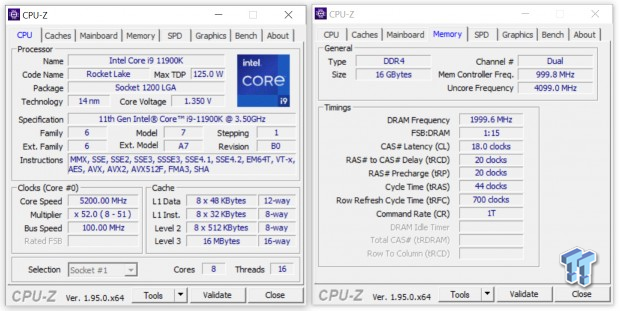 WPrime, Cinebench, RealBench and AIDA64
Cinebench
Cinebench is a long-standing render benchmark that has been heavily relied upon by both Intel and AMD to showcase their newest platforms during unveils. The benchmark has two tests, a single-core workload that will utilize one thread or 1T. There is also a multi-threaded test that uses all threads or nT of a tested CPU.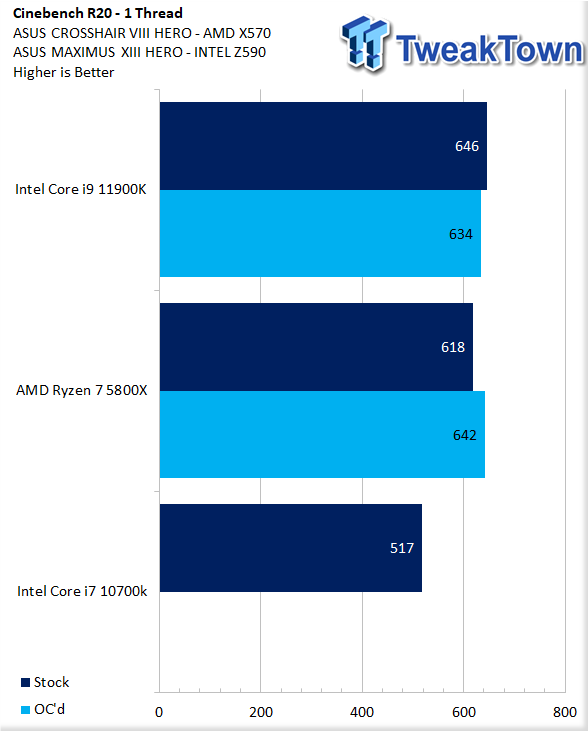 Firing up our testing, the 11900K did quite well in 1T scoring 646 points over the 5800X at 642 with PBO. 10700K trails behind with 517 points.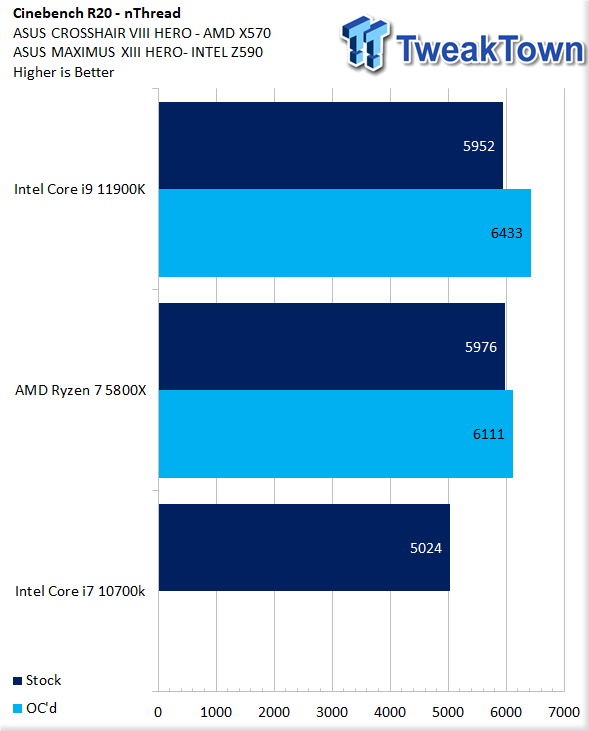 nThread R20 shows a stock score of 5952 for the 11900K and overclocked score of 6433. 5800X scores 5976 stock and 6111 with PBO.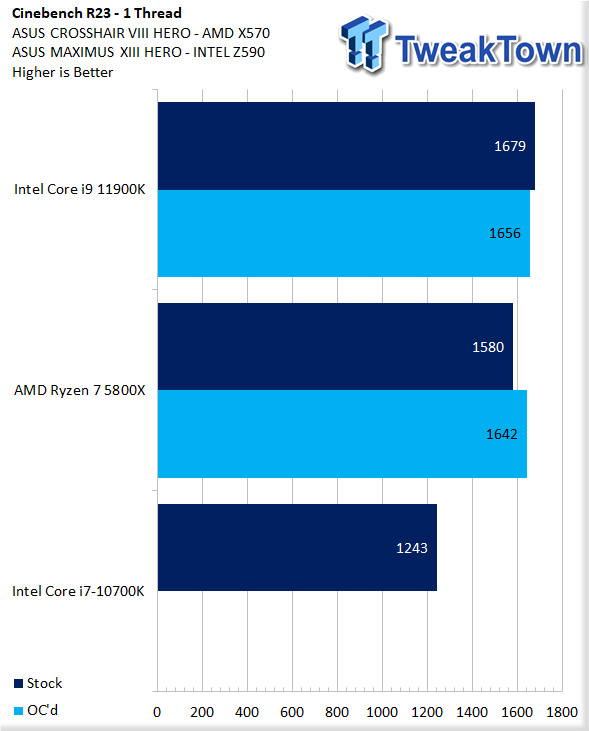 Moving to R23, 11900K peaks at 1679 1T with 5800X needing PBO to grab 1642. 10700K dials in 1273.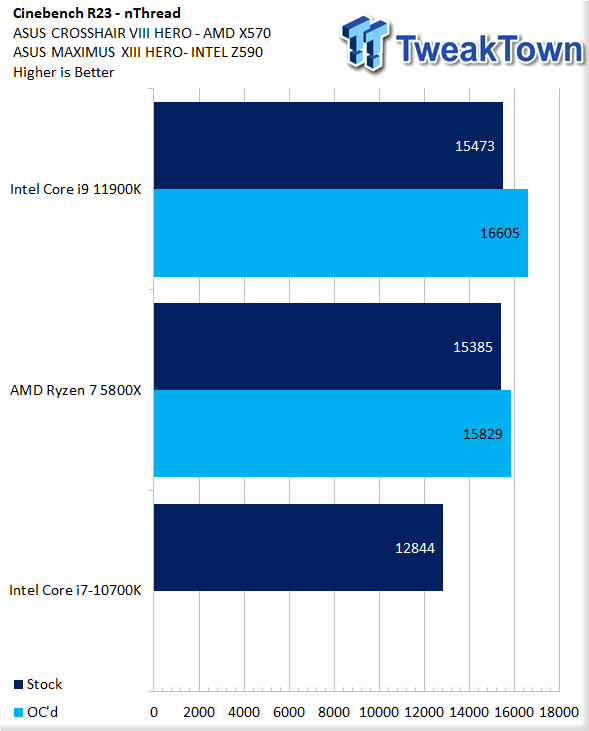 nThread R23 shows 16605 for the 11900K with an OC and 15473 stock. 5800X peaks at 15829 with PBO.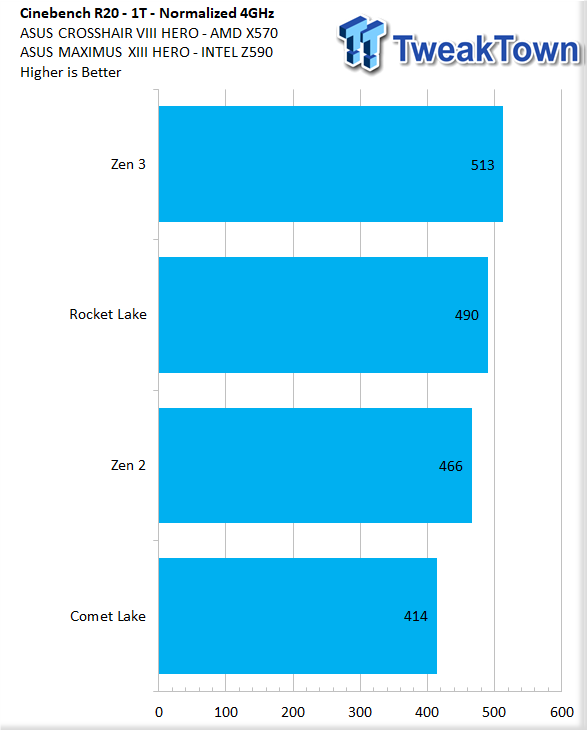 With both CPUs normalized to 4GHz, the memory still at 4000MHz, we see a score of 513 for the 5800X and 490 for the 11900K.
RealBench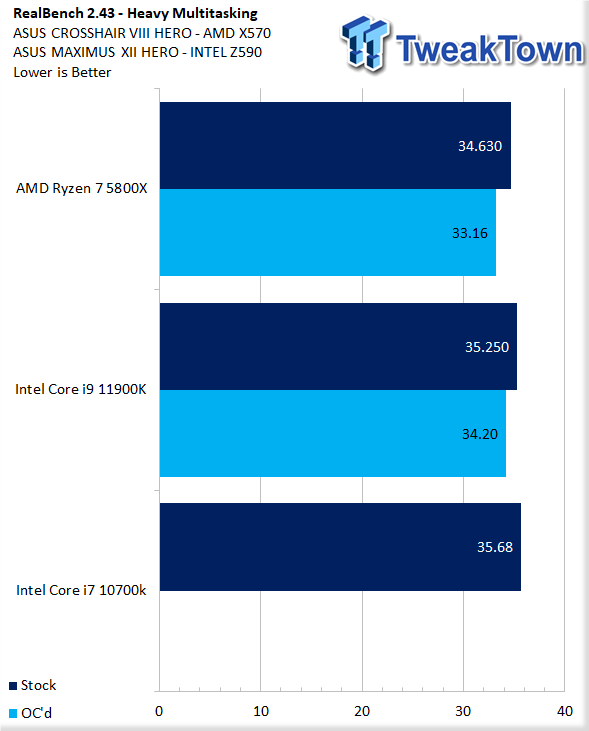 With RealBench, 5800X and 11900K are within a second of each other, while 10700K is on their heels.
AIDA64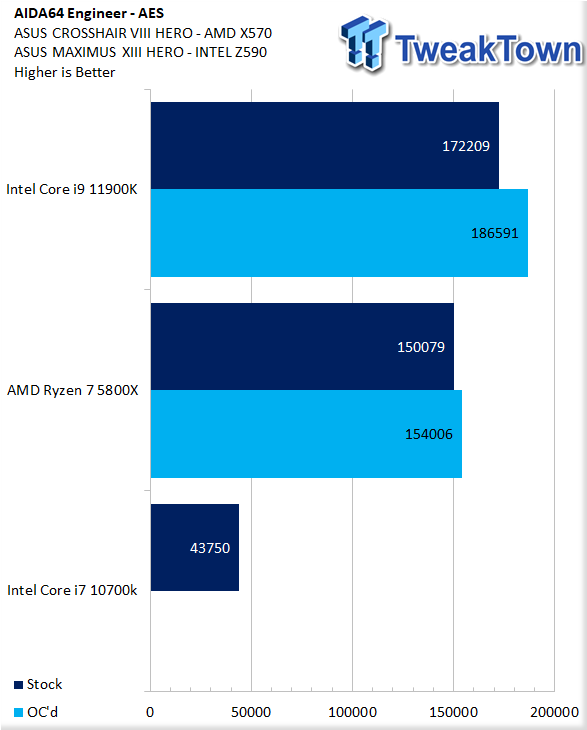 Tasks using AES are significantly quicker on 11900K, a peak score of 186591 from the OC. 5800X is over 30K points behind in this test.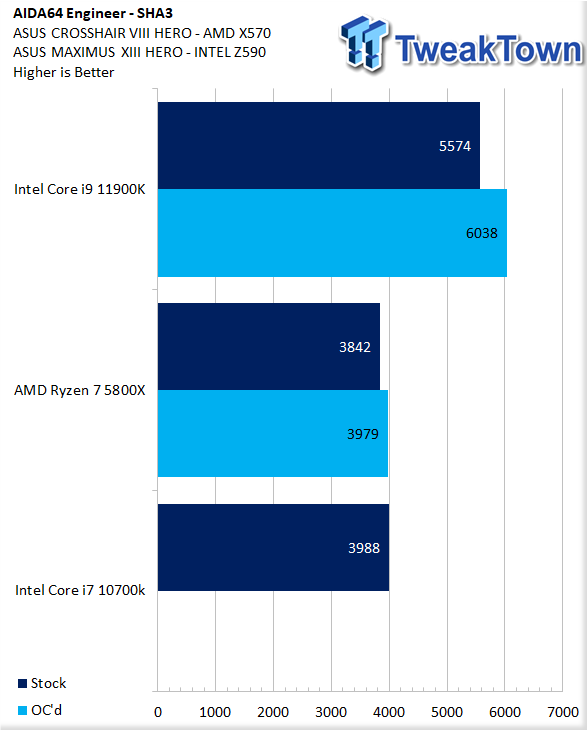 SHA3 shows 11900K double the performance of 5800X in this scenario, 6038 to 3979.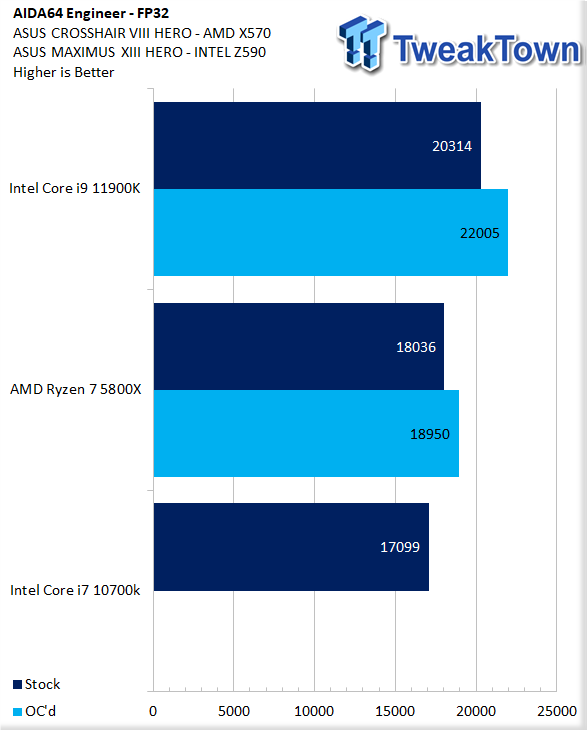 FP32 brings the two CPUs closer together, 11900k scoring 20314 stock and 22005 with an OC. 5800X brings in 18036 stock and 18950 with PBO.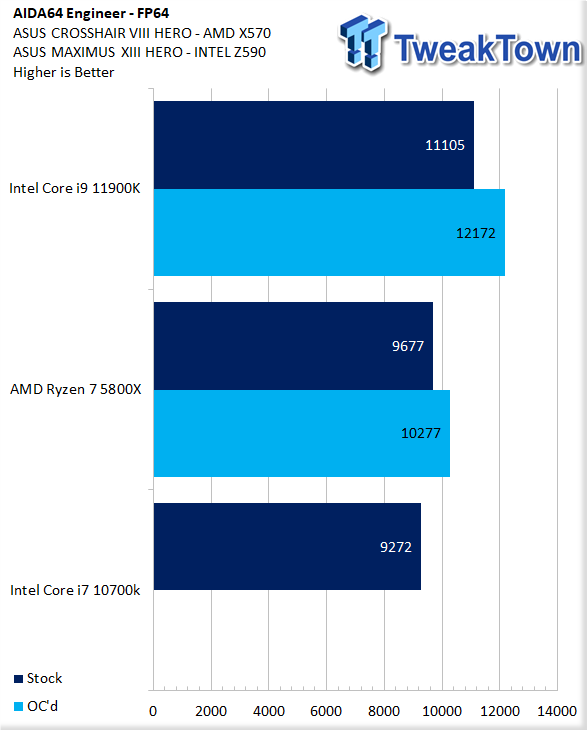 FP64 gives the 11900K a peak of 12172 and the 5800X 10277 with PBO.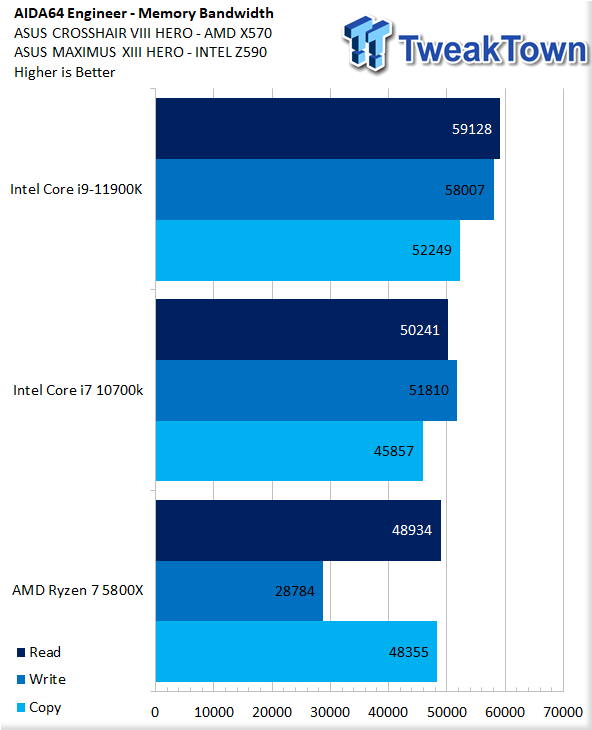 Memory bandwidth is almost 10K MB/s higher on 11900K with the new memory controller.
UL Benchmarks and Puget Systems Benchmarks
PCMark 10 Applications
PCMark 10 Applications
PCMark is a benchmark from UL and tests various workload types within Microsoft Office and Edge.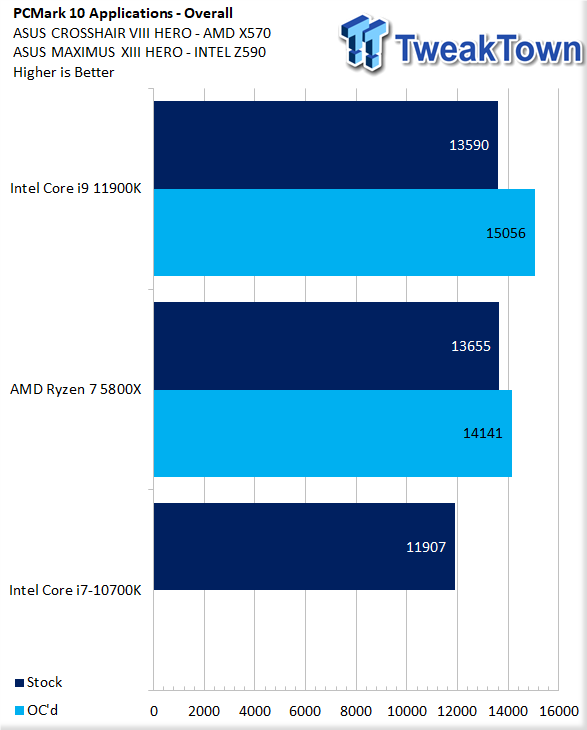 PCMark too nods towards the 11900K, peak at 15056 while the 5800X tops out at 14141.
Puget Systems
PugetBench comes from the fantastic people over at Puget Systems that have done countless hours and years benchmarking hardware. For our testing, we will utilize their Davinci Resolve, Photoshop, and Lightroom benchmarks, you can look into them more here.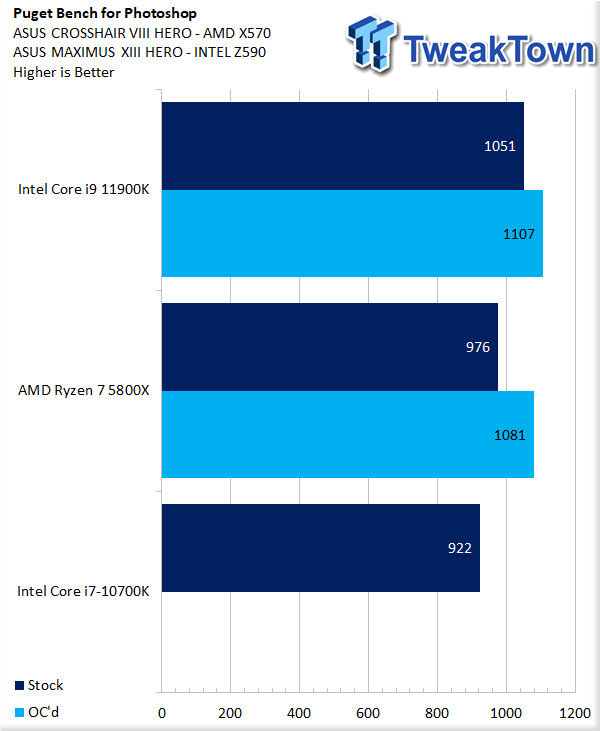 Puget Bench for PS has the 11900K on top by a slim margin, 1051 stock, and 1107 overclocked. 5800X lands at 976 stock and 1081 with PBO.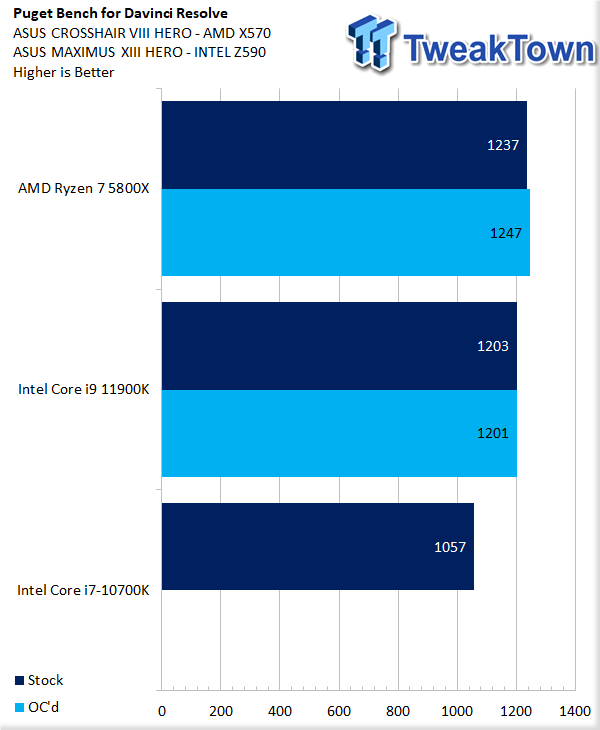 Puget for Davinci gives a 40 point margin between the two CPUs, 1237 stock for the 11900K and 1247 overclocked; 1203 stock for the 5800X and 1201 with PBO.
3DMark, Gaming, and Storage Performance
3DMark
3DMark Night Raid and Timespy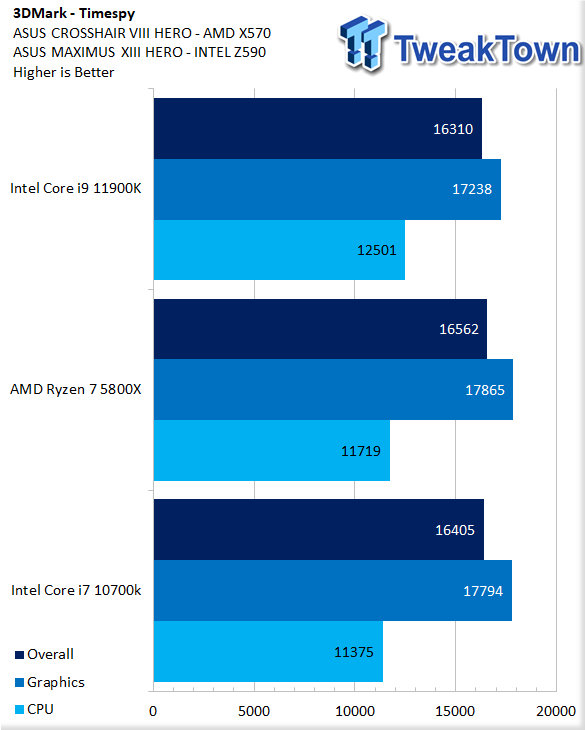 Gaming shows the CPUs closer together. 11900K scoring 12501 CPU score and the 5800X at 11719.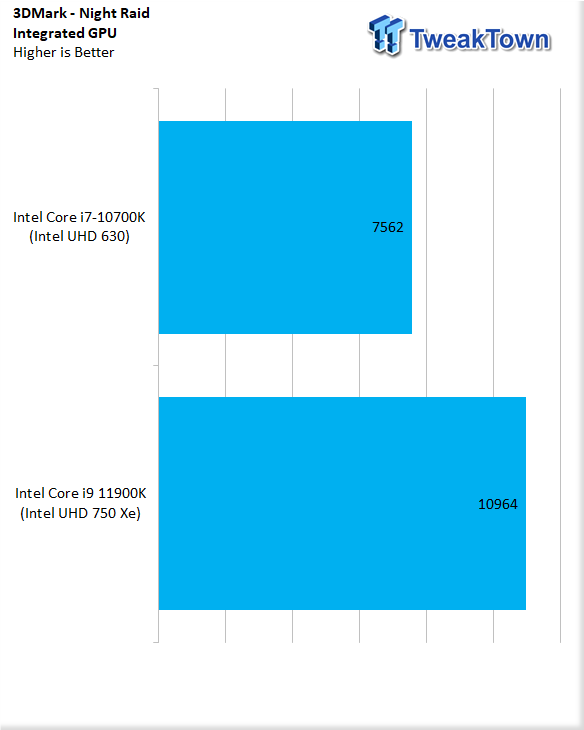 Testing Intel UHD 750 powered by Xe, we see nearly doubled Night Raid performance from UHD 630 in our 10700K.
1080p Gaming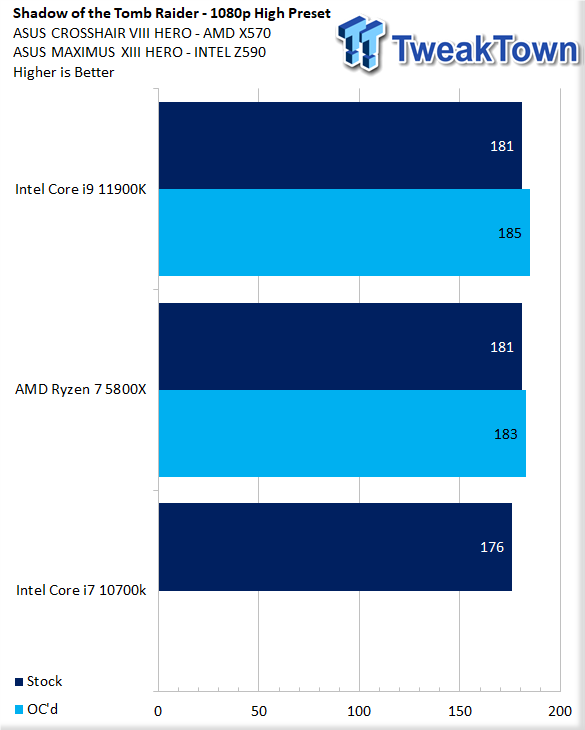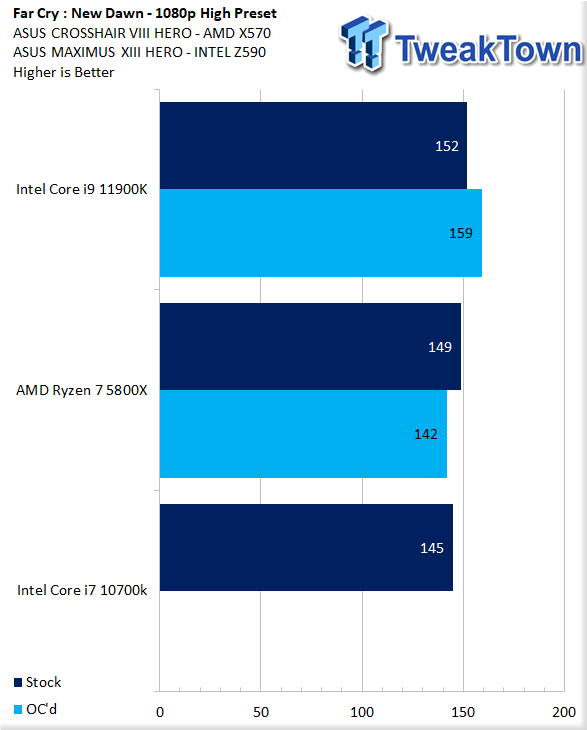 Shadow of the Tomb Raider shows identical 181FPS performance between the 11900K and 5800X in our testing. 1070K was only slightly slower at 176FPS.
Far Cry gives 11900K the edge at 152 FPS stock and 159 FPS overclocked. 5800X grabs 149 stock and 142 with PBO.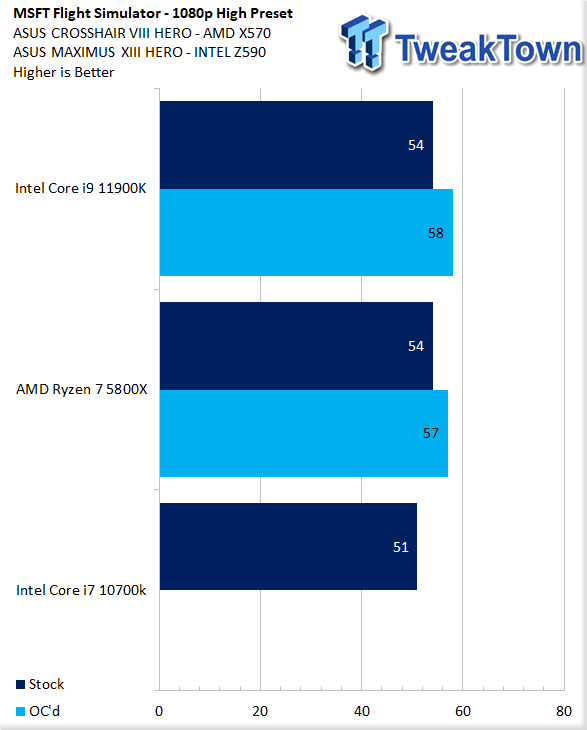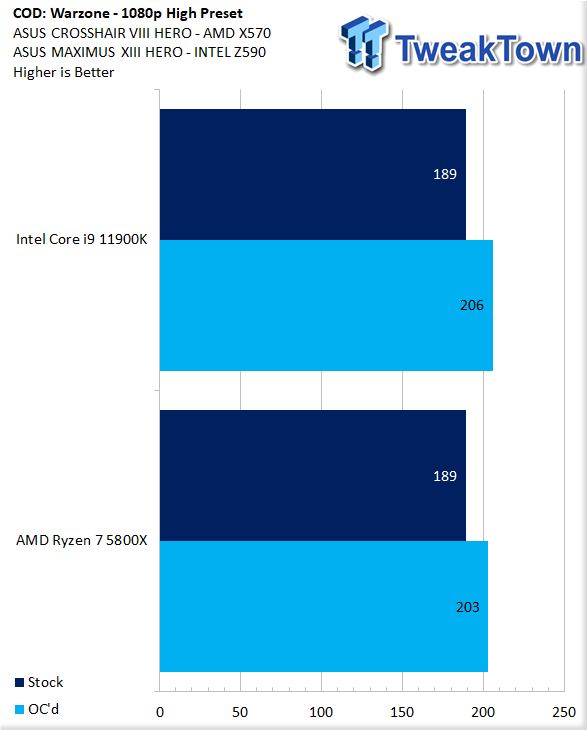 Flight Simulator tames both CPUs even with our RTX 3080. 11900K reaches 54FPS stock and 58 FPS with the overclock. 5800X is 54 FPS stock and 57 FPS with PBO.
COD: Warzone shows 189FPS for the 11900K with a boost up to 206FPS with the overclock. 5800X hands us 189 FPS stock and 203 FPS with PBO.
Storage with PCMark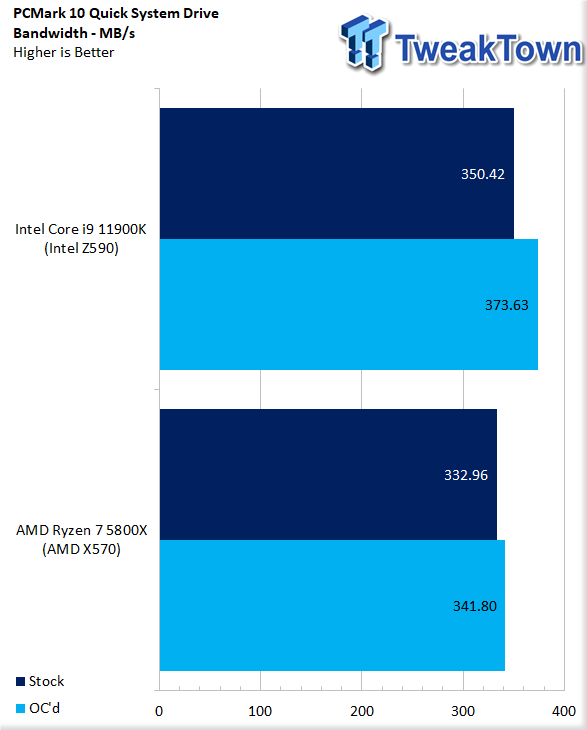 Quick System Drive with the Sabrent Rocket 4 Plus 1TB as the OS drive scores 350 MB/s of bandwidth stock and 373 MB/s overclocked. 5800X hands us 332 MB/s stock and 341 MB/s with PBO.
Power, Thermals and Final Thoughts
Power Consumption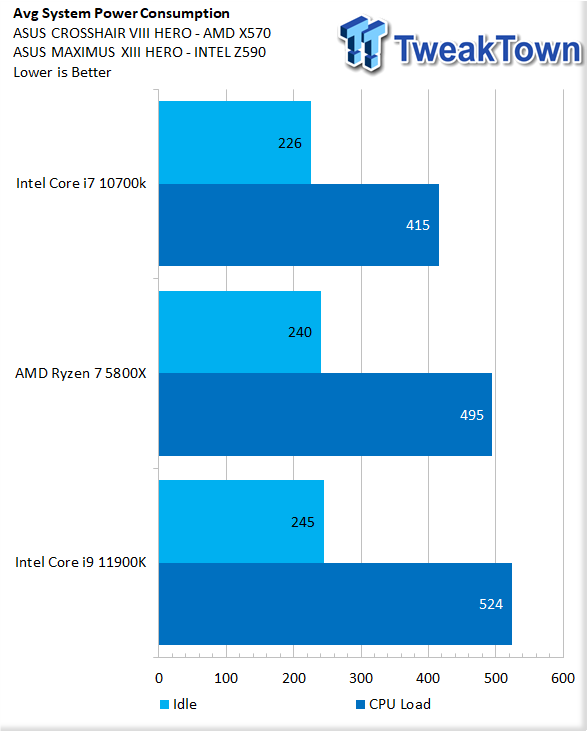 Power consumption for the 11900K is a good amount higher than the 5800X. Idle, we see 245 from our Intel system with 524 under load in Cinebench R23 nT.
Thermals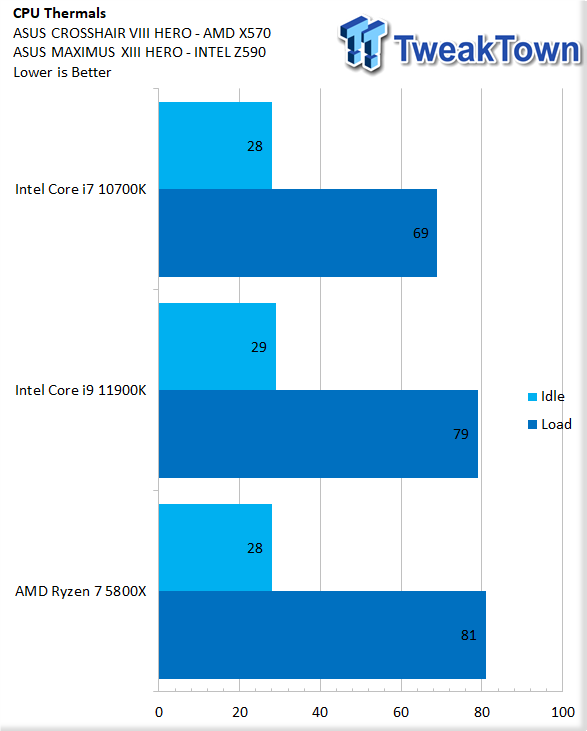 Thermals with our MSI Core Liquid K360 showed 11900K at 29c idle and 79c full load. 5800X was nearly identical with a slightly higher 81C load temperature.
Final Thoughts
I didn't go into this review expecting Rocket Lake to reverse the damage that has been done to Intel's market share all-in-one swoop. For me, Rocket Lake shows progress more than anything, a swan song (hopefully) to 14nm and a push forward to bring their IPC in line with Zen 3. In this case, Rocket Lake is successful; the 19% gain in IPC has the 11900K within 20 points of 5800X in R20 - all clocks normalized to 4GHz.
On the other hand, 11900K is hot, uses a lot of power to get things done, and is expensive compared to 5800X. That said, between IPC and Intel's boost algorithms, we have a CPU that benchmark after benchmark in everything from AES, SHA3, or FP32/64 handily beats the competition. Not to mention the Gen over Gen performance increase that is entirely off the charts and in some cases doubles or triple what we saw with 10700K. Memory bandwidth is greatly improved with a near 10K MB/s boost across the board, read, write and copy.
If there is a great equalizer between AMD and Intel platforms, it has always been gaming. Even when Zen 3 launched back in November, there were many games that 10th Gen excelled at; this is still true with 11th Gen, and as you saw in the charts, 5800X and 11900K trade blows but always within 5FPS of each other, does not matter the title.
What We Like
IPC: 19% IPC Gen over Gen pulls Rocket Lake S up close to Zen 3.
In Socket Upgrade: Sticking with LGA1200 eases the upgrade path for consumers.
Clockspeed: IPC + clockspeed offers big gains in daily tasks.
What Could Be Better
Temperatures: 11900K runs hot, don't skimp on cooling!
Power Usage: 11900K is hungry, budget for a better PSU!
| | |
| --- | --- |
| Performance | 98% |
| Quality | 95% |
| Features | 95% |
| Value | 90% |
| Overall | 95% |
The Bottom Line
Intel delivers the 11900K processor as a premium Rocket Lake SKU, binned from the cleanest silicon to offer top clock speeds and advanced boost technologies.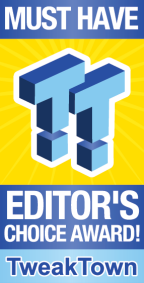 We openly invite the companies who provide us with review samples / who are mentioned or discussed to express their opinion. If any company representative wishes to respond, we will publish the response here. Please contact us if you wish to respond.