Elgato Multi Mount Modular Rigging System Review
The Elgato Multi Mount could be the solution for your streaming setup that you didn't even know you needed.

Published Jun 11, 2020 10:35 AM CDT
|
Updated Tue, Nov 3 2020 6:57 PM CST
Manufacturer: Elgato (10GAK9901)
7 minute read time
TweakTown's Rating: 98%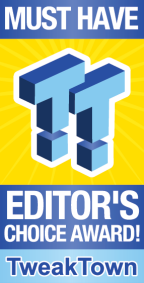 The Bottom Line
Elgato's Multi Mount is one of the best products the company has released. I could even go as far as to say that it's the streaming solution you never knew you needed.
Introduction & Specification Details and Close-up
Elgato wants to be every streamer's best friend, and with their already large selection of streaming solutions, this product may have slipped through the cracks.
That product is, of course, the Elgato Multi Mount, and right off the bat, I want to say this could be one of Elgato's best products yet as it can apply to almost every streamer. So why is the Multi Mount so good? And why would you want to consider adding it to your streaming setup? I can answer that in two simple words - affordable versatility. While it isn't my job to tell you what to buy specifically, it is my job to highlight the positives and negatives of a product, and then lay the decision at your feet.
In the instance of the Multi Mount, most people who are searching for a mount of some kind already know what a mount is, and how it could apply to their setup. But there are always a small few who have never heard of a mount before and aren't quite sure how it could bring value to their setup. So, with that in mind, I will briefly explain the value behind the Multi Mount if you have never heard of one, and then explain its benefits/disadvantages.
If you already know the value behind mounts, feel free to skip to that section of the review. Before doing any of that, let's jump into a close-up of the Multi Mount, and see what features come with it.
Close-up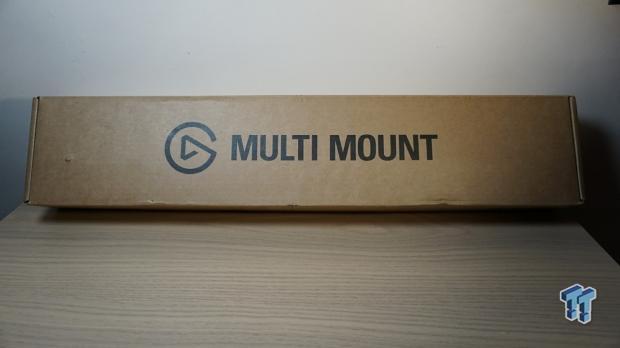 To kick things off, we have an image of the Multi Mount in the box. Elgato has opted for nice simple cardboard packaging. No complaints here, as a mount doesn't need any flashy packaging since it's a production product.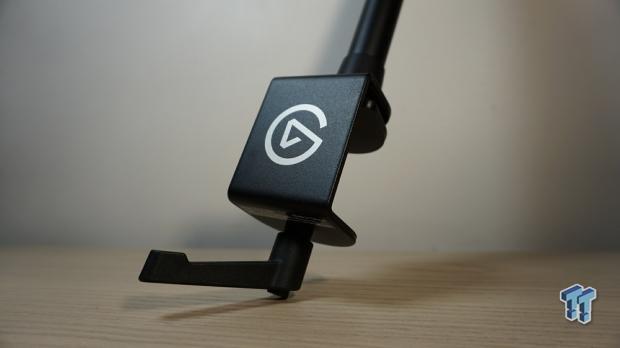 Next, we have an image of the Multi Mount's clamp, and as you can see, Elgato has placed a nice, clean-cut logo right on the front. This image also showcases the lever located beneath the clamp, and this lever rotates clockwise and anticlockwise. As you can probably imagine, this adjusts how tightly the clamp is gripping onto the desk.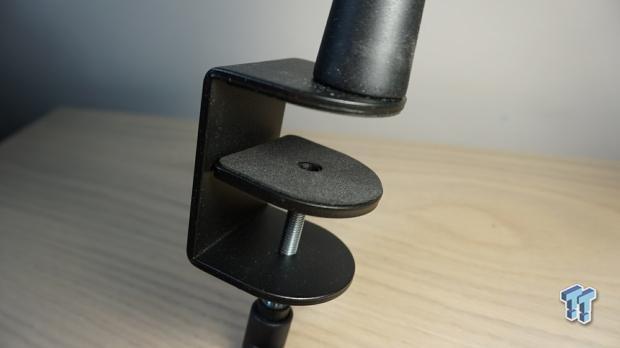 Moving onto the clamp, as seen above, we can see that Elgato has added a nice thick piece of plastic that will protect a user's desk from the metal clamp once it gets tight. I'd imagine this piece of plastic is here, so the clamp doesn't apply any scratches to whatever surface it's clamped onto.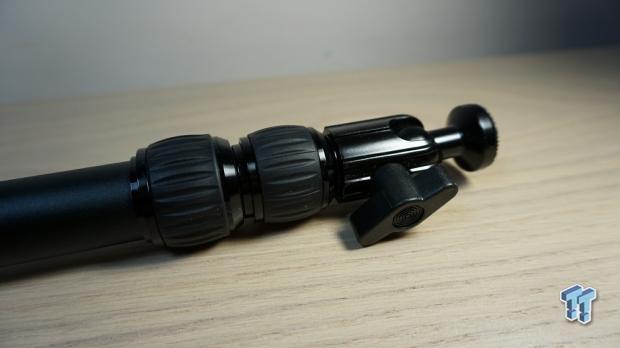 Above is an image of the Multi Mount entirely collapsed and the two adjustable screw bits that can be loosened and tightened, depending on what specific height you want the arm adjusted to.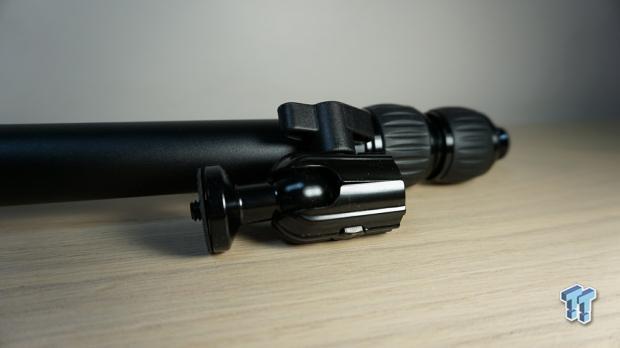 Here we have an image of the ball mount that attaches to last boom arm extension. This is the part of the mount that will screw into any device that has a ¼ screw support. Common devices/products that are used with this Multi Mount are Elgato's Key Light or Key Light Air's, cameras, microphones, mobiles, and more.
Jak's Test System Specifications
Design & Build Quality
Reviewers and consumers love to see innovation, and innovation is the most impressive when it's done well. Before the Multi Mount, there wasn't really any other mounts like it. Other mounts are usually scissor, and most are designed not to hold extreme loads of weight. So, in this sense, Elgato innovated and took a typical light stand (from Elgato Key Light), and added a strong, robust clamp to it, thus creating the Elgato Multi Mount.
What makes the Multi Mount different from other mounts is that it's extremely strong, and can support lights, cameras, microphones, and other devices of weight. This durability and versatility can be attributed to the wide desk clamp that distributes the applied weight over a large surface area. Having a wide desk clamp also reduces wobble or bend when a product is attached to it.
So how long is the Multi Mount? When the Multi Mount is fully extended, it's 125cm or 49 inches high. Its minimum height is 55cm, which I believe could pose as a deal-breaker, as I'd imagine some people would like the mount to be able to shrink down smaller than that. I'm sure there are people in both boats of wanting it smaller, or not caring what its minimum height is, but from the measurements, we can see that the Multi Mount more than doubles its minimum height when it's fully extended. This is fantastic because it gives the user lots of room to make specific adjustments where need be.
The ball mount that is located at the top of the Multi Mount is an extremely simple design, and to complement that simplicity Elgato as chosen to make the ball mount steel. This is great as the user doesn't have to worry about the attachment breaking, and the product attached to it falling to a shattering doom.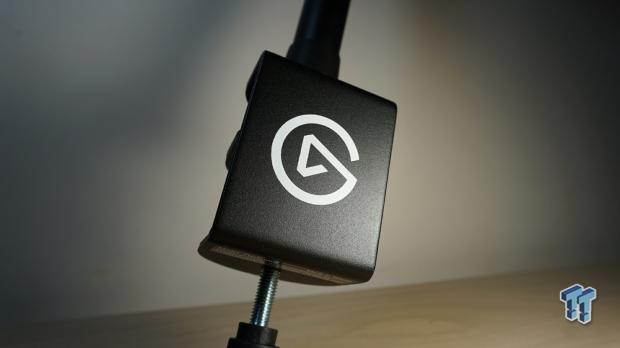 The build quality of the Multi Mount is superb, and I honestly can't critique any part of it besides the minimum height. It feels nice and strong, doesn't bend under any pressure I applied with my hands or arms. It's also nice and weighted, giving it that feeling of a solid product. I would happily place my expensive DSLR camera, lighting source or microphone onto the Multi Mount, and have absolutely no worries of it falling or breaking.
Specifications: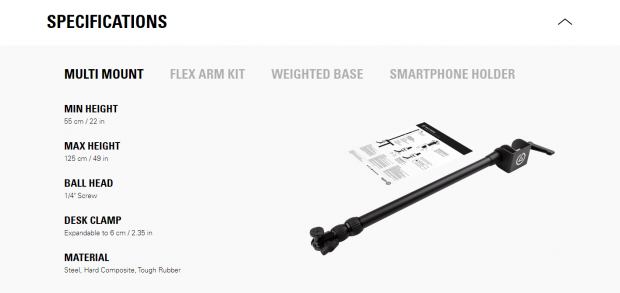 Performance & Microphone
Use Case & Attachments
So, why would you want a mount of any kind? Well, the answer to that can be quite simple. If you already have a lighting setup and are looking to minimalize the amount of space those lights take up, then you may want to consider a desk mount. This same premise goes for any product that is either taking up too much floor or desk space. Products that usually fall into these two categories are lights, cameras, microphones, or even green screens.
Another reason why you might want to consider picking up a desk mount is to get that perfect camera angle you have always been wanting. Since the Multi Mount can be adjusted to any height within its capable range, users can find that perfect height, attach the camera and just leave it there. Having a mount dedicated to just your camera height allows for YouTube videos, or streams to be consistently shot at the same angle (if that's what you are going for it).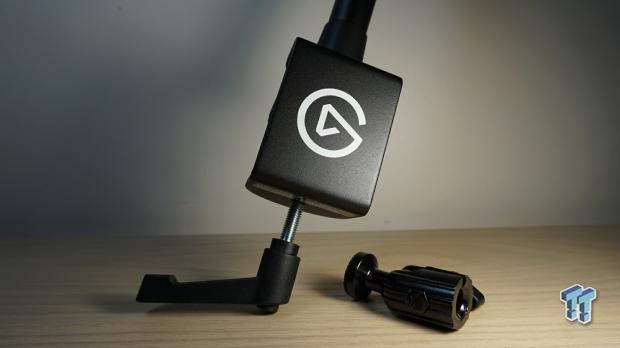 The same idea can be applied to getting different shots, and since the Multi Mount is easy to setup, and pull down, users can quickly change the angle to something different within seconds. The base Multi Mount can only be adjusted vertically, but if you pick up Elgato's Flex Arm Kit, you will gain access to multiple different attachments that can provide you with even more angles. The Flex Arm Kit doesn't come with the base Multi Mount kit, but it's something I would certainly recommend picking up if you want to get the most out of the Multi Mount.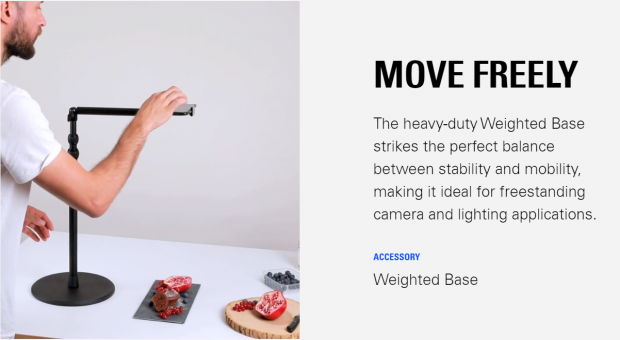 The Flex Arm Kit allows users to change the Multi Mount from a vertical stand to a horizontal stand. A horizontal stand can become particularly useful as it enables users to equip their microphones to it and correctly angle it down towards their face. The same principle can be applied for lighting as well. An example would if a user wanted to get a top-down shot of an item, or a plate of food. To highlight that item, or in this case, a plate of food, a light source must be placed above the item, so no shadows are cast in any direction. Equipping the Multi Mount with a flex arm will allow the user to place a light source directly over the plate, enabling the desired camera shot to be taken.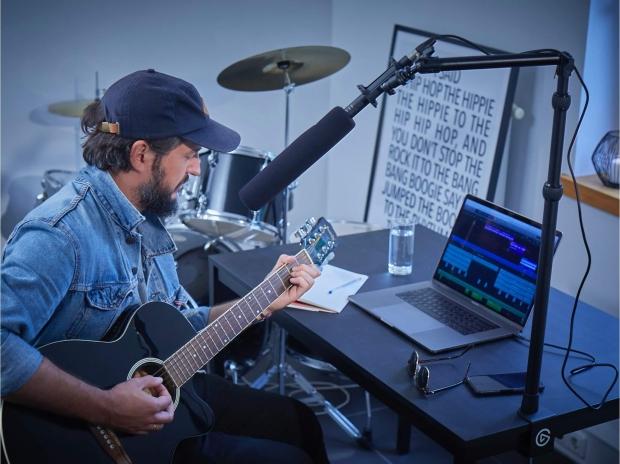 Elgato also provides buyers with an optional weighted base. As you could probably understand from the title of this accessory, the weighted base provides users with the option of simply placing the mount wherever they would like, with no need of a clampable surface.
All in all, Elgato has done a tremendous job with the Multi Mount and all of its available accessories and features. I barely have any critiques, of the product's design or its performance while in use.
Final Thoughts
What's Hot
Elgato's Multi Mount can be adjusted to several different heights, it's relatively cheap, strong, and sturdy. It also has an extremely strong clamp, and most of the product is constructed of steel or hard composite, meaning that it has a nice strong, weighty feel to it.
What's Not
The only downside of the Multi Mount that I could find is that it can't shrink smaller than 55cm, which could be a problem for some buyers.
Elgato has provided users with a simple, yet an affordable option that many streamers should certainly consider adding to their setups. Coming in at only a cost of $49.99, Elgato has provided an extremely cheap solution that could solve many problems for many people.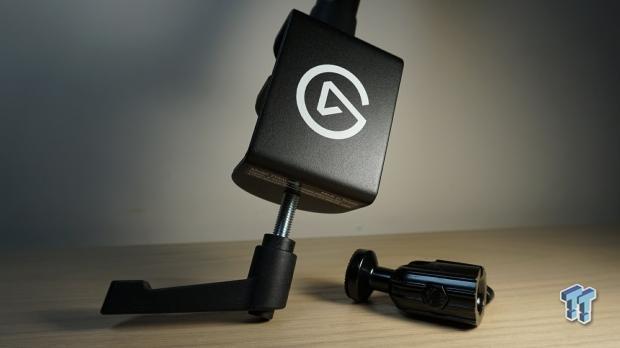 On top of that, the Flex Arm Kit only costs $40, which means you could get a lighting/camera shooting/microphone stand for under $100 that also doubles or triples as many more use cases. So do I recommend you buy a Multi Mount? Well, if you are looking to get those pesky lights off the ground to save floor space, or if you want to move your desktop microphone to a boom arm of some kind, or both, then I certainly recommend you buying a Multi Mount.
I highly doubt that you will be upset with your purchase if you are in need a mount of some kind and decide to go with Elgato. I can see this product being extremely popular in the streaming industry, as streamers are always looking for ways to better their setups, and overall add more convenience to them. Elgato's Multi Mount fits the bill with convenience, and combined with its extremely reasonable price; I don't hesitate when I say that the Multi Mount and it's range of accessories are one of Elgato's best products yet.
| | |
| --- | --- |
| Performance | 98% |
| Quality | 98% |
| Features | 99% |
| Value | 98% |
| Overall | 98% |
The Bottom Line
Elgato's Multi Mount is one of the best products the company has released. I could even go as far as to say that it's the streaming solution you never knew you needed.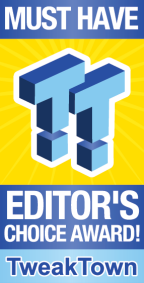 We openly invite the companies who provide us with review samples / who are mentioned or discussed to express their opinion. If any company representative wishes to respond, we will publish the response here. Please contact us if you wish to respond.