Crucial Ballistix DDR4-3200 32GB Dual-Channel Memory Kit Review
Crucial's Ballistix DDR4-3200 32GB dual-channel RAM kit goes under the spotlight as we see what it's all about.

Published Mon, May 18 2020 8:50 AM CDT
|
Updated Tue, Nov 3 2020 6:57 PM CST
Rating:

93%
Manufacturer: Crucial (BL2K16G32C16U4B)
Introduction, Specifications, and Pricing
We have had a long history with Crucial, as we go back to the AMD 939 days. Trying much of what was affordable and accessible, it was not until our first set of Crucial memory that we got the most out of our Opteron 165 based system! Even when it came to new DDR2, the same was true. We had a set of 667MHz sticks that we not only took to 1300MHz, but we also ran stock speeds at 4-4-4-1 paired with an E6400. Man, does this take us back to good times! All the same, we even saw some of their memory in our DDR3 days that was just as much fun, as well as multiple versions of their DDR4 that we have seen for testing.
The reason behind our experience with them in the past is that in those days. At the same time, Ballistix Tracers were a thing, they were more expensive, compared to standard kits without lights, and sometimes, like the fact that we were using UV reactive DFI motherboards, it was easy to clash lighting schemes back then. That said, the same can be said today, where depending on RGB and ARGB implementations, things may not look as good as expected. Some buck the trend of LED lighting in general, and would also prefer performance without all of the glitz and glamour that many RAM kits offer currently.
Crucial digs way back into the list of names of series' they have used in the past and decided it was time for a new version of Ballistix. While they do offer RGB versions of these kits, they do have a different heat spreader design as well, so that the Ballistix stand on their own. In hand today is the 32GB kit of 3200MHz memory from the Ballistix line of DDR4 from Crucial. Hopefully, Crucial can still deliver what we recall from yesteryears past and are the same all-around good deal that we knew them to be.
In the chart above, which we borrowed from Crucial's product page for the BL2K16G32C16U4B that we have, we can see all of the specifications. The speed is 3200MHz and comes with a limited lifetime warranty, and there are no error correction capabilities. CAS latency is set to 16 for almost all of the kits on offer in the Ballistix family, and within this 32GB kit we have, the full timings are 16-18-18-36, set in the XMP profile. Thus is UDIMM DDR4, and all Ballistix DDR4 from this series uses 1.35V no matter the speed. As the chart continues, we see that there are two sticks in the 32GB kit, we see the RAM specs all lined up nicely, and lastly, we are told this is unbuffered. The last thing, which the chart does not show, is that our Ballistix from Crucial is black.
If 3200MHz, 32GB of density, or it being black is not your thing, the Ballistix line has options. First, let's deal with the color options. Reflected in the last letter of the part number, there are the B's for black, W's for white, and R's for red heat spreaders, all of them stuck on top of black PCBs no matter the color of the spreader. As to speeds, you can get 2400MHz, 2666MHz, 3000MHz, 3200MHz, and 3600MHz kits, and density does depend on speed. The 2400MHz kits can be had in 8GB and 16GB kits, where all others are offered in 16GB or 32GB. There are some standouts to these generalizations, such as the fact that there is a set of 64GB 3200MHz and 3600MHz, and that the 3000MHz kits use CAS15 rather than the CAS 16 of all of the other options.
As we shop around for these kits in the wild, the BL2K16G32C16U4B we are about to test is shown to be $159.99 at Amazon, and keep in mind that this is a 32GB kit, not a 16GB kit! We also found, while at Amazon, that color of the heat spreaders does not affect the pricing at all. Those that prefer Newegg, the pricing is identical, and color choice does not raise the cost there either. Considering speed and density when looking for comparable kits, on the low-end of price are the Vulcan Z from TEAM at $129.99, and the upper end of the group drives the cost to near $1000 for the CAS14 TridentZ's, which put Crucial well within the very affordable range of the current market.
Packaging and Crucial Ballistix
Upon arrival, our box looks like it had a rough ride to the house, but the damages are contained to the cardboard outer packaging. In the box, we see a sticker at the top, providing the density speed and voltage of the kit inside. In the middle is a window to get a look at the heat spreader design and verify color, while at the bottom, we see Crucial's name, Micron's name, and the Ballistix Gaming Memory series name. The internal packaging is plastic, which creates a shell around the sticks and saves our memory from even the slightest scuff.
The back of the box offers up the warranty terms at the top, before you get to any of the naming. In eleven languages is explained that these kits are engineered for speed and optimized for both camps. It also states to visit the site for additional information, which is then listed at the bottom, above the social media channels, and the dog tag containing the part number.
With nothing to block our view, we can now appreciate the design that Crucial puts on the Ballistix memory, which does differ slightly from what is found on the Ballistix RGB. The heat spreader design is more straightforward than most we see, yet still adds style, while not getting aggressive or over the top. With matte black spreaders and matte white paint applied for the names, these sticks will blend right in and become a part of the backdrop.
The opposite side of the sticks looks identical to what we saw previously, down to all but one detail, the sticker near the bottom. It is there that we see the part number, this time ending in M16FE1, and that they were assembled in Mexico. Below all of that, there is the density of the stick its speed with the XMP profile, as well as the timings and voltages windows should boot with once XMP or DOCP is enabled.
Even when it comes to the top of the heat spreader, Crucial was able to add style, yet at the same time, deliver something that many will appreciate with their system. We see similarities to things like Ripjaws, or bits that look like gun parts, but all the same, we feel the appearance with the Ballistix name as the only thing of contrast is a good look for Crucial!
On both sides of each B1 PCB are eight ICs, sixteen on each stick in total, all of which are Micron D9VPP MT40A1G8SA-075:E, and for those who keep up on what is hot currently, there is much chatter of how impressive the Micron E-die ICs are!
Installing the 32GB worth of our black Ballistix memory on our ASUS C8H Wi-Fi, we like the look, and the memory nearly disappears into the background, if not for the hints of white that attract the eyes. While we typically prefer not to see the product sticker from this side, it is much easier to see, should you run into an issue and not want to remove the stick to gather than information.
Installed on the AsRock X299 OCF, we get an idea of how it would look if you wanted to populate all of the slots on a mainstream motherboard. Even though you do lose some of the visual appeal by blocking more of the sides of the heat spreaders, we have no complaints about how it looks in this arrangement!
Test System Details
To obtain the AMD CPU-Z screenshots, you will see directly following this image, and this is the system we used to do it, as well as in attaining the results seen in the following pages. Thanks go out to Corsair, ASUS, and GIGABYTE for supporting this venture. For detailed specifications of the system, those can be found below.
With the Ballistix controlled by the 3900X and ASUS C8H, our first trip to BIOS to enable DOCP results in the information we see in CPU-Z. The RAM immediately shows up at 3200MHz with 16-18-18-36 1T timings with 1.35 set for the VDIMM and 1.080V to the SOC voltage.
Increasing the VDIMM to 1.45V and the SOC to 1.18V, we tried to lower the timings as far as we can get, while still offering long term stability. In that effort, we leave the kit at 3200MHz but can get the timings down to 13-16-16-36 but at 2T for some reason, unless you set the BIOS to ignore it, which is even more impressive considering the amount of ICs we are changing!
Keeping the same voltages as we used in the previous run, we reset the timings to 16-18-18-36 1T, and attempt to maximize the overall speed. Pursuing the highest speed, we got up to 3666MHz, nearly 500MHz over the XMP profile, stable as could be! Again, not the best OC percentage we have ever seen, but by far, the best jump for a 32GB kit.
Chad's AMD DDR4 Dual-Channel Test System Specifications
To obtain the following CPU-Z images as well as the performance seen in the charts, we are using this Intel system to do so. For this system, we were helped by Corsair, and are using the same card from GIGABYTE seen in the AMD rig. Shout outs go to them for supporting us here as well!
After installing the Ballistix, clearing CMOS, and entering BIOS to enable XMP, this was the result. 3600 MHz with 16-18-18-36 timings at 1.35V with full stability. Taking a look back in the BIOS, the motherboard auto sets the VCCIO and VCCSA to 1.20V and 1.35V, respectively.
When it came to attempting the lower the timings, we found that the Ballistix was at the bottom of the range with the AMD results, as they match here with our 7740X, outside of the increased tRFC and 2T at the bottom. We bottomed out at 13-16-16-36 2T, using 1.45 VDIMM and changed the VCCIO to 1.30V.
After much stability testing, we found that our Intel system allows the Ballistix o stretch their legs a bit more, topping out at 3733 MHz, which is well over a 500MHz bonus. Nothing changes in the voltages from the above mention of them, but this kit responds to voltages, and if you increase past our "safe-voltage" you may see even more speed from kits such as this!
Chad's Intel DDR4 Dual-Channel Test System Specifications
AMD Performance
Faster than any of the other 3200MHz kits, the Ballistix slide into the chart just above the XPower Turbine with 49559 MB/s in AIDA read performance. We took a hit lowering the timings, but adding only 466MHz in speed took the Ballistix into second place, with a 6202 MB/s advantage over the DOCP run.
Write performance in AIDA is the best of any 3200MHz kit again, by 307 MB/s, and again, lowering the timings was not the way to go. Increasing speed helped greatly, and got the Ballistix to fourth place, with a 5980 MB/s increase in performance, with minimal effort!
Our copy performance delivers similar results as well, with the Ballistix still the best choice for 3200MHz kits in the chart, 3735 MB/s better than the XPower this time! We took a 630 MB/s performance hit at CAS13 but again took second place with 3666MHz of speed, adding 5667 MB/s gain over DOCP settings.
Latency surely isn't terrific, but it is by no means the worst either. The DOCP setting has us at 80.7, which is slightly below average, and the 3666MHz settings took a slight hit compared to DOCP. However, the latency with CAS13, as impressive as it is, proves latency does not always equal performance in this test.
Super Pi places the Ballistix slightly behind the XPower Turbines this time, but the difference is just 1.3 seconds. Strangely, and we ran this multiple times to verify, both lowering the timings or increasing the speed netted us matching results to the tune of 520.6 seconds to complete, tying both for fourth place overall.
When it comes to Physics in 3DMark Fire Strike testing, enabling DOCP allowed the Ballistix to jump right into second place in the chart. Finely tuned for something such as this, either way we attempted to overclock this kit, left us taking a penalty, where speed wins over lower CAS latency, but neither is a good option for this test.
With a much different idea of what testing should be, PCMark 10 results have the Ballistix running in the middle of the pack. As we saw in 3DMark, PCMark does not appreciate our attempts to fiddle with overclocking.
Crucial does well in compression of data! The DOCP settings allow the Ballistix to head to the top with a second-place finish overall. We did find a four-second advantage to adding more speed, but we saved near eight seconds, opting for tighter timings.
While the Ballistic fall into the middle of the chart enabling DOCP, realize that that score is only 1.62 "cb's" out of the lead! We lost a little over one "cb" increasing speed and lost another three with tight timings.
Transcoding shows the Ballistix in a similar light to our 7-zip results, where they are tuned to do well in this environment, only surpassed by a faster 32GB kit. Second-place is excellent white using DOCP, and while adding speed did not help the cause much, the lowered timings saved us nine seconds for every 4.19GB worth of data.
Intel Performance
With Intel and AIDA64, we see similar results to what happens with AMD, where Crucial is at the top of the 3200MHz kits, even if just be 9 MB/s. At CAS13 and 3200MHz, we do get another 1063 MB/s over the XMP run, but that second-place finish for the 3733MHz run punches above its weight class, delivering 5549 MB/s over XMP.
Write performance is a slightly different story. Using XMP puts Crucial in fifth place out of the box, with an ever so slight advantage to opting for tighter timings. However, more speed tanked in this benchmark to the tune of a 9775 MB/s loss of performance.
The next column of numbers refers to the copy performance in the benchmark, and again, the XMP settings shine a favorable light on the Ballistix with a fourth-place finish! We were able to gain 922 MB/s advantage over XMP by reducing the timings, and again, at 3733MHz, we lost 2342 MB/s.
As the Ballistix are designed to run, we find that the XMP profile shows us 48ns of latency, which is slightly below average in this chart, but performance is better than some with lower latency. Lowering the timings gets us just below average in latency, but we got the best latency at 3733MHz but saw a couple of results that make that 44.4ns pretty much worthless.
446.1 seconds to complete is an excellent result from the Ballistix under control of the XMP profile. We are impressed with the overclocking results where we see nearly two seconds of advantage to running more speed over tighter timings, and both are some five to six seconds faster to complete than the XMP run.
Fire Strike Physics gave the Ballistix a workout, and it appears they may have needed to stop and catch their breath a bit. The XMP results are not that impressive overall, but there are marked advantages to pushing the ICs.
PCMark 10 also puts a bit of a hurt on the Crucial Ballistix. The XMP result is near the bottom of the chart, beat by all other 3200MHz kits, and this is one time where clicking the memory had little effect.
In Compression, the Ballistix regains some ground, as they perform better than much of what is designed to compete with them directly. However, this is an instance where overclocking pays off big, as we dropped nearly twenty-five seconds, lowering the timings, and dropped another nine seconds on top of that opting for more speed!
Cinebench R15 seems harsh for the Ballistix as well, where they fall near the bottom of the chart, but still less than 3 "cb's" from first. However, for those that like to tinker, there are performance gains to be had here as well.
The Ballistix, Handbrake, and our aging processor do not seem to play well together. The results of the XMP are lower than expected, but then again, they do outperform a set of 4600MHz sticks. Still, for those that like to push boundaries, considerable gains in time back can be had. From XMP to CAS13 at 3200MHz, there is a 107-second decrease in time to transcode that 4.19GB, and you can get another three seconds of your life back using more speed over tighter timings.
Final Thoughts
As we finish things up, we do realize that there are no fancy RGB LEDs that seem to drive everyone to new sticks, but we are more than fine without them, and a large segment of the market would agree. There are many out there who just want dependable kits that will run reliably, without issues or compatibility problems, and in the Crucial Ballistix, all of that rings true. They are not the fastest kit we have tested, but they do come out on top more often than not, of all of the other 3200MHz kits we have tested thus far!
Density certainly helps in specific tests, as this is a 32GB kit of memory, and most others in the charts are 16GB over two sticks, and we like that both systems reacted well to powering double-sided DIMMs, and left plenty of room for those that want to tinker! What we liked the most, is that with all of the aesthetic tricks of the trade we tend to see a lot, it refreshing to see another kit where the memory is billed for what it is, and integral part of the rig, that does not have to look fancy to get your investment back from them in performance!
Getting back to where we started this review, where our fond memories of using Crucial RAM, and our overclocking results still hold a special place in our hearts. None of that is lost with what we have here today, either! With both the AMD and the Intel CPUs, we were able to tighten them down quite a bit, and if you do not need a system for longevity as we do, these kits will take a bit more VDIMM and react well to the added power, we were not at the limits yet! Headroom for more speed is also there, and keep in mind, the strain of thirty-two ICs at higher speeds versus just 16 ICs in the usual suspects, we have to give it to Crucial again!
In past experience, at this density, we do not typically find what we saw in these Ballistix, and while Corsair and G.Skill may be the go-to camps for DDR4, we do not feel these results are from cherry-picked samples. We received two kits, and both reacted similarly under XMP and DOCP, as well as overclocking results with our self-imposed voltage limits.
For those looking for more density, a kit such as this is below average in cost, and compared to a year ago, is around the cost of an average 16GB kit, how can you go wrong? Crucial does have a broader range of densities and speeds to consider, but we are more than happy with the BL2K16G32C16U4B kit we have in hand! We cannot argue that in four or five benchmarks, we did expect a little more from the Ballistix, but considering the $159.99 price for 32GB worth of some of the newer E-Die ICs, Crucial poised themselves perfectly in our opinion!
For those of you who cannot go without RGB LEDs, you can find what you need from Crucial, it is only twenty dollars more to get a similar heat spreader but with the top section loaded with LEDs! Don't forget; there are also color choices for what we have, as well as the RGB versions, so no matter your requirements, the Ballistix we have proven they are worth the time to ponder when it comes to buying your next set of DDR4!
| | |
| --- | --- |
| Performance | 88% |
| Quality | 98% |
| Features | 90% |
| Value | 97% |
| Overall | 93% |
The Bottom Line
One of the better 3200MHz kits we have tested thus far, but with double the density! Even so, there's plenty of headroom for overclockers, and with a choice of three colors, the Crucial Ballistix will blend well with any system!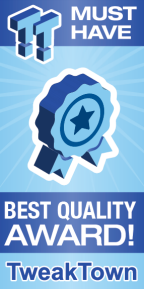 We openly invite the companies who provide us with review samples / who are mentioned or discussed to express their opinion. If any company representative wishes to respond, we will publish the response here. Please contact us if you wish to respond.
Related Tags