Galax HOF Pro E16 2TB NVMe PCIe Gen4 M.2 SSD Review
Galax's supremely powerful HOF Pro Gen4 SSD is back on the bench, this time with twice the capacity. Here's our full review.

Published Mar 16, 2020 9:22 AM CDT
|
Updated Tue, Nov 3 2020 6:57 PM CST
Manufacturer: Galax (HPNA1K4T9BG12C3LWXWCXN)
5 minute read time
TweakTown's Rating: 95%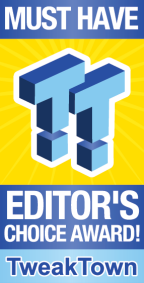 The Bottom Line
Galax is serving up elite performance with its 2TB HOF Pro SSD.
Introduction & Drive Details
Once considered exotic and priced out of reach for most PC enthusiasts, 2TB M.2 NVMe SSDs are becoming more mainstream with each passing day. SSD prices have fallen considerably over the last year, and now 2TB M.2 NVMe SSDs can be had for as little as $220. However, the SSD we have on our bench today doesn't really fall into the category just described.
Galax's exotic HOF Pro series SSDs are not geared toward the value segment. Instead, they are Gen4 fire breathing monsters that are aimed toward enthusiasts that demand the best available performance for their PCIe Gen4 enabled platforms. We do not even know what the going rate for Galax's fastest SSD actually is, but we know it isn't going to be cheap.
Having already tested the 1TB HOF Pro, we know that the HOF Pro Series is one of the fastest, if not the fastest flash-based SSDs money can buy. The 1TB model we previously tested gave us everything we could ask for, except for one thing - we wanted more capacity. Today we are getting our wish and have on our bench a Phison E16 powered 2TB Galax HOF Pro.
Like all 2TB Phison E16 Powered SSDs we've tested to date, the HOF Pro 2TB has an inherent attribute that we love. Typically, when moving up in capacity from 1TB to 2TB, we experience a significant performance drop-off. This drop in performance is usually enough to make us wonder if it's worth the sacrifice for twice the capacity.
There are very few exemptions from this capacity vs. performance quandary. As luck would have it, the 2TB HOF Pro we have on the bench today is one of those few exemptions. The 2TB HOF Pro happens to be just as fast as the 1TB version. In fact, the 2TB Gen4 E16 powered HOF Pro delivered the best performance we've seen from any E16 powered SSD where we most want to see it; our PCMark 10 Quick System Disk Benchmark.
Galax's HOF Pro Series SSDs are not easy to find and are not cheap to buy, but if you are lucky enough to have the opportunity to get one for yourself, we recommend that you jump on it; you will not be disappointed.
Drive Details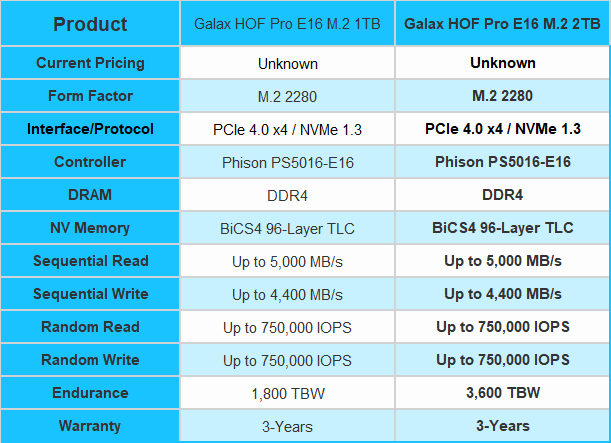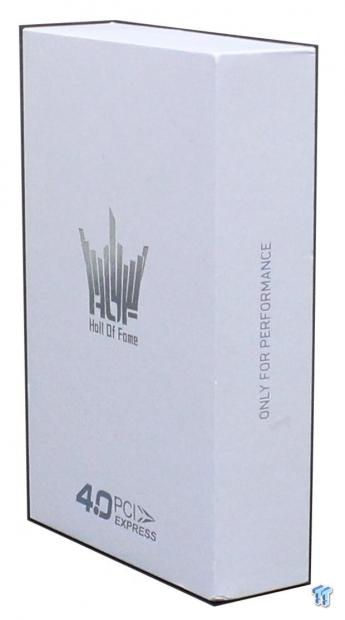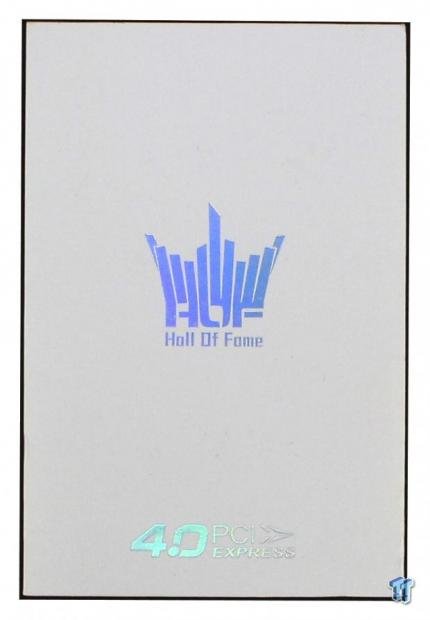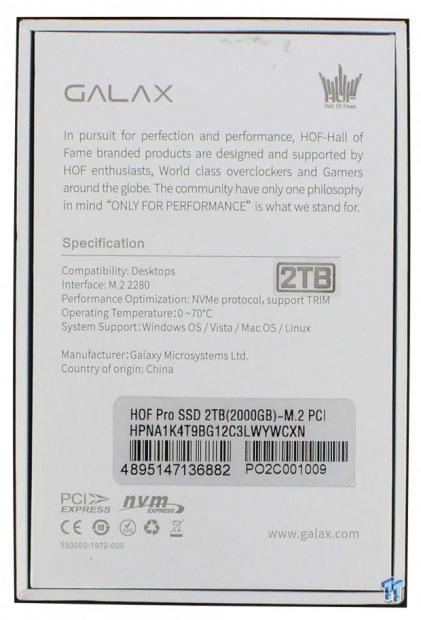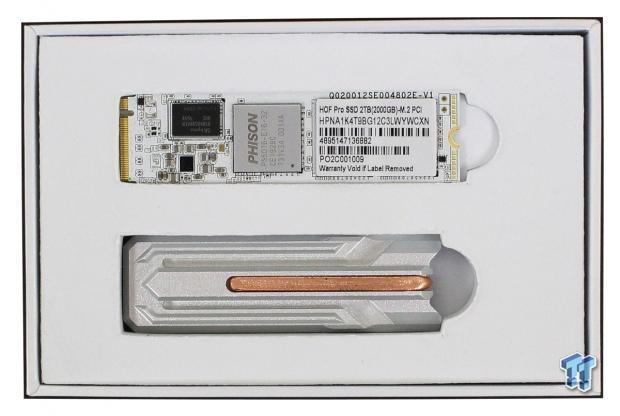 We were unable to find pricing for the HOF Pro. The drives only have a three-year warranty but sport the industry's best endurance rating.
Jon's Test System Specifications
SSD Toolbox
Xtreme Tuner SSD Toolbox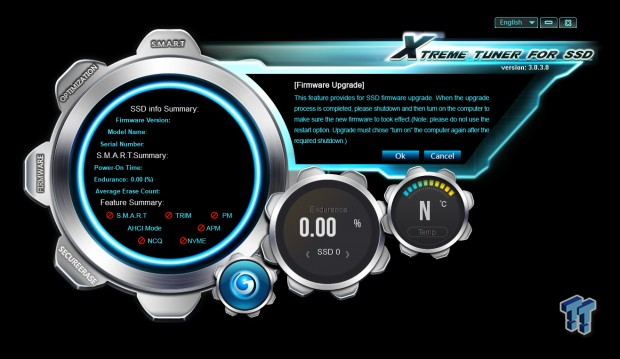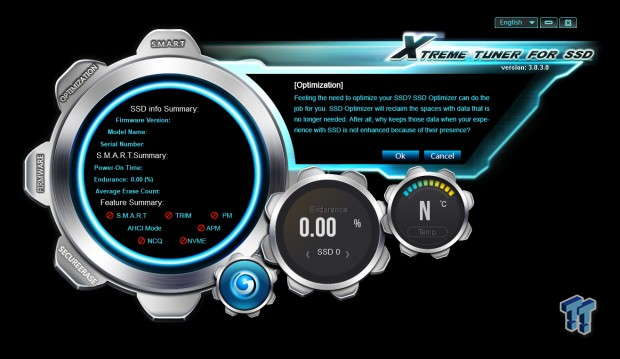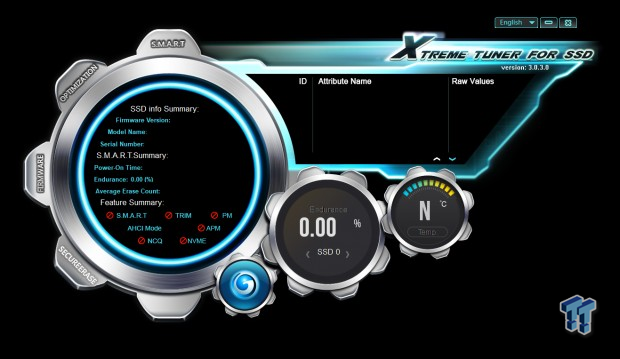 Galax does have an SSD toolbox, but it is not compatible with the HOF Pro series. We assume Galax will update their SSD toolbox soon so it can be used with the HOF Pro series.
Synthetic Benchmarks: CDM & Anvils
CrystalDiskMark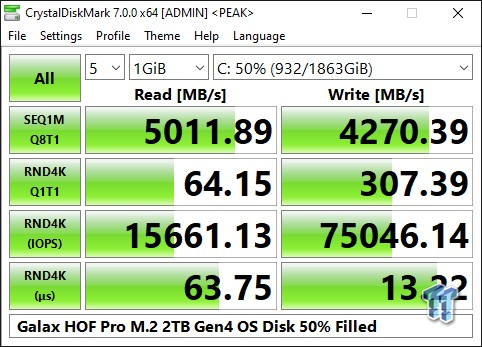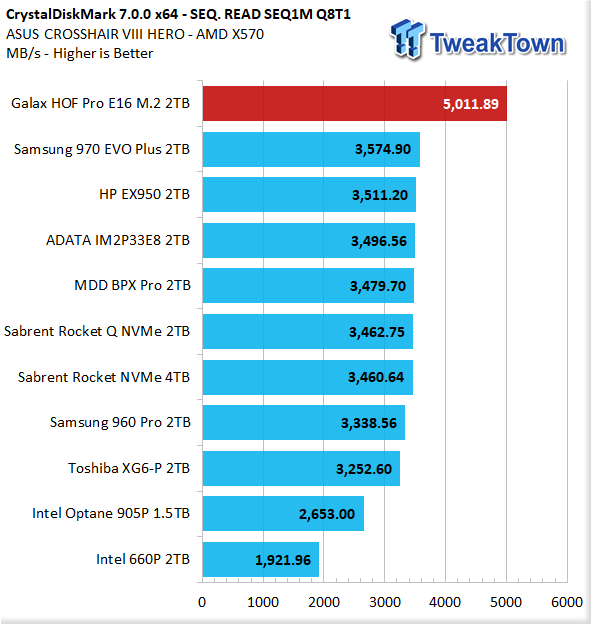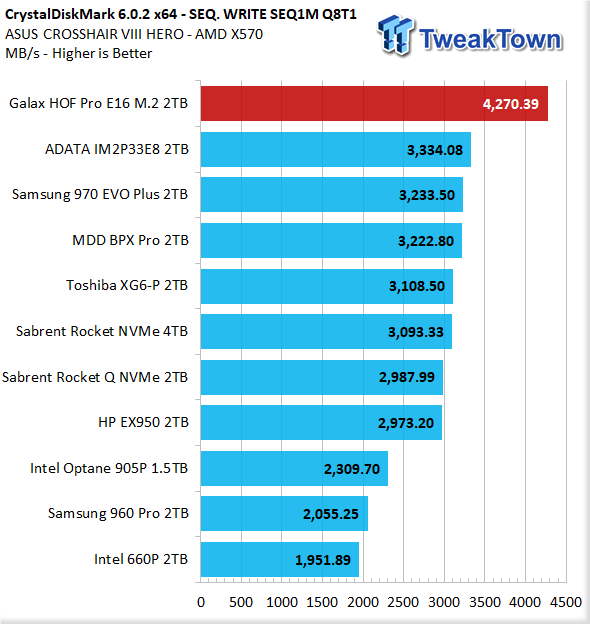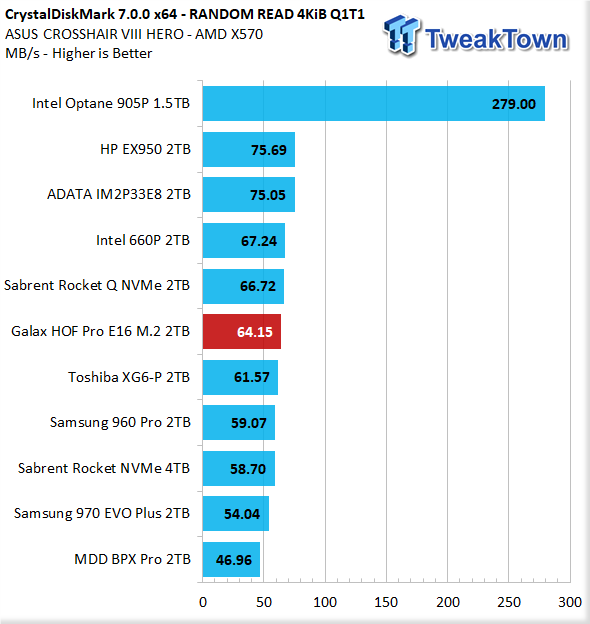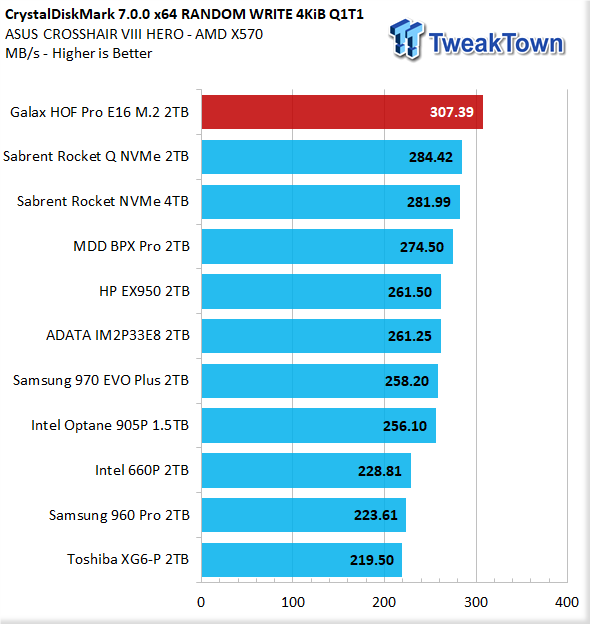 Like its E16 powered PCIe Gen4 brethren, the Galax Pro 2TB delivers mind-blowing sequential speeds. We easily achieve the drive's advertised sequential read speed of 5GB/s but fall a bit short with advertised sequential write speeds. This is likely due to our user state of OS disk 50% filled.
Anvil's Storage Utilities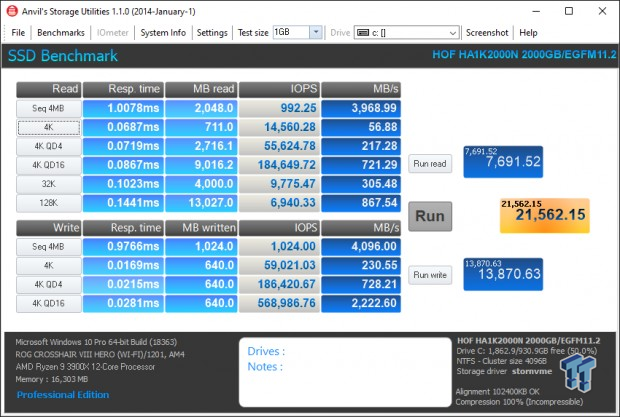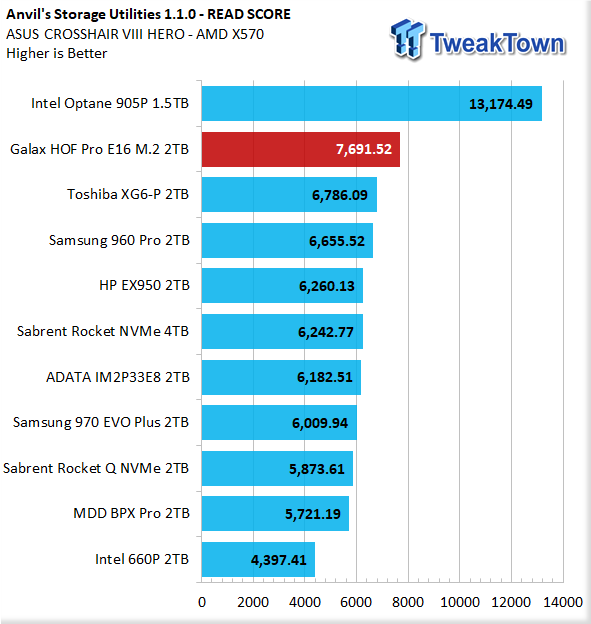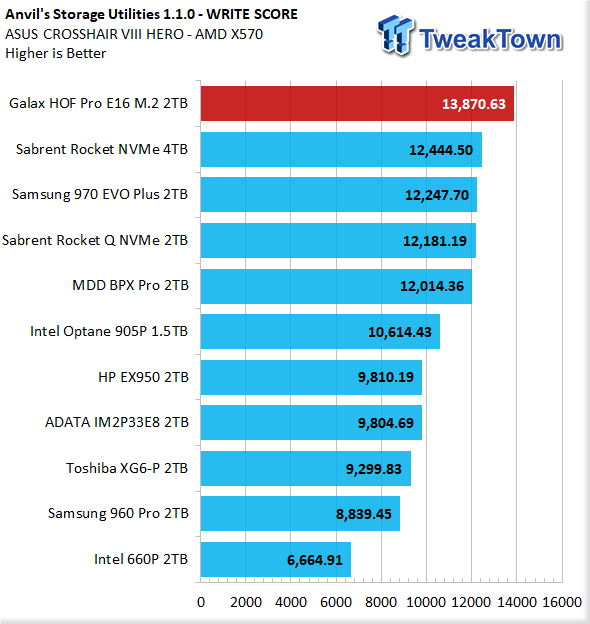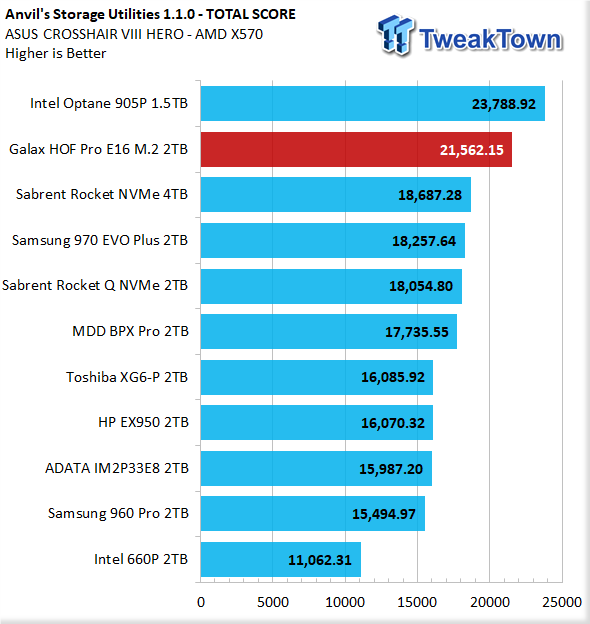 The 2TB HOF Pro gives us the 21K + score we've become accustomed to seeing from E16 powered SSDs. More importantly, it delivers a total read score of over 7,600, which is as good as we've ever seen from a flash-based SSD.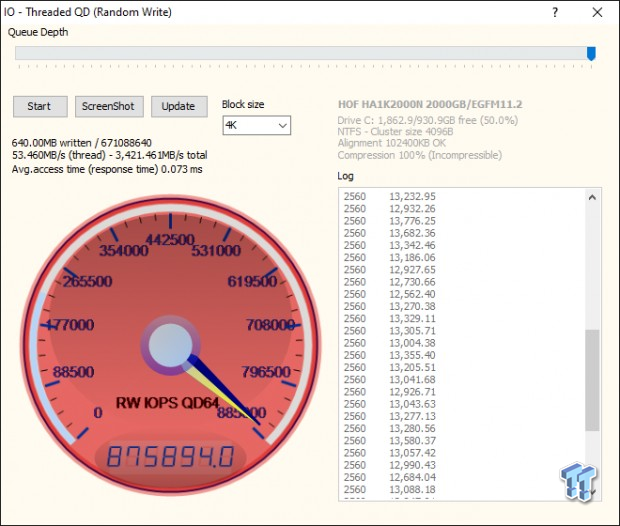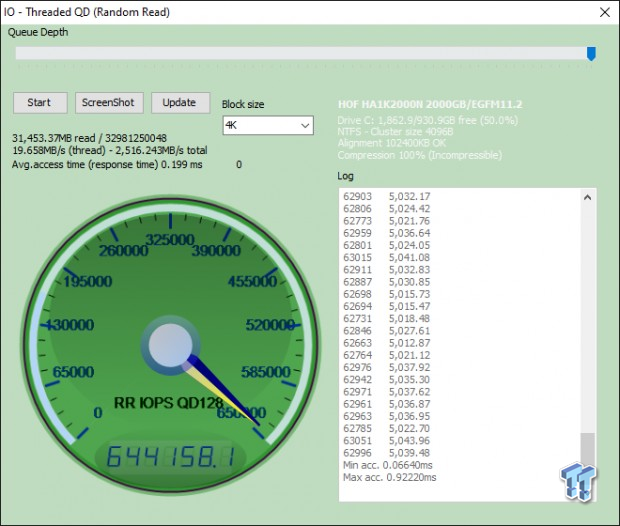 Like all Phison E16 powered SSDs, the HOF Pro is capable of generating massive random performance at high queue depths.
Synthetic Benchmarks: AS SSD & ATTO
AS SSD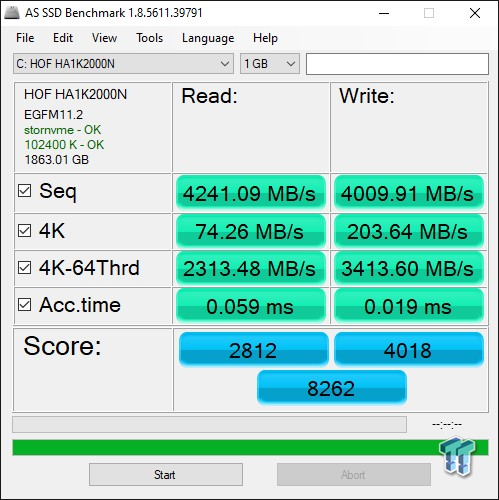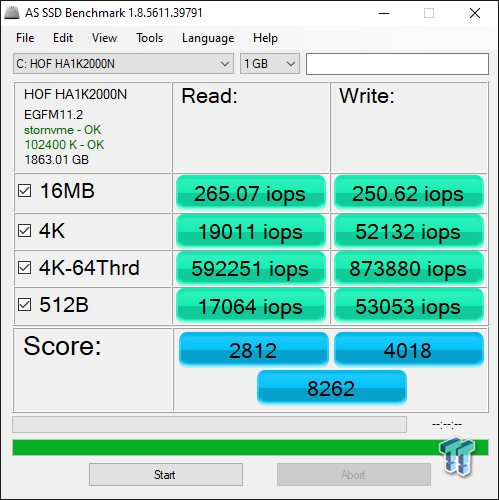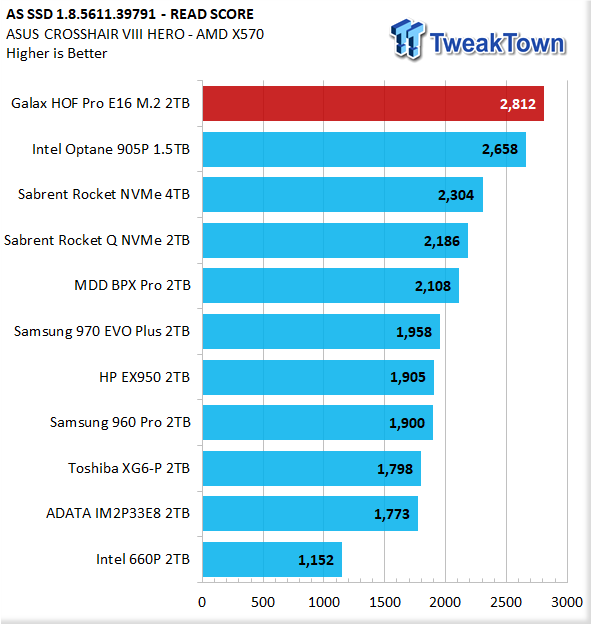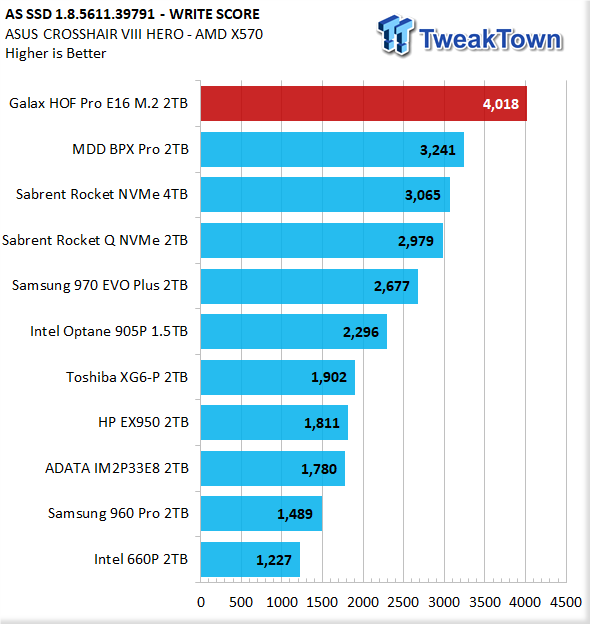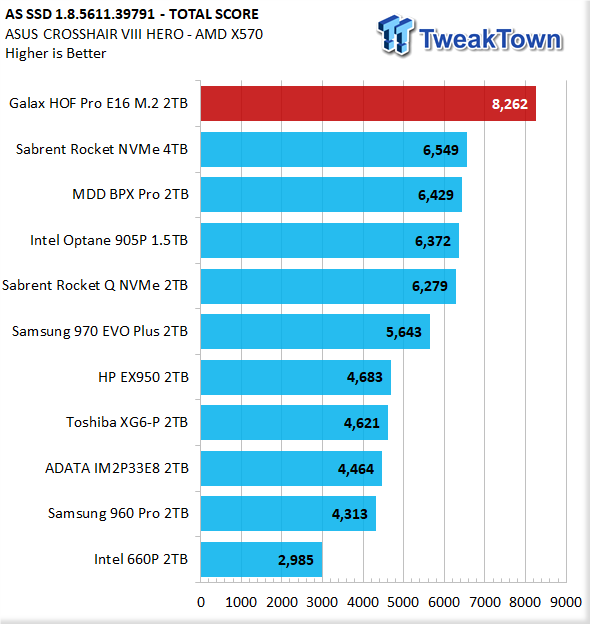 Phison E16 powered SSDs dominate AS SSD testing, and the HOF Pro is no exception. Even Optane falls to the HOF Pro when digesting AS SSDs unique mix of data.
ATTO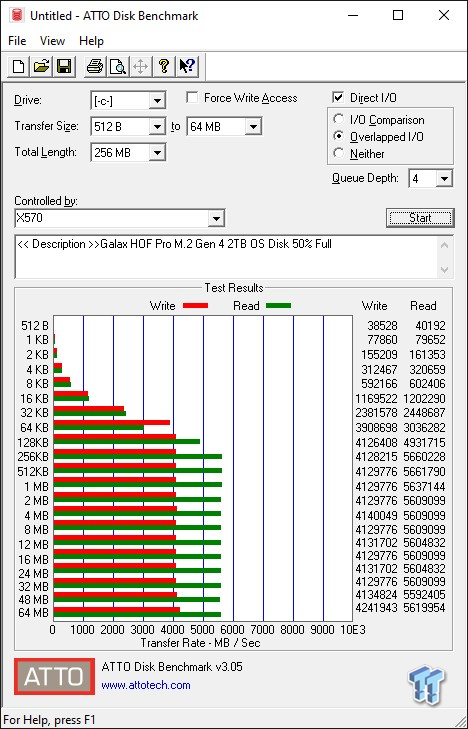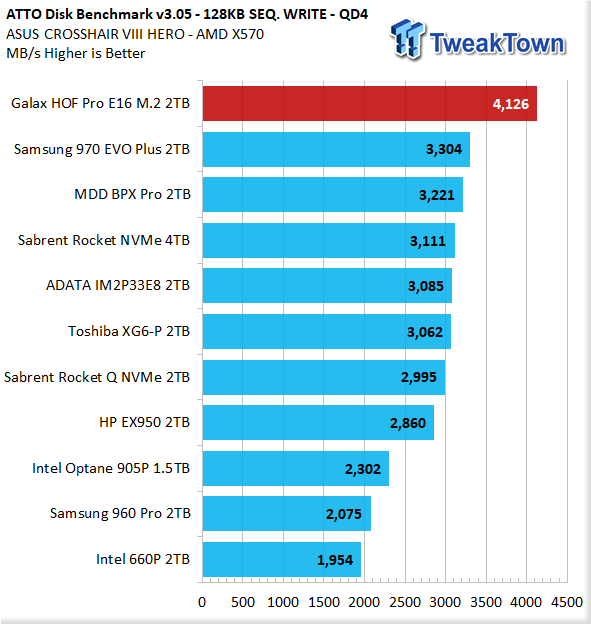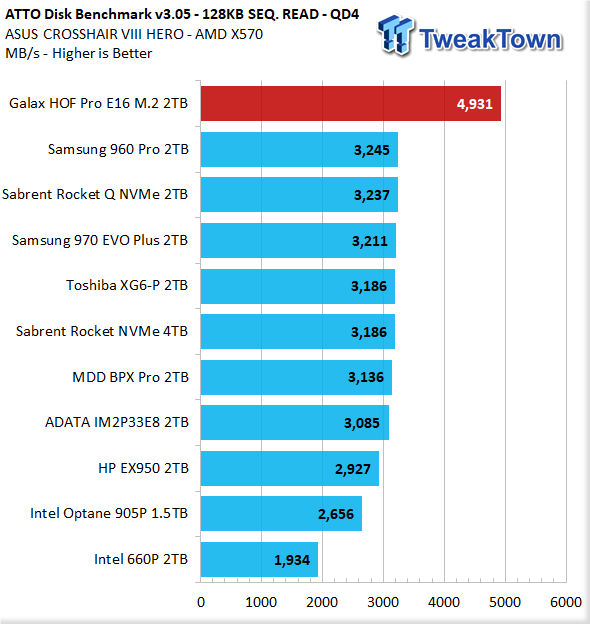 As expected, Gen3 SSDs are no match for the Gen4 HOF Pro when serving up or writing down sequential data. The HOF Pro manages to hit a mind-blowing 5.66 GB/s when serving up sequential data. Impressive.
Real-World Testing: Transfer Rates & Gaming
Transfer Rates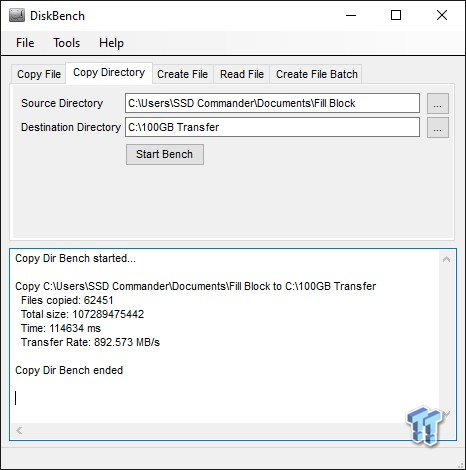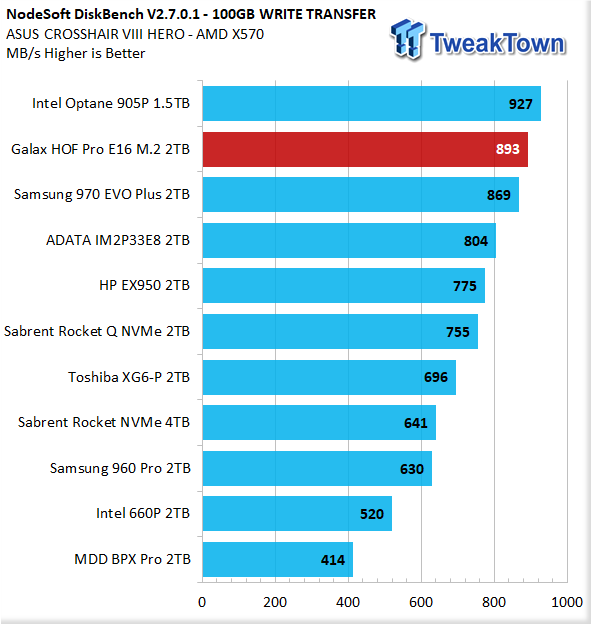 Our write transfer is 100GB in size and composed of more than 62,000 files. With an average of 893 MB/s, the HOF Pro delivers the best performance of any flash-based SSD in our test pool.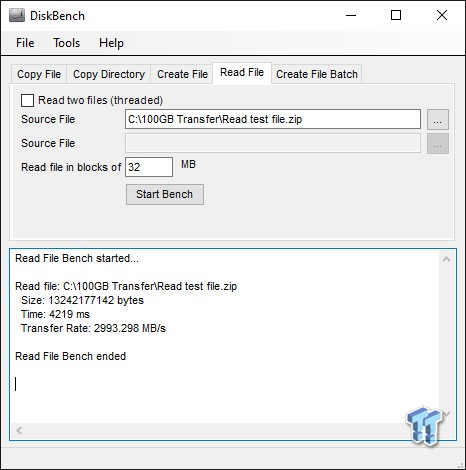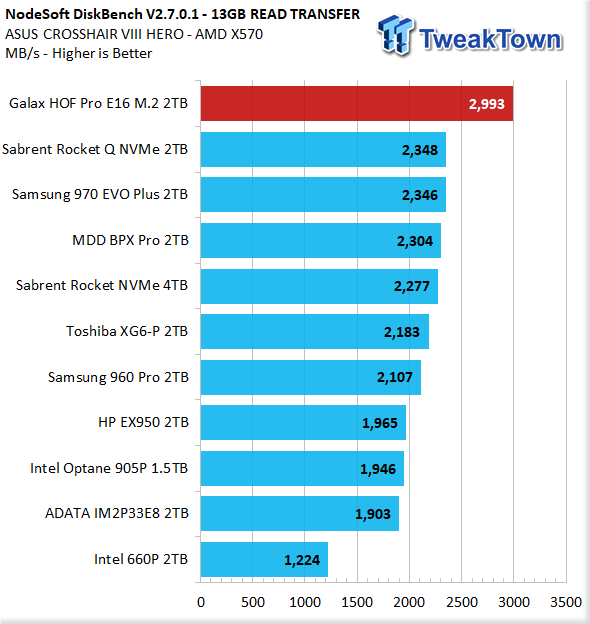 Reading back our data block is something the HOF Pro does far better than any of the drives in our test pool, thanks to its PCIe Gen4 interface.
Game Level Loading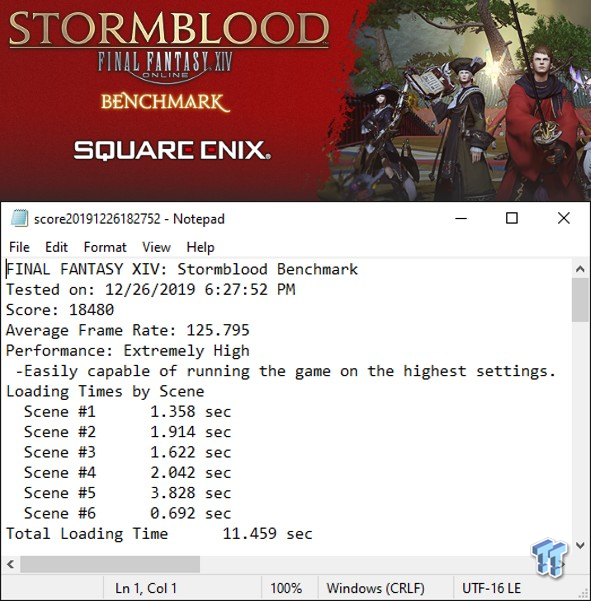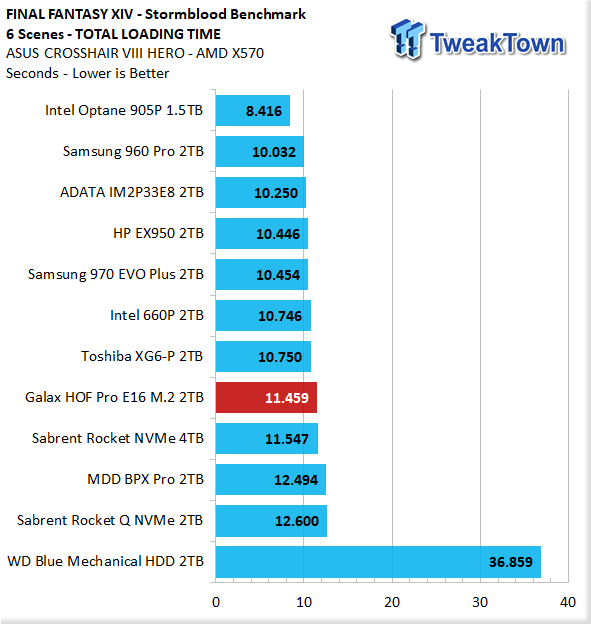 As expected, the HOF Pro is a bit below average when loading game levels. It's still plenty fast, but we would like to see E16 powered SSDs do a bit better here.
Real-World Testing: PCMark 10 Storage Tests
PCMark 10 Storage Test is the most advanced and most accurate real-world consumer storage test ever made. There are four different tests you can choose from; we run two of them. The Full System Drive Benchmark and the Quick System Drive Benchmark. The Full System Drive Benchmark writes 204 GB of data over the duration of the test. The Quick System Drive Benchmark writes 23 GB of data over the duration of the test. These tests directly correlate with user experience. Of the two tests, we feel that the Quick System Drive Test most accurately replicates a typical user experience.
PCMark 10 Full System Drive Benchmark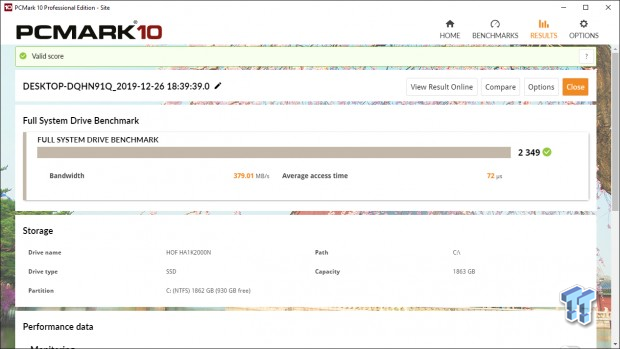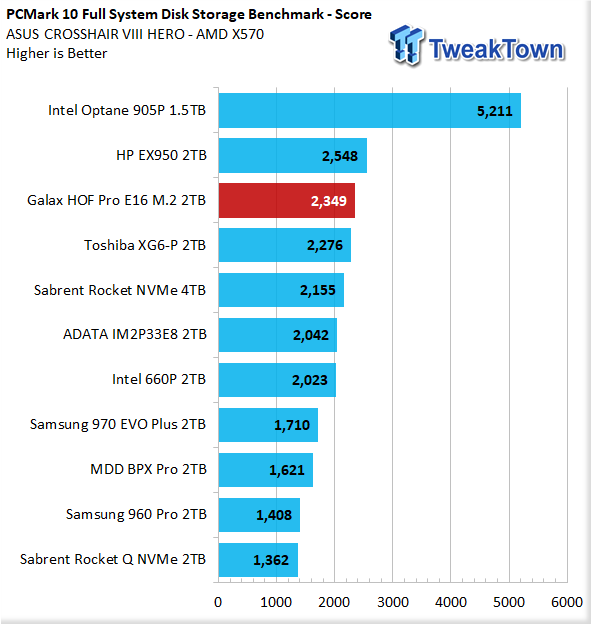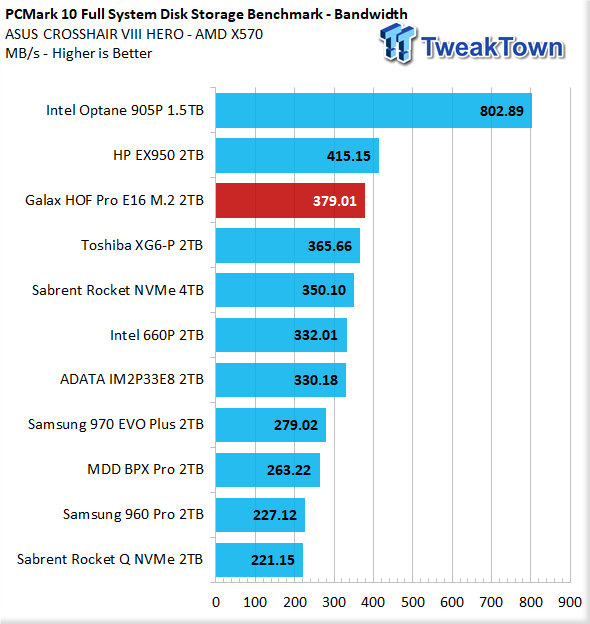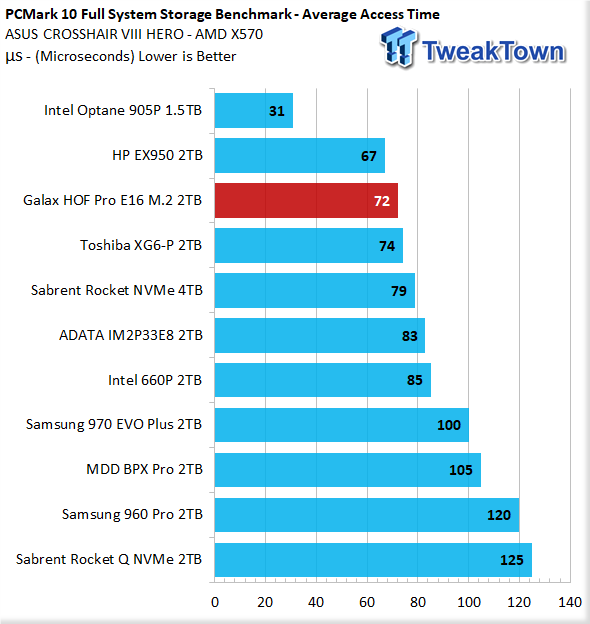 We typically want to see a minimum of 300 MB/s bandwidth, and the HOF Pro delivers much more. It delivers the second-fastest 2TB class flash-based performance we've recorded to date.
PCMark 10 Quick System Drive Benchmark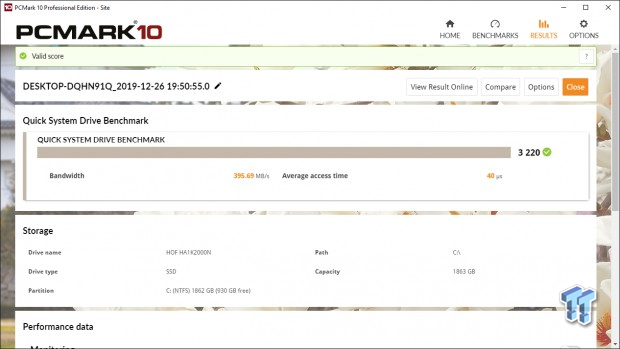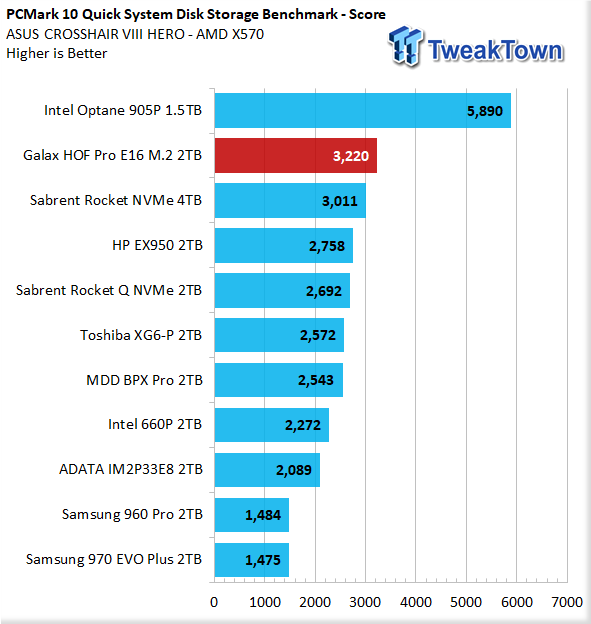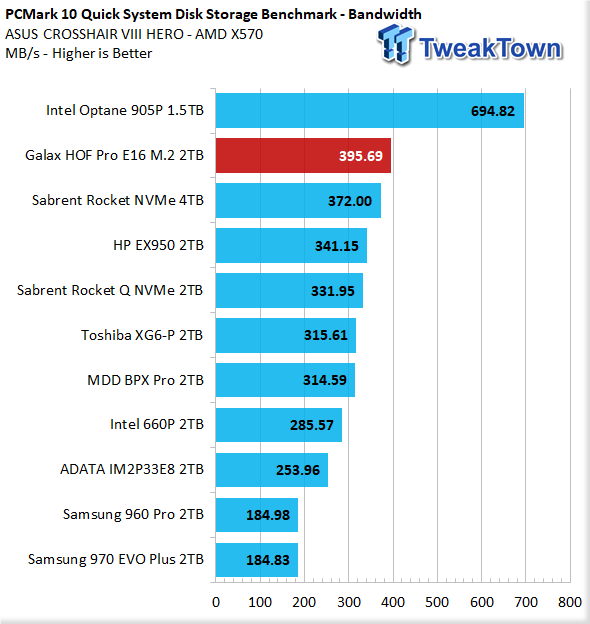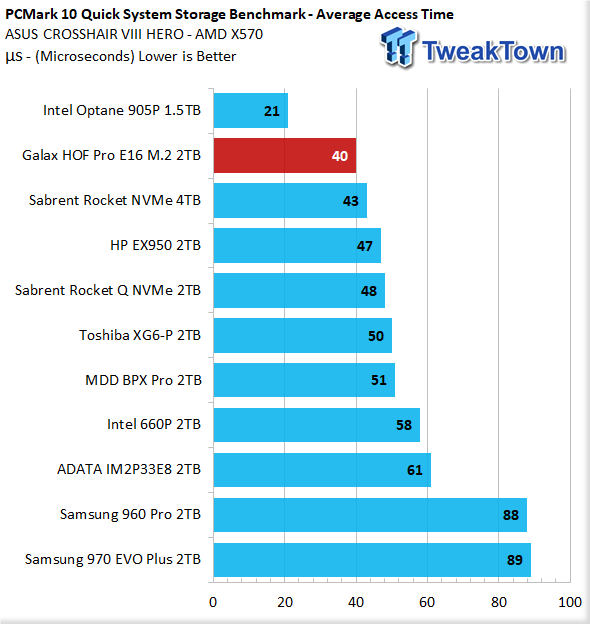 Again, 300 MB/s bandwidth is the minimum we are looking for, and the HOF Pro delivers in a big way. At 395.69 MB/s bandwidth, the 2TB HOF Pro manages to deliver a lab record for an E16 powered SSD. Additionally, it is the best performance to date for any 2TB flash-based SSD we've tested. Class-leading performance where it matters most.
Final Thoughts
Galax is a brand that many have never heard of. They don't have a big presence in the west, but when it comes to the international PC enthusiast community, Galax is very well known. Galax is known to deliver the pinnacle in quality and performance with their HOF series products, which makes HOF products highly sought after by the overclocking community.
We believe the HOF Pro 2TB SSD really lives up to the standard set by other Galax HOF products, and just like those products, we would like to see the HOF Pro series SSDs made more readily available to PC enthusiasts in the west. Availability is our only gripe with the Galax HOF Pro SSDs.
We absolutely love the stunning looks of the Galax HOF Pro SSD. That all white PCB is gorgeous as is the drive's exotic looking heat sink. We will point out that the included heat sink is not required for throttle-free performance; in fact, we did not use it while testing.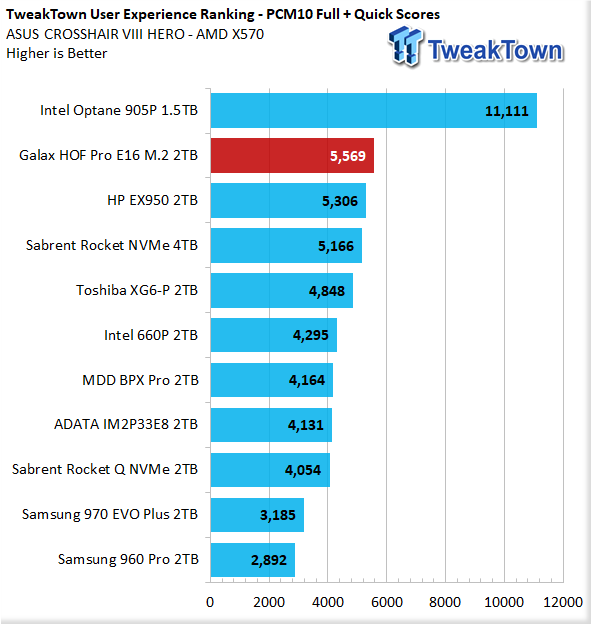 In the end, it all comes down to user experience, and as you can see from the above chart, the 2TB HOF Pro delivers better than any 2TB SSD we've tested to date. Currently, there is nothing at 2TB that will perform better overall on your Gen4 enabled platform.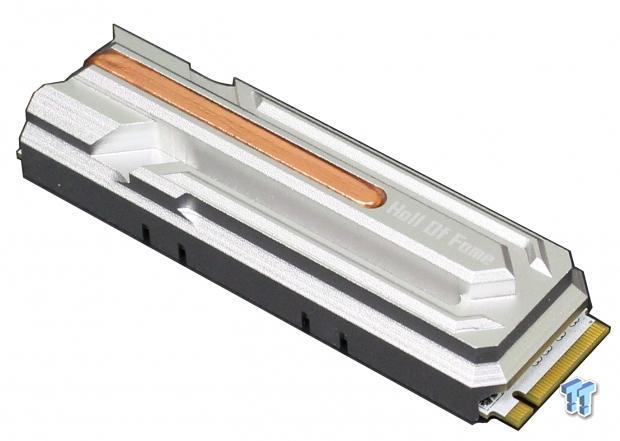 Looking back at our testing, we can spot several results that make the 2TB HOF Pro stand out as an elite performing SSD. A total score of well over 21.5K is not unexpected for an E16 powered SSD, but that doesn't make it any less impressive. The drive's dominating performance with AS SSD and its ability to deliver nearly 900K IOPS when writing random data is another head-turner. However, the most impressive result comes from the test we consider the most important, PCMark 10 Quick System Drive Benchmark, where the HOF Pro delivered the best results to date for a 2TB class flash-based SSD.
Elite looks combined with elite performance have earned the Galax HOF Pro 2TB Gen4 M.2 SSD TweakTown's highest award.
Pros
User Experience

Capacity

Endurance
Cons
| | |
| --- | --- |
| Performance | 100% |
| Quality | 100% |
| Features | 85% |
| Value | N/A |
| Overall | 95% |
The Bottom Line
Galax is serving up elite performance with its 2TB HOF Pro SSD.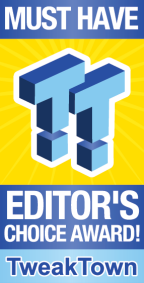 We openly invite the companies who provide us with review samples / who are mentioned or discussed to express their opinion. If any company representative wishes to respond, we will publish the response here. Please contact us if you wish to respond.