TweakTown's Rating: 90%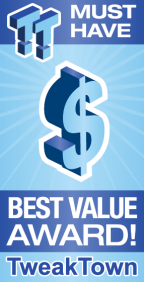 The Bottom Line
Razer's Kraken X is a fantastic entry-level gaming headset that has all the features and quality a gamer wants in a value-based headset without making your wallet sad.
Introduction
Today we will be looking at the Razer Kraken X. The Kraken X is Razer's entry-level gaming headset that is designed to combine comfort with its memory foam earcups with fantastic 7.1 surround sound audio. The Kraken X is also designed for elongated gaming sessions, so we will be running it through its paces to see if this is true.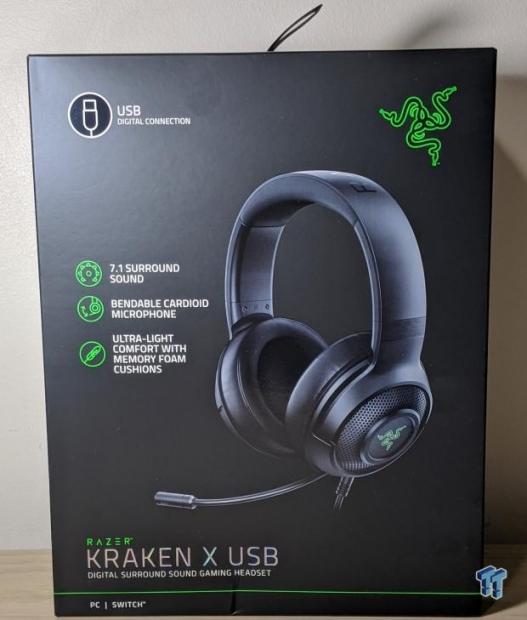 In this review, we will be looking at the Kraken X's performance, design, specifications, software, and of course, price. We will be comparing all of those categories against its price tag to see if you are going to get what you paid for if you decide to buy one.
Razer's Kraken X comes in with a price tag of just $50, and I know what you are thinking - "a $50 gaming headset sounds cheap and nasty". I wouldn't blame you for thinking that, as it's exactly what I thought when it arrived, but let's see what it's all about.
Specification Details and Close-up
Close-up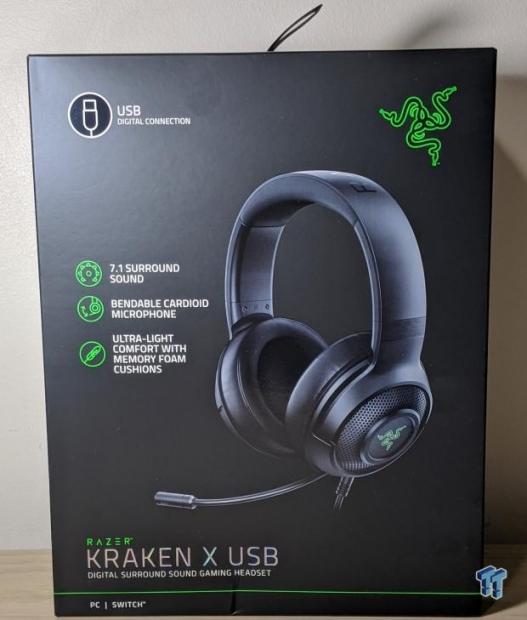 Above is a front-on image of the Razer Kraken X USB, here's where we can see that the headset comes with 7.1 surround sound support, has a bendable cardioid microphone and is ultra-light with memory foam cushions.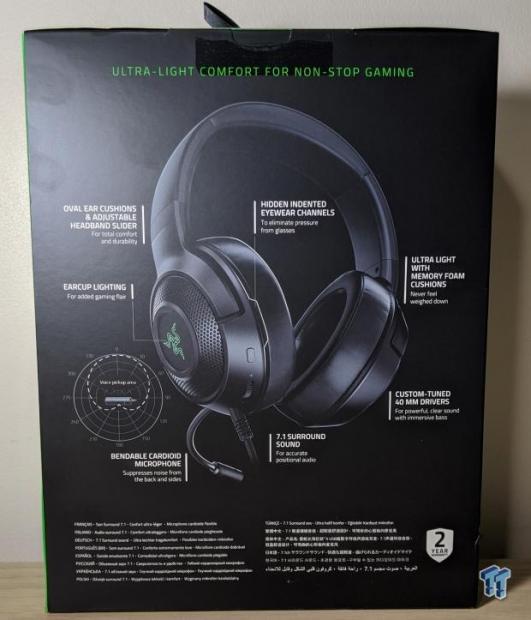 Next, we have the back of the box. Here is where you get a more in-depth analysis of each of the headset's features. Instead of me mentioning each of these features here, I will go into more detail later.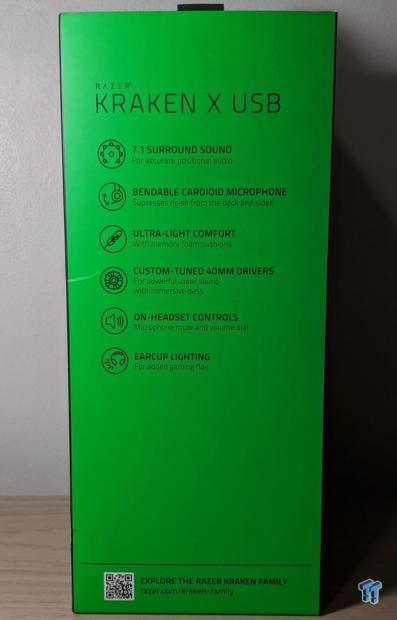 The above photo is a shot of the side of the box, which gives a quick synopsis of each of the features.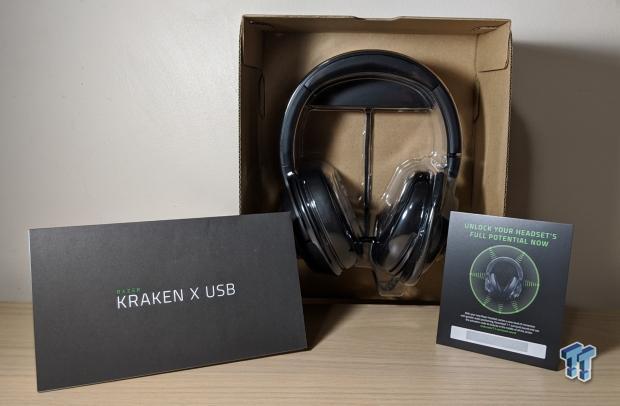 Next, is Razer Kraken X taken out of the box, and all of the contents included inside the box placed next to it. We have the user manual, and the 7.1 surround sound unlock code.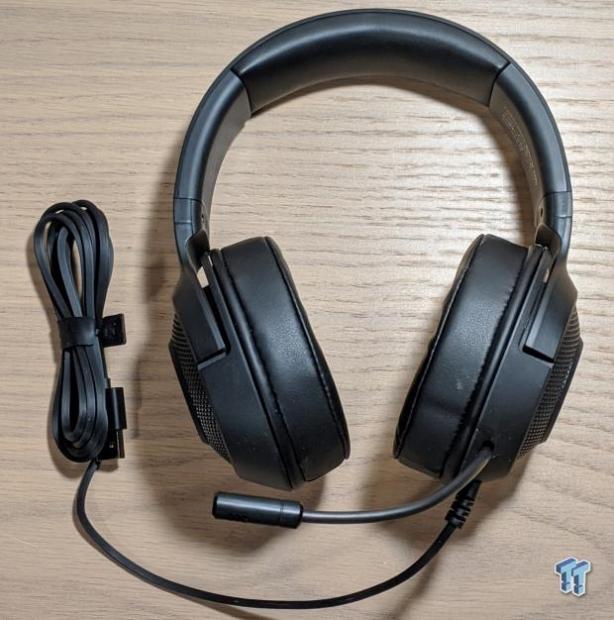 Here we have the Kraken X taken out of the box. From the image, we can see the USB cable, the headsets leather earcups, headband, and microphone.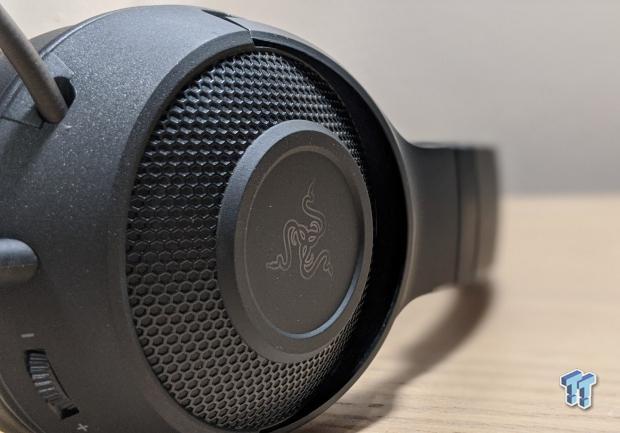 Moving on is a side-on shot of the Kraken X. From this image, we can see the volume wheel in the bottom left-hand corner and the beehive design that is located on the outside of the earcup.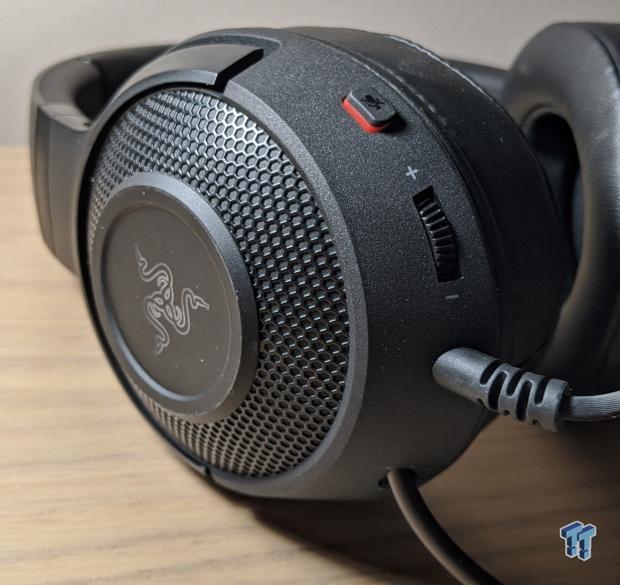 Here we have a much better shot of the volume wheel, as well as the mute microphone button that has a red color indicator. When pressed in, the red part of the button no longer becomes visible, indicating that the microphone is muted.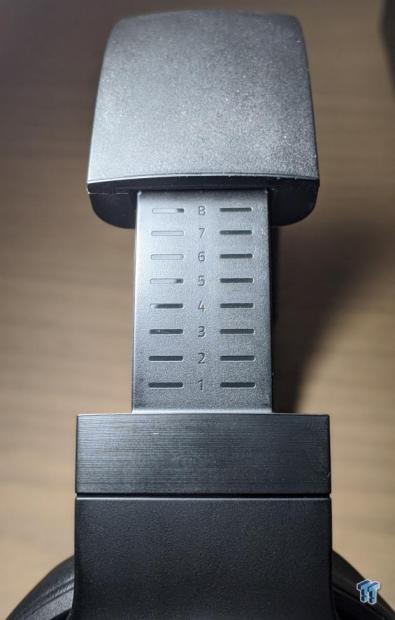 Next, we have an image of the headband. From this image, you can see that it's adjustable and comes with number indicators so users can match each side of the headset with the other. It should also be noted that there's a 3.5cm difference between number one and number eight.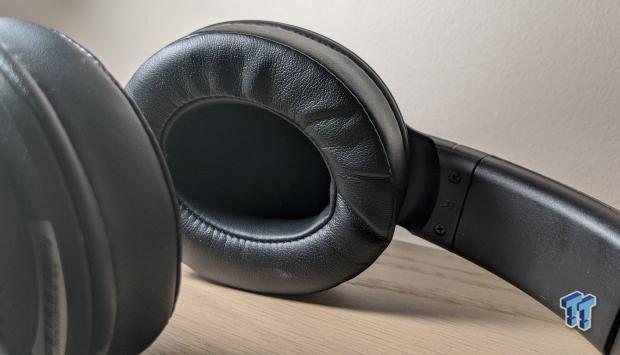 Moving on, here's an image of the leather over-the-ear earcups. These have comfy memory foam cushions.
Design and Price
The Razer Kraken X comes in at a price of just $50, and with that price, you'd assume that you are going to be missing out on some features that higher-end gaming headsets come with. This is certainly the case with the Razer Kraken X, but that doesn't mean it's not a great choice.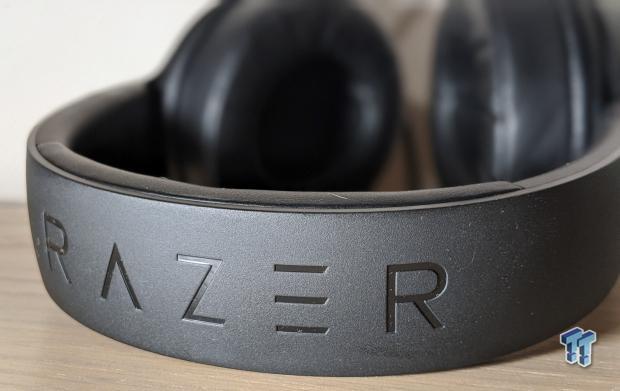 After using the Razer Kraken X for over 20 hours of both gaming and music/movie listening, I can say right off the bat that I have been impressed with what Razer has done for such minimal cost. For just $50, buyers will get a great entry-level gaming headset that comes with all the standard features you would expect with a gaming headset, plus some extra quality-of-life features.
As for music listening, I did notice that the audio quality dropped off, especially when enabling the 7.1 surround sound. I also found a similar case when listening to movies with the headset on, which makes me recommend the Kraken X to people who are specifically looking to play games with it and not watch movies or listen to music.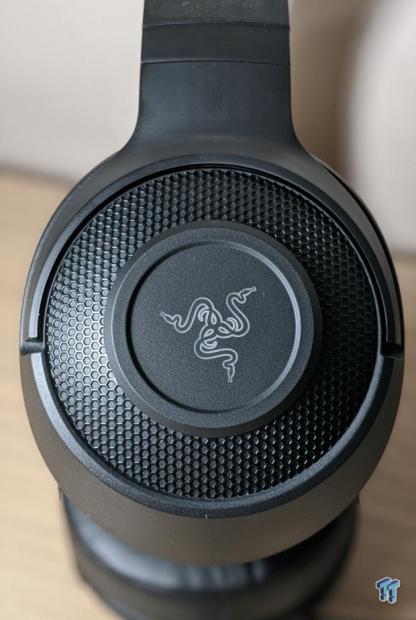 The Razer Kraken X also comes with two features on the left ear cup - mute microphone button and a volume wheel. These buttons are conveniently placed, and the mute microphone button has a nice satisfying click to it. As for the Kraken X microphone, this is where I'm going to have to knock a few points off the Kraken X's total score. The microphone cannot be removed, and because of this, it can actually get quite annoying. This can especially be the case if you own a higher quality microphone and don't want to use the headsets in-built microphone.
The overall design of the Razer Kraken X is also quite dull, and some could even say quite boring. Since the headset is completely black, the Razer symbols on both ear cups do look nice when they light up green when it's powered on. Other than that, the Kraken X really doesn't have anything else going for it visually.
Performance and Software
Performance
The Razer Kraken X comes with 7.1 surround sound support, and I can say that the audio quality is very impressive -- more than what I expected when I first plugged it in. I used the Razer Kraken X in games such as Apex Legends, Overwatch, and League of Legends for extensive hours in each.
The games that showed how well-done the surround sound is would be Overwatch and Apex Legends. In Apex Legends and Overwatch, the Kraken X did a fantastic job of really immersing me into the game when I was faced with intense gaming scenarios. The 7.1 surround sound also assisted me in getting out of some tight situations, as I could pinpoint my enemy's location by increasing volume and just listening intently.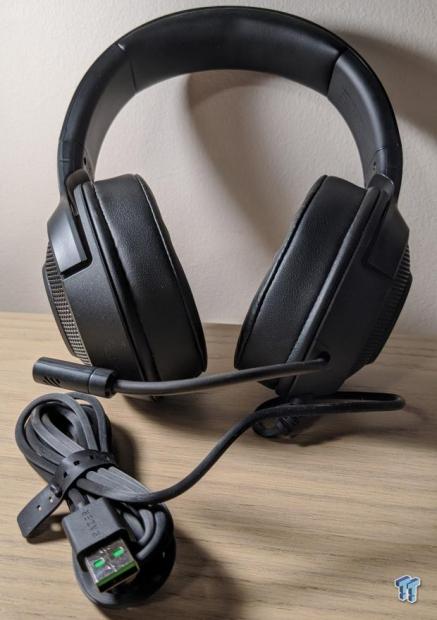 The in-game audio was clear and crisp and is very impressive for a headset that only costs $50. As for the microphone quality, well, that's where it gets a bit iffy. Not only can you not remove the microphone, but it has below-average quality. One example of my testing was in Discord, where I blind tested several gamers with a comparison between the Razer Seiren X Emote and the Razer Kraken X microphones. I asked the gamers to describe the difference that they heard between the two microphones. The consensus that I gathered was that the Kraken X microphone was much more "crackly" and more "distorted" at higher volumes.
I then proceeded to listen to my voice back in Windows and compared what I heard to the Razer Seiren X Emote. My findings were very similar to what the gamers reported back to me on Discord. At higher volumes, the Kraken X suffered microphone quality, and a lot of distortion could be heard when sensitivity was increased. This is, of course, to be expected when comparing a $50 headset microphone to a stand-alone USB table-top microphone, but none-the-less the comparison revealed some holes in the Kraken X, which was the whole point of the test.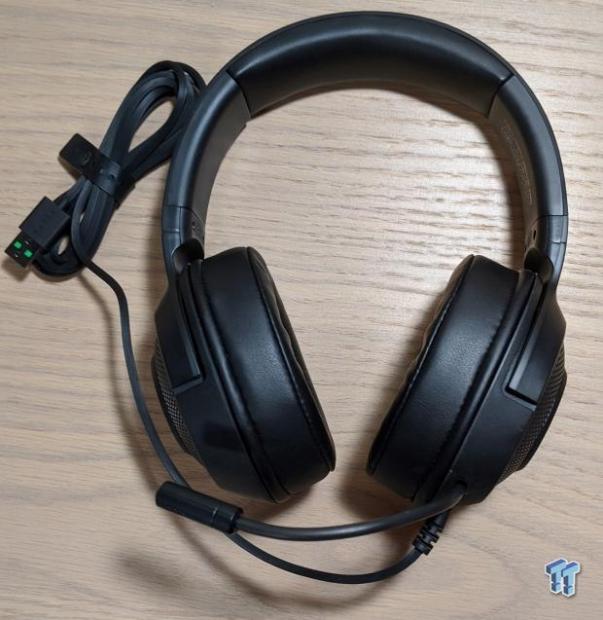 All in all, the microphone quality isn't terrible and is certainly something you can get by with if that's your only option. To put it simply - people won't be upset with your microphone quality in-game if you buy the Kraken X and use the provided microphone. I think Razer has certainly cashed their chips in 'in-game audio quality' rather than 'microphone quality' with the Kraken X, and I think this was a fantastic design choice that they should not regret.
Let's talk about weight. Firstly, wow. The Razer Kraken X combines both comfort from the memory foam earcups, with the everlasting desire to keep on gaming due to the headset's incredible weightlessness. The Razer Kraken X comes in at just 260g, putting it in the 'extremely lightweight' category of headset. This headset is so light that you can even forget you are wearing it, or at least I did when I was wearing it for long periods of time.
Nintendo Switch Testing
The Razer Kraken X is plugged into the Nintendo Switch via the USB port on the dock. It connects automatically and doesn't require any audio output changes. What I noticed when playing Super Smash Bros. Ultimate with the Kraken X is some of the highs sounded really distorted. This wasn't the case for the lows as they were quite clear and crisp. Other than that, the Kraken X does very well plugged into the Nintendo Switch.
Software
Upon purchasing the Razer Kraken X, you will be given an activation code for the 7.1 surround sound software. Users have to download the software from the Razer website and install it. Once it's installed, users will be presented with the below activation screen. After entering the activation code, you will be able to enable 7.1 surround sound.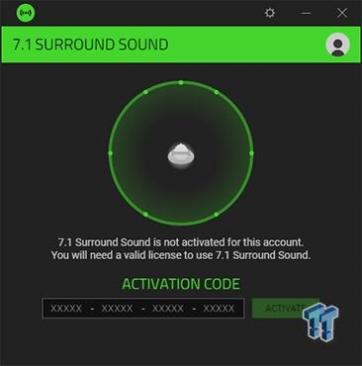 For some reason, Razer has a proclivity to force buyers of their products to download separate software for each of their products. I had the same problem with the Razer Seiren Emote, which forced me to download the Streamer Companion App to use the LED screen on the Emote. Why can't Razer unify all of their software into one application? Other than that, the software is straightforward and shouldn't provide you with any issues.
In the event of purchasing a Razer Kraken and not receiving an activation code, you can register your product on RazerID here.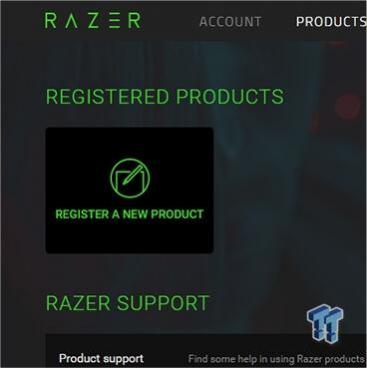 Final Thoughts
Alright, so let's wrap this up. The Razer Kraken X honestly impressed me, and for just $50, I think it will impress you as well. It's missing some features that you would find in higher-end gaming headsets, but I don't believe that is relevant when all you are paying is $50.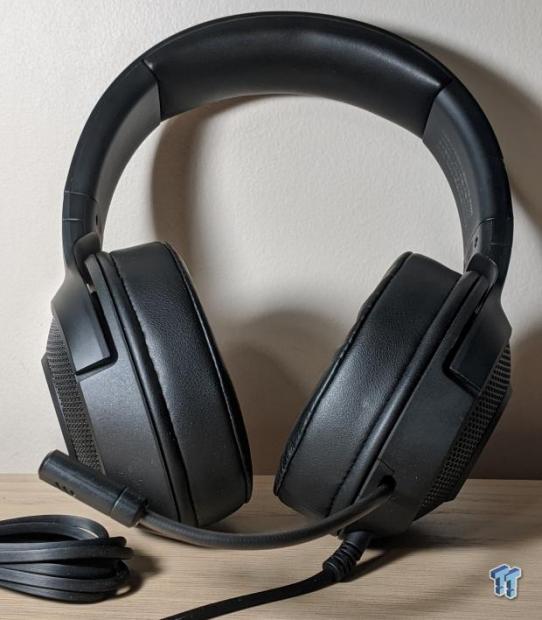 So, if you are looking to upgrade from your iPhone headphones to a proper gaming headset and aren't looking to fork out a lot of money, Razer has your back with the Kraken X. It's a cheap, affordable headset that is lightweight, has above-average audio quality, comes with a decent microphone, and has 7.1 surround sound.
The Kraken X is the gaming headset that has all of the standard features a gamer is looking for. While it might not be the best headset on the market, it's undoubtedly one of the best for its price point. Razer has done an absolutely fantastic job with this product, and like me, I think you won't be disappointed if you decide to buy one.
| | |
| --- | --- |
| Performance | 90% |
| Quality | 90% |
| Features | 82% |
| Value | 99% |
| Overall | 90% |
The Bottom Line
Razer's Kraken X is a fantastic entry-level gaming headset that has all the features and quality a gamer wants in a value-based headset without making your wallet sad.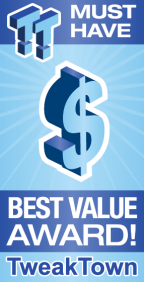 We openly invite the companies who provide us with review samples / who are mentioned or discussed to express their opinion. If any company representative wishes to respond, we will publish the response here. Please contact us if you wish to respond.