FSP FlexGURU 300W Flex ATX Power Supply Review
FSP's FlexGURU 300-watt Flex ATX PSU gets tested. For those building a small form factor or slimline system, take a look.

Published
Manufacturer: FSP (300-50FCB)
10 minute read time
TweakTown's Rating: 91%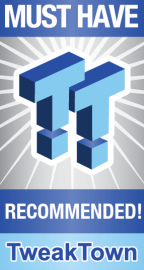 The Bottom Line
The FlexGURU from FSP is a capable entry into the Flex ATX market. It is a capable and relatively stylish option for ultra SFF or slimline system builders.
Introduction, Specifications, and Pricing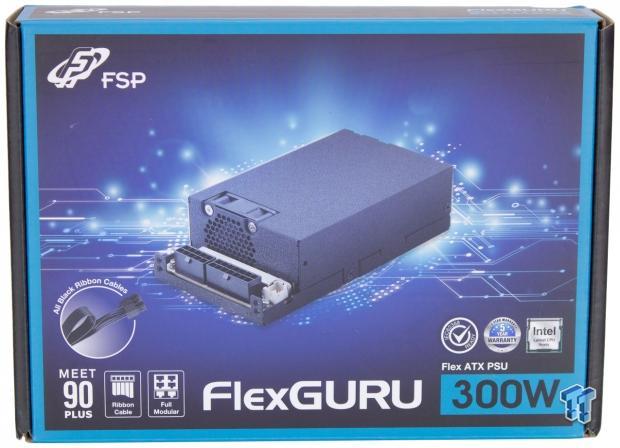 FSP is a company that we have reported on several of their power supplies to date, and today is an interesting one. FSP makes power supplies in various sizes and capacities, including large full ATX sized supplied, including even a liquid-cooled unit with the Hydro TPM. They also offer PSUs such as the Dagger Pro SFX which we recently took a look at. Today we are looking at the new FlexGURU 300W from FSP, and this is a bit more unique of a form factor then most are used to or even aware of.
The FlexGURU is of the Flex ATX form factor, which is a quite small yet long form factor which is used prominently in servers via redundant PSU installations. This similar form factor is what the FlexGURU uses, and while it's not a hot-swappable unit like you may find in many servers, it shares a similar small rectangular form factor. There are some Chassis which can fit Flex ATX, but they are few and far between. Here is a PC Part Picker list which is one of the best I have seen that show Flex ATX PSU compatible chassis. As you can see, most of the chassis is small HTPC/SFF cases, which is what the Flex ATX PSU was ideally made for. There have been Flex ATX PSU's for quite a while, but most users would never notice as they came imbedded in the chassis such as is the case with EVGA's Hadron chassis.
Now let's take a look at some of the selected features of the new FlexGURU given by FSP.
Fully modular design

20% Higher power density

Adjustable Flex ATX mounting bracket

Excellent thermal performance

Over 90% efficiency in typical usage

Safety protections: UVP, OVP, OTP, SCP, and OPP

100% Japanese electrolytic capacitors
This feature set is good, and some of it I take a slight issue with, such as the "fully modular design," which is partially true. All of the cables can be removed, but as you will see shortly, the peripheral cable is a single unit, so if you need any SATA or PATA ports, you will have all of them there anyway. Also, the fact that the Japanese made electrolytic capacitors are called out specifically. It makes me wonder if the solid state capacitors are indeed Japanese or only the electrolytic units. The stated 90% typical efficiency checks out mostly as that loading range where 90%+ is said to reside would be around the scale that an APU/iGPU chip can pull under load.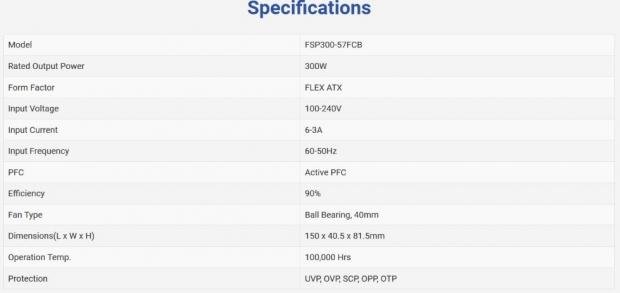 The FlexGURU 300W carries a part number of FSP300-57FCB, and the FlexGURU also comes with a lower 250W rated model as well. The FlexGURU measures in at 150mm in length, 40.5mm width, and 81.5mm height. There are much longer versions of Flex ATX units on the market, but most of them have the cables soldered to the supply and are not at all modular.

Here we have the output table for the FlexGURU; the FlexGURU is not designed for high-end multi GPU systems. It has enough amperage to support a reasonably small form factor system and potentially could use a PATA to PCIe adapter if using a discrete GPU.

Lastly, we have the Efficiency and acoustics chart supplied by FSP. The efficiency chart shows at very low 10% loading, such as an idle desktop load with an APU, you will see close to 80% efficiency. However, once you reach what they call "typical" loading, we see the unit comes up to over 90% efficiency and hovers just around or slightly below 90% at full loading.
The price point for the FlexGURU 300W is $84.99, and the lower 250W rated model comes in at $74.99. Today we will focus on the comparison of what we have on hand. There are not many other modular Flex ATX PSUs, so that makes these unique. However, for the sake of comparison, we will look at similar wattages and connector arrangements to compare the competitiveness of the price as well. The unit closest in price and wattage to the FlexGURU that has modular connectivity is the Seasonic SSP-300SUG.
The Seasonic unit is listed as an industrial unit and looks like it belongs more in line with a miniature server or slim form factor PC vs. the FlexGURU which has a black casing and may fit a little better as far as style points. The FlexGURU also has more available peripheral connectors (PATA), which can potentially be used to power a GPU via adapters, whereas SilverStone only has a single PATA. It will be interesting to see if the FSP FlexGURU can indeed power a GPU off of the PATA leads with stability as that may open this unit up to usage for an SFF or ultra-compact mild gaming system.
Shannon's Power Supply Test System Specifications
Packaging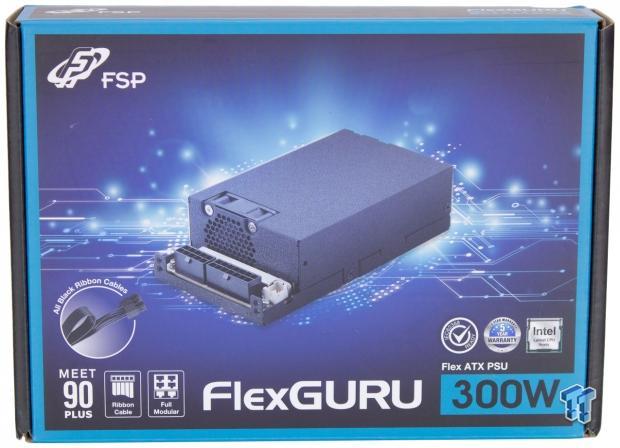 The front of the FlexGURU packaging is relatively standard with what we have come to expect from FSP on the PSU side. The PSU is shown along with notations of the cabled being all black flat ribbon style. This will make for a better overall cable management experience. The PSU is listed as "Dully modular," which is true, but I feel like it needs to be delved into a bit deeper when we look at the cables coming up on the following page. The FlexGURU has a five-year warranty and is, of course, the newest Intel CPU ready as most PSUs have been for a while now.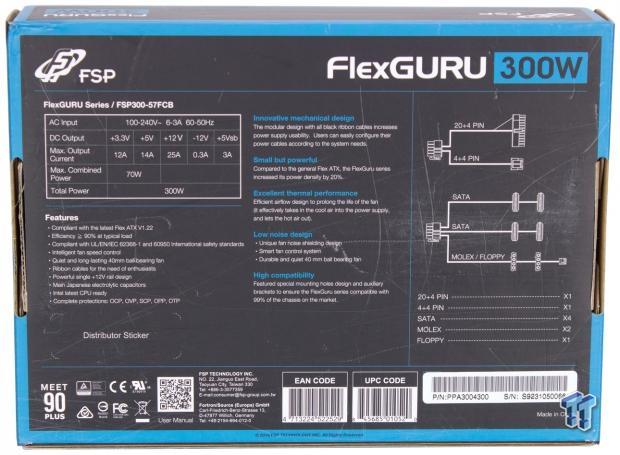 The rear of the packaging for the FlexGURU has the output table along with several noted features and even a cable breakout and connector listing.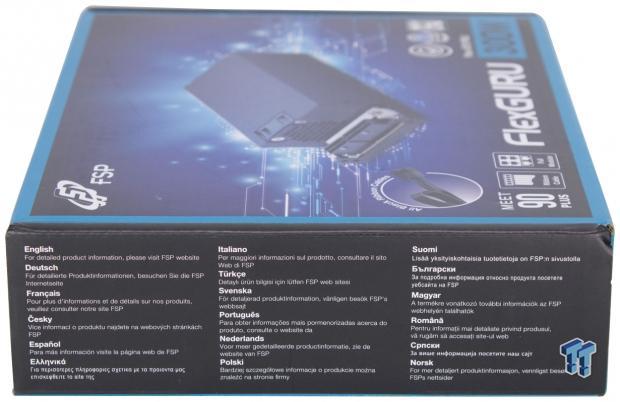 This thinner edge of the package shows eighteen languages telling users to visit the webpage for product information.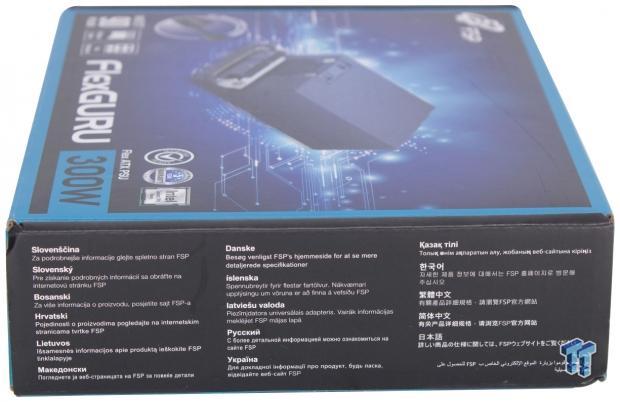 The thin opposing side of the package shows another 16 languages telling users to reference the FSP website for more information. I will say I do believe that at 35, FSP may have the most languages I have seen to date on the exterior packaging.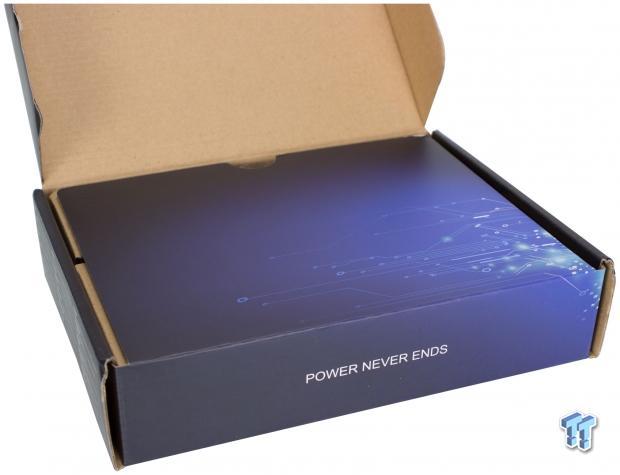 Flipping open the lid, we find the same circuit package styling on an inner flap covering the contents.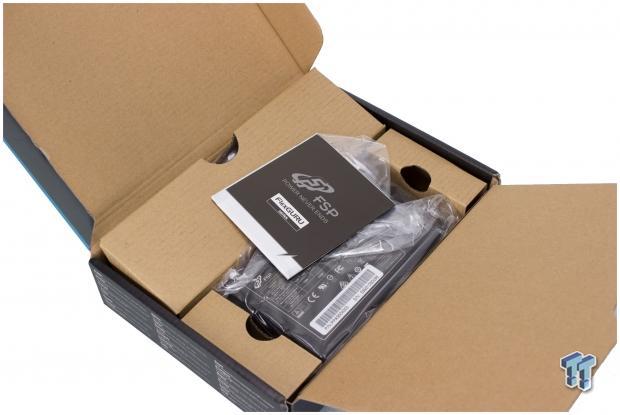 Opening up the cover flap, we now find the FSP manual on top of the PSU, which is plastic wrapped. The accessory cables are under the flap adjacent to the recessed area where the FlexGURU unit is sitting.
Hardware & Documentation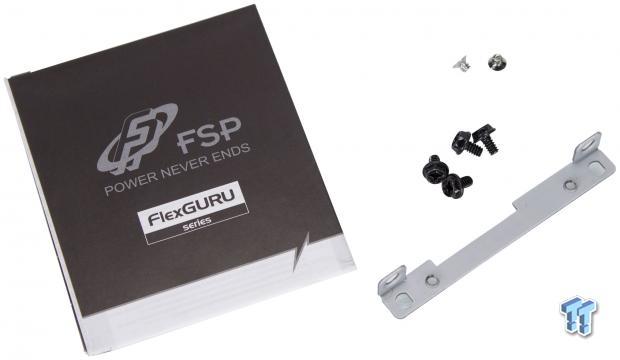 The accessories for the FlexGURU are quite scant, which is understandable as it's a tiny unit. Here is everything you get in the accessory package.
FlexGURU User Manual

4x PSU external mounting screws

2x internal bracket screws

Internal multi-position mounting bracket
The metal bracket has two positions where it can mount to the FlexGURU supply to allow flexibility to the chassis fitment and help ensure it will fit your build. One thing absent from the FlexGURU packaging is the AC power cord, as our unit did not have one in the package. This could be an omission based on the fact that many countries use different wall plugs, and it is up to the user to secure one, but it is essential to note.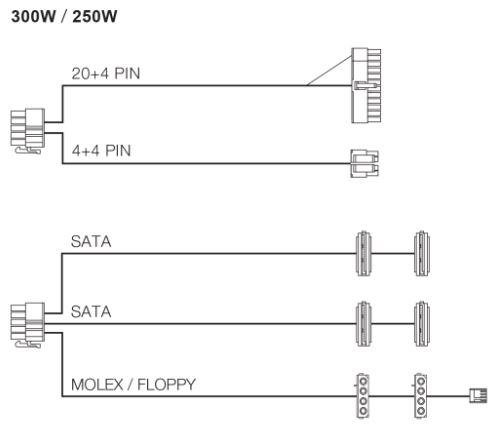 Here is the connector breakout supplied by FSP and gives you an excellent pictorial reference for what we will be showing in the images below of the cable sets which come packaged with the FlexGURU.

Here we have the main motherboard lead, which connects to a single point on the FlexGURU PSU. The main harness has a 20+4 pin for the primary ATX connection along with a 4+$ main EPS connector. As you can see, several leads pull from each pin since the PSU side connector is very compact and uses far fewer pins than on the motherboard side connectors. The cable has a small white connector that plugs into the PSU to complete the necessary connections.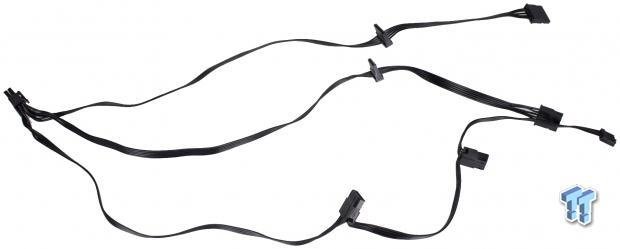 The second modular connector breaks out to the following.
4x SATA ports

2x PATA ports

Floppy port
This cable is what I was referencing in regards to the fully modular statement. If you need any of the connectors supplied above, you must plug in the cable, which comes with all of the connectors in place, so in reality, unless you have fully M.2/AIC storage, you will have the full array of cables to manage. While technically modular, that term is usually reserved for having segregated leads which are removable for a chosen connector type.
Also, I think it's time for the floppy connector to disappear or at least be included as an adapter. I did speak to FSP, and they were looking into improving the output leads based on feedback from users. I do think having at least a single 6+2 connector option would be a great addition. Many users likely would not be comfortable deploying a GPU using adapters, and most Flex ATX PSUs at this level do not offer a PCIe power adapter.
FlexGURU 300W Power Supply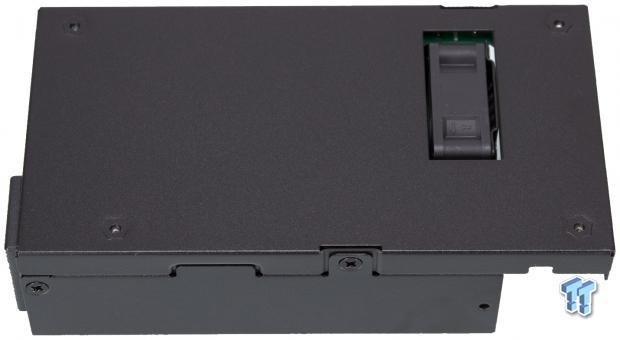 The bottom of the FlexGURU is up first. This is the side that will sit flat against your chassis and therefore is blank, bare metal with only the 40mm fan showing through.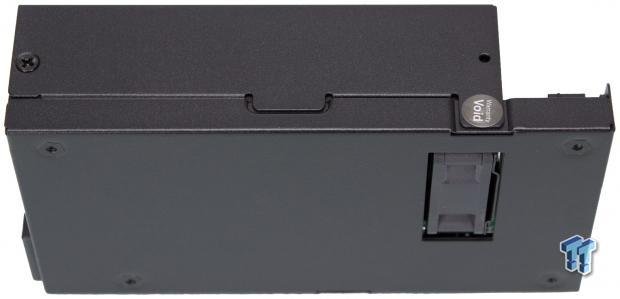 Here we rotate the FlexGURU ninety degrees, and we have the side with a "warranty void" sticker in place. Due to the right to repair laws, I do not believe these are enforceable in the USA, but I could be wrong. Many brands use these as they sell the unit globally, and in many areas, it is applicable.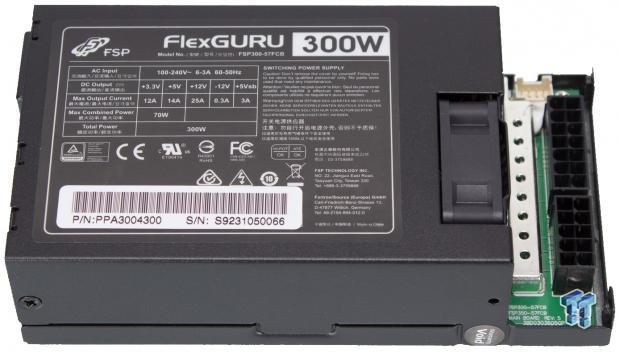 Here we have the top of the PSU where you can see the output label along with the part number and serial number applied. To the right, we see the 40mm fan along with the output PCB, and it's dual modular connectors.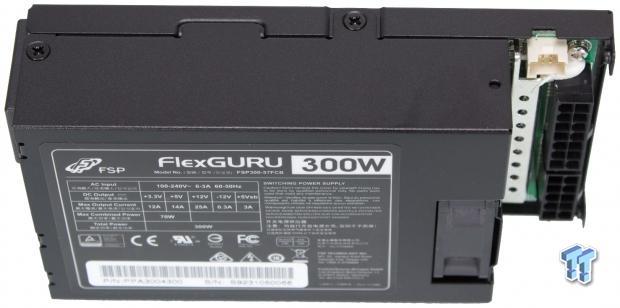 Flipping the unit over again, we see the opposing side as before, but this side does not have a warranty void sticker in place. Here we can also see the smaller connector, which connects adjacent to the large modular connectors and is attached to the main ATX cables.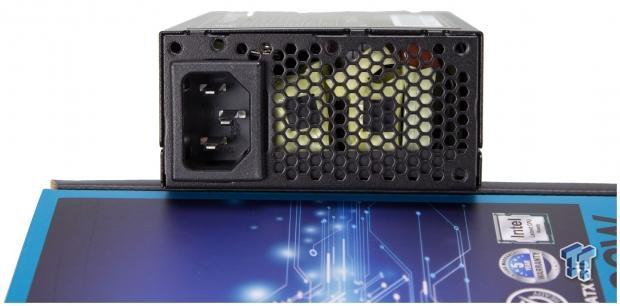 Here we have the input side of the FlexGURU. Being its super small form factor, we do not have a power toggle and instead only have the main AC input along with some open grille area for heat to exhaust.
Here we flip around again, and we have the output side of the FlexGURU. The larger black modular connector is for the main ATX 24-pin cable along with the 4+4 EPS connector. The white 8-pin connector also comes from the main harness, while the leftmost smaller connector is for the peripheral connectors.
Real World Test System & Observations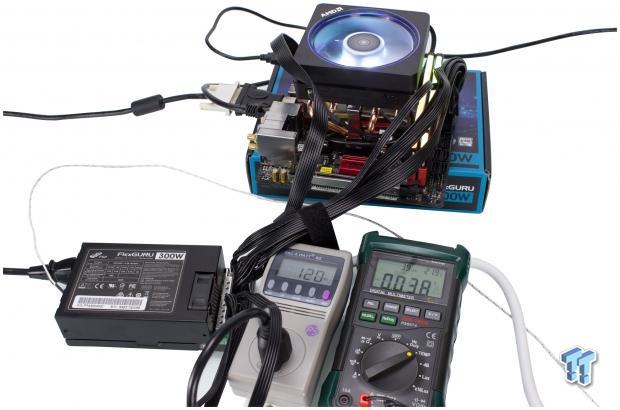 Real-world testing for the FlexGURU, we had to change things up a bit. The FlexGURU simply does not have the gumption to push our standard 2990WX test platform, so we changed things up a bit for a system more representative of what it would be used for. We loaded up an ASRock ITX AM4 motherboard along with 16GB of the Corsair Vengeance Pro RGB and a Ryzen 5 3400G with onboard Radeon Vega graphics. This is not the most potent setup ever conceived but does emulate something which may go into an ultra SFF system.
Testing the CPU/APU and its onboard graphics at full stress gave us an AC draw of 120W, and the FlexGURU handled that with relative ease while only reaching 38C and no noticeable fan noise after over an hour of loading.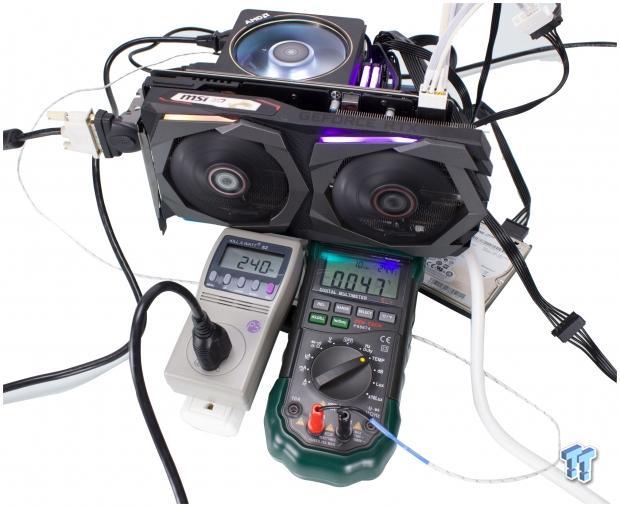 We had to come up with a way to load the FlexGURU for bear, so we opted for using a 4-pin PATA (Molex) connectors to 8-pin PCIe. With that, we used the RTX 2060, which is typically put to work testing chassis thermals. The FlexGURU handled this loading admirably and showed a nominal power draw of 240W while topping out at 46-47C, where it seemed to find equilibrium.
While we were not able to able to push the FlexGURU further, we feel this was on the more extreme end of the type of loading the FlexGURU would see under any sort of sane build. The connector arrangement allowed for the adapter usage while I never recommend adapters for a GPU, in the case of the FlexGURU, it was necessary for discrete inclusion. I would ideally like to see if FSP could enable a GPU lead (6+2) on the FlexGURU in the future, whether it be via an optional cable that eliminates ancillary peripheral leads, or some other way that does not require adapters.
Final Thoughts
Flex ATX is an exciting form factor overall, and while good for servers, it is a bit tougher to justify for most consumers. That would be what I would say some time ago as most Flex ATX cases have PSU's included, now we are getting not just more PSU options in the Flex ATX form factor, we are getting ones which are not finished in raw metal but actual black painted like a PSU we have come to expect from SFX and ATX. I do hope that with new Flex ATX models coming around, we can see more capable units along with smaller form factor or slimline chassis, which can support enthusiasts or gaming-grade systems to build upon.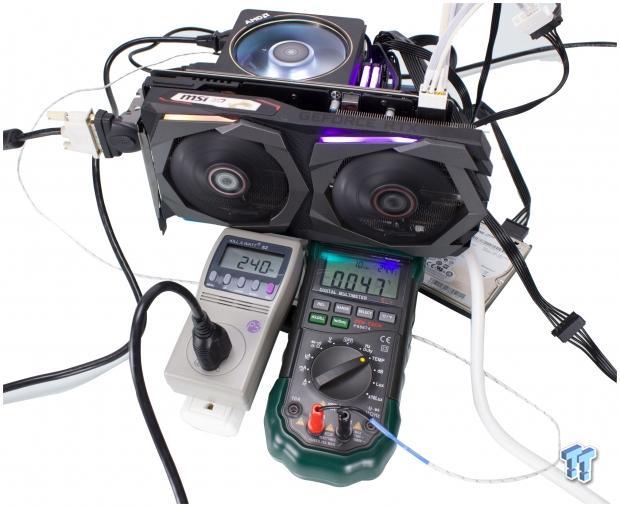 Now we get to what we like about the FlexGURU from FSP. What we like about the FlexGURU first and foremost is the fact that it brings new life to the Flex ATX space with modular and black color PSUs, which will make a good foundation for ultra SFF or slimline PC builders. I really do hope this trend will continue with more capable units like what EVGA offered in their Hadron chassis. Good high output and decent looking Flex ATX supplies are hard to come by, so this is welcomed.
Now, we discuss what we don't like or would like to see improved. First up for the FlexGURU would be the omission of the floppy connector. Also, a way to break out or remove the ancillary peripheral connector so that you do not have six extra connectors and three leads to manage due to the need for a single SATA connection for an HDD or SSD. There is not a lot else I could choose to pick apart besides the fact that at least a 6-pin PCIe connector would be a welcome inclusion as HTPC/SFF gaming rigs are becoming increasingly popular. I do know that at 300W, it's not really "made for" the load of a GPU, but it is something I would like to see along with a higher capacity offering to enable the SFF gaming potential.
The price point for the FlexGURU I feel is rational but at the high-end. I give some leeway here as there's not a lot of competition in this space since most Flex ATX PSUs are bare metal finish grey and not very consumer-oriented. The only modular unit we found from SilverStone of a similar spec was a raw version that was spec'd for industrial use. This being a consumer unit and having some peace of mind features for consumers helps carve out a space or niche as it may be for the FSP FlexGURU.
Not everyone needs Flex ATX. Still, for the SFF community, I hope this is just the beginning of the trend from FSP, enabling more power and SFF gaming rig capability with the FlexGURU series of power supplies.
Shannon's Power Supply Test System Specifications
| | |
| --- | --- |
| Performance | 95% |
| Quality | 92% |
| Features | 85% |
| Value | 90% |
| Overall | 91% |
The Bottom Line
The FlexGURU from FSP is a capable entry into the Flex ATX market. It is a capable and relatively stylish option for ultra SFF or slimline system builders.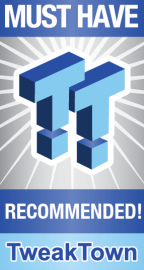 We openly invite the companies who provide us with review samples / who are mentioned or discussed to express their opinion. If any company representative wishes to respond, we will publish the response here. Please contact us if you wish to respond.