Ghostbusters 4K Ultra HD Blu-ray Review
The finest and likely ultimate release of the classic is a 4K winner.

Published Nov 9, 2019 6:08 PM CST
|
Updated Tue, Nov 3 2020 6:57 PM CST
3 minutes & 25 seconds read time
TweakTown's Rating: 83%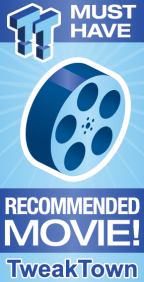 The Bottom Line
35 years on, and Ghostbusters has still got it. It's 4K debut is a real joy to experience and is likely the best the film will ever look or sound.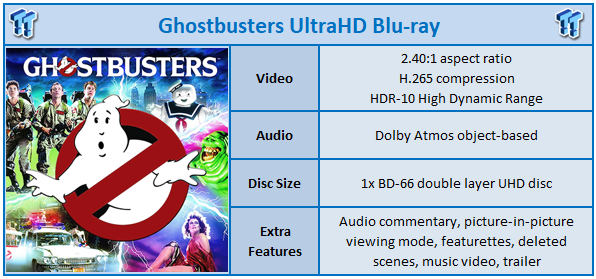 Ghostbusters 4K Ultra HD Blu-ray
For a film that's undoubtedly a bonafide classic and yet not in my top 10 films of all time, I sure have purchased the original Ghostbusters quite a few times in my years of collecting physical media. By a quick recollection, I'd say this was now the fifth time. And yet, when the upgrades are as obvious and frankly amazing as they are in this 4K release, then I'm certainly happy to do so. But I'll be surprised if I ever have to do it again.
Down on their luck New Yorkers Peter Venkman (Bill Murray), Ray Stantz (Dan Akroyd) and Egon Spengler (Harold Ramis) are the Ghostbusters; University slackers turned paranormal hunters. Initially facing community skepticism and their own poor work ethics, they quickly evolve the Ghostbusters into a thriving, successful business when a portal opens in New York City which lets a bunch of nasty ghouls loose, and which threaten Armageddon. To prevent this, the team will need all their skills and more than a little luck.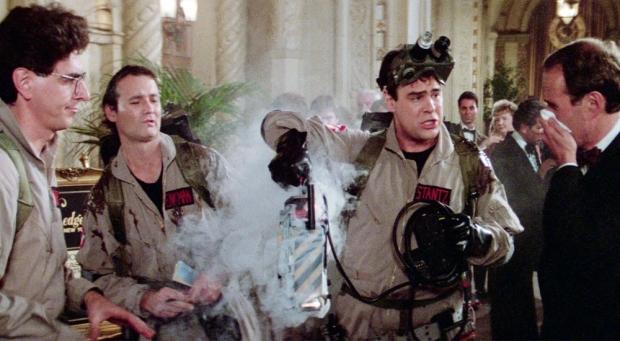 Despite a disappointing 1989 sequel and a diabolically bad attempt at a recent reboot, it's a testament to the near perfect execution of the first Ghostbusters film, with a whip smart script, wonderful ensemble cast and not to mention a ridiculously catchy theme song which is generally responsible for the staying power of the franchise to this day. And with this recent viewing, it's certainly not lost any of its charm in the intervening 35 years. With a second sequel coming in 2020, one wonders whether Sony Pictures will be able to return a little of the magic - I certainly hope so.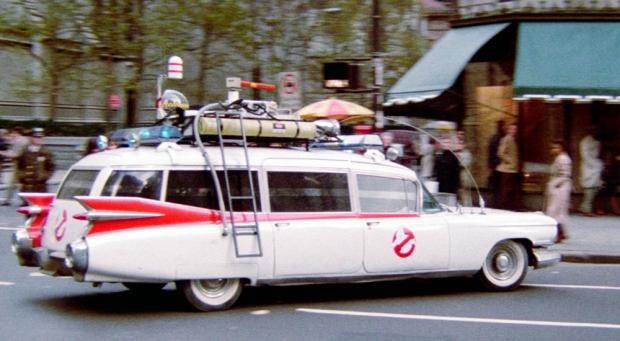 Video transfer
Ghostbusters is presented in its original aspect ratio of 2.40:1, encoded with H.265 compression and finished with a static HDR-10 pass.
Shot on high speed Kodak 35mm film stock in frequently low-lit sets and locations, Ghostbusters has always had a grainy, gritty feel to proceedings and this edition is no different. Sony don't seem to do any kind of grain management on their 4K releases, so it's all reproduced here beautifully and encoding improvements means that it's much more refined than in previous editions.
In terms of visible resolution, the image is subtly sharper than the 1080p Blu-ray release, but probably owes as much to advancements in film scanning techniques as much as there actually being additional information on the camera negative. This is simply the end of the road for Ghostbusters. Whatever format comes next - 6K, 8K or whatever is simply not going to improve this film. It still blows my mind that we finally have a format that can accurately reproduce a film master in the home and that's a wonderful thing for film aficionados. Once again, the Wide Colour Gamut and HDR pass are responsible for most of the upgrades to be found here, and they do a great job at rendering the image with better whites and more accurate colours.
Overall, Ghostbusters 4K debut is an excellent, likely ultimate version of the film which reproduces the image to its best capacity.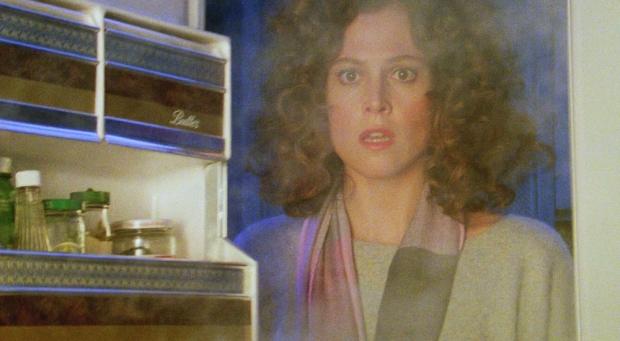 Audio transfer
Ghostbusters primary English audio track is a newly created Dolby Atmos mix.
Utilising what seems to be the 7.1 mix from the previous Blu-ray and bolting on some height surrounds doesn't seem to really add a whole lot of dimensionality, as there just wasn't any further sound information to be separated. The only real problem with this track (if it can even be referred to as such) is simply its 35 years of age, with the limitation original analog stereo mix having long been exhausted in previous release. The occasional tinniness and constrained frequency response are unavoidably part of the experience of Ghostbusters.
Still, there's a lot to be happy with in this mix, including a perfectly adequate, sometimes even aggressive surround presence and low frequency effects. The theme song by Ray Parker Jr, in addition to the score by Elmer Bernstein scrubs up nicely and is mixed into the surrounds pretty well.
Overall, this is an unavoidably dated track, but Sony have done the best they can within the limitations of the source material. The alternative - to re-record the audio - is much less palatable.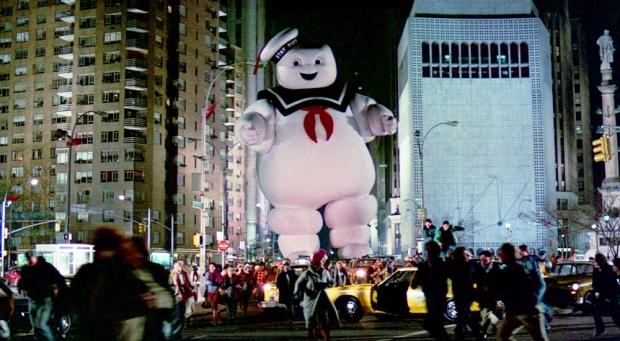 Bonus features
This 4K release doesn't add anything new and all the bonus features can be found on the pack-in Blu-ray, the same one as last released in 2014. And they're pretty substantial, even if it is crying out for a new long-form making of documentary. Of note is the Audio Commentary with Ivan Reitman, Harold Ramis and Joe Medjuck which was recorded in 1999 and before Ramis' untimely death, the 24 minute Who You Gonna Call: A Ghostbusters Retrospective which is a fun look back, and the Scene Cemetery which reproduces a total of 10 deleted scenes - although this sadly doesn't include the recently located 'Fort Detmerring Ghost' sequence.
| | |
| --- | --- |
| The Movie | 87% |
| Video Quality | 90% |
| Audio Quality | 80% |
| Extras | 75% |
| Overall | 83% |
The Bottom Line
35 years on, and Ghostbusters has still got it. It's 4K debut is a real joy to experience and is likely the best the film will ever look or sound.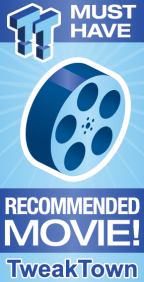 We openly invite the companies who provide us with review samples / who are mentioned or discussed to express their opinion. If any company representative wishes to respond, we will publish the response here. Please contact us if you wish to respond.